Coursera is a giant among eLearning platforms. Its 9,000+ programs are delivered, and accredited, by globally revered institutions such as Stanford, Yale, IBM and Google.
But the reach and depth of Coursera's offering means it can seem daunting to find the right course for you.
That's why I've spent weeks researching and sampling the platform in order to compile this list of the best and most useful Coursera courses.
I've taken into account a range of factors such as free and paid for content, whether to go for certification or not, length, instructor qualifications, popularity, student feedback and much more!
Coursera currently have a Black Friday deal. Click here to find out more.
So, without further ado, let's get to it!
Best Coursera courses overall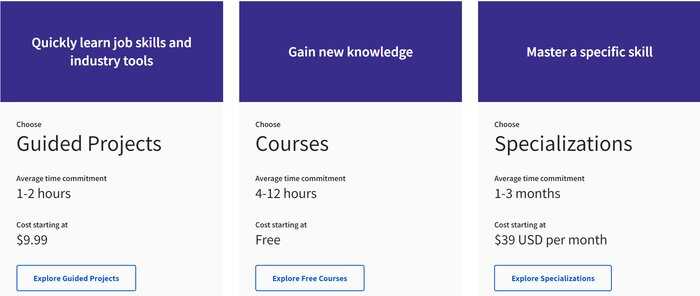 First, it's crucial to understand that Coursera offers a range of very different course types. I summarize these below:
| | | |
| --- | --- | --- |
| Course type | Goal | Length |
| Course | Gain knowledge | 4-12 hours |
| Guided Project | Learn a practical skill | 1-2 hours |
| Specialization | Master a Skill | 1-6 months |
| Professional Certificate | Get job ready for a career | 4-7 months |
| MasterTrack Certificate | Master's level courses | 4-7 months |
| Degree | Full Degree | 2-4 years |
Some of the best and most highly rated of each of these course types are:
Of course, what's best for you depends on what you're interested in. And whether you're looking to take a short course, professional qualification or full blown degree!
So to give you a broader idea of what's on offer, I've reviewed a selection of course types in every one of Coursera's 11 subject categories.
For more granular detail on how the platform works check out our Coursera review.
Top Coursera course by subject category
The 11 subjects covered by Coursera (along with my top picks in each) are:
Best Coursera course reviews
For each of the mini reviews below I've indicated the course type to give you a clear idea of how much time you might need to commit to each one.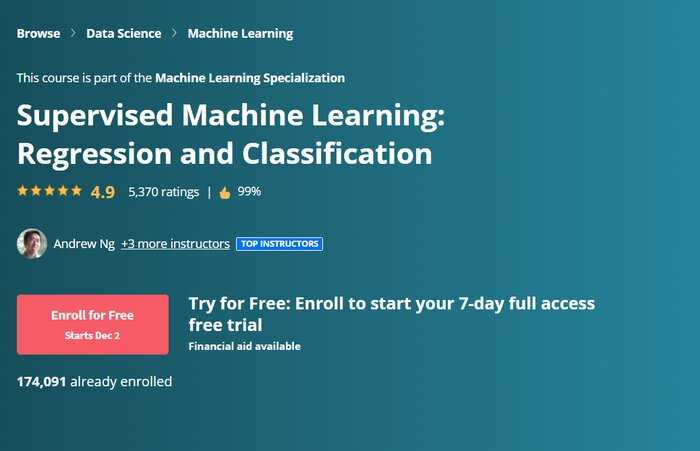 Course type: Course | Category: Data Science | Provider: Stanford University | Rating:4.9/5 | Length: approx 1-4 weeks | Level: Beginner
Get to grips with key AI concepts and develop practical machine learning skills in this beginner-friendly program by AI visionary Andrew Ng. Ng's many achievements include founding DeepLearning.AI, and the Google BrainTeam. Given this, and the fact he's an adjunct professor at Stanford and author of 100+ papers on machine learning, he's more than qualified to deliver this course.
This, combined with its 4.9 rating and excellent balance of theory and practice, is why it's top of our best Coursera courses list.
Even better, you can take it for free (without certification). And if you enjoy it, you can upgrade to take the full Machine Learning Specialization.
You will learn:
What learning is and how machines do it without explicit programming
The most effective machine learning techniques and how to practically apply them to new problems.
To build machine learning models in Python using NumPy & scikit-learn
To set up and train supervised models for prediction & binary classification tasks
See also our Best AI courses review.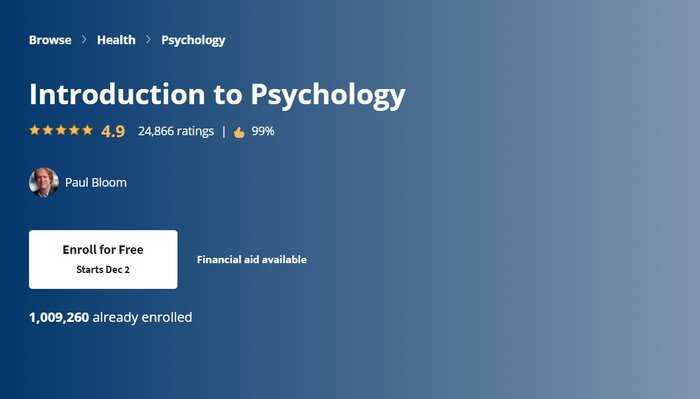 Course type: Course | Category: Health | Provider: Yale | Rating:4.9/5 | Length: 1-3 months | Level: Beginner
This course provides a thorough grounding in the scientific study of thought and behavior. It tackles fascinating topics such as fears, dreams, prejudices, perception, learning and persuasion. Basically it's a comprehensive and fascinating introduction to the study of the greatest question of all: What does it mean to be human?
Delivered by prolific author and award winning professor Paul Bloom from Yale University, the most commonly used words to describe it are insightful and inspirational. Bloom's enthusiastic and down to earth approach garners much praise and makes this complex topic both accessible and exciting.
And if you're not concerned about certification, you can take it for free!
You will learn:
Foundational psychological theories and findings in psychology (including Freud and Skinner)
About research into development and language
How language is learned, animal communication, language processing, and the relationship between language and thought.
How we perceive the world, how attention works and how we record experiences in memory
Key elements of social psychology
Features #2 in our best Psychology courses review.

Course type: Specialization | Category: Business |Provider: Macquarie University | Rating:4.9/5 | Length: 3-6 months | Level: Beginner
This Specialization starts with Excel essentials and incrementally builds in stretch and challenge as it advances to more complex skills.
It's led by Nicky Bull. Nicky's a corporate trainer, consultant and lecturer with over a decade of experience designing and delivering educational programs. She's also received the Coursera Outstanding Educator Award for Student Transformation in 2018.
As well as being in our top selection here, Excel Skills for Business features prominently in our selection of 10 best Excel courses. It's probably one of the most useful Coursera courses on the platform.
You will Learn:
How to apply Excel skills and techniques to solve a range of business problems
Get comfortable navigating the Excel for entering, manipulating and formatting data
Use formulas and functions to perform calculations on data and automate choices
Analyze data and present the results in a variety of ways
Create easy-to-use spreadsheets
Validate data, find and correct errors.
Design more sophisticated spreadsheets
Perform complex calculations and operations
Use advanced Excel features and techniques confidently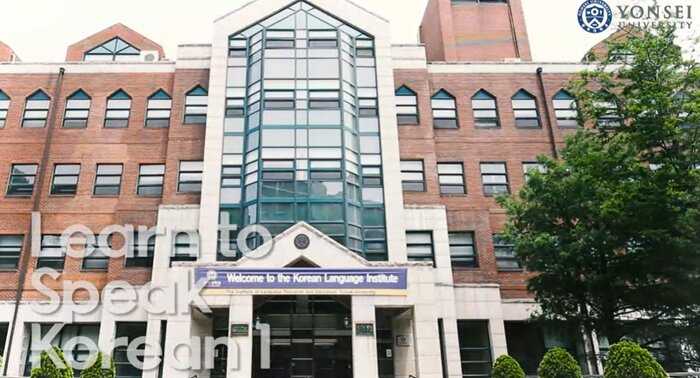 Course type: Course | Category: Language Learning |Provider: Yonsei University | Rating:4.9/5 | Length: 1-3 months | Level: Beginner
Yonsei University is one of the top ranking institutions in South Korea. And Sang Mee Han, the instructor, has been teaching Korean language to non-native Korean speakers since 1989.
Her course offers a perfect balance of listening, speaking, grammar and writing practice. It is organized through themes, focusing around activities or things that you will encounter when traveling to Korea. So it is especially great if you are planning on traveling, living or studying in Korea.
As well as ranking prominently in this article, it features second on our best Korean language courses review. And, as with all Coursera single courses, it can be taken free (without certification).
You'll learn to:
Introduce your friends and describe their actions, appearance and personality
Talk about your hometown, express how it looks and how it makes you feel
Talk about food, describe taste, order food and drinks, inquire about restaurant menus and order specific portions of food
Suggest something to do together
Go shopping in Korean, talk about different stores and shopping areas in South Korea, make purchases in stores using Korean vocabulary and sentence structure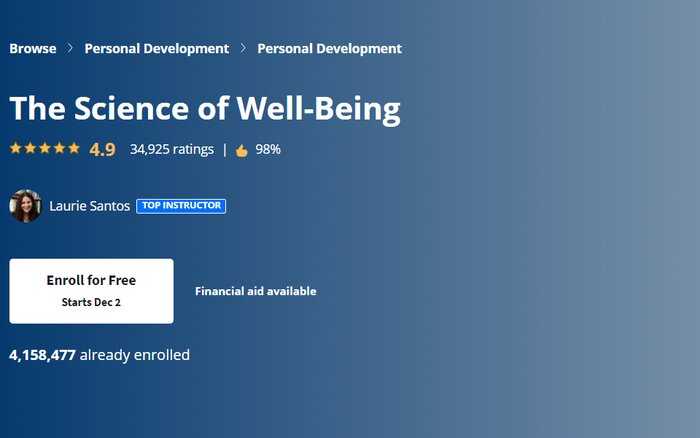 Course type:Course | Category: Personal Development |Provider: Yale | Rating:4.9/5 | Length: 1-3 months | Level: Mixed
Laurie Santos is a Professor of Psychology, host of the Happiness Lab podcast and director of the Comparative Cognition Laboratory at Yale. So it's safe to say she's more than qualified to deliver this course. You'll have the opportunity to take on a series of challenges designed to increase your happiness and build more productive habits.
Given that this course is delivered by a Yale Professor of Psychology and can be taken for free (if you don't want the certificate), I can't see anyone losing out by giving it a go.
You Will Learn:
Why our ideas about what will make us happy often turn out to be wrong
How to overcome annoying aspects of the mind that misdirect us
Practical steps you can take to make a positive change and be happier and more productive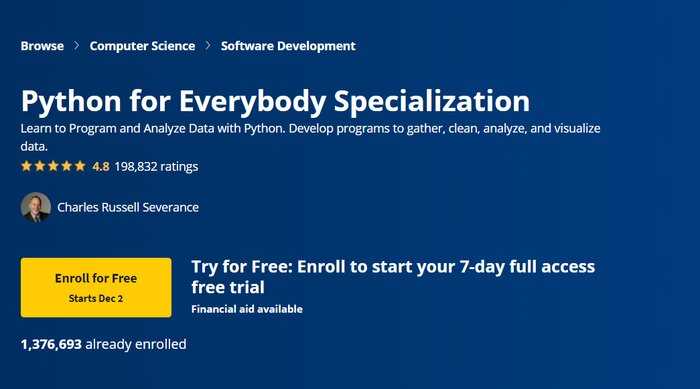 Course type:Specialization | Category: Computer Science | Provider: Michigan University | Rating:4.8/5 | Length: 3-6 months | Level: Beginner
Anyone new to coding will get huge value from this Specialization. You need nothing more than a little computer experience and the most basic of math as it starts at ground level and builds gradually in difficulty. The instructor is Professor Dr Charles Severance who teaches an array of technology related courses at the University of Michigan.
With its structured, incremental approach to mastering one of today's most in demand skills, it deserves to be highly placed on our best list. And its impressive course rating bears this out. Along with the five course units this specialization contains a hands-on project that leads to an accredited certificate.
You will Learn:
Python fundamentals
To install Python and write your first program
Use variables to store, retrieve and calculate information
Utilize core programming tools such as functions and loops
How to use Python's built-in data structures such as lists and dictionaries to perform data analysis
Methods for using Python to access data from the web
Techniques for using databases in Python
Ranks TOP in our best Python courses review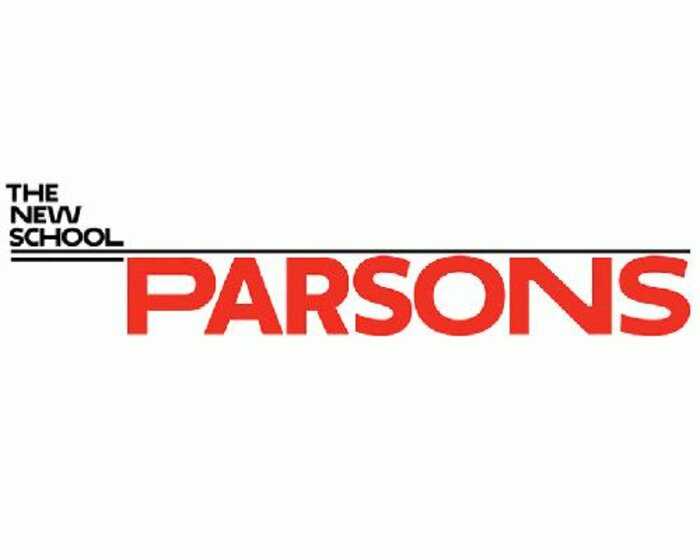 Course type:Course | Category: Business | Provider: The New School Parsons | Rating:4.6/5 | Length: 1-3 months | Level: Intermediate
The New School Parsons is a world-leading fashion university located in the heart of New York City. Their graduates include Tom Ford, Alexander Wang, and many other names that you definitely know. This is their online course on fashion design, providing you with an opportunity to learn from the professors of a top university in the fashion industry.
It's a saturated, intense course that will give you top-tier knowledge in the fashion design and business industry and an outstanding way to improve your knowledge and qualifications. It rates highly not only here, but also in our round up of best fashion design courses. If you're not concerned about certification, you can take it for free.
What you'll learn:
An understanding of the foundation of the fashion design process
Technological developments in fashion design and the future of the fashion industry
To work with new technology and artisanal design and craftsmanship
To build your brand through the aesthetics and materials
How to observe fashion from the socio-political point of view and forecast fashion trends depending on the world around you
How to be environmentally friendly while staying creative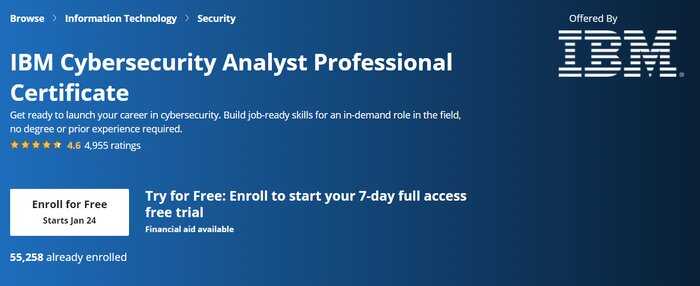 Course type:Professional Certificate | Category: Information Technology | Provider: IBM | Rating:4.6/5 | Length: 3-6 months | Level: Beginner
IBM Cybersecurity Analyst provides everything you need to get job-ready for a role in the Cybersecurity industry. It includes 7 course units, assessments, a real-world security breach hands-on collaborative project, and access to virtual labs, sites and industry tools.
Completion also means you are eligible to earn the Introduction to Cybersecurity Tools & Cyber Attacks IBM digital badge. And that's why it made it to our list of top Coursera courses.
You will Learn:
Fundamental Cybersecurity concepts and terms
About analytic tools including data protection; endpoint protection; SIEM; and systems and network fundamentals
Key processes and frameworks
Basic network security and vulnerabilities
Defence tactics, Incident response protocol and forensics with real world cybersecurity case studies
Develop skills via hands on experience with industry specific and open source Security tools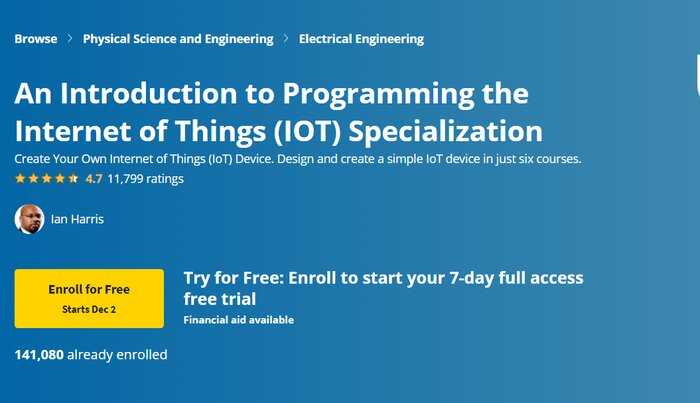 Course type: Specialization | Category: Physical Sciences and Engineering | Provider: University of California | Rating:4.7/5 | Length: around 3-6 months | Level: Beginner
Learn about the role and importance of the Internet of Things (IoT), the components of a typical IoT device, and what the future holds for this technology. Then apply all the skills you learn in a project to build your own microcontroller-based embedded system that you can showcase to future employers.
Ian G. Harris (BS, MS, PhD) is professor of computer science at UCI with a wide range of related research interests. This is a unique opportunity to learn about a technology that is enjoying explosive growth and transforming our world.
You will learn:
What the IoT is, the trends that have led to it and its impact on society
What an embedded system is and its key components and features
To understand networking and network protocols
How to deploy the Arduino platform and C for building devices that sense and control the physical world around them
When, how and why to use different sensors types
How to use the Raspberry Pi and Python to design and develop fun and practical IoT devices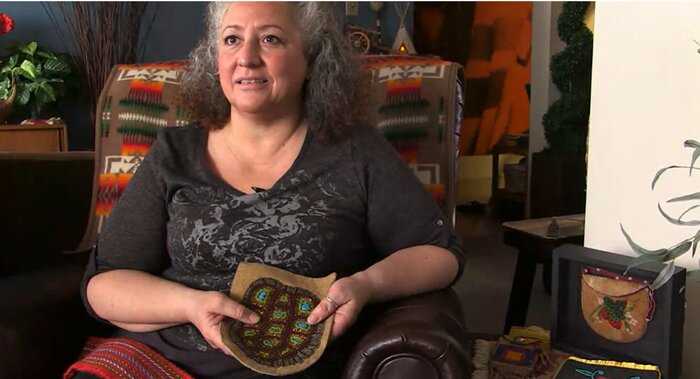 Course type:Course | Category: Arts and Humanities | Provider: University of Alberta | Rating:4.8/5 | Length: 1-3 months | Level: Beginner
Indigenous Canada explores the historical and contemporary experiences of Canada's native peoples. Using a range of resources such as maps, artifacts, graphics and imagery, It explores how Canada's aboriginal societies traded and interacted with each other prior to settlement – and the subsequent impact of that settlement.
I've added it to the list partly because it's a rich, deep and layered experience that provides a great foundation for garnering an appreciation of indigenous cultures, perspectives and worldviews. But also because it illustrates just how extensive and varied the library of offerings on Coursera is.
As with all Coursera courses, it can be taken for free with an additional charge if you require certification.
You will learn about the:
Significance of storytelling in Indigenous societies
Worldviews of the Inuit, Nehiyawak, Kanien:keha'ka and Tlingit peoples
Trading systems between Indigenous peoples prior to European contact
Impact of the fur trade
Different perspectives of indigenous peoples and settlers towards treaty making and legal traditions
Ways in which the Indian Act contributed to assimilation
Course type: Guided Project | Category: Information Technology | Provider: Coursera Project Network | Rating:4.8/5 | Length: approx 2 hours | Level: Beginner
Guided projects provide a split screen workspace in which you complete a project with step-by-step video guidance.
Your tutor, Rudi Hinds, is a software engineer, full stack developer and technical instructor at Coursera. His guided project walks you through the process of working with the fundamental operations of ChatGPT without any coding experience required.
You will:
Receive an introduction to ChatGPT and understand how it works
Deep dive into Tokens and Pricing
Explore, and get to grips with, ChatGPT parameters
Learn to guide AI Responses to a simulated chatbot
Create an AI-powered Health Assistant and simulate a conversation between a family doctor and a patient.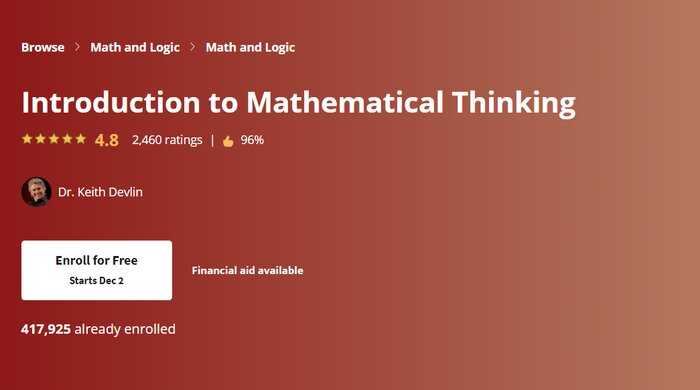 Course type:Course | Category: Math and Logic | Provider: Stanford | Rating:4.8/5 | Length: around 1-3 months | Level: Intermediate
This mathematical thinking course is taught by Dr. Keith Devlin, co-founder of the Stanford University Human-Sciences and Technologies Advanced Research Institute. It provides valuable insight into the mystery behind mathematical theorizing from one of the leading lights in the industry.
Logic, and the ability to critically evaluate a situation, are crucial in today's world. So we strongly recommend this course to students of intermediate level interested in expanding their understanding of what 'math' is and how it became 'math'. It's also included in our list of best Math Courses.
It can be taken for free if you do not want to go for certification.
What you'll learn:
How mathematicians think – discover the powerful cognitive process perfected and developed over hundreds of years
Familiarity with formalized language in mathematics
To analyze the purpose and use of mathematical languages
The history behind calculus creation and how important linguistic definition can be in math
Number theory
Methods of developing a rigorous foundation for calculus
How to solve problems using critical and mathematical thinking
See also our best online Math course review.
Course type:MasterTrack | Category: Social Sciences | Provider: University of Michigan | Rating:4.7/5 | Length: around 4 months
This course has been selected for our list as it is delivered by the University of Michigan – the #1 school for social work in the US. So if you have a strong interest in pursuing a career in social services this is the course for you. Even if you have no relevant experience. It includes six rigorous and linked courses, live sessions with instructors and peers, flexible and personalized learning, quizzes, assignments, collaborative projects and case studies.
Passing this MasterTrack successfully results in a University of Michigan Certificate and allows you to complete the full Masters for 45 instead of 60 credits (though to continue to the full Masters some human service experience will be necessary).
Learn how:
Social workers effect positive change with individuals, families and communities
Key research, knowledge, policy and frameworks guide social work practice
Social work policy has evolved over the last century
To understand the connection between social work and social justice and how to use a social justice lens
To appreciate the different roles of social workers in a range of settings

Course Type: BSc full degree | Category: Computer Science | Instructors: Tutors from Goldsmiths (University of London) | Length: 3-6 years
This is a chance to open the door to a career in technology with a globally recognized university. One of the main reasons I picked it is the flexibility it offers for you to specialize in 1 of 7 cutting edge topics: Machine Learning & AI, Data Science, Web & Mobile Development, Physical Computing & the Internet of Things, Games Development, Virtual Reality, or User Experience.
It's a great mix of theory and practice with a project based approach that will nurture technical and transferable skills. Though there is an option to attend classes in person, tuition can be fully online, with academic support and feedback as well as access to student forums.
Learn how to:
Master in-demand computing skills
Solve complex problems
Sharpen your innovation and creativity
Develop technical and transferable skills
Shine in one of 7 specialist fields (for example AI, Machine Learning, Games Development, etc.)
How to find the best courses on Coursera
There are quite a few ways to navigate Coursera to find courses. The two most straightforward are using:
Search if you know the subjects and topics that most interest you
What we Offer if you want to explore the different learning paths on Coursera
What we Offer
I found this the most helpful way to explore the different options on Coursera. It meant I knew in advance the approximate cost, length of course and goal of each option before taking a closer look.
Just scroll the very bottom of any screen and click on the What We Offer option: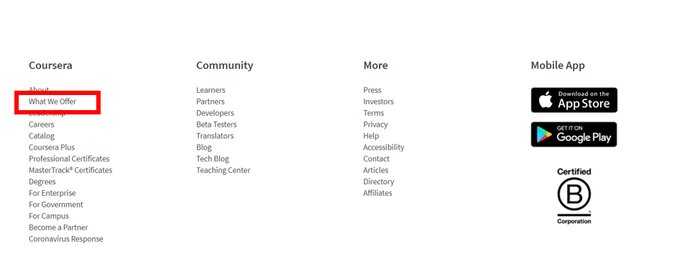 You'll then see the following, allowing you to explore all the different options according to your goal, time commitment and budget: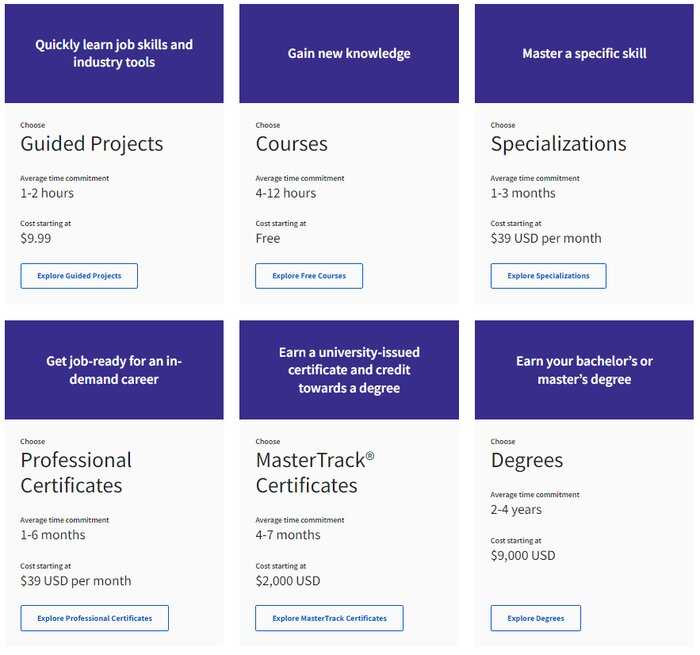 You can also use the search function and filter your searches.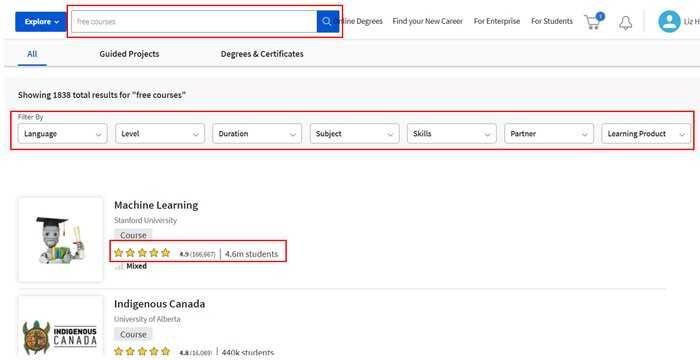 Whether you use Search or What do We Offer to explore, courses will be listed with the most popular and top rated courses displayed first.
When you find a course you like, click on Enroll to find out more details and read student reviews.
How much does Coursera cost?
In summary:
Coursera Courses can be taken without certification for free. With certification they cost from $49. You can start a course for free and pay later if you decide you would like a certificate
Guided Projects start at $9.99
Specializations and Professional Certificates from $39.99 a month
A Coursera Plus subscription is $399 per year
Full degrees start at $9,000
A Coursera Plus subscription gives you unlimited access to Courses, Guided Projects, Specializations and some Professional Certificates for as long as your subscription is active.
Coursera Plus costs either $59 monthly, or $399 up front for the year (an annual saving of $309 over the monthly cost).
This works out to just over $1 a day to be taught by the world's best and brightest which is amazing value and a sound investment in you and your future.
For more granular detail check our article Coursera cost. And for the latest discounts (which are rare but do occur) check here.
Coursera free trial
There are many ways to experience Coursera for free. So you can sample much of what's on offer without spending a cent.
There are:
1,800+ Coursera free courses that you can take in full without certification
Individual Specialization units that can be audited for free
Seven day free trials with:
Coursera Plus monthly subscription
Specializations
Professional Certificates
As well as this, Coursera offers 14 day money back guarantees on most of its products. To find out how to get as much content as possible or free, check out our article: Coursera pricing, clearly explained.
How to get the best value from Coursera?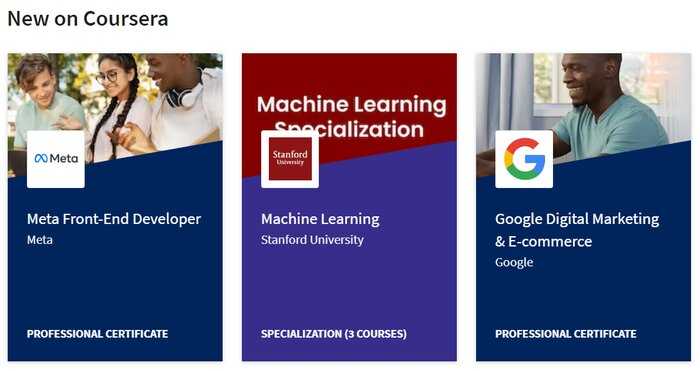 To get the most value out of Coursera you need to take time to find the right fit – use our guide above to find the right courses, check out the content and read reviews.
From then on, the key to getting good value is to be disciplined:
Make learning a habit. Spread out your learning sessions for better outcomes.
Start the way you mean to go on. Keeping up to date with deadlines and routines at the start of a course, makes it twice as likely you'll stay engaged and get finished.
If you're paying for a course on a monthly basis, the more you stick to a learning routine, the quicker you'll get through it and save money. Of course, don't forget to cancel your payment when you have finished!
If you go for Coursera Plus subscription, plan to take as many courses as possible to get maximum value.
Participate with other learners through discussion forums to keep you engaged and on task.
Our methodology
I've spent a lot of time navigating every corner of Courser's platform to investigate the range, quality and cost of what's on offer.
I also sampled several specific courses. This included topics I felt confident in which helped me gauge the quality of the teaching. And courses I knew little or nothing about to see if claims that no prior experience was necessary were backed up by good introductory content and incremental teaching that kept me engaged and learning.
Conclusion
Our top picks for the best courses on Coursera are Supervised Machine Learning with Stanford and Introduction to Psychology with Yale. Both have extremely high ratings, are offered by the world's most prestigious universities and can be taken for free.
Stanford's machine learning course has been updated and expanded from an earlier, massively popular programme. It now forms part of a broader specialization. So if you enjoy it you can upgrade and really get to grips with the latest in AI.
And Yale's psychology course is an accessible, imaginative and fun exploration of that oldest of all questions, what does it mean to be human?
That said, Coursera has thousands of very different course types across 11 varied categories. Prior to reading this article it might have seemed daunting to find the best course for your specific needs. But armed with the knowledge we've provided, you should now be able to squeeze every ounce of value out of this megalith amongst eLearning platforms.
And if you're still feeling cautious, just remember that all of Coursera's 1,800 courses (not guided projects, specializations or professional certificates) can be taken in full for free. You need only pay if you require certification. That's 1,800 opportunities to experience what the platform has to offer with no risk.
Best Coursera Courses – Frequently Asked Questions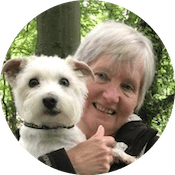 Liz Hurley has 30+ years of high school teaching experience and is one of our senior writers here at Learnopoly.