Whether it's for professional or personal life, confidence is one of the most important attributes that we can possess. Genuinely believing in yourself and your abilities makes a world of difference to how you see the world and your place in it.
But if you're not confident, is it possible to learn? These courses seem to say so. I've searched the internet for the very best confidence classes and I've made this list so you can find the best place to learn how you can gain confidence where you have none.
Not only will I be sharing the top ten online confidence courses with you, but I'll also go over the costs, lengths of courses, what to look out for, the benefits of taking a confidence course and more.
So, let's get started.
What is the best online confidence course?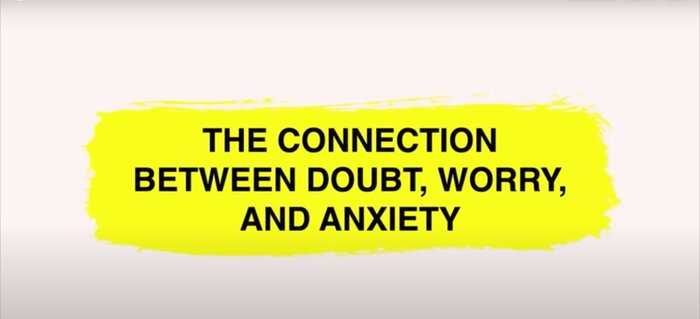 These are our top confidence course recommendations:
My top pick for this list is Self confidence – 40 minute confidence and self esteem guide.
I've chosen this one because it is the course that will provide genuinely useful tips and advice on how to become more confident rapidly.
Through using this class, you'll see changes in how you perceive yourself in no time.
Confidence is a very general quality, but some of you will be looking to learn how to be confident in specific circumstances, we've got you covered.
Business etiquette 101: Social skills for success offered by Udemy is the best place to learn the social skills you need to become a more assertive businessperson.
Confidence for creatives: Five exercises to grow your confidence and self-care, from SkillShare, is the ideal place for creatives to share their talents with the world.
We often associated confidence with great leaders and notable individuals. So if you want a course on how to communicate clearly and effectively, look no further than MasterClass.
George Stephanopoulos teaches purposeful communication is a class offered by one of the biggest names in American politics and journalism.
Ultimately, I've tried to include a range of courses on this list when it comes to price, content and length. Hopefully this means you can find the right course for you right here.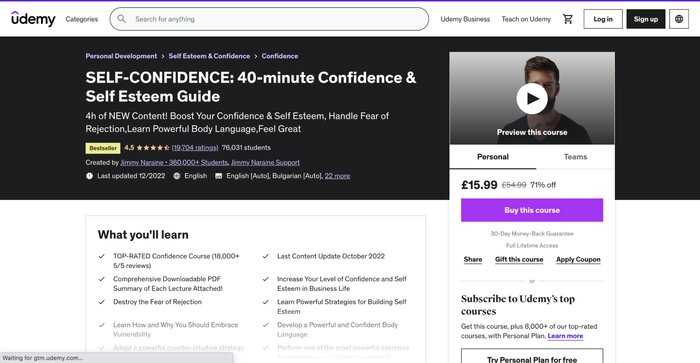 Platform: Udemy | Teachers: Jimmy Naraine | Course length: 5 hours of on-demand video
My first choice is Self confidence – 40 minute confidence and self esteem guide.
This is because the content focuses on both practical advice on improving your confidence, such as changing your body language, whilst also teaching the importance of embracing vulnerabilities, which is rare for a class like this.
The instructor, Jimmy Naraine, has experience delivering corporate training to Fortune 500 companies and now has over 300,000 students on Udemy alone. So you're in capable hands.
This course has over 75,000 students, with a 4.5-star rating from over 19,000 reviews, making it one of the most popular online confidence courses on both Udemy and the internet.
As these lessons are available on Udemy, they are also often on sale, meaning this course is also excellent value for money relative to its competitors.
You will learn:
An introduction to being more confident
How to handle fear of rejection
Confident body language
Destroying negative talk
Handling daily social interactions
Digital confidence
Practicing gratitude
Embracing vulnerability
Overcoming imposter syndrome
Assertiveness
Pros:
Engaging and interesting delivery
An instructor whose experience sets him apart
Content includes more practical advice
Also contains more philosophical insights into emotions and psychology
Well-structured, breaking up reams of content into digestible chunks
Continuously updated with new material
Teaches content relevant for the modern world
Cons:
Best for: Anyone who struggles with confidence, and wants both practical techniques and general advice that might help to change their attitude
Overall: This is the best confidence out there because it has everything you would expect from an online confidence course and then some. The teacher has an engaging presentation style that illuminates the points he makes. The content itself combines practical exercises and general techniques that you can apply in your day-to-day life. With 5 hours of content, there is a lot to dig into, but it's really well-structured and broken into digestible chunks. Overall, this is one of the most popular and well received confidence courses online, so why not check it out?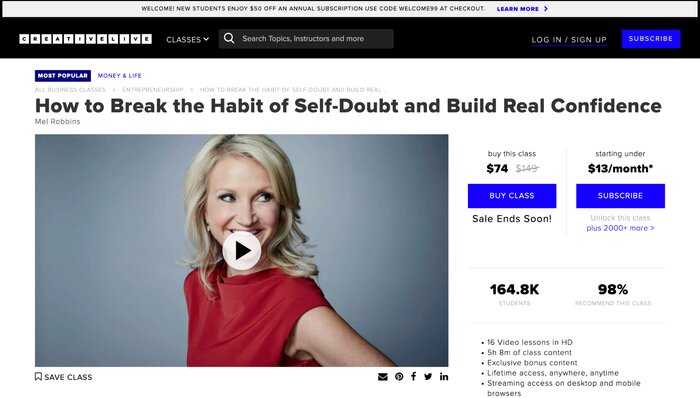 Platform: CreativeLive | Teachers: Mel Robbins | Course length: 5 hours, 8 minutes of class content
Our second pick comes from Creative Live, which, like Udemy, offers courses in a massive range of disciplines. However, Creative Live is a subscription service, meaning you can access all of the content on the website by paying a monthly fee.
This course is perhaps the highest-rated and most popular confidence class on Creative Live. Over 160,000 students take the class, with 98% of them recommending it from over 500 ratings and reviews.
The instructor is Mel Robbins, an author, entrepreneur and legal analyst who is described on the course page as the most booked female speaker in the world. With those kinds of credentials, it's almost a guarantee that she can teach you something about confidence. Features in our best CreativeLive courses review.
You will learn:
How to overcome imposter syndrome
Myths and truth about being confident
How to develop self-confidence
What is self-doubt
Self-doubt symptoms
What causes hesitation
Avoidance coping
Hypercritical personalities
Overcoming learned helplessness
The connection between anxiety and self-doubt
Pros:
A world-renowned instructor
Very comprehensive content
Focus on actual techniques
Ideal for creatives
Places a strong emphasis on explaining where certain feelings come from
Very engaging delivery
Concrete steps, advice and guidance
Cons:
Perhaps a bit too much emphasis on creatives
Best for: Creative individuals who want to add confidence to their world and anybody who values a strong and engaging delivery from their instructor
Overall: As one of the most popular public speakers in the world, Mel Robbins is in some ways the ideal person to lead a course on confidence. Just browsing the comments on this course will show you how much people appreciate the lessons here. I chose Udemy over this one because I feel a one-off payment is a better way of purchasing a confidence course than a subscription, and although you can purchase this class individually, it is a little more expensive. However, the content is equally excellent, so it depends on what your payment preference is.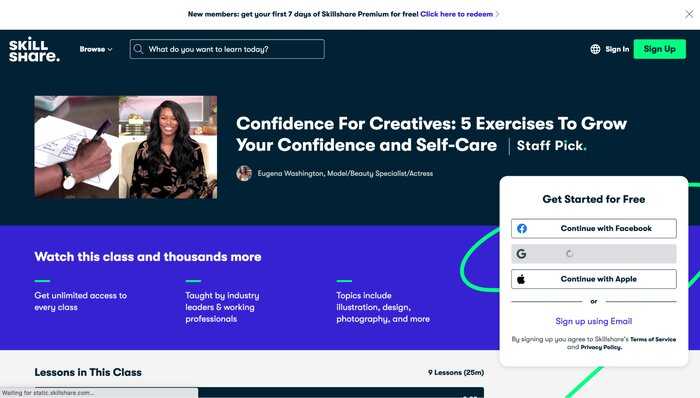 Platform: SkillShare| Teachers: Eugena Wahsington | Course length: 25 minutes of on-demand video lesson
SkillShare, like Udemy, offers courses in a massive range of disciplines. However, they are set apart by the fact that SkillShare is a subscription service.
This means that, in return for a monthly fee, you get access to all the content on SkillShare. So if you're looking to build your confidence, but also are interested in trying some other skills, this might be for you.
This is one of SkillShare's most popular and acclaimed confidence courses, with over 9,000 students and 89% of students saying it met or exceeded their expectations.
The class is led by Eugena Washington, who is a model, actress and entrepreneur. Her experience in the creative industry makes her the ideal person to lead the class on confidence for creatives.
You will learn:
Introduction to the class project
Using a letter to let it go
Accounting for personal brilliance
Identifying your iconic image
Creating a pleasure playlist
Putting it altogether
Pros:
Project-based, allowing you to feel really involved
Super engaging instructor with experience being confident across a range of industries
Teaches confidence specifically for creativity
Covers a lot of ideas in a short amount of time
Subscription service mean you can take this alongside other classes
Cons:
Quite short
A little generic
Best for: Creatives who feel like they're in a rut or not asserting themselves in their industry
Overall: For the creative industries, confidence is essential. They are literally all about putting yourself out there. So this course might be just the thing you're looking for if you're a creative person who feels like they're not standing out. This course contains a lot of practical ideas and projects to help improve confidence.
Platform: MasterClass | Teachers: George Stephanouplous | Course length: 2 hours and 10 minutes
MasterClass also has a range of courses from a variety of disciplines. Here, you can learn cooking, drumming, tennis and more. What sets MasterClass apart however is that your cooking instructor is Gordon Ramsey, your drum teacher is Ringo Starr and your tennis coach is Serena Williams.
Given the caliber of their instructors, it makes sense that MasterClass' guru on communication and confidently sharing your ideas is one of the most formidable names in American media.
George Stephanopoulos started behind the scenes, advising US President Bill Clinton on how to confidently put forward his message to a global audience.
He has gone on to become an acclaimed journalist, interviewing some of the most recognised, interesting and confident people in the world. Now he's here to share his, and there, secrets.
You will learn:
How to battle your nerves
Doing your prep
Be in the moment
Throw out the battleplan
Ask the right questions
How to challenge and confront
Mastering through body language
Telling a human story
Getting out of your comfort zone
Pros:
Led by an instructor from the very top of American media
Utilises Stephanopoulos' wealth of experience
Uses anecdotes to enlighten the points made
Comprehensive content, broken into easy-to-understand segments
High production quality
Provides proper insight into George's life and career
Totally unique
Cons:
A little generic
Some might find it too media focused
Best for: Anyone looking to learn confidence from a world-renowned communicator, specifically those interested in politics, journalism and media
Overall: It takes a lot of confidence to lead the world's most influential country. From advising Clinton, to interviewing Obama, Trump and Biden, George Stephanopoulos has an inside-out understanding of what it takes to fill those shoes. Here, you'll get insight into how to purposefully communicate your ideas from someone who has worked in a world where all eyes are on him. MasterClass provides a unique opportunity to receive high-quality, well-produced lessons from leaders in their field, and this is no exception.
Platform: MasterClass | Teachers: RuPaul | Course length: 2 hours
RuPaul Andre Charles shot to fame in 2009 with his show, RuPaul's Drag Race. Since then, Drag Race has become the most awarded reality competition show in Television Academy history. Ru is also the first drag queen to receive a star on the Hollywood Walk of Fame – which Jane Fonda said should have been three times bigger than anyone else's! And he's made Time Magazine's 100 most influential people in the world list.
For all that, his journey to self realization has not been easy. He's had more than his fair share of challenge and prejudice to deal with on the way. In his MasterClass Ru shares his personal life story and uses his experience to help you learn (and love) who you really are, and live life to the full.
Learn how to:
Find your true self and express it confidently
Be mindful of how past hurts influence present actions and identity
Attract people on your wavelength
Overcome setbacks and let go of what's not working
Nurture and reassure your inner child
Break free of bullies
Use meditation, breathing and visualization to manage anxiety
See failures as opportunities to improve
Understand your proportions so you can correct your silhouette
Identify clothing that emphasizes your best points
Refine your makeup
Pros
Unique opportunity to learn directly from RuPaul
Lots of universally applicable advice
Inspiring guest appearances
Genuine and passionate delivery
Upbeat and positive feel
Cons
Some aspects geared more towards drag culture
Lacks 'How To' advice in some areas
Best for: Anyone struggling with confidence issues or just looking to reboot their lives will find a wealth of universally applicable tips and advice. Ru's been there. And he's got a lot to share about being your happiest authentic self, even in the face of adversity.
Overall: An uplifting and motivating MasterClass with a wealth of takeaways. Ru will push you to discover your authentic self and share it with confidence!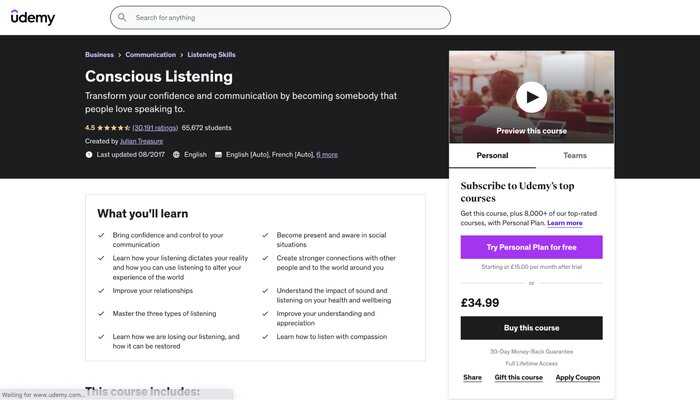 Platform: Udemy | Teachers: Julian Treasure | Course length: 1.5 hours of on-demand video
Halfway down the list marks a return for Udemy.
Although people often associate confidence with expressing yourself, speaking clearly and making your ideas heard, it is also just as much about listening.
Actively listening to, and subsequently understanding, other people's ideas are essential for developing a sense of your place in the world and how to assert yourself.
This class will teach you the fundamentals of conscious listening. It's taught by Julian Treasure, a sound and communication expert who has taught 120,000 Udemy students and presented 5 TED talks. This class itself has over 65,000 students.
You will learn:
Introduction to conscious listening
Listening filters
Inner listening
Outer listening
Created listening
Advanced listening
Pros:
Puts simple ideas into a wider perspective
Led by a very experienced instructor
Teaches an often overlooked aspect of confidence
Includes lots of practical advice on conscious listening
Very interesting in itself, introducing lots of insight that isn't widely known
Cons:
Can be a few technical issues with the volume
Includes some outdated gender stereotypes
Best for: People, both confident and shy, who feel like they could work on their listening
Overall: Being able to listen to someone actively is the most important thing when it comes to understanding them. And understanding people, and how they think and feel is an essential prerequisite for being confident. So, despite not advertising itself as a confidence course, this class definitely deserves a spot on the list, especially given the credentials of the instructor and the interesting concepts he explores.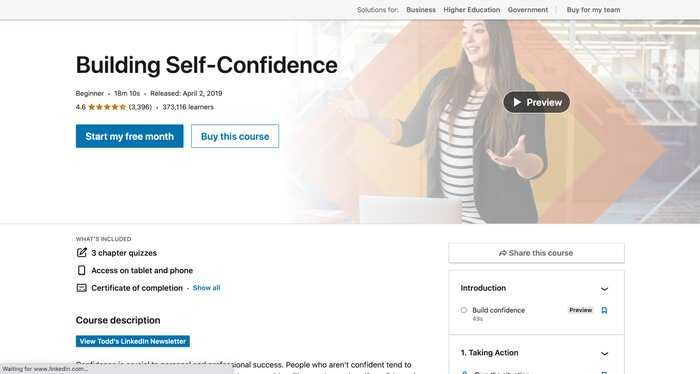 Platform: LinkedIn Learning | Teachers: Todd Dewett | Course length: 18 minutes
LinkedIn is an eminent site when it comes to business networking. And like anything else, there is always more to learn when it comes to business. Hence, we have LinkedIn Learning.
This course is LinkedIn Learning's most popular and acclaimed confidence course. It's the shortest option on our list, which might make you question whether it's worth investing in.
However, LinkedIn Learning is a subscription site, meaning you pay a monthly fee to access this course as well as everything else in their course library.
This class is led by Todd Dewett, an 'authenticity expert.' It has over 300,000 students and 4.6 stars.
You will learn:
How to own the situation
Embrace the imperfection
Articulate a path forward
Manage your context
Feed your positivity
Pros:
Very concise
Allows you to build confidence independently
Gives you insight into your own dealings with confidence
Has a business focus by being associated with LinkedIn
Includes a shareable certificate of completion
Cons:
Quite short
Could include more practical examples
Best for: Anyone looking for a quick course on being confident
Overall: It might seem like genuinely developing confidence will take a long time. But sometimes just a few new ideas can change everything. At just 18 minutes, this course should be the go-to for anyone who wants a whistlestop tour on gaining confidence, especially if you're looking for a business focus. It might seem like such a short class isn't worth the price, but don't forget that with LinkedIn Learning, you're subscribing to the whole site and getting access to all the content.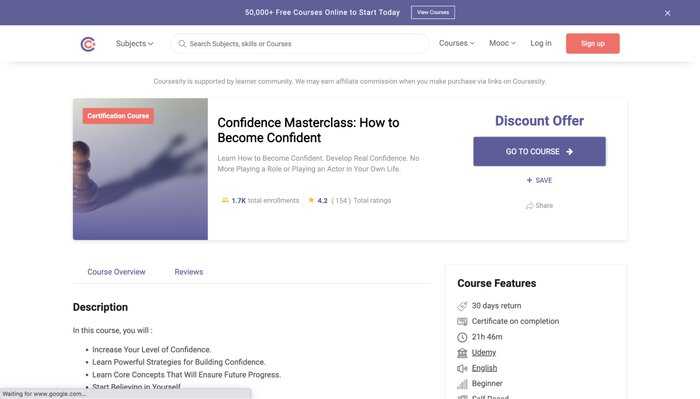 Platform: Udemy | Teachers: Frank Valentine | Course length: 21 hours of on-demand video
At number 7 we find another Udemy entry. Confidence masterclass: How to become confident, is a course that is more general in terms of the concepts and content it teaches.
This is one of the smaller picks on the list with over 1,000 students. However, it is also one of the most comprehensive, with over 21 hours of on-demand video.
It is led by Frank Valentine, a teacher who helps individuals with finances and financial success using ideas from psychology. Ultimately, it's the brain that controls your confidence, so a psychological perspective is very useful.
You will learn:
Core concepts
Self-confidence
Confidence on the phone
Confidence face-to-face
Confidence in a social setting
Confidence on stage
Confidence on camera
Confidence on a date
Fitness
Mastering your mind
Finances for confidence
Pros:
Very comprehensive
Teaches confidence in various domains of everyday life
Uses perspectives from psychology to illuminate points
Shows how confidence can be externally affected e.g. through fitness and finances
Straightforward instruction
Includes a big list of references
Cons:
Quite a lot of content; may be overwhelming for more casual students
Best for: Learners interested in the psychological perspective on confidence, as well as those who want to be confident in specific scenarios i.e. on stage, on camera
Overall: Two key things set this class apart. Firstly, it has very comprehensive content, with over 21 hours of video lessons that dig into how to specifically improve your confidence in certain everyday scenarios. Secondly, it approaches this from a psychological perspective, with lots of references and further reading for you to dig into.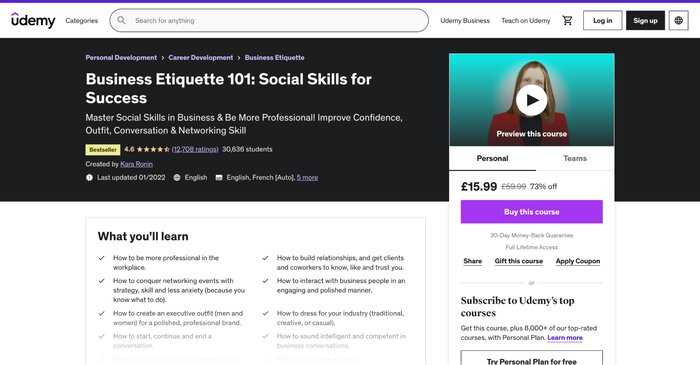 Platform: Udemy | Teachers: Kara Ronin | Course length: 4 hours
Confidence is an essential attribute for business success. If you want to learn how to become more confident in your professional life, this is the course for you.
Udemy's final entry on this list is taught by Kara Ronin, who has over 54,000 students on Udemy and has worked with some of the biggest executives in the world.
This class has over 30,000 students, with a 4.6-star rating from 12,000 reviews. Its unique focus on business means this is the ideal class for those looking to develop their confidence in a corporate sense.
You will learn to:
Build the know, like and trust factor
Create an executive wardrobe
Conquer networking
Master your conversations
Nurture your digital footprint
Pros:
Covers a specific niche
Delves into a world where confidence is valued
Taught by a successful business-woman in her own right
Provides tips you might not have thought of, like changing your wardrobe
Includes helpful examples
Well taught with specific detail
Cons:
Some of the quizzes aren't as helpful or relevant
Best for: Business professionals who feel their confidence is lacking and want to change their attitude
Overall: Business professionals will find this course very helpful. Not only is the instructor super experienced, having worked with top executives and business publications, but she also has a range of tips and tricks to help you with your professional interactions. There is both practical and more general advice packed into this 4-hour class.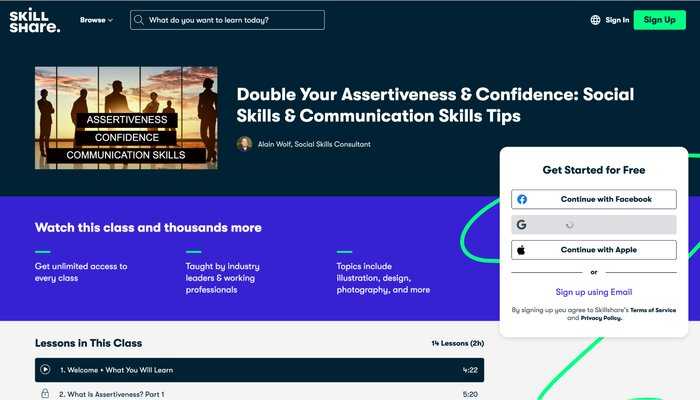 Platform: SkillShare | Teachers: Alain Wolf | Course length: 5 hours and 3 minutes
Our penultimate spot sees us branching out again a little bit to social skills and communication. It also marks the return of SkillShare
For some people, the belief in themselves is there, but communicating their ideas and skills to the rest of the world can be a challenge and lead to the perception of insecurity. Communication is key.
Luckily, Alain Wolf is a social skills and communications expert, so he is the ideal person to help you become more confident with your interactions.
This course has over 16,000 students, with 93% of reviewers saying it met or exceeded their expectations.
You will learn:
How to approach people
Joining groups
Never running out of things to say
Connecting with people fast
Attractive social energy
Eye contact
Smiling
Visualization for success
Handling fear of failure and rejection
Being more assertive
Being comfortable in your own skin
Pros:
Provides very specific tips and practical advice
Exceeds expectations by focusing on an area not many people feel can be taught
Very comprehensive
Covers all the bases, including mind, body and interacting with others
Taught by an experienced social skills and communications consultant; the ideal teacher
Includes 3 class projects where you can test your skills
Cons:
Quite repetitive
Could be condensed into a smaller class
Best for: Those who feel they are lacking confidence in their social and personal life
Overall: Although a lot of the options on this list have focused on the professional world, confidence is just as important for our personal lives and social interactions. This course is the best option for improving confidence in your day-to-day social interactions, containing practical guidance and comprehensive advice from a highly regarded communication expert.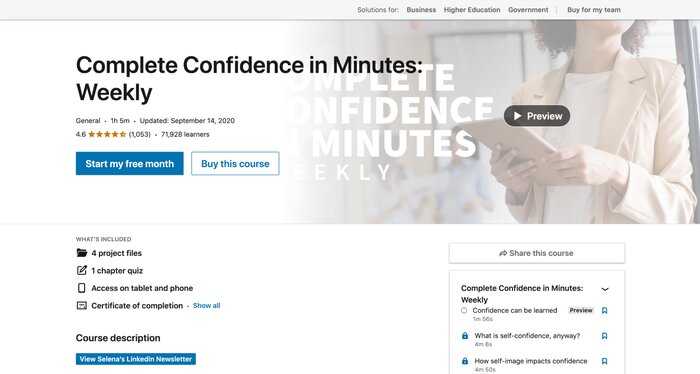 Platform: LinkedIn Learning | Teachers: Selena Rezvani | Course length: 1 hour and five minutes
The final option on this is another offering from LinkedIn Learning. As with the other LinkedIn course, there is a special focus on business here.
This course is led by Selena Rezvani, who is a best-selling author with experience at some of the top consultancy firms in the world, so she is very qualified.
This class has 71,000 students, with a rating of 4.6 stars out of 5.
You will learn:
How self-image impacts confidence
Identifying peak confidence experiences
Avoid confidence-killing perfectionism
Cultivating a growth mindset to build confidence
Building confidence through small wins
Preparation
Projecting confidence with your body
Choosing confident wording and language
Maintain confidence through your network
Self-confidence and how it can inspire others
Pros:
Includes very clear guidance, tips and tricks
Practical advice like using your body and your language
A refreshing focus on self-image and self-confidence
Includes chapter quizzes so you can test your knowledge
Broken into easily digestible chunks
Includes a certificate of completion
Cons:
Some might find the lessons a little too short
Could elaborate more
Best for: Absolutely anyone looking to build their confidence, particularly those interested in their professional life
Overall: This course is a great one to take if you like to learn in shorter forms. Each class is divided into shorter video lessons which allow you to really focus on the content. You'll be led by an instructor who has made a name for themselves in the corporate world with practical tips and tricks on how to improve your self-image.
What are the advantages of taking an online confidence course?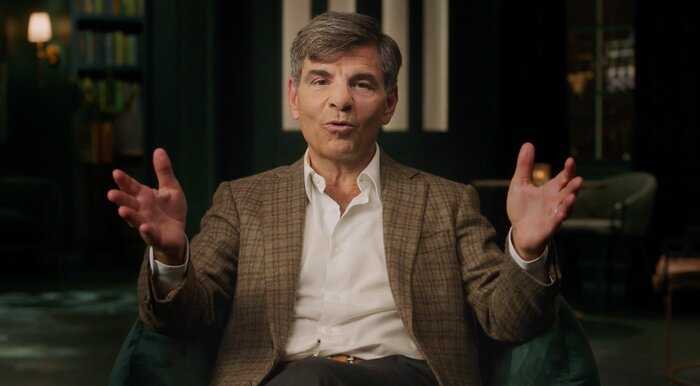 Confidence, although sometimes under a different name, is an attribute revered in societies and cultures from across the world and through the ages.
So there must be some benefits to being more confident. These might include:
Helps performance under stress
Allows you to develop stronger relationships
Means you get can contribute more to group projects
Valued in both the professional and social world
Allows you to enjoy complex projects and situations more
There are also some benefits to specifically taking online confidence courses:
Access to the best instructors from all around the world
You can learn when you like and fit everything around your schedule
You can combine different platforms with in-person teaching to achieve your personal goals
There's access to endless additional materials
The skill will stay with you for life
Other skills and qualities might improve
Learning a new skill is great for engaging the brain
Buyers guide: what to look out for
With so many choices, it can be hard to know what to look out for when selecting the best confidence course for you.
So here's a helpful buyers guide to look out for:
Positive reviews and feedback from both users and sites like Learnopoly
The credentials of the instructor
How long the course is and what each lesson will teach you
Any additional materials
What kind of tips and advice does the course offer
How many people are enrolled
Is the course aimed at an area where you want to be more confident i.e. business
Is there any free trial or refund available?
How much does it cost?
How much a course costs will depend on whether it is a subscription service or whether the course is sold separately.
For subscription services, the courses here range from $12 per month to $39.99 a month.
The price variation is typically reflective of the content offered by the site and what makes it unique. For example, MasterClass is set apart by its globally revered instructors. Whereas LinkedIn Learning is focused on business and professional skills.
Subscription services are ideal for those looking to learn a wide range of skills. For example, if you're interested in developing your confidence and you also want to work on your cooking skills, MasterClass will get you lessons from both George Stephanopolous AND RuPaul.
Another thing to note is that subscription services will often offer annual subscriptions as well as monthly subscriptions, where the former is cheaper.
Courses sold separately range from $15.99 to $59.99.
With this option, you only pay for and receive the content from the specific course that you purchased. This is a better option if you're just looking to work on a particular skill like confidence.
A benefit of these individual courses is that, especially with sites like Udemy, they are often on sale, which means you can purchase them for cheaper than the asking price.
Ultimately, both options exist, so it depends on which works better for you.
How long does it take to learn how to be confident?
Courses on this list range from 18 minutes to 21 hours. However, how long it takes to learn to become confident will depend on a couple of other factors.
Firstly, everyone learns at their own pace. Sometimes, you might find it helpful to rewatch or revisit certain lessons to really take in the concepts.
Also, many of these classes have additional materials for you to dig into alongside the video content. You'll need to factor this into how long it takes to learn the skill of confidence.
Finally, it's recommended, as with any skill, that you allocate some time for personal practice. Whether it's practicing in front of a mirror or with trusted friends, this is the best way to embed whatever you've been taught.
The human mind can become attached to certain ways of thinking about itself, and hostile to others. Confidence is quite a tricky behavior to learn, so make sure you're kind to yourself and give yourself lots of time to truly master the teachings offered here.
Conclusion
My top pick for the best online confidence course is Self confidence – 40 minute confidence and self esteem guide from Udemy.
This class combines practical advice on how to improve your confidence with tips for body language and speaking, whilst also preaching the importance of embracing vulnerability, which is rare for lessons in this style.
The course is one of the most highly rated and popular confidence courses on Udemy and is led by an instructor who has taught over 300,000 students. Udemy courses are also typically on sale, meaning this course is often a bargain purchase.
However, if you feel like developing other skills besides confidence, you might want to check out a subscription service, like Creative Live. How to break the habit of self-doubt and build real confidence, is their top confidence course, offered by one of the most in-demand public speakers in the world!
For some, confidence is what's needed for their professional lives. If you're looking to establish yourself more in the business world, Business etiquette 101: Social skills for success (Udemy) and Building self-confidence (LinkedIn Learning) are for you.
Finally, who better to learn confidence from than someone in the public eye? With its emphasis on world-renowned instructors, MasterClass's George Stephanopoulos teaches purposeful communication is also worth considering. And with MasterClass membership you could take the RuPaul class too, along with 150+ other MasterClasses.
If you're looking to be more confident this list has hopefully shown you that there is a range of options online, each with its own fantastic qualities, that can help you do just that.
Related articles: Best public speaking courses, best communications courses, best hypnosis and hypnotherapy courses, best psychology courses, best online CBT courses, best counseling courses, Lifebook Online review, best teaching courses
Online confidence courses – Frequently asked questions
How much does an online confidence course cost?
For subscription services, the courses here range from $12 per month to $39.99 a month. Courses sold separately range from $15.99 to $59.99.
How long do online confidence courses take?
The options range from 18 minutes to 21 hours.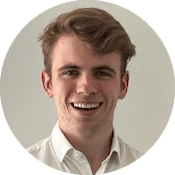 Charlie is a student reading politics at King's College London. He is also a passionate musician with over 14 years of experience. In his free time, he also enjoys cinema, long-distance running and learning new things.