No matter where in the world you're from, fluent communication, whether it's written, visual or verbal, is an essential skill.
The ability to convey ideas with clarity is becoming more and more desirable, and presenting yourself and your skills confidently could land you your dream job. However, it can be intimidating, (think presentation in front of the whole office). But equally, it can help you form deeper relationships and negotiate conflicts with friends and colleagues alike.
So, whether you're looking to enhance your business communication, improve your public speaking abilities or sharpen your writing skills, an online course can set you on the right track.
I've compared the top communications courses, assessing skill level, instructor qualifications and enjoyability so you can dive right in and make sure you always get your message across.
What is the best communications course?
My top pick is Coursera's 'Effective Communication: Writing, Design, and Presentation' Specialization due to its comprehensive coverage of all thing's communication. You'll be tested throughout with hands-on projects while 3 expert instructors guide you through cross-cultural communication, active listening, and effective graphic design. Once you've finished, you'll also come away with a certificate of completion to showcase your new skills as well as academic credit for CU Boulder.
My favorite focussed course has to be 'Visual Storytelling: Creating More Persuasive Presentations' by Skillshare. Susannah is engaging, relatable and has included lectures on presenting quantitative data which is unique to this course. In just 1 hour, you'll learn how to connect with your audience, deliver your message concisely and confidently, and the tools you need to create effective presentations.
Best free online course
Both Coursera classes can be accessed for free without a certificate of completion or can be upgraded to include a certificate for $38. Skillshare's visual storytelling course is only an hour so can easily be completed within the free trial period.
Best communications course reviews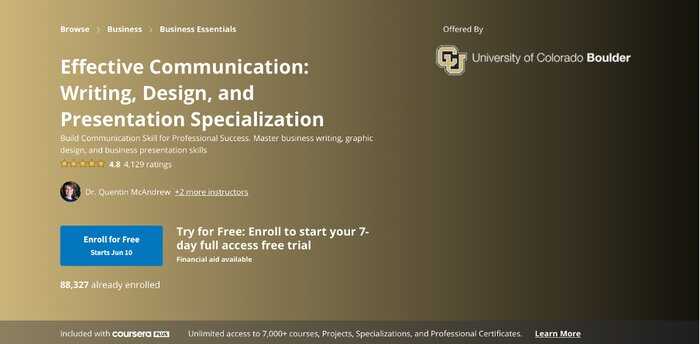 Platform: Coursera | Teacher: Dr. Quentin McAndrew, Prof. William Kuskin and David Underwood| Course length: 158 video lessons totaling 74 hours
This course, provided by University of Colorado Boulder, is a deep dive into written, verbal, and graphic business communication. As part of a specialization, you're in good hands with 3 experienced instructors including 2 English professors and a media teaching consultant. You'll learn to structure your writing for different briefs as well as how to improve your interpersonal skills for effective teamwork.
You'll learn:
To structure sentences effectively, ensuring they are coherent and clear
Writing techniques for impactful emails, reports and presentations
How communication can differ in different cultural contexts
Active listening and interpersonal skills such as understanding non-verbal cues
How to build rapport with colleagues and clients
Graphic design and building a successful presentation
Pros
Hands-on projects to apply skills covered in the lectures
Covers graphic design as a tool for effective communication
Benefit from 3 experienced and engaging instructors
Fully flexible deadlines so can be completed around your schedule
7-day free trial allows you to try before you buy
Earn academic credit for CU Boulder's Master of Science in Data Science (MS-DS)
Cons
Assignment is graded through peer review
Course material is not available forever with a monthly cost of $38/month after free trial
Who's it for: This course is well suited to managers, entrepreneurs and aspiring professionals wanting to improve business communication and presentation skills
Overall: A comprehensive and hands-on communications course that is not for the faint hearted. You will come away equipped with new techniques for writing effective emails, reports and presentations as well as practical interpersonal skills which can improve teamwork and relationships between colleagues. The course's coverage of cross-cultural communication is very relevant to a rapidly globalizing business world, and the majority of skills covered can be applied immediately.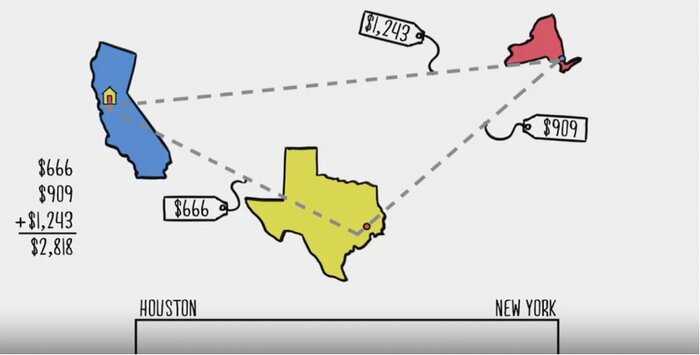 Platform: Coursera | Teacher: Barry Nalebuff | Course length: 141 video lessons totaling 12 hours 57 minutes
A deep dive into persuasive communication will help you navigate difficult situations, resolve conflict and negotiate what you want. You'll come away with a deep understanding of common negotiation pitfalls, strategies, and top tips from one of Coursera's top-rated instructors.
You'll learn:
Game theory
How to anchor someone effectively
The key to back-and-forth bargaining
How to record your negotiation
The theory of the 'pie'
When to negotiate over email
Pros
Applies concepts to multiple case studies to ensure strong understanding
Expert guest lecturers including James M. Walton and Prof. Linda Babcock
Wider recommended readings, checklist of negotiation principles and zoom webinars
Builds up to advanced concepts such as Rubinstein bargaining
Free without certificate of completion
Subtitles available in 10 languages including English, Spanish and French
Cons
Limited interaction with others completing the course
Who's it for: business professionals looking to brush up on negotiation skills and entrepreneurs looking to secure favorable deals
Overall: An exceptional walk-through from beginner to advanced negotiation principles. The variety of teaching methods sets this class apart, with it packed full of case studies, role-plays, and interactive quizzes. Furthermore, the guest speakers add their own unique perspectives throughout and mean you benefit from even more expertise…every little helps!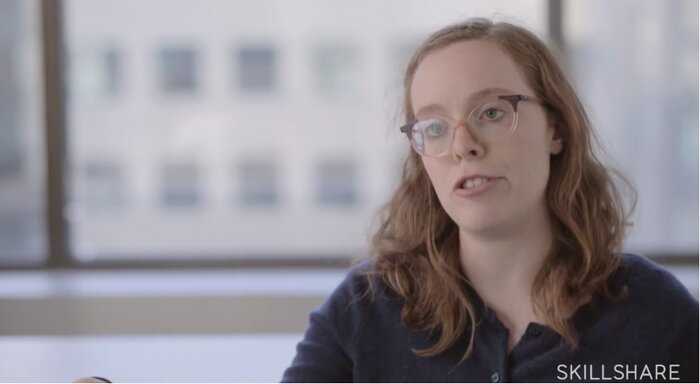 Platform: Skillshare | Teacher: Susannah Shattuck | Course length: 9 video lessons totaling 1 hour
Giving a presentation is an inevitable part of life that instills fear into the hearts of many. While you can hope picturing the audience naked will stop your shaking hands, it's worth hearing Susannah out on how to deliver a presentation using storytelling that will give you some confidence and allow you to concentrate on the material at hand.
You'll learn:
How to make an engaging, professional presentation
What visual storytelling is and how to use it for effective presentations
How to present quantitative results in a digestible format
The different modes of presentation delivery and how to adjust your content accordingly
How to connect with your audience
Top tips for delivering a presentation
Pros
Although focussed on using Prezi, advice is applicable to other presentation software
Beginner friendly and can be applied to a variety of industries
Engaging and relatable instructor with plenty of practical advice
High-quality PDF ultimate presentation prep checklist resource
Practical exercise to create a presentation within a deadline
Short course with concise videos under 9 minutes
Cons
Discussion forum is inactive
Who's it for: Whether you're a teacher attempting to simplify math, an entrepreneur wanting to pitch your next idea, or a professional who's about to deliver your first presentation…this course has something for you.
Overall: Susannah wastes no time in this hour-long course that identifies common presentation pitfalls while offering practical advice to rectify them. The presentation prep checklist is high-quality and will definitely be used if you need to present often. What set this course apart was the confidence boost in the framing of presenting as a storytelling exercise. After all, it's easier to imagine telling your nephew a bedtime story than picturing everyone naked.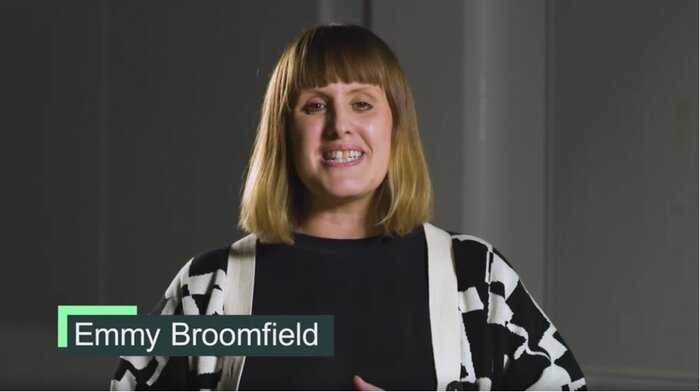 Platform: Coursera | Teacher: Emmy Broomfield | Course length: 22 video lessons totaling 1 hour 48 minutes
An insightful course offered by the University of London that will enhance your communication skills and help you project confidence at work. Under the guidance of Emmy, an experienced vocal coach, you'll focus on self-awareness and the role of the body in speech before building up to more advanced techniques of persuading and connecting with an audience.
You'll learn:
The impact of the fight or flight response on voice
10 easily implemented strategies to appear more confident
The importance of body language and eye contact
Different ways of varying pitch
The pros and cons of different speaking paces
Grounding and centering techniques to develop self-awareness and promote feelings of calmness
Pros
38 high-quality readings to expand your knowledge beyond video lectures
Comprehensive curriculum that builds up from self-awareness to vocal strategies
4 quizzes and 6 practical exercises to self-test throughout the program
Engaging and experienced instructor
Beginner friendly and applicable to various industries and job titles
Fully flexible deadlines so can be completed around any schedule
Cons
While quizzes are graded, there is limited personal feedback of vocal exercises
Who's it for: Whether you are a recent graduate, a mid-career professional, or a seasoned executive, this course offers valuable techniques that will give you confidence and adjust your tone and body language for optimal communication
Overall: With a comprehensive curriculum, experienced instructor and plenty of wider resources, this program ticks all the boxes of a top online course. It can be completed conveniently with fully flexible deadlines and, while the course is free, can be upgraded for a shareable certificate of completion.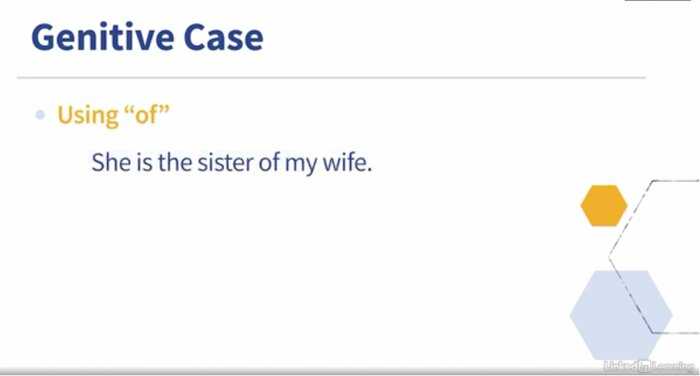 Platform: LinkedIn Learning | Teacher: Mixed | Course length: 160 video lessons totaling 9 hours 5 minutes
This series of courses provided by LinkedIn Learning offers a step-by-step walkthrough on how to improve your written communication. It tackles core stages of writing including punctuation, language choices (plain or business) and how to add flair depending on the impact you are aiming for. You'll benefit from the experience of multiple expert instructors including a bestselling author, award winning journalist and editor in chief.
You'll learn:
To write emails that people want to read
The different types of emails and how to best respond
Essential punctuation and grammar as well as commonly confused words
To write in different formats including articles and business letters
How to adjust language to be plain, suitable for business, or impactful
Pros
Logically structured series which builds on previous sections
Benefit from the experience of multiple instructors
Certificate of completion which can be added to your LinkedIn profile
End of chapter quizzes and glossaries available for each segment
Concise high-quality video lectures
Closed captions and transcript available
Cons
Would benefit from more wider resources
Who's it for: beginners and intermediates. Whether you aim to excel in business communication, creative writing, or content creation, this specialization equips you with everything you need to achieve your goals.
Overall: With a well-structured and comprehensive curriculum, this specialization is ideal for anyone wanting to improve their writing skills. The videos are concise and serve as a step-by-step walkthrough of different stages of the writing process while the variety of perspectives from 8 expert instructors sets this program apart from the rest.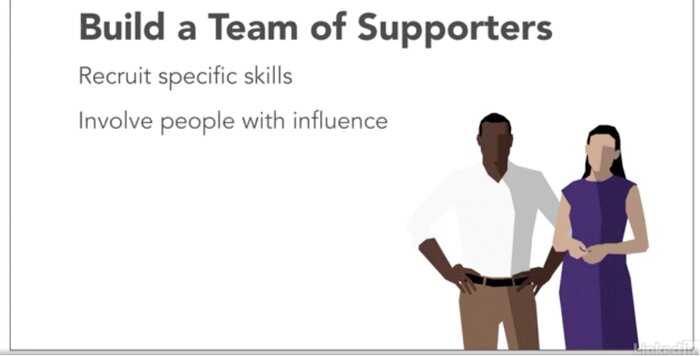 Platform: LinkedIn Learning | Teacher: 7 expert instructors | Course length: 106 video lessons totaling 5 hours 20 minutes
This learning pathway, provided by LinkedIn Learning, is a comprehensive journey through key communication skills that are desirable in any workplace. Broken down into 6 segments of less than 1 hour 15 minutes, you'll learn how to build trust, become more approachable and initiate emotional engagement between colleagues.
You'll learn:
The fundamentals of body language and non-verbal communication
How to communicate with confidence
Strategies to be more approachable
How to build trust in business relationships
Tactics to stimulate emotional engagement at work
Pros
Benefit from the expertise from 7 instructors including authors, consultants, and a behavioral investigator
High-quality video lectures under 5 minutes
Glossary of key terms for each segment
End of chapter quizzes
Notebook feature in LinkedIn Learning allows you to take notes as you go
Earn official academic credit towards degrees at 7 universities around the world
Cons
Discussion forum is inactive
Fewer advanced concepts covered
Who's it for: business professionals and team leaders in any industry
Overall: The combination of segments provides an introduction to core communication skills and can help you identify your strengths and weaknesses, while the lectures on building trust and initiating emotional engagement are unique to this course. With clearly defined key terms and plenty of practice quizzes, it is a great course for newbies and you'll come away armed with actionable advice.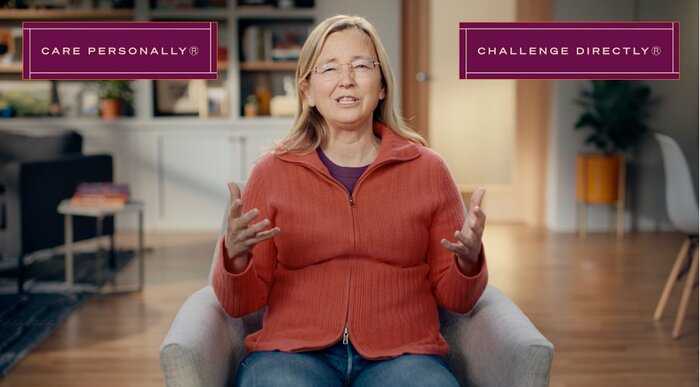 Platform: MasterClass | Teacher: Kim Scott | Course length: 32 video lessons totaling 2 hours 6 minutes
Kim Scott is a leadership coach and author on a mission to rid the world of bad bosses. You'll learn the art of radical candor, an approach that combines directness with care for others, making this class a game-changer for anyone wanting to navigate difficult conversations with empathy and build a healthy team environment.
You'll learn:
How to embrace radical candor and storytelling as a way of communicating
The best ways to praise others for a good performance
How to give feedback and criticism with care
To identify bias, prejudice and bullying within feedback
How to gauge how feedback has been received by others
Pros
6 practical exercises to practice skills covered in the lectures
Supplementary workbook to keep you on track and reinforce course content
Active community forum
High-quality video lectures with captions available
Advice column at the end of each section where Kim shares valuable insights from her own life
Cons
While Kim's expertise is evident throughout, perspectives from other industries would enrich the course further
Who's it for: While this course would be beneficial to professionals in various industries, it is particularly relevant to managers and those who often work in teams. If you frequently engage in conversations requiring clarity and empathy, for example as a healthcare professional, there is plenty of actionable advice tackling these skills
Overall: Kim's expertise shines through and, coupled with practical examples and supplementary resources, you'll be pushed to practice skills covered throughout the course over and over again. Although hands-on, you'll come away able to navigate conversations with grace and achieve meaningful outcomes when working with others. Furthermore, the active discussion forum is full of inspirational stories from other participants, and truly feels like a community.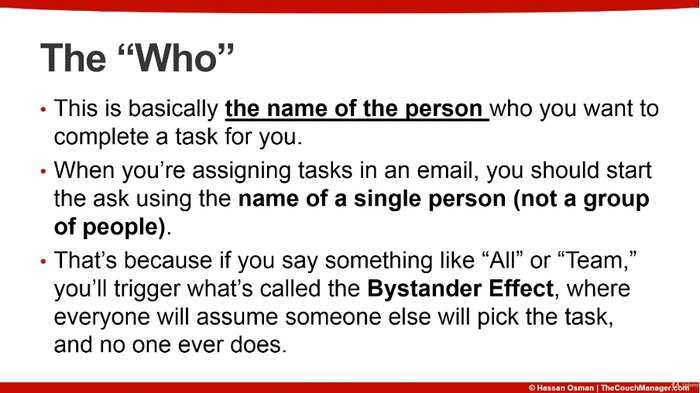 Platform: Udemy | Teacher: Hassan Osman | Course length: 23 video lessons totaling 1 hour 38 minutes
Hassan offers a practical and focussed approach to enhancing email writing skills. Designed to improve clarity, efficiency and professionalism, this course provides valuable strategies that will leave you confident you can write an engaging email that really gets your point across.
You'll learn:
Proper email etiquette and business writing techniques
How to write the perfect subject line
Why attaching a screenshot may be better than writing it out
How to save drafts of repetitive emails
To craft the perfect out-of-office reply
How to use the 'reply all' and 'delay delivery' feature for maximum efficiency
Pros
Applicable to Outlook, Gmail and Yahoo Mail
Learn more about the email software you use and what other websites offer
Short and sweet video lectures
1 page PDF summary and bonus PowerPoint lecture slides to keep after the course is completed
Included in Udemy personal plan
Cons
Not relevant to email marketing
Little focus on other skills used in communicating with others
Who's it for: if you rely on email as your primary mode of communication, this is the course for you! With a strong focus on working in teams, this course is ideal for managers and those who regularly work with others
Overall: A focussed course that covers each step of writing the perfect email. It's ideal for professionals who liaise with external firms and has something for everyone on the team. The concise lectures provide clear and actionable guidance that will help declutter your inbox, reduce back and forth emails, and (should) put you in your boss' good book.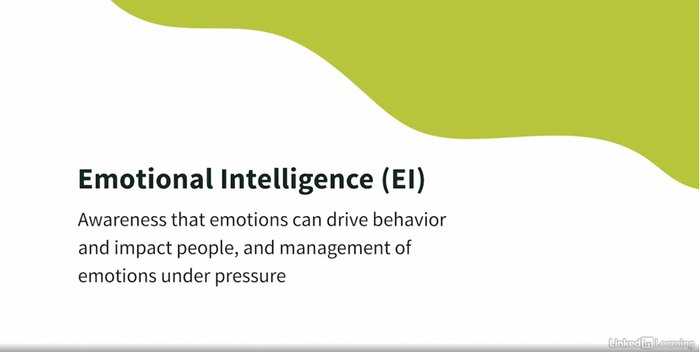 Platform: LinkedIn Learning | Teacher: Brenda Bailey-Hughes | Course length: 11 video lessons totaling 43 minutes
This short class will introduce you to the crucial role of emotional intelligence in effective communication. It dives into communication skills such as expressing empathy, as well as understanding and managing emotions with the goal of enhancing interpersonal relationships.
You'll learn:
What emotional intelligence is and how it impacts on effective communication
How to communicate confidently and manage your emotions
Strategies to empathize with others and understand their emotions
How to balance empathy and accountability
Ways to demonstrate active listening
Pros
Beginner friendly
High quality video with well-presented slides when needed
Includes suggestions of how to implement newfound skills over time
End of chapter quizzes with real world scenarios
Transcript and closed captions available
Cons
Would benefit from a discussion forum
Who's it for: Whether you're a working professional looking to improve your workplace interactions, or an individual interested in building stronger personal connections, this is the course for you.
Overall: A beginner friendly introduction to emotional intelligence. While topics aren't covered in great detail, you'll come away with a foundational knowledge on the subject and be able to identify your strengths and weaknesses. The use of real-life examples ensures a strong understanding and demonstrates exactly how to apply the skills covered into your own life.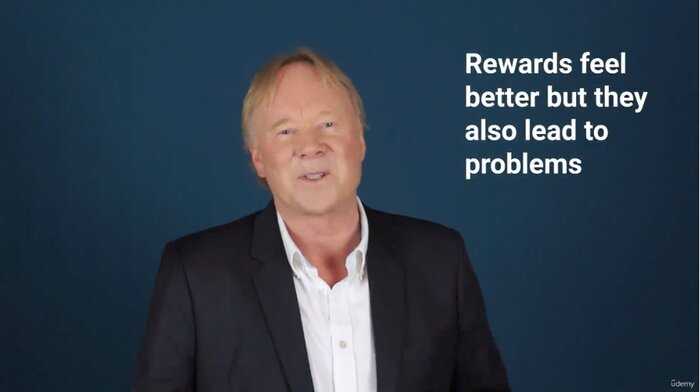 Platform: Udemy | Teacher: Chris Croft | Course length: 56 video lessons totaling 2 hours 52 minutes
Chris is a management trainer and author, publishing his first book in 1996. Since, he has taught over 500,000 students with an instructor rating of 4.6 on various business topics including negotiation and sales. In his class you'll develop an understanding of yourself and others in your workplace as well as strategies to build a conflict-free office.
You'll learn:
The psychology of influence including the four main personality types
How to deal with conflict in the workplace regardless of seniority
Why the stick and carrot approach isn't effective
How to use mirroring to your advantage
Strategies to increase likeability
Pros
Unique take on communicating with others
Actionable advice that can be applied at work and at home
Concise video lectures under 6 minutes with summary video at the end of each section
Academic jargon free and articulate instructor so suitable to non-native English speakers
PDF resources available to refer back to once the program is completed
Lifetime access to course content
Cons
Would benefit from a deeper dive into body language and non-verbal cues
Who's it for: Those wanting to build stronger relationships and an effective team
Overall: A unique take on effective team and relationship building that strongly focuses on different personality types. It would be especially suited to those interested in psychology, while the PDF resources are high-quality and ideal to use professionally and personally.
What are the advantages of taking an online communications course?
Invest in a future career – whether you are considering becoming a teacher, content marketer or preparing for your first client facing role, then an online communications course can give you some guidance on the skills you need and how to improve them. Many courses teach transferable skills such as emotional intelligence and can be used in other careers as well.
Improve your relationships – effective communication is the heart of business relations, friendships, and romantic relationships. An online communications course can help you communicate more productively with a range of people, particularly through active listening, asserting yourself when necessary, and displaying empathy.
Give yourself some confidence – writing emails, delivering a presentation, and having a discussion with your boss can be intimidating. The skills covered in an online communications class will help you gain confidence that you're getting your point across and its impact is as you intended.
Buyer's guide: what to look out for?
The instructor's qualifications – due to the various methods of communication, knowledgeable instructors come from a range of backgrounds. While authors and business leaders make great instructors, keep an open mind when looking at the instructor's qualifications as entrepreneurs, teachers and marketing managers will have experience in giving presentations and writing engaging pieces
The topics covered – there are several methods of communication, and most programs won't cover them all in great depth. If you are interested in a specific skill, it may be worth scanning the syllabus in advance, so the content is relevant to you.
The wider resources available – some courses offer checklists for creating presentations or structuring written work that can be used after the program is completed. If you'd like to push yourself further, it's worth checking that the course you pick has recommendations on how to continue learning.
How much does it cost?
Some courses included on this list are free of charge without a certificate and many can be accessed using a subscription or completed within the timeframe of a free trial. Paid courses range from $49.99 to $59.99.
Udemy offers a personal plan for $30/month, which would give you access to 2 of the courses on this list for less than the price of buying 1. They offer a 1-month free trial and there are over 8,000 other courses included as well.
MasterClass subscriptions start from $120/year. Kim Scott's class is one of a few communications based courses on MasterClass, and the subscription also includes access to 180+ high quality courses with global leaders and icons such as Hilary Clinton, George W. Bush and Bob Iger.
LinkedIn Learning subscriptions start from $24.99 and would give you access to three great courses on this list. You'll receive a certificate of completion that can be conveniently added to your LinkedIn profile and access to over 5,000 courses. They also offer a 1-month free trial.
How long does it take to learn communications?
The courses on this list range from 1 to 74 hours. Most focused courses are between 1 and 5 hours, while more comprehensive programs are between 5 and 74 hours. Communication is constantly evolving and something to work on over time, so I would recommend taking different focused courses after you've identified your strengths and weaknesses.
It is important to mention that the advantage of taking an online course is you can work at your own pace. If you are interested in a specific skill this can be achieved in less time by choosing a focused course or skimming through more comprehensive courses, which will drastically reduce the time needed to complete the class.
Conclusion
Whether you are an aspiring author, content writer, business owner, or simply looking to improve your day-to-day communication skills, then the courses outlined above should give you an introduction and a range of topics to choose from.
My top pick is Coursera's 'Effective Communication: Writing, Design, and Presentation' Specialization. As well as comprehensively covering foundational elements of each type of communication, the course builds on previous lectures so you'll slowly master each one under the guidance of 3 experienced instructors. As an added bonus, you'll also receive a certificate of completion to showcase your new skills as well as academic credit for CU Boulder.
If you're short on time, 'Visual Storytelling: Creating More Persuasive Presentations' by Skillshare is a fantastic focussed course. In just 1 hour, you'll learn how to connect with your audience, deliver your message concisely and confidently, and the tools you need to create effective presentations. Your instructor Susannah is engaging and relatable so time is sure to fly. 
Related articles: Best online confidence courses, Best teaching courses, Best online sales courses, Best online event planning courses
Best communication courses -Frequently asked questions
How much do communications courses cost? 
Paid courses on this list range from $49.99 to $59.99. Many other courses can be accessed via a subscription service, ranging from $24.99 – $39/month, while some Coursera classes can be accessed for free without a certificate of completion.
How long do communications courses take?
The courses on this list range from 1 to 74 hours. Most focused courses are between 1 and 5 hours, while more comprehensive programs are between 5 and 74 hours. 

Holly is a student reading geography at King's College London. In her free time she enjoys cooking, travelling and photography. She loves to learn new things particularly in the mental health and medicine field.