If you're in the mood to be creative and improve your digital drawing skills, then you've certainly come to the right place.
Procreate is a great drawing and painting app for iPads that is super popular among artists at the moment.
Its huge variety of brushes and tools make it easy to create stunning pieces of art like a pro.
However, at first glance, the interface can be confusing and even overwhelming to get your head around. To get the most out of this platform a course may be worth the investment to take your artwork to the next level.
That's why I've scoured the internet and collected 10 of the best online courses out there for people wanting to learn to use Procreate.
Let's get to it.
What are the best online Procreate courses?
In my opinion, the best course of them all would be Simon Foster's Procreate: Solid Foundations on Udemy. It is for sure the most comprehensive and practically useful course of them all. Simon is a great teacher with tons of professional experience with Procreate. And, with a certificate issued to you at the end, it is undoubtedly one that you can brag about completing.  
My second pick, though, would be Freya Kotchacorn's Procreate Masterclass 2023, on Procreate Courses. Similarly, she'll give you a very thorough guide to using the platform with tips and tricks that she's constantly updating. However, this course costs substantially more than Simon Foster's course on Udemy (which works out even cheaper on an Udemy subscription). 
Another course that deserves a mention is Domestika's Mixed Media Animation in Procreate by Caroline Kjellberg. Learning to animate will really expand your skill set and let you get the most out of what Procreate has to offer. Not to mention, Caroline is a passionate and engaging teacher who will really inspire you to push yourself out of your comfort zone. 
But, if you just want a short, basic introduction to Procreate, I'd recommend also taking a look at Procreate for Beginners: Digital Illustration 101 by Brad Woodard on Domestika, or Intro to Procreate: Illustrating on the iPad by Brooke Glaser on Skillshare.
Best free online Procreate courses
YouTube is a fantastic platform for finding free Procreate tutorials and overviews, so it should definitely be one of the first places you look for a free course.
Skillshare requires a subscription to be able to access courses. However, if you take advantage of their one-month free trial, this should give you plenty of time to study up on their amazing Procreate courses.  
Best online procreate courses reviews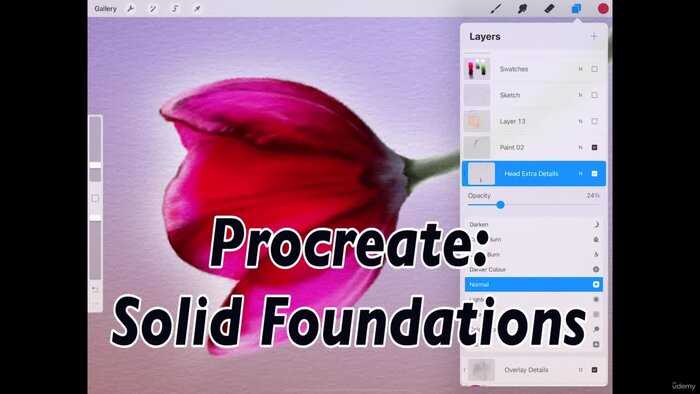 Platform: Udemy | Teacher: Simon Foster | Length: 18 hours
The key to this course is the word "fundamental". It will take you above and beyond the basics to give you a very thorough understanding of Procreate as a platform.
With over 30+ years of experience as a designer, Simon has worked with top businesses and digital games. So, you'll be learning exactly the same tools and techniques used in professional studios, from someone who has real, hands-on experience.
Full of practical exercises and downloadable images, Simon knows that practice is the only way to learn. He will introduce a project through a series of videos, then give you the space to try it all out at your own pace.
You will learn:
About advanced topics like layer blend modes and layer masks
When and why certain tools should be used
The colour theory behind the colour selection tools
How to master the brush engine so that you can modify and create new brushes
About Selections and symmetry
How to animate and paint on 3D objects
Pros:
An engaging and thorough course that goes beyond the basics
There's a strong emphasis on practicing skills for yourself
You get a certificate when you finish
Video lessons are pre-recorded and on demand, so you can learn at your own pace
Resources are downloadable, so can be accessed offline
Cons:
A small number of people reported the teacher moved too fast at times.
Who it's for: Beginners to digital art and intermediate users of Procreate who want to learn about the app in more depth.
Overall: This course is ideal for anyone looking for a very thorough guide to mastering Procreate. Given Simon's experience, it will also be especially useful if you want to learn to use Procreate in a professional environment. The emphasis on practice is undoubtedly a plus too, giving you the confidence you need to use Procreate on your own.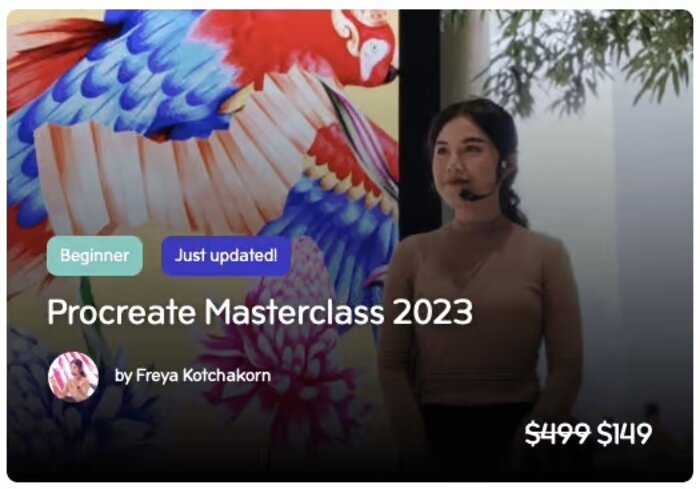 Platform: Procreate Courses | Teacher: Freya Kotchakorn | Length: 16 hours
This course is certainly set apart from others by how comprehensive and well-researched it is. It's organised into ten modules, each containing several lessons and practical exercises. This clear structure not only guides you through the learning process but also gives you a clear sense of progress and direction.
The Masterclass begins with the basics and gradually moves on to complex principles, targeting both beginners and experienced designers looking to hone their digital illustration skills.
You'll learn:
How to set up your digital workspace
To use the main tools and features of Procreate
How to select appropriate brushes to suit your drawing and style
To practice your stroke pressure
About light and shading
Secret shortcuts that allow you to work faster and in more detail
How to do time-lapse videos of drawings
To import files and export final results
Pros:
Purchasing means you have lifetime access to all of the masterclass video content on the Procreate Courses' website
There are 20 practical exercises along the way so you can practice your skills
Each video lecture has timestamps, so you can easily revisit points you want to spend more time on
Gives you access to a private Facebook group, so you can discuss tips and tricks with other Procreate users
You get six free bonus tools to use within Procreate and downloadable resources with every lecture
You get a certificate for completing
Cons:
May be a bit pricey when not on sale ($499)
Much of the content involves learning how to draw flowers and fruit, which may not appeal if you want to learn to draw a wider variety of things in one course
Who it's for: Complete beginners and intermediate artists alike – the masterclasses are always being updated with new tips and tricks.
Overall: This is for sure the most expensive course on this list. But I would recommend this class to anyone who wants a really in-depth start to their journey with Procreate. And don't be intimidated by how long it is – each module is well-structured, so your learning is clearly broken down into manageable, bite-sized chunks.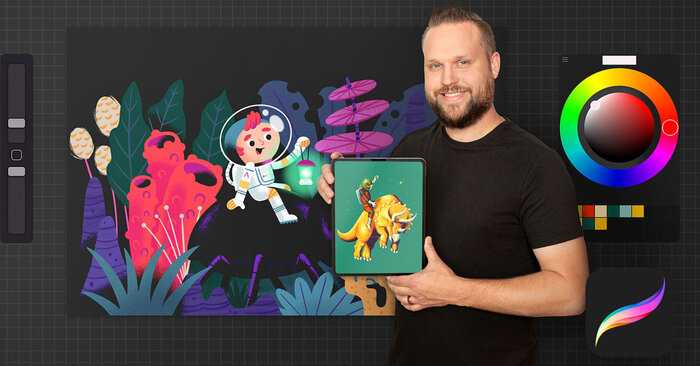 Platform: Domestika | Teacher: Brad Woodard | Length: 4 hours
As a graphic designer and co-founder of a creative agency, Brad Woodard really knows his stuff when it comes to Procreate. He particularly loves designing for kids, meaning his bold and graphic style is unique and distinctive.
The course is broken down into seven parts, aiming to teach you the basics of Procreate, as well as how to use each tool for unlimited possibilities.
You'll learn how to:
Create, smudge and erase marks with Procreate's brush library
Use layers to add interest and dimension to your illustrations
Use the Select and Transformation tools to edit specific parts of your art
Adjust color, opacity and blurring techniques
Use Liquify and Clone tools
Export the finished illustration
Record a time-lapse of your process
Animate your image
Pros:
Covers all the basic tools and techniques
Clear instruction and easy to follow along
The bite-sized sections mean that learning is less daunting
Videos are on demand, so you can go through the content as fast or as slow as you wish
Cons:
Brad's bold and graphic art style may not be suitable if you want to create more realistic art, such as landscapes.
Who it's for: This is aimed at complete beginners to Procreate, though may also be useful for those who want a refresher.
Overall: I'd recommend this course if you are a fan of the bold and graphic digital art style the Brad Woodard specialises in. But as a whole it will give you a great basic introduction to using Procreate, which you can then adapt to suit your own personal art style.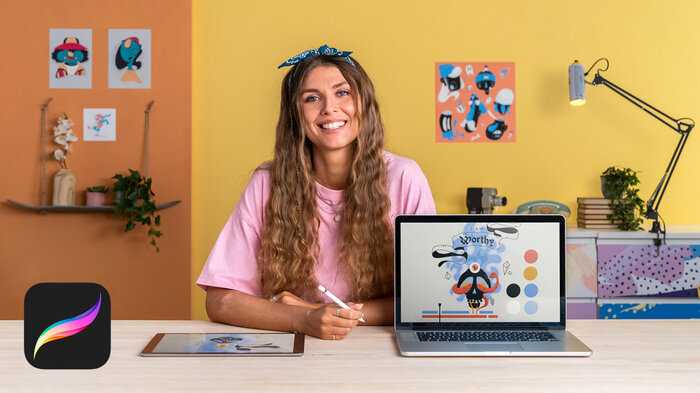 Platform: Domestika | Teacher: Caroline Kjellberg | Length: 8 hours
This course teaches you how to use the animation part of Procreate. From creating a storyboard to shooting a sequence, Caroline Kjellberg will guide you every step of the way.
Caroline is a freelance motion designer and illustrator. She believes passion and fun lie at the heart of good animation and storytelling, which certainly shines through in her friendly teaching persona.
You'll learn how to:
Create frame-by-frame animations in Procreate
Approach a client brief
Carry out brand research
Draw a storyboard
Work with photography
Work with rough animation, colour animation, type animation and filters
Level up an animation with sound effects and music
Share a final product
Pros:
Concepts are taught through a mixture of videos, downloadable resources and practical exercises
You can consolidate your skills in a final project at the end
Goes through the possible failures and how to correct them
Teacher explains everything at a comfortable pace
Cons:
Only teaches you the animation aspect of Procreate, rather than how to use the whole platform
Who it's for: This is for both beginners to Procreate and intermediate artists who want to learn about animation in more depth. But, some basic knowledge of both drawing and animation will be useful.
Overall: This would be a great overview of the animation part of Procreate, if you're looking to get really good at that specific skill. This is not to be confused as an introduction to the platform, but rather something you can use to enrich your understanding of the basics.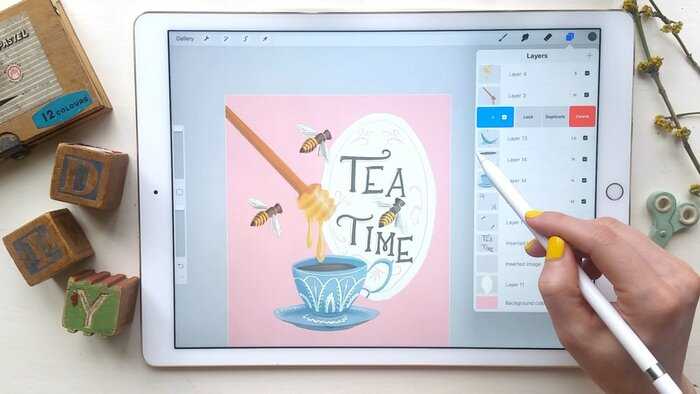 Platform: Skillshare | Teacher: Brooke Glaser | Length: 2 hours
This class gives you a whistle-stop tour around the Procreate interface, meaning you'll be making your own digital art in no time at all.
Brooke Glaser is a full-time illustrator who swears by Procreate as her absolute favourite tool for creating art. You may have seen her art on greeting cards, magazines or even on baby clothes. So, with her guidance, you'll learn to create digital illustrations for a wide range of uses.
You'll learn how to:
Adjust canvas settings (DPI, colorspace and layer limits)
Perform basic canvas actions
Reference images and use split screen
Use color pickers and palettes
Use brush and layer settings
Perform selections such as cut, copy and paste
Use recolor tools like Color Drop, ReColor, Color Fill and Reference
Transform your art by using tools like moving, resizing and rotating
Assist your drawing with quick shape, symmetry and clone tools
Add text to your art
Pros:
It's split up into 23 short sections, making it easy to follow along and manage your learning
The teacher is engaging and provides clear instruction
Part of the Skillshare subscription, so available on the free trial
Its overall length is short, so is great for people to be able to learn alongside busy schedules.
Cons:
May not be as comprehensive as other, longer courses.
Only covers the basics, so may not be as useful to those who are already familiar with Procreate
Who it's for: Complete beginners to Procreate, who want a quick crash-course in how to use the app.
Overall: This course is short and sweet, so is perfect if you're tight on time or not keen on committing yourself to a longer one. It gives you the basics of Procreate, so that you're able to practice your skills by yourself afterwards.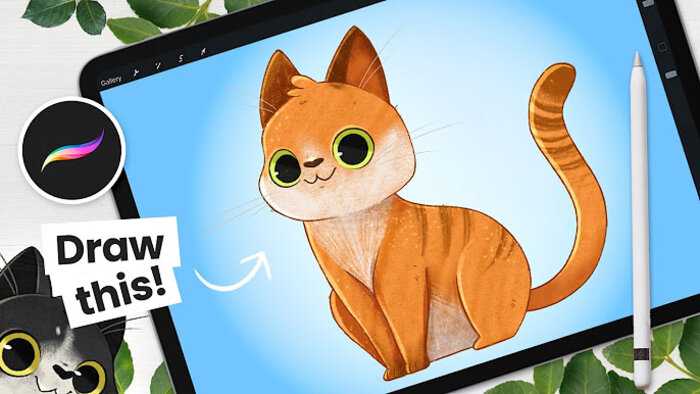 Platform: YouTube | Teacher: Genevieve's Design Studio | Length: 29-30 hours
This course does what it says on the tin – you'll watch video tutorials to learn how to draw animals with Procreate.
Each tutorial is between 30 minutes to an hour long, showing you how to draw cute cartoon animals from start to finish.
Genevieve currently works as a full-time children's book illustrator and content creator. She posts new tutorials regularly and has a few other similar playlists on her channel for you to look through, too.
You'll learn to:
Follow a video tutorial to create specific designs in Procreate
Create drawings of animals from scratch
Use a variety of different tools and techniques to create different textures and effects
Pros:
Tutorials are easy to follow and give you consistent step-by-step instructions
You can pick and choose which projects you would like to try out
Wide variety of projects to choose from
You can interact with other people following the same tutorial in the YouTube comments, sharing tips and tricks.
Free to watch
Cons:
No real-time feedback, as videos are all pre-recorded
Tutorials may often be interrupted by adverts, as is often the case on the YouTube platform
Who it's for: People who are already familiar with Procreate (beginner or intermediate level) who want to expand their skill set and improve their animal-drawing ability.
Overall: These animal tutorials are perfect if you're looking to expand your Procreate skillset and venture out of your comfort zone. The videos assume that you'll have some basic familiarity with Procreate, though Genevieve's step-by-step instructions mean it's certainly possible to follow a project if you're a beginner.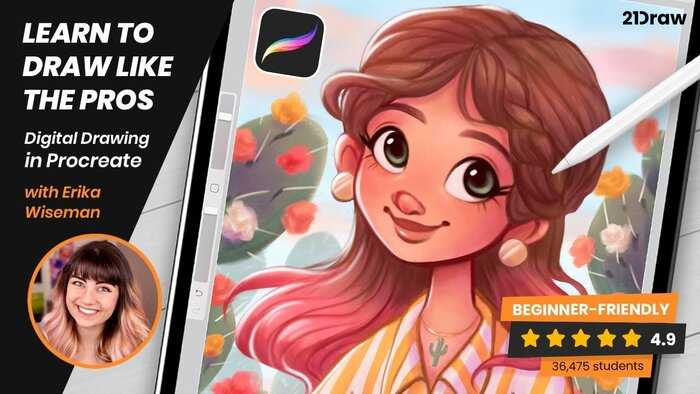 Platform: 21 Draw | Teacher: Erika Wiseman | Length: 2+ hours
Erika Wiseman's course will have you drawing cartoon characters from scratch, learning the essential techniques of Procreate along the way. She has over 13 years of experience as a freelance artist.
Made up of two hours of videos and then practice assignments, you will get 16 images to work from, cheat sheets, guides, a list of recommended brushes as well as layered Procreate and Photoshop files.
You'll learn to:
Create cartoon characters following Erika's instructions
Find inspiration and references for your artwork
Set up and work with layers
Create a character sketch from scratch and refine the line art
Understand color theory
Simplify the coloring process with clipping masks
Master blending modes to create shadows and highlights
Develop your own workflow
Pros:
Gives you the skills to create professional artwork
Taught in a clear step-by-step process
You're given a large number of extra resources to use alongside the teaching
Each lesson is followed by an assignment, so you're getting practical experience
The course length is short, so it isn't a massive time commitment
Cons:
Doesn't cover every aspect of Procreate, just the more basic settings and skills
Some people have said they found a few bits of teaching were not suitable for complete beginners, as you are expected to have some basic knowledge of digital illustration
Who it's for: Beginners to Procreate, though it will likely be more helpful for those with some experience with digital art already.
Overall: This course teaches you the basics of Procreate through drawing characters. It may not be ideal for people who want to learn specifically how to draw a wider variety of stuff. But the teacher is experienced and friendly, and the content will give you the skills to go on to do anything you want on Procreate.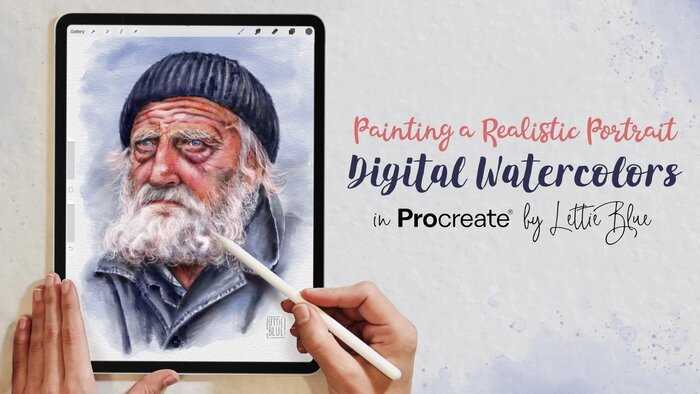 Platform: Skillshare | Teacher: Lettie Blue | Length: 2 hours
The course will take you step-by-step through the process of creating a watercolor portrait on Procreate. And, with a background in architecture, Lettie Blue's attention to detail is unparalleled.
It's broken down into 13 sections, including skills such as creating aged skin, layering colours and painting fabric and hair.
You'll learn:
How to choose a good reference image
About the importance of lighting and contrast
To use the Loomis method to simplify the head into basic forms
How to make a value study in a traditional and digital way
To understand the properties of color
How to create the perfect color palette
Tips on how to paint skin, eyes, hair, fabric, folds, texture and more.
Pros:
One of the few online courses that tackle realist portraits
Lots of resources included, like reference images, custom brushes and color palettes
Teacher is clear and engaging
Organised into sections, so you can follow along at your own pace and ability level
Cons:
Quite difficult, but may not be a problem if you're up for a challenge
Some people have said they would have liked the video to be slowed down in places – for example, to be able to see some of the brush strokes in real time
Who it's for: People who already have an intermediate knowledge of Procreate and want to sharpen up their skills.
Overall: This is a great opportunity to be able to practice specific skills such as painting with watercolors and creating portraits from reference images. It is definitely tailored more towards intermediate or advanced learners, but beginners shouldn't be discouraged either (provided you are already familiar with the Procreate interface).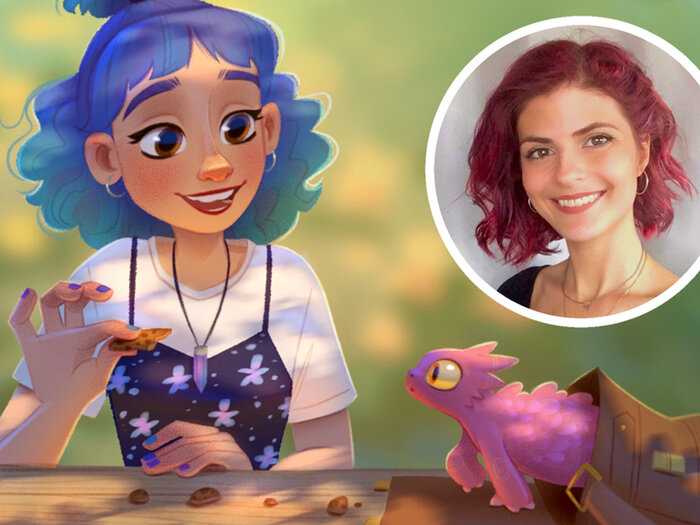 Platform: 21 Draw | Teacher: Aveline Stokart | Length: 1 hour
This course is great if you want to improve your use of light in your Procreate artwork. You'll create four different versions of the same image, using a different kind of lighting each time.
Aveline Stokart simplifies the principles of using light through practical, step-by-step techniques. She is a character designer and comic book artist with a great deal of experience in both publishing and animation, so you're certainly in safe hands.
You'll learn to:
Study light, shadow and colors from photo references
Create various cool lighting effects digitally
Understand how reflection on different objects work
Manipulate lighting effects with different blend modes
Understand color attributes and how to create meaning with colors
Master shading techniques
Create the same image in daylight, sunset and overcast settings, as well as in a magical atmosphere
Pros:
Techniques taught are reinforced by studying examples and references
Teacher is clear and concise
Included in the 21 Draw Annual Membership
Downloadable resources are included
You get a certificate for completing
Cons:
Does not teach you how to use the Procreate interface, so not suitable for beginners
Quite short, so may not provide enough instruction to those who want really in-depth lessons.
Who it's for: This is aimed at intermediate artists who want to improve their skills and are already familiar with Procreate.
Overall: I think this course would be helpful to anyone who is already confident with using Procreate and wants to push themselves out of their comfort zone to try something a bit trickier. It's well-structured and has lots of learning materials to help you improve your technical drawing skills.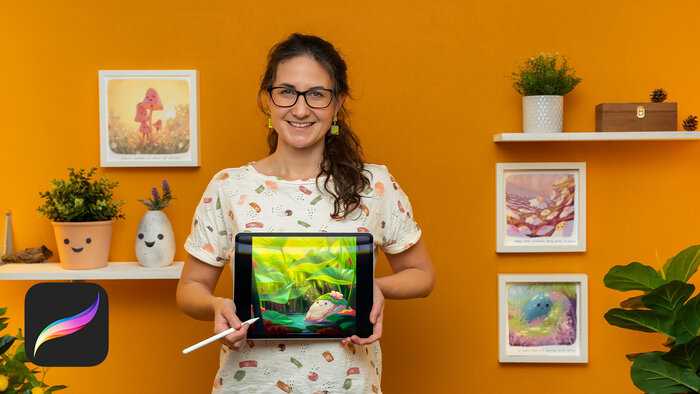 Platform: Domestika | Teacher: Ramona Wultschner | Length: 2 hours 45 minutes
Ramona Wultschner's course will teach you the importance of color, light and composition in creating art. To bring a scene to life and make it convincing, the atmosphere has to be just right.
She is most entranced by the influence of nature in art and how patterns of light in an image can make you feel. This course will teach you how to take something that inspires you and translate that feeling into a digital illustration.
You'll learn:
The basics of light and color
How to lead the eye in an illustration
To use brushes in Procreate
How to simplify complex shapes
To understand thumbnailing
How to fix weaknesses and give a piece its finishing touches
Pros:
You have creative freedom to paint anything that inspires you, rather than following instructions for a specific project
Videos are pre-recorded, so you can learn at your own pace
Teacher explains everything clearly and in detail
Cons:
Does not involve a step-by step tutorial for creating a specific project, so Ramona's skills-based approach may not be ideal for everyone
Does not take you through how to use Procreate, just how you can use it for this course's purpose
Who it's for: People who have a basic understanding of Procreate and drawing already will benefit the most from this..
Overall: The creativity this course allows may be both a positive and a negative for different people. If you are a beginner and want something that's a bit more structured to produce a specific piece of art, this may not be for you. But if you want to push yourself out of your comfort zone and experiment with your own ideas, Ramona is the teacher to help you do that. 
What are the advantages of taking an online Procreate course?
Helps you unlock the app's full potential – whether you're a professional or a hobbyist, mastering Procreate will vastly improve your digital art skills.
Learning digital art becomes way less scary – structured, step-by-step classes make picking up new skills much more manageable. Also, you can do it all from the comfort of your own home.
Stay on track – courses with set durations and schedules keep you motivated and disciplined in your Procreate journey. This is an absolute game-changer if you struggle to stay focused.
Save time – mastering Procreate through a course is way faster trying to figure it out yourself through trial and error.
Switch up your style – learning from different artists and teachers introduces you to cool new tools and techniques you may not have known about before.
Buyers Guide: what to look out for
There are a few things you should consider before embarking on an online Procreate course:
Consider what you want out of the course – do you want a certificate? To learn new skills? To learn how to create a specific type of artwork? Make sure you look carefully, as different courses offer different benefits.
Think about your ability level – many courses that teach specific skills are catered towards people who already know how to use Procreate. So, if you are a complete beginner, I would recommend looking at the more basic overview courses first.
Look at the main focus of the course – many courses that claim to give you a comprehensive overview will only teach you how to create one type of project (e.g., animals or flowers). Think about whether this is cost-effective for the type of artwork you want to be producing with Procreate.
How much does it cost?
Prices on this list vary from free YouTube tutorials to the very pricey $499 Masterclass.
However, many of the courses on websites such as Udemy and Domestika frequently hold sales, where prices for courses that would have otherwise cost about $76 drop down to $13-$25. So, it is definitely worth keeping an eye out to see if you can access a course for less. 
However, many of these same platforms offer an annual subscription or membership too, that allow you to access an unlimited number of courses for a much cheaper price.
For example, the 21 Draw annual subscription is priced at $234 a year (and is often heavily discounted in flash sales). This gives you access to more than 40 courses.
Similarly, a Domestika Plus subscription costs about $12.60 a month, which gives you unrestricted access to a huge number of courses that would otherwise cost $76 each.
Skillshare has an annual subscription fee of $168 a year ($14 a month) and Udemy has both personal and pro subscription plans that start at $16.58 per month (depending on the plan).
So, have a hunt around before committing yourself to purchasing just the one course. This is especially good to think about if you're a complete beginner to Procreate, as you might want to take more courses in the future.
How long does it take to learn how to use Procreate?
The time it takes to learn Procreate all depends on you. You have to decide how much time you are able to dedicate to it.
The more advanced and comprehensive courses on this list are between 16-18 hours long. However, most of the courses on this list are relatively short, between 1-4 hours long.
You should be able to cover the basics of Procreate in an average of 2 hours. However, it is practice that is really crucial – the more the better.
Conclusion
This article has discussed some of the best courses to take a look at if you're thinking about learning to use Procreate.
In my opinion, the Procreate: Solid Foundations course by Simon Foster on Udemy would be the best option of them all. It's a fully comprehensive exploration of the platform, giving you an insight into how the app can be used in a professional setting. There's no shortage of other related courses on Udemy, either, so it may be worth looking into their subscription options. 
Similarly, Freya Kotchakorn's Procreate Masterclass 2023 on Procreate Courses would also be an in-depth overview of the app. This would be a great investment for anyone who really wants to get to grips with Procreate's full potential.  
However, if you're not looking for a super intense course and just want something to get you started, consider looking at some of the shorter courses. For example, Skillshare's Intro to Procreate: Illustrating on the iPad by Brooke Glaser is a good option if you just want a short crash-course before going on to explore by yourself. 
And if you want to learn a specific skill within Procreate, courses like Domestika's Mixed Media Animation classes by Caroline Kjellberg or the Mastering Light and Shading Course on 21 Draw by Aveline Stokart would be ideal. 
So, there you have it. Any one of these online Procreate courses will be able to take you and your artwork to the next level in no time. What are you waiting for? Get creative!
Online Procreate courses FAQs
What is the best online Procreate course? 
My top recommendation would be the Procreate: Solid Foundations course taught by Simon Foster on the Udemy platform.
How much does an online Procreate course cost? 
Prices range from free tutorials by Genevieve's Design Studio on YouTube, to the much pricier $499 Procreate Masterclass 2023 by Freya Kotchakorn on the Procreate Courses platform.
How long do Procreate courses take?
This depends on how advanced a course you want to take – the courses on this list range from about 1-2 hours for the basic introductions to 30 hours long for a series of more specific tutorials.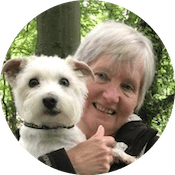 Liz Hurley has 30+ years of high school teaching experience and is one of our senior writers here at Learnopoly.