Domestika is the go-to platform for passionate creatives looking to further their skills or pick up some new ones.  
It started as a small forum for like-minded creatives. But now it's a massive e-learning platform with over 10 course categories and talented tutors from all over the world. 
I've tested Domestika over the past few weeks. So in this Domestika review I'll be covering everything you need to know about the platform. From the multiple purchase options to the dedicated community forum for students, and more. 
So, let's get started and find out if Domestika is the right platform for you.
.
Quick summary
Features
Over 10 categories to choose from including arts, crafts, and business
Expert tutors with tonnes of experience from around the world
Specially curated bundles to complement your learning
Certificates of attendance or completion signed by tutors
Exercises and projects to encourage students to put their skills into practice
An exclusive forum for sharing your projects with fellow students
An informative blog to inspire the creative community
Pros
Incredible versatile platform with classes for all tastes and interests
Some of the most professional and experienced tutors in the world
Four purchase options to give users flexibility
Loads of downloadable content
Cons
Many classes not taught in English – though all have subtitles in a variety of languages
Best for: Domestika has something for everyone, all you need is passion for the skill you're learning. Whether you're an absolute beginner wanting to learn how to use Photoshop or a casual knitter looking to make more sophisticated designs, there's a class for you.
Overall: Domestika is the new go-to platform for passionate creatives. Whether you want to learn one skill or ten, Domestika has it all from top-notch tutors, organized classes, and incredible results. If you're looking for a fun platform that will push you to try new things, this is the one for you.
This review will tell you everything you need to know about Domestika, including:
What Domestika is and who the instructors are
How Domestika works and how much Domestika costs
Whether Domestika has a free trial
What a lesson is like
The best Domestika classes
How you can use Domestika for business
How I reviewed Domestika
What I liked and thought could be improved
Who Domestika is for
Whether you can offer Domestika as a gift
Tips to finding great courses on Domestika
If Domestika is legit
Domestika's refund policy
Alternatives to Domestika
What others have said about Domestika
Evaluating Domestika
How to open a Domestika account
Is Domestika worth it
FAQs
So, let's get started!
What is Domestika, who are its teachers?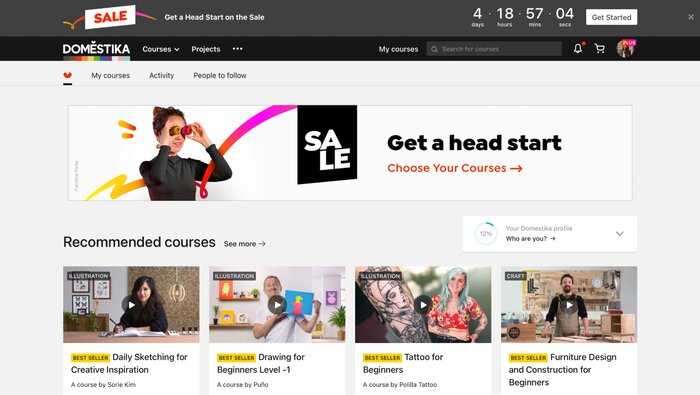 Once upon a time, Domestika was a small online forum for creatives to share their knowledge and skills. It now connects 8m+ like-minded creative amateurs, hobbyists, and professionals, empowering them to learn and engage with each other through professionally produced online courses. 
In 2022 it reached Unicorn status (a privately held company worth $1bn+) after investment from Zeev Ventures.
Today, they have over 10 categories to choose from and an incredible amount of classes with each of them. Every class is produced in-house with the talented group of tutors in order to give students a dedicated learning experience.
Who are the instructors?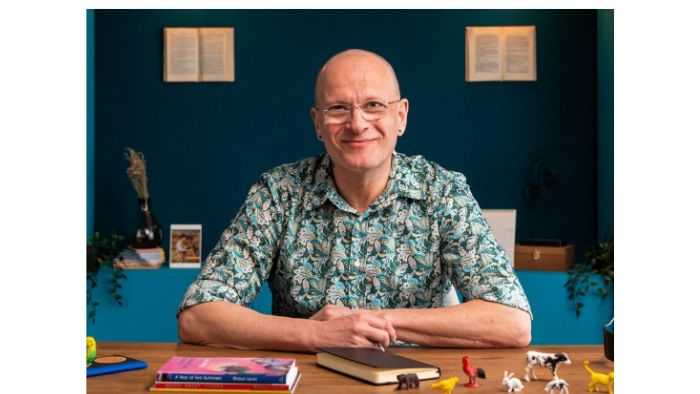 Domestika wants their students to have top-notch creative education, and they couldn't achieve that without their team of experienced and professional tutors.
Every proposal for a new course is reviewed and approved by Domestika's team. So you can be sure the quality will be of the highest standard. All the tutors are experts in their field, with years of experience and loads of exciting secrets to share.
Some of Domestika's most popular classes include Professional Photography for Instagram with influencer and photographer Mina Barrio, and Modern Watercolor Techniques with author and illustrator Ana Victoria Calderon.
How does Domestika work?
Like most e-learning platforms, Domestika wants you to find your perfect class. So they offer a wide range to choose from as well as multiple purchase options. 
You can buy classes individually: For instance, if you're looking for a crochet class, you can purchase one individually.
You can subscribe to an annual or monthly membership if you think you might be interested in many different classes, or would like access to exclusive sales and discounts. A membership won't give you access to all classes, but you do get a selection of open classes to choose.
When you purchase a class individually you'll get lifetime access. This means you can rewatch it as many times as you need to, it's yours to keep. If you've subscribed with a membership, then you can also repeatedly enjoy classes as long as your membership is valid.
Membership owners also get a ton of free perks. For example, one class token every month which unlocks a class that isn't included in the open courses, and 20% off all other courses and bundles.
Domestika includes many categories, including:
Illustration
Craft
Marketing & Business
Photography & Video
Design
3D & Animation
Architecture & Spaces
Writing
Web & App Design
Fashion
Calligraphy & Typography
Music & Audio 
Domestika cost, free trials and refunds
So let's explore Domestika's four purchase options.
Individual class purchase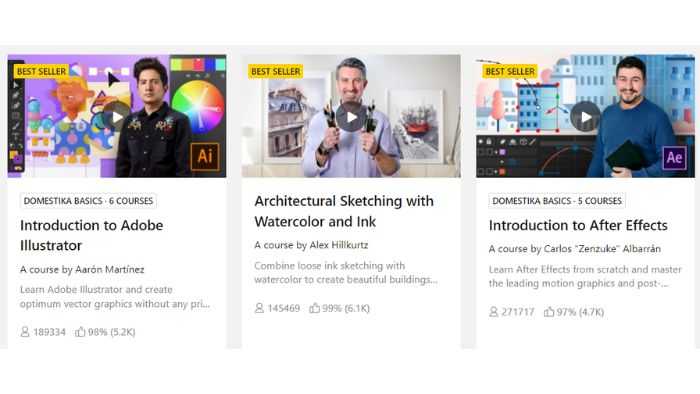 If you're looking for a specific class and are unsure about long-term commitment, then purchasing an individual class might be the best bet for you.
You can buy any Domestika class individually. Prices vary, though I generally found that most classes were around $70. However, Domestika often has sales that can bring that down to around $20. So be sure to check if the class you're interested in is eligible for any kind of discount.
Bundle purchase
Say you really want to learn graphic design and master a number of different platforms such as Adobe Photoshop and Adobe Illustrator. Well, you can use Domestika's bundle feature to find the perfect combination of classes for you. Domestika has a selection of pre-made bundles to choose from, but you can also make your own by choosing 3 classes that interest you. Buying with bundles reduces the price of each individual class, giving you a great overall discount.
Annual Plus membership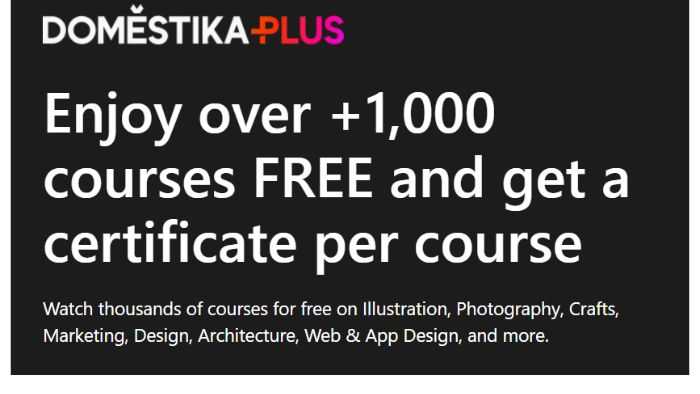 If you like the look of Domestika's classes and would like to make the most of its perks, then an annual membership for around $100 is a great option. The annual membership is billed once and saves you the value of 3 months on a regular monthly Plus membership. If you're ready to commit, go for this option!
Monthly Plus membership
Those who want to explore Domestika but have a little want more flexibility can opt for a monthly Plus membership for about $12. This gives you all the same features as the annual membership but allows you to cancel at any time.
Domestika free trial
Domestika does not offer any free trials. But you can browse their website free of charge to find out if it has what you're looking for. The monthly plus membership is an excellent alternative to a free trial though. While you will have to pay, you can decide whether or not you enjoy the platform after a month and cancel if you don't. And you get a free course with your monthly credit.
Domestika refund
Domestika does offer refunds for purchases made within 14 days of the refund request. This includes both individual classes and subscriptions. To ask for a refund, contact Domestika directly through their contact form and make sure you provide them with all the relevant information.
Can I buy Domestika as a gift?
Yes! Domestika has different purchase options for gifting. You can choose to gift a friend an individual class, a pre-selected bundle, or even give them a gift card that they can use to choose their own class.
What a lesson is like
As Domestika has such a big variety of classes to offer, no two will be exactly the same.
However, as all courses are produced in-house by the Domestika team, you can count on some cohesiveness across the platform. Most courses feel like a one-to-one class with just you and your tutor. They will talk you through all the necessary steps to learn the skill you have chosen. Most will also encourage you to complete exercises or to practice on your own.
Best Domestika classes
Domestika has so many classes to choose from, it might be a tough decision to make. But I'm here to help by highlighting Domestika's most popular classes:
Professional Photography for Instagram
Modern Watercolor Techniques
Drawing for Beginners Level -1
Introduction to Adobe Photoshop
Content Creation and Editing for Instagram Stories
Of course, the class you select will depend on your personal interest. So let's see if we can find a class for you in one of Domestika's sections.  For even more detailed Domestika course reviews, you can check out our article, best Domestika courses.
Illustration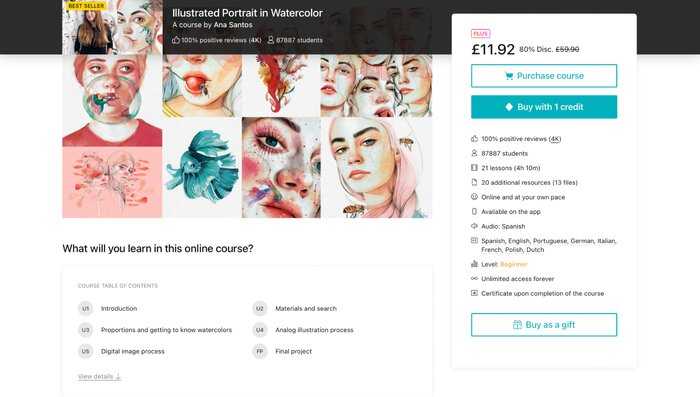 Illustrated Portrait in Watercolor
Ana Santos, a very talented painter and illustrator will be your tutor for this course, as she takes you through all the steps necessary for creating a perfect watercolor portrait.
This class is designed for artists who want to experiment with portraiture and watercolors. You will get to know Ana's creative process, learn how to trace an image, to understand scale and proportion, to use tools such as colored pencils and graphite, and finally how to edit your art in Photoshop to achieve the perfect portrait.
To take this class, some experience in Photoshop and basic drawing is recommended.
Watercolor Travel Journal
Alicia Aradilla is an experienced travel illustrator and watercolorist. Alicia left her job in graphic design to pursue travel and art, so there's no better tutor for this course.
You will learn the basics of composing landscapes, how to add shadows for realism, how to incorporate text into your drawing, and ultimately, how to bring your travel memories to life with plenty of practice.
This class is labeled for beginners so all you need is a passion for watercolor and a hunger for travel.
Design
Introduction to Adobe Photoshop
This class is actually a bundle of 5 'Domestika Basics' courses put together to give you the best and most comprehensive Photoshop learning experience. By breaking it up into small 'sub-courses', you will be able to organize and consolidate what you have learned and put it into practice.
Learn how to create and organize a Photoshop file, how to combine files, how to add and work with layers, how to mask and use different tools and brushes.
Don't worry about any expertise, as the name indicates this class is for absolute beginners.
Introduction to Adobe Illustrator
This course also includes 6 'Domestika Basic' classes to give you the ultimate Adobe Illustrator experience. Aarón Martínez is an experienced graphic designer who has worked in everything from digital marketing to video games.
Whatever your objectives are, this course will help you achieve them by laying the foundation. You will learn how to create and organize an Illustrator project, how to use the pathfinder tool and transform figures, to master key tools such as pencil and brush, and to recognise the best color profiles for your project.
The class was made with beginners in mind and takes you through every technique you might need along the way. It features prominently in our Best Adobe Illustrator course review.
Photography & Video
Professional Photography for Instagram
Mina Barrio is a popular content creator from Spain, and she's created this class to share her top photography secrets to improve your Instagram profile. With this course you will learn how to communicate your values through a picture, which materials and props you can use to improve the quality of your pictures, how to take a perfect flat lay photo, and finally how to edit pictures on your smartphone.
No prior knowledge is needed, all you require is a smartphone with a good camera.
Content Creation and Editing for Instagram Stories
Another very popular Domestika class is Mina Barrios' class on editing for Instagram stories. You will learn to create special content for this Instagram feature, from the photos or graphics you create to how you can generate traffic and revenue for your business.
You don't need any experience for this class, beginners are welcome, and especially beginners that want to grow their business or platform on Instagram.
3D & Animation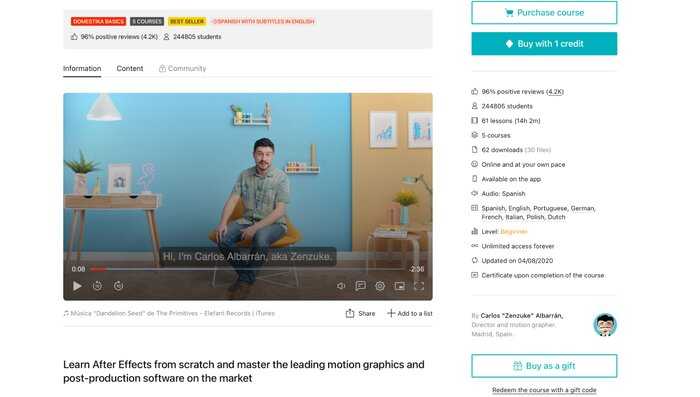 Introduction to After Effects
Join After Effects expert Zenzuke on this foundation-building class for post-production editing. Learn how to create GIFs, special effects, 2D and 3D elements using masks, layers and lighting, and how to bring your projects to life with animation. This course is divided into smaller 'Domestika Basics' to help you organize your learning.
This class is for beginners so you don't need anything except access to Adobe After Effects.
Introduction to SketchUp
This class includes five 'Domestika Basic' classes to help you master SketchUp – software that helps you create detailed 3D models. Your tutor, Alejandro Soriano is a designer and 3D visualization expert, with lots of tips and tricks to help you navigate SketchUp. You will learn to navigate the software, use essential tools such as Move, Copy Models, and Select, and how to manage different components.
This is a beginner-friendly course to help you build the foundations for 3D design.
Calligraphy & Typography
English Calligraphy from A to Z
Bego Viñuela Galarraga is a calligraphy artist and founder of Bilbao Calligraphy. He's an expert in English calligraphy and has worked with major brands and institutions such as Vogue and Guggenheim Museum Bilbao. Bego will teach you the copperplate alphabet letter by letter, using different tools, and helping you master the skill of calligraphy in English.
This class is for absolute beginners and encourages you to choose a phrase or poem to practice with.
The Golden Secrets of Lettering
In this class, designer Martina Flor will help you master typography, using both drawing and digital editing to achieve the perfect type. You will create your own postcard design with Martina's guidance as she shares the secrets of her trade.
All beginners are welcome as Martina believes everyone can design their own unique lettering.
Craft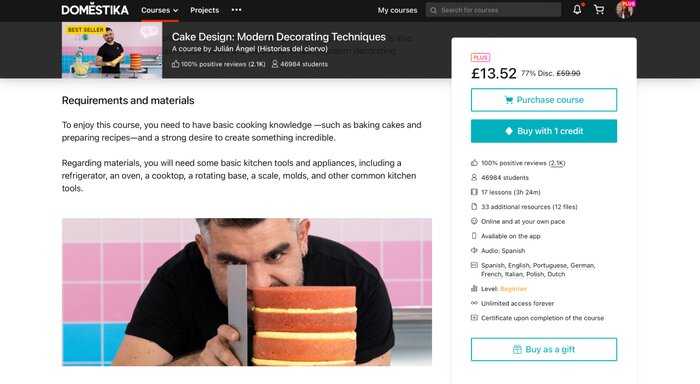 Top-Down: One-Piece Crocheted Garments
Have you always wished you could create your own clothes and accessories? Well, you can with designer Estefa González who has built a community of crochet-lovers across 50 countries. You will learn how to design and make a crochet item from scratch, thinking about structure, materials, measurements, and stitches.
While this class welcomes beginners, having some prior knowledge of simple crochet stitches could really help.
Cake Design: Modern Decorating Techniques
In this class, Julián Ángel, international cake design instructor, will help you create the cake of your dreams through sketching, understanding color palettes, and creating interesting texture. You will even learn how to photograph your cake for the ultimate envy shot.
Beginners are encouraged to try this class but it is recommended they have some prior baking knowledge.
Music & Audio
Introduction to Ableton Live
This course includes five Domestika Basic classes, taught by music producer Cristóbal Saavedra, who's here to guide you through the software and help you make your perfect track. You will learn how to navigate the interface, how to edit and record audio, how to use different musical instruments in your music, how to record a session, and finally how to edit and render your track.
This is a Domestika Basics course which means absolute beginners are welcome.
Podcast Creation for Beginners
Podcasting is one of the major media forms right now – are you ready to start your own? David Mulé is a radio producer and professional podcaster with tons of experience and tips to share with you. David will help you decide on the topic of your podcast, how to structure it and script it, and which equipment you will need to record it.
This class welcomes all podcast enthusiasts to create their own program, with no previous experience necessary.
Fashion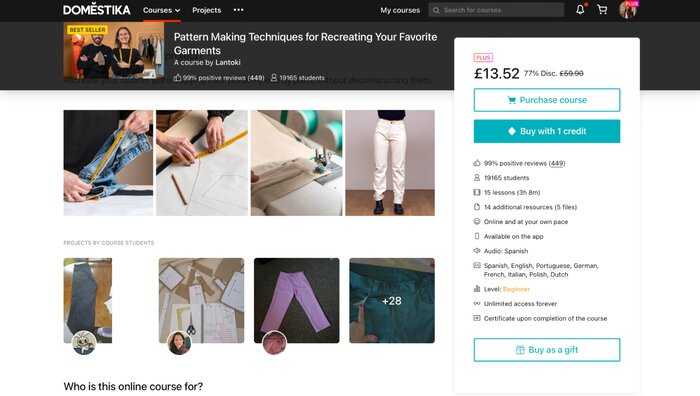 Pattern Making Techniques for Recreating Your Favorite Garments
It's time to give yourself a makeover by creating your own clothes! Designers and founders of Lakoni, Sandra Liberal and Urko Martinez have created this class so that you can recreate your favorite styles from the comfort of your own home. You will learn how to understand each component of your garment, recreate patterns, and understand measurements. This course is beginner friendly and doesn't require any pattern-making experience, however, some sewing experience is helpful.
Resin Jewelry Design
Get creative by making your own jewelry. Educator and designer Mia Winston-Hart is an expert in epoxy resin design and in this class she will teach you everything you need to know to create your own accessories. Firstly, you'll have to understand resin as a material, what it is, and how you can work with it. Then comes the fun, as you experiment with color, glitter, and foil to make your own unique design. Anyone can join in with this fun course no matter your experience level.
Writing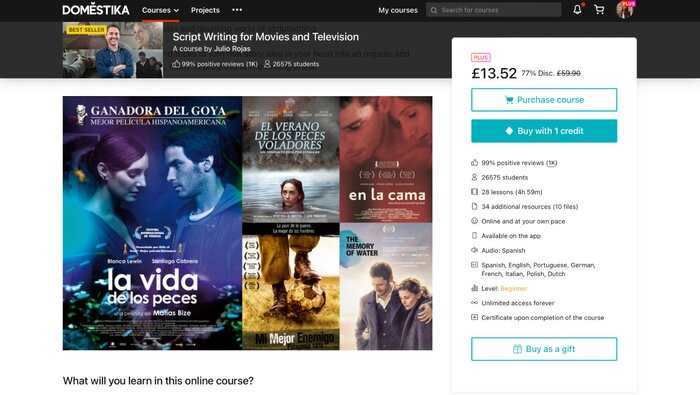 Writing a Novel Step by Step
Authoring a novel from scratch is no easy feat, so if you need a little help, take Cristina López Barrio's class. Cristina's been writing professionally since 2009 and her novels have been published into 15 languages. She'll help you with exercises to get your creativity flowing, develop your characters, and outline your plot. You will also consider essential elements such as setting and time frame.
You don't need any experience as a writer, all you need is the passion for telling an original story and Cristina will help you get there.
Script Writing for Movies and Television
In this class, with award-winning script writer Julio Rojas, you will learn how to master plot, developing a clear narrator, understand the narrative triangle, and create intriguing dynamics and plot devices to make your story interesting. This class is for screenwriting beginners, including storytellers from all industries.
Marketing & Business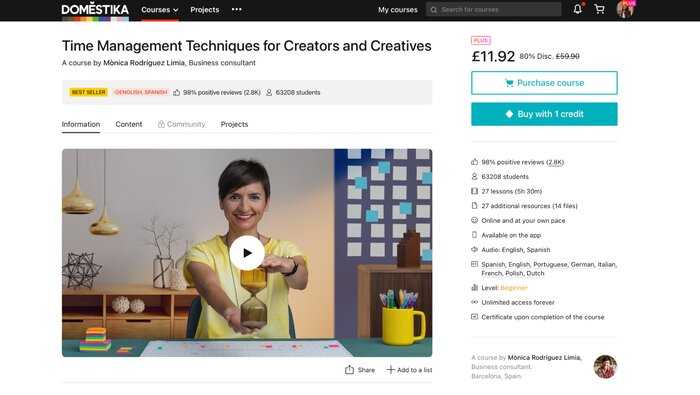 Time Management Techniques for Creators and Creatives
Being a freelancer or owning your own business can often be very time-consuming, and sometimes it's hard to know when to stop. Business consultant Mònica Rodríguez created this class especially to help you achieve your goals and know when to rest. You will learn how to make timetables, divide your time between projects, and plan for the future.
This class is open to anyone but especially creatives who are overworked.
Launching your First Online Business
Starting a new business can be scary, but digital marketing expert Foncho Ramírez-Corzo will teach you everything you need to know to make your new adventure a successful one. Learn how to find the best new business idea, how to create a business model, identify your target customer, and compete with similar customers.
Ready to take your next steps in business? No experience is required, all beginners are welcome.
Domestika for business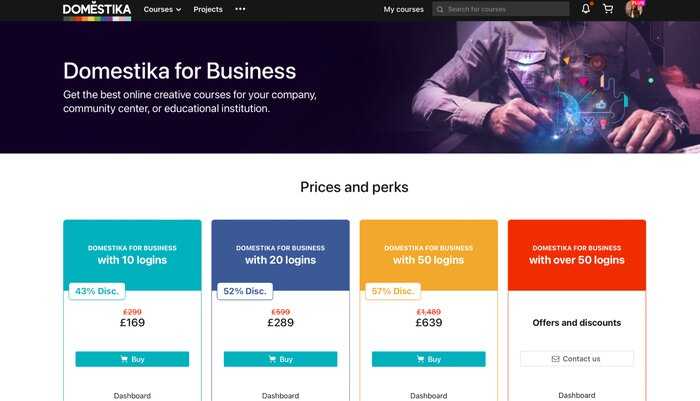 Domestika is an excellent platform for companies and businesses to use and improve as a team. There are a range of packages available, depending on how many users you would like to get access for.
For 10 users and access to a range of courses there's a package costing around $200. For 20 users there's a package costing around $350. Or, if you're looking for access for 50 users, you can personalize service with a package costing around $770, or explore a range of offers and discounts.
Business perks include:
Dashboard and login management
Student tracking
Certificates included
A range of courses to choose from
Be sure to check Domestika's website for the most up-to-date pricing information.
What I liked about Domestika
How I reviewed Domestika
We're committed to giving you the most helpful and comprehensive review. So, to review Domestika I experienced Domestika as you would. Over a couple of weeks I immersed myself in the platform, exploring the available classes, how much they cost, what they are like and what other students think.
Domestika's range and versatility
While there are many e-learning platforms that offer a range of great skills, Domestika really stands out to me as a platform that connects talented creatives and makers with eager-to-learn students. Having the possibility to complement your learning with other similar courses, or to have fun and try something completely different can be hard to come by.
Furthermore, knowing that all classes are produced in-house means that you know the quality will be the same no matter what skill you're investing in.
Expert tutors with a professional and friendly approach
All of Domestika's classes are planned, researched, and produced before they're put online for your use. This means that every single tutor has been approved by Domestika and is regarded as a true expert with lots of experience. Not all platforms have such a good screening system for quality, but with Domestika you know that your money is being well spent.
Plus, every class begins with an introduction from your teacher and their background which is really helpful and helps contextualize them as experts.
Flexible purchase options and reasonable pricing
With Domestika you can choose to learn when and how you want to. Whether you just want to buy a class every now and then or you want to learn a new skill every month, you can do that with this platform. I believe that everyone should have access to education online, and Domestika's prices are very reasonable, especially as they often have sales that reduce their standard prices.
The chance to put your skills into practice
Domestika is big on teaching, but they also want to encourage you to practice your skills. Each class has downloadable content, exercises, or projects, created especially to get you to use the techniques you've learned and bring your ideas to life.
After purchasing a class you'll have access to the community tab which will allow you to interact with fellow students and see their work. It's a great place to make friends, get extra tips on how to improve, and feel like you're part of a bigger community.
Plus members also get access to live classes and sessions, so if the community aspect is something you're interested in, the Plus membership is worth taking a look at.
What could be improved
Possible issues with language & accessibility
Domestika was founded in Spain so naturally many of their tutors have created their classes in Spanish. Many classes have voice-overs in English and all have a variety of subtitles in different languages. However, this means that people who do not speak the language the class is taught in and cannot use subtitles might miss out on the class altogether.
Most classes also offer transcriptions, but nonetheless this does constitute an accessibility issue for some students.
Domestika Plus' perks could be even better
While having access to five classes per month for $12 is much better than having to buy loads of individual courses at a higher price point, I think Domestika's Plus membership could be even better.
Of course, it's not just about the amount of classes (Plus members also have access to live events and certificates of completion). But while some platforms allow subscribers to explore all courses, Domestika limits it to one free credit per month (which can be exchanged for any class) and one open course every week.
Who Domestika is for
Passionate creatives with a hunger to develop their skills
Hardworking professionals looking to step up their game with new talent
People who are looking for a new hobby to be productive and stay mindful
Beginners of all ages who want to try something brand new
Finding great courses on Domestika
Domestika has so many classes you might find it overwhelming at first. Luckily, their interface is very intuitive and easy to navigate, but I'll give you some tips to find the perfect class for you.
Courses, course bundles, Domestika Basics, and open courses
The first way of navigating the platform is by selecting the kind of class you're looking for. On the sidebar towards the top of the page you will find courses, bundles, Domestika Basics (which are shorter introductory classes) and open courses for Plus members. Don't forget you also have the option to create your own bundle further down the bar.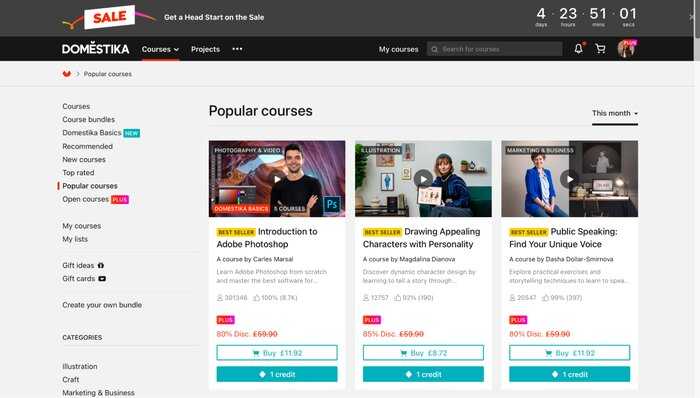 Categories, areas, and software
The other way to filter through classes is to choose a category you're interested in, such as 'Craft' for example. However, you can also pick an area within crafts such as 'textile design'. If you're looking for a specific course for software though, you can scroll down to the Software section of the bar and select the one you're looking for.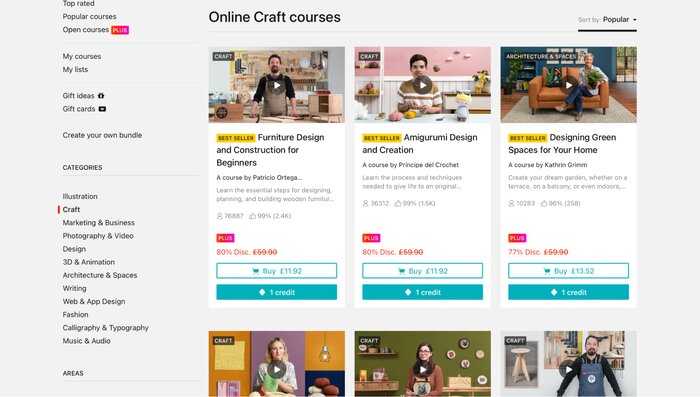 Sorting
Once you've selected a category, area, or software, you can then sort through the available courses choosing to find popular, best sellers, new courses, or top-rated courses.
Reviews
Once you've clicked on a class that looks interesting to you, make sure to take a look at the different informative tabs which include information, content, and projects. The community tab will be locked unless you have already purchased the class. If you scroll down, you can also see other students' reviews to help you make a truly informed decision.
Is Domestika legit?
Domestika is definitely legit, not only that but it is a great well-rounded learning platform. Of course, that's not to say it's perfect. Some might dislike the language accessibility options or wish they got more for their subscription. But it is a great platform for learning a variety of creative skills and putting them to practice.
Domestika was founded in 2010 and has had twelve years to develop into a community of over 8 million users worldwide. I've tested the platform myself and can say that I really enjoy Domestika's organization, range of classes, teaching style, and perks! 
In 2022 it reached Unicorn status (a privately held company worth $1bn+) after investment from Zeev Ventures.
Domestika alternatives
While Domestika may be the perfect fit for some, not everyone will think it's a match, so I'm going to suggest some alternatives that still tick the same boxes but have slightly different features.
Skillshare
Similar to Domestika, Skillshare is a platform that offers a range of skill-based classes covering just about any topic you can imagine. It's a membership based platform which means that once you subscribe you will have access to many different classes – and they also offer a free trial so you can experiment before you buy. Most classes are also taught in English. Read our Skillshare review or our article Skillshare alternatives for more informaiton.
Udemy
Udemy is also quite similar to both Domestika and Skillshare. Like both platforms, its courses cover everything and anything from music to programming – however there is more of a focus on tech. With Udemy, you can also choose whether to buy an individual class that sparks your interest or decide to subscribe.
However, Udemy's prices are higher for both subscriptions and individual classes, and their range of topics is slightly smaller, so make sure to check out the available courses on each platform and decide which one is right for you. Read our Udemy review for more detail.
CreativeLive
Like Domestika, CreativeLive is all about bringing a creative community together to learn. Their classes range from crafts such as calligraphy and quilting to Adobe Photoshop and filmmaking. In fact, their range of courses is probably even larger than Domestika's. With CreativeLive you can also buy individual classes (which are specifically priced) or subscribe for $13. The price point is very close to Domestika's, however, CreativeLive's classes aren't all produced in-house and don't all include certificates for subscribers.
So while the two platforms are very similar, make sure you're defining your objectives before choosing which one to go with, and checking that they meet your personal requirements. You can find out more in our CreativeLive review.
Create Fabrica is an online crafting platform, created to improve the way people consume digital assets like designs, classes and resources. With an amazing 6,590,446 products and 62,806 designers, there is a huge amount of choice and variety. Classes cover everything from weaving and spinning to graphic design and home decor.
Few platforms can compete with Creative Live's wealth of downloadable resources which you can use with your own designs as they include commercial licences. So if you're looking for a one-stop-shop for both learning and tools this could be the platform for you.
Domestika: What others say
To make sure I'm giving you the best Domestika review, I wanted to find out what other people thought about the platform. I Googled 'Domestika' and found some comments made by users.
Overall, users are very happy with the content and quality of teaching at Domestika, but there were a couple of negative comments, regarding two main issues: refunds and language accessibility.
JS Wolfe on Facebook said "I was never refunded for a course that didn't deliver what it promised. It was not useful in any way." 
While this is really unfortunate, Domestika does have a refund policy which is explained in their FAQ section. So if you would like to get a refund and meet the requirements, don't hesitate to contact Domestika directly.
Another negative comment was in regards to the language classes are taught in.
Connie McCulloch-Jensen on Facebook said: "It's not in English, you have to read through it all. I stopped watching after 2 minutes…annoying!" 
It is true that many of Domestika's classes are not taught in English because that is not the tutor's first language. However, every class offers either a voice-over in English or a selection of subtitles in various languages.
However, despite these issues, most reviews were positive and complimented Domestika.
Chantal Béliveau on Facebook said: "The courses are very well structured and their content is impressive in depth and comprehensive for each subject! They answered my questions quickly and helped me with my account! I highly recommend these classes! The service is impeccable!"
Another comment from Autumn Blackwood, a happy Domestika user on Facebook reads: "I took an amigurumi crochet course and loved it! I've been crocheting for 17 years and I learned a whole new way to crochet here. Although the class was in Spanish, the translations and subtitles were amazing, and I loved all the printouts with the patterns. I learned to read the pattern charts, and now the world of Spanish crochet patterns is accessible to me, once I learned the stitch names!"
Autumn's comment shows the quality of Domestika's classes. As well as how rewarding the challenge of learning from another culture and language can be.
So while Domestika is not for everyone, and you might not always find the right class for you immediately, most students are happy with the quality of the content and teaching.
Evaluating Domestika
Features: Domestika's features include: multiple categories and skills, the option to purchase or create learning bundles, regular sales and discounts, multiple purchase and subscription options, downloadable content to enhance learning, certificates and live events for Domestika Plus members, lifetime access for individual class purchases, and teaching delivered in multiple languages.
Content quality: Domestika's lessons are all produced in-house to maintain quality and cohesiveness across the platform. All courses are well-structured with a breakdown description of each class as well as partial or complete transcriptions. They tend to be quite short in length, and include a mixture of talking, showcasing, and encouraging students to practice. Many classes also include 'Projects' which students are expected to complete in order to further their learning. Classes are often not taught in English so make sure the subtitle options works for you before purchasing a course.
Content breadth: There are over 12 categories, including photography, writing, marketing, and web design, and hundreds of classes to choose from.
Teachers: All of Domestika's teachers have to organize and pitch a course to the platform, which means each and every one has been evaluated and approved by Domestika's team to ensure the best quality for students. The teachers are experienced professionals in their field with a passion for sharing their skills with others.
Supporting materials: Domestika's classes include downloadable resources to help you with your learning, as well as individual tasks or assignments, and often a final project to help you see what you've achieved with the course.
Payments & refunds: You can purchase individual classes that have specific prices, or choose a monthly subscription for around $12 or an annual subscription for around $100. There are also separate deals for businesses. Refunds are available for all individual classes and subscriptions if requested within 14 days of purchase.
Support: Domestika has a dedicated support section on their website as well as a helpful Q&A that will probably answer most of your questions. However, you can always contact their team by filling out their contact form.
How to open a Domestika account
Opening a new account with Domestika is easy and free.
Click on 'Sign Up' and add your email address, create a password, and add your date of birth
If you would like Domestika to suggest content, select a couple of categories you're interested in
There's an option to add your Facebook friends to a contact list if you wish
You can also choose to follow some of Domesika's creatives
Then you'll have to confirm your email address by logging in to your email and clicking on the 'Confirm email' button
And that's it, you're in!
Once you've logged in you can decide whether you want to purchase an individual class or subscribe to Plus by clicking on the 'Domestika Plus' button on the main menu
Is Domestika worth it?
Yes, Domestika is one of the most diverse and well-organized e-learning platforms out there. From the quality of teaching to the range of classes, there really is something for everyone.
If you're a passionate creative who really wants to take their skills to another level (or pick up a new skill entirely) then Domestika is an excellent place to center your learning and practice. It's also a great option for people who want flexibility as it offers so many different purchasing avenues.
However, if you're only interested in one specific skill or need a more accessible platform, then there are other alternatives out there such as Skillshare or Udemy that might be a better match for you.
If you're really interested in Domestika, I would recommend getting a monthly Domestika Plus membership. The price is reasonable, you will get a free credit each month to exchange for a class, have access to a number of open classes, and get certificates for completed courses. And if you decide you really don't like it, you can cancel your subscription at any time. Plus you have 14 days to request a full refund.
Related articles: Best – soap making, watercolour, embroidery and drawing classes and Skillshare review.
Frequently asked questions
How much does Domestika cost?
Domestika has different purchase options to suit your needs. If you would like to explore many courses at once you can get an annual subscription for around $100 or a monthly subscription for around $12. For individual classes, bundles, or business plans make sure to check Domestika's pricing information. 
Does Domestika have a refund policy?
Yes, Domestika offers a refund for all individual classes or subscriptions. You will have to request it within 14 days of purchasing in order to qualify and you can also choose to exchange your course for a different one. 
How many courses are there?
Domestika has over 10 categories and hundreds of classes within them (1,000+ in total). 
Does Domestika have a free trial?
Domesitka does not offer a free trial, however they often have sales on and if you subscribe to Domestika Plus you can get one free class every month. 
Does Domestika give certificates?
Yes, Domestika does offer certificates but only for classes completed with a Plus subscription or through a business plan.
What languages is Domestika available in?
Domestika is an international platform with classes available in Spanish, English, Portuguese, German, Italian, Polish, Dutch and French. Make sure to check the language your class is taught in as well as the subtitle options.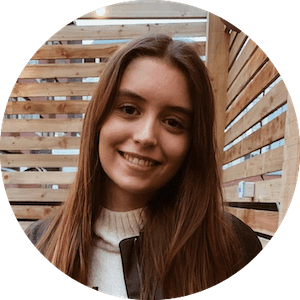 Lauryn is an English Literature and Creative Writing graduate and Journalism Master's student. She's passionate about the arts, writing, photography, storytelling, and editing – anything creative really!