From mending your own clothes, to creating beautiful artworks the possibilities that embroidery offers are vast.
And the good news is, there are plenty of online embroidery courses to help you master this rich and varied craft.
But with so many online embroidery courses to choose from, where should you begin? We've scoured the web for the very best online embroidery courses. Some to get you started on your stitching journey, others to master advanced or specialist techniques.
Whatever you're looking for, we've got you covered, so read on to discover the best online embroidery course for you.
What is the best online embroidery course?
Here are our top recommendations:
We chose Hand Embroidery 101: Foundational Stitches and Techniques on Skillshare as our top online embroidery course. With expert advice on everything from the very best materials to mastering essential stitches, this course has a great follow-along section creating a beautiful flower design so that you can put your newfound skills into practice.
You'll finish the course confident in the foundation skills of embroidery and ready to experiment with advanced projects. Plus, if you subscribe to Skillshare then you'll have access to 40,000 other amazing creative courses.
Second choice, Realistic Embroidery Techniques on Domestika, is a great alternative for those with a grounding in embroidery basics who want to learn new techniques not found in a traditional course. It will teach you how to achieve stunningly realistic and intricate results which you can apply to countless future projects.
Our other top choices reflect the range of approaches and traditions in this amazing craft. From Mexican and Japanese techniques to exciting new practices in realistic embroidery and multimedia projects.
Best free online embroidery course
Whilst Skillshare has a subscription fee, it offers a free trial during which you will be able to access these courses for 30 days using our links.
Best online embroidery course reviews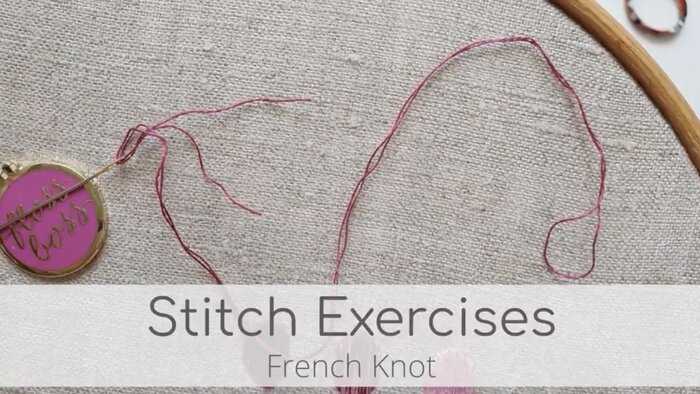 Platform: Skillshare | Teacher: Heidi Sternberg | Length: 33 video lessons, totalling 4 hours and 11 minutes
This beginner course is all about developing a hand embroidery toolkit and become confident taking on future embroidery projects. It covers everything from supplies to stitches and, with over four hours of content, is a value for money course for building a strong foundation in embroidery.
What you will learn:
A detailed overview of all the essential embroidery supplies you will need
Everything you need to know about the transfer process, from pens and markers to light sources, paper types and templates
How to thread up and knot correctly, as well as how to hoop up your fabric for a great base
All the foundational stitches you'll need to confidently tackle a variety of projects, including backstitch, laid stitch, and pistil stitch
How to put these stitches into practices by creating a beautiful flower design, as well as how to stitch text
Pros:
As the title suggests, this course lays an extremely strong foundation for complete beginners – you've got to master the basics before moving on to more complex projects
Heidi is a great teacher, and her clear and simple explanations are easy to follow
Whilst this more focused on learning the techniques, you will still complete the course with a beautiful flower embroidery
Cons:
If you already have some hand embroidery experience, you may find this course a little slow-paced, and may want to consider a more advanced program
Stitching flowers isn't the most exciting project, however as this is a learner course they are a great way to practice basic stitches
Who it's for: Beginners who are looking for a simple, clear guide to the fundamentals of this craft
Overall: A highly-rated course with plenty of satisfied students, this is an ideal course to start your hand embroidery journey.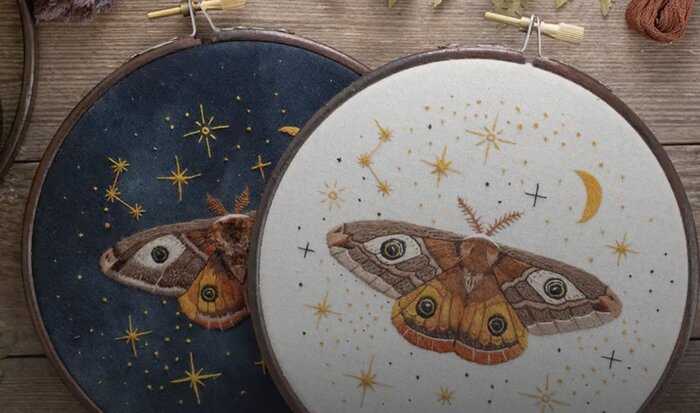 Platform: Domestika | Teacher: Emillie Ferris | Length: 17 video lessons, totalling 3 hours and 13 minutes
Who knew that a needle and thread could produce such detailed, realistic results? Emillie Ferris breaks down the art of 'needle painting', which treats each stitch like a brush stroke, building up layers of color to create a beautiful end result.
What you will learn:
The basics of 'painting with thread' – how to use long and short stitches to create realistic images
How to choose your thread colors, transfer your patterns, and some advice about materials
To put these techniques into practice, as Emillie provides a detailed demonstration of a monarch butterfly embroidery project
The best way to finish off a project, and even how to share your artwork on social media
Pros:
You will finish this course with your own beautiful completed project
Emillie's instructions are very clear and detailed, working through each section of the body so you know exactly what you need to do
The advice for sharing your artwork is unique to this course, giving a modern twist to a traditional craft
Cons:
This course isn't for complete beginners – in fact, it builds off Emillie's previous courses, so it helps to have a basic background in embroidery before you begin this project
This course is centered around a butterfly embroidery project, which might not be to everyone's taste. However, the idea is that by learning this technique, you can apply it to any subject matter you like
Who it's for: Anyone interested in learning how to create beautiful realistic embroidery projects, who already has a little bit of experience.
Overall: A great course exploring an interesting technique, which will equip you with skills you can apply to a whole range of future embroidery projects.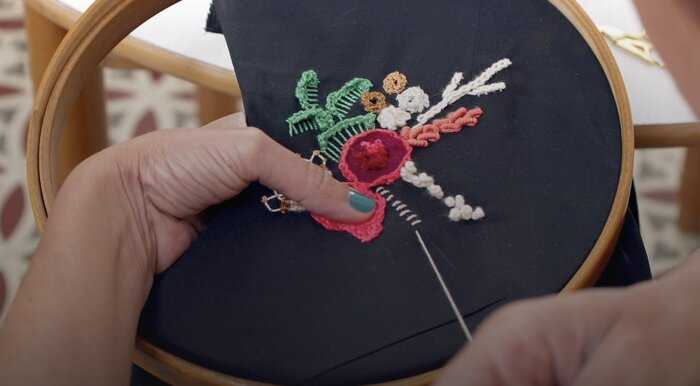 Platform: Domestika | Teacher: Señorita Lylo | Length: 13 video lessons totalling 2 hours and 22 minutes
Elevating embroidery from a craft to a work of art, this course focuses on building volume in your projects to create truly unique designs. Using the example of an ocean coral design, Señorita Lylo will demonstrate how you can apply this beautiful technique to your own garments for wearable art.
What you will learn:
Details of all the materials you will need to successfully complete this project
Information on composition and design elements, understanding the importance of observation to transform what you see into textured embroidery
How to embroider a beautiful coral design step by step, learning advanced flat and raised embroidery stitches, including the pistil scallop, scallop wheel, coral stitch, rococo and rosette variation
Advanced techniques using knotting, beads and sequins to elevate your work
Pros:
This course is packed full of amazing advanced techniques that will give your work flair
On Domestika past students can share their projects, and from the look of their beautiful work this course is very effective!
All of the techniques you learn can be applied to many other projects – you're not limited to the coral design
Cons:
This course is explicitly for more advanced embroiderers, so if you've never threaded a needle before, then I would recommend starting with one of the other beginner courses mentioned in this article
As with most Domestika courses, this program centers around a final project – if you just want to learn the techniques but aren't interested in sticking around for an entire project, then this might not be the course for you. However, the whole point of the final project is to provide a way to practice these new techniques, so it's definitely worth giving it a go!
Who it's for: Embroiderers with some experience who want to take their work to the next level with advanced techniques.
Overall: A detailed advanced course sure to produce some impressive results!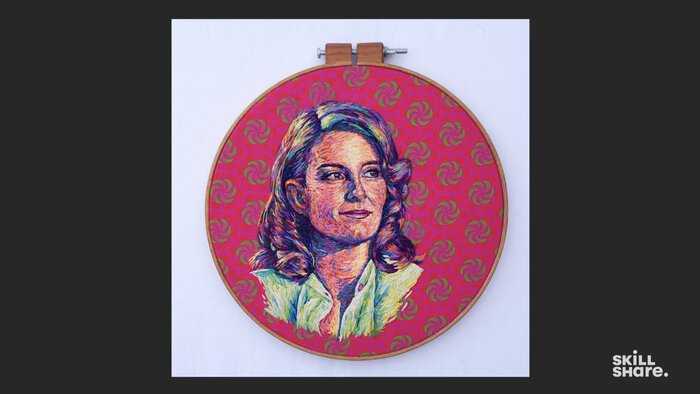 Platform: Skillshare | Teacher: Danielle Clough | Length: 14 video lessons totalling 1 hour and 29 minutes
Embroidery can sometimes be seen as an old-fashioned craft with lots of traditional rules. This class is all about challenging that perception and showing you how embroidery can be fun, modern and experimental. Danielle Clough will teach you her 'color-blending' technique to create beautiful modern masterpieces.
What you will learn:
Embroidery basics, from threading your needle and setting up your hoop to mastering basic stitches
All the tools you will need to get started
How to color blend to create beautiful artistic results
Sourcing a reference photo, and how to transfer your design onto your hoop
The embroidery process from first stitch to completed work
How to frame your finished piece for display
Tips and tricks to getting experimental and approaching embroidery in new ways
Pros:
Although this course looks pretty advanced, the good news is that Danielle caters for total newbies too, with lessons on the very basic like what tools to use and how to set up your hoop
This is an amazing technique that yields beautiful results, which you can use in project after project
Danielle has a fun and unique perspective on embroidery that is sure to inspire you, whatever your level of expertise
Cons:
If you're just looking to learn the basics of embroidery in detail, then this isn't the right course for you, as it focuses on a specific color-blending technique
Who it's for: Complete beginners to embroidery pros looking for a fresh perspective on the craft.
Overall: An inspiring, accessible course sure to get your creative juices flowing.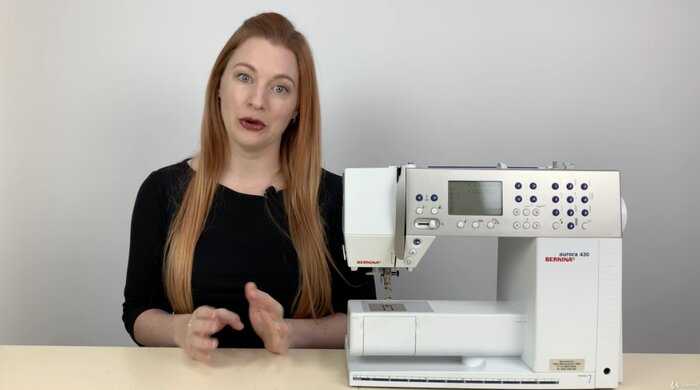 Platform: Udemy | Teacher: Meredith Woolnough | Length: 21 video lessons totalling 1 hour and 6 minutes
Freehand machine embroidery is a fantastic way to get creative with your sewing machine. In this course artist Meredith Woolnough teaches how to move away from preprogrammed settings and use your machine as an amazing tool for creating art.
What you will learn:
The basics of what freehand machine embroidery is, as well as the ins and outs of a sewing machine to make sure you're confident using it to make beautiful designs
All the tools and materials you will need to get started, including base fabrics, threads, and embroidery hoops
How to set your machine up for the best freehand machine embroidery results
Tips for developing food stitch habits, plus a helpful troubleshooting guide
How to put everything into practice using a bonus project called 'The Stitched Garden'
Pros:
It's totally free! Of course, you will need your own sewing machine, but if you already have one then this is a great opportunity to try out a new skill for free
This course is also a great way to brush up on your more general sewing machine knowledge, which can come in handy for a plethora of different projects
Freehand machine embroidery is a fun, simple and adaptable craft that offers loads of potential for your own future projects
Cons:
This is course is for people with sewing machines – if you're new to embroidery it might be better to buy hand embroidery supplies, which are much cheaper, and learn that method before committing to a big purchase like a sewing machine
If you're looking to learn the basics of hand embroidery, then this isn't the course for you, as it is entirely machine-based
Who it's for: Anyone with access to a sewing machine who is interested in learning a new, creative way to use it.
Overall: An amazing FREE guide to freehand machine embroidery – if you're interested in learning and have a sewing machine, then you've got nothing to lose!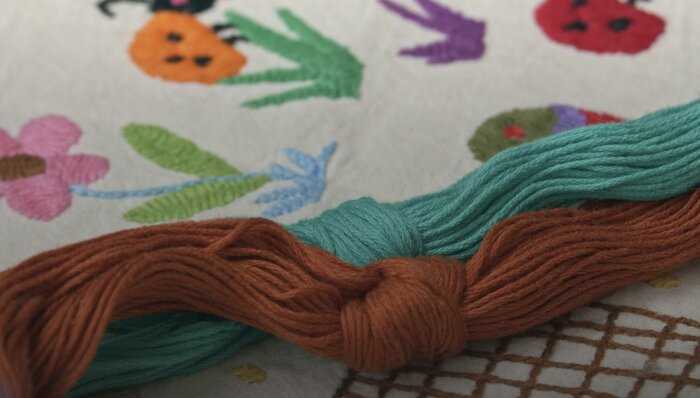 Platform: Domestika | Teacher: Gimena Romero | Length: 19 video lessons totalling 3 hours and 1 minute
Embroidery is an ancient craft with a rich tradition. In this fascinating course you will learn all about traditional Mexican techniques, and understand their history and significance in Mexican culture. Gimena Romero is full of knowledge about this special craft, and this course encourages you to use traditional practices in your work to create something new.
What you will learn:
Gimena's influences as an artist and what informs her work
The importance of patterns and choice of materials in traditional embroidery
How to transfer a pattern onto your embroidery hoop
The history of Tenango embroidery, as well as how to mix patterns and colors, as well as starting on curves and peaks and using planar and linear stitches
Chamula embroidery traditions, which includes demonstrations of texture for leaves and skewed fill
How to use outlines and details and randa filling in the context of Zinacatan embroidery
Huixtan embroidery, and its specialist techniques
How to use traditional Mexican embroidery techniques in contemporary projects
Pros:
Internationally recognised artist Gimena Romero is a fantastic teacher – you can be sure you're learning from the very best
As well as learning the practical stitches and techniques, this course is full of rich history that will give you a new perspective on this ancient craft
Utilizing these traditional stitches in your own projects is sure to give them a unique twist
Cons:
This is not a course for someone who just wants to learn some basic embroidery stitches – there is a heavy focus on history and tradition, and, of course, the class is centred around Mexican techniques specifically
It's important to bear in mind that this course is in Spanish. However, Domestika has very good subtitles, so this shouldn't pose a problem when it comes to understanding the content
.
Who it's for: Perfect for someone with a little embroidery experience who wants to learn more about the rich traditions of the craft, and bring a new perspective to their work.
Overall: An inspiring, original course that is packed full of historical insights and practical techniques to bring a Mexican twist to your designs.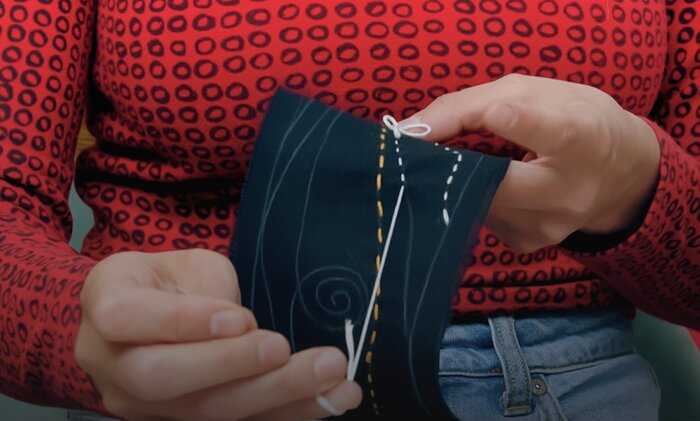 Platform: Domestika| Teachers: Gabriela Martinez | Length: 19 video lessons totalling 4 hours and 18 minutes
Mending clothes doesn't have to be boring! In this course, you'll learn how repairing clothing with embroidery techniques can be a sustainable and creative way to express your personal style. This technique is called 'Visible Mending', and you'll learn how to give personality to your worse-for-wear clothes from expert embroiderer and textile artist Gabriela Martinez.
What you will learn:
Ways for repairing our wasteful relationship with fashion by treating damaged garments as opportunities for embellishment and creativity
How to prepare your garment for the repair process, and how to assemble a collection of materials to help you
The best method for using patchwork to repair rips, and how to use flat, embossed and knitting stitches to achieve creative results
To use embroidery as a mending tool, including the use of camouflage, external and internal patches, as well as the best way to prepare and compose patches
How to care for your repaired garments
Pros:
This is a super useful, practical application of embroidery that will enable you to extend the lifetime of your favorite pieces
It will also prompt you to think more deeply about your relationship to fashion and the clothes you wear, and how to get the most out of them
This is a skill that you can use over and over again – and one that will save you lots of money in the long run!
Cons:
Whilst there are decorative components to this course, it's mainly focused on how to practically apply them to damaged garments, so if you're looking for a more general introduction then try one of the other great courses on this list
As with the previous course, this class is in Spanish – however, there are English subtitles which makes it easy to follow
Who it's for: This is the perfect course for anyone interested in sustainable fashion and rethinking our relationship to clothing, and learning repair techniques that are both practical and beautiful.
Overall: An engaging course that will equip you with the skills to breathe new life into damaged clothes using attractive embroidery.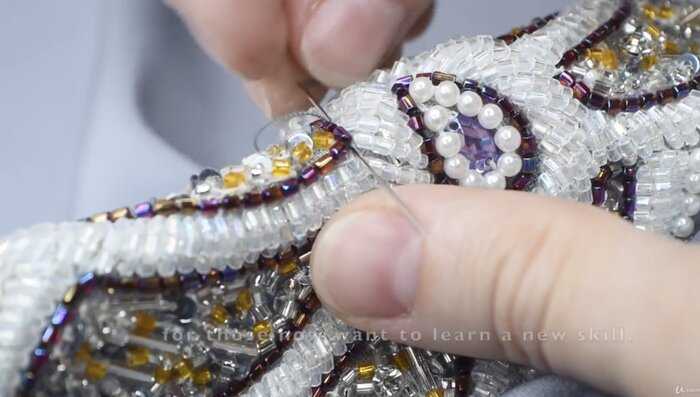 Platform: Udemy | Teacher: Dordea Alexandria | Length: 17 video lessons totalling 35 minutes
Tambour embroidery is an ancient technique using beautiful beads and sequins to embellish garments with luxurious designs. Dordea Alexandria will get you started with this intricate art, from materials and set up to your own guided projects.
What you will learn:
A history of tambour embroidery and its uses – prepare to be inspired!
What materials you'll need, and how to prepare your hook, frame your fabric and transfer you patter
Everything you need to know to get started with stitching, from beginning knot to end knot, and advice on practice
How to work with beads and sequins in this distinctive style, working through guided projects including a rectangle pattern, a lotus and a letter
Pros:
Learn how to create your own sumptuous designs using this ancient art form, whether you want to recreate traditional patterns or incorporate them into a more modern practice
The range of guided projects gives you plenty of scope for practice to make sure you're confident
The clear, simple videos with detailed close ups makes this complex-looking process easy to understand
Cons:
If you're not interested in working with beads or sequins, then this isn't the course for you, as it's entirely dedicated to the tambour technique
Whilst the instructions are clear and easy to follow, it would help to have a little bit of experience to get the most out of this course
Who it's for: An ideal course for those who have a bit of familiarity with embroidery, and are interested in learning how to use tambour embroidery to up their skills.
Overall: Easy-to-follow guide to a beautiful and intricate embroidery practice.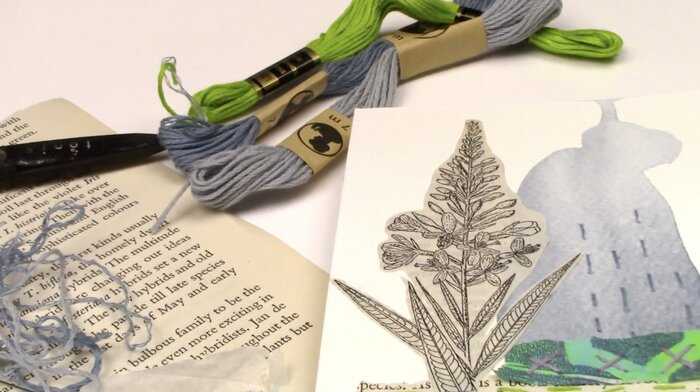 Platform: Skillshare | Teacher: Karen Gaunt | Length: 7 video lessons totalling 27 minutes
This is a unique course that uses paper instead of fabric to create beautiful collages. Keeping the technical side of things as simple as possible, artist Karen Gaunt encourages you to let your imagination run wild and create some personal, unique designs.
What you will learn:
What supplies you will need to get started on this project
To make a simple watercolor spill background to create a basis for your project
How to collect collage pieces to create depth and interest in your piece
Using running stitches and cross stitches on paper to embellish and illustrate
Finishing stitches to ensure your finished piece is secure and ready to be displayed
Pros:
You will need very few materials to enjoy this course – just some paper and a needle and thread to get started!
This is a very different project to more traditional embroidery pieces on fabric – so even if you are a fabric embroidery pro this will offer new possibilities to put your skills into action
This short course is a quick, easy way to learn a new skill, and you can get started straight away
Cons:
This course is not going to teach you traditional embroidery techniques, as the focus is on paper collage
Whilst the short running time may be a plus for some, with only half an hour of video content there are better value courses out there
Who it's for: Great for anyone looking to get inspired and try embroidery in a new medium.
Overall: A fun, quick course that demonstrates the versatility of the art of embroidery.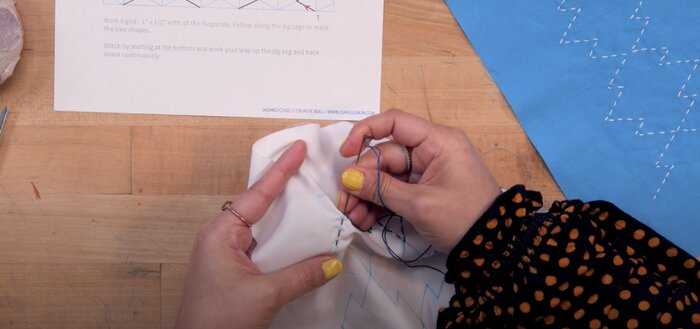 Platform: Creativebug | Teacher: Lisa Solomon| Length: 32 video lessons totalling 2 hours and 42 minutes
Demonstrating the rich history of embroidery, this course will teach you methods dating back to the 17th century, using stitches and designs originating with thrifty Japanese peasant women! These beautiful designs can be used for mending, decoration, or incorporating into bigger artistic projects. Starting with the very basics, there are 30 stitches to learn, offering endless variety.
What you will learn:
How to work with Sashiko needle and thread, including correctly loading the needle for stitching
30 traditional stitching patterns that will encourage you to slow down and stitch with intention
All the supplies that you will need, with an accompanying detailed supply list and a PDF of patterns that you can refer back to again and again
Pros:
This is an interesting take on traditional embroidery from another culture, offering even more insights into the fascinating world of embroidery
With a focus on simplicity and intentionality, this is a great course if you want to slow down
On Creativebug, you can leave comments, ask questions and interact with other students, for a more immersive learning experience
Cons:
This is a specialized course about a very specific style and tradition, so you won't get a broad overview of embroidery more generally
With an emphasis on learning specific types of stitches, this course doesn't have a final project for you to practice what you've learned
Who it's for: Ideal for anyone interested in a different cultural perspective on embroidery.
Overall: An interesting, meditative course that will give you a new appreciation for the simple art of stitching.
What are the advantages of taking an online embroidery course?
Embroidery is such a multifaceted skill. Once you master it, you can do anything from fix your clothes, create beautiful gifts, or practice it as a mindful hobby to help you slow down and relax.
The beauty of online learning is that you can pause videos and watch them again and again. This is incredibly helpful when it comes to intricate art forms like embroidery.
Buyers guide: what to look out for
Who is teaching the course? Many of the courses in this article are taught by experts in their field, or working artists with years of experience who make a living from their craft. By checking the credentials of your instructor, you can be sure that you're paying for quality content.
What level of experience do you have? There are so many embroidery courses out there, so it's important to choose one appropriate to your level of skill – if you're a total beginner then it's best to invest in a course to help you master the basics before shelling out for a complex advanced course.
What style of embroidery are you interested in? As you can see from this article, there are many different styles of embroidery originating from around the world. It's a good idea to do a bit of research to decide what style you want to learn before you commit to buying a course.
How much does it cost?
The prices for courses mentioned in this article range from free to around $60 for individual courses. However, many courses, such as those on Domestika, Skillshare or Creativebug are included in a monthly subscription. Domestika is $12 a month, Creativebug starts at $7.95 per month, and Skillshare is $32 a month. These memberships include access to many other great courses on a range of amazing topics.
This cost is also often cheaper than going to an in-person class. With the added benefit of self-paced learning and downloadable resources.
How long does it take to learn embroidery?
The courses in this article range from half-an-hour to four+ hours.
Bear in mind that embroidery is a relatively time consuming hobby. So you will need to account to practice time on your own.
Conclusion
Embroidery is a fascinating craft with many diverse traditions. And the internet is full of fantastic courses. So whether you've never picked up a needle before or you're an experienced embroiderer looking for fresh perspectives, there's sure to be something for you.
If you're interested in specialized courses that focus on history and tradition, Domestika's 'Contemporary Embroidery with Traditional Mexican Needlework' is a great place to start. If you're looking for a quick craft fix then I recommend Hand Embroidery on Paper on Skillshare. New to the craft? Then Hand Embroidery 101: Foundational Stitches and Techniques on Skillshare is a fantastic starting point.
Hopefully this article has demonstrated the range of courses out there, and helped you decide which is best for you.
Related articles: Best – soap making, watercolour, calligraphy and drawing classes. Domestika, Creative Fabrica and Skillshare reviews.
Frequently asked questions
How much does an online embroidery course cost?
Individual courses range from free to around $60, but many are included in subscriptions for sites like Domestika and Skillshare
How long does learning embroidery online take?
The courses mentioned in this article range from around half an hour to over four hours. As embroidery is an intricate, time-consuming craft, you should allow yourself plenty of practice time to perfect your skills.

Hannah is currently studying a Masters in Modern Literature and Culture at King's College London.  In her spare time she enjoys hiking, writing and cooking.