If you love all things creative (especially those with a digital focus) you may have heard of crafting platform, Creative Fabrica.
With literally millions of products, including online courses and downloadable resources, it's been making a name for itself. And expanding fast since it was founded in 2016.
But is it worth the hype (and the money)?
I've given Creative Fabrica a comprehensive overview to answer all the questions you might have about the site.
So read on to find out how their pricing systems work, what kind of classes are on offer, how Creative Fabrica stacks up against similar sites, and lots more….
.
Quick summary
Features
1,000+ classes on a range of topics, including quilting, embroidery and resin, taught by experienced artists and teachers
Thousands of downloads of fonts, graphics, patterns and templates accessed with membership. Plus many free options – all with commercial licenses
Access to a range of unique AI tools, including an image generator and many different text generation options
Craft Club, where you can request specific designs, and Creative Fabrica's design team will work on them for you
A great series of guides on topics such as Silhouette, Graphic Design and Machine Embroidery
Pros
Impressive resource library with masses of digital assets to download and use in your own designs
Great community with responsive teachers
Brilliant AI tools that are unique to this site, offering endless new possibilities for creativity
Cons
Has SO much content it can be hard to navigate until you get the hang of it
Online classes aren't really Creative Fabrica's main focus, so few student reviews
Best for: Creative Fabrica is best for creatives and craft enthusiasts with a digital focus, who want to benefit from a plethora of digital assets and learn diverse new creative skills from quilting to illustration software Procreate.
Overall: Creative Fabrica is jam-packed full of an huge array of resources. You're sure to find something that takes your fancy, whether it's a short course on machine embroidery or a cool graphic you can incorporate into your own designs. I was amazed by the great array of digitally-focused tools, ideal for graphic designers.
This detailed Creative Fabrica review will cover everything you need to know about Creative Fabrica including:
What is Creative Fabrica and how does Creative Fabrica work?
How much does Creative Fabrica cost?
What a lesson is like
Best Creative Fabrica classes
Creative Fabrica for business
How I reviewed Creative Fabrica
What I liked about Creative Fabrica and thought could be improved
Who Creative Fabrica is for
Can I buy Creative Fabrica as a gift?
Finding great classes on Creative Fabrica
Is Creative Fabrica legit?
Refunds and alternatives
What others have said
Is Creative Fabrica worth it?
Frequently asked questions
What is Creative Fabrica?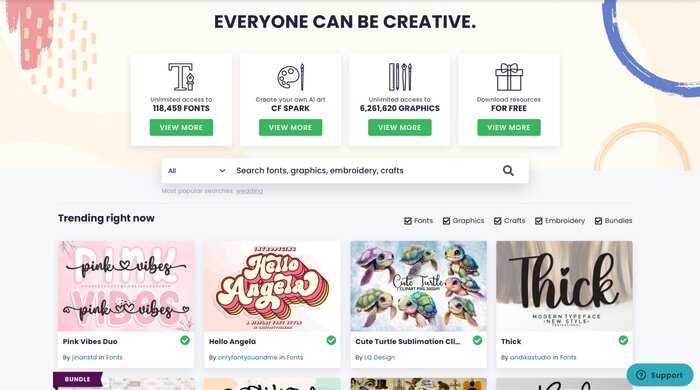 Create Fabrica is an online crafting platform. It's packed with classes, resources and tools to help you get the most out of making, at a fair price.
A fast-scaling start-up based in Amsterdam, Creative Fabrica was created to improve the way people consume digital assets like designs, classes and resources, helping crafters find creative outlets and build communities.
With an amazing 6,590,446 products and 62,806 designers, there is a huge amount of choice and variety. Classes cover everything from weaving and spinning to graphic design and home decor.
With downloadable fonts, patterns, logo creation kits, and a range of Spark AI tools from image generators to excuse writers and even book ideas, this platform, Creative Fabrica has a lot to offer.
How does Creative Fabrica work?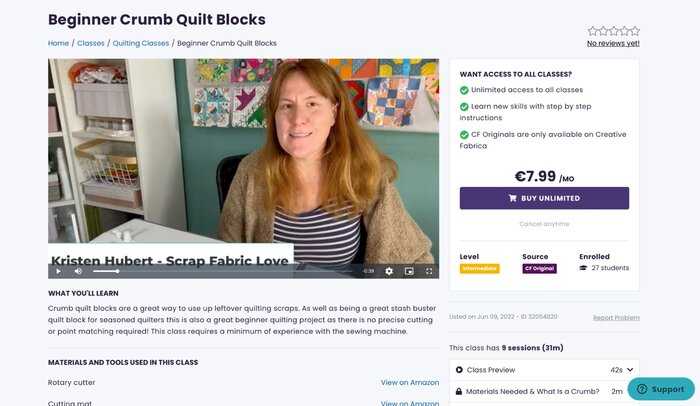 Creative Fabrica's classes take the form of short, accessible videos, and clearly indicate what skill level they're aimed at.
You can also browse downloadable fonts, graphics, needlework patterns, and many other resources. In addition, you can access many exciting digital tools. These include a Webfont generator, Fontcloud, and CF Spark – an amazing AI tool to help you create art, write copy, build patterns, and more.
And you can share your own creations on the community page, as well as access Create Fabrica's blog, The Artistry.
All this amazing content is available with a monthly All Access Subscription, which gives you unlimited access to everything the platform offers.
If you're only interested in a specific section, you can sign up for a Font Subscription, Graphics Subscription, Craft Subscription or a Classes Subscription. And if you're only after one specific product, like a logo or font, you can purchase it at a one off cost which includes a commercial license.
Creative Fabrica's classes cover many topics, including:
Graphic Design
Illustrating
Cricut
Crochet
Paper Crafting
Clays
Embroidery
Resin
Their impressive tools include:
CF Spark (AI content generator)
Fontcloud
Shapecloud
Webfont Generator
And if you still can't find what you're looking for, another great service Creative Fabrica offers is the Craft Club. Here, members submit design requests and the site's designers will create them for you. Recent fulfilled requests have included cottage-core illustrations, and realistic black and white drawings of specific fish.
How much does Creative Fabrica cost?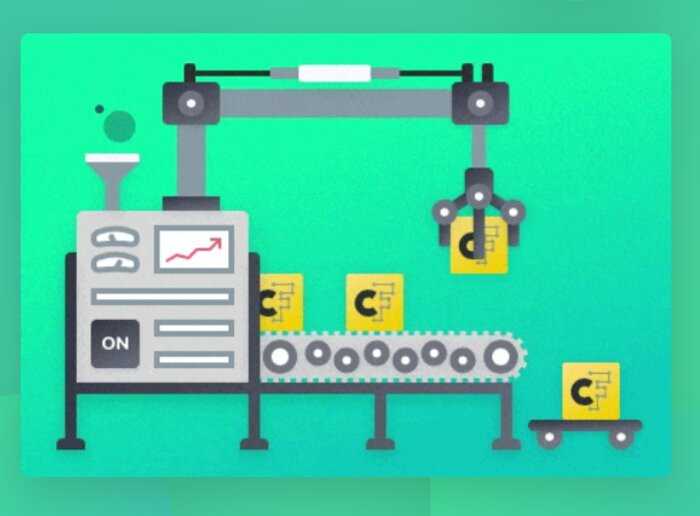 There are a few different purchase options, depending on what you're after.
At the time of writing an all-access subscription costs $29 a month, billed at $348 annually. This will get you access to all fonts, graphics assets, cut files and embroidery designs, as well as access to the Craft Club and a commercial license.
However, if you're only interested in a certain aspect of the site, then there other subscription options, for example
Crafts Subscription at $12 for three months. Gives you access to 191,785 cut files (for die-cutting software such as Cricut), access to the Craft Club and a commercial license
Fonts Subscription at $19 per month. With access to 118,076 fonts, with new ones added daily, as well as a commercial license
Graphics Subscription, at $19 per month. Includes access to 6,239,240 designs, with new graphics added daily, as well as a commercial license
The various subscriptions offered are a flexible way of accessing this amazing content. There's sure to be a deal for you, whatever your area of interest. No matter which option you go for, there is so much content available on Creative Fabrica. Plus the chance to build skills which will last you a lifetime.
Creative Fabrica free trial
At the time of writing Creative Live was not offering a free trial. However, it's always worth checking the site for latest offers.
Can I buy Creative Fabrica as a gift?
No, Creative Fabrica is not currently available to purchase as a gift
Creative Fabrica for business
Creative Fabrica is not currently available for businesses.
What a lesson is like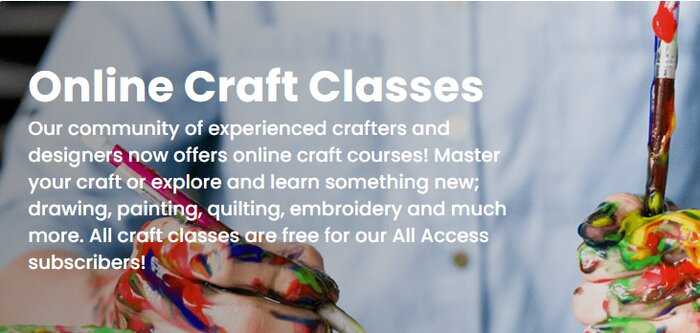 Typical lessons are around an hour long, and often shorter. In general, they're well structured, taught by professional artists and include plenty of over the shoulder shots so you can clearly see the making process.
A great feature is that each course will contain a linked list to all the materials you need. So you won't waste any time shopping around.
Best Creative Fabrica classes
There are over a thousand classes available on Creative Fabrica. Here are the five most popular courses on Creative Fabrica overall:
Working on Sublimation and HTV Together
Get Started with Digital Planning
How to Access PUA Encoded Fonts
How to Make an Explosion Box
Design Shadow Boxes in Cricut Design Space
Of course the best Creative Fabrica class will depend on what your interests and skill level. I'll go through the top courses in each category, so you can get a good feel for what's on offer.
Graphic Design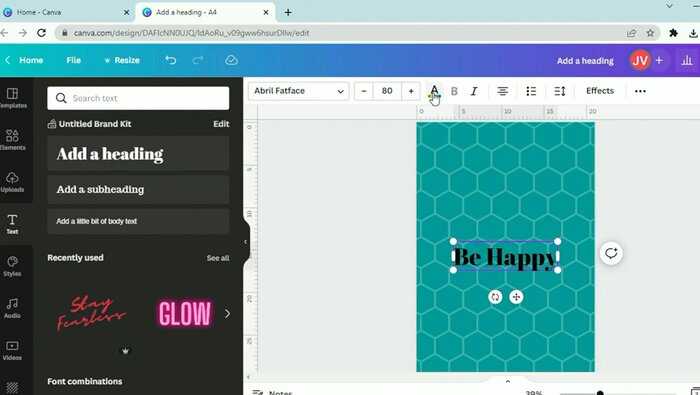 Canva 101 Jana-Mari is a self described planner addict. In her course she walks you through the fundamentals of Canva, free graphic design software, to create your own planners, schedules and more.
You'll learn all about the different design features and how to use different design elements. Plus see step by step demonstrations of her creative poster design process. This course would be great for anyone just taking their first steps into graphic design.
Designing Motivational Stickers Montreal-based designer Bryan Cngan is a graphics whizz. His class covers everything you need to know about designing and creating your own motivational stickers. From finding inspiration to preparing for the final cut, this comprehensive class will have you making your own fun, colorful stickers in no time!
It requires a fair bit of equipment. So it's best suited to someone with access to Adobe Illustrator, a Cricut machine and a printer.
Illustrating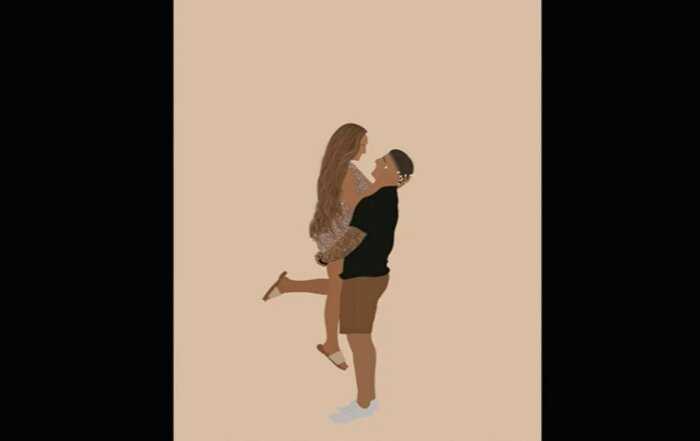 How to Draw a Digital Illustration. Crafting teacher Amy McKiel walks you through the basics of how to create a digital illustration using Procreate. She covers everything from uploading your image, outlining the photo elements and filling in the details to exporting your projects. Ideal for a beginner with access to Procreate.
Drawing Gnomes in Procreate. Professional illustrator Kris Lauren from Pretty Little Lines' will show you how to create your own cute characters in Procreate. Following her step by step process for creating gnomes, you can apply Kris' technique to any cute character you can think of! This is ideal for someone with access to Procreate, who wants to learn how to bring their designs to life.
Cricut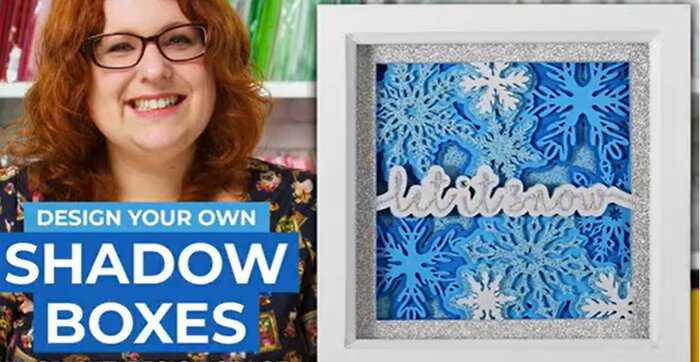 Design Shadow Boxes in Cricut Design Space Combines a practical project (creating your own layered shadow box) with getting to grips with your Cricut machine and materials. It includes choosing the graphics, planning your layers, making customisations, cutting out and creating a finished product. Great for a complete beginner, or someone familiar with Cricut who wants to try a new project.
Using Cricut and Procreate to Create Your Own T-shirt Design. Making your own clothing designs is a super fun hobby that will ensure all of your clothes are totally unique! Singapore-based crafter Eva Widjaja will take you through the process of sketching and designing your own t-shirt in Procreate. You then cut it with a Cricut machine, and transfer your design to your t-shirt.
This course requires quite a bit of equipment, but Eva provides useful links to help you source them. A great course for all levels as, if you don't feel confident creating your own design, there are plenty of free designs available for you to use!
Crochet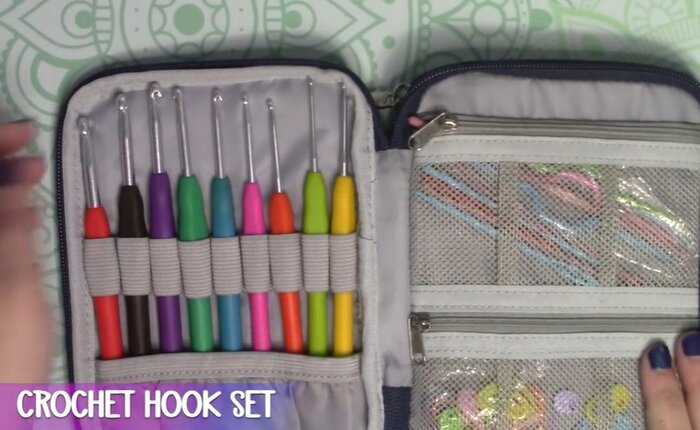 How to Crochet: Basic Stitches to Crochet Amigurumi. Craft tutorial creator Corinne Blackstone trachea you the basic stitches to create Amigurumi, tiny cute characters that you can customize however you like. She covers the magic circle, single, double, half double and treble crochet and much more. By the end of her class you'll have put all these techniques into practice, received advice that can be applied to any project and created your own amigurumi mouse. Perfect for a total beginner.
Crochet for Beginners: Basic Techniques. With eighteen years of crochet experience, Erin Reiko is a great teacher for this introductory course. Demonstrating the most used stitches, from the starting slipknot to chaining, single crochet, half-double crochet, double crochet and slip stitch, these crucial techniques have endless possibilities. This course is aimed squarely at beginners, but even if you've got some crochet experience it would be a great refresher.
Paper Crafting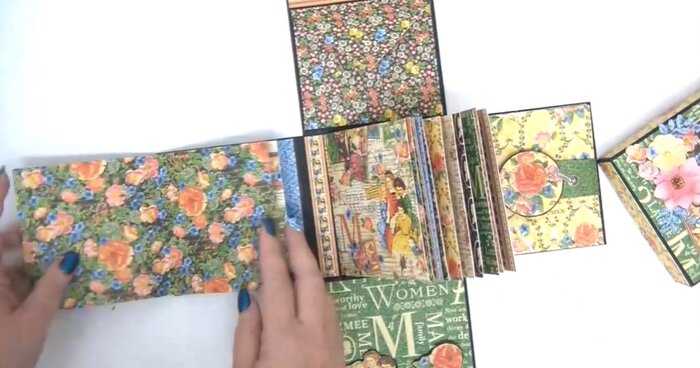 How to Make an Interactive Exploding Box Mini Album. Creative artist Einat Kessler demonstrates how to create this beautiful 3D album to fill with photographs and keepsakes. Covering everything from creating the box, the binding mechanism, and inserting the pages. It also includes a cutting guide, downloadable instructions and links to all the products and tools you need. A great project for those looking for a fun and unique way to present photos. And the album would make a perfect gift.
Card Making 101 – Embossing, Heat Embossing, Die-Cutting, and Embellishments. Cindy-Lynn Taylor is a passionate papercrafting expert with decades of expertise. This course is packed with tips, tricks and insights to take your cardmaking to the next level. It covers color, images, inks, heart embossing, embellishments and much more. Best for those with some experience of cardmaking, and with access to some specialist equipment like an embossing machine, pigment, and heat tools.
Clays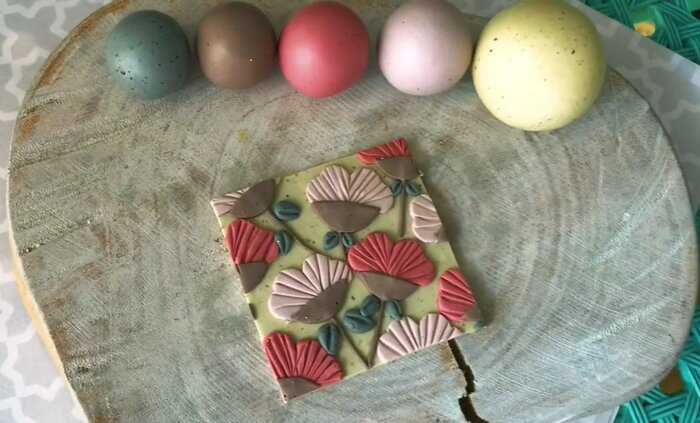 How to Make Polymer Clay Slabs. In this course, Anj Parma will teach you how to make a polymer clay slab, a technique you can use to make countless other jewelry and decorative projects. Anj shows you all the materials that you'll need and what kind of initial investment is required. You'ill learn how to blend custom colors, condition and texture your clays, and make a simple flower design. Ideal for complete beginners with a great overview of all the essentials you need to know to embark on your Polymer Clay journey.
Introduction to Wheel-Throwing Pottery. Supatra Marsh is the potter behind Blank Earth and she's here to teach you how to start your wheel-throwing journey. Sharing key techniques such as making wedge balls, centering your clay, opening it out on the wheel, pulling up the walls, and finally removing your cylinder from the wheel and altering it. There's quite a lot of material needed for this course. So it's best suited to someone who is ready to commit to throwing clay, or who has access to a pottery studio.
Embroidery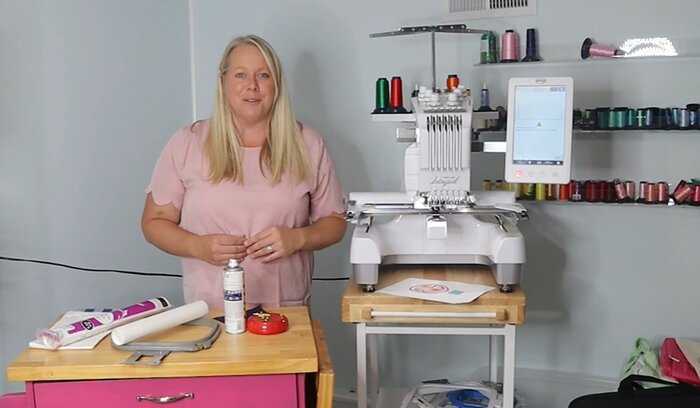 The Basics of Machine Embroidery Applique. Full time machine embroiderer Kelly Payne is the ideal instructor for your first foray into machine embroidery applique, a creative way of adding fabric to your embroidery projects. You'll learn all about the supplies you need, how to find, purchase and tweak a design, and how to stitch out your very own applique project. With plenty of handy links and insider tips, it's ideal for someone who wants to take their machine embroidery to the next level.
Embroidering a Knit Cap. Embroidery is a simple, fun way to personalize any item of clothing and make it your own. This course, led by Eve Lowry, talks you through the process of creating a DIY embroidered beanie. From gathering your materials, hooping your cap, stitching out the design and adding your finishing touches. Perfect for beginners, this is a great weekend project!
Resin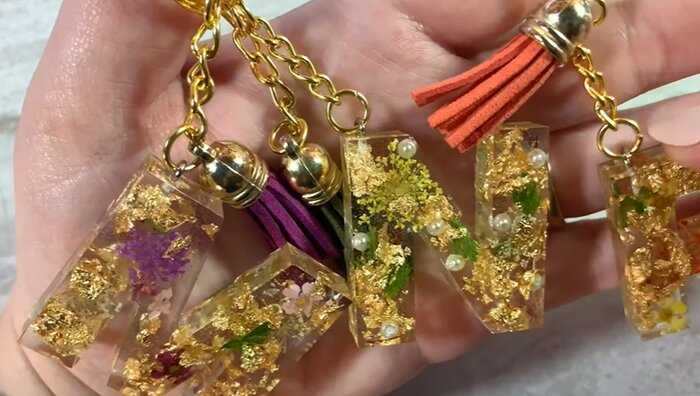 How to Make Epoxy Resin Keychains with Vinyl. Tara Summers is the owner of Sweet Country Glam, and loves all things DIY. In this course, she'll teach you how to create beautiful, easily-customisable epoxy resin keychains. These make brilliant presents, or you can make them to personalize your own things. Tara is a great teacher, and breaks down the process in a simple and accessible way – you'll be getting great results in no time.
Learn to Create a Resin Bowl with Soft Pinks and Sparkle. Self taught artist Sandra Lett has over 25 years of experience. In this course she will talk you through the process of making an amazing, unique bowl with resin. From how to safely utilize resin in a silicone mold, to a comprehensive list of materials that you'll need to create this beautiful bowl. You will need some specialist equipment, so this is best for someone who is already familiar with resin.
What I liked about Creative Fabrica
How I reviewed Creative Fabrica
In order to review Creative Fabrica, I signed up for a month-long All Access free trial. I used this time to explore all areas of the website, and try out their various tools such as CF Spark AI software, resource library, and blog.
I made sure to give plenty of attention to the various classes and short courses that were available. This way I got a good idea of the average quality, length and content of each.
Huge Range of Resources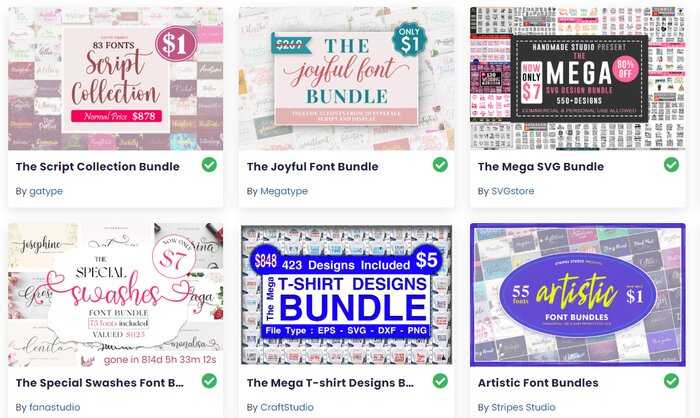 From graphics to patterns to fonts, Creative Fabrica has an enormous range of products that are either free to download, or come with various subscription plans. At the time of writing they have a whopping 6,590,446 products available, in a broad range of themes, from wedding decorations to calendars and productivity planners.
One of my favorite features is their craft club, where you can make specific requests for products and their team of designers will work on it for you.
Amazing AI Tools
Never worry about feeling uninspired ever again! Creative Fabrica's impressive array of AI tools can help you out with generating images, prompts, and more. They have a huge range of tools available which is pretty unique when it comes to online craft websites, and just goes to show how modern and technology-focused Creative Fabrica is.
Great Community Feel
As I touch on below, some of the courses have very few learners. But this has the positive effect of very engaged teachers, who are responsive to comments, queries and suggestions. Making the site feel more like an interactive community. You can also share your designs and finished creations in a community space, which is helpful and supportive.
What could be improved
Not the most intuitive website
Creative Fabrica has a LOT going on. This is great, but it does mean that it can be tricky to find exactly what you're looking for. For example, their menu headings could be clearer: AI software, Craft Club and blog are all grouped under the heading 'Tools', which makes them hard to locate.
Few course reviews
While Creative Fabrica has a huge range of courses available, it's not primarily focused on creating and developing classes. This means it does not currently have a build up of course users. This can make it difficult to judge the quality of the course with few reviews or star ratings. However, Creative Fabrica has many other great resources, and their class usership will hopefully grow in time.
Who Creative Fabrica is for
Crafting enthusiasts looking to learn from experienced experts in a range of areas, from Adobe Photoshop to making resin bowls
Graphic designers looking for a library of excellent resources, from fonts to graphics to templates – there's bound to be something for you
First time crafters who want an easy, accessible introductions to new skills
Any creatives or graphic designers who wish to sell their work, as all products on Creative Fabrica have a commercial license.
Finding great courses on Creative Fabrica
There are several ways to browse courses in Creative Fabrica. You can select one of their most popular categories, available on the 'Classes' landing page:

Or select 'view all categories' for a more in-depth breakdown:
Of course, you can always search for a specific class, subject or teacher in the search bar:
Or simply view all courses then filter by newness and popularity: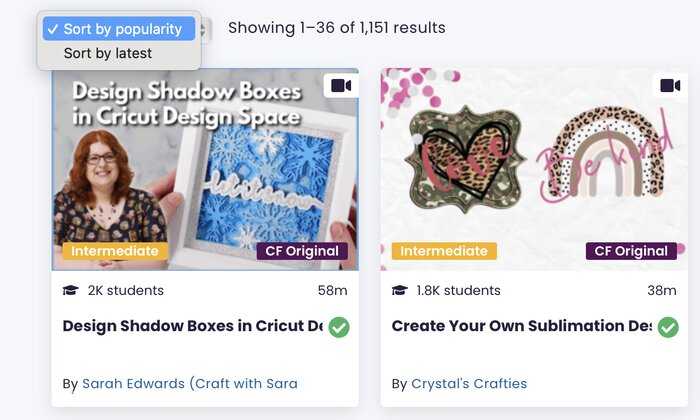 When you're searching, the icons for each class will display how long they are, who the teacher is and how many students they have.
Is Creative Fabrica legit?
Access to all of this content (with plenty of it free) may seem too good to be true. But I can confirm that Creative Fabrica is 100% legit. It was founded in Amsterdam in 2016, and is still growing.
Creative Fabrica refund
Creative Fabrica does not offer refunds once payment has been taken. However their subscription service is very flexible and you can cancel at any time.
Alternatives to Creative Fabrica
There are several alternatives to Creative Fabrica, all with their own pros and cons.
Skillshare
Skillshare is a great online learning resource, which also offers creative online video classes on a range of crafts. Whilst their traffic is higher, meaning it's easier to gauge the quality of videos based on reviews and star ratings, Skillshare does not specialize in crafts in the same way that Creative Fabrica does. And it doesn't have a resource library or other tools. Skillshare is also a subscription service, and at $32 a month it's a little more expensive, and doesn't have the range of subscription offers that Creative Fabrica does.
Domestika
Domestika is a new platform for creatives. Like Creative Fabrica it offers a variety of purchasing options. You can either purchase classes singly or take out a subscription. It also offers a wide range of downloadable resources. However, as a Spanish platform the main language is not English (though every lesson has subtitles)
Udemy
Udemy has a great range of courses on loads of different topics. Unlike Skillshare and Creative Fabrica, you pay per course, so this is a great alternative if there's something really specific that you want to learn. It also has more 'traditional' artistic courses, like watercolor, sketching and art journaling that Creative Fabrica lacks with its more digital outlook.
Craftsy OR Creativebug
Craftsy and Creativebug are excellent alternatives. Both offer a great range of video courses on loads of topics. However, while they also have resources and pattern library, they don't offer the same level and variety of resources that Creative Fabrica does. 
What others have said
In order to write the best Creative Fabrica Review, I looked around the web to find what others have said about it.
One Reddit user found:
'Their search engine is also kind of meh, I find following designers I like the most useful function as you'll get emails from CF when they release new products.'
Another said that whilst it's
"a great resource, with a variety of membership plans, downloads and top notch tools…. 'you can lose hours trawling through the vast library."
However, most reviews were positive and this one sums up the general view:
'I love it. I have a monthly subscription. It's the best!'
Overall, users seem to love the site. Although they agree that there's a LOT of content, by saving the designers or courses you love, you'll be able to get more focused and relevant results.
Evaluating Creative Fabrica
Features: Several tiers of membership. The All-Access subscription gets you free downloads of fonts, graphics, patterns and templates, as well as unlimited classes, access to AI tools and Craft Club.
Content quality: All classes include an introduction and, usually, step-by-step demonstrations with over the shoulder shots or screen recording if it's a digital project. You also get links to buy all the materials you'll need, which is a great touch.
Content breadth: There are over a thousand courses available, in a diverse range of categories from Cricut to Resin.
Teachers: Teachers are professional artists, instructors or experienced craft enthusiasts.
Supporting materials: From a massive library of downloadable graphics and fonts to incredible AI tools, Creative Fabrica's supporting materials are what set it apart.
Payments: An All-Access Subscription is $29 a month, but you can get font- or graphic-only subscriptions for $19 a month, and a class-only subscription is $12 a month.
Support: Creative Fabrica are easy to reach by email, have a detailed FAQ page, and are very responsive in replying to comments too.
How to open a Creative Fabrica account

It's very straightforward to open up a Creative Fabrica account.
Head to creativefabrica.com
Click the 'Sign Up' button on the header
Enter your personal details, select the subscription plan that you want, and you're good to go!
Is Creative Fabrica worth it?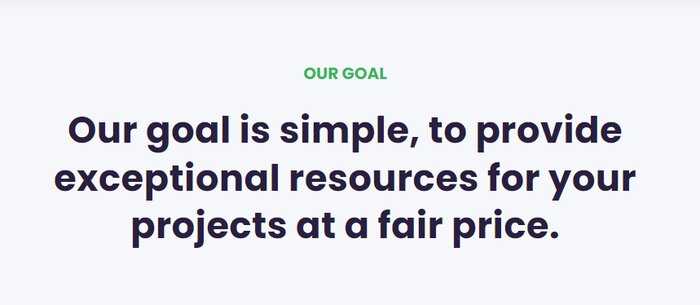 Creative Fabrica is an exciting, fast-growing site that should be on any creative's radar. Creative Fabrica is packed full of amazing resources. Their AI tools, how-to guides and seemingly endless choice of fonts and graphic files are all available with an all-access subscription.
In my personal opinion, Creative Fabrica is worth it if you want to make use of their array of resources and plan to sell your designs, as all of the downloadable resources come with a commercial license.
The different subscription options mean that you can fully customize your experience and pay only for what you're interested in using, which is a fantastic touch.
Related articles: Best adobe illustrator classes, Best embroidery classes, Best watercolour classes, Best drawing classes, Best soap making classes, Best baking classes, CreativeLive Review
Creative Fabrica – Frequently asked questions
How much does Creative Fabrica cost?
An all-access subscription is $29 a month, whilst a fonts- or graphics-only subscription is $19, and a class-only subscription is $12 for 3 months.
Does Creative Fabrica have a refund policy?
No, there is currently no refund policy at Creative Fabria, however their subscription is very flexible and can be canceled at any time.
How many courses are there?
There are over a thousand courses available on Creative Fabrica.
Does Creative Fabrica have a free trial?
Not at the time of writing, but use our links to check latest prices and offers.
Does Creative Fabrica give certificates?
No, but you will learn amazing skills and benefit from thousands of other resources like fonts, graphics and templates.
What languages is Creative Fabrica available in?
Creative Fabrica is available in English.

Hannah is currently studying a Masters in Modern Literature and Culture at King's College London.  In her spare time she enjoys hiking, writing and cooking.