If you're arty and inventive you may be wondering if Craftsy is for you.
I've always been a keen sewer and knitter and I've taken lots of creative classes to improve my skills. So I can compare Craftsy with other similar online resources.
This Craftsy review will tell you everything you need to know to help you decide if Craftsy will get your creative juices flowing.
This is a detailed review but if you're pushed for time this quick summary is for you:
.
Quick summary
Pros
Instructors are excellent teachers as well as recognized experts in their field
There are over 60 free classes and you can preview other classes before purchasing them or subscribing to Craftsy
Courses are available in over 20 hobbies with downloadable class materials in PDF format
Classes are expertly filmed so that every technique is clearly demonstrated
Admission to Live Instructor Events for Premium and Gold subscriptions
There's a free weekly newsletter with tips, tricks, and valuable pieces of advice.
You can cancel your subscription instantly with refunds available
Cons
Navigation could be improved to help users get even more from the site
Doesn't remember classes you've started so you must navigate back to them
Does not allow you to sort classes by most popular as the classes are not rated
Though there are classes for all skill levels they are not clearly identified as beginner, intermediate or advanced by the platform
It would be helpful to know how long each class is in total before starting it
Best for: Literally anyone who is creative or wants to develop their creativity. There are classes for complete beginners, and others for advanced crafters looking to hone and perfect their skills. Over 20 hobbies are covered
Best alternative: Creative Fabrica is a better option for those looking for classes AND licenced tools & resources. It literally has over 6 million to choose from
Overall: Craftsy is a great specialist platform with hundreds of courses in over 20 crafts and hobbies. Classes are extremely well planned, structured, taught and resourced and provide everything you need to know to nurture your creative spirit.
-> Click here to visit Craftsy
Now for the detail, this review will cover:
What Craftsy is and how it works
Reviews of three Craftsy classes
What I liked about Craftsy and what I thought could be improved
Who Craftsy is for
How much Craftsy costs and their refund policy
Alternatives to Craftsy
What others have said
And…. Is Craftsy worth it?
So, let's get started.
What is Craftsy?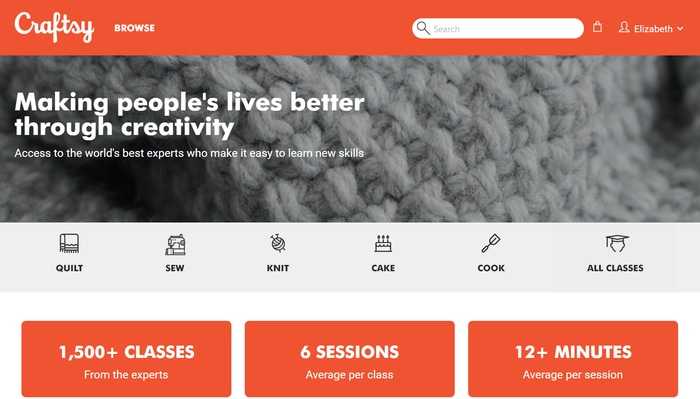 Craftsy is a fast growing specialist online platform for creatives.
Formerly known as Craftsy/Bluprint, the site was purchased, rebranded and relaunched in 2020.
It offers over 1,500 high quality video classes,with printable resources for all skill levels in more than 20 hobbies in the categories of:
Fabric crafts
Yarn crafts
Food
Art, and
Living
New content is added regularly and the instructors are well known experts within their specialism.
How does Craftsy work?

The good news is there's over 50 free classes for you to try. So you can get a good feel for the platform without committing yourself.
If you like what you see, you can permanently purchase any individual class or subscribe to a monthly/yearly Premium membership. This gives you full access to all 1,500+ classes as long as your membership is active.
There's also an upgrade from Premium to Gold Membership which allows you to download a number of classes of your choice for free to keep forever. It also gives you access to the Ask an Expert program as well as free patterns and a range of discounts.
The classes cater for different skill levels, from beginner to advanced, and include resources (eg: instructions, patterns and recipes) that you can download and keep. There are also discussion groups where you can connect with other crafters, share successes or ask questions.
Membership gives you admission to LIVE streaming events where the opportunity to interact with instructors exists. This is a significant benefit of Craftsy, particularly as many are world class experts in their fields.
My review of 3 Craftsy classes
In order to give you a good overview of the range of courses on Craftsy, I completed three and made sure I covered a range of learning levels and skills.
The first was Beginner Quilting – an entry level course which I completed in full applying the skills I learned to remnants of fabric from my sewing exploits. Quilting is a craft I have no experience of and I was keen to find out whether the course would provide me with everything I needed to get started and progress.
The second course I completed was a more advanced course in Couture Dressmaking Techniques. I selected it because I've taken several online and in person sewing classes and have lots of dressmaking experience. I was keen to see how this class compared and what new tips and tricks I could pick up to finesse my technique.
Finally, I completed a class on Artisan Bread Making. I've reviewed a large number of baking courses and platforms for our Best Online Baking Course Review. So I felt this put me in a good position to compare and contrast the quality and content of this class compared to others.
Beginner Quilting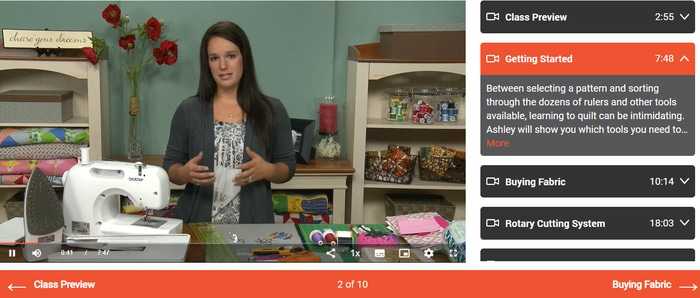 You will learn how to:
Appreciate the pros and cons of buying off the bolt or pre cut fabric packs
Safely use the rotary cutting system
Piece (put together) and press square blocks of fabric
Create rail fence, pinwheel and friendship star blocks
Choose and use different types of batting and backing
Apply different ways of layering and quilting and binding a quilt
Pros:
Does what it says – gives you everything you need to know to get quilting!
Delivered by life long crafter and National Sewing Circle instructor, Ashley Hough
Crystal clear explanations of why things should be done a particular way
Lots of helpful tips and shortcuts that come from years of experience
Contains nods to more advanced techniques that will help you develop in future
Great film angles that make learning easy
Pattern pieces supplied in PDF format for you to download
Cons:
So much packed in you may need to listen 2 or 3 times
The pace is fast -that said you can reduce the playback time to slow things down
You do need to know sewing machine basics to get the best out of this class
Length of Course: 10 video lessons totalling just over 1 hour and 50 minutes.
Best for: Complete beginners who want a class covering everything they need to get started – from equipment to binding and absolutely everything in between. That said, you do need to know how to use the basic features of a sewing machine
Overall: An excellent comprehensive introduction to quilting with everything fully and clearly explained and demonstrated. Lots of tips and tricks resulting from years of experience are shared helping you avoid errors and progress well beyond the scope of the class.
Couture Dressmaking Techniques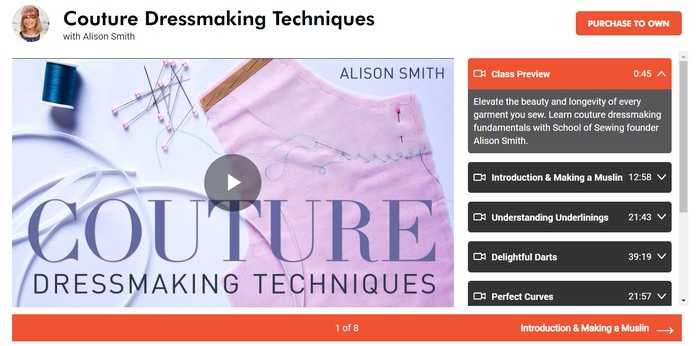 You will learn how to:
Refine and perfect all your garment making techniques
Adjust a pattern for your measurements and alter a muslin (or toile) for perfect fit
Provide structure and stability for a garment using underlining
Accurately shape garments with a variety of darts and curved seams
Provide structure with boning
Sew garments that always look good and hang well because of what you've done inside
Pros
Taught by a professional instructor with 22 years of teaching experience and an MBE from the Queen of England for her services to dressmaking!
All the questions in the class discussion have been answered by the instructor
Very full and detailed explanations of why things must be done a particular way
A great reference tool that you watch in full or dip in and out of as needed
Key takeaways are highlighted and camera angles show everything in detail
Cons
No patterns are supplied
The extra materials just consist of a supplies and resources list so you will need to make copious notes
Length of Course: 8 video lessons totalling just short of 3 hours
Best for: Those with some experience of garment making who wish to improve or finesse their technique. Also great for someone making a garment for an extra special occasion who wants to go the extra mile to achieve a professional finish.
Overall: An amazing class full of hard earned wisdom and sewing secrets. Using these techniques will enable you to make garments that fit, hang beautifully and really look like they have been professionally tailored to measure. In my view, this class would be worth purchasing to keep as it is so comprehensive and detailed.
Artisan Bread Making Techniques

You will learn how to:
Bake six very different types of bread
Get to grips with the concepts and principles behind bread making
How to bake in 12 stages from preparation to packaging (or eating!)
Develop the confidence to go beyond recipes
See bread and baking in a whole new, and transformational, way
Pros:
Enthusiastic and engaging teaching from James Beard Award winning bread expert – Peter Reinhart
Tips and tricks gleaned from decades of professional bread baking (and learning the hard way!)
Skills build incrementally from simple to complex – a real learning journey
Gives you all the fundamentals for bread baking and the confidence to use them as a springboard for creativity
Excellent downloadable course resource which is a great course companion
Cons:
Peter Reinhart does not respond to questions on the otherwise lively class discussion
Length of Course: 11 video lessons totalling hours and 11 minutes
Best for: Anyone who wants to go beyond 'the recipe' and really get to grips with the chemistry and magic behind bread making – whether you're an experienced baker or a beginner, this course will either get you started in exactly the right way or increase your creativity
Overall: Peter Reinhart is a very gifted teacher. His passion is infectious and motivating and his explanations are fascinating and full. This course has a huge amount to offer anyone even remotely interested in baking!
What I liked about Craftsy
It's probably clear from what I've said so far that I love this platform. But it is by no means perfect and there is room for improvement.
But let's start with the positives.
Great teaching from recognized experts in their field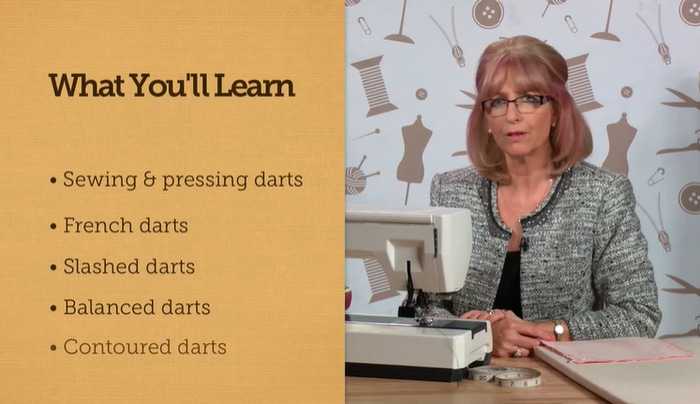 As a teacher myself I know how important it is to plan and deliver lessons effectively. It was clear from the courses I completed that the instructors understood this too.
All the elements I would expect to see in a well planned course were present: From clear objectives, to the incremental build up of skills, to clear explanations and examples that provide the building blocks for experimentation and creativity.
From my experience I would say Craftsy is a truly educational platform.
Classes are expertly filmed so techniques are clearly demonstrated
All the classes I completed were filmed using a variety of angles and shots that demonstrated every technique in great clarity.
And you can slow the speed so that you can get a really good idea of what's going on.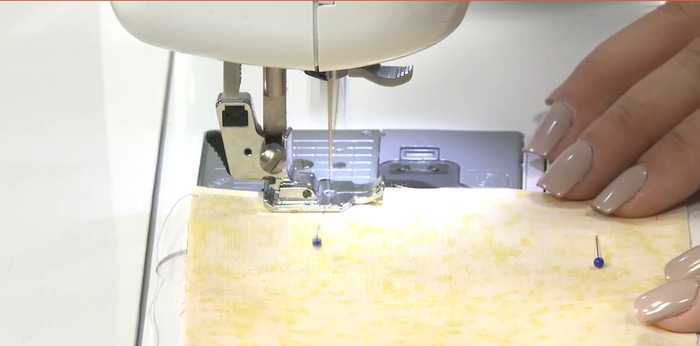 There are 60+ Fee Classes to Sample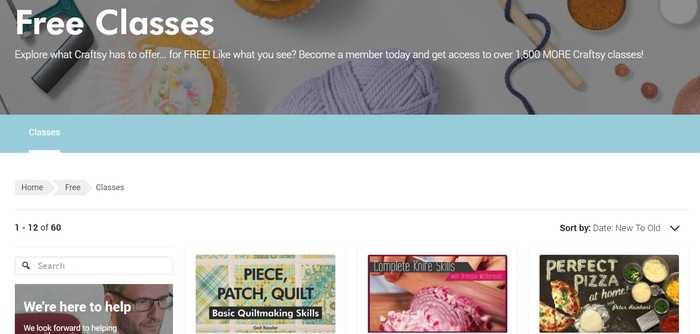 With this many classes to try before you buy, you can be reassured that if you like what you see, you won't regret your purchase.
You can also preview paid for classes (or classes only open to members) so you can get a really good feel for the site before committing yourself.
Classes in a Huge Range of Crafts and Hobbies
There are over 1,500 classes currently on Craftsy, with more being added all the time.
They cover over 20 hobbies and all have downloadable class materials as well as class discussions where you can connect with others in the Craftsy community.
In fact, the huge range of classes – whilst being a massive pro – also leads nicely into one of my major gripes with the site, it should be easier to find them all!
What could be improved
Site Navigation
Craftsy is a great resource and I really gained loads from the classes I sampled.
However, I feel it should be easier to find what you're looking for!

When I first used the site I used the menu above to explore. But clicking 'Quilt' gives you hundreds of classes to look through. You can filter these, but not by Beginner, Intermediate or Advanced which was what I was looking for.
It would also be helpful to be able to sort by Most Popular which could be done if the classes were rated, which they aren't.
You can use the Browse feature, which organizes the categories in a different and much better way. But I didn't even notice the Browse option until I had completed the classes I sampled for this review.

And it wasn't until I discovered the Browse button that I realized there were classes in Photography, Paper Crafting and Gardening which was a shame. I feel some streamlining in the way content is organized and searched for would help users get even more value out of the site.
Craftsy is a relaunched and rebranded platform and migrating content from Bluprint (which is what it was formerly) probably places limits on what is possible, at least in the short term. But I hope Craftsy is seeking to improve access to its marvellous content. The Browse option opened up a whole new world once I'd noticed it.
Doesn't Remember Classes You've Started
The platform does not remember the classes you access as a member and you have to keep navigating back to them if you want to revisit or finish them across several sessions.
It helps to build a sense of belonging to a community if classes you've started or have taken are curated. It's even better if you're congratulated on completing a class, and directed towards another class that might make a great follow up or companion course.
I'm used to seeing this with other learning platforms I have reviewed and it would be the icing on the cake if it were added to Craftsy.
Total Class Length Is Not Given
It's a small thing, but if you are going to set aside time to take a class, it's nice to know in advance how long you might need.
Who is Craftsy for?
Interested in arts and crafts? Craftsy is for you.
Craftsy has something to offer those with a budding curiosity in crafting to those with a fanatical obsession for it (and everybody in between). There are so many classes across so many hobbies that there can be few creative types who wouldn't benefit from courses on the platform.
It will particularly suit:
Those who have lacked confidence in the past and want to explore and develop their creativity at a self directed pace
Experienced crafters who want to develop an advanced skill or finesse their technique
Anyone wanting to boost their sense of well being by nurturing their creative side
Those wishing to create personalized and unique gifts
Anyone who enjoys working with their hands and being creative
How much does Craftsy cost?
There are 60+ free classes for you to try and get a good feel for the Platform.
If you like what you find, Craftsy has several pricing plans:
You can permanently purchase individual classes for between $4.99-$70.
Or you can subscribe to Premium Membership. Monthly subscription is $7.99 pm, annual subscription is $79.99 pa (representing a saving of around 16%). Subscription membership gives you unlimited access to all 1,500+ classes on the platform as long as your membership is active. Every class has downloadable resources that are yours to keep forever.
Most individual courses cost $39.99 to purchase permanently. So if you can find just three classes you are interested in (and I challenge you not to) then yearly membership represents both a big saving and great value – particularly given the quality of the courses and the instructors.
And if you can find 8 classes that you love enough to want to keep, you can upgrade your Premium Membership to Gold Membership. This allows you to permanently keep up to 8 classes of your choice for free, as well as giving you free access to special events, patterns and discounts (worth $450).
And you can cancel your membership at any time.
Craftsy Refund Policy
Craftsy offers a full refund if you cancel your annual membership within the first 30 days. If you cancel after that period your refund will be pro-rated.
There are no refunds for monthly memberships and if you are cancelling, make sure you do so in time to avoid paying for an additional month.
Alternatives To Craftsy
There is no shortage of crafting videos on YouTube. I learned to crochet there – but it took a lot of time, trial and error for me to find an instructor that taught well enough for me to pick up the craft. My recommendation for crochet on YouTube is Bella Coco.
If baking is your particular thing, you could take a look at our Best Baking Course review which includes several specialist baking platforms.
If you don't have the time or patience to trawl through YouTube and want a wide range of different crafting courses curated all in one place I would say a specialist platform like Craftsy is what you need.
Other specialist crafting platforms include Creative Fabrica, an online crafting platform created to improve the way people consume digital assets like designs, classes and resources. With an amazing 6,590,446 products and 62,806 designers, there is a huge amount of choice and variety. Classes cover everything from weaving and spinning to graphic design and home decor. 
Creativebug is a very close alternative to Craftsy. There is very little to choose between the two sites. It is well worth signing up to the seven day free trial on Creativebug before commiting yourself.
And there's also CreativeLive which has over 2,000 professionally produced, expert classes. The cost here is quite a bit more but it's a well established and organized platform which seeks to develop general creativity as well as crafting skills – usually to a business standard.
Lastly, both Skillshare or Udemy offer classes in every hobby imaginable. Though since anyone can post their course on either of these platforms, the quality of the instructors is rarely as good as those on the specialist platforms Craftsy, CreativeBug and CreativeLive.
Craftsy: What Others Have Said
No review is complete without considering what others have said.
Since Craftsy has recently been rebranded, there aren't a great deal of up to date reviews out there.
The actual classes I sampled attracted nothing but admiration in the class discussions:
"Great class, I've learned a lot, thank You!"
"Love your classes!"
"Thank you for the informative class. I look forward to using a lot of the tips you shared."
These are just a few of the recent comments and are typical of what has been posted in class discussions since Craftsy was rebranded.
Recent reviews about the platform itself are more mixed. It's possible this may reflect teething problems with the new site.
For example, there are complaints on TrustPilot about poor customer service. This appeared to be due to people who were members of the previous site (BluPrint) having trouble accessing old purchased content on their new Craftsy accounts.
Other long term users loved the site, but commented that they missed some of the things that BluPrint used to offer:
"I've been a Craftsy customer for years and have learned so much… Now that Craftsy has changed hands, I am a member and enjoy it immensely. That said, the new owners (TN Marketing) did away with some of the features that the old Craftsy / Bluprint used to offer such as the "marketplace."
This comment was supported by another on TrustPilot:
"I absolutely adore Craftsy. I purchased my first class about 11 years ago to learn to knit. From then, I was hooked! In all, I have 52 own forever classes and refer back to each, often. The format was SO much better than other online knit classes and the instructors were the best in the world! I continue to learn and be inspired by this amazing community for less than the cost of a latte and a scone. But I would love to see them bring back the MarketPlace, to purchase tools and kits for classes, but I know that is a huge undertaking."
Generally it seems that members of Craftsy in its previous incarnation miss some of the old features but are still happy with the new platform. And, hopefully, improvements will be continually made as the site matures.
Lastly, I did come across concerns that Craftsy may be a Scam. These centre around the heavily discounted offers that occasionally appear for premium membership. However, I was able to take advantage of such an offer and enjoy full member benefits. So those fears are not justified in my experience.
Is Craftsy Worth It?
In my view, yes.
Craftsy offers extremely high quality video classes from skilled teachers with downloadable resources at an affordable price. The volume of content across so many hobbies means there are bound to be many classes that will inspire and develop your creative talent.
And with over 60 free classes to try before you buy it is definitely worth exploring.
As a newly rebranded platform there are often discounted membership offers and even if you buy membership at full price, you can cancel at any time for a full discount. And if you cancel after that you will still get a pro-rated refund. So you have nothing to use by trying the platform out.
And if you learn to love Craftsy you can upgrade to Gold membership and take advantage of offers and discounts worth $450 as well as access the Ask an Expert program.
Frequently asked questions
How much does Craftsy cost?
Classes can be purchased individually from between $5-$70. Or you can subscribe to the platform annually ($79.99) or monthly ($7.99)
Does Craftsy have a refund policy?
Yes, if you cancel annual membership within 30 days you receive a full refund. After that, your refund will be pro-rated.
How many courses are there on Craftsy?
There are over 1,500 courses in 20 hobbies on Craftsy.
Does Craftsy have a free trial?
Craftsy has over 60 free classes that you can explore and it is free to preview paid for content so this will give you a good feel for the platform.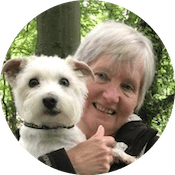 Liz Hurley has 30+ years of high school teaching experience and is one of our senior writers here at Learnopoly.