Want to learn a new language but not sure where to start? Maybe you've heard about the "Pimsleur Method" and want to know what it's all about?
I had — so I decided to give it a go. I've taken several hours worth of lessons on Pimsleur, and compared it to my experiences of other language learning platforms.
Pimsleur is one of the biggest and most popular names in language learning. They've been teaching millions of people new languages for over 50 years, and they have just as many languages to choose from.
But just how good is Pimsleur? And can it really help you to learn languages better and improve your listening, speaking and reading skills in that language?
That's what this Pimsleur review is here to answer!
.
Quick summary
Pros
Scientifically proven method
Bite sized lessons full of useful phrases that make it easy to pick up the basics
Carefully structured to help you learn fast and retain information
Driving mode for on the go learning
Cons
Basic subscription focuses on speaking and listening exercises (writing exercises can be purchased with premium subscription)
App doesn't always remember where in the lesson you left off
Best for: People keen to get started on learning a new language but have always found the thought too daunting or feel like they don't have the time. It's also especially suitable for those who are always on the go. Also great for people who want to brush up on their language skills or just want the basic "survival skills" — those key phrases you'll need on vacation or travelling.
Cost: To see the latest price click here.
Overall: A fantastic way to learn a new language that gets you speaking and understanding in no time at all. I found Pimsleur to be very effective and started learning from the very first lesson.
So, I this review I will be covering:
What Pimsleur is and how it works
What languages you can learn
"The Pimsleur Method"
What a lesson is like
How I reviewed the app
Pros and Cons
Who it's for
How much it costs
Can you get a refund?
Features of Pimsleur
Alternative providers
What others have said about Pimsleur
Is it worth it?
FAQs
Let's begin:
What is Pimsleur and how does it work?

Pimsleur is an American foreign language e-learning service. It's one of the oldest and biggest names in this market and has been providing people with language learning expertise since 1963.
There are millions of users of Pimsleur products to date. In the mid 2000s, Pimsleur began to offer digital learning courses before developing their app in 2018. You can also use your laptop or desktop to access course content.
In each language, there are various "levels" ranging from 1-5 (1 for complete beginner, 5 for expert). Each level contains 30 lessons. You should take these lessons daily (they last around 30 minutes each).
What languages can you learn with Pimsleur?
Pimsleur offers an impressive 50+ languages to choose from.
The full list is available here and includes German, French, Italian, Chinese, (both Cantonese and Mandarin) Dutch, Finnish and Korean.
There are also dozens of courses for speakers of other languages to learn English.
What is "The Pimsleur Method"?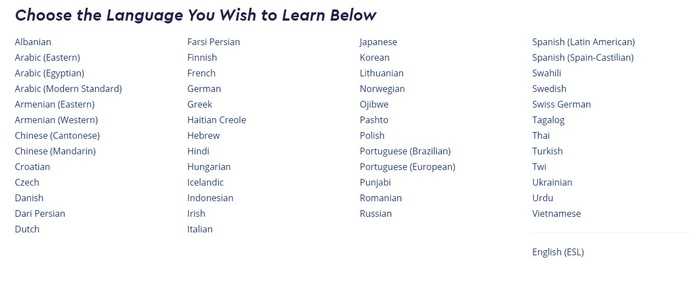 Pimsleur's unique selling point is what founder and professional linguist Dr Paul Pimsleur coined, "The Pimsleur Method." Based on his years of extensive research in the field, the way Pimsleur sees it, learning a language comes down to the following key elements:
Graduated interval recall
Dr Pimsleur invented this technique himself. During his research, he observed that when he introduced learners to new words or phrases at increasing intervals, their memory would improve each time.
Because of this, he was able to find the best spacing for new language phrases to move from short-term into long-term memory. This structure helps to facilitate the accumulation of knowledge.
The principle of anticipation
Here, the idea is you'll "anticipate" a correct answer. This means that you'll remember the answer even before the lesson presents it.
While it may sound far-fetched, you'll be surprised by how often you're able to anticipate the right answer — I know I was!
With all this in mind, Pimsleur offers its courses with these benefits:
Bite-sized lessons – Not only is this useful for your attention span; but it actually helps you remember things that will appear in future lessons.
Amazon Alexa compatibility – Great for if you're doing housework or working from home and want to have a lesson while you go about your day.
Each lesson directly follows on from the last – You'll hear an extract from a conversation at the start of each lesson. The idea is that you will be able to contribute the various elements of that conversation by the end of that lesson. Often the next lesson expands that conversation.
Bonus content outside of the lesson – These include flashcards, quizzes, a lookup of polite phrases and "survival skills."
Not only will these be key to getting by if you're looking to learn your new language quickly, but doing these excercises between each lesson will prove invaluable to your progress.
What is a Pimsleur lesson like?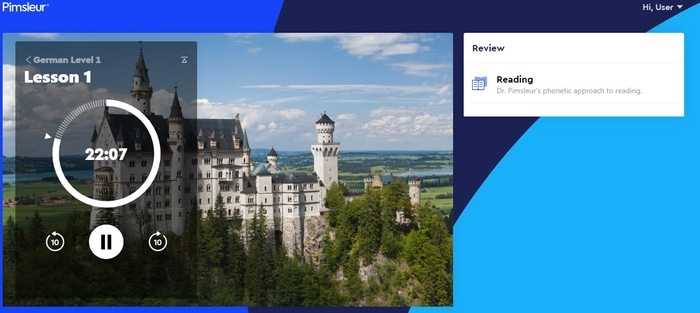 Level 1 lessons all began with listening to a conversation between two or more speakers. Pimsleur then deconstructs this conversation and teaches you to say the elements out loud.
To help make it easier for you to fully grasp these new words, Pimsleur breaks them down syllable by syllable. An interesting point to note is that Pimsleur teaches you to start with the last syllable and work backwards when learning a new word.
Luckily, the speakers repeat words and phrases frequently and slowly. This means you'll be able to fully grasp what to say and how to say it.
However, as the course progresses, this does speed up; but you'll be surprised by how quickly you won't need the time or repetition you did in Lesson 1!
In Pimsleur's German 1, I learned and increased my German vocabulary and conversation skills by:
Using flashcards
Repeating words and phrases aloud
Listening to dialogues
Reviewing learnt words or expressions until I was confident using them
During my week completing the course, I noticed a considerable improvement in both my own speaking and understanding of the language. In fact, I could sometimes understand the conversation before Pimsleur even began to break it down!
How I reviewed Pimsleur
I spent 3.5 hours (7 days worth of lessons) on Pimsleur German 1. I took level 1, as I had almost no knowledge of the German language.
From this experience I've gained basic conversational skills such as how to greet someone and ask how they are. I've also acquired practical skills such as asking for directions and, even more importantly, being able to order drinks in a restaurant!
This is a brilliant introduction to the language. As luck would have it, I've been watching a German TV show recently and decided to try it without the subtitles. I was happily surprised that I could understand much of the basic conversation between characters.
Pros of Pimsleur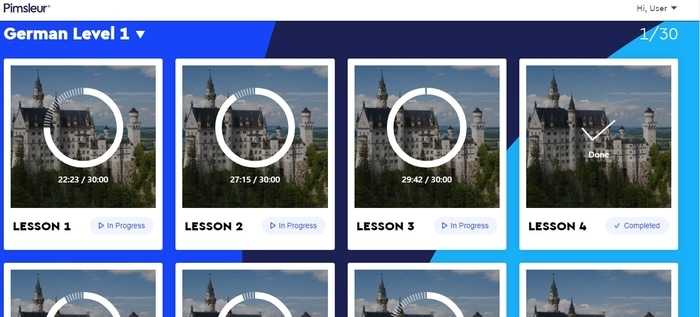 Bite-sized lessons to help facilitate memorization and optimal for your attention
What's great about Pimsleur's lessons is that all of them are 30 minutes or less. Not only is this optimal in terms of keeping your attention on the lesson but it also makes it easier to find time for.
Pimsleur designs the lessons to be taken once per day over the course of 30 days. Then, you can move to the next level. There are five levels to German on Pimsleur.
Carefully structured repetition to help boost learning and memory retention
One of the core principles of Pimsleur is listening and repeating. In short, hearing things often (and at the graduated intervals as I mentioned earlier) help to cement things in both your short-term and long-term memory.
As a result, you'll find yourself able to recall words and phrases really well. Also you'll likely manage to remember words or phrases from several lessons prior even if they weren't in the interim lessons.
Driving mode for on the go learning
Perhaps one of the greatest features of Pimsleur was driving mode. This makes it ideal for taking lessons during your commute. Not only that, but the feature means you can take your language learning with you almost anywhere.
This was a standout for me because it showed that Pimsleur understands its customers' lifestyles. Many have busy lives and don't always feel that they can fit a process as time consuming and demanding as language-learning into their routines.
Backed up by science
Dr Pimluer's extensive research into language learning has helped to shape the Pimsleur method. On top of that they have years of experience teaching languages with a proven track record.
Cons of Pimsleur
Basic subscription only focuses on speaking and listening exercises
While there is some additional reading material available to you to compliment each lesson the same, sadly can't be said for writing. Perhaps this is not surprising when the focus of Pimsleur is on listening and repeating at intervals.
That being said, you can upgrade to premium, which does include more writing elements.
This is definitely a point worth considering if reading and writing is something you want to master in another language. However, if you're just looking to get by speaking and understanding on your travels, this may actually be a plus for you.
App doesn't always remember where in the lesson you are
Much like most music apps on your device, Pimsleur will play its audio in the background. You can also access Pimsleur even when your device is locked via the notification page.
Despite these upsides, if you have to actually stop a lesson and close the app down, it won't remember where you are when you come back to it.
Fast forwarding isn't too much of an issue to get back where you were, this is a little frustrating for an app that seems to be so geared towards people who are on the go.
Who is Pimsleur for?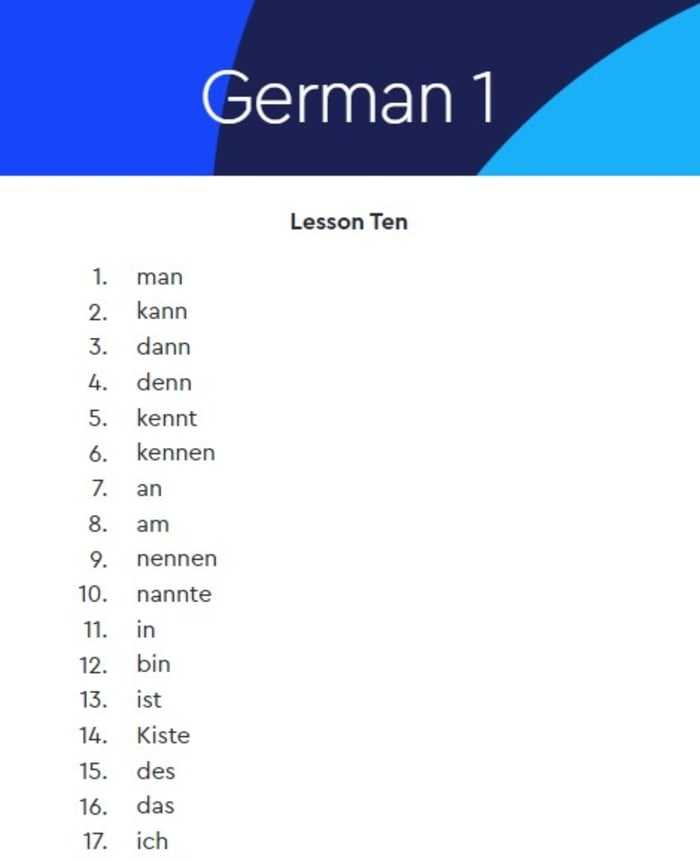 The Pimsleur method would suit anyone who's:
Looking to learn a new language from scratch
Has some grasp of a language and wants to improve
Learns best through repetition
Wants to improve their listening skills
Pimsleur would be ideal for anyone who's always wanted to learn a new language but doesn't know where to start. Right off the bat, Pimsleur will have you speaking, learning new phrases and improving your conversational capabilities in your chosen language.
How much does Pimsleur cost?
Pimsleur is a subscription service and gives you access from $19.95 per language per month (the prices of some languages are a few dollars more). On top of the lesson content you also get bonus flashcards, pop quizzes, polite phrase guides and more with every lesson.
Alternatively you can buy all 5 levels of German for $550 or one level at a time for $119.95. You can also buy the lessons in 5 episode batches for $21.95
Plus, you can buy the premium version of this Pimsleur course for either $150 per level or $575 for all 5 levels.
Premium gives you more content focusing on the written element of the language — something that the regular course does fall short on so this is worth keeping in mind when deciding which purchasing option you're going to go for
Better still, you get a free 7-day trial and you can cancel anytime in that period with no questions asked if you decide that Pimsleur is not for you.
Can you get a refund if you're not happy?
This information was correct at time of writing but check here for Pimleur's latest policies.
The answer depends on the type of course you purchased. If you paid upfront for a digital version of the course or on physical CDs then you are entitled to a refund (minus any shipping fees) through their 30 day satisfaction guarantee.
Most people will probably opt for the Pimsleur app. If you wish to cancel this subscription-based service, you must do so within the free trial period (7 days).
After that, you'll be billed monthly, but you may cancel at any time — you just won't be entitled to your money back.
Features of Pimsleur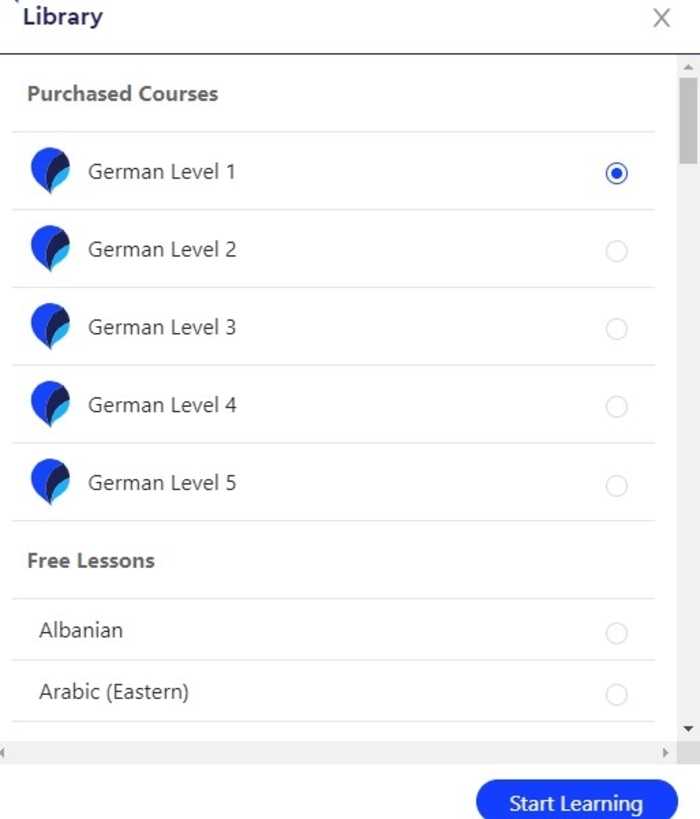 There are lots of great features on Pimsleur, here are some of the highlights:
Desktop- or device-based to best suit your needs — This means language learning is accessible to you however you like to learn.
Driving mode in the app — This means you can take the lessons with you on your commute.
Alexa compatibility — Really good if you want to hear the other voices out loud to assist with conversational skills.
Great bonus content — This was super useful to look back on to cement new words and phrases before moving on to the next lesson.
Alternatives to Pimsleur
There are lots of options online when it comes to learning a new language. Each of them come with their own pros and cons. So, I'll keep this short with a brief comparison of Pimsleur against three other leading online language learning providers.
However if you want to check some other detailed reviews you check out what we have to say about Mondly, Mosa Lingua, Busuu, FluentU, Preply and Lingoda. Lingoda and Preply both feature live instruction with native speakers!
Rosetta Stone is also one of the biggest names in language e-learning. They have over a quarter of a century's worth of experience in teaching people languages and their courses have been taken by over 25 million people.
While the monthly price of Rosetta stone is less than what you'll pay on Pimsleur, they have fewer than half the languages to choose from. Furthermore, you have to subscribe to Rosetta stone for a longer amount of time in order to get the best deal on pricing.
The Babbel app reportedly has over a million active users at the current time, this makes it one of the most popular language apps out there. So, how does it compare to Pimsleur?
Do you learn better by seeing and reading rather than listening? If so, you may like this app much better. The app design is visually pleasing and the lessons contain a mix of games and other visual elements missing from Pimsleur.
Pimsleur vs Duolingo
Over the last decade, Duolingo has risen to the top of the game when it comes to language learning. Part of the appeal is its funky aesthetic coupled with the fact that it's a free app (however, there is a premium option).
Consequently, it's become very popular among younger users, especially those studying from home.
Duolingo will get you reading and writing as well as listening and speaking so it arguably covers more scope than other language learning apps.
To sum up, if you are more of a visual learner, or remember better by writing and typing then another app such as Duolingo or Babbel might be best for you. However, if you're looking to improve your listening skills then Pimsleur is most likely for you.
Pimsleur: What others have said
My aim here is to write the best and most balanced Pimsleur review, so here are some reviews I have found on forums such as Reddit:
"It's very polite but you aren't being taught to speak to people like they are your customers." -- Comment from Reddit.
While I can see where this person is coming from, you're unlikely to get an idea of how to do business in a foreign language if you're learning that language from scratch.
"I have done it for French (Pimsleur I, II and III.) In my opinion it's a very good resource for improving your listening and speaking skills [...]." -- Comment from Reddit.
I very much agree with this post. Not only that but it's great for building your knowledge of a language from nothing.
"I have gone through Pimsluer's Mandarin [...] and I've had Chinese people tell me i speak better than they do." -- Comment from Reddit
An inspiring success story for this Pimsleur user.
"Pimsleur is a kinesthetic way of learning a language, as opposed to rote memorization. [...] Pimsleur does a good job of teaching sentence construction and listening" -- Comment from Reddit
In fact, one of the things that made my Pimsleur journey interesting was seeing how you could change sentence construction by playing with the elements to give what you're saying more emphasis. You'll find you grasp that very quickly!
Conclusion: Is Pimsleur Worth It?
In a word: Yes.
If you've been wanting to start learning to speak a new language for a long time and want to find a simple and effective introduction then you will find Pimsleur useful.
If you're always on the go and wouldn't have time in your day to have structured lessons, the fact you can access lessons on the move will suit your needs just perfectly.
Plus, Pimsluer's emphasis on recall and repetition — something that sets them apart from other providers — will have your conversational and listening skills up to a great standard in no time!
It is worth noting though that if you wanted to learn to write in your chosen language then you would need the premium package to have access to this on Pimsleur and that maybe another provider may be better for you.
Although, I personally benefited hugely from the app without this as it really helped me to understand the German TV I've been watching without subtitles.
Related articles: Best Korean, Japanese and sign language classes
FAQs
How much does Pimsleur cost?
Pimsleur costs from $19.95 per language per month. There are other purchasing options available, but this subscription would be the route I would advise you to take.
How does Pimsleur work?
Pimsleur works mostly through listening and repeating. 
What languages does Pimsleur teach?
Pimsleur teaches over 50 languages. If you'd like to see the full list you can do so here.
Can I get a refund?
This depends on the exact type of purchase you make. However, if you're using the app you get a FREE 7 day trial and if you don't like it you can cancel your subscription anytime in that 7 day window before you're billed.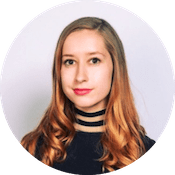 Rebecca graduated from King's College university with a first class honours in English Language, followed by a Masters' Degree in Eighteenth Century Studies.