Are you looking to learn a new language? Did you learn a foreign language at school and want to pick up where you left off? Maybe you're thinking of going travelling and need to learn how to get by.
If any of the above sound like you then this review is here to help. I've taken several hours' worth of lessons on Lingoda to tell you what it's all about.
Lingoda is one of the fastest growing names in language learning. It's also one of the most unique, with a teaching philosophy that makes them stand out among their competitors.
They've taught over 80,000 people since they launched in 2013, and have 4 languages to choose from.
But just how good is Lingoda? And can it really help you to learn a language better and improve your understanding of that language?
That's what this Lingoda review is here to answer!
.
Quick summary
Pros
Learn from native speakers to help you get fluent fast ensure you get an more reliable learning experience
Proven track record for developing fluency
Lessons contain puzzles and games to help cement your memory
One-on-one tuition available if you want it
Live online lessons you can fit around your own busy life
Small class size to help you engage better with the material
Large team of certified and vetted Tutors
Immerses you in the language better than other apps
Cons
Potential lack of consistency dependent on instructor availability
Someone struggling can put the whole class behind
Best for: People keen to get started on learning a new language but would prefer face to face learning. It's also especially suitable for those who have busy lives as you can fit classes around your own life. Plus, it would be perfect for anyone who's learned a language in the past and wants to get back up to scratch.
Cost: To see the latest price click here.
Overall: A great and unique way to learn a new language (or pick one up where you left off) that gets you speaking and reading in no time at all. I found Lingoda to be very effective and started learning, speaking and understanding from the very first lesson.
So, I this Lingoda review I will be covering:
What Lingoda is and how it works
The languages you can learn
What a lesson is like
How I reviewed the app
Pros and Cons
Who it's for
How much it costs
Can you get a refund
Features of Lingoda
Alternative providers
What others have said about Lingoda
Is it worth it?
FAQs
Okay, let's begin:
What is Lingoda?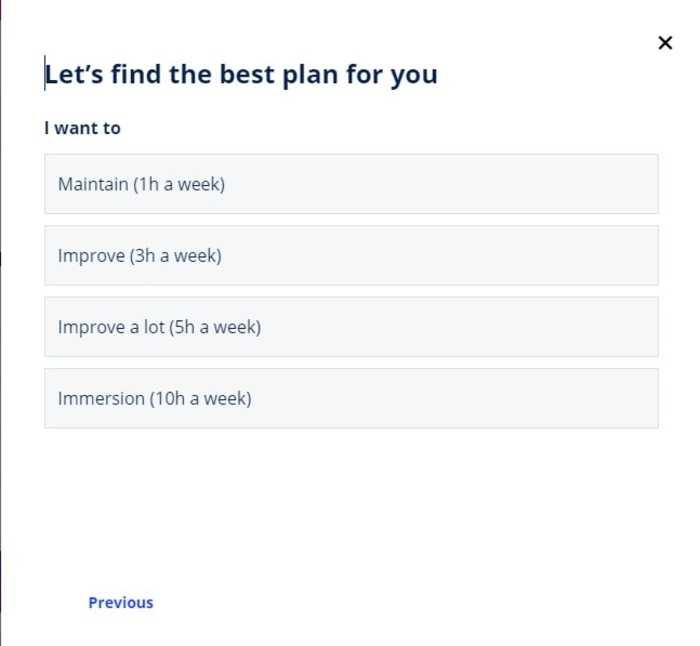 Lingoda is a German based language e-learning service. Its founders; Felix and Fabian Wunderlich, have a huge passion for languages and started initially offering 1-1 German tuition over Skype.
Over the next 7 years, the languages offered expanded and their tutorial team began to grow. Soon they were also offering classes in Spanish and French as well as English (both UK and US variants) to non-English speakers.
In each language, there are various skill levels ranging from A1.1 (for complete beginner) to C1 (for expert). Each level contains 7 chapters, in which there are up to 8 lessons. These are categorized into writing, speaking, communication, reading or grammar.
Lingoda has over 1,500 vetted native speaking teachers across the languages they teach. This ensures you get the best experience of the language you choose to learn.
This is because you will be hearing the class material spoken in a native accent as well as having direct access to someone who knows all the ins and outs of pronunciation and variations of words in that language.
They have a team of in-house experts on linguistics who have put together all of the course material with the aim to get you speaking fluently faster.
Also, the 24/7 availability of a real life tutor is a game changer when it comes to language learning.
It features #1 in our best online English classes review.
How does Lingoda Work?
97% of users say they found Lingoda better than other language learning providers.
What sets Lingoda apart is the personal feel of each lesson. You sit classes over Zoom, and your tutor will be a native speaker of your chosen language.
On top of this you'll be in a small class of (no more than 5) other people, which helps to make every lesson feel like a journey you're all making together. Each lesson contains a worksheet which you can download if you wish, but your teacher will go through it during the class.
The idea behind the Zoom classes with native speakers is to make you more fluent. By immersing yourself in the language you'll get a much better understanding of nuances like colloquialisms and dialect than by just listening and repeating.
You'll often hear your tutors introduce the next element of the class or even ask you questions in the language. While this may seem hard to begin with, it actually gets you thinking in that language and you'll be surprised how quickly this becomes easy!
Not only will this improve your speaking and understanding, but you'll also stand to learn much more, more quickly. Plus, it means your brain is actively engaging with the language rather than passively taking it in.
What languages can you learn with Lingoda?
At the time of writing, Lingoda offers a choice of 4 languages to choose from. When new languages are added you'll be able to see them here but the current list of languages offered is German, French, and Spanish.
There are also courses for speakers of other languages to learn English. You can learn US English, UK English, or English for Business
What a lesson is like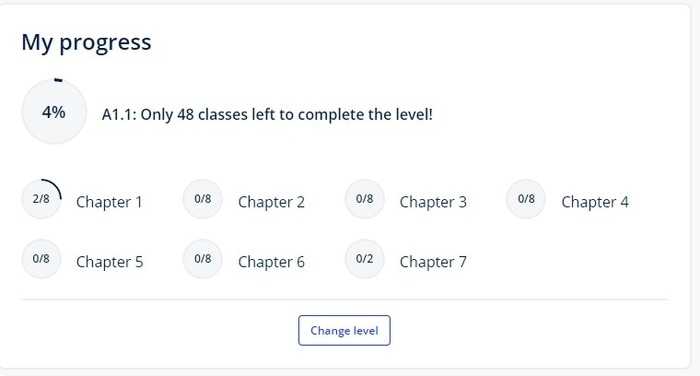 Level A1.1 lessons (aimed at beginners) all began with the link from Lingoda to go to Zoom where everyone introduces themselves.
If you're not comfortable showing your face, there is no pressure to do so; you just need your microphone to work when you are asked to read aloud.
Your tutor will then take you through the relevant lesson worksheet which is shown via screen share on Zoom. Thankfully, the lessons are mostly interactive with the tutor getting students to take it in turns to read various phrases aloud.
Also, you'll get the opportunity to translate the various phrases, as well as converse in your chosen language with other students via the aids of flashcards, scripted dialogue and much more.
Each lesson lasts for 1 hour, and if this seems like it might be laborious, I assure you, it will fly by! Plus, the interactive nature of the course means that it will keep you engaged.
I particularly enjoyed the puzzles in the course. These feature elements such as matching words to pictures, and phrases to their English translations. I especially enjoyed "spot the intruder."
The aim of the game is to find which phrase or sentence in a group of 3 or 4 sentences is not describing something the others all are. This really helped with retention and understanding of the new language.
The class sizes are generally no larger than 6 pupils so that means your turn to read or translate will come back around in no time.
In Lingoda's French A1.1, I learned and increased my French vocabulary and conversation skills by:
Using flashcards
Repeating words and phrases aloud
Matching words to images
Completing the blanks in sentences
Finding the "intruder"
During my time completing the course, I noticed a considerable improvement in both my own speaking and understanding of the language. In fact, I even received some compliments from the tutors on how quickly I was picking things up!
How I reviewed Lingoda

To review the app, I spent 4 hours on Lingoda French A1.1. I took the novice level as though I'd had some French lessons at school, I had not spoken the language since and wanted to see what I could remember.
Also, I wanted to see if Lingoda would make a good an introduction to French. As luck would have it some people in my classes were starting to learn without any prior knowledge and were also picking things up very quickly.
From this experience I've gained basic conversational skills such as how to greet someone and introduce myself. I've also acquired grammatical skills such as understanding how masculine and feminine can alter how words are written and pronounced.
With Lingoda's teaching I was able to better understand these topics than I was when I learned French at school. Not only that but the presentation style of the material made everything much easier to remember.
Pros of Lingoda

Teaching by native speakers to ensure you get a more reliable learning experience
When it comes to learning languages native speakers will always make the best teachers. This is because they can provide you with all the small details and nuances that will change your speaking of a language from being passable to perfect.
On top of this, often you'll find that your teacher introduces the next element of the workbook in the language you're learning. While this may seem a little daunting or even distracting at first; this exposes you to the language in a way where it becomes familiar more quickly.
Live online lessons you can fit around your own busy life
Something that immediately stands out about Lingoda is its accessibility for people who feel they wouldn't have time for it. Lessons can be booked whenever you would like to sit them, and you can do this as and when you find your own schedule out.
Using either the website or the app you can look for your next lesson and choose a time to suit you. Generally classes get booked up with around 48 hours to spare so do keep this in mind.
Small class size to help you engage better with the material
If the idea of a large online class intimidates you there's no need to panic. This is because all of Lingoda's Zooms have no more than 6 pupils per class. This allows everyone in attendance a greater opportunity to engage with the material.
You'll be reading, translating, matching phrases to images and much more in a small, welcoming class environment. Plus, if you're not feeling too outgoing or even having a bad hair day there's no need to have your camera on; just have your mic on when it's your turn to speak,
Lessons contain puzzles and games to help cement your memory
While it may seem childish to have to match phrases with pictures or complete the missing word in a sentence, it's important to remember who are the fastest learners? Children!
With this in mind elements of the course are presented in a way similar to how you first learned to talk when you were a child. On top of this, the availability of instant feedback from a native speaker helps you learn faster.
Not only do studies prove that this is effective, but these elements tend to be what solidifies your understanding of the language and retain that information for use later on.
One-on-One tuition available if you want it
Although most people will probably just use Lingoda for group classes, there are options to upgrade to one-to-one style learning if you would prefer. These do cost more than the standard subscription but may be worth it if you find you are struggling on a certain lesson.
You can also subscribe to a one-on-one plan, again these are more expensive than the standard subscriptions so it's worth considering what your needs are before purchasing.
Cons of Lingoda
Potential lack of consistency dependant on instructor availability
One drawback of Lingoda is that, while you can fit lessons around your own life; you'll generally find yourself taking classes with different tutors each time. While a bit of variation can be a good thing, too much of it can lead to a lack of consistency in the teaching.
Although all of the tutors I had were very engaging and enthusiastic, some were better communicators than others. Some had a better grip on Zoom technology than others.
It also became apparent during the introductions of each class that the tutor was always meeting these students for the first time, which slightly detracts from the communal feel of the classes.
However, this is all probably a price worth paying for the flexibility of in-person learning Lingoda offers. Plus, all of Lingoda's teachers are fully certified so you know you're receiving good quality tuition.
Someone struggling can put the whole class behind
Along with the upsides of class learning also comes its downsides. In one of the lessons I attended, there was a student who was struggling with a particular phrase. This ended up putting the whole class behind schedule and that lessons content was not completed.
Unfortunately, more often than not, the tutor has another class to teach in the next hour slot so can't extend the class to compensate for this. Fortunately, most of what remained was puzzles and games based on what we had learned so nothing too essential was missed.
Who is Lingoda for?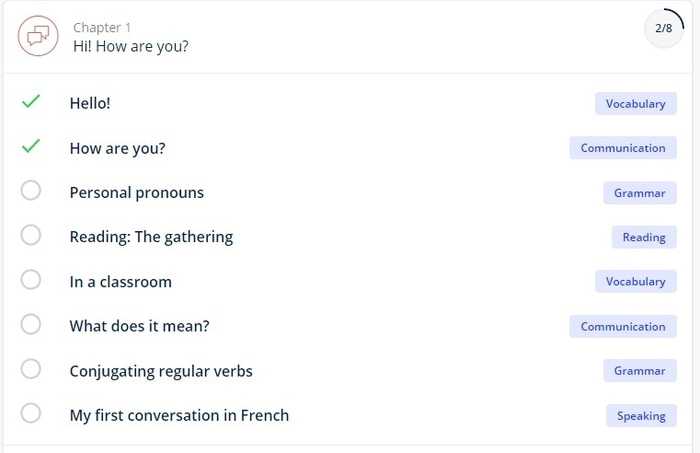 The Lingoda learning style would suit anyone who's:
Looking to learn a new language from scratch
Has some grasp of a language and wants to improve
Learns best either 1 to 1 or in a class setting
Wants to improve their conversational skills
While Lingoda would be ideal for anyone who's always wanted to start learning a new language it will also suit those who are proficient but want to improve.
Right away Lingoda will have you speaking, reading aloud and improving your conversational capabilities in your chosen language.
How much does Lingoda cost?
Lingoda is a subscription service and gives you access from $56 per month (this is for the French subscription, other languages vary by a few dollars). This gives you access to 4 x 1 hour lessons over the course of that month.
There are various subscription types but, in short, the more you pay per month, the greater number of classes you can book per month, thus reducing the effective price per class. The highest of these – "immersion" – costs $380 per month and gives you 40 classes in that time.
Alternatively, you can buy a one-to-one subscription from $132 up to $760 per month. This option may suit you if you learn better in a one-on-one environment than in a class scenario.
Plus, you can buy one-to-one classes in addition to group classes in your subscription if you feel like you're getting behind and/or want extra help in a particular subject.
Better still, you get a free 7-day trial and you can cancel anytime in that period with no questions asked if you decide that Lingoda is not for you.
Can you get a refund if you're not happy?
This information was correct at time of writing but check here for Lingoda's latest policies.
If you wish to cancel your subscription you must do so within the free trial period (7 days). After that, you'll be billed monthly, but you may cancel at any time — you just won't be entitled to your money back.
Features of Lingoda

There are lots of great features on Lingoda, here are some of the highlights:
Desktop- or device-based to best suit your needs — This means language learning is accessible to you however you like to learn.
Lessons over Zoom – Zoom means you get the best of all worlds. A real life tutor, and a lesson plan that can fit around your own busy life.
One to one tuition available if required — Really good if you'd prefer this to a class of other people. These can be purchased individual or as part of your subscription.
Memorable lesson content — This was super useful as you'll retain more information faster and find it easier to recall words and phrases in future lessons.
Alternatives to Lingoda
There are lots of options online when it comes to learning a new language. Each of them comes with their own pros and cons. So, I'll keep this short with a brief comparison of Lingoda against three other leading online language learning providers
Rosetta Stone is also one of the biggest names in language e-learning. They have over a quarter of a century's worth of experience in teaching people languages and their courses have been taken by over 25 million people.
Rosetta Stone may be a tempting offer as is costs less than what you'll pay for Lingoda. Plus, they have a broader range of languages to choose from. However, you don't get the detail of in person teaching that Lingoda offers.
Lingoda vs Babbel
The Babbel app reportedly has over a million active users at the current time, this makes it one of the most popular language apps out there. So, how does it compare to Lingoda?
In many ways the presentation style is similar. The app design is visually pleasing and the lessons contain a mix of games and other visual elements.
Lingoda vs Duolingo
Over the last ten years, Duolingo has risen to the top of the game when it comes to language learning. Part of the appeal is its broad functionality coupled with the fact that it's a free app (although, there is a premium version you can upgrade to).
Consequently, it's become very popular among younger users, especially during the pandemic.
Duolingo will get you reading and writing as well as listening and speaking so it arguably covers more scope than other language learning apps.
To sum up, if you are more of a visual or auditory learner, then another app such as Duolingo or Babbel might be best for you. However, if you learn best in person then Lingoda is unrivalled in this element.
Lingoda vs British Council LearnEnglish
British Council's classes are 100% teacher-led and interactive. Along with group classes, there are also some other specialist class options:
Live25 classes (free 25-minute lessons focusing on English grammar/pronunciation)
Private classes (1-1 tuition from British Council's expert teachers, with personalized feedback and end-of-class reports)
British Council is also unique in that it offers learning paths by "Theme." For example, one theme is "Education and Training." This is a section that houses multiple classes on education-based topics. In short, British Council not only covers the building blocks of language, it further encompasses subjects like business, government, arts and culture.
Other language learning platforms we have reviewed include:
Lingoda: What others have said
My aim here is to write the best and most balanced Lingoda review, so here are some reviews I have found on forums such as Reddit:
"When it comes [to] tutors, most of them are hits and some are misses. What I do is only attend the classes with the tutors I know are good." – Comment from Reddit
This person admits some teachers are better than others. Unfortunately, as I mentioned earlier if you wait until someone you know you like is doing your next class, at a time that suits you then you may be waiting a while.
"I have taken a few lessons with Lingoda for French. They were generally okay. There are a few limitations with being online video conference style of lesson. […] The class sizes were generally pretty small but not as small as they might be in my free trial lesson […]" --Comment from Reddit
It is true that there are limitations when it comes to doing lessons over Zoom. However, I think for the personal touch that this adds compares to many other language learning apps, these limitations are worth putting up with.
"I've not had any problems and all the teachers have been awesome so far!" – Comment from Reddit
"I've been doing Lingoda for about 2 months now […] and it's been great. […] After doing all the work beforehand, classes are much smoother, and it gives me an opportunity to ask better and specific questions." – Comment from Reddit
"So far it has been awesome! You get a great variety of teachers from all over various German-speaking regions in the world, so you get a taste of everywhere when it comes to dialects, accents, colloquialisms etc." – Comment from Reddit
Overall the feedback for the app was mostly positive. Also, I have to say I fully agree with the last post. Having tutors from different regions really helped to broaden my understanding of the subtle differences in colloquialisms etc. in various different French speaking places.
Conclusion: Is Lingoda Worth It?
In a word: Yes.
If you've been wanting to start learning to speak a new language for a long time and want to find a simple and effective introduction then I'm sure you'll find Lingoda useful.
If you have a busy lifestyle and may not have consistency in your schedule, the fact you can book lessons to suit your needs is so handy.
Plus, Lingoda's emphasis on in person learning — something that sets them apart from other providers — will have your conversational, listening and grammar skills up to a better standard in no time!
On top of this, you have one to one classes available if you're happy to pay the extra. This will, without doubt improve your language skills even faster.
I personally benefited hugely from the app and it really helped me to bring my French back up to a passable standard. I haven't felt this confident in speaking/reading French since school!
Lingoda offers a FREE 7 day trial! I would highly suggest you see what it's like for yourself as you have nothing to lose!
Frequently Asked Questions
How much does Lingoda cost?
Lingoda costs from $56 per language per month. There are other purchasing options available, so take a look and see what option would best suit your needs
How does Lingoda work?
Lingoda works mostly through speaking and reading in group session over Zoom, as well as the use of flashcards and puzzles
What languages does Lingoda teach?
Lingoda teaches 4 languages. French, Spanish, German and English
Can I get a refund?
You'll get a FREE 7 day trial and if you don't like it you can cancel your subscription anytime in that 7 day window before you're billed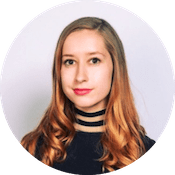 Rebecca graduated from King's College university with a first class honours in English Language, followed by a Masters' Degree in Eighteenth Century Studies.