Wondering what Mondly is, how it works, and if it's the best fit for the language you want to learn?
Then this comprehensive and balanced Mondly review is here for you.
I've completed several lessons on Mondly and used it to have basic conversations with some of my foreign friends. Plus, I've taken other courses on different language platforms so I can compare and contrast with what else is out there.
In this Mondly review, I'll cover all the information you need to know and share my personal experience to help you decide if this is the right app to take your language skills to the next level.
So, let's get started!
If you're short on time, don't worry. Here's the highlights:
.
Quick summary
What Mondly Offers:
300+ bite-sized lessons organized into topics – from family, weather, travel, to sports, food, and many more
50+ real & simulated conversations to get you fluent fast
2100 daily lessons, weekly quizzes and monthly challenges to help you build a learning routine and cement your knowledge
Personal statistics and progress metrics within your dashboard
Pros
Covers all elements of language (speaking, listening, grammar, reading, and writing)
You can easily tailor your learning according to your goals and interests
Straightforward, user-friendly, and polished interface
Interactive chatbot conversations provide a simple way to practice your skills
Offers a unique Augmented Reality experience
Special packages for family and friends
Cons
Mondly don't explain their pedagogical method (but it seems effective)
You always have to start at the basic level to progress to the next one
Bite-sized lessons may be too short for those who enjoy more formal learning settings
Best for: Anyone looking to learn a new language from scratch through a highly interactive and creative process. If you're looking to brush up on or advance your existing language skills, you'll definitely benefit from the educational experience offered by Mondly. Plus, if you enjoy learning alongside (or competing with) family and friends, you'll love the app's gamified approach!
Cost: Check their latest prices and programs here.
Overall: Mondly is an incredibly popular platform that has over 70 million users. Having used the platform for the past couple of weeks it's easy to see why. Lessons are comprehensive and immensely fun and I found it a really effective way to learn. I was very impressed by how easy it was to use and how fast I was able to introduce myself in a new language.
Now for my more detailed review, here's what I'll be covering:
What is Mondly, and does it work?
What languages can you learn with Mondly?
What is the method behind Mondly?
How does Mondly work?
What a lesson is like
Pros and Cons of Mondly
Who is Mondly for?
How much does Mondly cost?
Mondly alternatives
Features of Mondly
What others have said
Mondly Refund
Conclusion: Is Mondly worth it?
FAQs
What is Mondly?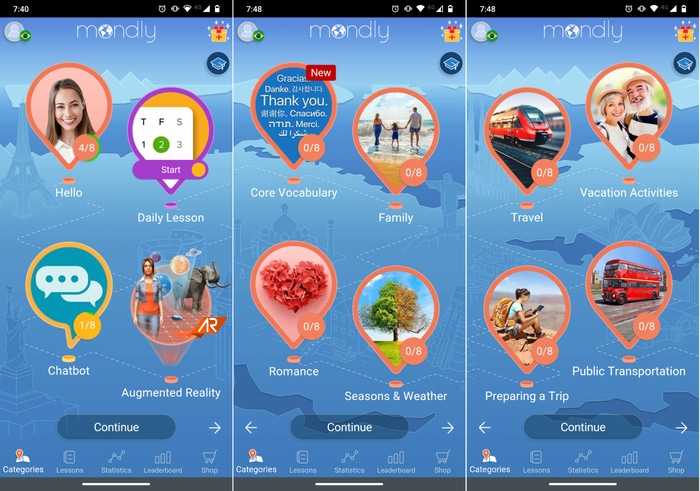 Mondly (www.mondly.com) is an e-learning platform dedicated entirely to language learning for both adults and children. This popular platform enables you to cultivate your skills and achieve fluency in your chosen language in no time.
The idea is that anyone with a mobile or a computer can learn one of the 30+ languages available anywhere.
Mondly is a gamified language learning application that provides you with a guided yet interactive learning experience via memory exercises and a very intuitive interface.
By joining Mondly, you will learn with friends and family, and you will connect with over 70 million users worldwide and an extensive community on social media.
What languages can you learn with Mondly?
Mondly offers the possibility of learning 30 + languages, including:
Afrikaans
American English
Arabic
Bengali
Bulgarian
Catalan
Chinese
Croatian
Czech
Danish
English
Finnish
French
German
Greek
Hebrew
Hindi
Hungarian
Indonesian
Italian
Japanese
Korean
Latin
Latvian
Lithuanian
Norwegian
Persian
Polish
Portuguese
Brazilian Portuguese
Romanian
Russian
Slovak
Spanish
Swedish
Tagalog
Thai
Turkish
Ukrainian
Urdu
Vietnamese
What is the method behind Mondly?
Mondly is built on the idea of bite-sized lessons based on real-world situations. While their lessons are designed by world-class linguists, Mondly doesn't offer an explanation of the pedagogical method behind the app.
However, the courses and levels focus on some aspects of language, such as:
Vocabulary (Interactive flashcards)
Listening (Audio to written and pronounced exercises)
Speaking (Hands-free conversational lessons and thematic lessons)
Reading and writing (image association and phrase creation)
Conversation (chatbot conversations)
Mondly also provides additional resources that complement your learning, such as the Mondly Augmented Reality (AR) app. While it's not directly linked with your actual lessons, the AR experience optimizes learning by giving you access to an intuitive user interface. The AR app uses a virtual teacher to help you learn new words by showing you interactive worlds and activities.
Also, for those of you learning English: Mondly collaborates with Oxford University Press, which gives you access to more than 100 tests and 3500 questions.
How does Mondly work?
Mondly works the same way regardless of the language you choose. This means that you can learn any language you want by going through the lessons, flashcards, chatbots, and thematic courses.
Lessons are self-paced so that you can complete them in your own time. You can view them on the go, on your computer, mobile, or tablet. Plus, you can track your progress with statistics and leaderboards and compare your score with other learners.
With Mondly, you either pay a monthly or yearly subscription, giving you unlimited access to either one language or the entire library of 30+ languages.
I decided to try Mondly's Premium as it gives me access to all languages and all levels. I opted to learn Portuguese (Brazil).
Each lesson contains 8 parts divided into 3 categories; lessons, conversation, and vocabulary. Specifically, 6 exercises focused on audio, writing, and memory, 1 interactive dialogue, and 1 vocabulary exercise based on flashcards.
The chatbot conversational lesson contains 8 different thematic lessons which are based on voice recognition.
Overall, you will have customized daily lessons prepared, weekly quizzes, and monthly challenges created according to your progress. This applies to all languages on offer.
In addition, Mondly has the feeling of a board game, where your objectives, achievements, and progress are visible as you go along a 'learning path'.
What a lesson is like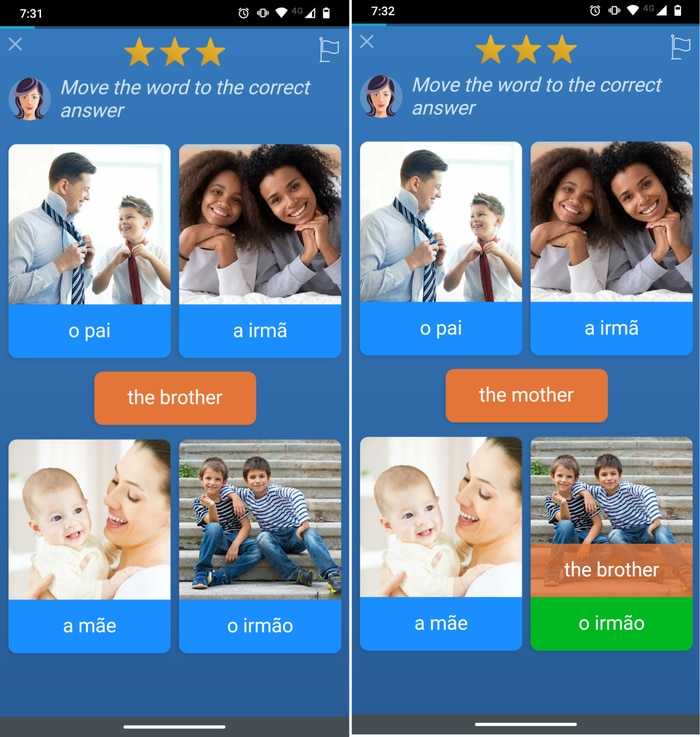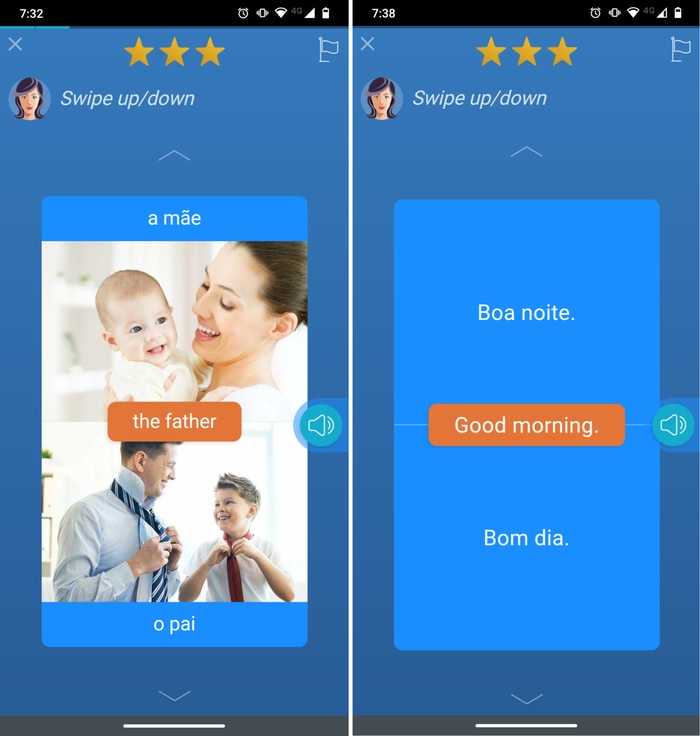 A typical lesson is divided into several categories (from basic introductions to thematic courses). There are 5 different types of exercises, allowing you to have different learning experiences. Mondly is very intuitive from the start so you'll be able to grasp its method in no time.
Throughout the lessons, a variety of exercerices will follow. They all have the same purpose: to activate your memory by giving you different versions of the same exercise.
Overall, you're expected to use your visual and auditory memory to learn new words.
Some exercises incorporate the words you have learned and test your translation capacities. In my case, I had to translate words or entire phrases from Portuguese to English. Fortunately, I was able to listen to the audio as many times as I needed, which also helped my pronunciation!
Other exercises will resemble small multiple choice tests. You can either choose the correct answer or give yourself a chance at recording it. Either way, you can always click on each word to see the translation or the grammar fact-sheet.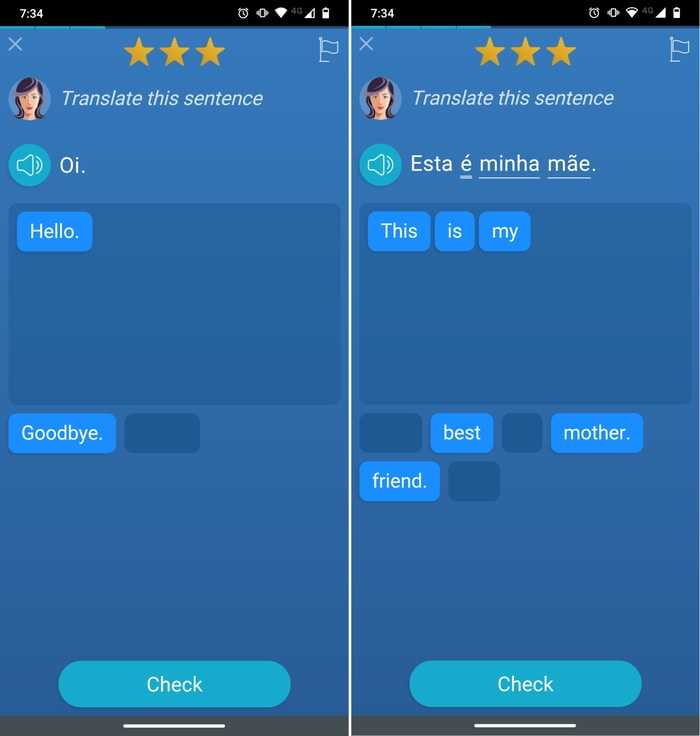 The final section of each course focuses on conversation. These exercises use a chatbot function which is very unique and fun as it gives you the feeling of having an actual interactive conversation. Be sure to take your time and practice your pronunciation!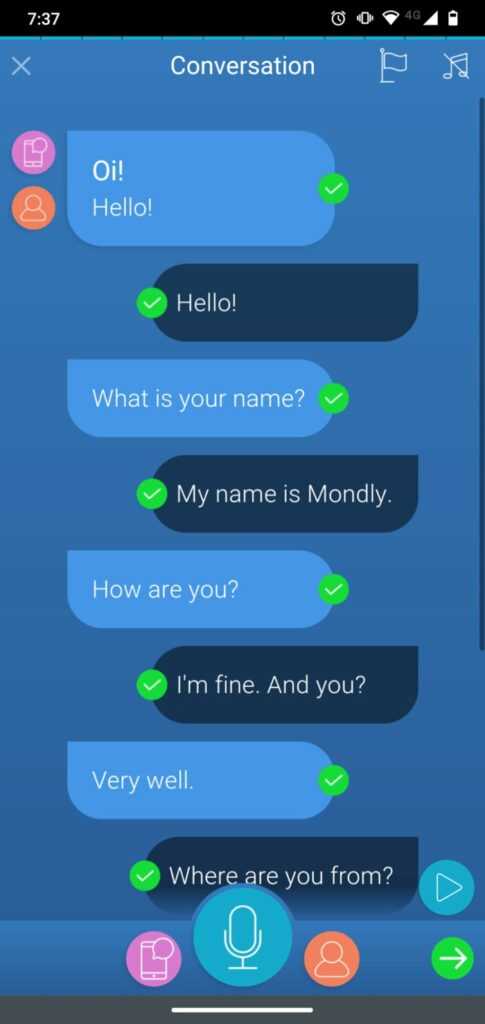 At all levels, Mondly gives you access to a vast selection of creative and intuitive lessons. They are thematic, unique, and highly interactive.
Pros of Mondly
Mondly offers an integrated platform with lots of levels filled with constructive exercises, excellent audio, and a slick interface. The overall structure of each course is consistent as you progress. You always start with the general lessons, the conversational section and a vocabulary flashcard. The idea is for you to keep strengthening your memory and your learning curve.
Here's my take on specific positive aspects of Mondly:
Covers all elements of language (speaking, listening, grammar, reading, and writing)
Mondly provides an extremely creative and intuitive system for you to learn all the critical elements of a language such as vocabulary, speaking, listening, grammar, reading, writing, and conversation.
The practical lessons are linked with themes, which personalizes your language learning.
Other apps tend to focus on one or two of these elements or lack the creativity required for user engagement.
Overall this is an essential factor to consider if you want to become proficient in languages and wish to learn in a guided and interactive way.
You can easily tailor your learning according to your goals and interests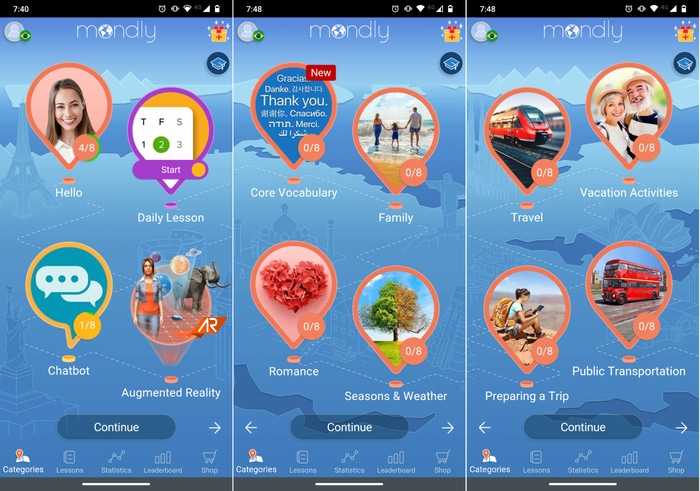 Mondly's learning map helps you tailor your learning according to your goals and interests. It gives you an idea of your learning process but it also allows you to choose which lesson you want to do according to your interests.
This map has many themes to choose from: basic vocabulary to grammar exercises. Fresh content is released very regularly, giving you new learning objectives as you progress.
If your goal is to start from scratch, you can follow Mondly's automated lessons. However, if you want to skip ahead and learn words about a specific theme, you can also start there. Overall, Mondly allows you to personalize your learning without jeopardizing the quality of your progress.
Straightforward, user-friendly, and polished interface
Learning apps do not only depend on the variety of content but also on how easy they are to navigate. The app is easy to understand and the polished images and audio encourage/ensure the user's engagement.
Overall, Mondly does a phenomenal job at providing slick interactions and connections between the learner and the content.
Interactive chatbot conversations make practicing easy
This is undoubtedly one of the strongest features of Mondly. It is a unique way to use technology to transform the experience of learning a language.
The chatbot option allows you to feel like you can finally practice your conversational and pronunciation skills while listening to native speakers. This is revolutionary as other apps will only give you the language tools but not provide you with other learners to practice your lessons with
Mondly offers a unique Augmented Reality experience
The AR feature (a separate app included in the premium membership) uses new technology to give you an immersive and dynamic learning experience. It uses the camera on your mobile or tablet to set up the virtual world). Depending on your level, you will have a range of vocabulary themes to choose from (space, sea, animal world, music, etc.).
The AR app uses a virtual teacher to help you learn new words by showing you interactive worlds, and by using the same audio/visual approach to help you memorize the vocabulary.
Special packages for family and friends
It's clear by now that Mondly focuses on (and nails) user experience. While the gamified structure allows you to see how you compare to other language learners, you have the option of creating a circle of friends and family
With a premium account, this option is affordable – the more people acquire this package, the lower the cost is – and certainly worth the money. This is an exciting option if your entire family is looking to share an everyday educational activity.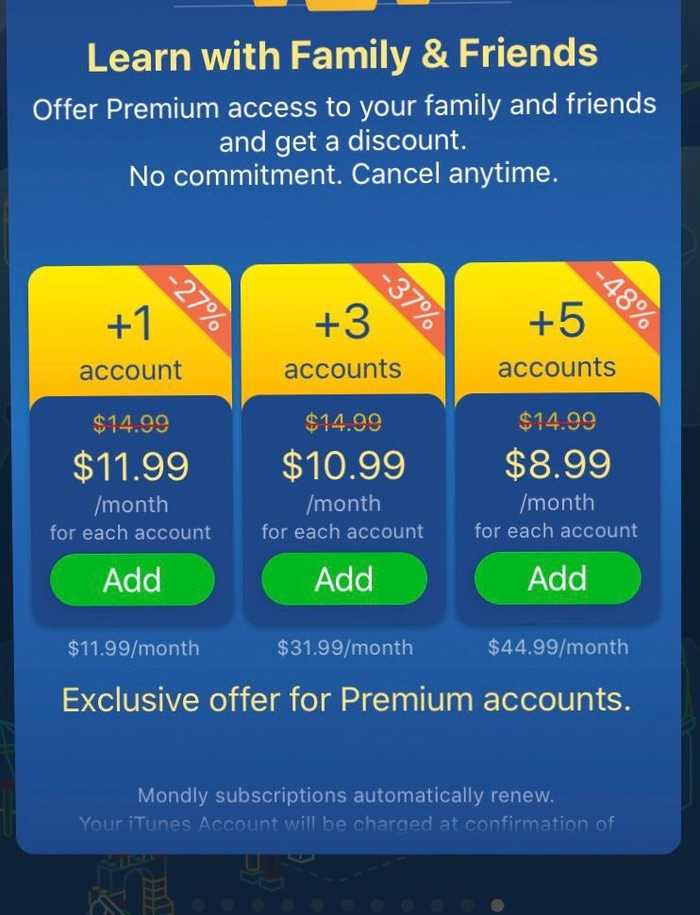 Cons of Mondly
Mondly is very difficult to criticize as its platform, content, and quality are almost perfect.
However, I do think there are a few things that can be improved
Mondly don't explain their pedagogical method (but it seems effective)
This may not be a con if you are a casual language learner. But if you're a serious and avid language learner, you might want to know what Mondly's methodology is.
The Mondly web page doesn't provide us with their pedagogical rationale or how they selected the material you're learning. Instead, the company/website simply states that the material is curated by experienced linguists.
You have to start at the basic level to progress to the next one
Mondly's levels are divided into basic, intermediate and advanced.
Unfortunately, Mondly doesn't provide a language placement test nor an understanding of what is taught at each level. Moreover, it seems like you always have to start at the basic level to progress to the next one.
Admittedly, I can appreciate the rationale behind this. Levels of language proficiency aren't often clear-cut, so by having you start from the beginning, Mondly is able to ensure that you've covered all the material necessary for you to fully benefit from each stage. Also, there's no harm in revision: more advanced learners can treat the earlier exercises as a warm-up or even just a reassuring confidence boost!
Bite-sized lessons may be too short for those who enjoy more formal learning settings
The average exercise lasts around 2+ min. You are expected to learn approximately 10 words by trying around 5 different exercise styles. This may be a quick lesson for those who enjoy a more in-depth explanation of the language and its cultural background.
However, this is not necessarily a con even for those who are used to a more traditional language learning process, it's simply a new and more interactive way of learning!
Who Mondly is for?
Mondly is for someone:
Who enjoys casual learning but still desires to learn and understand a language through engaging lessons
Of any age and skill levels (providing you're comfortable with using mobile apps)
Who is looking for a fun and innovative way to learn new things
Who wants to practice their conversational skill without having to do it in person
Who is intrigued by AR and likes to engage with technological experiences
Overall, Mondly is for those of you who consider yourselves guided learners and would therefore benefit from daily, weekly, and monthly lessons and goals.
How much does Mondly cost?
Mondly offers 3 different possibilities.
Access to 1 language for a month. This option will cost you $9.99/month
Access to 1 language for a year. This option will cost you $47.99/year, which comes up to $4.99/ month
Access to 33 languages for a year. This is the most complete version of the app, and it initially cost you $479.99/year. However, at the time of writing you could get a limited time offer of $47.99, which ends up being $4.99/month
Mondly's prices are very competitive in comparison to other popular language apps. Plus, they offer special prices for inviting friends and family to join you.
Mondly Alternatives
If you feel Mondly is not the app for you, there are many other alternatives.
Here's my take on some of the most popular ones:
Rosetta Stone is a top-rated application for language learning that has been in the market for 25+ years.
They have 25 languages to choose from, which is quite impressive. However, Rosetta Stone is more expensive than Mondly, so that's something you may want to consider.
Compared to Rosetta Stone, Mondly offers more languages, Also, the interface is more gamified and less based on a "language school" experience.
Rosetta Stone's average price per year is $ 95.88 (or $7.99 per month), but you can also buy a lifetime membership for all languages for one payment of $179. This means that Mondly offers a more competitive price at $4.99/month on their premium account.
Overall, their methodology and structure are very different. For example, Rosetta Stone focuses more on a formal learning structure, whereas Mondly focuses more on the interactive function of language learning.
Babbel is another popular app for language learning.
Their interface is also very user-friendly; the learning process, clearly structured.
Babbel's prices vary according to your needs. Monthly access will cost $12.95/month or $155/year, and a yearly subscription will cost $6.95/month or $83.40/year. This means that Mondly also offers a more competitive price ($4.99/month for their premium account).
Overall, Mondly and Babbel share the idea of offering an interactive and semi-formal structure (a mix of structured courses and games). However, Mondly has more content, conversation, and grammar exercises. It also pushes the boundaries of AR and chatbots as educational tools.
Mondly vs MosaLingua
MosaLingua is a comprehensive language program. The teachings and course structures are based on the MosaLearning® method which is scientifically proven to help with language learning.
However, there are currently only 7 languages available (although this isn't a problem if the language you're wanting to learn is there) and the platform may look and feel a little outdated to younger learners.
While it may not have the look of other popular apps, MosaLingua's extensive content of flashcards, dialogues, audiobooks, videos, and levels, makes it a good investment.
MosaLingua has a range of price options to choose from ranging from MosaLingua Premium at $59.90/year up to a one off cost of $330.00 for an all-inclusive training program.
Mondly vs. Duolingo
Duolingo is the last alternative on my list. It's also a top-rated app that uses game experiences to guide you in your learning. In addition, it's very aesthetic and offers a points system, which is definitely attractive to younger audiences.
At first sight, they are both pretty similar (intuitive lessons, gamified experience, point system, and aesthetic interface).
However, Mondly takes language learning up a notch by adding learning maps, chatbot conversations, different levels, and an impressive amount of thematic content. Duolingo only focuses on words and phrases and does not provide any audio, chat, or hands-free section (which I'll talk about below).
All the courses provided by Duolingo are free, but they require 'lives' or points to keep playing. You can pay $6.99/month or $83.33/year to have no ads and unlimited 'lives' which will let you learn as much as you want.
Compared to Duolingo, Mondly still has a competitive price advantage as it offers the premium account at only $4.99/month.
Other language platforms we've reviewed include:
How I reviewed Mondly
I tested Mondly's Portuguese course and decided to try out the basic level for a week. I spent 1 hour per day and managed to do a total of 7 hours.
I did have a bit of Portuguese knowledge before using Mondly, so leveling up was easy but going through all of the content was time-challenging.
Here are some of my thoughts:
The lesson structure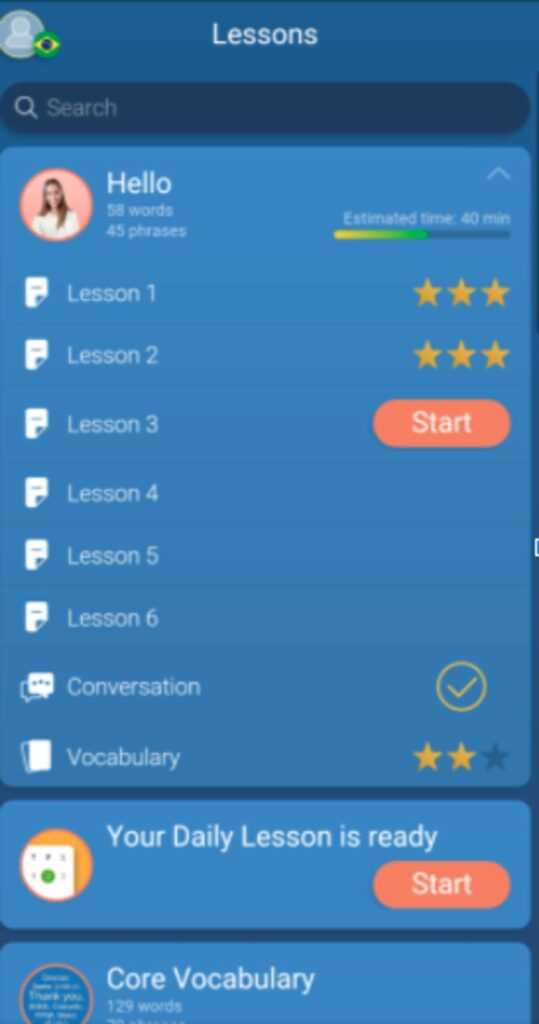 Mondly's lesson structure is very intuitive and straightforward. This means that you know exactly how many words and phrases you will learn, the estimated time it will take you to complete the lesson and your overall rating.
How it works:
You do 6 vocabulary lessons (they are all interactive and use different ways to work your memory)
Then, you have one conversation exercise (using the previous vocabulary you learned with the chatbot function)
Finally, you review the learned vocabulary by swiping the correct translation
Also, you can match your lessons with an intelligent calendar that helps you organize your learning objectives and provides you with visibility on how your learning objectives will progress in time.
Overall, you can view your progress by navigating through Mondly's map and using the calendar function and the statistics view.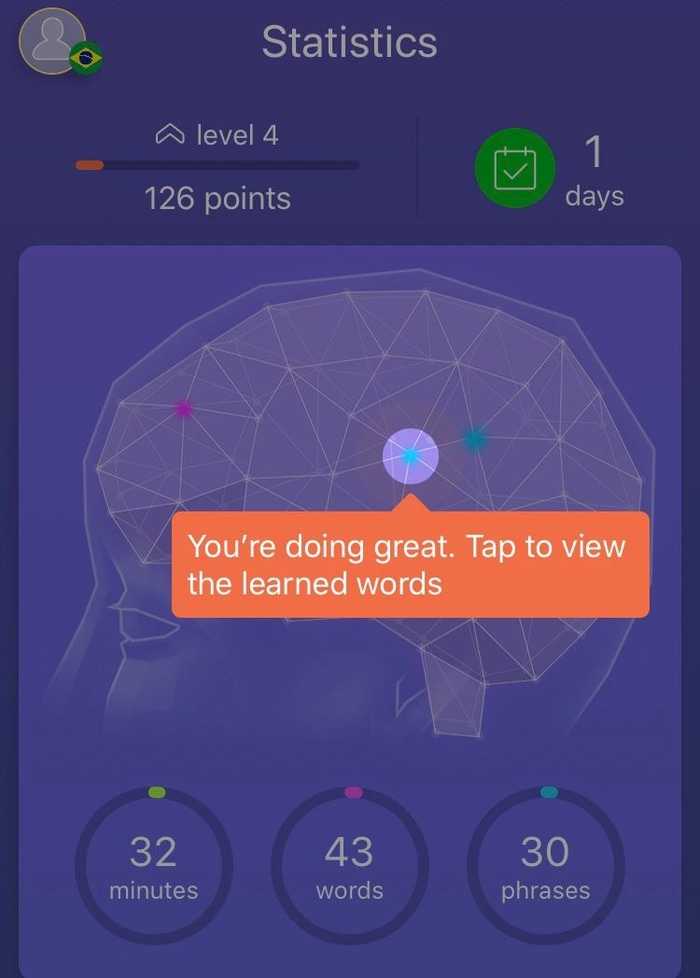 The chatbot function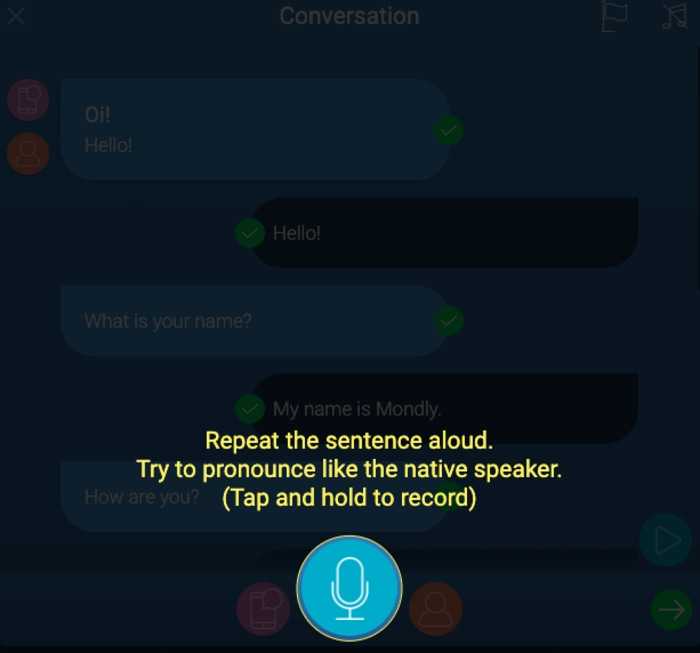 The chatbot is one of the most unique functions that Mondly provides to its users.
How it works:
Once you start your conversation lesson, you will be reminded of how to use this function and the importance of pronunciation
The chatbot will give you a first insight into the entire conversation by providing audio from native speakers
You are then invited to engage in the conversation by taking on a role and repeating and recording specific sentences
The quality of the recording is very impressive. It has a hands-free feature that uses an intelligent word recognition system. So, when you record your answer, it will recognize your words and your complete phrase will be captured in the conversation.
This function uniquely allows you to practice the words and phrases you have learned on the spot. While it's always more interesting to establish human communication, the chatbot function will enable you to listen, repeat and record.
The AR feature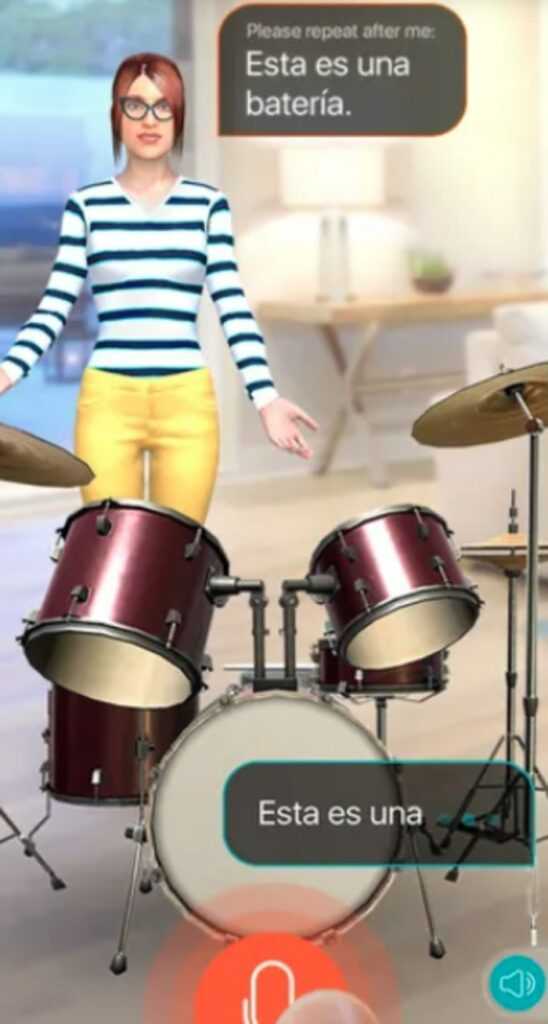 The AR feature is both entertaining and educational. It allows you to learn through play and interaction. For example, you can pet animals, play the guitar and explore a virtual world.
It's part of Mondly's teaching materials but you will need to download a different app to have access to this feature.
How it works:
You download the Mondly AR app and calibrate your mobile/tablet so that the AR can function properly
Then, you will be able to choose your current level, and a virtual teacher will appear
Finally, you will have thematic language lessons (for example, you may learn words related to astrology)
By constructing virtual worlds in which you can acquire and exercise new language skills, Mondly takes a truly original approach to learning. Plus, it can be experienced by both children and adults, which supports the idea that Mondly is made for everyone.
Features of Mondly
The features of Mondly are very unique and make for an unmatched interactive learning experience. The content, the gamified experience, and the active social community make mondly a strong contender for one of the best language app for 2021.
The most attractive feature is based on the gamified elements such as performance and learning statistics, streaks, and leaderboards.
Mondly's community is pretty impressive. They are present on Facebook (over 1.2+ million followers), Instagram (over 350K+ followers), and Twitter (over 3k+ followers). New posts are available daily and offer educational content in different languages.
Overall, Mondly has a comprehensive yet straightforward, user-friendly, and polished interface focused on individual and group progression.
What others have said
I decided to Google Mondly on Reddit to get a general sense of what other people thought.
Some users noted that there were several differences between the audio and the text lessons. For example, the audio will say one thing, but the text will have a missing word. This issue seems to create confusion, mainly for those who are starting to learn a new language.
"Some (and it is only a few) lessons have mistakes in. The audio will say one thing, but the text will have a missing word, for instance. That can be awkward if you are totally new to a language."
Users of Mondly agree that it's a complete app that has both the fun side of gamified apps and a professional-looking interface, which makes it easy to navigate. The community seems to particularly appreciate the quality of the audios and the use of native speakers.
"It has a clearer and more professional looking user interface than Duolingo. It is clear and easy to navigate and it all makes sense"
"The site uses native speakers and the voice recordings are excellent. The lessons are relevant and teach you the basic things you'd need to know."
Overall, the online reviews point out both the quality of the content and the interface.
Mondly Refund
Mondly does not offer refunds, but you can always cancel your subscription through your app store.
Also, their subscription automatically renews, which you may want to be on the lookout for.
Conclusion: Is Mondly Worth It?
Absolutamente!
Mondly is suitable for all different types of learners and you'll find all the elements you need to learn a language.
The platform itself has little to no issues. It's intuitive, aesthetically attractive, and easy to use. Having a learning calendar and statistical results is not unique to Mondly but seeing future lessons is very important as it allows you to establish personal learning goals.
The chatbot and AR functions are a massive plus. They make language learning all the more dynamic. In addition, Mondly uses different technological tools to support language learning, which is remarkable given how affordable the membership is!
Overall, Mondly has so much to offer. So why not give it a go and see how far you can get? Just remember to stick with it, be disciplined, and keep in mind why you want to learn a language in the first place!
Frequently Asked Questions
How much does Mondly cost?
Prices range from $4.99 to $9.99 per month depending on the package you chose.
How does Mondly work?
Mondly works the same way regardless of the language you choose to pursue. This means that you can learn any language you want by going through the lessons, flashcards, chatbots, and thematic courses.
What languages does Mondly teach?
Mondly teaches over 33 different languages.
Can I get a refund?
Mondly don't offer refunds but you can cancel your subscription at any time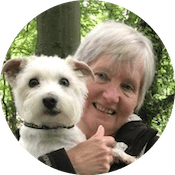 Liz Hurley has 30+ years of high school teaching experience and is one of our senior writers here at Learnopoly.