Do you want to learn a new language? Are you thinking of going travelling and want to get by? Perhaps you're thinking of learning a new language for business or college and don't know where to start. Or maybe you just want to challenge yourself for fun?
If any of the above sound like you then this Busuu review is here to help. I've taken several hours' worth of lessons on Busuu to tell you what it's all about.
Busuu is one of the fastest growing names in language learning. It is also one of the most unique, with a teaching philosophy that makes them stand out among their competitors.
They've taught over 120 million people since they launched in 2008, and they have 14 languages to choose from.
But just how good is Busuu? And can it really help you to learn a language faster and improve your skills in that language?
That's what this Busuu review is here to answer!
.
Quick summary
Pros
Bite sized lessons make it easy to learn on the go
Interactivity helps you to engage better with the material
Advice and tips from native speakers to ensure you get a more reliable learning experience
Strong community feel
Competitively priced
Engaging content that actually makes learning a language fun and enjoyable
Become fluent from as little as 10 minutes per day
Studies prove 15 hours of Busuu is equivalent to one semester at language college
Get up to standard for your travels/vacation
Set your own goals/timescales
Cons
Quality depends on the language you choose
Free version ads are distracting and intrusive
Fewer languages offered than its competitors
Best for: People who are at any stage of their language learning journey. As there are a variety of levels it would suit anyone from a complete beginner to intermediate ability in that language. It is also especially useful for those who feel they may struggle to find the time to fit in learning a new language.
Overall: Busuu is a fun and engaging way to learn a new language (or pick one up where you left off) that gets you speaking and reading in no time at all. I found Busuu to be very effective and started listening, reading and understanding right away.
So, in this Busuu review I will be covering:
What Busuu is and how it works
The languages you can learn
What a lesson is like
How I reviewed Busuu
Pros and Cons
Who it's for
How much it costs and if there's a refund
Features of Busuu
Alternative providers
What others have said about Busuu
Is it worth it?
FAQs
So, let's begin:
What is Busuu?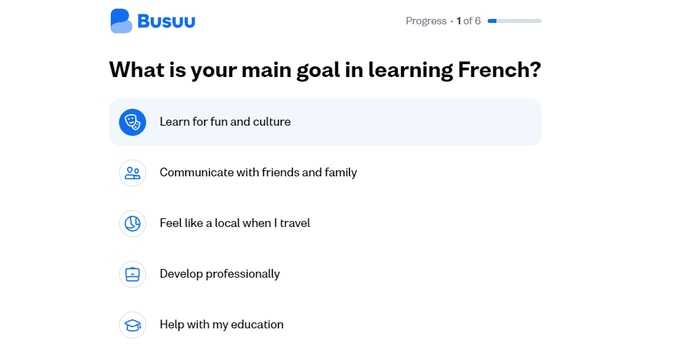 Busuu is a language e-learning service founded in 2008. The company experienced very fast growth and soon became one of the best known names in the industry.
There are 14 languages on offer with Busuu, they include French, German, Spanish, Arabic and Turkish to name a few.
In each language, there are various skill levels ranging from A1 (for complete beginner) to B2 (for upper-intermediate). Each level contains several lessons; these are then categorized into writing, reading, listening and speaking.
Busuu has web and app accessibility meaning you can easily access class materials wherever you are. Furthermore, an offline mode is available with the premium version of Busuu.
They also have a team of in-house experts on linguistics and learning who have not only put together all of the course material with the aim to get you speaking fluently faster, but also to ensure the material is relevant and up to date.
On top of all that, research shows Busuu works! Studies by the Universities of New York and South Carolina show that 15 hours studying on Busuu premium is the equivalent of one semester of language college.
How does Busuu Work?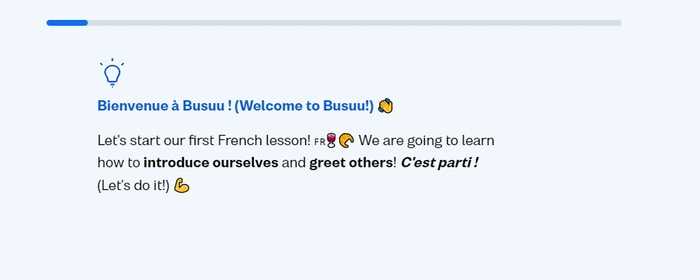 What's appealing about Busuu is its accessibility. You sit classes online or on the app. When you first sign up you can set how much time per day you want to study and what level you would like to achieve in your language skills.
Not only does this help set a goal for yourself, but Busuu will let you know an approximate time scale to achieve your intentions.
However, arguably one of the most appealing things about Busuu is that it's free. This does come with some limitations, and if you wish to remove these, various premium options are available.
What is the method behind Busuu?
The idea behind Busuu is that by committing yourself to as little as 10 minutes per day you become more fluent.
By engaging yourself in the language you've chosen to study everyday, you'll likely get a much better understanding of nuances like grammar and masculine/feminine words far better than studying longer and less frequently.
You will have various phrases put in front of you either in the form of text, or audio and Busuu includes puzzles, quizzes and questions that mean you have to engage fully with the language and demonstrate understanding.
What languages can you learn with Busuu?
At the time of writing, Busuu offers a limited choice of 14 languages to choose from.
Spanish, Japanese, French, English, German, Dutch, Italian, Portuguese, Chinese, Polish, Turkish, Russian, Arabic and Korean.
What is a Busuu lesson like?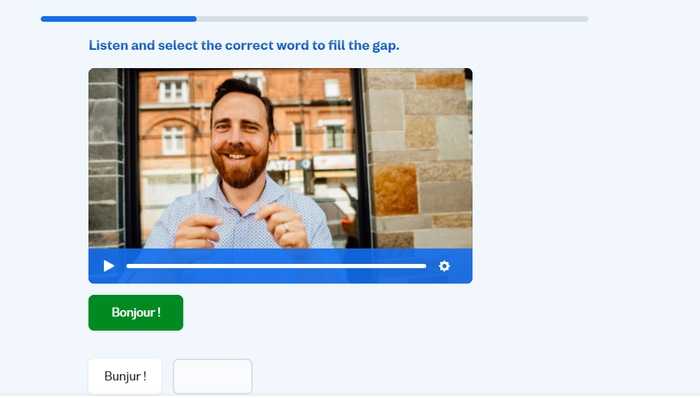 Level A1 lessons (aimed at beginners) started out with the words and phrases you'd need to introduce yourself.
In each lesson you'll be introduced to a new word, phrase or sentence and be shown how to apply it. These are introduced in various ways from simply reading them to hearing them read aloud by speakers.
Following this there are quizzes, puzzles and games designed to show you understand the concepts being introduced.
You cannot complete a lesson until you have answered all the questions or solved the puzzles correctly.
In Busuu's French A1, I learned and increased my French vocabulary and conversation skills by:
Using flashcards
Listening to words and phrases on audi
Matching words to images
Completing the blanks in sentences
During my time completing the course, I noticed a considerable improvement in both my own speaking and understanding of the language.
How I reviewed Busuu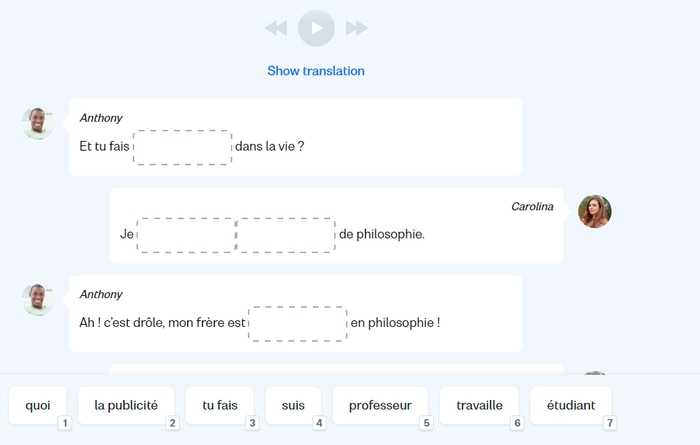 To review the site, I spent 3 hours on Busuu French A1. I took the novice level as although I have some French knowledge, I wanted to see how Busuu compared to other language learning apps and websites for that language
Also, I wanted to see if Busuu would make a good introduction to French. From it, I've gained basic conversational skills such as how to greet someone and introduce myself as well as converse further and ask someone about their job and describe my own.
I've also acquired some grammatical skills such as understanding how masculine and feminine can alter how words are written even if they are pronounced the same way.
With Busuu's teaching I was able to better understand these topics than I was when I learned French at school. I think that's due to the engaging way the site works and that I was able to complete the material at my own pace in small chunks.
Pros of Busuu
Fit learning around your own busy life
Something that immediately stands out about Busuu is the appeal for people who feel they wouldn't have time for it. Lessons can be from as short a time as 10 minutes per day which is ideal if your life means you find your own schedule out last minute.
Using either the website or the app, you can sit your next lesson whenever suits you. Plus, you can access the classes offline if you subscribe to Busuu premium.
Interactivity helps you to engage better with the material
All of the Busuu classes have picture puzzles, sentence completion exercises, translations and more to help you get immersed in the language. Also, this allows for a more engaging learning experience with the material.
On top of this, if there are any issues you have with a particular lesson you get to complete the exercises again until you get it right.
Furthermore, the aesthetics of the site make it easy to read, and it contains lots of useful graphics such as a progress bar and your completion percentage of a lesson if you have to cut it short and return to it later.
Advice and tips from native speakers to ensure you get a more reliable learning experience
When it comes to learning languages native speakers will often make the best teachers as they know all the small details and nuances that help master a language.
This feature is something that is only available in the premium version of Busuu but I think it's worth mentioning as having someone critique your spelling, grammar, pronunciation will prove invaluable if you're going to use the language for travel or business.
Strong community feel
Further to the point above, you will get the opportunity to critique other's English (or whatever language you set as default). This gives a strong sense of community which is something that really sets Busuu apart from other providers.
Cons of Busuu
Free version may be too limited for some
That's not to say that Busuu Basic isn't a fantastic way to learn — it is!
However, if you want to avoid the distracting ads and access the little extras that really help to unlock the language, such as personalized lesson plans, additional premium only lessons, you'll need to buy the premium package.
However, the cost of Busuu is pretty competitive compared to some providers on the market so it's definitely something to consider!
Exercises must be repeated until correct (may be a pro for some)
While the intentions behind this mechanism of the lesson is clearly good, the fact you have to repeat bits you got wrong until you get it right will be frustrating for some. Especially as when you get something wrong it does explain the correct answer and why that's right.
However, do keep in mind that you can skip right to the next lesson if you choose to. Completion of all previous lessons is not mandatory (although it is definitely recommended). Plus, as everyone knows, practice makes perfect!
Who is Busuu for?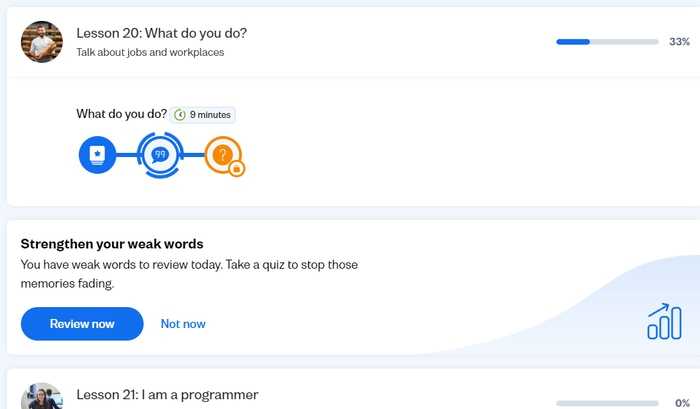 The Busuu learning style would suit anyone who's:
Looking to learn a new language from scratch
Has some grasp of a language and wants to improve
Has a busy schedule and needs to fit lessons around their life.
Learns best in a visual manner
While Busuu would be ideal for anyone who's always wanted to start learning a new language it will also suit those who are relatively proficient but want to improve.
Right away Busuu will have you speaking, listening and improving your conversational skills and grammar in your chosen language.
How much does Busuu cost?
Busuu's basic package is completely free! However, there are lots of distracting ads and you will miss out on premium content. That said, it is a great way to get a feel for how the platform works.
If you chose a premium option this is a subscription service which varies in cost depending on how long you are willing to subscribe for.
Premium gives you access to: Offline mode, Additional grammar lessons, an AI-powered review of each lesson, a personalised study plan, and certification.
| | | |
| --- | --- | --- |
| Subscription Length | Cost per month | Billing |
| Annual | $6.95 | Annually ($83.40) |
| 6 month | $8.45 | 6 monthly ($50.70) |
| Monthly | $13.95 | Monthly |
In short, the longer you subscribe for, the better deal you will get on pricing. To top it all off this is one of the most competitively priced language learning apps out there, some providers charge significantly more for their services.
Can you get a refund if you're not happy?
Busuu is available either via app or on their website. If you wish to cancel your subscription you may do so at any time. You don't get access until after you have paid but there is a 14 day money back guarantee in place if you're not happy for any reason.
Features of Busuu
There are lots of great features on Busuu, here are some of the highlights:
Desktop- or device-based to best suit your needs — This means language learning is accessible to you however you like to learn.
Offline mode to save eating up your data – This means not only can you fit language learning around your own busy life; but you don't need to use up your data if you use Busuu on your commute.
Assessments by native speakers available — Really good if you're going to be using the language a lot. This is available as part of your subscription to premium plus.
Engaging lesson content — This was super useful as it was easier to remember words and phrases for future lessons.
Alternatives to Busuu
There are lots of options online when it comes to learning a new language. Each of them comes with their own pros and cons.
We have written detailed reviews of several other online language providers such as Mosalingua, Mondly, Pimsleur, FluentU, italki, Preply and Lingoda.
But if you're short on time, here's a brief comparison of Busuu against three other leading online language learning providers
Rosetta Stone is also one of the biggest names in language e-learning. They have over a quarter of a century's worth of experience in teaching people languages and their courses have been taken by over 25 million people.
Rosetta Stone may be a tempting offer as they have a broader range of languages to choose from. However, you don't get the personal touch of native speakers marking your work that Busuu offers.
The Babbel app reportedly has over a million active users at the current time, this makes it one of the most popular language apps out there. So, how does it stand up when compared to Busuu?
The app design is visually pleasing and the lessons contain a mix of games and other visual elements, this will probably appeal more to visual learners. Busuu, while also catering towards these types of learners has a larger focus on reading/writing and grammar.
Busuu vs Duolingo
Over the last ten years, Duolingo has risen to the top of the game when it comes to language learning. Part of the appeal is its broad functionality coupled with the fact that it's a free app (although, much like Busuu there is a premium version you can upgrade to).
Consequently, it's become very popular among younger users, especially during the pandemic.
Through their pricing structure, course content and visual styles, Duolingo and Busuu are really quite similar. What I would say is that the examples given in translation exercises tend to be of more practical use in Busuu than in Duolingo.
Busuu: What others have said
My aim here is to write the best and most balanced Busuu review, so here are some comments I have found on forums such as Reddit:
"The cons of Busuu for me was that it is lousy for vocabulary. There isn't nearly enough repetition built into the app to learn the words you're given without you redoing lessons over and over again. And because it doesn't spend enough time on vocabulary, you can quickly get lost by the B1-B2 Level" [...] -- Comment from Reddit
Personally, I disagree with this statement. However, Busuu does spend less time on vocabulary than other apps I've used. Maybe I found it easier as I had some prior French knowledge.
"It seriously depends on the language. I've heard that Busuu is amazing for Romance languages, unfortunately, I used it for learning Mandarin and found it almost unusable." -- Comment from Reddit
I can't comment on this complaint as I was learning a "Romance" language, but this user's remarks were echoed by some others. Perhaps something bearing in mind if you were thinking of learning Chinese or Japanese.
"Native speakers over Robots? Community of native speakers that review and correct your written assignments? Conversation exercises? [...] It's a good site with many features that are better than DL. [Duolingo] You don't have to pay for the site to learn from it either, you just won't have access to the premium content." -- Comment on Reddit
"I think it's a solid site as well. I love the fact that native speakers review your work and there is nothing like being taught by native speakers." -- Comment on Reddit
Please keep in mind that the feature referred to here is only available in the premium version of the Busuu.
"Well that about the fact that Busuu offers languages duolingo doesn't? I think this May be why a lot of users use it [...]" -- Comment from Reddit
Overall the feedback for the Busuu was mostly positive, mine certainly will be too!
Conclusion: Is Busuu Worth It?
In a word: Yes.
If you've been thinking of learning to speak a new language for a long time and want to find a fun, engaging and effective introduction then I'm sure you'll find Busuu ideal.
If you have a busy lifestyle and may not have consistency in your schedule, the fact you can plan lessons around your day is so handy.
Plus, Busuu's emphasis on engaging learning by including puzzles and interactive elements to their classes will have your reading, listening and writing skills up to a better standard in no time at all!
On top of this, if you're happy to pay the extra, premium or premium plus will further aid you in your journey to becoming a master of your chosen language.
I feel that I benefited hugely from Busuu and it really helped me to bring my French back up to a passable standard. I haven't felt this confident in speaking/reading French since school!
What's more, Busuu is completely FREE! I would highly suggest you see what it's like for yourself as you have literally nothing to lose!
Related articles: Best Korean, Japanese, Rocket French review and sign language classes
FAQs
How much does Busuu cost?
Busuu is free. There's premium versions available with more features so take a look and see what option would best suit you.
How does Busuu work?
Busuu works mostly through the use of flashcards and puzzles. As well as listening and repeating.
What languages does Busuu teach?
Busuu teaches 12 languages.
Can I get a refund?
If you are unhappy for any reason with your premium purchase you can cancel anytime in the first 14 days for a full refund.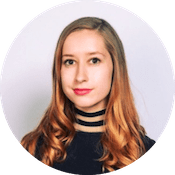 Rebecca graduated from King's College university with a first class honours in English Language, followed by a Masters' Degree in Eighteenth Century Studies.