If you're looking for the best online Korean language classes, this article is for you.
Knowing Korean is a great skill to put on your resume. And it's comparatively easy to learn compared to other East Asian languages. You've probably heard that you can learn Hangul (the alphabet) in one day. Korean grammar is also very flexible and Konglish (Korean words borrowed from English) makes it easy to quickly start speaking Korean as a fluent English speaker.
But as with every language, you need a good course to get started. While there are plenty of in-person Korean classes, these are usually super expensive and aren't an option for everyone. So you might be considering an online course instead. But with so many options it's hard to know which one is right for you.
This article is here to help. Whether you're after a structured course, something flexible that you can fit into a busy schedule, a more visual option or something more academic, this article will give you an idea of which course best suits your needs.
Best Online Korean Language Courses 2023
Here are our top Online Korean Language Course recommendations:
Course list
Of these 10 classes, my top pick is Rocket Korean as it's a perfect mix between vocabulary, grammar, audio, spoken, and written exercises. Making it an amazing all-rounder.
Talk To Me In Korean is a great bang for your buck as you can learn a lot without paying since you get all podcasts, lesson pdf's and certifications for certain courses for free.
Yonsei University's Coursera course is great if you're looking for a course that is a little more immersive. Since the teacher takes international students around South Korea as part of the course, you get to experience this virtually which is a great way to feel more involved.
We've also got some amazing options in this list for people who are looking for a more academic-style way of learning, such as Keehwan Kim's classes on Skillshare listed above.
Best free Korean classes
As mentioned above, Talk To Me In Korean is a top pick for best free Korean classes, as you can get loads of content, as well as certain certifications, for free.
Yonsei University's course is also a great way to experience a university level Korean course for free, but with slightly more cultural immersion. As long as you don't want a certificate, you can take the course for free.
Finally, the course offered by Sung Kyun Kwan University allows you to learn Korean language through mixing Korea's cultural linguistic logic with Korean language, and the course is free if you don't require certification.
Other courses in this review also come with a free trial such as Skillshare. Some options, such as Rocket Korean also include a certain period where, after your paid subscription starts, you can still receive a full refund if you don't like the course.
Best Online Korean Language Course Reviews
Platform: Rocket Languages | Length: 118 language, audio, culture and writing lessons totalling to 156 hours
Rocket Languages is a language learning platform that mixes audio lessons with readings and interactive exercises (such as flashcards, repetition exercises powered by speech recognition software, translation exercises and more). As part of their wide repertoire, Rocket Languages includes Rocket Korean, which promises to bring you from a beginner to a solid intermediate level after completion.
You'll learn:
Practical language for traveling to or living in South Korea (e.g. buying plane tickets, ordering at a restaurant, grabbing a taxi, asking for directions, etc.)
To structure sentences correctly and conjugate verbs in the past, present and future tenses
To understand Korea's politeness-scale, including when and how to use honorifics
About Korea's rich culture
Pros
Good balance between teaching pronunciation, vocabulary, grammar, interesting topics
Balanced mix of speaking, writing, listening and comprehension practice
Structured but flexible, so you can chose to do the lessons you want to
Excellent coverage of honorific titles and levels of respect
Comprehensive curriculum, which covers loads of different topics that will keep you interested
Easy to use app
Cons
A little repetitive (but this isn't necessarily a bad thing if you really want to memorize all the words)
Almost too much content (but then you know you get what you paid for)
Can be a bit pricey compared to other courses reviewed here
Who it's for: Perfect if you are a beginner who needs structure, yet also needs some freedom within that structure. It's a great option for you if you want a holistic approach to language learning, which includes equal parts of listening, speaking, writing and comprehension.
Overall: Rocket Korean offers a middle ground between Rosetta Stone and Pimsleur, with a much higher literacy component. It's a great alternative to traditional textbook learning. It interlaces bite-sized grammar into the course's content, making it very approachable for people who are not the biggest fans of grammar. In sum, Rocket Korean really is an all-in-one option, which has something to offer every Korean language learner.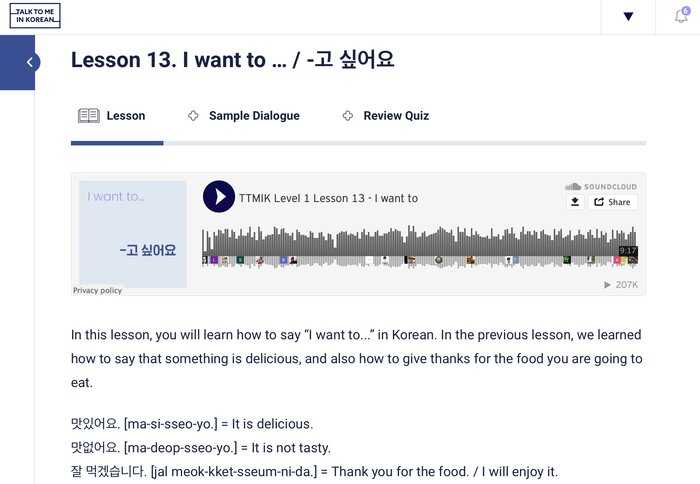 Platform: Talk To Me In Korean (podcasts also available on Spotify or SoundCloud) | Teacher: Hyunwoo and Kyeong-eun | Length: 25 podcast lessons totalling to 5 hours and 25 minutes
Wondering what the best resources are to learn Korean for free? Try Talk To Me In Korean (TTMIK), a favorite amongst Korean self-study learners. TTMIK does have a subscription-based option (which includes sample dialogue videos, comprehension quizzes and thousands of premium lessons). But it also allows you to take every essential Korean Course from all 10 levels, have access to PDFs of lesson notes and even gain certification after completing certain courses for free. In this review, I will focus on Level 1 courses.
You'll learn to:
Have short conversations with Korean speakers
Master some basic useful verbs that you can use daily
Gain some vocabulary
Understand basic Korean grammar principles such as subject and location marking particles
Conjugate verbs in the present and past tense
Count using both Sino-Korean and Native Korean number systems
Pros
Price. You get get a lot from Talk To Me In Korean for free
Casual podcast format switches between Korean conversation and laid-back explanations in English. Particularly helpful for pronunciation tips, remembering Korean language in context, and grasping basic Korean language concepts
Bite-sized lessons and accompanying PDFs allow you to make the most out of TTMIK's free resources
Well organized course structure with a website that allows you to track your progress
Cons
You get a lot more out of the course if you know how to read and write Hangul, although TTMIK offer a complete Hangul workbook. You also have plenty of other free resources online that can help you learn Hangul fast.
Earlier lessons don't have a lot of Korean conversation, but this changes after a few lessons
Not as vocabulary heavy as some of the other courses on this list
Who it's for: Anyone who's motivated and has about 30 minutes per day that you can dedicate to completing a Korean lesson. As most of the course includes audio and written lesson notes, TTMIK is better suited for auditory learners, as well as learners who can grasp language well by reading.
Overall: Strikes the right balance between creating short podcasts that make language learning engaging, while still teaching you valuable grammar and vocabulary in the process. Hyunwoo and Kyeong-eun's friendly chats make the process of learning Korean feel comfortable and casual, which also provides a nice warm human touch to self-study Korean.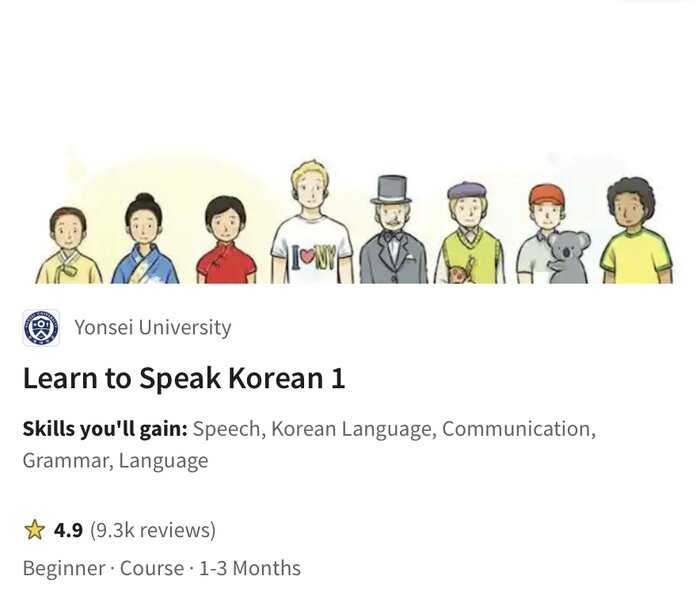 Platform: Coursera | Teacher: Sang Mee Han | Course length: 31 video lessons totalling 5h and 55 minutes
This course is administered by Yonsei University, one of the top ranking institutions in South Korea. It's also taught by Sang Mee Han, who has been teaching Korean language to non-native Korean speakers since 1989. Previously, she was a director at the Korean Language Institute, and was also the director training language instructors at Yonsei University to teach Korean language.
You'll learn to:
Introduce your friends and describe their actions, appearance and personality
Talk about your hometown, express how it looks and how it makes you feel
Talk about food, describe taste, order food and drinks, inquire about restaurant menus and order specific portions of food
Suggest something to do together
Go shopping in Korean, talk about different stores and shopping areas in South Korea, make purchases in stores using Korean vocabulary and sentence structure
Pros
Option to get a certification at the end that you can post on linkedIn or put on your resume
Very useful content that can directly be applied when traveling to Korea or ordering in a Korean restaurant
Very detailed workbook
Interactive style of teaching (the teacher takes foreign students outside in South Korea, where they describe areas for example) which is a great way of virtually experiencing Korea and getting a feel for the place as well
Great for learning basic sentence structure and very useful verbs
Cons
Focuses on learning how to order or buy things in Korean, but this would be extremely useful if you are planning on going to Korea soon
Tests are a bit too easy
Difficult if you are unfamiliar with Hangul (Korea's writing system) or if you don't yet know how to count until 10 in Sino-Korean and Native-korean numbering systems
Who it's for: Perfect for anyone who has been trying to teach themselves Korean, but feels like they are stagnating. Also great if you are a person who needs to set yourself small goals to progress, since you have the option of getting a certificate if you finish the course (which looks great and enhances employment opportunities)
Overall: Offers a perfect balance of listening, speaking, grammar and writing practice. It is organized through themes, focusing around activities or things that you will encounter when traveling to Korea, so it is especially great if you are planning on traveling, living or studying in Korea. Ideally, you would want to have a little base in Hangul.
See also: best Coursera courses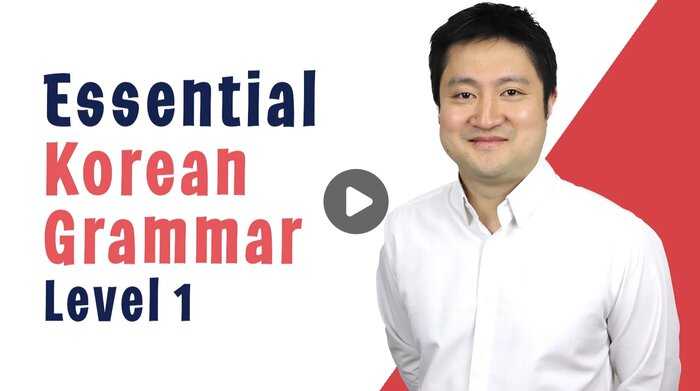 Platform: Skillshare | Teacher: Keehwan Kim | Level 1 length: 76 video lessons totalling to 8 hours and 38 minutes
Keehwan Kim is a highly experienced language teaching professional. With a background in linguistics, he has been a language teacher since 2005. Plus, he also works at the BBC as a language learning content producer.
You'll learn to:
Understand Korean sentence structure
Use Korean adjectives
Conjugate Korean verbs in the past tense
Use basic and advanced Korean particles
Say all the different ways of saying "can" and "cannot" in Korean
Pros
Amazingly detailed and clear explanations
Great lesson organization
Includes a vocabulary and writing worksheet for each lesson, so you will also expand your Korean vocabulary
Lots of "listening and repeat" practice
Includes review lessons every 2-3 lessons to solidify what you've learned
Cons
Focus on grammar may not be for you
Quite academic
Could be more difficult for learners who don't have much grammar lingo (if you don't understand terms such as "subject", "prepositions", "comparatives", this course might not be the most logical way for you to learn Korean language).
Who it's for: Great for anyone who is starting to acquire Korean vocabulary, but still finding it hard to understand Korean conversation or to be understood by fluent Korean speakers. For those who already have a solid understanding of grammatical concepts in their native language, this course will help clarify the logic that the Korean language follows. It's also a hands-on course which includes plenty of writing worksheets and speaking practice.
Overall: A great way to propel you into your next stage of Korean learning. Since Korean grammar can be quite different to English grammar, this course gives you insight into what parts of a Korean sentence to prioritize in order to improve your speaking and comprehension in Korean conversation.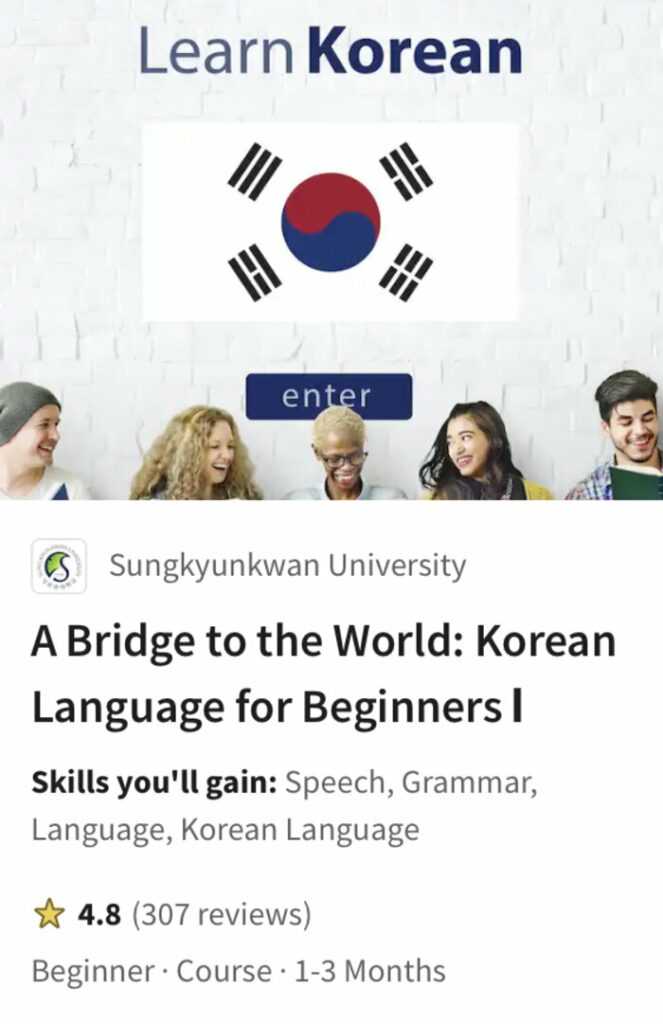 Platform: Coursera | Teacher: Kyojng Hwon Kim | Course length: 39 video lectures + 41 readings + 12 quizzes totalling to 18 hours
The course is delivered by excellent professors from the prestigious Sungkyunkwan University Founded in 1398. It was the highest educational institution in the Joseon Dynasty and is currently heavily sponsored by Samsung and Hyundai. The institution's background makes it an excellent school for teaching Korean language, as it adds a hint of Korean culture to the class.
You'll learn to:
Understand simple colloquial conversations
Get to grips with the sentence structure of Korean language through insights into Korean linguistic culture
Use everyday Korean expressions
Pros
Excellent way of teaching Korean grammar in conjunction with Korean culture, as it helps make lessons more memorable
Includes the option to gain a certification after completion that is shareable on LinkedIn or on your resume
Complete course with explanations that are easy to understand
Cons
Quizzes for weeks 5-6 along with the course certificate need to be bought
Some errors in english translation, although doesn't impact comprehension
The course is comparatively lighter on vocabulary compared to other courses
Who it's for: Anyone looking to improve their Korean grammar, but who wants a fun, less academic way of doing so. As such, this is a great option if you struggle to focus on one thing for too long. Ideally, you would want to have a little understanding of how to read and write Hangul before enrolling in the course, as it will make it easier to understand the course's content.
Overall: You'll learn Korean whilst learning more about Korea's culture. Hence, the course provides an alternative way of understanding Korean language and sentence structure instead of relying on Grammar lingo.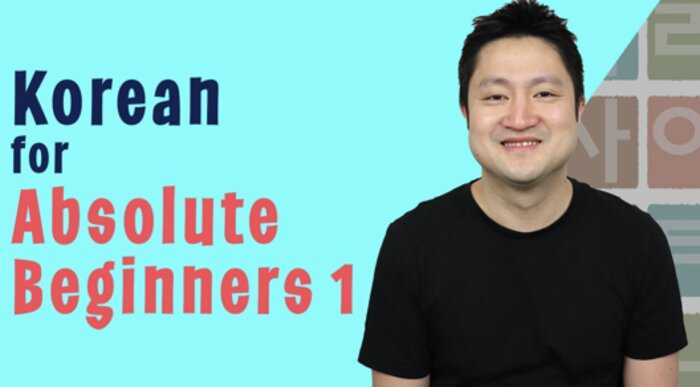 Platform: Skillshare | Teacher: Keehwan Kim | Level 1 length: 65 video lessons totalling 7 hours and 6 minutes; Level 2 length: 59 video lessons totalling 7 hours and 5 minutes.
You will notice that this course is taught by Keehwan Kim, the same instructor as in course #4. His courses are just very good, and hence why he finds himself in the list again.
You'll learn to:
Read, write, and correctly pronounce Hangul (the Korean Alphabet)
Form basic and grammatically correct sentence structures
Start using honorific language and apply it in the right context
Conjugate Korean verb in the present tense
Count, using both Sino-Korean and Native-Korean number systems
Use pronouns
Form questions and negative statements
Pros
Amazingly detailed explanations
Best explanation to master the pronunciation of consonants that do not exist in English
Lots of writing and speaking practice
Cons
A bit lengthy, but of course, this is all to provide you with detailed explanations
The lesson topics included are quite academic
Takes some patience before you start making korean sentences
Who it's for: Those who would like to easily be able to read and write in Hangul. If you also find the pronunciation of Hangul or certain Korean grammar confusing at times, professor Kim definitely clarifies these concepts with plenty of explanation. You might not like this course if you tend to lose focus quickly. Kim's explanations are extremely detailed. The course also includes written, oral and practical sections. This makes it great for most learners. But if you find it easier to learn by associating words with pictures, this might not be the best fit for you.
Overall: An extremely comprehensive course which includes detailed lessons for learning how to write Hangul vowels and consonants, aspirated consonants and tense consonants. After taking this course, you will have definitely mastered beginner-level Korean language without a doubt!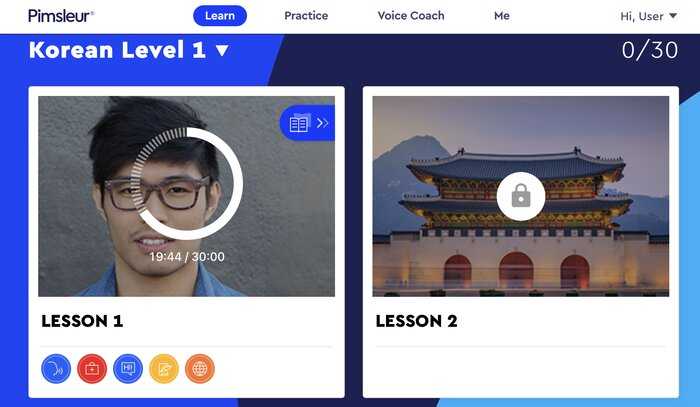 Platform: Pimsleur | Length: 90 30-minute audio lessons totalling to 45 hours
Pimsleur is one of the best platforms out there for audio language courses. It is known for allowing you to learn any language with near-native pronunciation. In 2016, Pimsleur revamped its Korean course, which now includes three levels, more casual and useful Korean phrases, and now also includes reading and writing practice exercises
You'll learn to:
Speak Korean at a mid-intermediate level with perfect pronunciation
Use vocabulary that is used daily in Korean conversation
Speak Korean in practical and realistic situations
Read Hangul through 3 hours and 45 minutes of reading instruction
Pros
Includes the highly efficient Pimsleur Method, which uses "Graduated Interval Recall" to help Korean sentences and words get stored into your long-term memory
Provides an intuitive and translation-based approach to Korean grammar and sentence structure
Allows you to listen while commuting, cleaning, running, or doing sports. Making it easier for you to fit Korean learning into your life
Amazingly comprehensive lessons, which include audio, reading, flash cards, quizzes, and spoken exercises that allow you to refine your pronunciation
Cons
One of the priciest options
Includes mostly mid-formal language, which will allow you to understand a lot of Korean conversations, but might not equip you to understand very casual or very formal conversations.
Not the best resource for learning to write Hangul
Who it's for: Especially for auditory learners, Pimsleur Korean is a great way to learn the language fast. If you are a busy person working, studying, or taking care of your family, the transportable and flexible format of Pimsleur Korean allows you to fit Korean learning into your packed days.
Overall: Pimsleur provides an efficient, bite-sized learning tool that will allow you to progress quickly in Korean speaking and comprehension. Using proven memorisation techniques, Pimsleur Korean is an extremely time-efficient way of learning Korean. Whilst the focus of the course is not on Hangul, you will also gain an introduction into Korea's writing system with loads of reading practice exercises.
Platform: Rosetta Stone | Course length: 15 hours
Rosetta Stone is famous for its intuitive style of teaching, which focuses on learning a language through immersion, instead of learning language through grammar rules and translations. As part of its language library, it offers Korean for beginners, intermediate and advanced learners.
You'll learn vocab, verbs, pronunciation and sentence structures through:
Hearing words and sentences
Repeating them into speech recognition software to correct your pronunciation
Associating words and sentences with images
Learning new words through deductive reasoning
Pros
Very interactive a fun way to learn
Each lesson takes around 30 minutes, which makes it easier to balance learning Korean with a busy schedule
Good mix of visual, auditory and speaking content
Cons
No explanations. Since Korean grammar is very different to English grammar, hard to grasp grammatical structures
Does not really teach Hangul
Hard to learn when to use honorific or casual language
Speaking recognition not always super accurate
Who it's for: Anyone who can read Hangul at a beginner level (for example, you know the basics, but still require practice to read more fluidly). It is also amazing if you tend to get bored with language learning and need a course that keeps you engaged, or if you find that learning Korean traditionally isn't working for you.
Overall: Great for learning new vocabulary words with its emphasis on repeating and actively participating. It includes several novel features that will ensure you don't miss out on in-person classes, such as its speech recognition software which ensures you leave the course with the correct pronunciation. But if you are looking to focus on grammar, reading and writing, you might be a bit disappointed.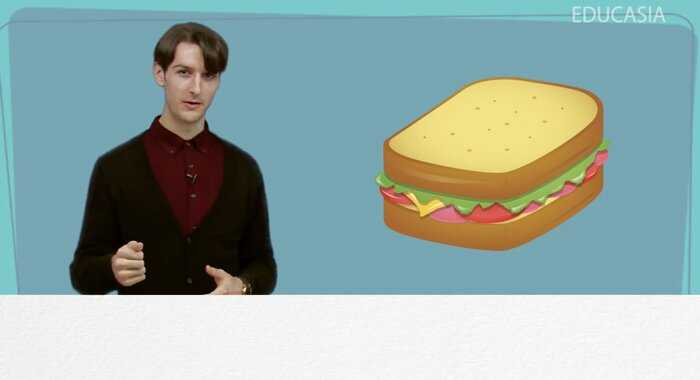 Platform: Udemy | Teacher: Jeremy Brinkerhoff | Level 1 length: 63 video lessons totalling to 5 hours and 1 minute
With 9 years of self-study experience learning Korean, Jeremy Brinkerhoff has a YouTube channel, MotivateKorean, where he shares language learning tips and advice for Korean learners. As part of Educasia, an educational program development company, he participated in the creation of this course. With an overall score of 4.8 after more than 2,500 ratings, you know the course is going to be good.
You'll learn to:
Talk about habits, things you like to do, and things that are commonly done in Korean language
Talk about your favorite things, such as movies, fashion and more
Shop, order at a restaurant, travel and more using Korean language
Gradually adopt Korean grammar and syntax while learning about different useful things
Pros
Uses proven techniques to help you better remember what you've learned such as Mnemonics, sound and image association and more
Effortless learning
Extremely easy to understand
Cons
Exact pronunciation isn't always evident as instructors differ in their pronunciation and there is no romanisation in the course.
The lack of Hangul can make it difficult for people who memorise words by seeing them written
Who it's for: Those completely new to Korean, or who have tried learning Korean before but feel like traditional academic approaches to language learning aren't for them. You will especially enjoy this course if you are a visual learner, who learns better by associating a sound to an image rather than to a written word.
Overall: Provides a non-academic, beginner-friendly option to start your Korean language journey. As the course aims to mimic the experience of an infant learning a language, the course includes little studying and allows you to learn through several psychologically-proven language learning techniques.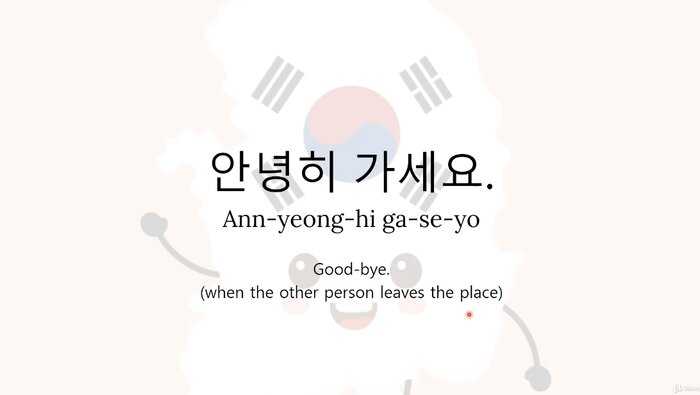 Platform: Udemy | Teacher: Linguae Learning | Course length: 89 video lectures totalling to 41 hours and 24 minutes
Delivered by Linguae Learning, a group of language tutors that are passionate about language teaching, the course was created by dozens of language professionals to make language learning accessible and fun. It's had tremendous success on Udemy, with an overall score of 4.6 out of nearly 1500 ratings. With over 50000 students, it's even been offered to employees by leading businesses such as VolksWagen and Nasdaq.
You'll learn to:
Read and write Hangul
Master basic themes, such as greetings, introductions, numbers, colours, food, family, clothes and more
Master more advanced topics like emotions, jobs, hobbies, location, healthcare, transportation and more
Talk about your job and hobbies
Use basic phrases to get around in South Korea
Master Korean Grammar
Use honorific and casual language
Pros
Very comprehensive course which truly covers everything
You will learn Korean grammar through different scenarios to make it more interesting (for example, you will learn how to use the future tense while pretending to go to see a movie)
Includes a bonus of 9 videos to help you learn Korean through songs
Cons
More of a lecture-style course. Most of the course is delivered in powerpoint format accompanied by a voiceover that explains the content
Can be a bit monotone, which can make it hard for some to stay focused
Handwriting demonstration could be improved
Who it's for: This course is perfect if you are highly motivated to learn Korean, have good time management skills, and prefer a more academic approach to language learning.
Overall: If you are looking for a course that includes everything at a low price, this course could be exactly what you're looking for. With an impressive array of topics covered, you can be sure that when you finish the course, you will be able to understand many Korean conversations.
What are the advantages of taking a Korean Language Class
Enhances your career prospects: South Korea is one of the world's leading economies. World renowned companies such as Samsung, Hyundai and Kia are just some of the countries' top companies. If you are interested in tech or in global affairs, speaking Korean is an incredibly useful language that could make the difference between you getting your dream job or not. Being able to speak and understand Korean will help you be a more competitive applicant and open new doors.
Gain access to more entertainment: Korea's booming Music, TV and Film industries continue to grow rapidly. So wouldn't it be amazing if you could consume all this content without always having to read the subtitles?
One of the easiest East Asian languages to learn for English speakers. It has an incredibly logical writing system, relatively simple grammar rules, and lots of "Konglish" words (words borrowed from English)
Buyers guide: what to look out for
A course that suits your level: Make sure the course you pick allows you to progress. So, if you already know how to read and write Hangul, or have already learned basic Korean greetings, choose a class that allows you to learn new topics.
Pick a course you can stick to: Everyone has different learning styles and not everyone will find the same course useful. If Grammar isn't your thing, don't pick a course that's grammar intensive, or if you struggle with learning things by heart, don't go for a course that prioritizes quantity over quality. Look carefully at the pros and cons in our reviews. Maybe try out a couple of the free trials, and see which one is best for you. Language learning takes time and commitment, so make sure the course you chose is one you're excited to complete.
Choose a course (or a group of courses) with a good balance: Mastering a language is not just being able to either read, write, understand, or speak. It's about being able to do all of these. Make sure you choose a course that fits into a balance you can maintain. For instance, if you want an all-in-one course, Rocket Korean is a great option. But if you already watch loads of Korean dramas and like to read articles in Korean, then you might want a course that focuses on comprehension and speaking, such as Pimsleur.
Be attentive to what you need: Keep track of your Korean learning and see what's working out and what isn't. Is it easier to remember words when they are associated with pictures? Do you struggle to make sentences without grammatical explanations? Do you retain things better when the content is more tailored to your daily activities or your interests? All of these factors help you pick the right course for you.
How much does it cost?
We made sure to include price options that suit all backgrounds, so let's look at a quick breakdown of the cost of each course.
The priciest options are going to be language learning applications, such as Pimsleur, Rosetta Stone and Rocket Korean. Pimsleur costs $19.95/month (or $20.95/month if you want unlimited access to all languages Pimsleur offers). You can also opt for a one-time purchase option instead, which costs $335. Rosetta Stone has several pricing options, starting at the 3 month subscription at $11.99/month. For a 12 month subscription, they charge $7.99, and for a lifetime purchase, you will pay $179. Rocket Korean is a one-time purchase that sells for $149.95.
Skillshare costs $165 per year. But it's also a platform that includes loads of other online courses to learn how to draw, use Excel, sing and much more. Udemy's membership costs $26.99 per month to receive full access to 6,000 courses. You can also opt to buy a single course if you want, which usually costs between $20 and $60, making this a more affordable option if you just want to learn Korean.
Finally, we have our cheapest options such as Talk To Me In Korean (TTMIK), and the courses taught by Yonsei University and Sung Kyun Kwan University on Coursera. You get access to audio and lesson pdfs for free on TTMIK. You can also subscribe and gain access to dialogue videos, comprehension quizzes and extra lessons. This costs $12.99 per month, or $93 up front per year. Coursera allows you to take its courses for free, but you must pay for the certificate if you want to add that to your CV.
How long does it take to learn Korean?
You might think that since Korean is an Asian language, it is one of the hardest to master as an English speaker. It takes about 2400 hours of study for you to reach fluency. But compared to Japanese, which takes 4800 hours, Korean definitely takes less time.
To put it into perspective, if you study one hour per-day, you'll learn Korean in 6.5 years. IF you aim to be completely FLUENT. You can also become highly intermediate in half the time, which will then only take you three years. At this level, you will be able to understand most Korean conversations, read most Korean content and be understood by native Korean speakers. For most, this is more than enough.
There are loads of factors to take into account when trying to estimate how long it takes to learn Korean. For instance, if you are already bilingual, already have experience learning other languages, are extremely motivated to learn Korean, or have found the right style of learning for you, you can definitely learn Korean faster.
Conclusion
In this article, I've reviewed some of the top online Korean language classes.
While Korean language learning will take time and patience, there are many Korean language learning courses out there that will keep you motivated for the ride.
The course with the greatest amount of balance is Rocket Language Korean, which encompasses written, reading, listening and speaking practice for only $149.95.
If you are looking for budget-friendly options, Yonsei University and Sung Kyun Kwan University (both available on Coursera) will help you progress to a solid mid-beginner level, while Talk To Me In Korean can accompany you to fluency.
To improve on your Korean Grammar, the range of Keehwan Kim's courses on Skillshare is for you.
And if you really need to focus on listening and speaking practice, Pimsleur is your friend.
I hope this review has helped give you a better idea of where to spend your time and money. Have fun learning 한국어 (Korean)!
Related articles: Best Japanese and sign language classes, Rocket Korean review, KoreanClass101 review, JapanesePod101 review
Frequently asked questions
What is the best Korean Language Course?
Our top pick is Rocket Language Korean because it provides the best balance between written, reading, listening and speaking practice
How much does a Korean Language Course cost?
On average, you are looking at between $0 for a complete beginner course to $335 for an all-level lifetime purchase, which is definitely cheaper than in person classes.
How long do Korean Language Classes take?
Most of the courses included in this review are around the 10 hour mark of lesson time. Some lifetime purchase options included in this review (such as Rocket Korean) go up to 150 hours. However, to get the most out of your learning, I recommend you try to complement lessons with output, such as speaking or writing to improve faster. 
Ella is a recent Graduate from King's College London's BA programme in War Studies and Philosophy.