Looking for the best online Japanese classes but unsure where to begin? Perhaps you've had a go in the past but it didn't work out for you?
Well, no fear. I've trawled the Internet to put together this best compilation of best online Japanese programs for you. From 100% free self-study courses to intensive 1-on-1 tutoring, I've considered them all.
Japanese can be a difficult language for native English speakers to master. But with advancements in technology, it's never been easier to pick up online. That's why I'm confident that you'll find something that works for you among the selections I've made here. 
So without further ado, presenting the best online Japanese classes!
What is the best online Japanese class?
These are our top online Japanese class recommendations:
Rocket Japanese is our top pick overall because it's comprehensive, well-structured and easy to use.
Not only does it cover content from the basics to advanced grammar and vocabulary, it also introduces you to Japanese culture. And it places equal emphasis on speaking, reading and writing. Plus, you get lifetime access to all course material after a one-time payment.
JapanesePod101 is another great choice because it's more affordable than Rocket and just as, if not more, content-rich. Definitely consider it if you enjoy making your own decisions as to what exactly to learn.
Those who thrive in a more traditional classroom setting might prefer the small group classes of JOI Learn Japanese Online or the personal tutoring of Preply instead. Think of it as the difference between a free-and-easy style trip and a small-group tour led by a guide. Your travel habits might help you make a choice here!
Many of the courses we've listed also have the option of interacting with classmates, fellow users and language-learning communities, so you'll always have support when you want it.
At the end of the day, everyone has a different approach to learning a new language. It's not so much about finding the best online Japanese class as it is about finding the best one for you. That's why our selections cover a wide range of class types, including:
Self-paced video/audio courses (e.g. Rocket, Udemy and Nihongo Master)
1-on-1 tutoring (Preply and the Premium Plus tier of JapanesePod101)
Cohort-based learning (Japan Online Institute; also Marugoto and Rosetta Stone for an additional fee)
Best free Japanese class
Almost all of our recommended courses offer a free trial, but these three stand out for keeping a significant amount of content permanently free. Busuu's basic plan gives you access to the first five lessons of its Beginner A1 track and you can take over 100 lessons with JapanesePod101's Free Lifetime Account.
The Marugoto Japanese Online Course, however, has all the competition beat when it comes to price. Because all of its course materials are completely and 100% free! Simply check which levels are available on the Marugoto website, sign up and self-study to your heart's content.
Best online Japanese class reviews
Platform: Rocket Languages | Teacher: N/A | Length: 165 audio lessons totalling 175 hours (level 1)
Rocket Languages was founded in 2004 by two friends who decided to create their own language courses as nothing else seemed to be working for them. 18 years, a lot of in-depth research and 2 million satisfied members later, Rocket is now a global leader in online language learning.
Rocket Japanese is split into three levels starting from beginner all the way to advanced. You can start from whichever level suits your current proficiency best.
You will learn to:
Pronounce Japanese words and phrases like a local
Read and write in Japanese using all three scripts – hiragana, katakana and kanji
Use and navigate Japanese particles, verbs, adjectives and tenses
Appreciate Japanese culture, traditions and customs
Garner essential vocabulary you need to survive and thrive in Japan
Pros:
Teaches Japanese the way it's meant to be learned – the simplest and most essential elements of the language are introduced first and the dialogues emphasize language use in real-life situations
Works on your speaking, reading, listening and writing skills in equal measure
Three different types of lessons, including the Language and Culture lessons that help you understand how the language works
Pay once to access the entire course forever, including all future updates
Well-structured with clear milestones, progression and self-assessments
Cons:
Mainly text and audio-based – not ideal for visual learners
Slightly pricey
Who it's for: Beginners and those who have previously studied Japanese for a year or less. If you want to get to know Japanese inside out and fully immerse yourself in the language, this is the course for you.
Overall: Requires a significant initial investment but is well worth the price of admission. Rocket Japanese's comprehensive and in-depth coverage of everything from grammar and vocabulary to writing and conversation makes it a winner.
Read our full Rocket Japanese reviw.
Platform: JapanesePod101 | Teacher: N/A | Length: 92 audio/video lessons totalling 15 hours and 48 minutes (level 1)
JapanesePod101 is part of the Innovative Language family, which also offers courses in over 30 other languages. What makes JapanesePod101 special, however, is that it was the first course Innovative ever launched. You could say that it was the template for all of the company's later success.
Today, JapanesePod101 has grown into by far the largest online collection of Japanese language learning materials out there. Lessons are presented using a combination of podcast and video clips, although you can also download lesson notes in PDF format.
What you will learn:
Greetings and making polite conversation
Numbers from 1-1000 and asking about prices
Japanese adjectives (i-adjectives and na-adjectives)
Directions, time and quantity
How to furnish basic descriptions of things and events
Pros:
With more than 7,000 lessons spread over five levels of proficiency and hundreds of "pathways" (learning tracks), you'll never run out of new things to learn
Each "pathway" focuses on a different aspect of the language, allowing you to pick and choose as you see fit
Detailed and downloadable PDF lesson notes
First three lessons of every pathway are free (a total of over 100 lessons)
Flexible pricing – there are three subscription tiers in addition to the Free Lifetime Account
Cons:
The huge amount of content available can be overwhelming for casual learners
Video lessons are only available at the two highest subscription tiers
Lessons emphasize reading and listening over speaking
Who it's for: Busy people on the go who prefer bite-sized lessons in an easily accessible format. Highly motivated learners will benefit most from the wealth of material JapanesePod101 provides.
Overall: No other online course can beat JapanesePod101 at the numbers game – you'll find more high-quality lessons here than anywhere else. If you're excited more than intimidated by this mind-boggling variety, you'll love everything JapanesePod101 has to offer.
Read our full JapanesePod101 review here.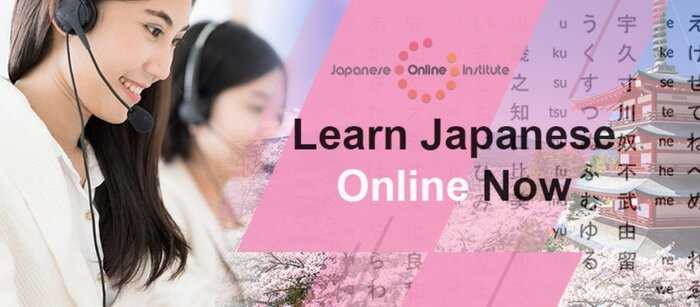 Platform: Japan Online Institute | Teacher: Various | Length: 28 taught classes totalling 23 hours and 20 minutes (introductory level)
Long before COVID-19 made Zoom classes a thing, Japan Online Institute (JOI) was already quietly going about the business of conducting live online lessons for students all over the world. Founded in 2005, JOI has since welcomed over 5000 students from the US, UK, Canada and Brazil, among others.
All of JOI's instructors are native Japanese who have either achieved professional certification for teaching Japanese as a foreign language or have extensive experience teaching in language schools outside of Japan.
What you will learn:
How to read and write using the hiragana and katakana scripts
Basic vocabulary and sentence patterns needed for travelling to Japan
to make conversations and self-introductions
Verbs and their most common conjugations
Numbers, counters and expressions of degree
Pros:
As close as you can get to learning Japanese in an actual classroom environment
Both small group classes and private 1-on-1 lessons available
Classes run seven days a week and throughout the day – suitable for learners in every time zone
Huge range of classes available for all levels of proficiency, from conversation and business Japanese to preparation for the Japanese Language Proficiency Test (JLPT)
Regularly updated YouTube channel with lesson snippets and insights into Japanese culture
Cons:
Fixed lesson timings may not be suited for learners with unpredictable schedules
No free trial lesson offered, although the welcome promotion of $9 for three trial lessons is still pretty affordable
Who it's for: Learners who prefer the structured support of a somewhat traditional classroom environment. Those who intend to take the JLPT (N5-N1) will also find classes specifically geared towards that goal.
Overall: No bells and whistles here, but JOI is a solid, dependable option with professionally accredited teachers and a proven track record. There's no more authentic experience of enrolling in a Japanese language school short of going to Japan yourself.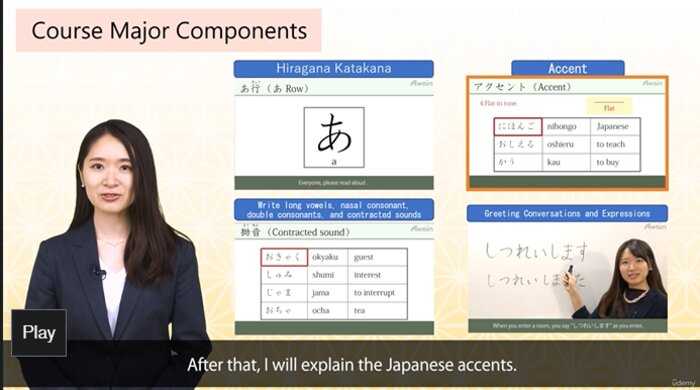 Platform: Udemy | Teacher: Attain Online Japanese Language School | Length: 78 video lessons totalling 5 hours and 48 minutes
Udemy may be better known as an all-purpose e-learning site, but don't let that stop you from checking out the language courses it has on offer as well.
The Online Japanese Beginner Course taught by Attain Online Japanese Language School stands out because it's the most frequently and well-reviewed Japanese course on Udemy – an average of 4.7 out of 5 from over 5000 reviews at the last count.
(You'll find courses offered by the creators of JapanesePod101 on Udemy as well, but they're much better if you go straight to the source!)
What you will learn:
How to pronounce Japanese hiragana and katakana, including long vowels and double consonants
How to write Japanese hiragana and katakana step-by-step
Basic greetings used in everyday life
Common vocabulary formed from each hiragana and katakana character
Pros:
Videos are all in Japanese with English subtitles – you can immerse yourself in the sounds of the language right from the start
Comes with a downloadable PDF textbook and additional printable lesson resources
Well-paced with lots of practice opportunities for absolute beginners
Pay once for full lifetime access
Links seamlessly with more advanced courses by the same provider
Cons:
Only covers hiragana, katakana and basic greetings – kanji and grammar lessons are charged separately
Price can be a bit steep without applying Udemy's regular discounts and promotions
No option to receive feedback or check progress
Who it's for: Absolute beginners with no prior knowledge of Japanese whatsoever. Ideal for those who are already familiar with Udemy and know how to get the most bang for their buck.
Overall: The reviews speak for themselves – this is an excellent option for first-time learners of the Japanese language. While you'll have to shell out extra for the kanji and grammar courses, waiting for a sale or special discount can still make this a cost-effective choice.
Platform: Nihongo Master | Teacher: N/A | Length: 43 lessons (introductory level)
Nihongo Master began life as an online Japanese dictionary in 2012. The dictionary's still available (for free!), but the site has since evolved into a self-contained ecosystem for Japanese language learning complete with blog, podcast and discussion forum.
Lessons on Nihongo Master are divided into four levels: Introductory, Beginner, Intermediate and Advanced. You pay on a subscription basis to access all of their content.
What you will learn:
How to read and pronounce Japanese hiragana and katakana
How to write hiragana and katakana in romaji (Japanese words written using the Latin alphabet)
Basic greetings and self-introductions
How to ask questions
Japanese i-adjectives and na-adjectives
Pros:
A huge collection of bite-sized lessons presented in engaging and lively formats such as manga and quizzes
Has many gamified features to help you maintain your motivation to learn
Additional learning resources such as the blog, podcast and dictionary are available for free
The discussion forum is home to an active community that supports each other through the learning process
Constantly being improved upon – the founder recently went on Reddit to ask for honest, unfiltered feedback
Cons:
Bite-sized lessons may lack depth for learners who want deeper immersion
Lots of material up to Intermediate level but the Advanced level is a bit sparse
Who it's for: Beginners and intermediate students who enjoy a balance of independent study and community support. Visual learners will get a kick out of Nihongo Master's custom illustrations and graphics.
Overall: Nihongo Master's goal is to make learning Japanese as fun as possible, and many would agree that they've succeeded at this. You won't get lifetime access from their subscription model, but constant updates make it worth sticking around.
Platform: Marugoto | Teacher: N/A | Length: 48 hours of self-study (A1-1 level)
Marugoto is the official coursebook of the Japan Foundation, a semi-governmental organisation founded to promote Japanese culture around the world.
Along with Genki and Minna no Nihongo, it's one of the most popular and widely used textbooks for Japanese language study.
You don't have to buy any of the textbooks for the online course, however. In fact, you don't have to buy or pay for anything. The Marugoto Japanese Online Course is completely free!
You will learn how to:
Exchange greetings
Read, write and pronounce hiragana and katakana
Introduce yourself
Talk about your family, favourite foods and home
Describe your daily routine and weekly schedule
Pros:
Did we already mention that all courses and course materials are free?
Designed according to the Japan Foundation's Standard for Japanese-Language Education
Available in two versions – one which focuses on practical communication and another which focuses on acquiring comprehensive language skills
Taught in a number of languages other than English
Option to submit assignments online for graded feedback
Cons:
The website and registration process can get a bit confusing
Only the self-study option is free – you'll have to pay for tutor support
Not all levels of the coursebook are currently available as an online course
Who it's for: Absolute beginners and learners of intermediate proficiency who are confident in their self-study skills. Those whose first language isn't English will find Marugoto's multilingual support a godsend.
Overall: It bears repeating that the Marugoto Japanese Online Course is 100% free. Unbeatable value aside, you'll find heaps of in-depth learning resources primed to take your Japanese to the next level. The only reason it's not higher up on this list is how tedious it is to sign up for.
Platform: FluentU | Teacher: N/A | Length: Flexible
FluentU is a learning program that uses real-world videos to help learners pick up new languages in context and as they are actually spoken.
All of its videos are sourced from YouTube or other similar video streaming platforms. The difference is that FluentU has interactive subtitles that transcribe and translate every single thing said in each video with definitions and example sentences to boot.
Currently, FluentU offers 10 languages, one of which is Japanese.
What you will learn:
Japanese grammar and vocabulary in context
How to understand Japanese as it is spoken
Common expressions and phrases used in daily conversation
Beyond a short beginner's course, FluentU does not have a prescribed structure or flow. So it's really down to your personal choice as to what you end up learning.
Pros:
Engaging real-world video content that taps on the unique appeal of Japanese culture to introduce new words and constructions
Videos are so interesting that you don't feel like you're doing actual work
Personalized learning system that tracks how much you have learned and how much new material a video will introduce you to
Gamified features to maintain motivation and high enjoyment levels
Interface is very intuitive and easy to use
Cons:
No romaji (English transliterations), so you'll already need to be familiar with hiragana and katakana
Lack of structure may be offputting to those who prefer a more traditional learning environment
Does not focus much on grammar or writing
Who it's for: Those who already have some idea about how the Japanese language works and want to learn in a more immersive and authentic way. YouTube diehards will feel right in their element.
Overall: FluentU works differently from almost any other language learning platform out there, which also means it comes with its own unique benefits and challenges. It's incredibly useful and effective for existing Japanese learners, but absolute beginners may want to start elsewhere first.
Read our full FluentU review.
Platform: Preply | Teacher: Various | Length: 50 minutes per private lesson
Preply is an e-learning platform that matches you up with a private tutor in the language of your choice. The platform boasts over 49,000 tutors from 185 different countries offering lessons in 24 languages. At last count, more than 900 of them are Japanese language tutors.
When you sign up for Preply, you're not paying for access to lesson materials or curated content. Instead, you'll be working with a private tutor on a 1-on-1 basis to create a customized lesson plan according to your own learning needs.
What you will learn:
It's up to you! Many tutors have structured lesson plans for absolute beginners, but are also open to tailoring their approach to more advanced learners and those with more specific goals in mind.
Your Japanese tutor will contact you before the first trial lesson to assess your language skills and discuss what you want to learn/how you want to proceed.
Pros:
Lessons are personalized to your learning style and pace
You'll learn much quicker with a dedicated tutor focused exclusively on you during lessons
Wide range of tutors to suit every kind of budget and level
Learn anytime and anywhere with both a desktop version and a mobile app
Option to switch tutors for free if you're not satisfied with your trial lesson
Cons:
No free trial available
May be intimidating for absolute beginners who don't yet know what they want from learning Japanese
Preply vets all its tutors, but some may still be better than others
Who it's for: Those who enjoy the intimacy and intensity of private lessons. More advanced learners who have worked their way through introductory courses and want a more customised learning experience will also find what they're looking for on Preply.
Overall: It's hard to find a poorly reviewed tutor on Preply, so it's really the best option if you want to pick up Japanese quickly and organically. If you'd rather not go through the process of looking for a tutor, however, a self-study course might be more suitable.
Read our full Preply review.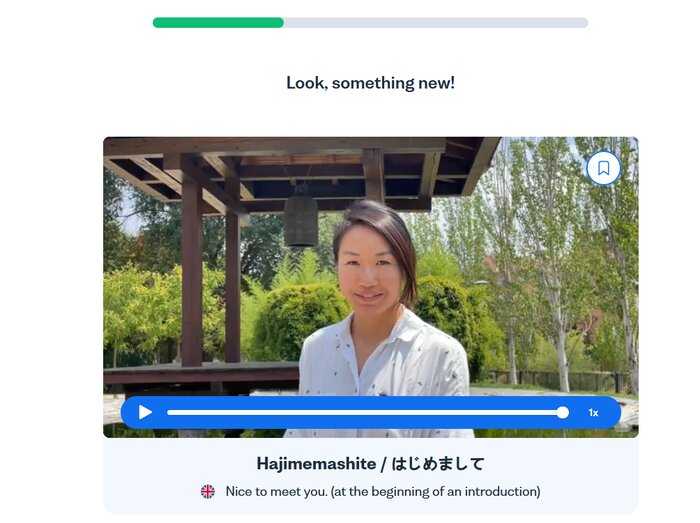 Platform: Busuu | Teacher: N/A | Length: 124 lessons (beginner A1 level)
Busuu is an extremely popular language learning platform with about 120 million active users around the world (Duolingo, in comparison, has 49 million). It's free to sign up for, but also has a premium model with additional features.
The Complete Japanese course is divided into four levels: Beginner A1, Elementary A2, Intermediate B1 and Upper Intermediate B2. In addition to Complete Japanese, Busuu also offers courses that focus specifically on hiragana, katakana or Japanese for travel.
What you will learn:
Basic greetings and expressions
How to read and write hiragana, katakana and simple kanji
Counting, numbers and telling the time
Commonly used Japanese verbs and verb conjugations
Vocabulary for daily conversational topics such as transport, food and family
Pros:
Intuitive and well-designed interface makes learning a breeze
Active community of native speakers who will give you feedback on your pronunciation and writing (you can return the favor for people learning English too!)
Interactive and gamified features to keep you engaged and motivated
Self-paced – set your own goals and study for as little as 10 minutes a day
Cons:
Not all lessons and features are available in the free version
The B1 and B2 courses don't have a lot of material
Fewer opportunities to practise speaking compared to other similar Japanese courses
Who it's for: Absolute beginners who need to fit their language learning around a busy schedule. Visual learners will find Busuu an absolute feast for their eyes.
Overall: Busuu is the most visually stunning course on this list and its active community helps it stand out from more isolated self-study options. Intermediate learners and above, however, will not find much to interest them here.
Read our full Busuu review.
10. Japanese (Rosetta Stone)
Platform: Rosetta Stone | Teacher: N/A | Length: 12 modules of 4 lessons each lasting between 10-30 minutes
If you've ever thought about learning a new language, you'll probably have heard of Rosetta Stone. Founded in 1992, it's easily the grand old dame of computer-based language learning.
Rosetta Stone is best known for doing away with translations entirely in all of its courses. Instead, it uses what it calls a Dynamic Immersion® method to replicate how you learned your first language as a baby.
The platform has occasionally come under fire for not innovating with the times but now boasts a fully integrated mobile app to compete with the likes of Duolingo and Busuu.
What you will learn:
Language basics
Greetings and introductions
Work and school
Shopping and travel
Places and events
Pros:
Very easy to use – you'll never be overwhelmed by information overload or be confused about what to learn next
Built-in speech recognition software is excellent for mastering pronunciation
Course content is structured according to practical communication needs
Lots of optional out-of-lesson content to consolidate your knowledge
Flexible learning – you can toggle between the app and desktop version whenever you want and even study offline
Cons:
Doesn't explain grammar points
Lessons do not incorporate Japanese culture or traditions
Lacks level-appropriate content for advanced learners
Who it's for: Absolute beginners whose primary goal is learning how to communicate in Japanese. Those who can set aside more than 30 minutes a day for language learning will find Rosetta Stone's pace to be just right for them.
Overall: Rosetta Stone is a trailblazer in the field of online language courses, but it hasn't rested on its laurels. It's still one of the most accessible and intuitive ways to learn a new language, although it's perhaps not the most in-depth or authentic.
Read our full Rosetta Stone review.
What are the advantages of taking a Japanese class?
There are many advantages to taking a Japanese class including, but not limited to, the following:
More enjoyable travel experiences in Japan because you can actually communicate with the locals and make yourself understood
Japanese is the 8th most spoken language in the world with 125+ million native speakers
Japan is the third largest economy in the world, so you'll be increasing your employability by leaps and bounds if you master enough Japanese to work in Japan
Japan has a number of international companies such as Nintendo, Toyota, Canon and Sony that value multi lingual employees that can relate to their culture
Seek new opportunities as a translator, instructor, tour guide – the possibilities are endless.
Learning a new language often widens your perspective because you start to understand how people from a different culture think and behave
Language is a lifelong skill that you'll always have, and which no one can take away from you
If you're a fan of Japanese pop cultural products like manga, anime or videogames, learning Japanese means you won't have to wait for dubbed or translated versions to come out to enjoy the latest releases
Buyers' guide: What to look out for
So what should you consider when choosing a Japanese class to enrol in? Every language student has different needs and goals, but we've found the following criteria to be a reliable guide in general:
Depth of coverage – All courses start at beginner level. But only some take you all the way up to advanced proficiency. This won't matter so much if you're a casual learner. However, if you intend to pursue Japanese language classes in the long run, you'll want to select a course with sufficient depth.
Lesson format – Online Japanese classes run the full range from independent self-study to intensive 1-on-1 tutoring. Some platforms are very much audio-based. Others might include videos or gamified features. You'll have to consider what works best for your own learning style.
Specificity – Learning Japanese isn't like learning any other language on the planet, not even close relatives like Korean or Chinese. A good course will take the Japanese language's unique elements into consideration (e.g. three different scripts) and structure itself accordingly. Generic formulae for teaching other languages tend to be less intuitive and effective.
Authenticity – There's language as it's taught in the classroom, and then there's language as it's actually spoken and used. Courses that focus on the latter are usually better at integrating Japanese culture and society into their lessons. If you want to learn about Japan at the same time as you learn Japanese, this is an important consideration.
Reviews – We can't stress the importance of looking at what other people have said about a particular course. Don't just consider the number of good reviews as a whole – zoom in on what other students have found particularly appealing or effective. This is the best way of figuring out whether a course is good for you, rather than just good in general.
How much does it cost?
It can be confusing to navigate the different pricing models, tiers and plans offered by each of the courses we mention here. So let's break it down for you.
In general, you're looking at an investment of a few hundred dollars for most of the courses on our list. Rocket Japanese costs $449.85 for lifetime access to all three of its levels and Rosetta Stone costs $299 for a lifetime subscription.
Many providers, however, usually offer hefty discounts to new users of up to 50%. There are also monthly plans to spread out the impact on your wallet. With providers such as Preply or Japanese Online Institute, the more hours you purchase in one go, the cheaper each lesson becomes.
On the more affordable end, we have JapanesePod101 ($4 a month for complete lesson access) and Busuu ($6.95 a month for premium access). And of course, there's Marugoto, which is completely free!
How long does it take to learn Japanese?
It can take years to master a language as complex as Japanese! It's estimated that passing the highest level of the JLPT (N1) requires up to 4800 hours of study for students without prior knowledge of Chinese characters.
In terms of the courses in this article, however, you're looking at between 6 hours for a stand-alone introductory course like Udemy's Online Japanese Beginner Course and 175 hours for an integrated multi-level course like Rocket Japanese. And that's just the instruction time for starters.
To get better at Japanese, you'll have to put in extra hours for practice. This will depend on how quickly you can master new material, but an ideal amount of practice time is two to three hours a week.
Conclusion
Learning Japanese was never going to be a walk in the park for anyone but the most gifted linguists. However, with the wide range of online classes now available, it's become more convenient than ever before to make a start.
If price is not a big issue for you, we would definitely recommend Rocket Japanese as our top choice. Sure, it may be a little expensive, but for that price, you'll get all of its incredibly detailed and well-crafted lesson materials for life.
For those who don't want to burn such a big hole in their wallets, JapanesePod101 is ideal at just $4 a month. They have the biggest lesson library you'll find anywhere on the web and they're constantly adding new stuff.
And then there's Marugoto, which is completely free! Confusing website aside, it's probably the best option for self-motivated and independent learners who like to take their education into their own hands.
Absolute beginners might find Udemy's Online Japanese Beginner Course or Rosetta Stone to have the gentlest learning curves.
We hope this article has helped you figure out which is the best online Japanese class for you. Happy learning!
Relevant articles: JapanesePod101 review, Best Korean and sign language classes, KoreanClass101 review, Rocket Korean review
Best Online Japanese Classes – FAQs
What is the best online Japanese class?
Our top recommendations are Rocket Japanese and JapanesePod101 because of the huge amount of content they have available.
How much does an online Japanese class cost?
In general, you're looking at a total investment of between $4 (one month on JapanesePod101) and $600 (90 50-minute lessons with JOI). The Marugoto Japanese Online Course, however, is completely free!
How long do online Japanese classes take?
Classes included range between 6 to 175 hours. You should also account for practice time!
Leslie is a PhD candidate in Comparative Literature at King's College London. He works on Asian adaptations of Greek myth, Sherlock Holmes and Dracula. In his spare time, he tries to do stuff that isn't related to Greek myth, Sherlock Holmes or Dracula. He is originally from the chewing gum-free nation of Singapore.