If you're looking for the best sign language apps in 2023, this article is here to help.
With language-learning apps becoming more popular and refined in recent years, it's no surprise that learning American Sign Language online is becoming more accessible than ever.
But, there's a range of factors to bear in mind when choosing a sign language learning app, such as instructors' credentials, how comprehensive the content is, and who it's aimed for.
You'll also want to consider how much coverage the app gives overall – is it focused on fingerspelling or still images? Or does it include video content to help with expression?
With all this in mind, we've pulled together the best ASL apps out there to help you decide what's best for you.
In this article, we've considered different types of teaching styles as well as each app's focus — whether it be on fingerspelling, reading American Sign Language, or basic letters. We've also taken into account other aspects like price, value for money, and skill level.
So, let's get started!
What is the best sign language learning app?
In sum, these are our picks for the 10 best speed reading classes:
Our top recommendation is Preply. This is because the app matches you with an instructor who can provide 1-1 tutoring in sign language. With Preply, you can find tutors that match both your needs and your schedule. This means you're able to get the most for your money by committing to times that fit around your busy lifestyle.
As most ASL tutors will tell you, apps or book-based learning are rarely sufficient on their own. In fact, they're best used as a supplement to more "real-life" learning where you express and interpret American Sign Language with another person. So, Preply is not only a way to commit to learning – it's also the best method to get you reading and expressing confidently in sign language.
Preply offers discounted trial lessons so you can try out different tutors for fit. You also have access to the free Preply blog and Q&A section, which helps you to cement your learning and connect with others. Unlike other apps, Preply also allows for real-time feedback. This means that any mistakes can be addressed early on and your teacher can help to get your learning on track.
Also, if you're not satisfied with your lesson, you can request a full refund or a free replacement.
Alternatives to Preply's ASL tutoring include italki, which also uses a 1-1 teaching model or Lingvano, which focuses more on independent, yet interactive, learning.
See also our article best online British sign language courses.
Read our mini reviews below to get the full details!
Best apps to learn sign language
Preply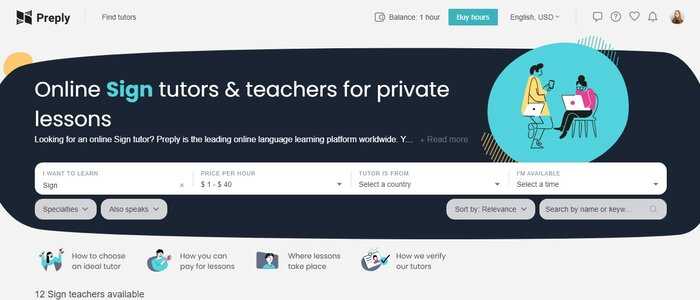 Platform: Preply | Course name: Sign |
Preply is an online language-learning platform that aims to get you expressing and interpreting confidently in your chosen language – read our full Preply Review here.
ortunately, Preply's buzzing platform has accommodated ASL tutors, so you can learn American Sign Language from someone who is well-qualified, and, sometimes, also hard of hearing themselves.
Because Preply offers classes in bulk, this encourages you to commit to your learning and stay in practice. Packages range from casual learning (6 hours) to unstoppable learning (20 hours).
You'll learn to:
Become proficient in sign language quickly
Take your learning from the basics to beyond
Practice ASL 1-1 and in real time
Refine your expressions and gestures
Confidently communicate within the Deaf community
Pros:
Tailored learning to suit your needs
More realistic scenarios than app-based learning
Real-time feedback and advice
Cons:
Finding the right tutor can take time
Some users prefer independent learning
Who it's for: The Preply app would be ideal for anyone looking to learn or improve their ASL skills in a practical and true-to-life way. With Preply, you communicate 1-1 with a specialist tutor and develop tailored lesson plans based on your goals. Arguably, this is so much better than textbook-style learning, as the classroom most closely resembles how you'd communicate outside of the learning environment.
Student feedback: "After months trying to find a tutor nearby, I now have regular online 1-on-1 lessons on Preply at a time that is convenient to me. I have a great tutor, who created a personalized learning plan for me. The flexibility the Preply app gives is amazing. So glad I found it!" – Comment from Preply
Overall: A vast and inclusive platform with dynamic learning options. With Preply, you can learn the basics of hand signs and fingerspelling all the way through to refining your expressions and growing your ASL vocabulary. Your tutor can also provide you with excellent out-of-lesson resources.
italki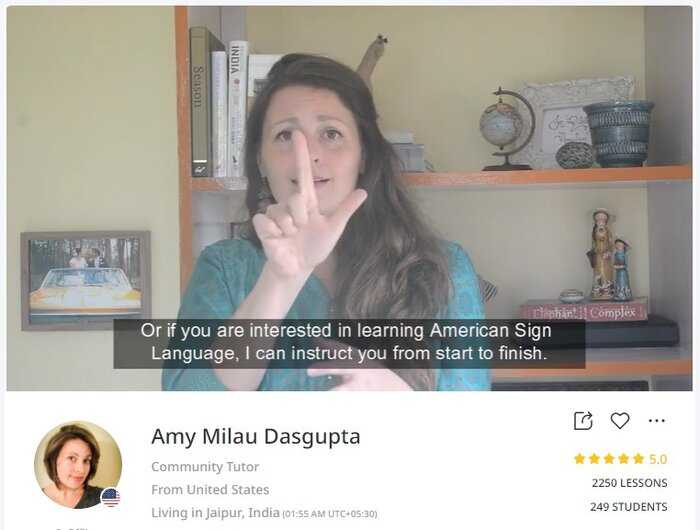 Platform: italki | Course name: American Sign Language
Like Preply, italki is an online language-learning platform that specializes in face-to-face learning with a live tutor (check out our full italki review). Compared to apps that get you reading and watching passively, italki gets you practicing and learning valuable skills so you can pick up your chosen language quickly and easily.
Using the italki method, you can also learn sign language in line with the app's principles of engaging and efficient learning. Moreso, italki lets you connect with certified teachers who are Deaf/hard of hearing and allows you to learn and practice sign 1-1.
You'll learn to:
Confidently use ASL in a real-world context
Express American Sign Language fluently
Expand your vocabulary, grammar, and fingerspelling skills
Pros:
Learn to construct sentences rather than single letters
Offers an interactive approach to learning
Catered to each student's requirements
Cons:
No free trial available
Finding the right time slot can be long-winded
Who it's for: This course would be great if you're an ASL student keen to learn American Sign Language in a real-world setting. If you're looking to learn for work or personal reasons, you're sure to gain the most insight from a 1-1 platform like italki!
Student feedback: "I was a little bit skeptical in the beginning. I was used to studying with books and I was missing this. However, I quickly realized that it was the best tool I have ever found." – Comment from italki
Overall: italki is an adaptive and practical way to learn sign language. With its interactive format, italki gets you reading, understanding, and expressing in ASL from the offset. Unlike other apps, with italki you get live feedback so you know you're on the right track. As most people agree, it's also one of the most true-to-life ways to learn ASL.
Lingvano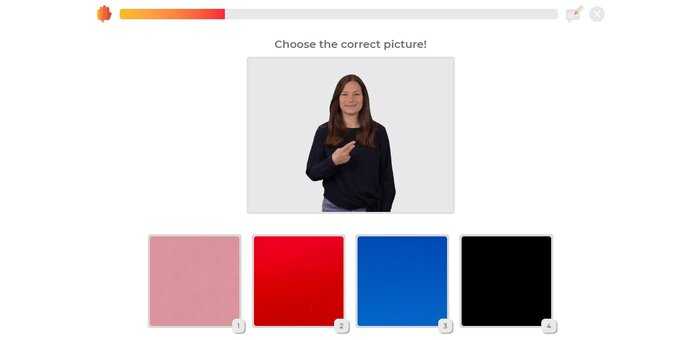 Platform: Lingvano | Course name: Learn Sign Language
Unlike Preply and italki, Lingvano is an independent-learning app. Lingvano markets itself as a fun, fast, and easy way to learn Sign Language – and its well-deserving of this spot in this list. With Lingvano, you can take bitesize interactive lessons designed to take no more than 10 minutes. This means you can easily fit Lingvano around your lifestyle!
You'll learn to:
Recognize Sign and engage in real-world conversations
Immerse yourself in ASL through interactive lessons
Practice and retain American Sign Language long-term
Sign with confidence using the Lingvano Sign Mirror
Pros:
Easy-to-use app and engaging content
Designed by a diverse team of Deaf and hearing people
Includes ASL tips and facts about Deaf communities
Cons:
Lacks the 1-1 experience of Preply and italki
No option to ask for specific advice
Who it's for: This course is for anyone eager to build bridges between the Deaf and hearing communities. Lingvano's creators designed the app to help you communicate with friends, family, and neighbors who are hard of hearing.
Student feedback: "I find the course to be very engaging and have lots of fun while learning!" – Comment from Lingvano
Overall: Great for beginners as well as more advanced students who are keen to expand their vocabulary. Aside from reading and answering questions, Lingvano also has a Sign Mirror to test your fingerspelling accuracy and breaks up its lessons with key terms and interesting facts.
ASL Study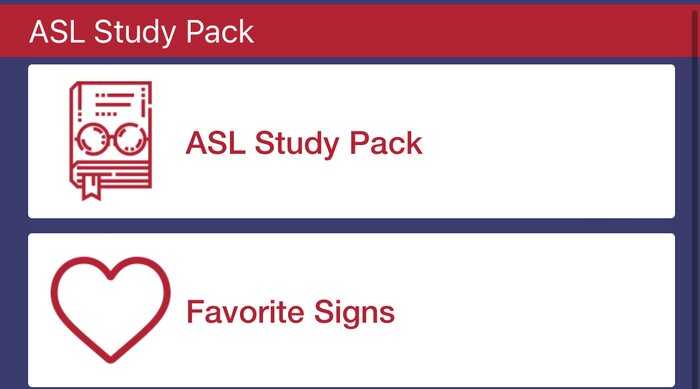 Platform: ASL Study | Course name: ASL Study
ASL Study's aim is to help you learn American Sign Language on the go. Like most of the independent learning apps on this list, ASL Study is free with in-app purchases. It also includes an ASL Study Pack to keep you up-to-date with your learning.
You'll learn to:
Understand ASL basics such as spelling and numbers
Use expressions along with fingerspelling to emphasize your meaning
Learn by category to get a more rounded experience
Pros:
Easy-to-use app with everything in one place
Options to upgrade and access offline version
Clear categories to organize your learning
Cons:
Free version is limited
No way to assess your accuracy
Who it's for: This course is aimed towards ASL students who are either complete beginners or are looking to expand their vocabulary. With ASL Study, you can learn over 450 conversational sentences and more than 8,500 common words. ASL Study also has a counterpart dictionary where you can access all your vocabulary on- or offline.
Student feedback: I have a beginner to intermediate understanding of ASL and I double checked some of the usual misused signs and I was not disappointed! This app is much better than other higher paid apps and I'm so grateful it's a one time purchase option." – Comment from ASL Study
Overall: A helpful app with an impressive words-and-phrases dictionary. The app is easy to use and offers great features such as slow-motion videos and interactive quizzes to enhance your learning. This also means you can track your progress and pinpoint areas for improvement. You can also "favorite" signs, which is helpful if there are any words/phrases you're struggling with.
Ace ASL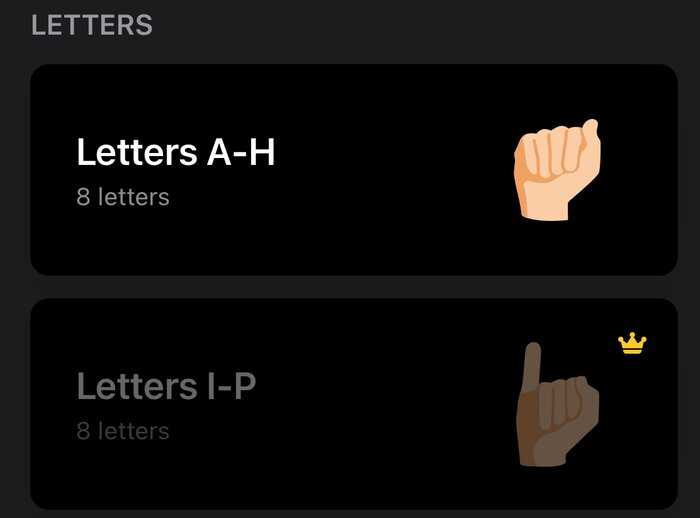 Platform: Ace ASL | Course name: Learn Fingerspelling
Ace ASL is a valuable app for learning the basics of ASL and fingerspelling. Like Lingvano, it uses state-of-the-art methods such as sign recognition technology to give you immediate feedback on your accuracy. With interactive quizzes and tests, Ace ASL really is focused on getting you to sign confidently and fluently.
You'll learn to:
Engage with and recognize fingerspelling
Memorize letters and digits
Develop your expressive and receptive skills
Pros:
Ad-free
Provides immediate Sign feedback
Quizzes to assess your progress
Cons:
No live tutors
Pay to access most content
Who it's for: This course is aimed at anyone looking to learn and develop their fingerspelling skills. Because of its interactive format, it's great for those who get bored easily or switch off with textbook-style learning. Because of its bitesize lessons, you can also choose when and how often you learn. So, Ace ASL is adaptive to your own lifestyle!
Student feedback: "This app is a stroke of genius on the part of the developers; it provides an indispensable thing that's missing from every other ASL-learning app I've tried: the ability to have one's signing assessed by the phone. Just brilliant." – Comment from Ace ASL
Overall: This course really stands out with its Sign-recognition technology. That being said, a lot of the course content is premium-access, meaning you have to pay to unlock most lessons. Overall, this is an innovative app that's popular with both hard-of-hearing and hearing people.
The ASL App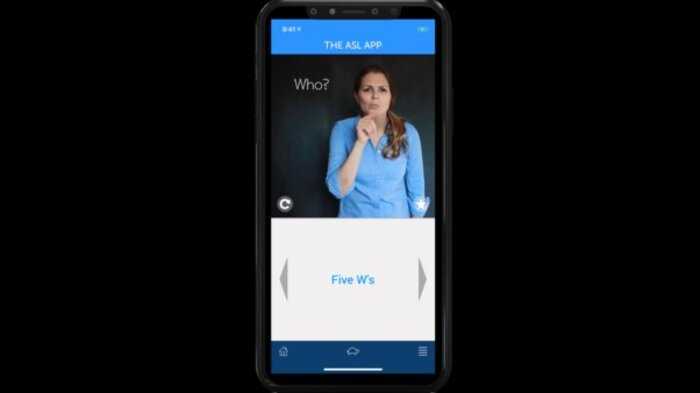 Platform: The ASL App | Course name: Learn ASL Anywhere
The ASL App is focused on teaching you conversational Sign language rather than just letters and words. It's designed to be accessible and fun, as well as helping to fast-track your ASL learning.
Like the other apps on this list, The ASL App is designed to be used on-the-go and also includes a range of features to help improve your learning experience. Designed by a team of Deaf people, the app's aim is to bridge communities together and get Deaf and hearing people talking.
You'll learn:
How to sign from ABCs to advanced conversations
Express and recognize Sign language in public
Use handshape exercises to get your muscles used to ASL
Pros:
Extensive ASL categories and bundles
Designed for complete beginners
Informative out-of-lesson content
Cons:
Extra costs for advanced lessons
No opportunity to sign 1-1
Who it's for: This is definitely a course for beginners to American Sign Language. The app designers created the app carefully with this in mind and they expect no prior knowledge of ASL or even of Deaf culture.
Student feedback: "This app isn't perfect, but I love how much the signers clearly enjoyed making it. They make learning the language so much more interesting and even a bit silly (in a totally good way). Just as importantly, I feel like I'm really retaining all the signs they teach." – Comment from The ASL App
Overall: A really well thought-out app clearly made with a lot of time and effort. The signers do a good job of teaching and expressing Sign across a range of topics. However, the app can sometimes be difficult to navigate and it's one of the costlier options on this list.
ASL Kids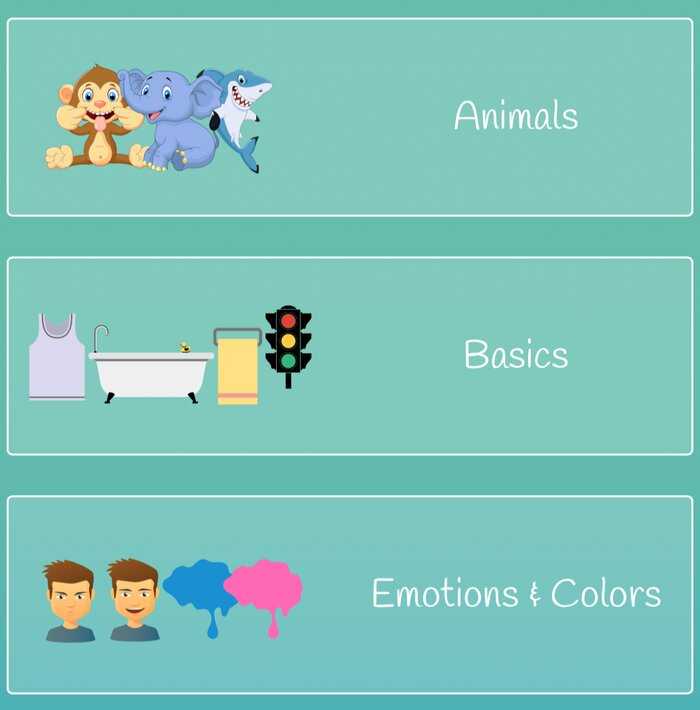 Platform: ASL Kids | Course name: Learn Sign
Worthy of mention on this list is the ASL Kids app. With over 226 signs to learn, ASL Kids is an indispensable app for both children and adult beginners.Taking you through basic signs and the ASL alphabet, you can test your learning with quizzes and interactive lessons.
And, the course features videos of children between ages 1 and 12 signing for reference.
You'll learn to:
Understand common signs from the ASL dictionary
Express "Baby Sign"
Sign through imitation and interactive learning
Pros:
Family-friendly and ad-free
Easy to use
Great for learning basic ASL
Cons:
More beginner-focused
Lacks 1-1 tutoring
Who it's for: This app is designed primarily for children but is also suitable for the whole family as well as ASL beginners. Because of its target audience, lessons are easy to master and serve as a great introduction to fingerspelling.
Student feedback: This is truly a beautiful app that is simple, kid friendly, very easy to learn and everything I ever hoped for in an app. It's even easy for adults to learn along with the kids. I hope ASL Kids can keep going because this app has lots of potential to be used at home, in school, at daycare, etc." – Comment from ASL Kids
Overall: This child-friendly app is suitable for all ages and is easy to follow along with. It uses a range of visual and audio content to get Deaf and hearing people used to ASL. But, one main critique is that it's fairly basic in terms of its vocabulary – especially if you stick with the free option. That being said, it is a great introduction to American Sign Language for kids and adults alike.
Pocket Sign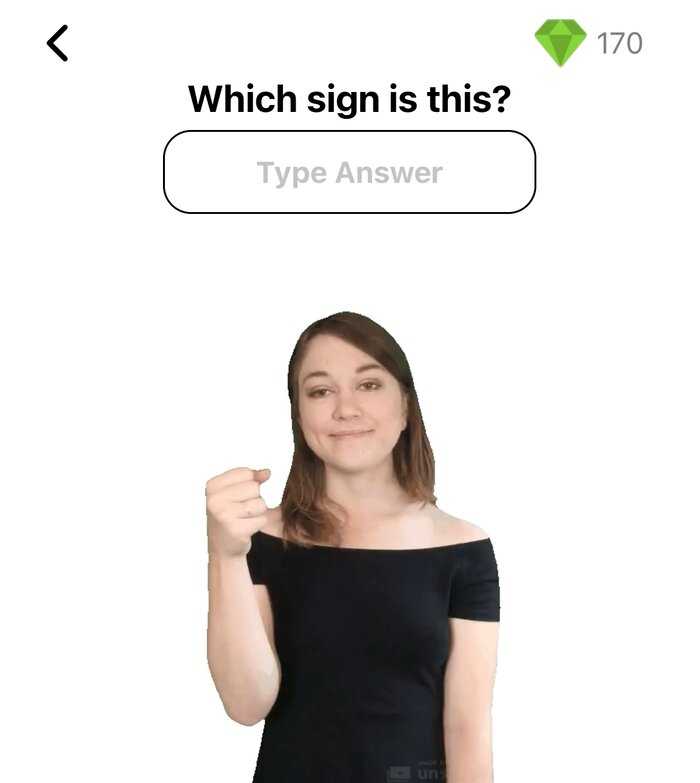 Platform: Pocket Sign | Course name: ASL
With Pocket Sign, you can learn hundreds of ASL lessons on-the-go. Pocket Sign's format is interactive and accessible with video content and a Sign Dictionary. Because of its "fill-in-the-blank" quiz style, you can also learn to translate ASL quickly and easily.
You'll learn to:
Express yourself in Sign through fingerspelling and gestures
Become confident in American Sign Language through prompts
Improve your vocabulary and retention with multiple-choice quizzes
Pros:
Encourages learning through rewards
Daily lessons to encourage you to commit
Well-designed and fun to use
Cons:
Not always accurate translations
Images can make the answers obvious
Who it's for: This app is best for casual learners who are curious about ASL and want to test out the language in a fun and accessible way. In particular, the dictionary is helpful for looking up key phrases and the Sign Alphabet also includes an excellent graph for fingerspelling. However, it's not the best app for ASL interpreters as the translations aren't 100% accurate.
Student feedback: "This is what I've been looking for. I'm a visual and kinesthetic learner, and this appeals to both so well. It also has me entranced in the lessons despite my ADHD." – Comment from Pocket Sign
Overall: An enjoyable app that allows you to learn at your own pace. My main critique is that the on-screen images sometimes make the answers to questions a bit obvious. For example, when asking which gesture means "soup," an accompanying picture next to the right sign makes it very obvious which one you need to click – even if you're unsure of the gesture itself!
Marlee Signs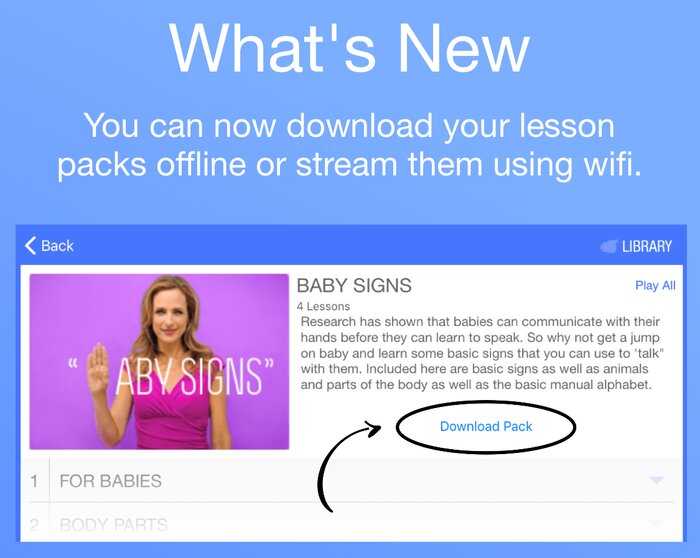 Platform: Marlee Signs | Course name: Sign with Marlee
Marlee Signs is an American Sign Language app featuring award-winning Deaf actress, Marlee Matlin. Voted #19 on Apple App Store's "Top Free Education Apps," Marlee Signs is one to look out for. The app teaches you the basics of ASL and even has a search function so you can spell out your chosen words.
You'll learn to:
Express yourself in American Sign Language
Understand the alphabet and basic vocabulary
Sign accurately through the "Slow Motion" feature
Pros:
Helpful "Spell It Out" feature
Useful lesson packs
Clear video that you can slow down
Cons:
Contains minor bugs
Not always accurate
Who it's for: This app is suitable for anyone who is keen to learn American Sign Language. But, it's specifically designed to help you express yourself in Sign to those who are Deaf or hard of hearing. Because of this, the app is particularly targeted to those seeking to learn ASL to better communicate with friends and family. You also have the option to download additional packages and to watch offline.
Student feedback: "This app is AMAZING! I absolutely love it. I have learned SO much from this app. It's incredible how much you can learn in each package and it's only $2 for each additional package which is a steal. You can learn these on the internet, like everything else, but Marlee has been signing her entire life and knows what she is doing." – Comment from Marlee Signs
Overall: The Marlee Signs app has generally positive reviews, and Marlee's celebrity status has helped the app to garner more attention. That being said, there are minor bugs and even some errors affecting the app, so this is something to weigh up against the cost.
SignSchool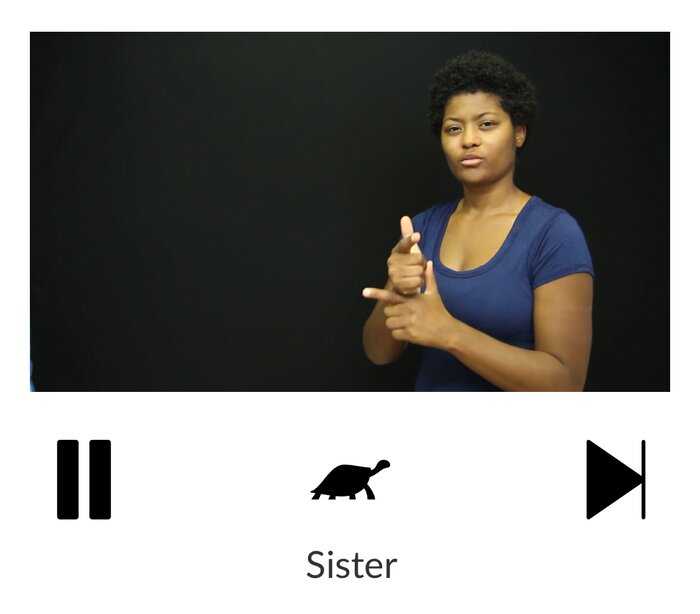 Platform: SignSchool | Course name: Learn American Sign Language
SignSchool is a Sign language app and website that offers free resources and lessons for ASL students. With mostly video-based learning material and short-and-sweet lessons, SignSchool is one of the best apps for learning on the go.
You'll learn to:
Understand and express sign through active learning
Expand your knowledge in line with a curriculum
Refine your handshapes and fingerspelling
Pros:
School-optimized learning tools
Immersive lesson content
"Sign of the Day" feature to encourage commitment
Cons:
Not always accurate
Handshapes aren't always clear
Who it's for: This app is a good (and free) resource for anyone looking to get started with ASL. You can also use it as a study tool alongside other learning methods. From the reviews I looked up, this app was a success with both casual learners and even ASL teachers.
Student feedback: "I love this app. I use it everyday as an aide when working with my deaf students. I've learned so much." – Comment from SignSchool
Overall: SignSchool is an accessible resource for ASL beginners and more advanced students. Its dictionary is one of the most extensive I've seen so far and it includes a range of categories from politics and music to Deaf culture. The main letdown here is that the categories are somewhat disorganized and lessons can seem random at times.
What are the advantages of learning from a Sign Language app?
In short, there are plenty! Whatever your reason for wanting to learn ASL, an ASL app is a great way to go. Some of the advantages include:
Learning ASL in an interactive way
Adapting lessons around your needs
Learning at your own pace
Expressing through imitation
Revising actively through quizzes
Immersing yourself in a new subject
Studying in a comfortable space
Accessing lessons/study guides on the go
Buyers guide: what to look out for in an ASL app
Choosing the right app to learn American Sign Language can seem daunting. You'll want to choose one that fits your budget and suits both your learning goals and style. In particular, the ASL apps on this list are either interactive in a 1-1 setting (like Preply and italki) or solo-style learning, like The ASL App or Lingvano.
So, we suggest you consider the following points before making a decision:
Instructors' experience — if you're going to invest time and money into a Sign language app, you want to know that you're learning accurate information from people who know what they're talking about.
Develop skills — a good ASL app shouldn't keep you on one level. Instead, it should encourage you to expand your vocabulary and advance in your learning!
Great techniques — of course, you want to learn some valuable knowledge that you can put to use in the real world. So, you need to be sure that the app caters to real-world scenarios.
Syllabus and skill level — make sure what's on offer is what you're looking for! Are you looking for a complete beginner course? Or do you have some basic ASL knowledge that you're looking to build upon?
Price — obviously, you'll want to choose something that's in budget. But it's also important to consider the value you're getting too. If one app is twice the price but has more state-of-the-art methods and teaching, which one would be more worthwhile?
How much does it cost?
App prices mentioned in this review vary. SignSchool is completely free of charge but the others range from $2.50 per lesson to $9.99 monthly. For italki and Preply, where you choose your price range, you're looking at between $8 and $30 an hour depending on your tutor.
Some of the apps mentioned here also include lifetime premium or "one time payments." With Ace ASL, for example, you're looking at a one-off payment of around $17.
If you factor in each app's different features and scope, most of these are pretty good value for money (especially as some purchases include all future updates).
So, if you consider the breadth of topics you'll get with these apps, it usually works out more cost-effective than in-person lessons or tutoring, which can cost at least $20 an hour.
How long does it take to learn American Sign Language?
The apps in this list vary in course content and length. Some provide the basics such as 10-20 lessons in foundational topics. Others are updating constantly to include new features and bundles.
Generally, ASL takes between 3 months to 3 years to learn proficiently. You also need to account for practice time and how you're learning (with others, from a book, or solely with apps?).
Most people agree that in-app lessons are more efficient when paired with real-life practice or 1-1 tutoring. This is something to bear in mind when considering how much you want to rely on app-based learning.
And, with most of these apps, you choose when and how often to commit and learn more or less at your own pace.
How do we rank our results?
We rank our results according to which apps we believe to be the best.
Inevitably, this is subjective. But the factors we consider include:
Teachers' experience
Provides transferable skills
Has a strong, varied syllabus
Is well taught and explained
Student feedback
App quality
Overall impressions
Where we can, we complete the app courses in order to review them. If this isn't possible, we do extensive research on the app, its syllabus, and student feedback.
Conclusion
In conclusion, if you're looking to learn Sign Language on an app, you're not short of options.
Overall, we feel that Preply is best because of its true-to-life learning style and 1-1 virtual tutoring. Unlike independent-learning apps, Preply has more potential to accelerate your learning and cater to your own learning needs.
Similar to Preply, italki is also a highly revered app that boasts more languages (though few teachers) than Preply. I also found italki's learning methods to be more relaxed, whereas Preply gets you expressing in your chosen language from the get-go.
So, hopefully, this article has helped you to better understand what the best app to learn Sign Language is for you.
But remember, with these apps, you get out what you put into them, so get ready to practice daily!
Related article: Best Vocabulary apps
Frequently asked questions
What is the best app to learn Sign Language?
Our top app recommendation for learning ASL is Preply.
How much does a Sign Language app cost?
In this round-up, apps have ranged from completely free to $59.99 yearly! On average, you're looking at around $3 for app upgrades and to unlock advanced categories. With apps like italki and Preply, you can expect an hourly rate of around $10 depending on your tutor.
How long do Sign Language apps take to complete?
Because they're apps rather than specific courses, you can choose how much time to put into them. Most free versions of these apps contain a minimum of 10-20 lessons of around 10 minutes each. With italki and Preply, you pay as you go with lessons between 30 minutes and an hour in length.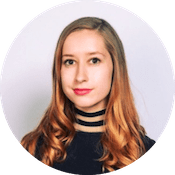 Rebecca graduated from King's College university with a first class honours in English Language, followed by a Masters' Degree in Eighteenth Century Studies.