British Sign Language is an irreplaceable tool for many who are deaf or hard of hearing. While there are hundreds of sign languages around the world, British Sign Language (or BSL) is most commonly used in the UK and is indispensable for many.
So, whether you're looking to learn for yourself or a loved one, are seeking jobs from a BSL certification, or simply want to communicate with the deaf community, this article is here to help.
In this review, I've considered different skill levels, needs, budgets, and learning styles to help you decide which BSL course is right for you. I've also weighed up the best options in terms of lifetime access and on-the-go resources.
Overall, the best courses are the ones that make learning accessible and enjoyable for all, cater to a range of learning styles, and teach you transferable skills.
So, without further ado, let's get started.
What is the best online BSL course?
These are my top online BSL course picks:
Overall, my top choice is Cudoo's British Sign Language Course Online. This is because the course is one of the most in-depth out there, covering basic to advanced BSL. It also comes with an end-of-class certificate and lifetime access.
That being said, there are other options out there that are great alternatives. For example, Centre of Excellence's British Sign Language Diploma Course is certified and fully accredited, also offering lifetime access and group study access.
Outside of these two options, there's also Udemy, which offers multiple BSL courses, including Introduction to British Sign Language and Breakthrough BSL. With Udemy's Personal Plan, you also gain access to over 6,000 curated courses. So, if you want to take several courses (BSL related or otherwise), this might be a good option for you.
To find out more details about Udemy, see our review here.
So, with that being said, read the mini reviews below to get the full details!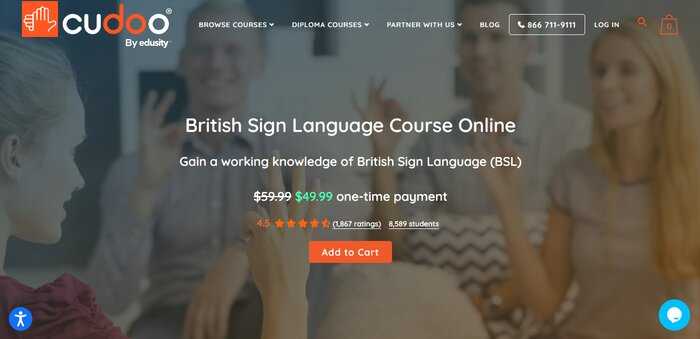 Platform: Cudoo | Teacher: Various | Course length: 2 hours
For a one-time payment, Cudoo offers lifetime access to its online BSL course. Across two hours, you'll gain actionable knowledge of BSL hand gestures, facial expressions, and body language – as well as BSL history.
You'll learn:
The main elements of BSL
Job opportunities for BSL learners
The most commonly used BSL words
The difference between BSL and other sign languages
250+ signs that you can use straight away
Pros:
Gain a working knowledge of BSL
Discover new job opportunities
Help build deaf awareness
End-of-course certificate with lifetime validity
Cons:
No option to pay in installments
Individual course purchase rather than subscription
Who it's for: This class is suited to anyone who wants to learn basic BSL for daily, real-world use. If you're interested in BSL's history and how it differs from other sign languages, this course is also an excellent choice.
Overall: One of the top-rated and most popular BSL courses out there, this class is in-depth, wallet-friendly, and introduces you to nearly 300 signs that you can use right away. As well as covering BSL foundations and its history, it also offers an overview of BSL job opportunities.

Platform: Centre of Excellence | Teacher: Various | Course length: 11 modules + assessments
Centre of Excellence's British Sign Language Diploma Course is an introductory course made up of 11 modules. The course includes a mixture of video content, reading, and assessments. It also looks at BSL grammar and teaches signs from a range of topics.
You'll learn:
Basic BSL fluency
BSL vocabulary and grammar
How BSL differs from its spoken counterpart
BSL origin and history
How to converse using BSL
Pros:
Lifetime and group study access
Accredited and certified course
Great mix of video tutorials and tests
Regular discounts and offers
Cons:
More expensive than other options on this list
Lack of 24/7 support service
Who it's for: This class is geared toward anyone who wants to go from a complete BSL novice to having a firm understanding of basic conversation. If you're interested in public/carer roles, this is also a strong foundational course to drive you on to further learning.
Overall: An introductory BSL course that promises you'll leave with a basic understanding of daily BSL usage and conversation. With group study access and video tutorials, Centre of Excellence sets you up to succeed by encouraging an active and true-to-life learning experience.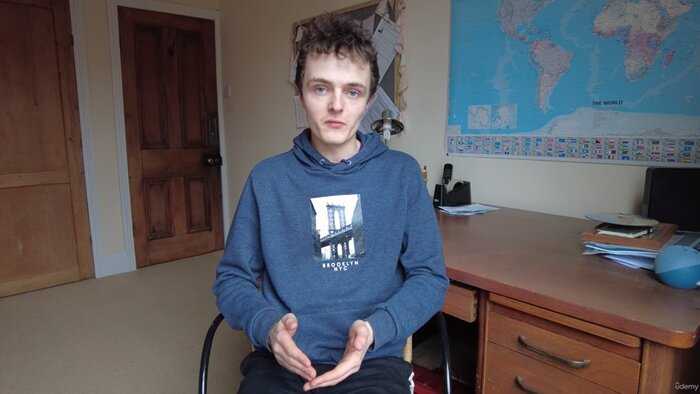 Platform: Udemy | Teacher: Tom Davison | Course length: 13 lectures totalling 29 minutes
With a 4.5 instructor rating on Udemy, Tom Davison began his BSL journey in 2018. He now brings his learnings to a wider platform to encourage others to learn this important tool. As a language used by over 150,000 people, it's no surprise that more people are coming to recognize its value in being taught.
You'll learn:
How to introduce yourself using BSL
Basic BSL phrases for daily use
The BSL alphabet
Why you should learn BSL
Ask questions and end conversations
Pros:
Insightful and beginner-friendly course
Clear explanations of all concepts
Excellent as an introduction to BSL
Video demonstrations and practice
Cons:
Less attention to BSL origins and history
Shorter than other courses on this list
Who it's for: This course is for anyone who is interested in communicating using BSL. As Davison himself states, if we were all to learn even a little BSL, this would significantly lessen the problems that the deaf/hard of hearing have to face in the world.
Overall: A short but strong introductory class that covers BSL basics. This includes the alphabet along with basic questions and conversational phrases. One of two courses taught by Davison, this is a nice starting place for the casual learner.
Platform: Alison | Teacher: Olly Richards | Course length: 2 modules totalling 1.5-3 hours of learning
Olly Richards is a polyglot and British language expert. Having authored over 20 books and multiple language courses, he brings this free BSL course to Alison so you can relate with those in the deaf/hard of hearing community.
You'll learn to:
Describe and sign the alphabet in BSL
Communicate colours and animals using BSL
Recall BSL vocabulary words
Translate English words into BSL
Begin conversations and introductions in BSL
Pros:
Learn from a qualified language expert
Clear course logic with basic teachings
Quizzes and conversation practices
Covers grammar, vocabulary, and syntax
Final assessment to test learning
Cons:
Website is sometimes clunky
Lacks 24/7 support service
Who it's for: This course is especially designed for those looking to communicate with the deaf/hard of hearing using BSL. While less focused on BSL job prospects, it does give due attention to the benefits of learning BSL. Much like Davison's course on Udemy, it's also a strong starting place for further learning.
Overall: A great multi-hour course with hands-on practice material, quizzes, and a final assessment. So, if you're looking for a free course option, this is probably the best contender. With Alison, you also have a paid certificate on offer if you wish to showcase your learning.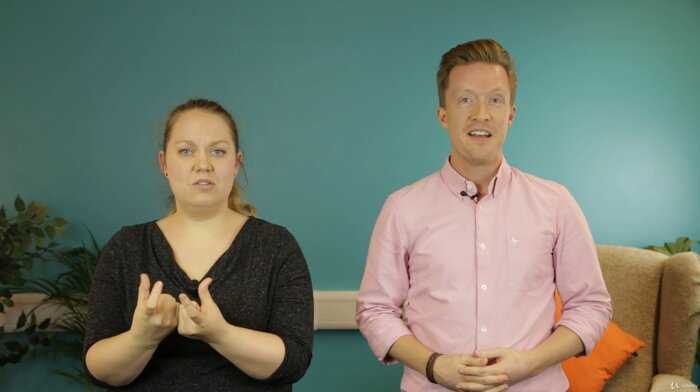 Platform: Udemy | Teacher: Olly Richards | Course length: 26 lectures totalling 56 minutes
Another course led by Olly Richards, this hour-long class helps you to learn the basics of BSL in order to interact with millions of deaf/hard of hearing people. By the end of this course, you'll have a widened BSL vocabulary and a newfound confidence in signing.
You'll learn:
How to put together BSL words and sentences
An introductory working knowledge of BSL
How to hold conversations with other BSL users
Fingerspelling basics such as the alphabet
Core vocabulary that you can build upon
Pros:
Self-paced learning style
Great for newcomers or as a refresher
Enjoyable and easy to understand
Well-explained signs with engaging presentation
Cons:
More expensive than other courses on this list
Too fast-paced for some
Who it's for: Whether you're close to someone in the deaf community, are experiencing hearing loss yourself, or simply want to learn a new skill or become more inclusive, this BSL course is open to all. Taking its viewers as novices, Richards teaches you the basics of BSL and helps you to practice along the way to expand your vocabulary.
Overall: Widely considered an engaging and accessible course, Breakthrough BSL is a beginner-level crash course that helps you to master the foundations of BSL. Namely, this includes the alphabet, fingerspelling, time, colors, and basic conversations.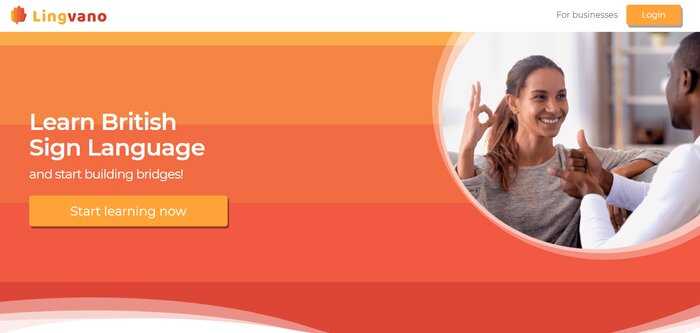 Platform: Lingvano | Teacher: Various | Course length: 250+ lessons with a recommended 10 mins/day
An independent-learning app, Lingvano teaches through fun, fast-paced, and interactive lessons. Because it's designed to be taken for around 10 minutes per day, Lingvano is readily adaptable around your lifestyle!
You'll learn:
Introductions and greetings in BSL
How to use verbs in everyday BSL interaction
Vocabulary for fluent BSL conversations
To develop your BSL vocabulary
How to place and improve your BSL proficiency
Pros:
More than 250 interactive lessons
Daily streak counter to encourage good habits
Vocab Trainer & Dictionary for on-the-go reference
Choose your daily commitment level
Cons:
Lacks any formal video or 1-1 teaching
No option to ask for specific feedback
Who it's for: Lingvano is designed for anyone looking to bridge the gap between themselves and the deaf/hard of hearing community. Specifically, the creators designed the app so you can interact more effectively with friends, family, and loved ones who are hard of hearing.
Overall: A great option for beginners as well as more advanced students who are looking to expand their vocabulary. As well as offering interactive lessons, Lingvano also has a handy Sign Mirror tool to test the accuracy of your fingerspelling.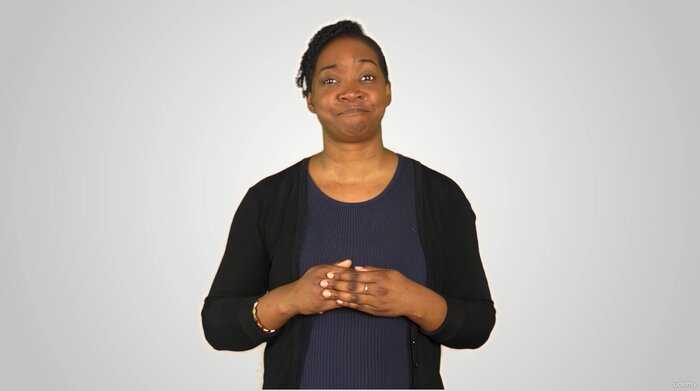 Platform: Udemy | Teacher: Tim Scannell | Course length: 69 lectures totalling 1 hour and 49 minutes
Tim Scannell uses BSL as his first language and has over 20 years' experience teaching it to others. Now, he brings his introductory course to a wider audience to help more people develop the skill.
You'll learn to:
Develop basic conversational skills
Communicate with other BSL users
Grasp the practical aspects of grammar and vocabulary
Understand statements and become receptive to sign language
Express thoughts and ideas using BSL
Pros:
Taught by a deaf BSL teacher
Attention to grammar and syntax as well as vocabulary
Covers facial expressions and body movements
Full lifetime access
Cons:
Left/right-hand fingerspelling can be confusing
No personalized feedback
Quite a slow-paced course
Who it's for: This course is designed for doctors, support workers, care workers, and anyone who communicates with deaf people as part of their day-to-day life. So, if you have a family member who is hard of hearing or you work in an environment with deaf people, you're definitely this course's targeted viewer.
Overall: One of the longer Udemy courses on this list, Introduction to British Sign Language is a clear and well-explained introduction to BSL. Its main features are fingerspelling, body language, facial expressions, and basic grammar/syntax elements.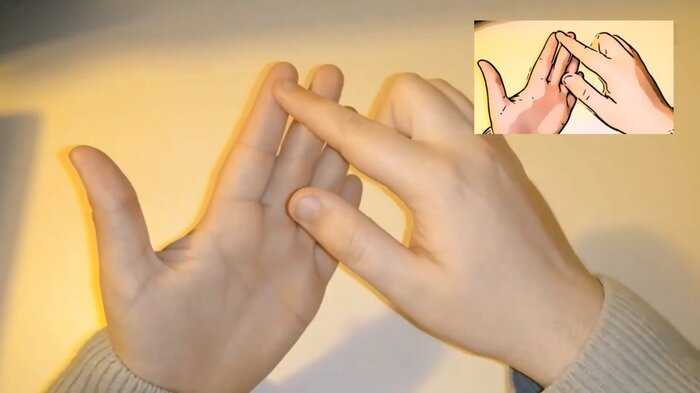 Platform: Skillshare | Teacher: Ethan Gray | Course length: 31 lessons totalling 46 minutes
Ethan Gray is an Oxford-trained linguist who is passionate about teaching valuable language skills to others. In this course, Gray shows you how to fingerspell the alphabet as a basis for further BSL learning.
You'll learn to:
Spell the alphabet in BSL
Receive and communicate five basic phrases
Form each letter correctly
Recall individual letters and construct words
Switch between different letters at a steady pace
Pros:
Clear content presented in manageable sections
Helpful for beginners and as a refresher
A good introduction to further fingerspelling
Easy to understand for a range of ages
Cons:
Captions are often incorrect
Some words are introduced before their letters
Who it's for: Gray is passionate about learning and understanding languages. So, he designed this course to appeal to anyone who wants to learn and understand the basic elements of BSL. If you're new to BSL or have been away from it for some time, this is a quick but effective refresher on spelling the alphabet.
Overall: A short but concise class teaching you how to fingerspell the alphabet clearly and correctly. It also imparts some further common phrases that you can use in conversation, as well as tips for practicing and getting quicker at switching between words.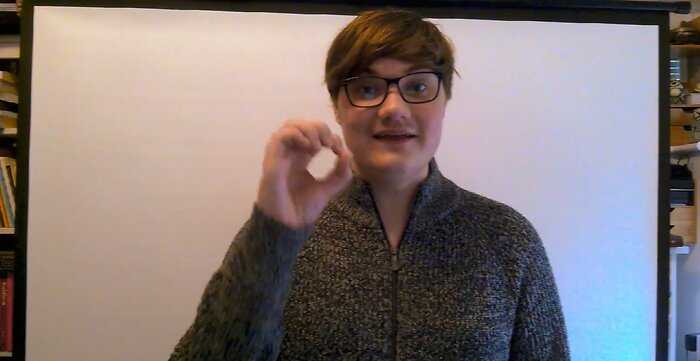 Platform: Udemy | Teacher: Ethan Gray | Course length: 7 lessons totalling 34 minutes
Another of Gray's BSL courses, this class focuses on emotional vocabulary. He also shows you how to express yourself with subject pronouns and form your own sentences in BSL.
You'll learn to:
Understand and communicate positive/negative emotions
Create your own sentences using emotion words + subject pronouns
Grasp what is meant by "the grammatical negative"
Express a range of emotions in BSL
Pros:
Focuses on a subject less covered by other courses
Clearly explained and easily actionable teaching
Bite-sized learning in shorter lessons
Includes reviews and games to reinforce learning
Cons:
Some mistakes could be edited out
Less signing throughout than with other courses
Who it's for: This course would be helpful for anyone looking to improve their BSL communication skills – especially in terms of expressing their emotions. Gray also pays attention to the grammatical negative and subject pronouns to help you understand the language more clearly.
Overall: One of the shorter courses on this list but incredibly helpful to beginners and advanced BSL learners alike. Gray addressed a lesser-covered topic in an easy-to-understand way. This is particularly helpful for personal BSL expression among friends and family.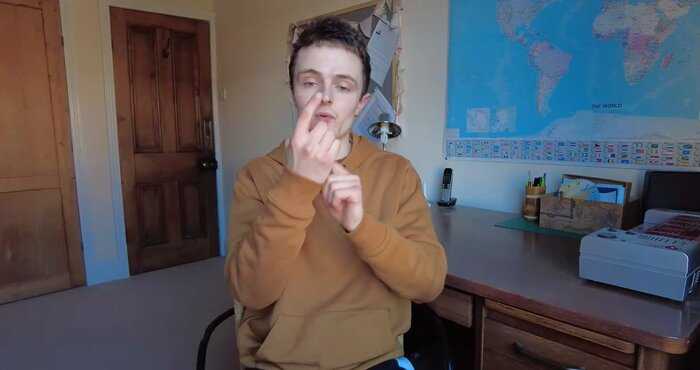 Platform: Skillshare | Teacher: Tom Davison | Course length: 19 lessons totalling 30 minutes
A speedy 30-minute course, this class forms the second part of Davison's Introduction to British Sign Language series. This follows on from Part 1's focus on the alphabet and turns its attention to numbers, dates, prices, etc.
You'll learn to:
Produce every number between 1 and 100
Discuss regional variations of BSL
Sign specific dates
Use numbers in varying contexts such as time-telling and pricing
Pros:
Quick, bite-sized lessons
Easy to understand and clear instruction
Includes practice rounds for vocabulary/conversation
Useful visual demonstrations
Cons:
Far shorter than other courses on this list
Not as comprehensive as some other series
Who it's for: This course is intended for BSL beginners who have completed Part 1 of Davison's course series. You should already have some understanding of fingerspelling and be ready to move on to numbers and regional variations.
Overall: A short but info-filled course that teaches you the basics of signing numbers and using them within further contexts. You'll also learn how BSL varies depending on the region and will gain further experience practicing how to sign.
What are the advantages of taking an online BSL course?
In short, there are plenty! These include:
Become a more inclusive member of society
Relate to and communicate with members of the deaf/hard-of-hearing community
Improve your job prospects with a formal BSL certification
Become closer to friends or family who are affected by hearing loss
Equip yourself with useful skills for the future and other language learning
Buyers guide: what to look out for in a BSL course
Choosing the best BSL course for you can be tough when there's so much out there. So, I recommend weighing up the following factors before you decide:
Instructor experience and delivery – if you're going to spend time and money on a BSL class, you want to make sure the teacher knows what they're talking about! Plus, it's important for a teacher to also present that knowledge in an engaging way.
Develops skills – a great course will help you to develop your skills within the course and beyond it. So, the right class will go past the foundations and encourage further learning paths from there.
Real-life experience – whether you want to learn from a deaf instructor or simply someone qualified to teach, it's important that your instructor has real-world experience so you can successfully interact with BSL users.
Syllabus and skill level – you want to make sure that the course you're investing in is right for you. Namely, if you're an intermediate learner, you probably don't need a beginner's introduction to fingerspelling. Likewise, it's also important to consider your goals. Do you want to relate to other BSL users in a social setting and/or use BSL for a potential career path?
Price – of course, you want a course that's in your budget. Although, it's also worth considering the value you'll get out of the course in the long run. For example, if a course is double the price but is taught by an instructor with 10x the experience, this might generate more value in the end.
How much do online BSL classes cost?
The options on this list vary from free to $140! For our top pick, Cudoo, you're looking at a one-time payment of $59.99, which guarantees lifetime access. Considering this is still cheaper than in-person classes and it comes with a certificate, that's a pretty good deal.
But it's also important to consider what you want to get out of a course when deciding how much you want to invest in it. If you're a casual learner, say, you might not want to invest hundreds of dollars in a Diploma course.
And, with sites like Cudoo and the Centre of Excellence, you're looking at specialist, certified courses. These sites, contrasted to Udemy/Skillshare, can launch you on your way to become fully qualified in BSL.
How long does it take to learn BSL online?
The courses on this list vary in length, from 30 minutes for the shorter Udemy courses and 2+ hours for sites like Centre of Excellence and Lingvano. You should also account for practice/study time.
That being said, most of the time limits on these courses refer only to the video length. For courses with full lifetime access (or as long as your subscription is valid), you can access course content over and over at your own pace.
If there are extra course materials or assignments, then you can (and should!) take your learning beyond the course. And, with a subject like BSL, the best way to test your learning is to continually practice and use BSL in the real world.
How do we rank our results?
In short, we rank our results according to which courses we believe to be the best. To an extent, this is subjective. But, the factors we consider are:
Teacher experience
Provides transferable skills
Has a strong, varied syllabus
Is well taught and explained
Student feedback
Production quality
Overall impressions
Where possible, we take the courses in order to review them. If we can't, we research extensively to determine course content, teacher ability, and student feedback.
Conclusion
If you're looking to take a BSL course online, you're not short of options. This is true for whether you're an aspiring care worker, have hard of hearing friends/family, or just want to learn something new.
My top pick is Cudoo's British Sign Language Course Online. This is because the course covers a lot of ground, is fully certified, and offers lifetime access for a one-time payment. While some of the other courses on this list are considerably longer, the content quality and breadth is what sets this class apart.
Also, for another certified course option, there's the Centre of Excellence's British Sign Language Diploma Course. While it's more expensive than Cudoo's course, Centre of Excellence does offer unrivaled group study access and regular discounts!
If you're more of a casual learner, or want to test the waters before committing to a pricier course, a class like Alison's Basics of British Sign Language is a great way to do so. The course is free with the option to buy a certificate, and it's taught by language expert Olly Richards, who even has a paid course on Udemy.
So, hopefully, this article has been helpful and has given you a better idea of which BSL course is right for you.
BSL courses – frequently asked questions
How much does an online BSL course cost?
The courses on this list range from free to $140. For the most part, online classes are cheaper than in-person classes.
How long do BSL courses take?
The courses on this list vary between 30 minutes and several hours. But, as with any language, the key to mastering it is daily practice!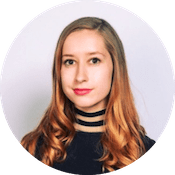 Rebecca graduated from King's College university with a first class honours in English Language, followed by a Masters' Degree in Eighteenth Century Studies.