Founded in 2007, Alison is a free online course provider offering higher education and diploma courses to a range of students. Today, with an excellent 15-year track record, over 30 million learners and 4,000+ courses, Alison has come to embody the best in free e-learning courses.
But is Alison worth the hype? What are the best Alison courses? Can I really learn for free? And can I use Alison to upskill my employees?
I've spent several weeks exploring Alison to answer these questions and more in this in-depth Alison review.
But, to begin, here's some basic info.
.
Quick summary
Features
4,000+ free courses
Prestigious partner institutions like Google and Stanford
10 course categories
Certificate and Diploma courses
Various subscriptions and free learning option
Pros
Learn a range of professionally-published courses
Courses are free (with paid-for certificate option)
Well-structured course content and transparent learning plan
Huge course catalog
Additional services like resumé review/mental health assessment
Rated Excellent on TrustPilot
Cons
No free qualifications/certificates
Courses vary in quality
Best for: Anyone interested in furthering their career by gaining a diploma or other course certificate. Alison caters particularly to those looking to learn workplace skills or explore new interests.
Overall: Alison is an accessible platform offering thousands of courses (especially in vocational subjects). It also provides further resources such as the Alison career section, mental health assessment, personality test, and more. All in all, Alison is a well-rounded platform that can forward your career and help you stand out from the crowd.
In this detailed Alison review I'll be covering:
What is Alison and who are its instructors?
How does Alison work and how much does it cost?
Alison free trial
What an Alison lesson is like
Best Alison courses and offerings
How I reviewed Alison
What I liked and thought could be improved
Who Alison is for and whether you can buy it as a gift
How to find the best courses on Alison
Is Alison worth it?
FAQs
So, let's get started.
What is Alison?

Alison is a free online learning platform hosting over 4,000 courses in 10 categories.
Through the site, you can learn, gain certifications, build your career, and even earn money.
Not only this, Alison has partnered with some of the biggest companies out there to produce expert courses on a range of subjects. Such partners include Google, Stanford, Microsoft, and University of Cambridge.
Founded by businessman Mike Feerick, Alison's mission is to make education and skills training accessible to all. Today, Alison has over 30 million registered users in 195 countries and changes lives by delivering free universal access to learning.
To date, Alison has received numerous awards, including a UNESCO award in 2011 for Innovation in ICT for Education and a World Innovation Summit for Education award in 2013.
Who are Alison's instructors?

Alison aims to deliver world-class teaching, so it goes without saying that its instructors are of the highest caliber.
These include:
C-suite executives from leading institutions
Academics from high-ranking colleges like Stanford and University of Cambridge
Experts who want to extend their business outreach
Senior professionals with a passion for training and teaching
Professional lecturers, teachers, and researchers
How does Alison work?
There are many different ways to learn on Alison. Namely, you can:
Register for a free account, browse and enroll to any of the 4,000+ courses
Take courses for free with the option of buying a certification/diploma
Sign up for a premium account for regular discounts and no ads
The first thing to do is to sign up. This is easy and free to do. Click the 'Sign Up' button in the top right corner, provide your name, email address, and a password. Then you're good to go!
From here, you can explore the platform and sign up to any course that suits your interests. I've also summarized the course options here:
| | | | | |
| --- | --- | --- | --- | --- |
| Option | Goal | Length | Billing | Includes |
| Diploma Courses | Gain specialist knowledge and skills | Self-paced, c.6-15 hours | Free + option to buy certificate | 6+ hrs learning, final & assessment |
| Certificate Courses | Job-role training and workplace skills | Self-paced, c.2-6 hours | Free + option to buy certificate | 2+ hrs learning, final & assessment |
| Learn English | Beginner-advanced English learning | Self-paced with each level consisting of c.10 short courses | Free, in line with English Test standards worldwide | Free courses + initial placement test, study reminders & supporting resources |
| Premium Subscription | Ad-free learning across all course types | Various | Monthly | Exclusive monthly discounts and up to 50% off certifications |
| Alison for Business | Upskill your employees | Customizable | Free + option to buy certificates | Personalized LMS, access to thousands of courses, progress reports |
Alison's subjects include:
IT
Health
Language
Business
Management
English
Personal Development
Sales & Marketing
Engineering & Construction
Teaching & Academics
Each Alison course also features a module breakdown and course description that you can check out before committing to the course. There's also no limit to how many courses you can take at a given time, and your progress is automatically saved.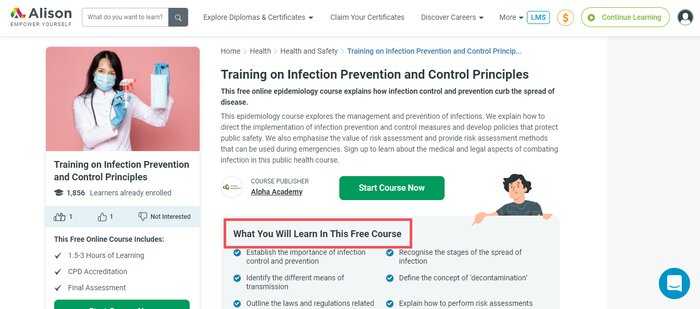 Overall, the majority of Alison courses hold a positive rating, and they're generally hailed as "Excellent" on TrustPilot.
How much does Alison cost?
Generally speaking, Alison is a free learning platform. This means you can access all classes at no cost. That being said, there are some paid-for extras and subscription options.
I've gone into more detail about these below:
Diploma and Certificate courses
Learn English
Premium Subscription
Alison for Business
Diploma and Certificate Courses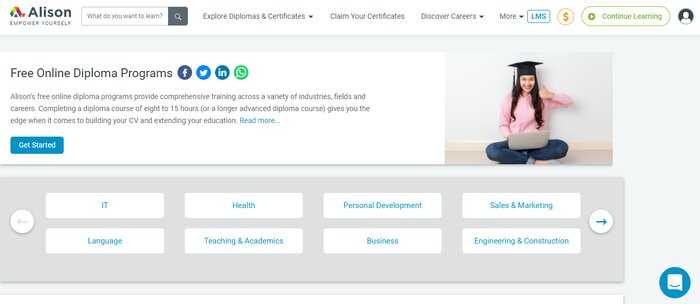 While diploma courses tend to be longer than certificate courses, both are free to access on Alison. That being said, if you want a formal certificate, these come at an additional cost.
The cheapest option – a digital certificate – will set you back $110 for a diploma and $35 for a certificate course. From here, the prices increase depending on whether you want a physical copy or even a framed version.
Learn English

Alison's Learn English section is entirely free of charge and has been curated in line with standard English tests such as TOEFL and TOEIC. So, while these courses do not qualify you, they do offer legitimate training to help you to pass standardized tests.
Premium Subscription

Why would you want to pay for a subscription on a free site? Well, there are several reasons. For $8.72/month, Alison Premium gets rid of all ads, offers exclusive monthly discounts (that never expire!) and even offer up to 50% off certificate prices.
Plus, if you're a fan of Alison's mission to make learning accessible to all, Alison's Premium option is a great way to give back and help them continue their goal of empowering others through education.
Alison certificate
For an additional payment at the end of your course, Alison provides you with an official certificate/diploma to showcase to future employers. You can include these on your CV, social media profiles, and even in job applications.
Alison currently offers three types of certificates: digital, physical, and framed. While the digital copy is available immediately after purchasing, the physical certificate is officially branded (and shipping is free!).
If you choose not to opt for an official certificate, you can still share your Learner Record/Learner Achievement Verification, which is available through your dashboard. So, if you're taking a hobbyist or strictly skills-based course, it might not be worth it to buy a certificate.
However, for Alison's diploma courses (particularly vocational), I think even a digital copy is well worth the purchase and puts you in good stead amongst other job candidates.
Alison for Business

Believe it or not, Alison for Business is also a free branch of the site and promises to upskill employees through efficient Learning Management Systems. The catch? Alison for Business operates in the same way as the rest of the site – you take courses for free and pay only for certificates.
That being said, the free aspect is more than generous on its own. After signing up, Alison gives you the tools to expedite your team's learning and certification, analyze and transform your employees' performance, and even offers smart reporting and feedback.
What an Alison lesson is like
Because of Alison's volume of courses and the hundreds of partnerships it has, it's difficult to generalize what a course is like.
That being said, the general structure offers an outline of the class syllabus and what you'll learn by the end of the course. Then, in a typical lesson, you can expect:
High quality video lessons with subtitles available
Study reminders to encourage consistent learning
Multiple-choice quizzes to reinforce understanding
Readily available support services
Final assessment to complete learning and earn certificate
Best Alison courses
Some of the most popular and highly rated courses from Alison's main course offerings are:
Diploma: Diploma in Caregiving | Advance Learning
Certificate: Basics of Manual Handling in the Workplace | Apex Learning
Learn English: Beginner English 101 | Alison
But, of course, the best course on Alison depends on your own interests and learning goals!
To give you a clearer idea of what Alison has to offer, I've reviewed some of the top classes in each category.
Top Diploma Courses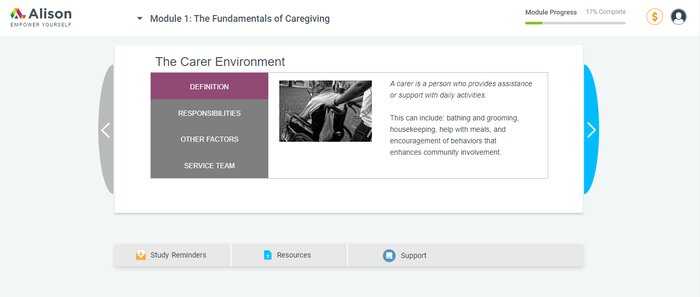 Diploma in Caregiving | Diploma Course | 295,849 learners
Instructor: Advance Learning is an esteemed publisher with over 500 courses to date. They are also experts in the fields of E-learning Theory and Practice. This certified diploma course helps you to sharpen your caregiving skills to provide professional care to clients or family members.
Learn: Careworkers' fundamental roles and responsibilities, how to identify, treat, and prevent a range of medical conditions, and to describe the various legal issues that a caregiver must consider when working with a client.
Includes: 6-10 hours of accredited learning, helpful infographics and definitions to distill complex information, additional PDF resources, a final assessment, and a paid-for end-of-course certificate.
Best for: Students with a basic knowledge of or interest in careworking who are keen to become qualified and understand the legal issues, definitions, and expectations of caregiving roles.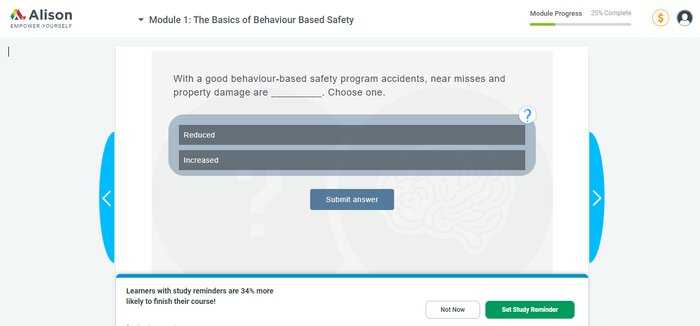 Diploma in Workplace Safety and Health | Diploma Course | 104,635 learners
Instructor: Another top-rated course from Advance Learning, Diploma in Workplace Safety and Health is a fully accredited multimedia course focused on instilling a culture of workplace safety.
Learn: How to ensure a safe and productive workplace for your employees. You'll learn to identify factors that cause incidents, describe how to prevent injury, explain health and safety legislation and distinguish between various roles and responsibilities.
Includes: 6-10 hours of multimedia learning, exercises, definitions, final assessment, and a paid-for end-of-course certificate.
Best for: Managers and supervisors looking to develop a culture of safety among employees. This is essential learning for all businesses to ensure compliance with legislation, as well as to promote employee productivity and job satisfaction.
Top Certificate Courses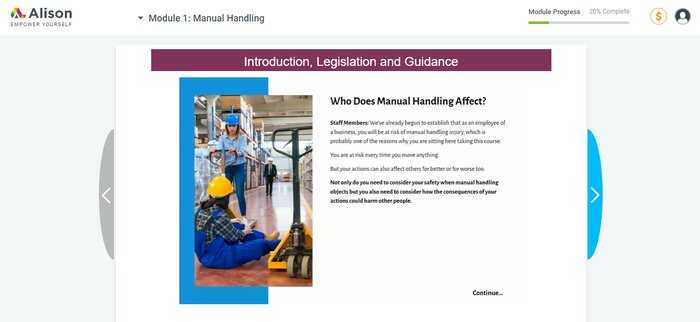 Basics of Manual Handling in the Workplace | Certificate Course | 16,844 learners
Instructor: Apex Learning is a trusted Alison course provider with 10+ courses to date. They aim to give learners essential assistance, employing instructors all over the world with specialist knowledge and expertise.
Learn: The basics of manual handling in the workplace, including how to lift and lower objects safely, use correct posture, and to maintain a healthy working environment. This course also covers the legal duties of employers and employees.
Includes: 1.5-3 hours of learning, video lessons, quizzes, final assessment, CPD accreditation, and paid-for end-of-course certificate.
Best for: Anyone working in a business that demands manual handling. You'll learn about the Health and Safety Executive guidelines as well as the correct posture and procedures for preventing workplace injury.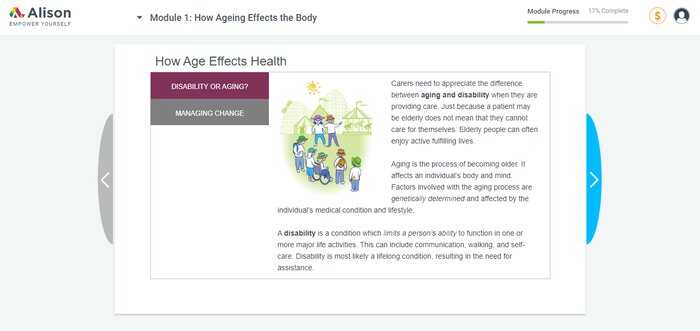 Elderly Care and Caring for the Disabled | Certificate Course | 163,761 learners
Instructor: Another Advance Learning's training course, this Elderly Care certificate course is a pedagogically-sound learning pathway that focuses on providing expert care to the elderly and disabled.
Learn: How to treat people suffering from various mental and physical health conditions, differentiate between aging and disability, understand a caregiver's duties in the face of client deterioration, and more.
Includes: 1.5-3 hours of learning, 'digital textbook' learning, definitions, final assessment, CPD accreditation, and paid-for end-of-course certificate.
Best for: Current or in-training care workers who want to learn more about treating the symptoms of aging and disability. Advance Learning promises to impart essential skills to take your caregiving to the next level.
Top LearnEnglish Courses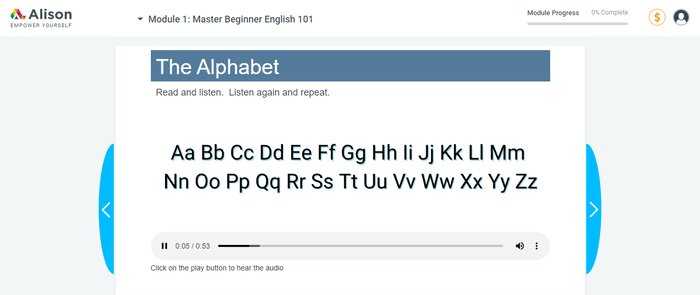 Beginner English 101 | Learn English | 27,083 learners
Instructor: Alison's self-contained pathway, 'Learn English' is developed in line with the best English Test standards worldwide. Courses range from beginner to advanced English.
Learn: How to read, write, and converse in fluent English. Beginner English 101 is the first in Alison's Learn English pathway and is in line with CEFR, Cambridge, TOEFL, IELTS, and TOEIC standards.
Includes: Free English placement test, language ability rankings for each class, audio-visual content, and test-specific prep courses.
Best for: Alison's Learn English courses are designed for non-native English learners looking to improve their spoken and written English skills. Beginner English 101 is the first level, with over 20,000 learners to date.
How I reviewed Alison
I've spent a lot of time exploring Alison to understand the site's features and benefits. Plus, I've also looked into what other people think, the course quality, and the costs of what's on offer.
In terms of choosing courses, I went for a broad selection, including topics I was confident in and ones I was less familiar with. This was a good way for me to check whether claims of 'beginner-friendly' courses really were accurate.
What I liked about Alison
The chance to learn from a range of professionally-published courses
With Alison, you learn from some of the world's leading experts, including Google, Saylor, and Microsoft.
Plus, with the chance to learn an end-of-course certificate to showcase to prospective employers make Alison an enviable learning platform. Compared to other e-learning sites, like Udemy or Coursera, where anyone can make a course, Alison ensures it has only the best in e-learning mentors.
Courses are completely free
Unlike other platforms where you pay per course or pay for a monthly subscription, Alison has zero fees! The only time you have to pay is if you want a formal certificate (digital or physical) or if you opt for Alison's ad-free version.
So, with that in mind, the risk associated with these courses is minimal to non-existent. Plus, the free aspect is crucial to Alison's mission to make education accessible to everyone. With that in mind, there really is nothing to lose!
Well-structured course content and transparent learning plans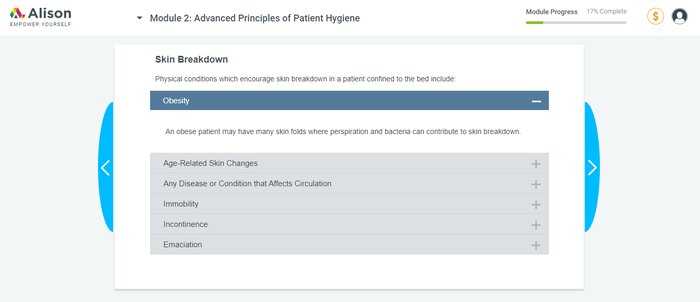 One sign of a good course is the ability to present complex information in a way that's engaging and easy to understand. Alison meets this criteria by incorporating a range of multimedia aspects to their classes.
Alison also caters to different learning styles, so you'll see a mixture of video, audio, and text-based learning. Plus, you'll also benefit from multiple-choice quizzes and a formal assessment so you can take an active role in retaining information.
Moreover, a standout feature on Alison is that the course description, learning objectives, and entire module breakdown are available to see before enrolment. So, even though the course is free, you still get to see the whole course breakdown before committing to it.
Huge course catalog
With over 4,000 courses in 10 categories (not to mention its Learn English/Business sections), Alison is a huge platform with an impressive course catalog. And, unlike other sites that specialize in, say, data analysis, Alison caters to a broad range of interests and careers.
Additional services like resumé review and mental health assessment
While there are other e-learning platforms with larger catalogs, I found it hard to find any that came close to offering the amount of resources you get with Alison. The site also hosts its own careers section, resumé builder, workplace personality test, and a mental health assessment.
Along with this, its Learn English section also comes with a placement test – which, like the rest of the site, is totally free. So, all things considered, Alison is definitely one of the best options out there and, to my knowledge, is the only free course provider with this amount of extra resources.
What could be improved
No free qualifications/certificates
Alison offers so much of its content for free, but of course, they have to make their money somehow. While all courses are advertised as being certified, the certificates themselves are not part of the free course.
So, if you want a digital or physical certificate, you have to buy these separately. This is especially important to bear in mind if you're taking a course for the purpose of the certificate.
Courses vary in quality
While most of Alison's courses are of an incredibly high caliber, it goes without saying that not every single course will be to everyone's preference.
One thing I noticed when taking classes was that some audio seemed monotone rather than being delivered naturally. For many, this can be a bit off-putting and isn't always easy to follow.
Who Alison is for
Because of the variety of courses on offer, Alison targets a broad spectrum of students. But, in general, I'd say Alison is for:
Anyone looking to build their career but unable to afford expensive college courses
Those who are interested in any of Alison's course categories and want to learn/gain certificates
Employers looking to upskill their team and promote employee satisfaction/a positive work environment
Anyone who wants to change careers or even explore hobbies/interests
Can I buy Alison as a gift?
You can set up a premium subscription for friends/family on Alison. However, there's not currently a gift certificate option so this purchase would be a standard subscription.
Tips to finding great courses on Alison
There are plenty of ways to find great courses on Alison. And, the more you engage with the platform, the more Alison does all the hard work for you. Here are some ways to get the most out of the platform:
Search using the official search bar or by course category
Choose your course type (diploma/certificate) and filter by subjects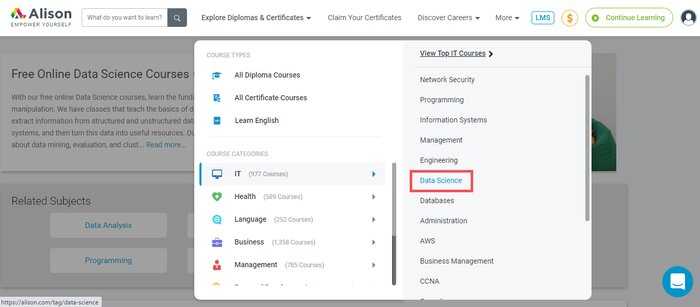 For example, if you're interested in data science, you can select this option from the search categories – or even enter it as a keyword search. Not to mention, if you select a particular course for more info, you'll even be recommended similar courses and career pathways to explore.
Is Alison legit?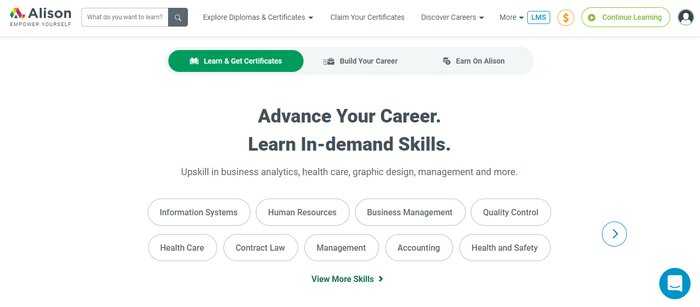 Having tried Alison out for myself, and knowing others who have gained a lot of good from it, I can safely say that Alison is legit.
With multiple awards and testimonials from 6 million+ graduates, Alison is making a name for itself as one of the largest accrediting institutions in the world. Alison's courses are self-accredited, like most major universities, and all of their content is reviewed by pedagogic leaders.
Alison refund
As a free course platform, Alison doesn't offer course refunds. That being said, if you opt for a monthly subscription, you can cancel anytime. But this does not entitle you to a refund for the month paid, as per Alison's terms of use.
Alison alternatives
With online learning becoming more in-demand in recent years, it's no surprise that there are a lot of options out there. If anything, there's almost too much to choose from!
One of Alison's closest competitors is Coursera. This platform also partners with industry leaders like Google, IBM, and Meta. Plus, it has over 7,000 courses and even surpasses Alison on its number of subjects taught.
Furthermore, Coursera has over 92 million learners and offers Specializations for universities, enterprises, and more. One downside, however, is that its pricing structure is a lot steeper and its only free offering is its 7-day free trial. You can also find out more about Coursera here.
Aside from Coursera, edX is another major competitor that partners with leaders like Harvard, Stanford, and Oxford. Again, the price is a lot steeper, but it has a relatively limited course library when compared with both Coursera and Alison. You can read more about edX here.
If you're interested in more budget-friendly options, sites like Udemy or Skillshare might be more suited to you. They both offer a wide range of subjects but, unlike the platforms mentioned previously, anyone can offer courses. Because of this, the quality on these sites is a lot more varied.
Also, even the more budget-friendly options are not completely free. With Udemy, you can buy courses individually, and Skillshare offers a cheaper monthly subscription than, say, Coursera. Either way, these don't specialize in certificate/diploma learning, so it's worth having a good search of the platforms to see what's right for you.
Alison reviews: what others have said
My aim is to write the most balanced review of Alison out there. So, that means taking into account people's feedback – good and bad. I've searched forums like Reddit and other sites like Trustpilot, as well as Alison itself, to get a well-rounded view of what people really think of the site.
Overall, feelings were positive. The site offers free learning in a range of categories and is especially helpful for those in vocational fields. The content is mostly lauded (especially as a free site) and the paid-for certificates are reasonable.
However, because Alison is so widely regarded as a 'free site,' there has been some confusion over the paid-for certificates. While it's easy to find this catch when you're looking for it, the initial promise of a free certificate course can be misleading:
"I think Alison should not mention that it is free of charge. Every course should have a certificate, and Alison's certificate is not free. So, they have to write the price of the course and they should not say it is free" – Comment from Trustpilot
In my search for Alison's student feedback, this seemed to be a common misconception, and it's perhaps true that Alison could be a bit more transparent about this. However, there were also some students that were dissatisfied with their certificates, even after accepting the charges:
"There are many creases on all the documents (including the certificate and the transcripts). Basically, the crumpled documents are in bad shape and not presentable. We suggest that Alison can send and secure document in tube packaging for customers" – Comment from Trustpilot
Personally, If you're paying for a certificate (upwards of $100 where diplomas are concerned), you'd at least want it to be in good condition.
Aside from this, though, most students seemed satisfied with their experience on Alison, recommending the platform to others and even expanding their learning by taking further courses:
"I am happy to be a graduate of Alison and I will get my entire office to enroll for courses immediately. I also will enroll for the next course. Thank you Alison for this opportunity of a lifetime" – Comment from Trustpilot
"The fact that Diploma courses are available for you to do for free made me really happy. The content for the courses are quite interesting and help you to broaden your knowledge as well as your mindset. I would highly recommend Alison courses for fulfilling your future study goals" – Comment from Trustpilot
"I had a great experience because I have learnt a lot from the information provided and also how to love and care for the elderly people. I would recommend this company to friends and family. Keep up the good work" – Comment from Trustpilot
Evaluating Alison
Features: 4,000+ courses in 10 categories, partnering with 100+ leading academic experts worldwide. Courses are free with an optional paid-for end-of-course certificate. Alison also features additional resources like resumé builder, mental health assessment, and workplace personality test.
Content quality: Alison's lessons are often multimedia – video, audio, quizzes, assessment, textbook-learning, and more. They also include helpful infographics, definitions, and illustrations to aid with learning.
Content breadth: Subjects range from diploma courses in manual handling, psychology, and caregiving, to language-learning, IT, health, and engineering. Disciplines vary across a range of vocational and academic topics.
Teachers: Instructors include globally-renowned partnerships like Google, Microsoft, and OpenStax, to name a few. Many of the course publishers have 10,000+ students and usually multiple verified courses.
Supporting materials: Some courses include additional resources like PDF documents, and all courses offer support and study reminders. As a whole, Alison also offers career services, mental health check-ins, and resumé building.
Payments and refunds: Alison is free apart from certificate-purchases, which start at $35 for certificate courses and $110 for diplomas. If you opt for a premium subscription, you are not entitled to a refund for the month you've purchased, but can cancel at any time.
Support: Available through Alison Support Center.
How to open an Alison account
Opening an Alison account is easy. Just select the 'Sign Up' option in the top right corner of the page and enter your details to set up a profile.
You also have the option to sign up via Facebook, Google, Microsoft, or LinkedIn. Alternatively, you can of course just enter your name and email and sign up manually.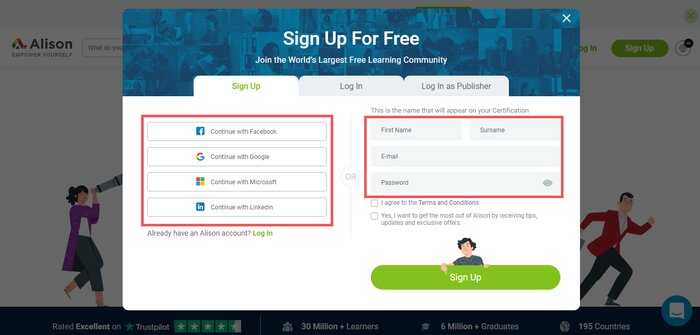 Is Alison worth it?
Ultimately, Alison's worth depends on what you want to get out of it.
As a vocationally-led platform with specialties in diplomas and certificate-based learning, Alison can be an affordable and worthwhile option for those wanting to gain further qualifications and knowledge.
At the same time, its certificates aren't universally accepted and they're certainly not the same as obtaining a college degree. That being said, the information on offer (especially when combined with real-life practice) can be incredibly valuable in setting you on your way to a new career.
As I've mentioned, there is a huge course catalog and even further options for business and language-learning. As a free site, Alison even provides additional services like resumé building, mental health assessments, and even a workplace personality test to help you determine your strengths and weaknesses.
Once you've found a course that you're interested in, the value you get out of it really depends on the work you put in! Plus, if you want to explore hobbies and interests without a certificate, Alison is even more risk-free and completely flexible around your schedule.
Either way, if you're looking to invest in yourself and are hesitant – or unable – to afford steeper platforms like Coursera or edX, Alison is an incredible resource and certainly not one to be overlooked in terms of its content and quality.
And, because the courses are completely free, there really is nothing to lose and a whole lot to gain by checking it out.
Alison frequently asked questions
How much does Alison cost?
Alison is a free e-learning platform, so you can take any or all of their courses at zero cost. However, there is a paid-for end-of-certificate (starting at $35 for certificate courses and $110 for diplomas).
Does Alison have a refund policy?
Because Alison is largely free, there's no specific refund policy. The paid-for certificates are non-refundable and, if you buy a premium subscription, you can cancel only to avoid your next billing date.
How many courses are there?
Alison has over 4,000 courses in 10 categories.
Is Alison free?
Alison is completely free unless you wish to buy a course certificate or go ad-free.
Does Alison give certificates?
Alison has the option to purchase certificates at the end of the course. These can be digital, physical, or even framed.
What languages is Alison available in?
At the time of writing, Alison is available in English, Spanish, French, Italian, and Brazilian Portuguese.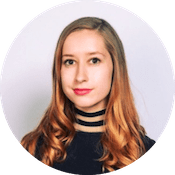 Rebecca graduated from King's College university with a first class honours in English Language, followed by a Masters' Degree in Eighteenth Century Studies.