With the popularity of vocabulary games – not to mention word puzzles like Wordle – it's no surprise that vocabulary building apps are in-demand.
In this article, I look at the best vocabulary building apps to help you decide which one's right for you.
Whether you're a vocab newbie or a seasoned wordsmith, apps to improve vocabulary can help you to sound smarter, improve your memory, and simply be fun!
So, if you're looking for the best vocabulary apps in 2023, this article's here to help.
What is the best vocabulary app?
In sum, these are our top picks:
Our top recommendation is Elevate. This is because you can train using 40+ games that build your vocabulary, and improve your memory and writing skills. With Elevate, you can even track your performance through their customized training program.
Whatsmore, Elevate's games are developed by experts and backed by research. So, the app is well-equipped to help you improve your vocabulary through daily engagement.
After signing up, Elevate tests your skill level so they can cater their app to your goals. This in-depth proficiency check ensures that Elevate successfully targets its content to push your abilities and keep you improving.
Alternatives to Elevate include Word Pal, which also uses quizzes and games as a fun way to learn new words and build your vocabulary. Using scientific methods to drive progress, Word Pal designs its lessons to help you expand your vocabulary quickly and effectively.
There's also Quizlet, where you can search millions of flashcard sets to stay on track with your learning. With Quizlet, you can also take unlimited and personalized practice tests to check your progress.
Read our mini reviews below to get the full details!
Best Vocabulary App Reviews
1. Elevate (Elevate Labs)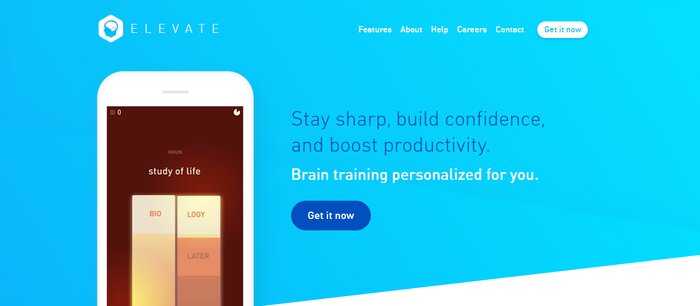 Platform: Elevate Labs | App name: Elevate
Elevate is a game-based app designed to help you sharpen a number of skills – including vocabulary. With 40+ games designed to improve reading and memory, Elevate is a worthwhile investment for any adult trying to learn new words.
You'll learn to:
Articulate your thoughts more clearly through personalized vocab training
Strengthen your focus and memory through scientifically-backed word games
Improve your writing abilities by learning new words and definitions
Enhance your reading and writing skills through regular use
Distinguish between commonly mistaken definitions
Pros:
Bite-size multiple choice questions for quick learning
Unique "EPQ" proficiency test to determine your training program
Customized and goal-oriented learning
5-star rated and trusted by 200,000+ users
Cons:
Occasional lagging and bug issues
Audio/visual content is sometimes distracting
Pricier than other options on this list
Who it's for: Elevate Labs designed this app for any adults looking to boost their productivity, improve their memory, and stay sharp. With a strong focus on English and Maths, Elevate helps you to build confidence through unlimited games, performance metrics, and advanced lessons.
Overall: With daily reminders to help you build good habits, Elevate is a self-improvement app focused on teaching you strong vocab skills. Their "daily workouts" aim to improve your vocabulary, help you to make a good impression through articulation, and boost productivity and focus.
2. Word Pal (Allspark Creative)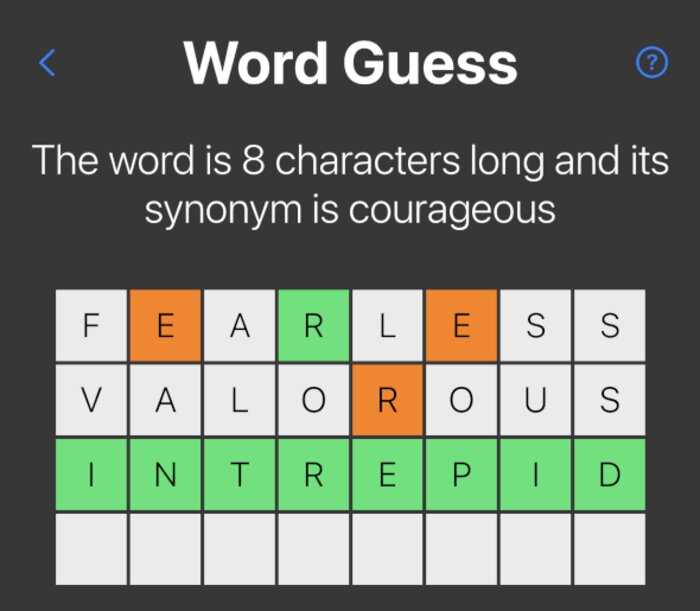 Platform: Allspark Creative | App name: Word Pal
Like Elevate, Word Pal uses quizzes, games, and examples to help you learn new words. Designed to drive your progress and improve your vocabulary through active learning, Word Pal is a science-backed app devoted to stress-free learning.
You'll learn to:
Grow your vocabulary through daily practice
Define and use new words in sentences
Improve your answer score through daily goals
Develop an inventory of synonyms
Guess words through corresponding clues
Pros:
Multiple games to keep learning active and varied
Definitions and examples with every new word
Daily goals and reminders to stimulate engagement
Performance metrics and customized program
Cons:
No options to "pass" on questions
Wrong answers aren't always explained
Another of the pricier options on this list
Who it's for: Word Pal is designed for the everyday learner who wants to improve their vocabulary in their own time at their own pace. If you're someone who gets bored easily, Word Pal keeps things interesting with games, quizzes, and practical examples.
Overall: A smart app that combines scientific learning methods with well-spaced repetition to help you retain new words. Their definitions and examples are also easy to understand, which means you can start using new words in your daily life.

Platform: Quizlet | App name: Quizlet: Languages & Vocab
With over 90% of school students reporting higher marks using Quizlet, it's no surprise that this app makes the list. On Quizlet, you can search millions of flashcard sets, test your knowledge in four different ways, and customize sets to your exact needs.
You'll learn to:
Expand your vocabulary through synonym tests
Guess and reveal word definitions
Build your vocab memory through flashcard learning
Test your skills with multiple-choice quizzes
Review your progress with round-by-round metrics
Pros:
Customized flashcards for on-the-go revision
Personalized study paths to help you reach your goals
Practice tests to help recall lessons
Match games to chart your progress
Cons:
Free version is limited
Occasional bugs and download issues
Revision methods not suited to everyone's learning style
Who it's for: Quizlet is designed primarily for school/college students who are revising for their exams. That being said, it's by no means limited to the school curriculum and you'll find a range of subjects, including vocab lessons.
Overall: A diverse bite-size app that's made great strides in recent years, with customized sets, unlimited rounds, and varied question types. With Quizlet, you're not limited to one subject and can mix and match topics as you please. You can also upload your own notes for an easy-to-access study set.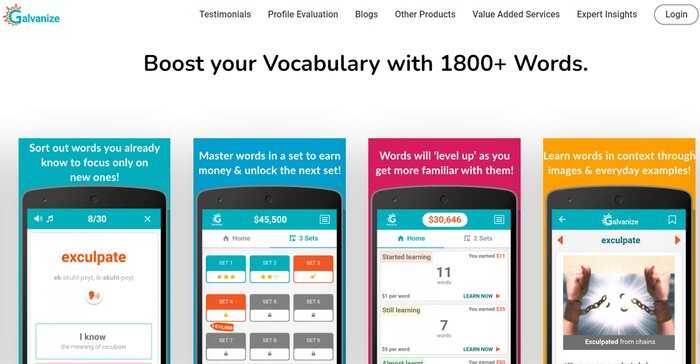 Platform: Galvanize | App name: Vocab Builder
Galvanize's Vocab Builder is designed to make learning new words fun. Namely, you can boost your vocabulary with over 1800 new words by playing games, taking quizzes, and unlocking new sets.
You'll learn to:
Improve vocabulary for relevant tests
Develop a strong repertoire of words to impress employers
Increase your vocab skills through unlocking levels
Test your knowledge through "fill the blank" quizzes
Reach new milestones and pass college-level exams
Pros:
Curated services for Campus Placement Exams, GRE, SAT, and more
Excellent trajectory from basics to advanced
Attention to grammar, pronunciation, and reading skills
Start-of-app placement test to establish skill level
Cons:
Placement test is not always trustworthy
Low variety of answer options in quizzes
Complex interface
Who it's for: Galvanize's Vocab Builder App is designed for a range of students, including self-learners. That being said, it caters a lot of extra resources to students applying for higher studies as well as for TOEFL & IELTS. So, if you're looking to improve your vocab in an academic context, this app might be the best for you.
Overall: Galvanize is an in-depth app targeted to a range of language students, as well as casual learners. So, whether you're looking to ace some tests, improve your job prospects, or simply learn for fun, Galvanize has you covered.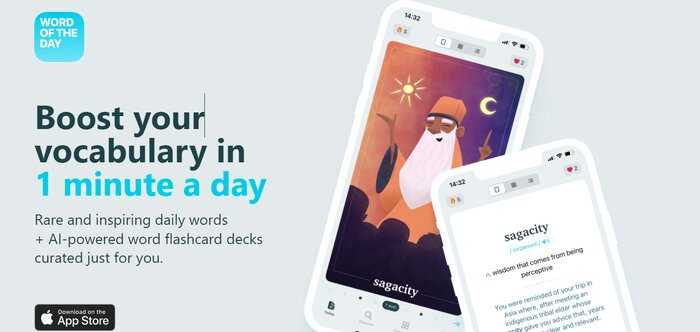 Platform: ADS PROJECTS GROUP LTD | App name: Word of the Day
ADS PROJECTS GROUP's Word of the Day app takes a simple concept and elevates it for the word-enthusiast. With Word of the Day, you can boost your vocabulary in under a minute by learning new and interesting words. But, with AI-curation, it also goes further than this.
You'll learn to:
Learn and memorize new words for daily use
Expand your vocabulary through crafted flashcard decks
Discover and match new words based on your vocabulary
Engage cognitively with new vocab through word search challenges
Form word collections and learn etymology
Pros:
Tracks your score and streak to encourage revision
Extensive definitions and examples to help you understand words
Word search games to keep your brain engaged
Personalized flashcard decks based on your proficiency
Cons:
Placement test isn't always reliable
Free version is limited
Audio pronunciation is sometimes unclear
Who it's for: This app is geared toward students, job hunters, and vocab enthusiasts. By using AI-tailored flashcard decks, you can improve your vocabulary and understanding of new words every day.
Overall: An engaging app with game options and helpful definitions and examples. As the name implies, the free version is limited to one word a day, but with Premium you can learn up to 3,650 a year. The app's curated learning also helps to enhance cognitive performance and memorization.
6. Vocab.com (Vocabulary.com)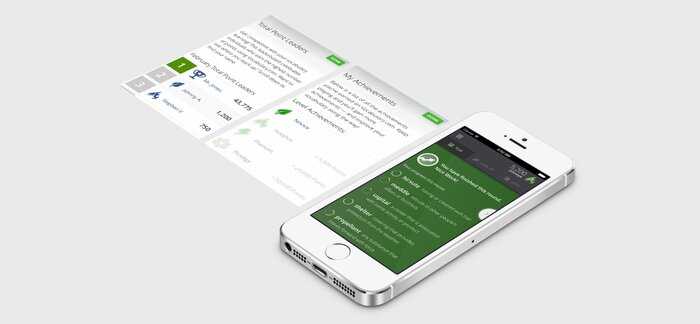 Platform: Vocabulary.com | App name: Vocab.com
Vocab.com promises to help you learn new words forever by combining the world's smartest dictionary with an adaptive learning game. As they pledge, they'll have you mastering new words in no time.
You'll learn to:
Search, understand, and use new words in a daily context
Build your own learning program by engaging with words
Improve your vocabulary by playing word-based games
Earn achievements either solo or by competing with others
Determine words by visual references
Pros:
Features include test prep for middle school and high school
Add word categories to organize your learning
Leadership boards to motivate playing
Visual clues and real-world examples
Cons:
Less variety of games than with other apps
Dated interface with maintenance needed
Lacks the option to edit your lists
Who it's for: This app is for anyone wanting to expand their vocabulary, and it's particularly useful for game-based learners who learn best through competition or with visual aids. It also has focused sections on middle and high school literature, and can be a great study resource.
Overall: A great concept with some good features, Vocab.com allows you to create your own lists, track your achievements, and prepare for exams. The main downfall is that the app is a little clunky and is less versatile than other vocab apps.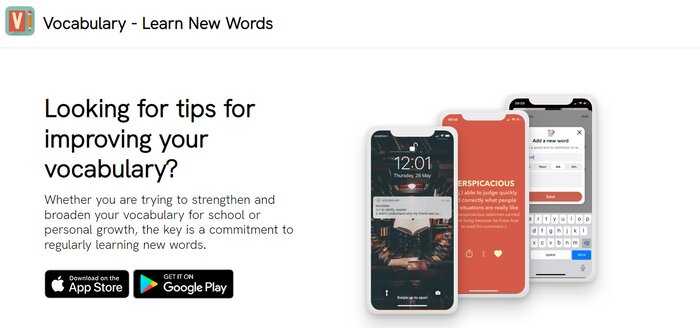 Platform: Monkey Taps | App name: Vocabulary
Monkey Tap's Vocabulary app gets you in the habit of learning new words with daily reminders. A sleek design with widget options, Vocabulary is easy to use and encourages no-nonsense engagement with new vocabulary.
You'll learn to:
Advance your vocabulary based on your current skill set
Learn and understand new word definitions, grammar, and examples
Relate similar word types and meanings to each other
Search for new words by part of speech
Curate your own word collections
Pros:
Minimalist, no-frills design
Find new words by category searches
Create collections based on topics
Great definitions, examples, and attention to grammar
Cons:
Not as extensive as other apps
No games to reinforce learning
Many of the words are not applicable to daily life
Who it's for: Monkey Taps designed their Vocabulary app for anyone who wants to learn new words daily. With widget options, daily reminders, and notifications, Vocabulary encourages you to browse new words and definitions daily to become a seasoned wordsmith.
Overall: A stylish app design that prompts learning new words with definitions, examples, audio, and "Discover" sections. One standout is that you can search by word types, like nouns and adjectives, and can also save words to different folders.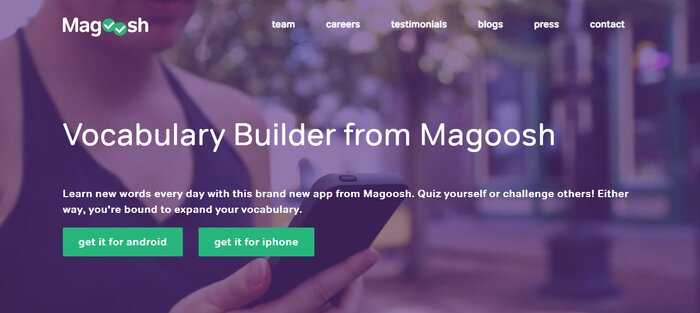 Platform: Magoosh | App name: Vocabulary Builder
Magoosh's Vocabulary Builder is a popular vocab app featuring over 1,000 words picked by expert tutors. By using it daily, you can improve your vocabulary through short quizzes, helpful definitions, and simple examples.
You'll learn to:
Master basic, intermediate, and advanced word categories
Learn new words for SATs, TOEFL, GMAT, and more
Correctly pronounce and use words within relevant contexts
Unlock new sets and improve your vocab through levels
Put your new word knowledge to the test with games
Pros:
End-of-lesson games and multiplayer competition
Designed for test prep and developed by test prep experts
Specialized sections for high school, language learners, and more
Continually updating with new verbal content
Cons:
Definitions are sometimes inaccurate
Slow to load and freezes occasionally
Progress is sometimes reset
Who it's for: With Magoosh founded and developed by test prep experts, Vocabulary Builder is targeted toward students taking key exams in their academic milestones. Because of this, there are frequent updates and revisions to ensure the app reflects current curricula.
Overall: Magoosh's founders aim to equip young people with the skills needed to pass key tests and reach university level. By presenting new words in basic categories and with multiple-choice questions, Vocabulary Builder helps you to engage with new words as you learn.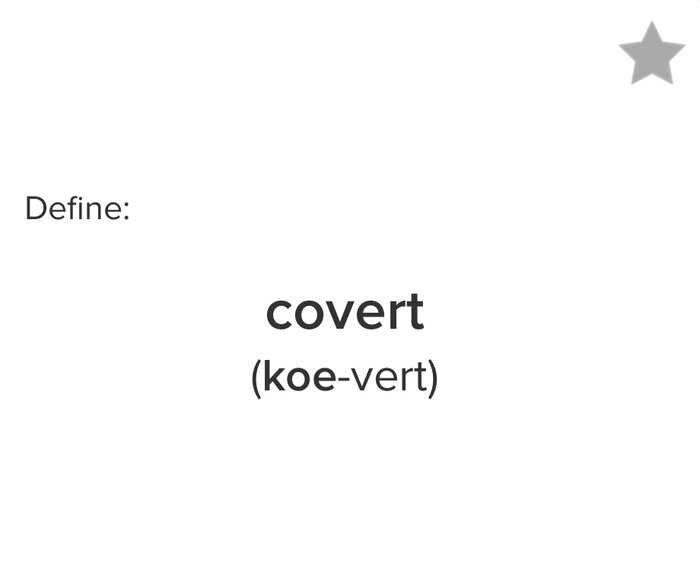 Platform: Brainscape | App name: Vocab Genius
Applying the latest in cognitive science, Brainscape's Vocab Genius helps you to update your vocabulary quickly and effectively through daily practice. With over 1,300 flashcards, you'll learn new word definitions, pronunciation, and roots.
You'll learn to:
Understand new words by learning Latin roots and prefixes
Develop your vocabulary through color-coded flashcards
Set your own goals and track your performance
Retain information through customized repetition
Use new words in suitable contexts through samples sentences
Pros:
Scientifically-optimized algorithm to keep your brain engaged
Other 300 word elements, including roots, suffixes, and prefixes
Allows you to browse/search to find the flashcards you want
Ongoing feedback, statistics, and visualization tools
Cons:
Unreliable audio recordings
Could benefit from more variety
In-app instructions and adverts are sometimes distracting
Who it's for: Because of its focus on word roots, this app is equally helpful to those learning English as a second language and native speakers who want a better understanding of how to recognize words.
Overall: A scientifically-optimized app that focuses on cognitive development. Through unlocking sets, browsing words, and testing your knowledge, you can build a stronger vocabulary and feel confident in using and recognizing new words.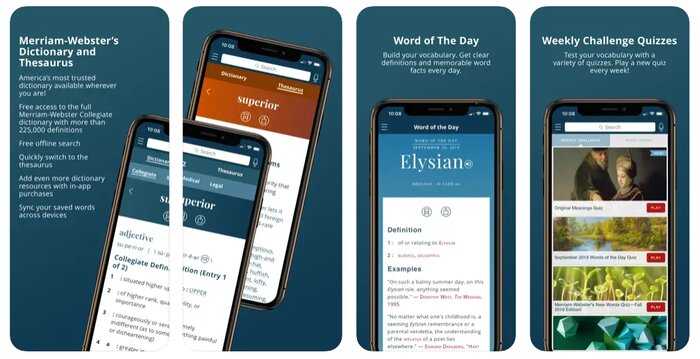 Platform: Merriam-Webster, Inc | App name: Merriam-Webster Dictionary
A tried and true method, browsing the dictionary is one of the easiest – though often neglected – ways to improve your vocabulary. But, the Merriam-Webster Dictionary is also not lacking when it comes to finding new ways to engage its users.
You'll learn to:
Determine and advance your vocabulary with multiple word games
Complete weekly challenges to test your learning
Race against the clock to recognize and define words
Take themed quizzes to keep learning varied
Save and tackle words of increasing complexity
Pros:
Includes the much-loved "Word of the Day" feature
Bookmarked section for tracking your words
Multiple game types to keep learning interesting
Options to play against a timer or at your own pace
Cons:
No placement test or tracking metrics
Occasionally crashes
Free version is very ad-heavy
Who it's for: The Merriam-Webster Dictionary app is a handy tool for looking up quick definitions and also for expanding your vocabulary in a fun and bite-sized way. Because of its easy-to-search formatting, it's great for students but also caters to casual learners.
Overall: This is a useful app that goes beyond the basic dictionary function. You can also play multiple-choice quizzes and games to make vocab-building more stimulating.
What are the advantages of using a vocabulary app?
As with most self-development apps, there are many reasons why you can benefit from using them. With vocabulary apps in particular, some benefits include:
Being able to articulate your thoughts more clearly
Make a strong impression on prospective employers
Learn valuable knowledge for test preparation
Keep your brain active and healthy
Improve memorization and cognitive functions
Buyers guide: what to look out for in a vocabulary app
Choosing the right vocabulary app can be tricky – especially when you have to contend with different skill levels, qualification types, and app features.
That being said, we suggest you consider the following before making your choice:
Developers' experience – if you're going to invest time and money in a vocabulary app, you want to make sure that the developers are well-versed in whatever goal the app has in mind. So, if you're facing your TOEFL exams, do the developers understand the necessary criteria to help you pass?
Develops skills – a good vocabulary app shouldn't only cover the basics. Rather, it should have you continually learning and developing your inventory.
Great definitions – if you're learning new words, you want to be sure that you're learning them correctly. So, it's important that definitions, pronunciation, and grammar elements are all accurate.
Syllabus and skill level – you want to ensure that the app/learning path reflects your goals and skill level. If you're a native speaker, you probably don't need to learn the basics.
Price – of course, you want the app to be in your budget. But, it's also important to consider the value you could get out of an app. If an app is more expensive but has 1000 more words and expert curation, it'll probably generate more value in the long run.
How much does it cost?
The apps on this list vary in cost, with most having free 3-7-day trial periods. After this, you're looking at between $37-$50 a year, with the costs usually being spread out in monthly installments.
Bearing in mind a lot of these apps are developed by test prep professionals – or, they set out to develop a lifelong skill – this is pretty good value for money.
It's also worth considering what you get for your money, and how these apps can benefit you beyond vocab-learning. Most of these apps are scientifically-backed to reinforce cognitive development and keep your brain healthy and engaged.
In the long run, if you want to develop a lifelong skill or plan for a career-changing test, these apps are definitely valuable.
How long does it take to learn new vocabulary?
With most of these apps consisting of bite-size lessons, even a minute a day can help you to learn and understand a new word. That being said, the key to vocab development is repetition and daily training.
Plus, with something as broad as vocabulary, it's never fully learned, but is always being developed and built upon. Also, you can select or assess your own skill level, which means the algorithms will show you what you most need to work on.
All in all, this is one of the most efficient ways to learn and does so to have you retaining new words long-term.
How do we rank our results?
We rank our results based on which apps we believe to be the best.
Undoubtedly, this is subjective. But, the factors we consider are:
Developer experience
Provides transferable skills
Has a strong, varied syllabus
Is well taught and explained
User feedback
App quality
Overall impressions
Where we can, we trial the apps for a few days and even check out the premium versions for a well-rounded understanding. However, where we can't do this, we do extensive research on the app, its contents, and user feedback.
Conclusion
If you're looking to improve your vocabulary, you're not short of vocabulary building apps.
Elevate is perhaps the best vocabulary app because of its number of games and features. Because it determines your proficiency and tracks your performance, it's a scientifically-backed way to improve your vocabulary and memory retention long-term.
Word Pal and Quizlet are great alternatives to Elevate – especially if the latter seems like a big investment or commitment. Plus, with test-specific apps like Magoosh's Vocabulary Builder, there's an app out there for everyone.
So, hopefully, this article has helped you to understand the best vocabulary app for you!
Related articles: British Council Learn English review, Best online English Classes, Best App to learn Sign Language, Best Speed Reading courses
Best Vocabulary Apps – FAQs
What is the best vocabulary building app?
Our top recommendation is Elevate because of its customized learning plans and research-backed games. Ranking as Apple's App of the Year and receiving over 200,000 5-star reviews, we're not alone in thinking this!
How much does a vocab building app cost?
Apps on this list vary in price, with some offering free versions. However, for an annual subscription, you're looking at around $37-$50.
How long do vocabulary building apps take?
Many of the apps on this list promise to teach you new words in as little as one minute a day. But, bearing in mind how extensive vocab-building is, you need to dedicate at least a few weeks to studying so you can develop and retain knowledge.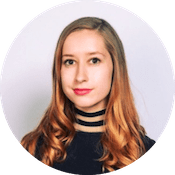 Rebecca graduated from King's College university with a first class honours in English Language, followed by a Masters' Degree in Eighteenth Century Studies.