Learning English can open lots of doors for your personal and professional life. Including increasing your chances of landing a good job in a multinational company – either at home or abroad.
With the wealth of English courses out there, it can be hard to know where to start when looking for the best English classes for your skill level. Besides, learning English can be complicated with lots of rules to learn.
That being said, a good course will make it simple and easy to follow. It'll also cover speaking, listening, reading, and writing. Despite the challenges, there's never been a better time to learn.
So, that's why we've rounded up the best online English courses in 2023 to help you decide which is for you.
In this review, I've considered conversations, business language, travel, and more. Plus, taking into account different aims, we've thought about the best courses for a range of levels and experiences.
So, let's get started!
What is the best online English course?
Here are my top choices:
My top choices are English as a Second Language (Lingoda) and English – Various (Preply).
This is because both platforms accommodate different learning styles through puzzles, games, and live lessons.
Working in small groups or 1-1, both platforms offer personalized learning that is truer-to-life than textbook learning. You also engage actively with content and speak live with instructors and students.
With both sites, you also take a placement test to place you in the best group for your skill level. So, from the off-set, Lingoda and Preply guarantee well-tailored content to help you meet your goals. For example, you can learn Business English, or basic/conversational English, depending on where you are in your journey.
However, there are other online courses that require less investment. For example, Coursera's Improve Your English Communication Skills Specialization is a highly-rated business-focused course offered by Georgia Tech.
Or, if you're more interested in everyday English, Udemy's English for Beginners offers 77 hours of on-demand video and 10+ downloadable resources.
Read our mini reviews to get the full details!
Best Online English classes Reviews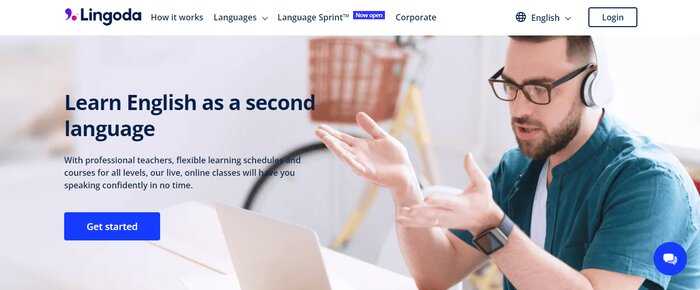 Platform: Lingoda | Teacher: Various | Course length: Customizable between 1-10 hours a week
With a team of linguistic experts and over 1,500 tutors, Lingoda offers 24/7 availability with a true-to-life learning experience. After your placement, you're added to a small group of no more than five. Then, you can attend Zoom classes and practice your English as close to face-to-face as possible.
You'll learn to:
Translate phrases to and from English
Read English and converse with students aloud
Match English words to images
Improve your vocabulary through scripts and puzzles
Grasp grammar and syntax through repetition
Pros:
Native speakers as your tutors
Live lessons you can fit around your lifestyle
Small class size and personalized feedback
Puzzles and games to encourage learning
Cons:
Instructor availability not guaranteed
Lesson completion depends on group effort
Who it's for: Lingoda is suitable for anyone looking to learn a language or brush up on a language previously learned. Because of its placement test, Lingoda ensures your learning path matches your goals.
Overall: Lingoda is an ideal platform for anyone invested in long-term language-learning. While you can customize your weekly goals, it encourages consistency. Because of its practical lessons, Lingoda will have you speaking in English from the get-go. For a more detailed review of Lingoda, see here.

Platform: Preply | Teacher: Various | Course length: Various (3 package types)
Similar to Lingoda, Preply has a built-in classroom on desktop and app versions. While there are three package types to choose from, you can also purchase a single class to try Preply for size.
You'll learn to:
Practice pronunciation and address problem areas
Understand grammar and syntax basics
Build a strong foundation for progression
Grasp vocalic sounds and enunciation
Speak and understand English 1-1
Pros:
Personalized content with real-time feedback
Discounted trial lessons
Adaptable to your goals
Free Preply blog and Q&A community
Cons:
No free trial period
Website can be faulty
Who it's for: Preply suits anyone looking to sharpen their English grammar and pronunciation. It's also best for those who benefit more from 1-1 learning. Preply gets you speaking in English from the get-go and offers personalized feedback.
Overall: Preply is a user-friendly platform that teaches you 1-1. As with Lingoda, you can take a placement test to determine your proficiency. Plus, you can also find tutors to suit your availability and budget. For more info on Preply, see here.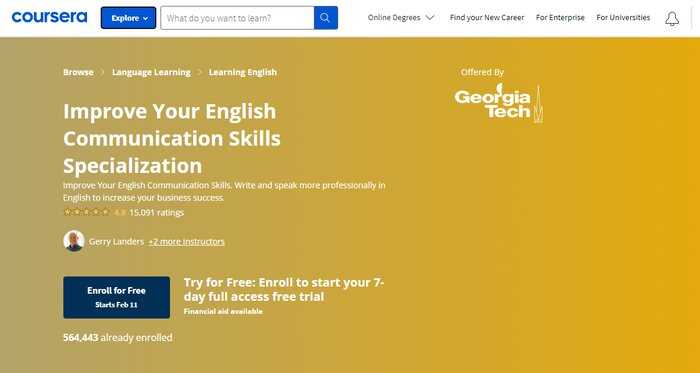 Platform: Coursera | Teacher: Gerry Landers, Karen Peterson & Amalia B. Stephens | Course length: Approx. 5 months
Offered by Georgia Tech and taught by three language and linguistics experts, this specialization comprises four courses. Each course takes around 14 hours to complete, with a suggested pace of three hours/week.
You'll learn to:
Write and speak Business English professionally
Draft and edit professional English emails
Converse confidently in meetings/interviews
Give English presentations
Network online and in-person
Pros:
Step-by-step teaching
Business-focused
Practical knowledge with real-world results
Attentive to spoken and written English
Cons:
Students mark each other's work
Focuses on US English and work contexts
Might be too basic for some
Who it's for: This course is ideal for business students looking to fine-tune their spoken and written English. In particular, it's geared toward those who are networking, interviewing in English, and performing in a professional setting.
Overall: This is a four-part series on writing and speaking in Business English. So, it focuses on persuasive writing and business language. That being said, some of the lessons are quite basic, so it's best suited to lower-level speakers.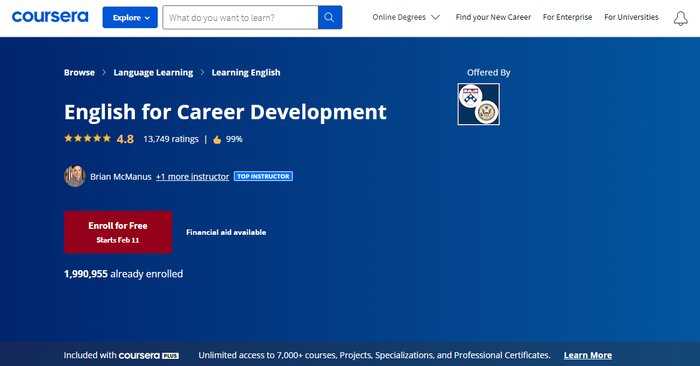 Platform: Coursera | Teacher: Brian McManus & Robyn Turner | Course length: Approx. 40 hours
Offered by the University of Pennsylvania and led by Robyn Turner and Brian McManus, English for Career Development is another professional course for non-native speakers.
You'll learn to:
Write a comprehensive resumé in US English
Engage in networking conversations
Display confidence through articulation
Expand your vocabulary to better market yourself
Practice English communication skills for interviews
Pros:
Practical learning with measurable results
Well-designed course with simple explanations
Great selection of video content and quizzes
Direct language and easy-to-follow teaching
Can be taken for free if you don't require certification
Cons:
Covers very basic English
Sometimes more job-focused than English-focused
Who it's for: This course is an alternative to Georgia Tech's specialization, with more attention to job-hunting practicalities. With that in mind, this course is best-suited to non-native speakers seeking work in the US. It's also a good introduction to more comprehensive classes.
Overall: If you're a non-native English speaker interested in the US business world, this course is a strong introduction to how job hunting works. That being said, it can sometimes focus more on the hiring process than English language specifics.

Platform: Coursera | Teacher: Tamy Chapman, Brad Gilpin, Nicole Jacobs & Emily Ellis | Course length: Approx. 5 months
Another Coursera specialization, this time from UC Irvine, this series centers on advanced English grammar and punctuation. Led by EFL teacher Tamy Chapman, the course focuses on how to articulate and express yourself in the English language.
You'll learn to:
Understand advanced English grammar
Blend verb tenses effectively
Correctly punctuate sentences
Improve your overall fluency
Enhance your English for academic/professional settings
Pros:
Covers grammar basics for non-native speakers
Enjoyable and easy-to-understand content
Great refresher for intermediate learners
Clarifies precise grammatical terms
Cons:
No discussion forums
More beginner than advanced
Who it's for: A helpful course for non-native speakers looking to improve their English grammar skills. This class does require some basic English but focuses on fine-tuning grammar for successful communication. It's especially helpful for those wanting to articulate themselves in a professional/academic setting.
Overall: A fun course that teaches English grammar creatively. The instructors tackle a mundane subject in a manner that's enjoyable. That being said, the over-acted teaching style might not be for everyone.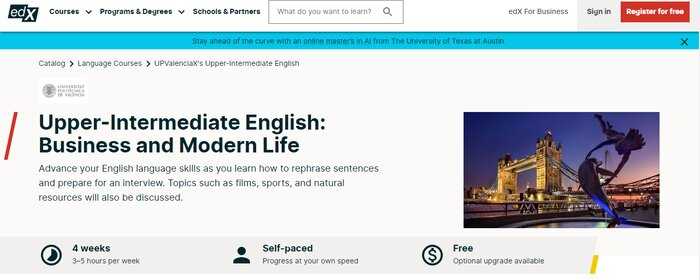 Platform: edX | Teacher: Ana Gimeno | Course length: Approx. 4 weeks
A free course with optional upgrade, edX's Upper-Intermediate English course helps you to advance your skills by practicing rephrasing, reading and listening comprehension, and grammar explanations.
You'll learn to:
Write formal and informal letters
Use verb tenses in the right context
Improve your vocabulary and grammar
Rephrase sentences to sound more articulate
Prepare for an English job interview
Pros:
Self-paced learning to progress at your own speed
Free course with optional upgrade
Mixed media such as videos, reading, and exercises
Includes preparatory material for the FCE
Cons:
Basic/lower-intermediary proficiency required
No instructor feedback with free version
Who it's for: This class is best suited to students or aspiring professionals who are preparing for a university or job interview of some kind. That being said, this preparation only forms part of the course and is a helpful (and free) stepping stone to advanced English lessons.
Overall: A well-balanced course mixing practical learning such as interview-prep and with the building blocks of English vocab. You'll also learn how to articulate your thoughts more clearly in a range of settings.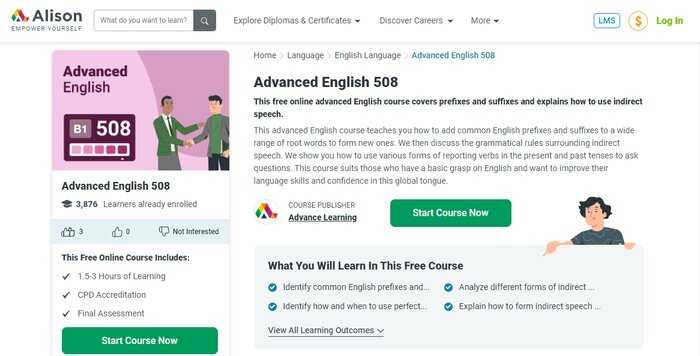 Platform: Alison | Teacher: Various | Course length: Approx. 3 hours
Compared to other courses on this list, Alison's Advanced English 508 is short but sweet. With around three hours' content and CPD accreditation, this is a valuable course for non-native speakers who are further along in their proficiency levels.
You'll learn to:
Identify and apply prefixes and suffixes
Understand direct/indirect grammar rules
Report verbs in three tenses
Build upon your vocabulary
Use the perfect continuous form
Pros:
CPD accreditation
Free option
Final assessment to measure skills
Mix of articles, videos, and audio clips
Cons:
No business-specific guidance
Less suited to beginners
Who it's for: As an advanced course, this class is more suited to those who are comfortable with upper-intermediate English. Focusing on prefixes/suffixes, direct/indirect speech, and questions, Alison's 508 course hones in on advanced grammar rules.
Overall: Available for free, and one of Alison's many English language courses, this is a strong contender for one of the best advanced English classes out there. If you're opting for a standalone course or don't want to invest in a long-term study plan, Alison's English classes might be best for you.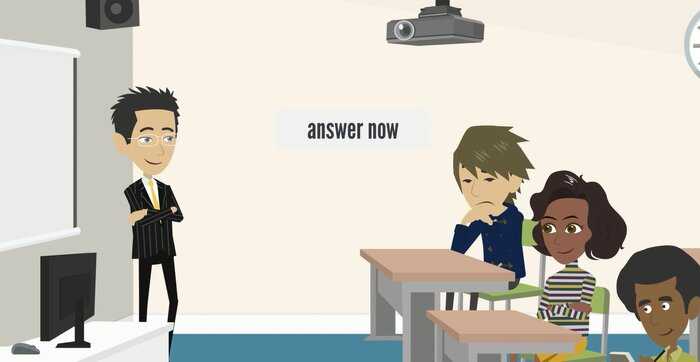 Platform: Udemy | Teacher: Logus Academy | Course length: 63 video lessons totalling 76 hours and 59 minutes
Hailing themselves as the "Online School of the Future," Logus Academy is an online school determined to present their courses efficiently and in the most fun way possible. A 100% animated and interactive course, English for Beginners helps you build the skills necessary for everyday English conversation.
You'll learn to:
Use over 1000 English words in daily conversation
Think and speak in English fluently at intermediate level
Understand movies and TV shows in English
Start preparing for English language tests
Correctly use English grammar
Pros:
Practical course that gets you speaking English straight away
Focus on day-to-day English in a range of scenarios
Simple but effective English grammar lessons
Adjustable speed for more intermediate learners
Cons:
Lessons can be repetitive
More suited to beginners
Who it's for: Logus Academy has designed this course for beginners who want to progress to intermediate as quickly as possible. With full lifetime access and adjustable speed settings, it's also a helpful refresher.
Overall: A non-business English speaking course that focuses on speaking aloud and listening practice. Despite being a standalone course, it clocks in at an impressive 77 hours, which is great value for money, and a one-stop-shop for English beginners.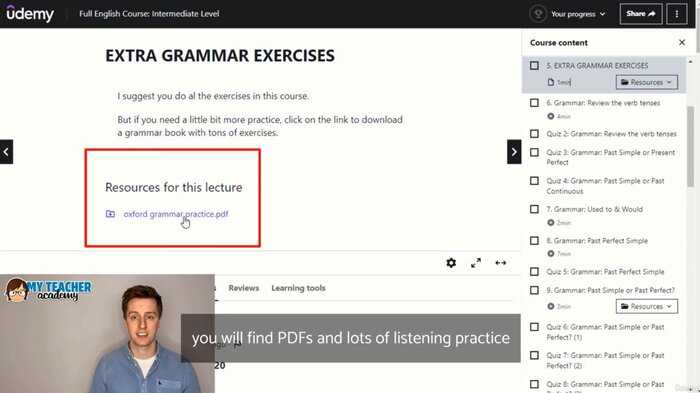 Platform: Udemy | Teacher: My Teacher Academy | Course length: 106 lectures totalling 5 hours and 30 minutes
With an online community of 29,000+ students, My Teacher Academy boasts a range of English courses for all levels. For students at an intermediate/high level, this Upper-Intermediate Level takes you through to advanced English speaking, listening, and writing.
You'll learn to:
Understand the structure of English grammar and vocabulary
Gain better scores in English grammar exams
Better understand spoken English
Upgrade your English vocabulary, reading, listening, and writing
Improve your comprehension skills by hearing different accents
Pros:
Fantastic attention to English grammar rules
Clear and concise lessons
Positive and engaging instructor
Helpful quizzes to measure improvement
Cons:
Not personalized to each student's skill level
Tests are sometimes more intermediate
Who it's for: As My Teacher Academy advertises, this course is designed for intermediate-level students who want to take their English listening, comprehension, and grammar skills to an advanced level.
Overall: While this course has a lot more lessons than its rival Udemy course on this list, each lesson is a lot shorter and more bite-sized. This makes it useful for on-the-go learners who don't have as much time on their hands. However, it mostly focuses on grammar, so is arguably less well-rounded than other courses on this list.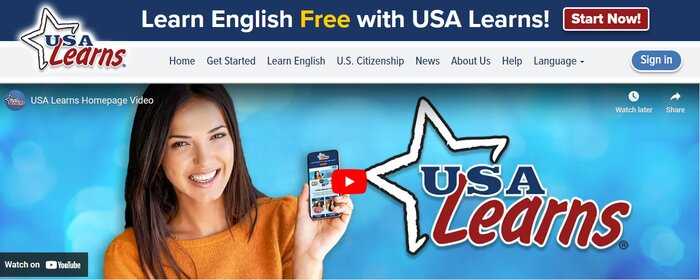 Platform: USA Learns | Teacher: Various | Course length: Multiple courses at 1+ hour each
USA Learns is a free-to-learn English course geared toward a range of non-native students. It offers classes for beginner to advanced students and even has further learning such as their US Citizenship classes.
You'll learn to:
Comprehend spoken English from beginner to advanced
Improve your English vocabulary and listening skills
Upgrade your English reading, spelling, and writing
Understand English grammar foundations
Enhance your English toolkit by learning new words
Pros:
Activity-based with audio and visual content
Unlimited practice and quiz attempts
Learn over 1,000 English words and sentences
Completely free and beginner-friendly
Cons:
No offline version available
Lacks additional downloadable resources
Who it's for: USA Learns is predominantly geared toward beginner/intermediate English learners and is particularly useful for those who wish to adapt to US life. There are further practice/reading courses and even a US Citizenship course.
Overall: A well-rounded course that covers English reading, listening, grammar, and speaking with helpful interactive quizzes and additional videos on YouTube. That being said, the course itself is 100% online and is web-based rather than on a video player or app.
What are the advantages of taking an online English class?
In short, there are plenty. But here are some key perks:
Improve your employability and career prospects
Open doors for a range of personal, professional, and travel options
Meet and form strong relationships with people from around the world
Enhance other areas of your well-being such as memory and brain functions
Better understand the language(s) you already speak
Buyers guide: what to look out for in an online English course
Choosing the English class that's right for you can be daunting. So, we recommend considering the following points before you commit:
Experience and proficiency of the instructor – if you're going to spend time and, in most cases, money, on a course, you want to be assured that the instructor has the skill level to teach you what you need to know. But, beyond that, you also want to learn from someone who teaches effectively and presents information in a fun and engaging way
Develops skills – an online English class shouldn't just be about the basics. The right class will seek to advance your learning and keep you growing in skills and confidence
English grammar – while learning 1,000+ words is great, it's not going to help you if you don't understand English grammar basics. So, the right course will lay the building blocks for speaking, writing, and conversing in English so you can communicate in a range of contexts
Syllabus and skill level – Make sure that what's on offer is right for your level and goals! Are you looking for a general beginner's course or Business English?
Price – of course, you want to be able to afford whichever option is best for you. But it's also important to consider the long-term value you'll get from a course. For example, if a course is twice the price but the teacher has 10x the experience, this will likely generate more value in the long run.
How much do online English classes cost?
The courses on this list range from free to $50+ per month. For our top pick, Lingoda, you're looking at between $130-$750 per month for a 1-1 subscription (dependent on teacher experience).
While this might seem pretty steep, the advantages of sites like Lingoda and Preply is that you can filter teachers and courses by price. This means that you're bound to find something within your budget. With Preply, you can even pay per hour – though a subscription is always recommended for long-term learning. For more information check out our Lingoda and Preply reviews.
If you calculate these courses' costs on an hourly basis, the price seems a lot more reasonable. Plus, compared to in-person learning, online classes work out a lot cheaper more often than not.
Sites like Coursera also have subscriptions available, and they offer a range of academic and creative learning paths that go beyond languages. Their single courses (not the specializations) can be taken for free if you do not require certification.
So, with an annual subscription you can improve not only your English but a range of personal and professional endeavors! For a full review of Coursera, see here.
How long does it take to learn English online?
The courses on this list vary in length between three hours and five months!
Plus, many courses are customizable around your lifestyle and, with Lingoda and Preply, offer various recommendations or package types.
For shorter courses, you need to account for practice time. A general rule is to take the course length and multiply by five. But, it's worth remembering that English can take up to several years to learn and there's always a more advanced skill level to master!
Even when studying at your own pace, consistency and practice is key. So, the more you can revisit lessons or put them into practice in your daily life, the quicker you'll learn.
Also, many tutors and even shorter courses offer downloadable resources so you can take your learning beyond the classroom.
How do we rank our results?
Put simply, we rank our results according to which courses we believe to be the best.
Inevitably, this is subjective. But, the factors we consider are:
Teacher experience
Provides transferable skills
Has a strong, varied syllabus
Is well taught and explained
Student feedback
Production quality
Overall impressions
Wherever possible, we complete the courses in order to review them. Where it isn't, we do extensive research on the course, its syllabus, and student feedback.
Conclusion
If you're looking to learn English online, you're not short of choice.
Lingoda is our top pick as it offers small-group or 1-1 learning over Zoom. This means you get to practice English straight away and get instant personalized feedback on your progress.
Lingoda and Preply both feature high caliber tutors who tailor their learning plans to match your needs. As these sites are strictly language-based, all course content and features are designed to guarantee excellent results and long-term skills
That being said, though, if you're interested in standalone courses or broader subscription sites, Coursera's Improve Your English Communication Skills is a great alternative. As a course Specialization, it actually comprises multiple courses all built to advance your proficiency and cover extensive ground.
But, if you have less time to invest, edX's Upper Intermediate English is ideal for anyone at a higher proficiency and is focused on Business English. You can also read our full edX review here.
Hopefully, this article has helped give you a better idea of the options out there and even helped you determine the right course for you!
See also: Best online IELTS courses, Best British Sign Language classes
Best Online English Classes: Frequently asked questions
What is the best online English class?
Our top recommendations are the English-learning platforms Lingoda and Preply. 
How much does an online English course cost?
The online courses on this list range from completely free to $700 (based on teacher experience and subscription level). Typically, online classes are cheaper than in-person lessons.
How long do online English classes take?
The courses on this list range from between three hours and five months. But you should also account for practice time!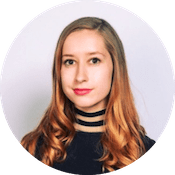 Rebecca graduated from King's College university with a first class honours in English Language, followed by a Masters' Degree in Eighteenth Century Studies.