English is a global language. And it's not only important to master it perfectly, but also be able to prove your language qualifications. Especially as a non-native English speaker.
Luckily for you, the IELTS (International English Language Testing System) exists. And it's an amazing opportunity to gain a highly credible certificate.
Preparing for such standardized tests can seem difficult. But there are courses online that can help. That's why I've spent over 2 weeks researching the best possible IELTS courses that will not only guarantee a high score for you, but also take your language skills to the next level.
I scoured for best teachers and highest grades achieved by past students. From vocabulary specials to mastering the writing part of the test, this selection of courses ought to provide you with your very own perfect one.
I've also taken into account price, duration, and depth of the curriculum taught to pick only the best of the best IELTS online courses for you.
Without any further delay – let's dive in.
Top 10 best online IELTS courses
My overall top choice is the IELTS Band 7+ Complete Prep course on Udemy. This masterfully done course provides full and thorough guidance in how to achieve top grades. It's taught by Keino Campbell, who has 15+ years' experience in teaching IELTS and TOEFL exam prep. With this course you will exceed your own expectations and become a real pro in fluent and grammatically correct English.
My second pick is the IELTS Preparation Specialization on Coursera. In this 3 part course, provided by the University of California Irvin, you'll learn how to ace the IELTS exams using working strategies. This course covers it all – it'll help you become a pro as writing, reading, listening, and speaking alike. It's a relatively short course – so might not cover completely everything – but it will definitely give you great guidance
If you're interested in courses targeting a specific part of the exam, you should look at the Mastering IELTS Speaking, IELTS Listening Mastery, IELTS Writing Preparation, and the IELTS Reading Academic Masterclass courses.
For building a stronger vocabulary and learning how to use English as a native take a look at the IELTS Vocabulary, Most Common English Phrasal Verbs, Fluent Grammar, and Most Common English Idioms courses.
Best free IELTS courses
If you're looking for the best free IELTS courses, here is a list:
Strictly speaking, these courses are not entirely free. However, on Skillshare, it's possible to get a month long free trial period during which you could complete your course and test out the platform for potential future subscription.
Meanwhile, on Coursera the free trial period is only a week long, but it still gives you a chance to check out the specialization before committing to purchase. Specializations generally take 1-3 months to complete and are paid for on a monthly basis.
Best online IELTS course reviews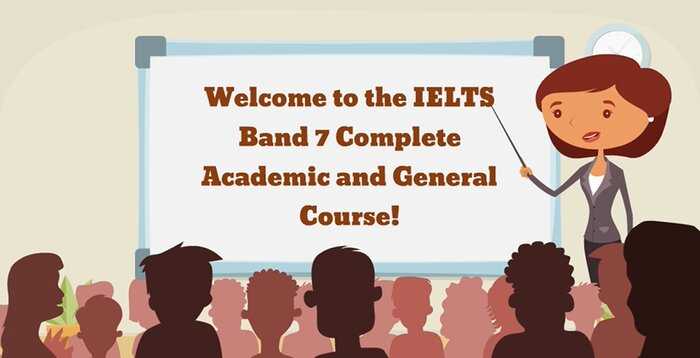 Platform: Udemy | Teacher: Keino Campbell | Length: 90 hours and 9 minutes
A comprehensive program designed to help you achieve your desired band score on the IELTS exam. With 10+ years' experience teaching English and test preparation, Keino Campbell is a highly qualified instructor who's helped thousands of students succeed on the IELTS. His expertise and proven track record make this course a top choice for anyone looking to get the highest grades.
What you'll learn:
Effective approaches for every section of the exam
Key vocabulary and grammar rules covered
Time management skills in order to complete all sections within the allocated time
Valuable tips and tricks to give you an edge over other test-takers
How to successfully overcome any traps in the examinations
The exact criteria for top-scoring answers
Pros:
Extremely comprehensive prep course
Engaging and interactive teaching style with a variety of techniques
Personalized feedback on your practice tests and assignments, invaluable in helping you address weaknesses and build on strengths
A 4.5/5 overall rating of the course from 30k+ students
Includes various downloadable assignments, resources, and a completion certificate
Cons:
Quite lengthy, though, its length can be justified by the full coverage of the prep material
Who it is for: This course is perfect if you want to achieve a band score of 7 or higher on the IELTS exam and need comprehensive, effective preparation.
Overall: A very full and in-depth course that you'll definitely find effective. It might seem a bit long for some but I assure you the hours dedicated will be worth it in the long run – when you come to pick up your Band 7+ results. Definitely check out this course if you're searching for a complete IELTS prep course all in one place with the same highly credible teacher.

Platform: Coursera | Teacher: Jay Daniyarova, Helen Nam | Length: 17 hours
This is an extensive program designed to help students succeed on the IELTS exam. Both Jay and Helen have extensive experience teaching English and test preparation, and hold advanced degrees in TESOL and Applied Linguistics, respectively. The instructors' expertise and qualifications make this specialization a top choice for anyone looking to improve their IELTS score.
You'll learn to:
Read effectively and efficiently, and develop strategies for tackling reading passages
Write coherent and well-organized essays that meet the requirements of the exam
Understand a range of accents and identify key information – essential skills for success on the listening section
Express your ideas clearly and confidently, and respondito speaking tasks
Develop strategies to maximize your score on the exam
Pros:
Covers all aspects of the IELTS exam in detail, with a clear and logical progression
Learn from instructors with years of experience and diplomas in TESOL and Applied Linguistics
Features different multimedia resources which make the learning process enjoyable
Provides regular feedback and support from both instructors and fellow students, as well as access to the community of learners
Includes realistic practice materials that closely simulate the format and content of the actual IELTS exam
Cons:
While the course does provide practice materials and resources, some may find that they're not enough and might require additional resources
Who it is for: Anyone looking for a full and effective prep course to achieve high scores on the IELTS exam.
Overall: The experienced instructors provide valuable feedback and support throughout the course, and the realistic practice materials will help you feel more confident and prepared on test day. All in all, this is an affordable and convenient way to prepare for the IELTS exam and improve your language proficiency.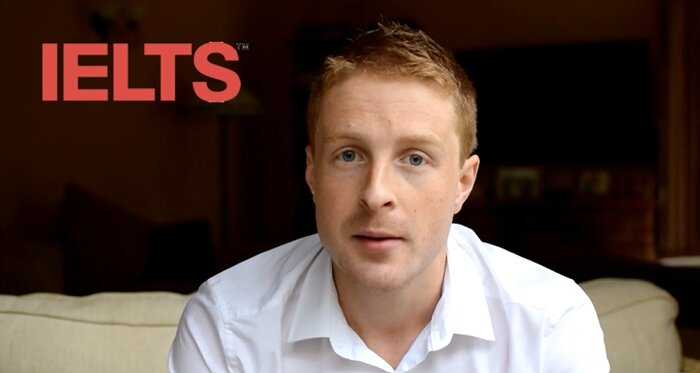 Platform: Udemy | Teacher: Matt Rainsbury | Length: 4 hours and 16 minutes
This course is taught by Matt Rainsbury, a British native with a first class Master's degree in English Literature. It's targeted specifically at the speaking section of the IELTS exam. Matt's expertise in the language combined with him being a native speaker makes him an amazing instructor for this course. With Matt's guidance and amazing production of classes you'll start speaking like a native in no time.
What you'll learn:
How to effectively manage your time during the IELTS speaking test
Techniques to improve fluency and coherence when speaking
How to expand your vocabulary and use more sophisticated language
Strategies to improve your pronunciation and reduce common errors
How to structure your responses and provide well-developed answers to questions asked in the IELTS speaking test
Pros:
Learn from an experienced language teacher and IELTS expert, who provides personalized feedback and support
Covers all aspects of the IELTS speaking test
Provides practical and effective techniques that you can use to improve speaking skills
Features a range of interactive and engaging activities that make learning fun
1,000+ positive reviews from past students, with an average course rating of 4.8/5
Cons:
Solely focuses on the speaking part of the IELTS exam
Who it is for: Anyone who is specifically struggling with the speaking tasks on the exam (but will also serve as a great general course on developing your speaking skills)
Overall: Covers all aspects of the IELTS speaking test and is taught by an experienced language teacher and IELTS expert. With interactive and engaging activities, personalized feedback and support, and the convenience of online learning, this course is an excellent option for anyone looking to enhance their speaking fluency, vocabulary, and pronunciation, and excel on the IELTS exam.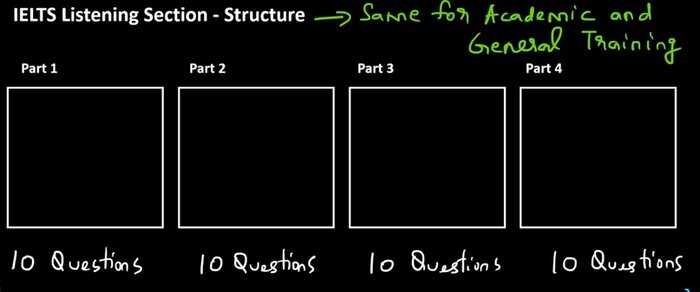 Platform: Udemy | Teacher: Jackson Kailath | Length: 24 hours and 33 minutes
The listening part of the IELTS exam can often seem hard. But with this amazing course, you'll be able to understand and conquer this part of the exam like a pro. Jackson's structured, comprehensive, and attentive style of teaching make this a great course to really get into the depth of the listening part of the IELTS. He will help you break down the questions, understand the assignment criteria, and better your understanding of spoken English as well.
What you'll learn:
How to understand complex IELTS listening passages and comprehend the main ideas
Strategies for answering different types of IELTS listening questions
Techniques for improving your listening skills, like quick note-taking and figuring out context clues
How to use advanced tenses and structures in your speaking and writing to achieve an IELTS band score of 8
Skills for pointing out synonymous words and paraphrasing
Pros:
Provides comprehensive coverage of both the listening and grammar components of the IELTS exam
Features high-quality video lessons, interactive activities, and downloadable resources that cater to a variety of learning styles
Includes numerous practice exercises, mock exams, and quizzes to help measure progress
Ideal choice for those aiming for high scores
Guided by an experienced instructor, whose past students rate his course at a 4.8/5
Cons:
May be too advanced for those with lower English proficiency levels, and may not provide enough foundational training in the language
Focused primarily on the listening and grammar components of the IELTS exam
Who it is for: This course will be perfect for you if you're already at an advanced level but would like some extra guidance primarily on the listening part before the IELTS exam.
Overall: This course offers a comprehensive range of topics and materials, including practice exercises, quizzes, and assignments, that are designed to build confidence and fluency in English. The instructor's expertise in the field is evident, and the course is structured in a clear and easy-to-follow format.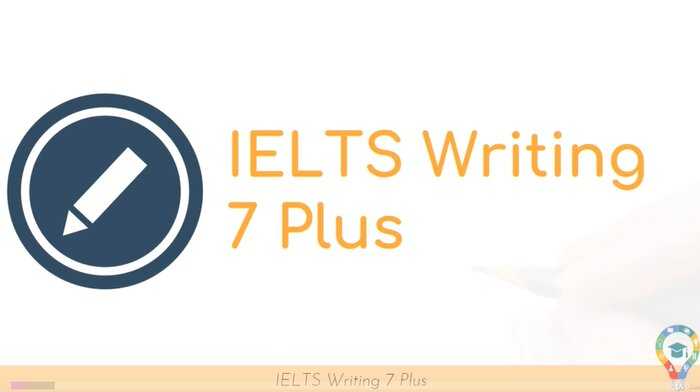 Platform: Udemy | Teacher: David Morris | Length: 15 hours and 8 minutes
With a Master's degree in TESOL and years of experience teaching IELTS preparation courses, Morris brings an impressive level of knowledge and expertise to the course. It's targeted towards improving your skill at the writing part of the IELTS exam.
You'll learn how to:
Identify and respond to different types of IELTS writing tasks, including graphs, charts, and essays
Plan and organize your writing to express your ideas clearly and coherently
Use advanced vocabulary and grammar structures to improve the quality of your writing
Manage your time effectively during the IELTS Writing test
Evaluate and edit your own writing, so you can identify and correct mistakes and improve your overall score
Pros:
Covers all IELTS Writing topics, including task types, grammar, vocabulary, and scoring criteria
Realistic practice tests and exercises that simulate the actual IELTS Writing exam
Personalized feedback and support from the instructor to help identify areas of improvement
Lifetime access to the course materials, so you can review and revise your writing skills even after completing the course
A downloadable course book that summarizes the key concepts and provides additional practice exercises for you to work on
Cons:
May not be suitable for students who are already at an advanced level in IELTS writing, as it mainly focuses on the Band 7 level
Only focuses on the IELTS writing part
Who it is for: This course will be ideal for you if you're aiming at a Band 7 or higher grade at the IELTS and would like to improve your writing skills
Overall: It's very important to have all of the sections covered in your preparation and this course is perfect for the writing part. With a well-structured curriculum and expert instruction, it covers all aspects of the IELTS writing test. The course materials and exercises are designed to enhance your confidence and fluency in writing and help you achieve you desired score.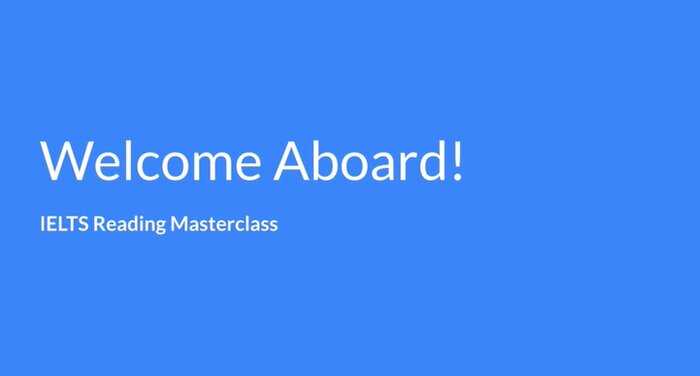 Platform: Udemy | Teacher: Shay Singh | Length: 17 hours and 14 minutes
Shay Singh is a certified and licensed IELTS instructor with 8+ years of teaching experience behind his shoulders. His IELTS Masterclass course is targeted towards providing you with all the necessary guidance it takes to really ace the reading part of the exam. Shay's style of teaching is friendly and approachable and he'll keep you interested in the material all through the course. And Shay's expertise in the field makes him a source of invaluable and definitely practical information about the exam.
What you'll learn:
Strategies for analyzing different types of IELTS reading passages
Techniques for improving reading speed and accuracy
Tips for identifying and understanding difficult vocabulary
Methods for approaching True/False/Not Given, Yes/No/Not Given, and other question types
Tactics for managing time effectively during the reading section
Pros:
In-depth analysis and explanation of different question types to help you understand them better
Provides clear and concise strategies to identify and answer tricky questions effectively
Includes extensive practice exercises to improve reading speed, comprehension, and vocabulary
Realistic practice tests with answer keys and detailed explanations to assess your progress
Engaging up-beat guidance that makes learning more enjoyable
Well-designed and focused lectures that give you all the resources to achieve top-band grades
Cons:
The course focuses only on the academic reading section of the IELTS exam and not on the general training section
The course does not offer personalized feedback on students' assignments
Who it is for: This course is for anyone who wants to improve their IELTS reading skills and achieve a band score of 7 or higher.
Overall: This IELTS Reading course is an excellent resource for those looking to achieve a high band score, as it offers comprehensive and engaging lessons, provides detailed feedback, and gives students access to a wealth of practice material, all of which are taught by an experienced instructor, making it a worthwhile investment for anyone looking to improve their reading skills.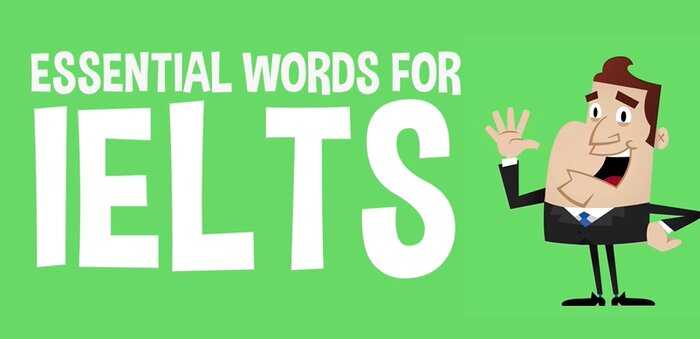 Platform: Udemy | Teacher: Charles Cornelius | Length: 13 hours and 5 minutes
Charles Cornelius doesn't only hold a Masters in Education with 20+ years' teaching experience, he's also has been an IELTS examiner. His extensive knowledge of the IELTS system and teaching experience make this class an awesome opportunity to improve your vocabulary skills.
What you'll learn:
400 IELTS vocabulary words in multiple spheres
Clear pronunciations of difficult words that might trick you in the exam
How to speak like a true native by mastering most common collocations (words that often go together)
Not only learn the words, but the meanings behind them in the way that sticks
Synonyms, derivatives, and forms of commonly used words
How to apply new vocabulary in real life situations and sentences that might come up on the exam
Pros:
Clear explanations and examples to help you understand each new word
Includes quizzes and exercises to test your knowledge and ensure that you have mastered each new word
Build your very own vocabulary booklet using the printable resources
Certificate of completion
Apply learnt material not only at the exam but in your daily life as well
Cons:
Focuses solely on building a strong vocabulary rather than prepping for a specific part of the test
Doesn't offer much opportunity for interaction or personalized feedback
Who it is for: Perfect for anyone looking to take or retak the IELTS exams, as well as general motivated English learners wishing to expand their language skills.
Overall: A comprehensive course that's easy to follow. The use of engaging visuals and interactive quizzes make the learning experience enjoyable and effective. However, the lack of practice tests and limited focus on grammar may be a drawback for some.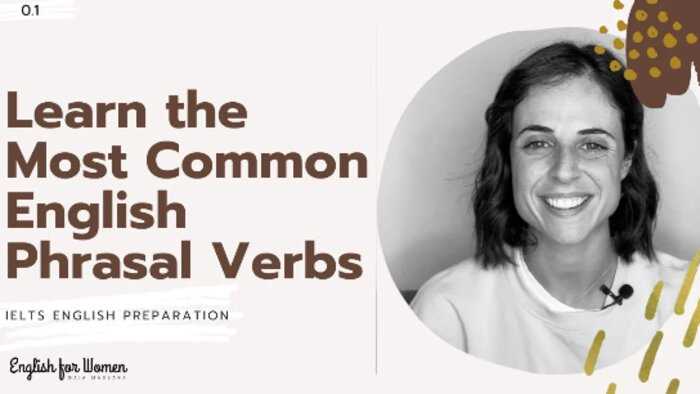 Platform: Skillshare | Teacher: Gaia Massara | Length: 1 hour and the 20 minutes
With a background in linguistics and a passion for teaching, Gaia brings a wealth of knowledge and expertise to her lessons, making this course an excellent resource for anyone looking to improve their English language skills. Here, she focuses on teaching the most common English phrasal verbs to help students prepare for the IELTS exam.
What you'll learn:
50+ of the most common English phrasal verbs used in daily conversation
The meaning and usage of each phrasal verb, including examples and practice exercises
How to use phrasal verbs effectively when writing and speaking
Tips and tricks for remembering and using phrasal verbs correctly
How to expand your vocabulary and improve your English language skills
Techniques for increasing your confidence in speaking and writing English
Pros:
Clear explanations and examples of each phrasal verb, making it easy to understand and remember
Practice exercises to help reinforce your understanding and retention of the phrasal verbs
Lessons structured in a logical and organized way
Useful tips and strategies for using phrasal verbs effectively in both writing and speaking tasks in the IELTS exam
Suitable for both intermediate and advanced English learners, as it covers a range of phrasal verbs and their usage
Cons:
Covers only a limited amount of vocabulary – focuses only on phrasal verbs
Lacks opportunities for interactive practice or feedback
Who it is for: Anyone looking to improve their understanding and usage of phrasal verbs in the English language, specifically those preparing for the IELTS exam.
Overall: Provides an excellent opportunity to learn and master the most common English phrasal verbs for the IELTS exam. Delivered in a clear and concise manner, it offers a solid foundation for learners seeking to improve their vocabulary and language skills. Overall, a valuable resource for those looking to enhance their English proficiency for academic or professional purposes.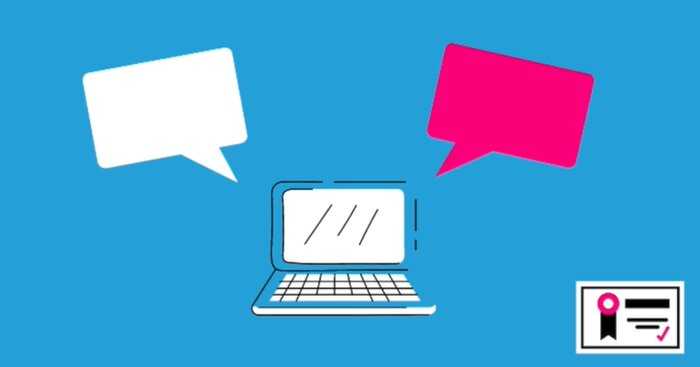 Platform: Udemy | Teacher: Keith O'Hare | Length: 3 hours and 24 minutes
Keith O'Hare is an experienced and professional teacher with 10+ years' experience of teaching English in various countries. He created this course specifically to help you develop a more fluent and native sound to your spoken English. This will definitely help you at the IELTS exam. With his expertise, you will learn to speak confidently and fluently using advanced grammar structures specific to the IELTS exam, making you well-prepared for the exam.
What you'll learn:
Techniques to improve your English grammar and sentence structure
Tips to use a range of grammatical structures and tenses in IELTS speaking
Ways to increase your confidence while speaking and eliminate grammar errors
Strategies to use complex grammar structures accurately and appropriately
How to improve your fluency and coherence in speaking by using grammar effectively
Methods to avoid common grammatical mistakes that may lower your IELTS speaking score
Pros:
Comprehensive coverage of grammar concepts, specifically targeted towards the IELTS speaking exam
Clear and concise explanations of complex grammar rules, making them easy to understand
Keith's engaging and enthusiastic teaching style, which makes the course enjoyable and motivating
Plenty of practice exercises and quizzes to reinforce learning
Downloadble audio files for practicing as you go
A 4.8/5 overall rating of the course by previous students
Cons:
Specifically geared towards grammar for IELTS Speaking, so if you are looking for a broader grammar course, this may not be suitable for you
Some of the content may seem repetitive to those who already have a good grasp of grammar, which may make the course feel slow-paced
Who it is for: Anyone prepping for the IELTS who needs to improve their fluency in speaking language and if you're looking for a professional but fun approach to learning.
Overall: Offers a comprehensive and engaging approach to improving your grammar skills for the IELTS Speaking exam. Keith O'Hare's teaching style is clear and easy to follow, and the course materials are well-organized and relevant. The emphasis on practical application and interactive exercises helps learners to retain and apply the concepts effectively.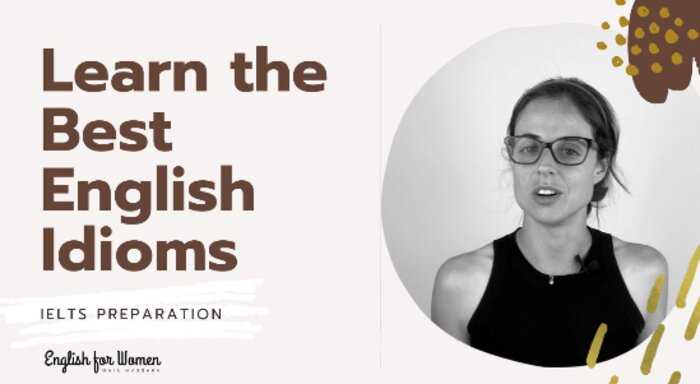 Platform: Skillshare | Teacher: Gaia Massara | Length: 2 hours and 18 minutes
Gaia Massara has put together this course that'll will have you using English idoms like a native in a swift manner. Her qualifications and credibility make this course an excellent option for students looking to master English idioms and ace their IELTS exam.
What you'll learn:
The meanings of 200 English idioms commonly used in academic contexts
How to use idiomatic expressions appropriately and effectively in written and spoken English
Ways to enhance your vocabulary and comprehension skills for the IELTS exam
Strategies for practicing and memorizing idioms
Tips for finding the perfect time to use idioms in writing tasks and speaking tasks
How to avoid common misuse of idioms
Pros:
Comprehensive coverage of the most common idioms used in English language
Clear and concise explanations of each idiom's meaning, usage, and context
Taught by an experienced and knowledgeable instructor with a proven track record of success
Opportunity to practice and reinforce learning through quizzes and exercises
The course is suitable for students of all levels, whether you're a beginner or an advanced learner, it could never harm to brush up your knowledge of idioms
Cons:
Only focuses on one specific aspect of the curriculum – the idioms
Who it is for: This course is for anyone preparing for the IELTS exam or seeking to improve their knowledge of English idioms.
Overall: A great resource for anyone looking to improve their English language skills and expand their knowledge of idiomatic expressions. Provides clear explanations and practical examples in an engaging format that encourages active learning and retention.
What are the advantages of taking an online IELTS course?
Prepare for the IELTS exams in the comfort and convenience of your own home. Often, exams are a stressful period in our lives, so make life easy by spending the long prep process studying from home. Being in a familiar setting might improve your retention and save time.
Ace the exam and get Band 7+ marks. Studying for a test like the IELTS on your own is possible. But to get the upper band grade you also need to understand the criteria, what the examiners are looking for, and the tips and tricks that are specific to this exact examining format. With the help of an online IELTS course, that becomes way more doable.
Apply what you learn not only in the context of the IELTS exams, but also in real life. Taking an online IELTS course will develop your general English, enrich your vocabulary, and improve confidence in the language.
Buyer's guide: what to look out for
Here are some factors to keep in mind while selecting the ideal IELTS online course for you:
What band grade are you looking for – Each course's intensity, pace, and amount of resources will definitely differ. Naturally, higher bands require more dedication to the course, while lower ones need less. The bands go from 1 to 9 with 9 being the highest mark. The majority of courses in this selection will prep you for grade 7 and up, but some are more focused on getting 8 or 9, which is harder.
Think about the main focus of the course. Figure out if you want an overall coverage course that touches on all parts of the exam, or a subject specific one. For example, listening or reading.
Always look for the teacher's qualifications. It's crucial to learn from someone with a real understanding of not only the subject but also the exam format. I'd recommend you to look for instructors with valid diplomas and certifications from international language centers.
How much does it cost?
Most of the courses in this selection are single-purchase courses that can be found on the educational platform Udemy. They range in price from $21 to $140, most of them in the middle between these numbers.
Prices for these courses are justifiable though, considering the amounts of extra materials, quality teaching expertise and subject specific lessons. Usually, the longer it is the more expensive it will be.
As well as that, the Udemy platform often holds discount periods that lower the prices up to 80% off your purchased course.
Other courses in this list are part of the Coursera and Skillshare learning platforms, which operate on a subscription basis. Both have a free trial period (Skillshare-1 month, Coursera-1 week). These help you get a taste of your desired course to see if you'd want to invest in it.
The price for a year long subscription to Skillshare is $168 and Coursera is $399. However, on Coursera you can enrol on many courses for free if you don't want certification.
Both of these subscriptions are very beneficial and will save you money in the long run… If you often turn to online learning.
How long does it take to learn the IELTS?
In this list, you can find courses ranging from a couple to tens of hours, depending on their focus and how many aspects of the exam prep they cover.
However, especially when choosing courses that'll help you study for an exam, you should definitely take into account all the practice time you'll need to.. With an exam like IELTS coming up, repeating and revising will be vital to your studying routine, using helpful exercises from the courses.
There is a useful trick to calculate the duration including practice – multiply the length of the entire course duration (video lectures and lessons) by 5, which should give you an estimated overall time.
Conclusion
If you want to prep for ELTS online, there are loads of options.
You might find the perfect course for you on Udemy – their selection of individual purchase courses will definitely leave you satisfied. Whether you'd like to buy a whole exam prep pack or a course specifically on one part of the IELTS, Udemy has it all for a good price.
Or, maybe, your best pick will be a course from the Skillshare or Coursera platforms – you can try them out with a free trial period and purchase a valuable subscription to endless learning possibilities.
I hope this article helped you choose the perfect IELTS course for yourself! 
See also: Best TOEFL courses
IELTS Course Frequently Asked Questions
How much does the best online IELTS course cost?
Our top choice course is a $140 single purchase though Udemy frequently has sales.
How long does the best online IELTS course take?
Courses in this selection range from only a few to tens of hours. Don't forget to take into account the practice time.

Maria is a second year English BA student at King's College London with a real passion for creative writing, reading, and anything connected to text in general.