British Council boasts the world's best English teaching experts. Their English Online program lets you learn English online through high-quality courses and extra material like practice exercises that get you speaking English confidently.
Though British Council offers children's courses, English Online is specially designed for adult learners. Plus, it also caters to businesses and International English Language Testing System students (IELTS).
But, just how good is British Council's English Online? And what are the best courses it has to offer? Can I get English Online for free? And if I'm not happy with my course, can I get a refund?
I decided to try the program out for myself to answer these questions and more in this British Council English Online review.
But first, here's a quick overview:
.
Quick summary
Features
Three class types to choose from, including group/private/grammar specialisms
Premium online exercises that you can do outside the classroom
British Council badges and certificates
Live classes and 24/7 support
English placement test and goal options
Pros
Renowned global organization
100% teacher-led interactive classrooms
Customizable lessons and timetable
Self-study subscription option
1-1 tutoring
International English Language Testing System (IELTS) prep classes
Cons
Some classes, like IELTS, not designed for self-study (they require full class attendance to access additional course material)
100% teacher-led might be a con if you prefer self study
Best for: Adult learners looking to sharpen their speaking, reading, listening, and writing. Some courses are designed for businesses or IELTS students, but all learning paths are customizable to your goals. British Council covers A1-C1 English and offers a placement test to ensure you're getting the right content.
Overall: British Council offers a fully customizable learning plan and timetable, with a free English placement test. English Online recommends the best teachers for your goals and also gives you extra materials. So, with these features in mind, British Council is a great first port of call for learning English effectively.
And now for the details. In this British Council review, I'll cover:
What English Online is and who its instructors are
How does English Online work and how much does it cost?
English Online free trial
What a English Online course is like
Best English Online courses and offers
How I reviewed English Online
What I liked and thought could be better
Alternatives to British Council
What others have said about British Council
Is British Council worth it?
FAQs
So, let's get started.
What is British Council?

British Council is an international organization dedicated to sharing education, culture, and English globally.
With relationships in over 100 countries and reaching over 650 million people in 2021/22 alone, British Council's global influence is undeniable.
Plus, with live and self-study classes 24/7, British Council's English Online program is worth checking out.
How does British Council work?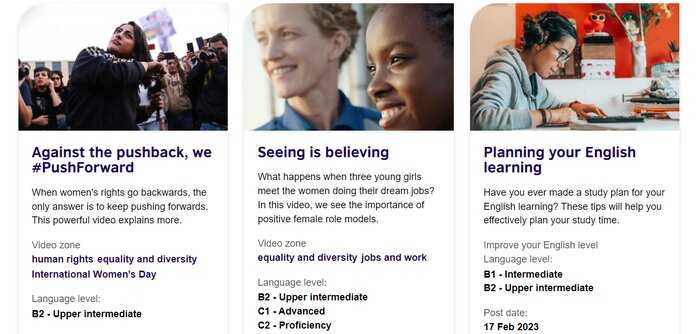 With a range of themes to explore, as well as live 1-1 or group classes, there are different options for learning with British Council. That being said, the first step toward learning is to book a class (your first is free!).
British Council's classes are 100% teacher-led and interactive. This means you'll be engaging with teachers and students. By the end of the class, you'll also gain access to extra course material.
Along with group classes, there are also some other specialist class options:
Live25 classes (free 25-minute lessons focusing on English grammar/pronunciation)
Private classes (1-1 tuition from British Council's expert teachers, with personalized feedback and end-of-class reports)
British Council is also unique in that it offers learning paths by "Theme." For example, one theme is "Education and Training." This is a section that houses multiple classes on education-based topics.
In short, British Council not only covers the building blocks of language, it further encompasses subjects like business, government, arts and culture.
Plus, British Council organizes its resources by proficiency level. This means, if you place as a B2/Upper Intermediate learner, you can filter blog posts by your ability and get only relevant content to help you improve your skills.
The great thing about British Council is that you can design your own learning. Whether you benefit from 1-1 tutoring, self-paced learning, or want specific resources like IELTS, British Council has it all. By setting your goals, English Online also tracks your progress to ensure you're getting the most out of the platform.
To break it down, British Council's English Online has the following options:
Option
Includes
Silver
5 class credits
Gold
10 class credits
Platinum
15 class credits
Premium content in smaller group classes
Each option is payable monthly and can be canceled at any time.
How to open a British Council account
Signing up to British Council is easy (and free):
Click the "Register" button in the top right corner of the page
Fill out your name, email address, and user details.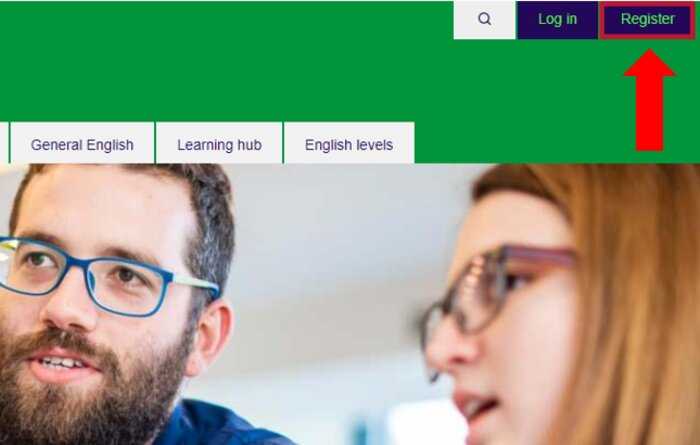 From here, you can head to the online Learning Hub where you can read free blog posts, watch videos, and discover British Council's full range of online and face-to-face courses.
With a subscription sign-up, you can book a free trial lesson (and you cancel anytime). Your profile keeps track of how many lessons you've taken, and you can chart this alongside your own hourly goals per week.
How much does British Council cost?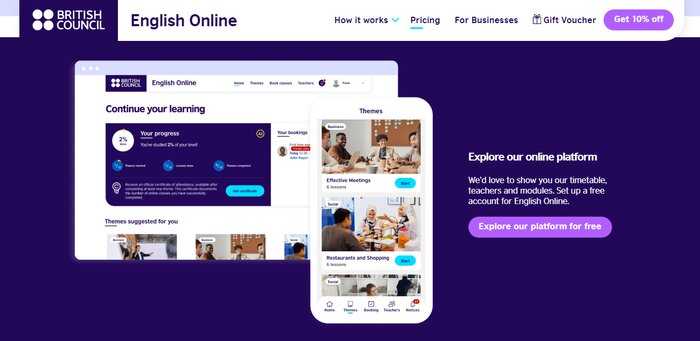 British Council offers three main subscription types for its teacher-led courses:
Silver ($88 per month)
Gold ($143 per month)
Platinum ($177 per month)
These subscriptions offer class credits to allow you to book classes (group/private). As you'd expect, Platinum offers the most class credits, but see below for the full details:
Silver
British Council's Silver subscription starts at $79.20 for the first four months (then $88/month). This option grants you five lessons per month – all flexible around your schedule. With all lessons at the 55-minute mark, you learn 100% online with desktop/tablet options.
Gold
British Council's Gold option starts at $129 for the first four months (then $143/month). With a doubled credit of 10 lessons per month, the Gold subscription also boasts a 7-day free trial. As with all three options, you pay monthly and can cancel anytime.
Platinum
British Council's top option for teacher-led learning, the Platinum subscription costs $159 for the first four months (then $177/month). This option grants you 15 class credits and even gives you access to premium content. As with the gold subscription, you also get a 7-day free trial.
British Council free trial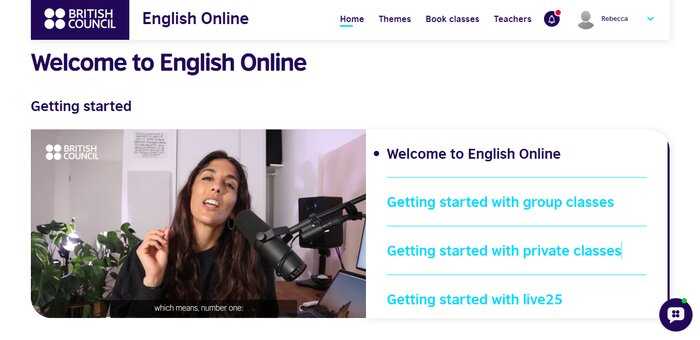 With British Council's Gold and Platinum subscriptions, you get a 7-day free trial (during which you won't be charged).
In this time, you have full access to the platform and its features. This means you can book group or private classes and engage with extra material like listening exercises and quizzes.
Through your dashboard, you'll also have a record of the lessons/themes you've started, how many you've completed, and your progress level. If you're interested in a particular theme (e.g. business communication or presentations) you can also book this as a private class.
In short, British Council's free trial gives you access to all features available during your subscription. This means you can use your class credits for private, group, and Live25 classes. And if you've opted for a Platinum subscription, you can also start using the additional resources and smaller group lessons.
British Council refund
British Council does not offer refunds for its classes or for any classes missed. That said, regardless of the package you subscribe to, you can cancel at any time and avoid being billed for the next period.
Plus, with Gold and Platinum subscriptions, you can sign up for a 7-day free trial and not be billed if you cancel during this time. If you cancel a class within 24 hours, you also won't get this credit back.
Can I buy British Council as a gift?
If you know someone learning or keen to learn English, British Council has gift vouchers available. With varying package options, you can give up to 12 class credits a month to friends or family.
Each package includes group/private classes, access to online materials, and specialist grammar webinars.
What a lesson is like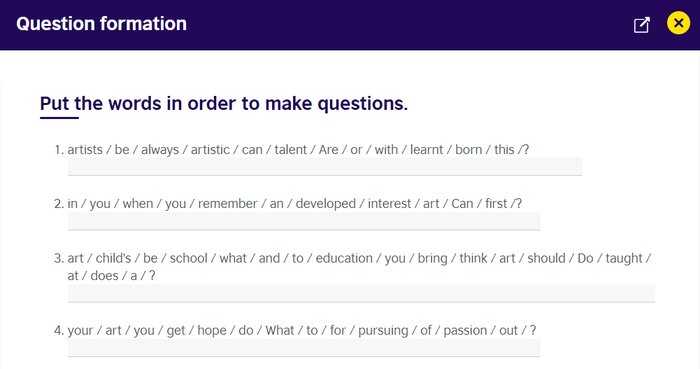 British Council's teacher-led classes are 55 minutes long and either private or group-based. Because you can take a placement test or search by themes, British Council makes it easy to find a class that's right for your interests and skill level.
So, when you've booked a class, you'll gain access to the lesson's pre-class prep material. This will outline the class goals and the content you should expect. From there, a lesson will typically include the following:
Teacher-student introductions
Listening and speaking exercises
Reading practice
Fill-in-the blank assignments
Formal speaking assessments
Best British Council classes
British Council offers a wealth of classes in different categories. These are all to suit different learning goals and interests. That being said, the most popular categories include:
Business Communication
Money, Ethics and Social Responsibility
Employment Matters
Writing with a Purpose
Education and Training
Because English Online tailors its courses to different goals, it makes sense that the most popular lesson topics reflect what English students most want to achieve from their classes.
So, below are some examples of the top classes in various categories, reflecting what most students want to apply from their lessons into the real world:
Top Business and Communication Classes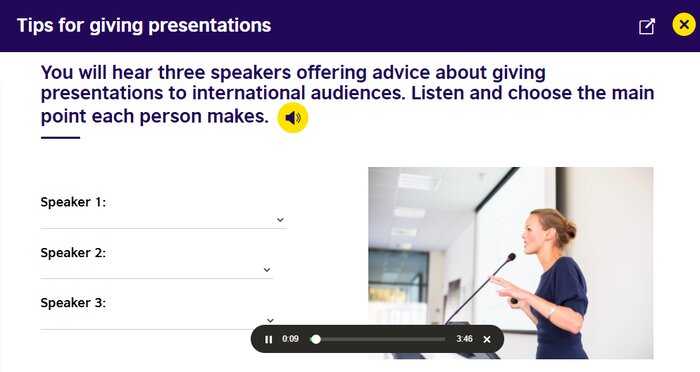 Presentations for International Audiences
Learn: How to give an English presentation for international audiences. In this class, you get to hear from three different speakers on the best tips for giving presentations to international listeners.
Who it might be good for: International business professionals seeking to improve their English communication and clarity.
Internships
Learn: How an interview between a student and HR manager unfolds. You'll also read information on internships and learn persuasive language choices.
Who it might be good for: Anyone learning English for interviews – whether for internships, work, or college.
Top Money, Ethics and Social Responsibility Classes
Current Issues
Learn: To partake in an informal debate on ethical issues. You'll also look at how to construct arguments and use opinion-based language.
Who it might be good for: College students or enthusiasts who are required to debate or present an argument as part of their course/job.
Charity
Learn: Persuasive language to help people donate to a particular charity. You'll also discuss why people give to charity, and analyze different charity appeals.
Who it might be good for: Social/Ethic students or those interested in charity work. This is also a great lesson to learn transferable speaking skills.
Top Employment Matters Classes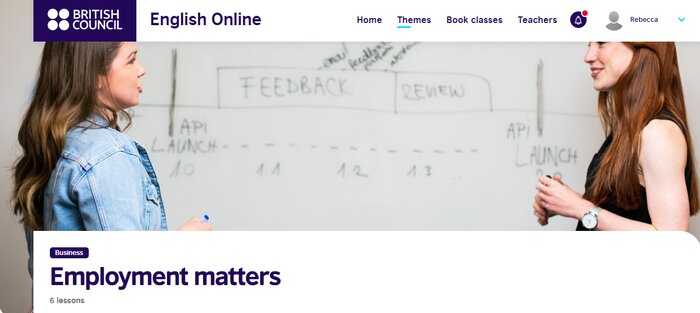 Staff Induction
Learn: How to organize a staff induction day over the phone. You'll listen to two colleagues discussing their induction day preparations. From there, you'll brainstorm what needs to be included and will also learn useful language for telephone communication.
Who it might be good for: Professionals at management level or employees entrusted with organizing staff induction days. It's also useful for anyone looking to brush up on telephone speaking.
Creative Decision Making
Learn: How to go about making decisions. You'll also take part in a discussion, exploring different viewpoints and decision-making techniques. As well as this, you'll also learn new words and phrases associated with "think" and "decide."
Who it might be good for: Any business professionals entrusted with decision-making. It also teaches you transferable skills that you can use in a range of English-speaking scenarios.
Top Writing with a Purpose Classes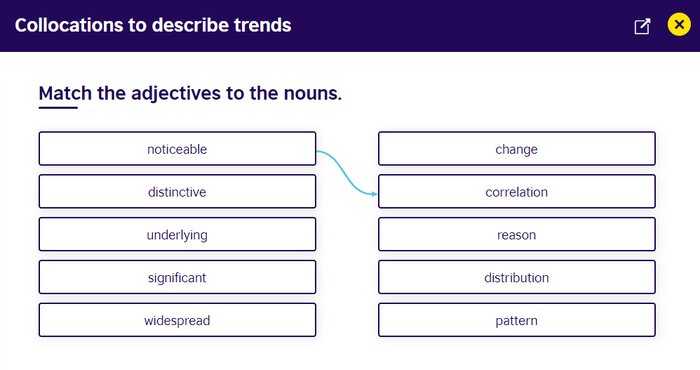 Someone I Admire
Learn: How to write a feature article. In this lesson, you'll look at cause-and-effect language, idiomatic expressions, and how to describe people's personalities.
Who it might be good for: English students who are looking to develop their written skills. This class is a great exercise for developing your reading and writing skills. It's also helpful for students who are looking to write as part of their work or studies.
Crime Rates
Learn: How to write a summary of data in a graphic organizer. In Sainz's class, you'll learn how to write an English summary of data represented in a graph. By reading a crime statistics report, you'll also work on adjective/noun collocations and relations-based language.
Who it might be good for: Anyone who works with data as part of their job or studies. This is a helpful course for expressing data relations in English as part of a report or presentation.
Top Education and Training Classes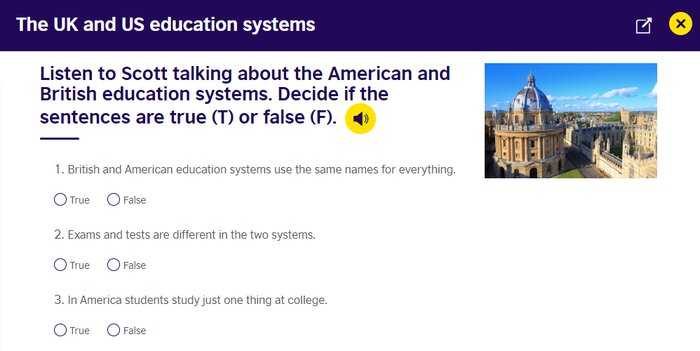 The Education System
Learn: How an education system works and how to explain this in English. You'll also plan a blog post or video on an education system (UK/US). By the end of the lesson, you'll understand how these compare and how to articulate those comparisons.
Who it might be good for: This lesson is equally good for those looking to study abroad and for those simply looking to practice their writing/speaking skills. You'll grasp how to explain differences and similarities, as well as comparing strengths and weaknesses.
School Days
Learn: How to evaluate, discuss, and make decisions. In this class, you'll undertake several reading and listening exercises, then match students to a particular school based on their profiles. You'll also learn to articulate information about different types of schools and their pros/cons.
Who it might be good for: This lesson is in many ways practical for real-life situations, but it's also helpful for anyone looking to improve their English comprehension by close-reading articles.
British Council for Business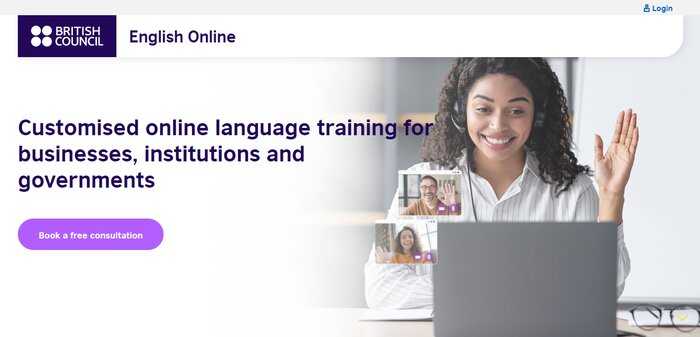 For businesses and governments, you can book a free consultation with British Council's English Online online.
This helps to determine the best training path for your business. Once submitted, a member of British Council's expert team will be in touch to recommend a customized package or assessment program.
As with its personal lessons, British Council for Business offers live online classes that focus on your business needs, bite-sized exercises, and customizable learning times tables to suit your workforce. You'll also have a trusted partner supporting you through every step.
Who are the instructors?
British Council's teachers are all highly qualified and experienced professionals. As teaching specialists, they've worked with millions of students from countries all over the world, with their quality monitored by a team of experts.
With British Council, you can book with a specific teacher, or – as they advise – take lessons from multiple teachers with varying dialects. You can also choose to learn 1-1 or in small groups.There are even IELTS teaching experts if this is the path you're keen on.
What I liked about British Council
How I reviewed British Council
With a range of personal and group tutoring courses, English Online with British Council appeals to millions of learners all over the world. With that in mind, and with so many directions you can take, British Council is an abundant platform to explore.
That being said, I explored the platform with an open mind and with a range of proficiency levels/learning objectives in mind. I made sure to take into account varying goals, skill levels, and learning styles to see if this platform really has it all.
100% teacher-led interactive classrooms
Led by the world's leading English experts with around-the-clock availability, British Council's teachers ensure you're held accountable for your learning with pre-class prep, in-depth lessons, and out-of-class resources. So, this is a great learning option for those who don't know where to start, or those who do best with a teacher-led learning path.
Plus, with group or private sessions available, there's ample opportunity to practice your speaking and listening as close to a real-world scenario as possible. And, if you opt for private lessons especially, you get live, personalized feedback and tailored guidance on how to meet your goals.
Customizable lessons and timetable
One perk of English Online is that it offers 24/7 live learning and support. So, you don't have to work around conflicting time zones or even sacrifice your personal schedule for classes. With LearnEnglish, there's always availability regardless of what unsociable hours you're free!
As a whole, the platform is also easy to navigate and you can search for classes with a range of filters. This increases your chances of finding a class that suits you – and if one is unavailable, there's bound to be a convenient alternative.
British Council badges and certificates available
When you subscribe to British Council, you can collect badges and certificates for each course you complete. With these, you can showcase your personal and professional achievements to prospective employers and colleges.
Self-study subscription option
While there's a lot of focus on teacher-led learning, this isn't the only learning path available on English Online. In fact, there's a dedicated self-study subscription option for only $7 a month (with a 50% discount for your first month).
Of course, this lacks the personalized feedback and 1-1 teaching you get with the teacher-led options. But, if you're more of a self-learner, this option is unrivaled. With it, you still get access to fun exercises created by English experts and you can earn certificates and badges as part of British Council's global community.
1-1 tutoring available
If you do work best with teacher-led lessons, you also have further options within these classes. Namely, you can choose a group or private class (or alternate between the two). While group classes expose you to a range of accents and conversations, private classes are great for focusing on your own problem areas or goals.
So, if there's a particular area you want to work on, British Council's private tutoring grants you 1-1 real-time feedback and a whole hour of tailored learning. And, because you can choose your lesson style each time, there's no need to make a permanent commitment to group or private lessons.
IELTS preparation classes
Another huge bonus for English Online is its IELTS coach. With specialized expert teaching and quantifiable results, English Online's IELTS coach course can get you the score you need.
So, with regular course discounts and led by the co-creator of IELTS, this specialist course gets you on track toward the band score you need. English Online's IELTS teachers have over 80 years' teaching experience and 80+ million people have benefited from this course.
What could be improved
Some classes, like IELTS, are not designed for self-study
While self-study is a great option for many English students, some courses, like IELTS, really require the full commitment to the teacher-led classes. One drawback, for example, is that you must attend every IELTS class to gain access to the post-lesson material.
That being said, this is a specific course that understandably has stricter requirements than more casual learning. At the same time, this is definitely worth noting when choosing the course type for you.
100% teacher-led might be a con for some
As mentioned, British Council offers both self-study and teacher-led courses. But, there's no real option to combine the two, and apart from supplementary pre- and post-class exercises, there's very little focus on self-study.
Of course, if you're more of a self-learner, it might just mean that the self-study course is best for you. But, at the same time, I definitely noticed a bias toward the teacher-led options, with British Council recommending as much group and teacher-led work on the platform as possible.
Who British Council is for
In short, British Council's English Online Online is designed for anyone wanting to speak English with confidence. In particular, this applies to non-native speakers and focuses on learning English as a foreign language. As I see it, the platform is best for:
English students looking to improve their reading, writing, and speaking
Professionals who want to better articulate their ideas in English
Anyone looking to use English as part of travel/relocation
Businesses who want to equip their staff with advanced English skills
Tips to finding great courses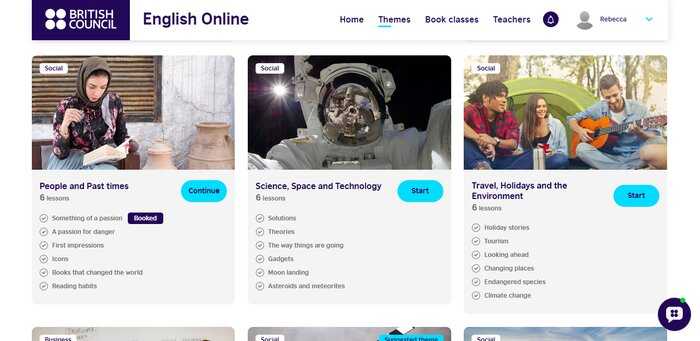 British Council's English Online platform has a number of ways to search for courses. And, the more you browse, the more personalized your suggestions get. Here are a few ways to find the best courses for you:
Browse the Themes section, which contain multiple topics and lessons within these
Search by date, time, or even your favorite teachers
Filter by group/private lessons, or your desired lesson topic
Use your dashboard to find recommended, top, and upcoming lessons
Is British Council legit?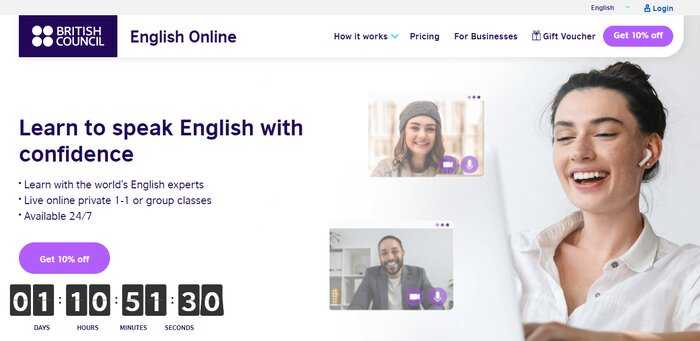 In short, British Council is legit. It's a registered charity and a non-departmental public body. Both on and outside of English Online, British Council strives to promote global cultural relationships and education standards.
2021/22 saw them provide online resources to over 70 million English language learners and teachers. As well as this, they partnered with over 200 countries and territories, and their revolutionary learning program, Connecting Cultures, is rolling out to Primary and Secondary Plus students around the world.
British Council alternatives
As great as British Council is, it's still one of many English-learning sites out there. So, if British Council doesn't seem like the best fit for you, there are plenty of options. For simplicity's sake, I'll name just a few:
British Council vs. Lingoda
One popular alternative to British Council's English Online is Lingoda. Like British Council, Lingoda is a huge global platform with over 1,500 tutors and 24/7 availability.
But, while British Council has few pre-class resources, Lingoda has a stronger focus on interactive quizzes and resources outside of the platform. Lingoda also prompts you to choose a weekly maintenance level and tracks this on your dashboard.
In contrast to British Council, Lingoda also has far more lessons and courses available. On British Council, I found that there were days with no availability, whereas with Lingoda there was always something available.
Another key difference between the two is their official test prep options. British Council offers support for IELTS test prep, whereas Lingoda is affiliated with Linguaskill from Cambridge. So, if there's an official test you're planning for, this difference is worth considering.
Overall, Lingoda is the most well-rounded of the two. Namely, this is because it offers a good balance of class practice and out-of-lesson resources. British Council's class preparations are very basic, and I even found that quizzes would freeze or time out.
That being said, if you benefit from group learning and like to be held accountable with 100% teacher-led lessons, then British Council is best suited to your learning style.
Beyond Lingoda, there are of course many other options still. Preply is a similarly-styled option, which even has a free blog and Q&A community. And, if you're more interested in trying a one-off course, Coursera and Udemy have some fantastic options.
British Council -what others say
My aim here is to present the most fair and unbiased review of British Council's English Online out there. So, I've searched for reviews both on and outside of British Council to get some honest opinions.
While the majority of reviews were positive, there were some that were dissatisfied with the emphasis on British, rather than American, English. This formed part of one student's unhappy review:
"Weird British English grammar that would never appear in speech is used on three occasions" – Comment from Reddit
If you have a background in American English or don't understand the differences between the two, having your work marked as wrong because it doesn't reflect British English can be annoying. In my opinion, this isn't a huge problem, but sites like Lingoda or Preply definitely cater more to US English!
All in all, though, British Council's English reviews were positive. In fact, some students claimed the classes were even as good as in-person lessons and praised their flexibility:
"Most of the classes have been great so far, the preparation activities are great, and the after-class activities are so helpful too. The teachers are friendly and have great ways of teaching, and the students too are always active, it felt like I'm F2F classes" – Comment from Trustpilot
"There are many positive points to mention regarding English online: 1 – Flexibility in timings. 2 – Practicing English Speaking a lot during the classes. 3 – Free Live25 Feature is a really good one, helps with grammar and correct pronunciation. Overall, it is a great experience and I am planning to continue learning with English Online!" – Comment from Trustpilot
"Thank you so much for the training sessions… I really enjoyed them and learned a lot from them. The flexibility in session timing is very beneficial to me because of my work time. The trainers are very good at delivering the knowledge of the sessions" – Comment from Trustpilot
Evaluating British Council
Features: 24/7 live classes and support, 100% teacher-led interactive classrooms, expert teachers, badges and certificates, English placement test, and self-study subscription option.
Content quality: 55-minute audio-visual lessons, multi-level content including quizzes, reading, and listening exercises.
Content breadth: A1-C1 proficiency levels, 16 main topic sections with multiple classes in each.
Teachers: Expert mentors including the co-creator of IELTS.
Supporting materials: Free Live25 grammar webinars, pre- and post-class resources including articles, quizzes, and word games.
Payment and refunds: Self-study subscription at $7/month with teacher-led packages ranging between $88 and $177/month. Non-refundable classes and credits but anytime cancellation policy.
Support: 24/7 live support.
Is British Council worth it?
As is the case with most e-learning platforms, British Council's worth really depends on your own goals and what you want to get out of it. Luckily, British Council teaches English as a foreign language for a range of proficiency levels and even builds topics around potential goals (e.g. work, travel, networking).
Not to mention that with British Council, you'll be learning from a renowned global organization with the world's expert English teachers. You also have the option for self study or a 100% teacher-led course.
That being said, British Council is entirely in English. So, you'll be expected to read, write, and speak English from the get-go. If this seems a bit overwhelming for you, a taster class on another site such as Lingoda might be a better starting-point.
In my own experience, though, being immersed in speaking and listening is the best way to fast-track progress. And, with British Council's subscription packages and progress charting, their English Online platform promises to do just that.
All in all, the best way to know whether British Council is right for you is by trying it out for yourself. And, with a 7-day free trial for Gold and Platinum subscriptions, there really is nothing to lose.
Related article: Best Vocabulary Apps, Best online IELTS courses, Best TOEFL courses
British Council English Online -Frequently asked questions
How much does British Council English Online cost?
Depending on your subscription type and learning path, British Council can cost between $7 and $177 per month.
Does British Council have a refund policy?
If you don't enjoy what British Council has to offer, you can cancel at any time to avoid being billed for the next period. But, their English Online platform does not offer refunds.
How many courses are there on British Council's English Online?
Overall, British Council's English Online has 16 main topics – under which you'll find 6+ mini lessons.
Does British Council have a free trial?
Yes. If you're opting for the Gold or Platinum subscriptions, these come with a 7-day free trial period. You won't be charged until your trial period ends.
Does British Council give certificates?
British Council offers digital badges and certificates for each lesson you complete. You can display these on your Facebook/LinkedIn profiles.
What languages is British Council available in?
At the time of writing, British Council only offers English. However, it does have a range of courses for different age groups and goals (such as IETLS prep).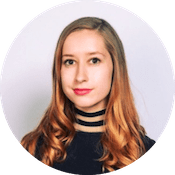 Rebecca graduated from King's College university with a first class honours in English Language, followed by a Masters' Degree in Eighteenth Century Studies.