GetSmarter offers short courses from globally revered institutions including Yale, Harvard and Oxford. It promises high-quality, high-impact courses for individuals and businesses who want to level up and stay abreast of the fast changing professional landscape.
But what exactly is on offer with GetSmarter? How does it work? And, ultimately, is GetSmarter worth it? I've spent two weeks delving into every corner of this platform in order to answer all these questions, and more.
So in this GetSmarter review, I'll cover everything you need to know about GetSmarter, including pricing, features, pros, cons, best courses, and much more.
Read on to discover how GetSmarter can help you supercharge your career, and whether it's the right fit for you….
.
Quick summary
Features
Data-driven short courses for professional development from world class institutions
Access to course content in a wide variety of formats
A Success Advisor who is on hand to answer any administrative and technical questions.
The 2U Career Engagement Network and Online Campus, where you can interact with teaching staff and fellow students.
Accredited certification
Pros
Quality certification from elite institutions
Wide variety of guest lecturers on many courses to bring additional expertise
Amazing benefits for businesses
Highly relevant, data-driven courses designed to tap into the future of professional development
Cons
Courses are relatively long for 'short' courses
Pricing transparency for businesses could be improved
Best for: GetSmarter is best for professionals who want to upskill with highly-relevant courses that supercharge their career prospects.
Cost: At the time of writing courses range from £$550 to $3800. Learnoploy is offering an exclusive 15% discount with the code GS-AF-LEARN15 at checkout, valid from now until the 31st December 2023.
Overall: An elite approach to online learning. Covering everything from Artificial Intelligence to Sustainability, GetSmarter's courses are designed to address the future of work and ensure professional resilience. As well as offering a great experience for the individual learner, GetSmarter's tailored plans for business are a fantastic way to support and upskill employees.
This detailed review includes:
What is GetSmarter and who are its instructors?
How much does GetSmarter cost?
Best GetSmarter Classes
GetSmarter for Business
How I reviewed GetSmarter
What I liked about GetSmarter and thought could be improved
Who GetSmarter is for
Can I buy GetSmarter as a gift?
Tips to finding great courses on Get Smarter
GetSmarter refunds and alternatives
GetSmarter reviews: what others have said
Is GetSmarter worth it?
Frequently asked questions
So, let's dive in!
What is GetSmarter?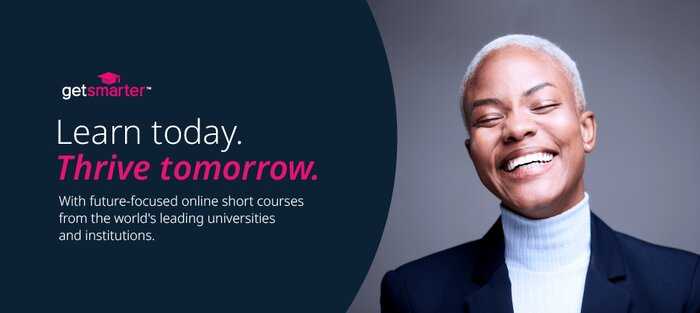 GetSmarter is an online learning platform with over a decade's experience in delivering career-focused learning for professionals looking to progress with qualifications from elite institutions.
They host a wide range of courses, from Healthcare and Wellbeing to Real Estate and Disruptive Technologies. Each course is led by experts and the learning experience is designed to fit around busy schedules. Students are supported by instructors and their learning community. 
GetSmarter's data-driven approach analyzes future skills requirements to ensure that their courses are always relevant and applicable.
And when you sign up for one of Get Smarter's courses, you will also gain access to their parent company 2U's Career Engagement Network, which hosts exclusive resources and tools to power your professional development.
Who are the instructors?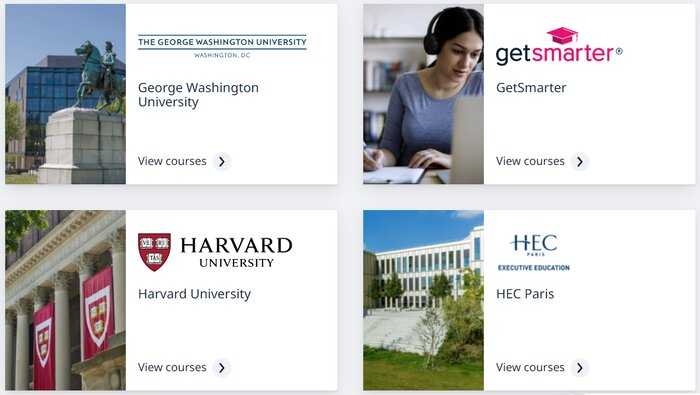 With GetSmarter, you are learning from the very best academic institutions, guided by top academics.
Institutions currently offering courses on GetSmarter include:
Harvard
Institute for Management Development
Northwestern University
Stanford University Centre for Health Education
London School of Economics and Political Science
Each course landing page will give you the profile of your course convenor or director,
For example, George Washington University's Healthcare Management Course is directed by Kami Rapp, Professorial Lecturer at the Milken Institute School of Public Healthcare at George Washington University.
Whilst Harvard's FinTech course is convened by Lauren Cohen, L.E. Simmons professor of Business Administration, and Christopher Malloy, Sylan C. Coleman professor of financial management.
In addition to amazing course convenors, many courses have numerous expert guest lecturers.
One of the best things about GetSmarter is the certainty that you're learning from the very best, with easily accessible tutor profiles highlighting their academic roles and expertise.
How does Get Smarter work?
With GetSmarter, you pay per course. These typically last 6-8 weeks, with the student spending 6-8 hours studying each week.
Upon enrollment, you'll be presented with the syllabus and the assignments necessary to complete the course. Incremental deadlines ensure courses fit into professional and familial responsibilities and learners are encouraged to pace themselves.
In addition, you get access to a Success Adviser, who is always on hand to answer any technical or administrative queries and help you manage your time. And, as stated above, you gain access to 2U's Career Engagement Network. This is packed with great resources to help you reach your professional goals.
All course materials are accessed through the Online Campus. Here you can ask questions and interact with the teaching team and other students via discussion forums, creating a great community aspect to the learning experience.
On completion you will be issued with a digital certificate from the institution leading the course.
Get Smarter offers course grouped into these categories:
Artificial Intelligence
Business Management and Strategy
Data Science and Analysis
Design and Creative
Digital Transformation and Disruptive Technologies
Finance and Investment
FinTech and Blockchain
Health Sciences and Wellness
Human Resource Management
Information Technology and Cybersecurity
Law and Compliance
Leadership and Interpersonal Skills
Marketing
Operations and Supply Chain Management
Politics and Economics
Project Management
Real Estate
Sales and Business Development
Sustainability
Is GetSmarter legit?
GetSmarter is 100% legit.
Whilst flexible, self-paced short courses from top institutions might seem too good to be true, after testing the site myself I can vouch for GetSmarter's credentials! GetSmart has over 10 years of experience, and is part of lifelong learning company 2U, which has reached over 48 million learners globally.
How much does Get Smarter cost?
GetSmarter charges per course, with prices ranging from around $550-$3,800.
This may seem pricey. But bear in mind that obtaining an in person qualification from any of GetSmarter's partner institutions would set you back tens of thousands of dollars. Yet you will be taught by the same tutors who teach in person, with similar resources and plenty of support.
Viewed that way, GetSmarter is great value for money.
To make things easier, GetSmarter allows you to pay in installments. Currently, 37% of students have received assistance from their employer, and GetSmarter has put together a handy guide on their website to help you do the same.
These are top notch courses from leading academic institutions offering in-demand skills that supercharge your professional development and resilience. They are an investment in yourself, providing lifelong skills and opportunities to progress in your career.
Can I buy GetSmarter as a gift?
Not currently. However GetSmarter offers a great range of options for businesses who wish to purchase courses to reward their teams. See the 'GetSmarter for Business' section for more information.
GetSmarter refund
Many courses have the option of postponing your course, depending on duration, or to cancel and request a full refund if you're not satisfied (or have not accessed the course content).
There are a few other terms and conditions that you can read in the FAQ section of their website, but this seems like a pretty fair deal!
Get Smarter free trial
GetSmarter does not have a free trial. However Learnopoply has been given access to an exclusive 15% discount on all courses. Considering the premium pricing of the courses, this is a great deal!
Simply enter the code GS-AF-LEARN15 at checkout. This code is live until December 31st 2023.
What a lesson is like

All courses offer a blend of lesson types, with formats including interactive videos, module notes, practice quizzes, presentations, assignment briefs and additional web resources.
At the beginning of each module, learning objectives and content are clearly outlined. And continuous assessment ensures you consolidate your knowledge throughout the learning process.
Best GetSmarter classes
GetSmarter has a huge range of high-level classes available, with almost 300 courses spanning disruptive technology, finance, sustainability, business management and much more. Here are some of the most popular classes on the platform:
MIT Media Lab Cryptocurrency
LSE Real Estate Economics and Finance
Oxford Executive Leadership Programme
Harvard VPAL Cybersecurity
LSE MBA Essentials
Of course, the best GetSmarter class will depend on your specific interests and professional goals.
I've highlighted the best classes by category below, so you can get a feel for what's on offer.
Digital Transformation and Disruptive Technology
MIT Media Lab Cryptocurrency
In this course from top level academic provider Massachusetts Institute of Technology, you'll learn to:
Appreciate the evolution of money
Understand what cryptocurrency is
Get to grips with crypto markets and exchanges
Understand smart contracts, decentralized application and initial coin offerings
Critically assess the viability of any cryptocurrency project
This course is for anyone seeking practical knowledge of the latest cryptocurrency developments, and is especially applicable to executives exploring new organizational needs.
MIT Sloan Artificial Intelligence: Implications for Business Strategy
Another fantastic MIT offering, this course covers core aspects of AI and business strategy.
Focussing on organizational and managerial implications of AI technologies you will learn about:
The development of AI
Machine learning
Natural language processing
Robotics
AI in business and society
The future for AI
You don't have to be a data scientist or software engineer to take this course. If you are a current manager or executive, then this course will prepare you to take on the exciting future world of work, and make informed strategic decisions.
Real Estate
LSE Real Estate Economics and Finance
The London School of Economics (LSE) is a top UK university that is renowned worldwide. This course will give you:
A holistic overview of the real estate market
An understanding of sustainability in real estate and how it can contribute to returns
The ability to use theoretical frameworks to inform decision making on practical real estate corporate finance and investment management.
Although from a UK institution, this course has worldwide applicability and is a great course for property professionals who want to better understand the real estate market, improve their business strategy and grow their career.
University of Cape Town Energy Efficiency and Sustainability
This course from UCT will equip you with:
A great grasp of energy-efficient concepts
The skills to evaluate, recommend, and implement energy-saving strategies in new and existing buildings
Insight into sustainable building design principles and best practices
The ability to analyze energy flows, participate in energy audits, and compile and present findings to relevant stakeholders
The skills to apply the Measurement and Verification methodology to collect data, quantify energy savings, and inform decision making
An understanding of how to develop an energy management system that aligns with global standards.
Certified by the Engineering Council of South Africa for CP points, this course is for all professionals who want to identify energy conservation opportunities to promote energy efficiency in buildings and businesses.
Leadership
Oxford Executive Leadership Programme
Designed to drive organizational performance through the alignment of purpose, strategy, and capability, this course from the University of Oxford's Said Business school delves into strategies for improving organizational effectiveness. It provides:
An understanding of the role of strategic alignment in determining your enterprise's long-term performance and competitiveness
The ability to motivate for, and implement, transformation throughout your enterprise value chain
An intellectual toolkit and practical frameworks for developing strategies that support and fulfill your organization's purpose
Advanced knowledge supported by real-world case studies and guest experts from some of the world's leading enterprises.
This is a fantastic course, whether you are an executive, director, business leader or consultant, who wants to transform their operations and enhance their leadership skills.
Yale SOM Executive Education Women's Leadership Program
Yale's prestigious School of Management's course is specifically designed for women in leadership. It enables them to gain:
An understanding of their unique traits and attributes as powerful leadership tools to help develop teams
The skills to drive innovation, and stimulate business growth
The ability to leverage their relationships, connections and interpersonal interactions to achieve their leadership goals
Students will gain a development plan that aligns their strengths, goals and constructive feedback from their network. Whether you are an existing or aspiring female leader, you will be equipped with the confidence, self-awareness, networking and leadership communication to effectively lead your team or organization.
Information Technology and Cybersecurity
Harvard VPAL Cybersecurity: Managing Risks in the Information Age
This crucial course from Harvard VPAL is packed with invaluable information on how to approach cybersecurity in an ever-changing world. After completing this course, you will be able to:
Recommend a cybersecurity leadership plan
Develop a cyber risk mitigation strategy
Achieve a practical, holistic understanding of cybersecurity and its value.
Identify threats to an organization and important business systems and assets
Appreciate the crucial role of leadership in managing cyber risk
Understand your technology, cyber risk and the law, as well as incident response and accountability
This course is for both specialist roles such as security administrator as well as executives and business leaders.
University of Cape Town Fundamentals of Cybersecurity
This comprehensive course will provide you with:
An understanding of the fundamental principles of cybersecurity management and the relevant legislative environment
The ability to evaluate cybersecurity risks and analyze corporate information security policies
The skills to design a secure network model and a suitable incident response plan for an organization
Insights into cybersecurity software and hardware products
A knowledge of the measures that can be implemented to protect a business from cyberthreats
Beneficial for employees at all levels, both technical and managerial, this course will provide you with the latest knowledge of cybersecurity, understanding legislation and regulations as well as the confidence and opportunity to identify threats and implement necessary measures to defend your organization.
Business Management and Strategy
LSE MBA Essentials
Gaining holistic business knowledge and MBA-based skills, undertaking this course will grant you:
A stronger understanding of the three core pillars of business
Knowledge and understanding of how strategic environment, financial toolkit and human elements can enhance your organization's strategic competitive advantage
The technical business and finance skills for understanding, analyzing, and optimizing business operations
Insights into human behavior and influence
Enhanced managerial competency and confidence
This is an ideal course for any professional interested in improving their hard and soft skills in business.
Northwestern Weinberg College Leading Diversity, Equity, and Inclusion
Treating diversity, equity and inclusion (DEI) as ethical imperatives as well as serving business value, this course will help you:
Develop an understanding of what DEI means for the modern business
Gain key tools to create safe spaces and foster constructive dialogue around DEI
Develop and communicate an effective DEI business case within your organization
Monitor and evaluate metrics for promoting DEI in a business context
Gain tools and insights to elevate your leadership ability and manage diverse and inclusive teams effectively
This is a great course for any professional, but especially relevant for advisors and managers in the DEI space, as well as HR specialists, recruiters and talent managers.
Sustainability
Cambridge Business Sustainability Management
Cambridge University is one of the most respected institutions in the world. This 8-week course will equip you with the tools to face the growing threats of climate change, resource scarcity, pollution and inequality. You will finish the course with:
A practical sustainability action plan to overcome barriers and aid in creating a sustainable business
Insights into the potential of the disruptive innovative design and technology enabling business sustainability
An understanding of the international regulations surrounding environmental best practices, the importance of sustainability in production and consumption, and how this will affect your organization
This course is ideal for experienced professionals who want to stay relevant in a rapidly changing landscape.
Yale School of Management Corporate Sustainability Management: Risk, Profit and Purpose
Viewing sustainability best practices as an opportunity for innovation, this course looks at how businesses can transform their practices to drive not only progress, but profits as well. You will gain:
The skills to build strong corporate sustainability strategies for your business
Insights from world-renowned sustainability experts and faculty
The knowledge to identify sustainability risks and opportunities
Frameworks, standards, and guidelines for successful strategy implementation
This Yale SOM course is relevant to all business leaders and executives looking to develop a competitive advantage, offering them the tools and knowledge to give strategic direction on sustainability.
Design and Creative
University of Cape Town Teaching with Technology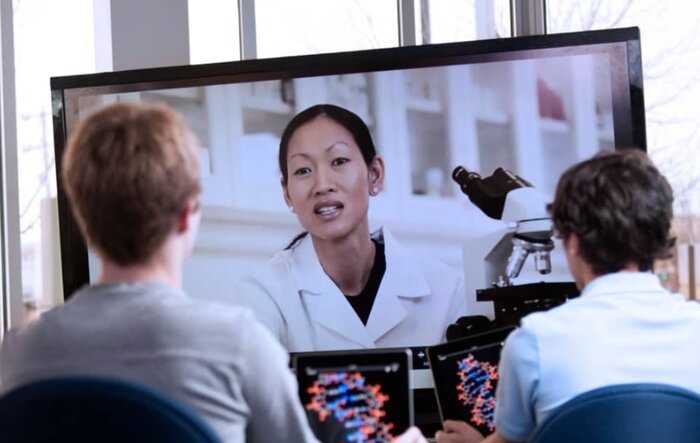 This future-facing course will equip you for the integration of technology and education, enabling educators to adapt to exciting new teaching and learning approaches. This course provides:
The skills needed to adapt to new teaching approaches that enhance learning experiences for students
An in-depth knowledge of how technology has altered the teaching and training landscape
The ability to create pedagogically sound, practical lesson plans for various education phases
A comprehensive understanding of the pedagogical and practical implications of technology use in teaching and instruction
'Teaching with Technology' is aimed at all educators who are looking to improve their teaching skills and enhance the quality of the education they provide.
University of Cambridge Sustainable Marketing, Media and Creative
Professionals in the marketing, media and sustainable industries are in a position to effect real and lasting change when it comes to sustainability. You'll learn how to inspire and reignite the potential for brands and creative roles to enable positive change. This course provides:
Enhanced understanding of your role in challenging and redefining marketing, media and creative business-as-usual practices
Ideas for recreating value and contributing to sustainable development
Real-world strategies for rewiring marketing's psychological and sociological impacts
The tools and confidence to innovate and disrupt unsustainable marketing practices through purpose-led marketing and leadership
An ambitious and practical Strategy for Action to drive transformational change and amplify your impact
Access to a global cohort of like-minded change agents, as well as the Cambridge Institute for Sustainable Leadership Network comprising over 20,000 professionals and leaders from across industries and society
This course is designed for marketing, media and creative professionals who want to be at the forefront of sustainability transformation.
Data Science and Analysis
University of Cape Town Business Analytics
Data and business analytics has never been so important, and this 8 week course will equip you with the advanced data analysis techniques to support business decision making and critical thinking in times of ambiguity and uncertainty. This course will enable you to:
Develop your business intelligence capabilities
The ability to use business intelligence tools like Tableau to effectively communicate and present actionable insights across your organization
Data analysis and business analytics skills that you can apply to drive decision-making
The expertise to create real business value through data visualization and storytelling
An understanding of the basics of performing data analysis using Python
This course is a must for practicing alaysists who want to update their knowledge and grow their careers.
MIT Sloan School of Management Data Monetization Strategy: Creating Value Through Data
Data Monetization (converting data and analytics into financial gain) is a crucial course of economic value for organizations everywhere. This course explores:
How your organization can realize the full and future value of its data assets
Ways to develop a holistic knowledge of data monetization strategies, including the I-W-S framework, to facilitate data-based value creation
How to monetize data and the associated opportunities and challenges of data-based value creation
A data monetization strategy to help your company optimize current and future value creation from its data assets
This course would suit a wide range of professionals, including chief data officers, chief information officers, chief technology officers, and chief analytics officers.
GetSmarter for business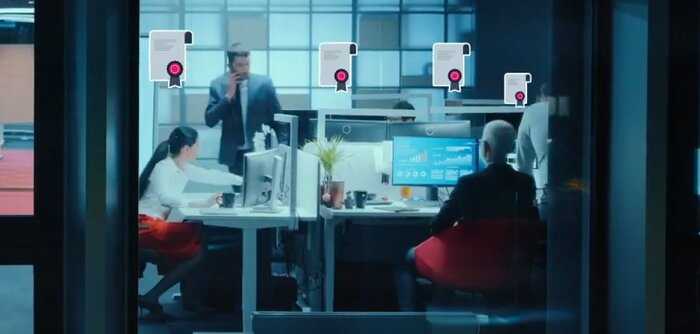 GetSmarter has a dedicated Business section. It interacts with organizations on everything necessary to upskill teams and keep them moving forwards.
The GetSmarter business team will consider your specific business needs, identify the best courses for employees, offer a tailored course experience and provide post-course performance reports.
You can pay per course, set up a pricing plan (by contacting GetSmarter directly), or use 2U tokens.
2U tokens are learning credits valued at $100 each. They allow you to scale your company's learning objectives and allocate courses according to your team's timescales and specific needs. 2U tokens can be purchased in packs of 500 to 10,000.
How I reviewed GetSmarter
I spent as much time as possible exploring the website, learning all about their mission and model, as well as diving into specific courses in order to understand their content, certifications, learning outcomes and teacher bios.
I explored business options, and learned about their partnership model, pricing options and the academic institutions who offer courses with them.
What I liked about GetSmarter
Quality certifications from top academic institutions
We're talking the best of the best – Harvard, Cambridge, MIT – extremely well-respected institutions at the cutting edge of learning and development. Getting a certificate from a big name like these ensures that your qualifications and capabilities are taken seriously, in addition to providing high-quality learning.
Data-driven courses to supercharge your skillset
GetSmarter's courses are designed using a data-driven approach to understand future skills requirements, so you can be sure that these are relevant, highly desirable skills which will help you develop your professional capabilities and future-proof your career.
Great benefits for businesses
When it comes to offerings for businesses, GetSmarter really delivers. With customizable 2U tokens, personalized learning plans and post-certification reports, this is an innovative, flexible way to boost skills in your workplace.
What could be improved
No short courses
GetSmarter calls their courses 'short courses'. Whilst they're certainly short compared to a full degree, 6-8 weeks is a long time compared to many other online learning platforms. If you're looking for a quick boost, then check out the 'GetSmarter Alternatives' section later in this article.
That said, GetSmarter isn't designed for 'quick boosts'. Their fully accredited programs are all about flexible, in-depth learning that make a lasting impact on your career.
Transparency for business could be improved
To find out how much GetSmarter for business will cost for your organization, you will need to get in touch with the company directly, as there are no indicative prices available on the website.
However, GetSmarter's tailored approach for businesses is one of its greatest strengths, so it makes sense that they consider pricing on a case-by-case basis.
Who GetSmarter is for
GetSmarter is an ideal learning platform for:
Professionals in every stage of their career who want to boost their skill set and resume, with highly-relevant courses from top institutions
Businesses who want to help their workforce grow with personalized learning plans
Students and recent graduates who want to improve their professional prospects by taking career- and sector-specific courses designed with the future of work in mind
Anyone who is willing to invest in lifelong learning and upskilling
Opening an account and finding courses
How to open a GetSmarter account
It's very easy to enroll in a GetSmarter course.
Find a course you're interested in, using the search engine, or browsing by course category or institution
Click 'enroll now'
Enter your personal and financial information, and you're good to go!
Tips for finding great courses on GetSmarter
On GetSmarter, you can browse courses by institution or course category, by selecting the drop-down menu on the home page.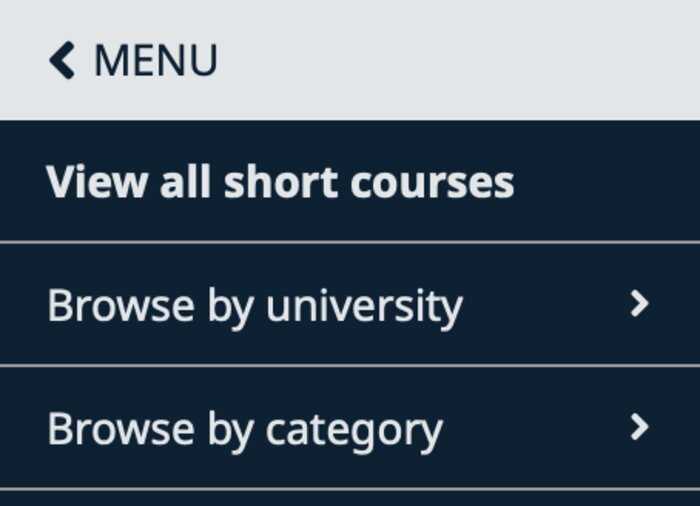 You can view results from A-Z, Z-A, Newest Courses, Starting Soon and Most Popular.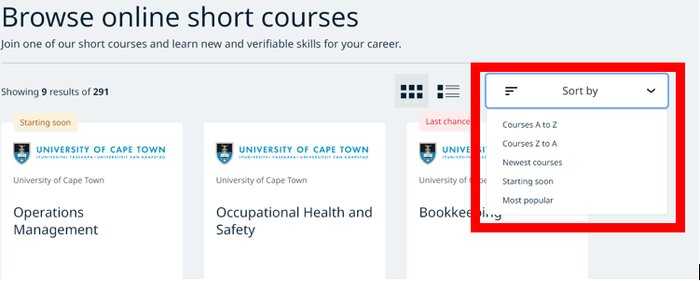 If you're looking for a specific subject matter, you can use their search engine at the top of the page.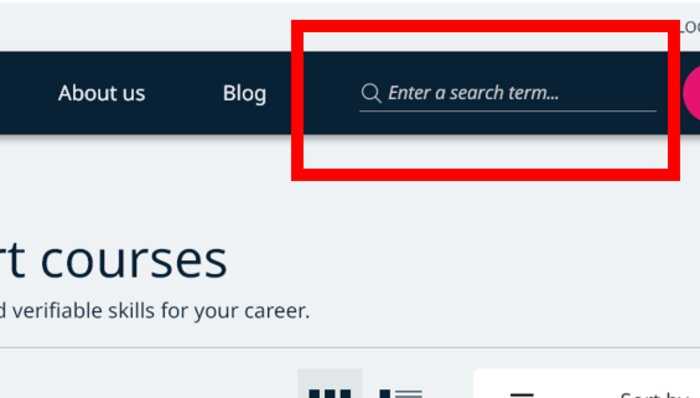 Unlike other platforms, GetSmarter doesn't have a review section or offer star ratings. This is likely because courses are often refreshed or updated due to GetSmarter's data-driven approach to learning.
However, some courses offer a range of student testimonials.
You might want to do some research around pricing when choosing your course. There is quite a big range, from around $550 to around $3800 depending on the institution and subject matter of the course.
GetSmarter alternatives
LinkedIn Learning – A great option if your budget is small or you are looking for really brief courses. It offers a massive range of professional development courses on everything from Sales to Leadership. You can purchase courses individually or subscribe to the platform to access all courses.
Coursera – Coursera also offers high-end professional development courses from renowned institutions. However, they do not upgrade their courses with the same level of frequency. So you do need to check how up to date their courses are if you are choosing between them and GetSmarter.
Udemy typically offers over 200k short professional courses that you can purchase individually. Prices can be as low as $20 making Udemy much cheaper than GetSmarter. However, anyone can create and upload a course to Udemy so the quality of teaching does vary. Plus certificates are rarely accredited so are less likely to impress future employers.
GetSmarter reviews: What others have said
I wanted to write the best GetSmarter review possible, so I had a look around the internet to see what users thought.
There was consistent praise for the quality of the courses in terms of both their teaching and content. But some users expressed dissatisfaction with GetSmarter's customer service in relation to certificate delivery.
Both these views can be seen in the following Trustpilot reviews:
"I completed an online course in 2020 during the pandemic… the course and the training materials were fantastic. But there were issues in requesting certificate reprints despite multiple emails." (Trustpilot review)
"The Oxford University content was really good, I enjoyed it. But the certificates don't arrive on time"
However, many other users had extremely positive experiences with both the courses and with GetSmarter as a platform:
"Very good course, knowledgeable tutor. Registration was a breeze and we were guided right through. The tutor was an expert and was readily available to guide."
"The course was very comprehensive. Website is well structured and user friendly. I previously saw people complaining that they had to wait for certificates. I received mine promptly having successfully completed all assignments and obtaining a pass mark."
"I recently enrolled in a course with UCT through GetSmarter and, after a really horrible experience with another institute, this is such a breath of fresh air. The course is awesome, tutors are readily available and it's just really nice to get your money's worth."
So, it's clear that whilst there may be issues with certificates arriving promptly, users are more than satisfied with the quality of both course content and teaching.
Evaluating GetSmarter
Features: Course content in a wide variety of formats. A Success Advisor is on hand to answer any administrative and technical questions. 2U's Career Engagement Network, and the Online Campus, allow you to interact with teaching staff and peers. Accredited certification.
Content quality: With institutions such as Oxford, MIT and Harvard, you can be sure that GetSmarter's courses are of an extremely high quality. With detailed information of all of the teachers and helpful outlines of courses, you will know what to expect when you sign up.
Content breadth: There is a huge breadth of content on GetSmarter, focussed on professional skills and development.
Teachers: Teachers are of an incredibly high standard, as they are qualified academics from prestigious institutions.
Supporting materials: Wide variety of course materials, including interactive videos, module notes, practice quizzes, presentations, assignment briefs, and additional web resources.
Payments & refunds: Courses range from around $550 – $3800, depending on the institution and subject matter. Refunds and cancellations are available.
Support: Helpful FAQ page, phone line and customer support email. Upon enrollment, you will be able to ask your Success Advisor any technical or administrative questions you might have.
Is GetSmarter worth it?
If you're ready to invest in leading edge, high-quality learning that will make a real impact on your career and professional development, then yes, GetSmarter is worth it.
GetSmarter has an amazing range of courses designed to equip you for the workplace of tomorrow. All delivered and certified by world class, revered institutions.
GetSmarter is an excellent career move, with great options for businesses and organizations who want to keep abreast of the ever changing professional landscape.
If you are looking for really short courses or are less concerned about accredited certification or professional advancement then you could explore sites such as LinkedIn Learning and Udemy.
However, as GetSmarter has a great refund and cancellation policy, then the risk of losing out if the course doesn't meet your requirements is minimal.
Related article: FutureLearn review
GetSmarter: Frequently asked questions
How much does GetSmarter cost?
Courses on GetSmarter range from around $550 – $3800.
Does GetSmarter have a refund policy?
Yes, if you are not happy with the course, or if you have not accessed any of the course content, then you can cancel and get a refund.
How many courses are there on GetSmarter?
At the time of writing there are over 290 courses on GetSmarter, with new courses being added regularly in response to market demands.
Does GetSmarter have a free trial?
GetSmarter does not have a free trial, however, Learnopoly is able to offer an exclusive 15% discount that is valid until December 31st 2023. Simply enter GetSmarter does not have a free trial, however, Learnopoly is able to offer an exclusive 15% discount that is valid from now right up to the 31st December 2023. Simply enter GS-AF-LEARN15 at checkout.  at checkout. 
Does GetSmarter give accredited certificates?
Yes! GetSmarter offers certificates from highly respected institutions such as Harvard University and Oxford University. 
What languages is GetSmarter available in?
GetSmarter is currently available in English, with a select few courses in Spanish.

Hannah is currently studying a Masters in Modern Literature and Culture at King's College London.  In her spare time she enjoys hiking, writing and cooking.