I was 11 when I left the US for the first time. I made the cut for a little league baseball team that was set to play in an international tournament in Tokyo. I'd no idea what to expect, coming from rural Missouri. But armed with a little pocketbook of Japanese phrases, I hopped on a flight and arrived in Tokyo 15 hours later.
It was there with my Japanese host family and my Japanese-English pocketbook that I fell in love with languages.
Despite that formative time, I never did learn Japanese. But recently a multilingual friend recommended I give it a whirl with JapanesePod101. So I decided it was high time that I reunited with the Japanese language and tried JapanesePod101 for a week.
In this JapanesePod101 review, I'll provide you with a complete overview from the perspective of a beginner in the language. I'll include its unique features, the pros and cons of the platform, and various pricing plans. I'll also compare JapanesePod101 to other popular online Japanese learning websites and share what past students have said about their experience. By the end of this article, you will have a solid understanding of whether JapanesePod101 is right for your language-learning journey.
.
Quick summary
Features
1,100+ lessons and quizzes
Free to join
Tons of resources including: core vocabulary lists, flash cards, cultural insights, grammar worksheets, and script-specific drills
App to download audio lessons for offline use
Curated Japanese-Language Proficiency Test (JLPT) practice
Voice recorder tool to work on pronunciation
7-day risk-free trial with generous refund policy
Pros
Diverse resources ensure learning stays fresh and engaging
Easy to navigate platform interface
Curates your learning journey with the most relevant pathways
Emphasis on listening comprehension quickly got my ear accustomed to the language
Lots of learning flexibility with bite sized lessons for learning on the go
Fun lessons that incorporate cultural topics
The ability to record and compare pronunciation with a native speaker to fine tune speaking skills
Cons
Not great for students preferring a more structured approach
Limited materials for visual learners
Rather passive learning style
Best for: Learners of different levels, from absolute beginner to advanced. There are tons of unique learning pathways, so the course is great for students looking to explore aspects of the language most relevant to their goals. Lessons especially suit students on the go and those who are auditory learners. For those already familiar with Japanese, it's an excellent tool to improve listening skills.
Cost: You can use JapanesePod101 for free by signing up for a free account. There are a range of subscription options available from $3.50pm-$47pm.
Overall: JapanesePod101 is affordable, easy to use, and provides a range of resources to ensure success for all levels of learners. The interesting lessons and engaging teachers provide an effortless way to learn Japanese that you will be hard-pressed to find elsewhere. Plus, the free membership account, free trial options, and refund policy, make it simple to sample totally risk-free.
What is JapanesePod101?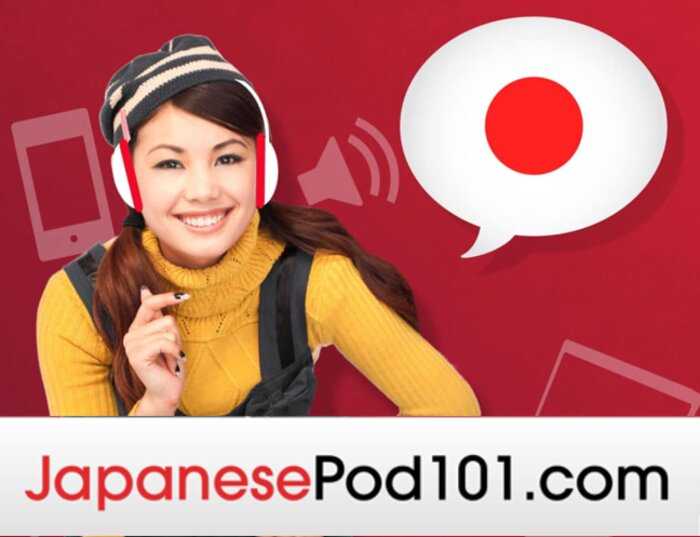 JapanesePod101 is an online language-learning platform that provides over 1,100 audio and video lessons designed to help students of all levels learn Japanese. The platform was developed by Innovative Language Learning, a company that specializes in creating language-learning resources for students around the world.
JapanesePod101 offers a range of courses and resources, including lesson quizzes, interactive flashcards, cultural insights, and grammar worksheets that help students learn the language in a fun and engaging way. The platform is accessible from anywhere with an internet connection and is great for both independent learning and as a study aid complementing a classroom course.
How does JapanesePod101 work?
JapanesePod101 works by providing students with a comprehensive curriculum that includes audio and video lessons covering a huge number of topics for navigating everyday conversations in Japanese. The lessons are structured in a way that makes it easy for learners to follow along and track their progress.
The lessons are categorized by the following 5 proficiency levels:
| | | | |
| --- | --- | --- | --- |
| Level | CEFR Level | JLPT Level* | Lessons & Assessments | Length of Content |
| Absolute Beginner | A1 | —- | 92 Lessons130 Assessments | 15h 48m |
| Beginner | A2 | N5/N4 | 129 Lessons79 Assessments | 28h 37m |
| Intermediate | B1 | N4/N3 | 99 Lessons66 Assessments | 26h 22m |
| Upper Intermediate | B2 | N3/N2 | 100 Lessons62 Assessments | 23h 6m |
| Advanced | C1 | JLPT N2 | 183 Lessons124 Assessments | 22h 41m |
*Common European Framework of Reference for Languages (CEFR) and the Japanese Language Proficiency Test (JLPT)
The platform also offers a range of other features, such as flashcards, quizzes, and a community forum, which help learners to practice and reinforce what they have learned.
Students can access the platform through their web browser or through the JapanesePod101 mobile app, which is available for both iOS and Android devices. The app allows students to access the platform's resources on the go and makes it easy to study Japanese even when offline.
What is a lesson like on JapanesePod101?
The platform's lesson structure is meant to be flexible and adaptable, allowing students to learn at their own pace and on their own schedule.
Outside of the standard learning pathways for specific levels, there are hundreds of other learning pathways. Each has a focus on topics such as listening skills, grammar, a specific Japanese script, or themed vocabulary words. Students can choose the type of learning pathway they want to focus on based on their individual needs and goals.
From my experience with the absolute beginner pathway, the lessons were almost always audio-only and lasted from 5-10 minutes. The lesson hosts would introduce some words and phrases and then let you listen to what they sound like in a native conversation. The lessons include pauses for the listener to try to repeat the keywords, .
Each lesson was followed by a very short quiz on the lesson's content. I found these to be very easy if I did the quiz right after listening to the lesson, but they were much harder the day after!
What is the method behind JapanesePod101?
The method behind JapanesePod101 is based on the concept of "spaced repetition," which is a learning technique that involves reviewing material at increasingly longer intervals to maximize retention. The platform uses this method to help students learn Japanese more efficiently and effectively.
JapanesePod101 also incorporates a range of other learning techniques, including audio and visual aids, interactive exercises, and cultural insights. These techniques help students learn the language in a way that is engaging and enjoyable, and they provide students with a range of tools to help them succeed in their language-learning journey.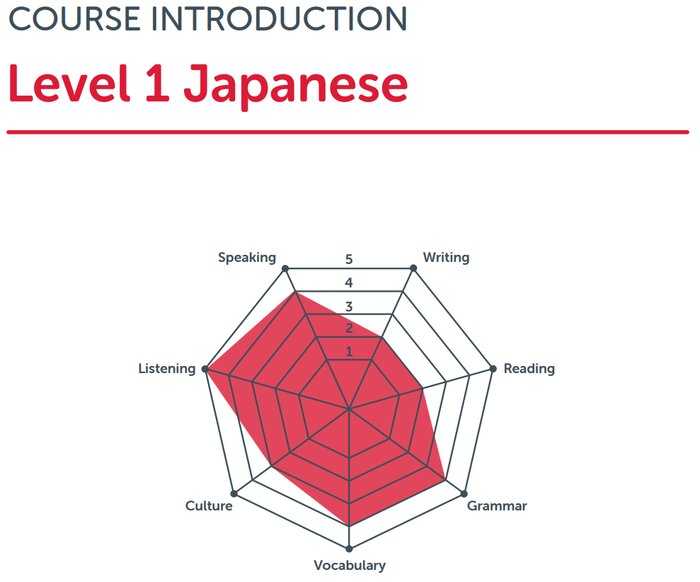 How I reviewed JapanesePod101
I started this course with almost zero knowledge of Japanese. The extent of my Japanese came from my weeklong trip to Japan when I was 11 and the song "Mr. Roboto" by Styx.
I explored some of the learning pathways available, but ended up focusing on the recommended official absolute beginner pathway. It includes 92 lessons, 130 assessments, and 15 hours and 48 minutes of audio content.
You just need to click "study now" and you're on your way.

I followed the absolute beginner pathway for a while, though it became painfully clear that I needed to learn some kanji, hiragana, and/or katakana if I wanted to get some traction. Thankfully there was a learning pathway I could follow along with some worksheets I could download to start memorizing the scripts.
I also used the app to listen to some lessons during my commute and a few runs.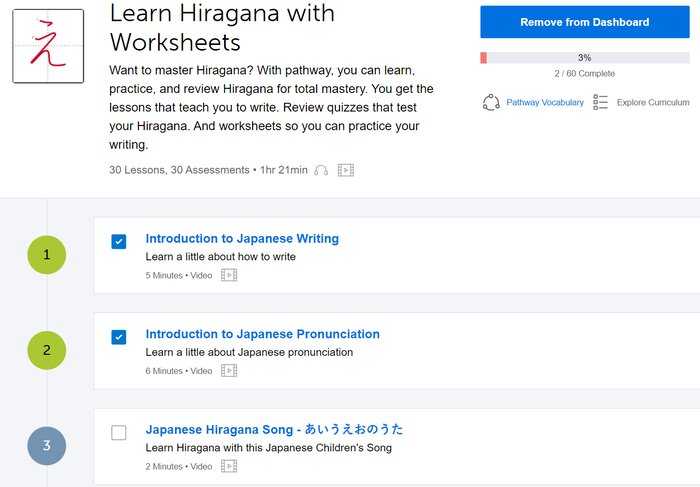 Hiragana practice worksheet and learning pathway
JapanesePod101 Pros
There's a lot to love about JapanesePod101, but here's my take on some of the platform's best qualities:
Flexibility
The platform is accessible from anywhere with an internet connection, and students can learn at their own pace and on their own schedule. This makes it an ideal choice for students who have busy schedules or who want to learn Japanese in their free time.
I see JapanesePod101 being extremely useful for any level. From my perspective as a veteran language-learner, I feel that it can be an excellent supporting tool to supercharge your listening skills, vocabulary knowledge, cultural understanding, and speaking skills (using the voice recording function),
The app
I found the interface of the app very simple and easy to use. They limit the number of extra resources that you can use on the app, which I actually appreciated because it made the app very easy to navigate.
You can even download lessons through the app if you want to work on your Japanese even when you don't have internet access, like during a flight.
I loved the app for its podcast-like lessons while I was on the move. My favorites were the 25 absolute beginner culture lessons, which gave 3-4 minute lessons on anything from "Yuru-Chara" characters to the 2019 abdication of the Japanese emperor.
Extra resources
A huge advantage is the range of resources and tools beyond the audio lessons to help students learn Japanese efficiently and effectively with a focus on:
Vocabulary: Personal word bank, survival phrases, lists of most common words (see above)
The scripts: Hiragana, kanji, katakana, romaji help. There's a particularly useful interactive tool you can use to study katakana and hiragana.
Japanese-Language Proficiency Test (JLPT) practice: For students looking to get certification of their knowledge of Japanese
Grammar: Verb conjugation charts, overview of basic grammar structures
Fun Lessons
The lessons are not only educational but also quite entertaining! I probably cracked a smile at least once every lesson while using JapanesePod101. The platform does a solid job of making sure that the lessons are both fun and funny. I particularly loved all of the tidbits of cultural lessons and fun facts that were included in most of the lessons.
It's hard to find a language-learning platform that makes you laugh while still effectively teaching you the language, but JapanesePod101 has nailed it.
JapanesePod101 Cons
As in all things, there are downsides to using JapanesePod101.
Unstructured learning environment
One of the biggest cons of JapanesePod101 is that it may not be suitable for students who prefer a more structured learning environment. The platform's lesson structure is designed to be flexible, which may not be ideal for students who thrive in a more traditional classroom setting.
I was also never quite sure whether I was getting the most that I could out of JapanesePod101. There's just so much you can do on there that it was frankly a little overwhelming. I ended up just mainly doing the recommended absolute beginner course, but I feel like I could have branched out more or tried using some of the supplemental material.
Not a lot of visual materials
Another potential con of JapanesePod101 is that it may not be suitable for students who are more visual learners. While the platform does offer some visual and written resources, such as vocabulary lists and grammar explanations, the focus is mostly on audio materials.
Passive learning
I found my time on JapanesePod101 to be a bit heavy on passive learning — most of the lessons are 5-10 minute audio clips. While the lessons are fun, the lack of dynamic learning is a blind spot for the JapanesePod101. Listening and repeating will only get you so far.
If you've read any of my reviews, you'll know that I ~stan~ active learning techniques. In other words, you need to use your brain to create using a foreign language. That could mean you're writing original thoughts or patching together your limited vocabulary to communicate during a spoken conversation on italki.
That said, passive learning has its place in a learning journey. Definitely use JapanesePod101 as a supporting resource for learning new vocabulary and tuning your ear to Japanese.
Speed of words and phrases
This is maybe a bit nitpicky, but I wish the lessons were more intentional about saying words a bit more slowly and more clearly. I'm totally new to Japanese, so take what I'm saying with a grain of salt, but I wasn't satisfied with the listen-and-repeat portions of the audio lessons.
If you add words and phrases to your personal word bank, it lets you replay them at half speed. But the words are digitally slowed, so they almost end up even more garbled than at normal speed.
The voice recording function [that lets you compare your pronunciation to a native's] definitely helps mitigate this issue. I'd also guess that this complaint would fade with more practice and more familiarity with Japanese words, but I felt it was worth noting.
Who is JapanesePod101 for?
This mainly depends on two things: your current knowledge of Japanese and how you're planning on using JapanesePod101 in your learning journey.
As a complete beginner, I didn't find it as useful as I might have if I already had some knowledge of Japanese. I think having more visual content would be helpful for sounding out words when you're just starting out. But it could still be a really helpful supporting resource when used alongside other courses and apps.
The visual content JapanesePod101 has is pretty limited and fairly heavy with its use of Japanese scripts. Because of that, I think it would be helpful to already be a little comfortable with hiragana, katakana, and/or kanji. Students may want to focus on learning some of these scripts before spending too much time on JapanesePod101.
If I were already familiar with Japanese, I think this would be a fantastic tool to work on my listening skills. The more you listen to a foreign language, the better your ability to distinguish individual words becomes. This is one of the most important skills to develop when learning a foreign language.
So if you just want to use it on your commute to work on your listening skills, I think this is a great tool. Just be sure to continue working on the other skills (reading, writing, and speaking) with other Japanese learning resources.
How much does JapanesePod101 cost?
JapanesePod101 offers a range of pricing plans to suit different budgets and learning needs. The platform's pricing plans range from a free plan to PremiumPlus.
The pricing options are a bit complicated, so I put together this table to give you a better idea of the pricing for different subscription types and durations:
| | | | | | |
| --- | --- | --- | --- | --- | --- |
| | 24-month* | 12-month | 6-month | 3-month | 1-month |
| Basic | $3.50pm | $5pm | $6pm | $7pm | $8pm |
| Premium | $8.71pm | $15 pm | $20 pm | $22 pm | $25 pm |
| PremiumPlus | $16.63pm | $26.33pm | $36.67pm | $41.67pm | $47pm |
Here's a breakdown of what you get with each plan:
Basic: Access to all lessons and in-depth lesson notes (over 1,100 audio and video lessons)
Premium: Tons of vocabulary resources and study tools, including spaced repetition flashcards, multiple choice assessments, kanji study tools, and much more
PremiumPlus: Everything in Premium, plus 1-to-1 access to a teacher, hand graded assessments, and guidance and personalized assessments.
*The prices for the 24-month subscription are based on a deal offered by JapanesePod101. I checked every day I was using the platform and the deal was always offered to me (even though it says it's expiring in 9 hours every time it's offered).

Is JapanesePod101 free?
It is completely free to join JapanesePod101. Subscribing with a free membership can be a great way to try out the platform before paying any money for extra content.
With a free membership, the newest lessons released by JapanesePod101 will be available to you for three weeks. After that, they get added to the lesson archive, which you need a paid subscription to access.
Here's everything you get with a free account on JapanesePod101:
First 3 lessons in every learning pathway
New lessons every week
Japanese Word of the Day
Top 100 Japanese words list
Japanese vocabulary and phrase lists
Survival phrases learning pathway
Heads up! When you register for a free membership with JapanesePod101, they'll give you a 7-day free trial for Premium. You don't have to provide any payment details, so this is a great risk-free way to try all the features of JapanesePod101.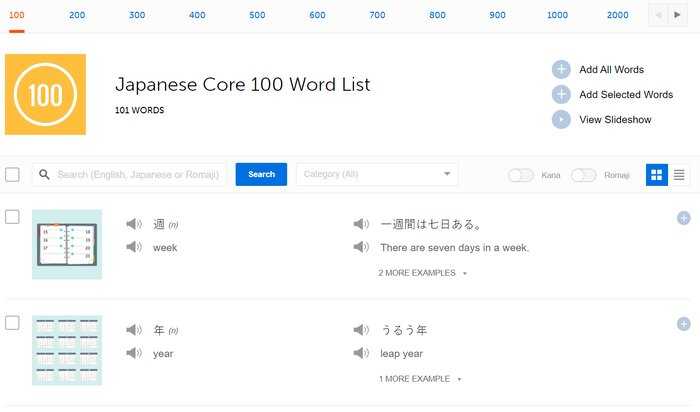 JapanesePod101's core 100 word list
On top of the 7-day Premium trial, when you sign up for the free membership they'll offer you 30 days of Premium for just $1. You have to provide payment details for this, but you can simply go to your account and click "cancel auto-renewal" in the payment section to avoid renewing for $25/month (the month-to-month fee for Premium).
Aside from 30 days of Premium, that $1 also gets you the "Fast Track to Japanese Fluency Package." This includes:
60 downloadable beginner lessons that aren't available elsewhere
One free download at the innovative language store
A 7-day fluency fast email course (the best hints and tips to learning Japanese for beginners)
JapanesePod101 Refund
If you don't like your paid version of JapanesePod101, you are guaranteed a refund within 60 days of purchase.
Just email contactus@japanesepod101.com that you want a refund and they will get back to you quickly.
Features of JapanesePod101
JapanesePod101 offers a range of features that make it an ideal choice for students who want to learn Japanese. These features include:
Engaging lessons: JapanesePod101 provides a curriculum that includes fun audio and video lessons, interactive quizzes, and informative worksheets
Cultural insights: Almost every JapanesePod101 lesson includes fun facts on Japanese culture to avoid making rookie mistakes when interacting with a native
Flexible learning: The platform is accessible from anywhere with an internet connection, and students can learn at their own pace and on their own schedule
Mobile app: JapanesePod101 offers a mobile app that allows students to access the platform's resources on the go, even when they are offline
Personalized learning: The premium plus plan provides access to one-on-one tutoring and personalized learning plans
What languages can you learn with JapanesePod101?
As you probably figured out, Japanese is the only language you can learn with JapanesePod101. But if you like the way JapanesePod101 works and want to learn another language, the creator of this platform (Innovative Language Learning) offers 33 other languages on similar platforms.
All you have to do is search "[insert language]Pod101" and chances are you'll find what you're looking for. Just keep in mind that you'll have to create a separate account on each new -Pod101 website.
Alternatives to JapanesePod101
There are a number of online Japanese learning websites available, and it can be difficult to know which one is the best fit for your needs. Here is a comparison of JapanesePod101 to other popular online Japanese learning websites:
Rosetta Stone vs JapanesePod101
Rosetta Stone provides a more structured and interactive environment than JapanesePod101, but JapanesePod101 offers more creative lesson topics and a more flexible learning environment.
It also features the Dynamic Immersion feature that has made it so successful. With JapanesePod101 it's easier to fall back on a more passive learning experience.
JapanesePod101's biggest advantage is that it is cheaper than Rosetta Stone. Beyond offering a free account (which Rosetta Stone does not), its Basic and Premium accounts are cheaper than Rosetta Stone.
Duolingo vs JapanesePod101
Duolingo is mostly focused on reading and writing, and encourages learning through translations. It also gamifies your learning journey in an attempt to "hook you" on foreign language learning.
JapanesePod101 focuses on learning through listening and repeating. It doesn't gamify learning, instead focusing on making its lessons fun, funny, and interesting. JapanesePod101 also offers lessons at a more advanced level than Duolingo.
Using Duolingo is a great way to learn how to write in Japanese, and JapanesePod101 is excellent for training your Japanese ear.
If you're deciding between the two, you should determine which skills you want to focus on and decide based on that. But why not use them side-by-side?
Babbel vs JapanesePod101
Like Rosetta Stone, Babbel's Japanese course is a more structured and interactive course compared to JapanesePod101. Babbel's courses offer more active learning opportunities such as grammar exercises and writing activities, while JapanesePod101 mainly offers passive listening activities. Babbel's lessons are also longer, which can be more beneficial for learning the language.
However, JapanesePod101 offers more creative lesson topics and a more flexible learning environment. Additionally, JapanesePod101 is cheaper than Babbel, with a free account option and a more affordable Premium account than Babbel's.
What others have said
To make this the best JapanesePod101 review possible, I headed over to Reddit to see how some past students felt JapanesePod101 impacted their learning journey.
"JapanesePod101 has audio lessons but no speaking exercises, which makes its focus on speaking skills misleading. It's a useful resource for audio-only situations but has limitations. Still, I think it's a good resource to use, especially when you can only listen (like when commuting or doing housework)." - Comment from Reddit
One of the most common critiques of JapanesePod101 is its overreliance on listening skills. There's definitely not a lot of emphasis on reading, writing, or speaking. That said, the lessons usually include some gaps for a listen-and-repeat segment. You're not encouraged to come up with your own original sentences — which is key for learning a language — but it doesn't totally ignore speaking skills.
"I have been using them on and off. I think that their product is enjoyable. I would not recommend them as standalone learning material. I listen to them while I clean the dishes in some sort of passive learning way." - Comment from Reddit
JapanesePod101's different account memberships allow you to use it as a supporting tool or primary learning resource. With the option to simply use a free membership account, you can use it as a passive learning resource to work on listening skills. But with paid memberships — especially Premium — you'll have access to way more resources and tools to flesh out your learning experience.
"A lot of JapanesePod101 you can use for free…I have never paid for the site but listened to it A LOT and credit it with my Japanese listening being strong." - Comment from Reddit
Overall, most users recommended using JapanesePod101 in either its free or paid versions. Some noted its emphasis on listening skills, but there's really nothing wrong with that. Instead, make sure that you're working on the other skills through different study methods (italki, community classes, Meetup, etc). You can also try out JapanesePod101 Premium to get access to the script worksheets and drills.
I personally found JapanesePod101 invaluable for getting up to speed on Japanese as an absolute beginner. I'm really thankful that JapanesePod101 taught me how the scripts work and how to say some basic conversational phrases.
Even with its focus on listening, it felt good to hear myself saying Japanese words pretty close to what the native recording sounded like.
Sometimes just that little boost to self-confidence is what you need to keep going with a language!
Conclusion: Is JapanesePod101 worth it?
If you're interested in learning Japanese, I highly recommend giving JapanesePod101 a try. With its extensive library of over 1,100 audio and video lessons, interactive flashcards, cultural insights, and grammar worksheets, the platform caters to learners of all levels and provides a fun and engaging way to study Japanese.
The app is also a standout feature, with a simple interface and the ability to download lessons for offline use. Additionally, the lessons are structured in a way that makes it easy to track your progress and reinforce what you've learned with short quizzes. And with the use of spaced repetition, learners can maximize their retention of the material.
The platform is affordable, easy to use, and provides a wide range of resources to help learners of all levels succeed. Its free membership account, free trial options, and refund policy make JapanesePod101 one of the most risk-free language-learning platforms I've come across.
So why not give it a try? Who knows, you may just fall in love with the Japanese language like 11-year-old me in Tokyo all those years ago.
Related articles: SpanishPod101 ChineseClass101 review, JapanesePod101 review, Korean101 review, ItalianPod101 review, ThaiPod101 review
JapanesePod101 FAQs
How much does JapanesePod101 cost?
The pricing options are: Free membership, Basic – $3.50/month for 24 months, Premium – $8.71/month for 24 months or PremiumPlus – $16.63/month for 24 months. JapanesePod101 frequently offers deals for their 24-month subscriptions, so that's a great move if you do want to subscribe.
How does JapanesePod101 work?
JapanesePod101 works mainly by listening and repeating. Its desktop version offers many extra resources, like voice recording to practice your pronunciation and worksheets to test your knowledge of Japanese scripts.
What languages does JapanesePod101 teach?
Japanese, with learning resources for kanji, hiragana, romaji, and katakana.
Can I get a refund?
Yes, within 60 days of purchase.

Wayne holds a Master's in Conflict Studies from the London School of Economics and Political Science. An American working in the world of international affairs, he has picked up French, Italian, and Spanish throughout his life as a perpetual expat. He likes to do crosswords while enjoying a pint of craft brew.