Hoping to develop or strengthen your photography skills? Heard about The School of Photography (TSOP) and wondering if it's the right fit for you?
Well, that's why I'm here: to give you a comprehensive overview of what The School of Photography is all about so that you can decide if it meets your needs.
I've taken lots of different courses on photography and image editing, so I'm confident that I can help you find the right platform.
Throughout this The School of Photography review, I'll walk you through everything you need to know, from how the platform works, to its price, refund policy, and overall value for money.
So, let's jump into it with a quick summary.
.
Quick summary
Pros
The courses are comprised of well organized and interactive classes, each with a distinct lesson plans and quizzes or practical tasks to complete
Short lessons that mean the content is easy to memorize and rewatch when necessary
The teaching style mimics face-to-face classes and feels intimate
There are different purchasing options that will suit a great variety of users
Interactive and encouraging online community of photography students
Good balance of free content and paid content
Cons
Focus on the science of photography rather than the art which may not be to everyone's taste
Repetition of processes and tasks may feel tedious for some but could be beneficial for others
Best for: The School of Photography prides itself on being a platform that welcomes beginners and advanced photographers alike. The courses I sampled definitely demonstrated a range of levels and aptitudes that would suit different learners. The School of Photography is best suited to those who are serious about improving their photography skills and taking better photos.
Cost: Check latest price here.
Overall: The School of Photography is a great platform for photographers looking to develop their skills. There's a strong focus on practical exercises that really help you take stunning pictures. It helped me put my new skills into practice, find creative ways to edit my photos, and made me consider photography in a different light –– as something scientific and exact rather than just artistic.
Here's a list of everything I will cover in this review:
What The School of Photography is and how it works
My review of three classes
What I liked about The School of Photography and what could be improved
Who The School of Photography is for
How much The School of Photography costs and refund policy
The School of Photography alternatives
What others have said about The School of Photography
If The School of Photography is worth it
FAQs
So let's get started!
What is The School of Photography?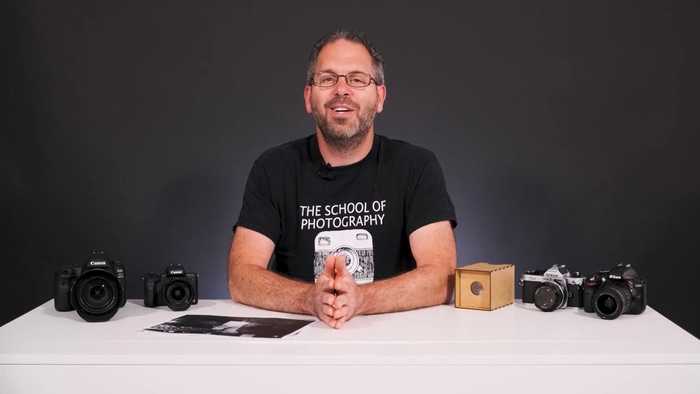 The School of Photography is a learning platform that's been around since 2012, founded by Marc Newton, a photographer, educator, and author.
Unlike many other photography platforms, TSOP isn't limited to online teaching, as they also teach in schools in the United Kingdom, and through their photography books.
They have been featured by a number of broadcasters and photography companies over the years, which is testament to the quality of teaching they provide.
I feel TSOP is one of the more unique photography platforms out there, not because their methods are groundbreaking but because they're fool-proof! They use methods that are tried and tested in order to ensure you get the most out of their classes and pay reasonable prices.

TSOP also puts a lot of focus on the practicality of their courses, as well as the larger photography community that you can be part of if you join the platform. This interactive group is definitely an advantage for learning as it will help you share your work, get feedback from fellow peers, and even make friends and contacts in the professional world of photography.
How does The School of Photography work?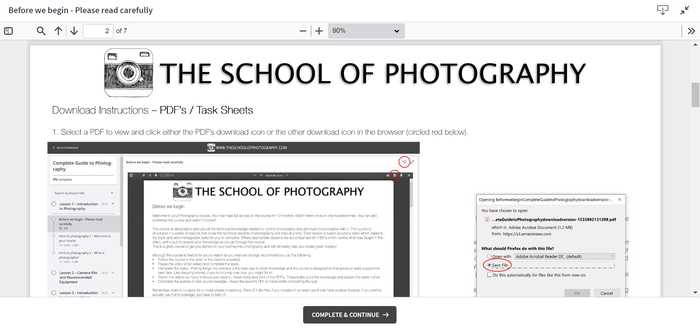 The School of Photography's courses are quite unique as they offer a mix of video classes, notes, practical tasks, and downloadable content. Each one is led by an expert in the field or topic at hand so you know you're always learning from someone who is qualified and passionate about their work.
While TSOP does focus on photography, there are many different courses that cover everything from the basics to fine art landscape photography! You will find everything you need to take your first photograph all the way to expert post-production in Lightroom and Photoshop (and features in our Best Photoshop Course review).
Once you complete a course you will get a certificate from The School of Photography in order to celebrate your achievements!
There are four different ways to make the most of TSOP, which means there will most likely be a perfect match for you.
TSOP offers two memberships: one monthly and one yearly. With both, you are granted access to all available classes, as well as exclusive downloadable content, monthly assignments, discounts, and even Q&A sessions!
This is a great way to make the most of the platform and all it has to offer, but you might not be entirely sold yet.
If you are already an experienced photographer and you would like to dabble in a new genre you haven't tried before, you might prefer to purchase an individual course.
This is also a great feature as it provides the flexibility to buy and watch the courses you want without a bigger commitment. Just note that if you do purchase one of these they are not available forever – but you do have a good long six months to watch the videos and read the notes as many times as you need to.
Finally, TSOP also offers a series of free content that all users can enjoy. Instead of full-fledged courses, TSOP has a range of tutorials that anyone can watch at any time as they are published on their YouTube channel. You might want to check these out to get a sense of the teaching style, or watch them to complement your TSOP subscription!
My review of three classes
In order to get a sense of what TSOP is all about I decided to sample three of their courses as well as a free tutorial. I spent just over an hour on each one, going through the classes, tasks, and notes to fully grasp the learning style and techniques at hand.
Fine Art Landscape Photography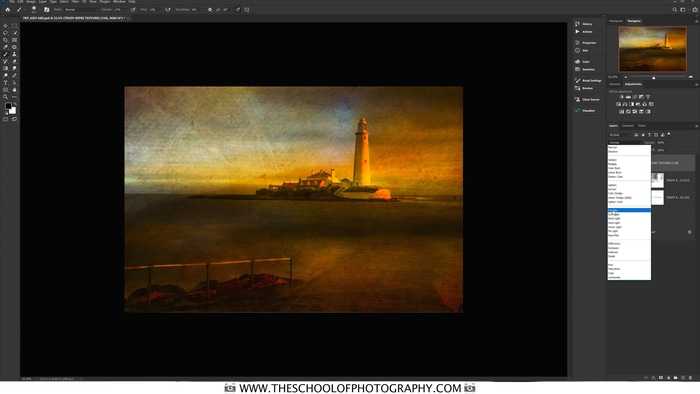 You will learn:
What the instructor's personal creative process is and how to mimic it
How to add multiple textures, colors, and moods in post-production
Basic Lightroom and Photoshop editing skills
How to use different camera fixtures and filters to achieve desired effects
The importance of screen calibrating in order to achieve true color tones
Pros:
Led by an extremely experienced and passionate teacher who confidently inspires and teaches students with straightforward techniques
An engaging course with tasks and prompts to encourage students to complete their own work
Short classes that are easy to follow and rewatch
Provides students with RAW images to edit in their own time
Cons:
Once the student has grasped the technique the course may seem repetitive as it goes through multiple examples of the same creative process
Length of Course: 3 hours and 11 minutes long and consists of 45 videos or tasks divided into 11 sections
Best for: You really don't need any photography experience to undertake this course. It's aimed at anyone who wants to transform regular photographs into pieces of art and the slow, relaxed pace makes it easy for anyone to follow.
Overall: This was by far my favorite course from TSOP. It felt so fresh and original and really focused on the balance between the mathematical and technical skills of photography and the more creative side of photo editing. I learned so much from Trudy Kept, the tutor and artist, and really felt that it was well worth investing in. I never felt too overwhelmed or inexperienced either as Trudy helps along every step of the way.
Complete Guide to Photography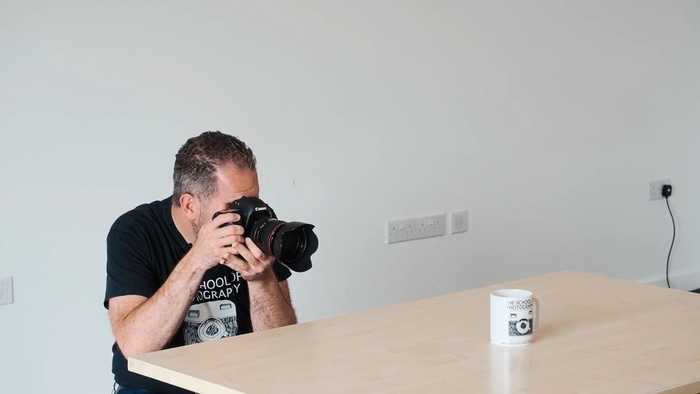 You will learn:
How to see and understand photography as a science
The importance of mastering manual settings
The best cameras to use for different scenarios
How to fix common problems such as overexposure, underexposure, and blurring
How to understand and master the rules of composition
To understand metering settings
When to use different ISO's
The basics of aperture, shutter speed, and resolution
How to adjust white balance
The basics of post-production
Pros:
Includes quizzes to test knowledge and train memory
Uses easy mnemonic devices to help you memorize techniques, such as 'halfway down to focus, fully down to take the shot'
Short classes that are easy to follow and rewatch
Cons:
The course focuses on the science of photography rather than creativity, making it better for more analytical minds, however, as the tutor points out, it is essential for everyone to learn how to do this before they can get good at photography
Length of Course: 6 hours and 20 minutes long and consists of 98 videos or tasks divided into 17 sections
Best for: This course is designed for complete beginners which is why it goes into so much detail. It is a great first course to take after joining TSOP as it will likely give you the basics you need to understand and succeed at other courses.
Overall: Having taken quite a few courses that cover photography introduction and basics, I recognized the quality of teaching in this course. Although the pace is slow, it is ideal for beginners and teaches you how to stand on your own two feet and control the technology of photography rather than rely on automatic settings.
Complete Guide to Lightroom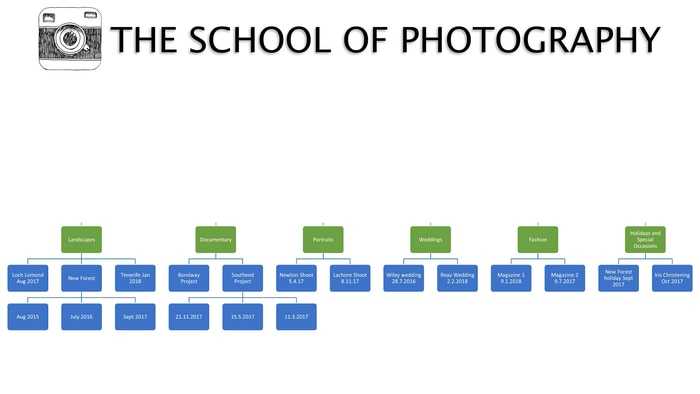 You will learn:
What Lightroom is designed for and how you can use it
The difference between Lightroom Classic CC and Lightroom CC — and when to use each one
How to organize and categorize your images in Lightroom Classic
To use different tools, such as crop, spot, gradient, adjustment brush, etc.
How to use the tone curve
When and how to adjust noise reduction
Pros:
Meets the students' needs and expectations with a slow-paced and extremely detailed guide through all of Lightroom's key features
Short classes that are easy to follow and rewatch
Cons:
Offers fewer practical tasks than other courses but is still very comprehensive and easy to follow
Length of Course: 9 hours long and consists of 86 videos or tasks divided into 20 sections
Best for: This course is best suited to beginners or photographers who are starting their professional career and who need to fully understand and master Lightroom for organization and editing purposes.
Overall: I have taken many Lightroom courses and this one is just as good as any other! You can take your time with this course as it is quite long and covers everything you will need to know.
What I liked about The School of Photography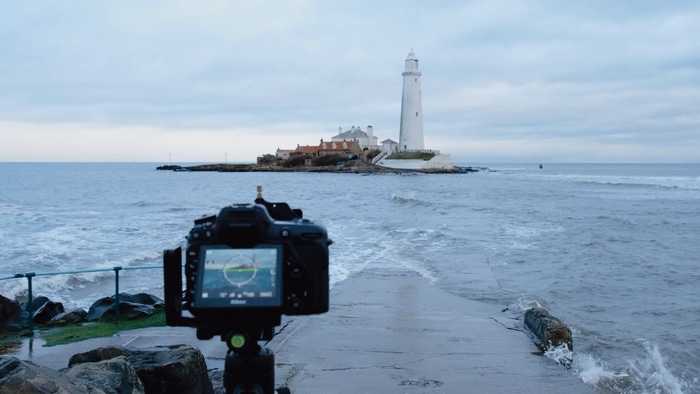 Interactive teaching dynamics
The thing that really stood out for me while I explored TSOP was the practical elements that are introduced into almost every course. Many online courses can be tiresome with heavy video classes that don't draw you in as much as a face-to-face class would.
But TSOP courses are designed differently! While they mimic in-person classes by having a series of tasks, you also have the advantage of being able to complete the tasks and classes in your own time. This makes a really unique learning experience that I haven't seen from other platforms.
As well as these tasks, TSOP follows up by creating a community of users that you can bounce ideas off of, ask for help, and forge professional relationships with.
No nonsense and use of mnemonic techniques
Throughout the courses I sampled, the longest videos seemed to be around 20 minutes, with most being shorter — sometimes even under 10 minutes long.
Breaking courses down into these small digestible bites really helps students retain memory and focus on the techniques. I found that the things I learned in the courses really stuck in my mind, so much so that I had no problem completing the small quizzes provided in some of the courses.
Learning flexibility with multiple purchasing options
Aside from having great quality content, The School of Photography gives you many purchasing options which allow you to learn when it's most convenient for you. With the option to subscribe monthly, yearly, purchase individual courses, or even just enjoy free content, there are so many possibilities, making it easier to get the best value for your money.
What could be improved
Can be heavy on technical detail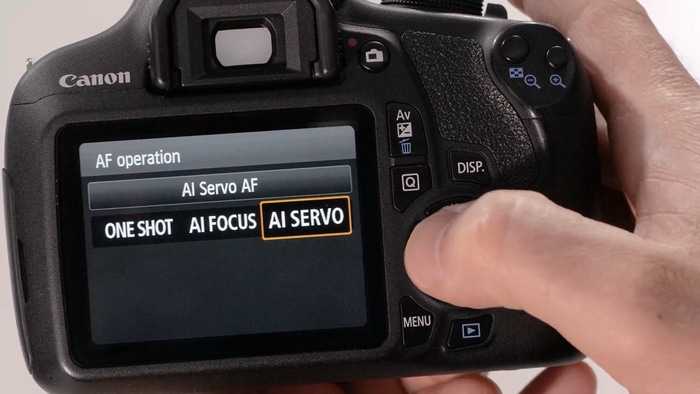 As with most cons, this one is really subjective as it all depends on the type of learner you are and the skills you want to pick up.
Certain courses such as the Complete Guide to Photography focus on the scientifics of photography, which will help you understand how a photograph is created and how you can manipulate settings into achieving different effects. I think this is a great part of TSOP's objectives. However, it might not suit every learner out there.
If you are either: a free-thinker, creative worker, or impulsive artist, then sitting down to learn the ins and outs of a camera might not sound super appealing. Nonetheless, I do think that everyone can benefit from at least some basic coaching in camera control, so push past the technical stuff and then use it to your advantage!
Repetitive processes or exercises
While I just highlighted TSOP's great attention to mnemonic devices and good pacing, which together help students memorize techniques, some learners might not enjoy the apparent repetitiveness of some processes.
For instance, in some courses, once the tutor has explained and taken the student through a certain task, they might apply the same actions to different images in succession. I do think that it's always great to repeat exercises as it helps you master a skill and encounter different problems, but some students might find it a little underwhelming.
If this is you, then my advice would be to take a breather and come back to the new task in a day or two. You will feel refreshed and will probably get more from the activity than you would if you do them all one after the other.
Who The School of Photography is for
Absolute beginners at photography that want an interactive and focused set of courses
Intermediate photographers looking to deepen their knowledge, find inspiration, and complete tasks and activities
Advanced photographers looking to branch out into a new genre of photography
Artists from other backgrounds that would like to try their hand at photography
Professionals who need to work with Lightroom or Photoshop
Casual photographers who enjoy sharing their work with others
How much does The School of Photography cost?
As I mentioned above, there are four ways to make the most out of TSOP.
The options that will give you the biggest number of benefits are the two available subscriptions.
Monthly or Annual Subscriptions
For $20 per month, you will get full access to all content including over 9 available courses and exclusive extra features. Of course, if you know you like TSOP already and want a longer commitment, you can get an annual membership for $174, which saves you $66!
Individual Purchases
However, if you would rather purchase an individual course, you can do so by paying its set price of $109.
This means that if throughout the year you take all nine courses, then you will save $804! And even if you only take one course in one month, then you will still be saving $89.
Free Content
Finally, don't forget that there is a ton of free content and tutorials, both on TSOP's website and YouTube channel, and, if you want a 10% discount, you can sign up for their newsletter on the website.
The School of Photography refund
The School of Photography does offer a 60-day money-back guarantee, but there are some requirements in order to get a refund. As TSOP really believes in their teaching and staff, they only offer a full refund to students who feel as though they have not learned anything from a course.
In order to prove this, TSOP might check how much content you have already used and ask to see some tasks or worksheets to assess why you haven't been able to benefit from your course.
The School of Photography Alternatives
You can check out our Best Online Photography Courses Review to get an in depth comparison of what's out there.
But in brief here are some other alternatives:
The Digital Photography School is quite similar to TSOP as it offers a small variety of courses that cover photography and photo editing. These courses can be purchased individually for anywhere between $59 to $99. They are organized by skill level, from beginner to advanced, and also offer a 60-day money-back guarantee. You can see a detailed overview of each course on their website so you know exactly what to expect.
The key difference between the two platforms is that Digital Photography School doesn't offer a membership subscription. In one way, it makes it quite straightforward as you pay exactly for what you want. On the other hand, if you're looking for continuous learning then TSOP might be a better, and more affordable option!
KelbyOne is a great platform for photographers and editors, offering an immense range of courses. Similarly to TSOP, KelbyOne is a subscription-based service and provides continuous learning opportunities. However, if you are looking for that one-time purchase option, KelbyOne doesn't offer this!
They have a wider range of courses with over 900 to choose from. This could be a selling point if you're looking for diversity, but it could also be overwhelming for a new photographer. It might be better to focus and invest time in longer, more in-depth courses from TSOP before moving on to a platform like KelbyOne.
Just like with KelbyOne, PHLEARN is a subscription-based service with courses on photography and editing. The aim is to transform your photos into the best images they can be, much like what TSOP wants to help you do!
So what's the difference between the two? Well, once again TSOP has the advantage of being so flexible with both one-time purchases and membership subscriptions. However, PHLEARN does also have more courses, with over 600 videos available.
If your focus is photography itself, then I would go for The School of Photography, but if your aim is to improve your editing skills, then PHLEARN has the edge!
MZed is an online learning platform dedicated to empowering filmmakers. However, there might also be something in it for you photographers.
While MZed has fewer photography classes, they do have some amazing tutors on board such as Philip Bloom who can help you make the transition from photography to filmmaking if that is something you're interested in! In addition, there's always things you can pick up from filmmaking courses, such as lighting and image composing that can be easily translated into photoshoots.
If you're interested in this dynamic, diverse, and hybrid platform, you get an annual subscription or directly purchase a course you're interested in.
This might not be the best option if your only passion is photography, but if you're a creative person open to new art forms, then it's definitely worth checking out.
If you want to try a MasterClass with a world renowned photographer, check out reviews for Jimmy Chin and Annie Leibovitz.
Similar in many ways to MasterClass – but it specializes in photography – is Masters of Photography.
And if you want to develop your general creativity as well as your photographic skills, you could try CreativeLive.

The School of Photography: what others have said
I want to bring you the best and most informed overview of The School of Photography, so I googled what others had said about it to give you a balanced review.
However, looking through their online reviews, both on their own website and on Facebook, it was hard to find a single bad comment!
Users are completely satisfied with TSOP and its teaching style, with so many students commenting on how the platform suited them personally:
'I just wanted to say what an absolutely fantastic teacher Marc Newton is. [...] I've recently signed up for the online course and I have been blown away at what I have learned so far. The lessons are in small bite-sized chunks that you can do at your own pace. Each lesson has a task with printable information and a quiz at the end to recap your knowledge. I have also really got to know my camera and its settings. I haven't had the courage to post any of my photos yet…. but I will. Thanks Marc, you are amazing.' - Facebook
Another user highlighted Marc's teaching and the feeling of belonging in a community:
'The School of Photography has exceeded my expectations of what this photography course would be like. Marc is an excellent teacher and has so much knowledge on photography and all the elements involved in this field. He makes your learning process enjoyable and informative plus encouraging you to join the Facebook group and sharing your work to others around the world and getting informative constructive criticism on your photography career.' - Facebook
Students not only seem to genuinely learn a lot from TSOP courses, but they also come back for more, and more importantly, seem keen to share their work with each other.
Is The School of Photography worth it?
In short: yes, it is absolutely worth it!
Sometimes less is more, and in this case, I think TSOP's reduced (but ever-growing) number of courses work to their advantage. By focusing on making courses as comprehensive and accessible as possible, TSOP has ended up with great quality teaching, affordable prices and, most importantly, happy students!
If you're looking for flexible and interactive learning, a community of friendly peers, and exclusive downloadable content, then The School of Photography is a perfect fit for you.
If however, you just want a one-time course, remember you can also purchase it through TSOP! So, essentially, there is no scenario in which TSOP doesn't have something to offer.
This review has gone over the inner workings of The School of Photography, the advantages of being a member and the flexibility of one-time purchases, the cost and value of the courses, and some of the courses themselves!
The School of Photography is really a unique platform with so much to offer — including free tutorials if you're still unsure and a 60-day money-back guarantee, so what do you have to lose?
Frequently asked questions
How much does The School of Photography cost?
A monthly membership for The School of Photography costs $20, while an annual membership costs $174. Individual courses cost $109. 
Does The School of Photography have a refund policy?
Yes, The School of Photography offers a 60-day money-back guarantee as long as students can prove that they have not downloaded most of the content and/or have failed to learn anything from the course. 
How many courses are there on School of Photography?
There are over 9 courses available at The School of Photography, and their content is updated regularly
Does The School of Photography have a free trial?
The School of Photography does not offer a free trial, but they do have free tutorials on their website and YouTube channel.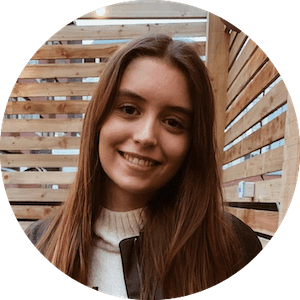 Lauryn is an English Literature and Creative Writing graduate and Journalism Master's student. She's passionate about the arts, writing, photography, storytelling, and editing – anything creative really!