Are you a photographer, visionary, artwork enthusiast or adventurer?
If you're all or any of the above, KelbyOne's a great learning resource for you. Founded back in 1933, KelbyOne has been educating generations of photographers and photo editors from all sectors and specialties of photography.
I've taken many photography, filmmaking, and photo editing courses in the quest to improve my creative skills and KelbyOne has been a great addition.
But will this platform meet all your photography and editing needs?
In this KelbyOne review, I will be covering all the information you need to know, from the courses themselves to the prices and extra features.
Have a look at the summary below to find out more!
.
Quick summary
Pros
A platform that teaches you how to master both photography and photo editing in one place
Great mix of studio and location based lessons that make it easy to understand how all the different techniques work together
Bite-sized lessons that are easy to find and help you find exactly what you're looking for
An extensive number of courses and downloadable materials
Plenty of unique features that make it easy for you to learn and understand technical concepts (like 'Ask an expert' and active community forums).
Provides transcripts of lessons making courses more accessible
Cons
The content can be hard to memorize sometimes as there aren't many visual techniques to help students
Some studio-based courses lack the excitement and dynamics of location-based courses
Length of course:
Best for: KelbyOne is an excellent platform for photographers and photo editors alike. It's especially useful for professionals working in marketing, advertising, creative industries, and/or social media management.
Cost: Starts from $9.99 per month and you can check the latest prices here.
Overall: KelbyOne is a diverse, well-rounded, and accessible platform for professionals and creatives who need to strengthen, improve, or discover new photography and editing skills. KelbyOne has helped me improve my skills and helped me recognize some mistakes I've made with past photography projects, making it a great investment at a great price point.
This review aims to give you a comprehensive overview of KelbyOne by covering:
What KelbyOne is
How KelbyOne works
My review of three classes
What I liked about KelbyOne
What could be improved
Who KelbyOne is for
How much KelbyOne costs
KelbyOne's refund policy
KelbyOne alternatives
What others have said about KelbyOne
If KelbyOne is worth it
FAQs
So, let's get started with the review!
What is KelbyOne?
KelbyOne is an online learning platform specializing in courses on photography and photo editing.
Their core values are education, quality, and community. Having sampled some of the available courses, I can see why these principles guide the platform. The courses are well-structured and informative, and there are many opportunities to interact with the KelbyOne community.
If you want an in-depth example of the way KelbyOne is designed, this video provides loads of insight into the careful planning and dedication that goes into giving students the best learning experience possible!
Scott Kelby, the CEO and founder of KelbyOne, says that 'When we teach you how to shoot a safari, we fly the instructor and the camera crew all the way to Africa, so you're right there with the instructor, right alongside them', demonstrating how immersive and hands-on the photography courses are.
How does KelbyOne work?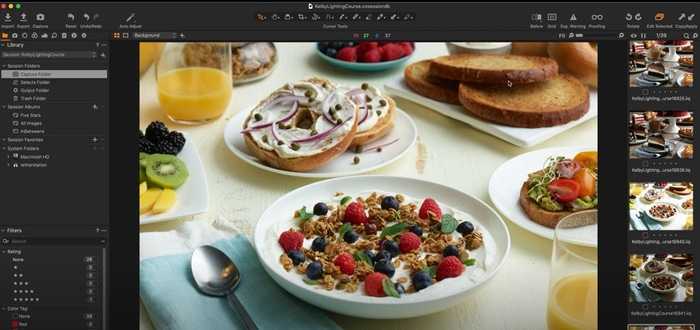 KelbyOne is subscription-based, which means once you've purchased one of the two memberships available you will have 24/7 access to a range of courses and learning resources.
KelbyOne currently offers over 900 courses, spread across over 10,000 classes, which span categories from Commercial Photography to Aviation Photography.
Aside from photography courses, there are over 60 courses on Adobe Creative Cloud which include the most popular programs like Lightroom and Photoshop (check out our Best Photoshop review).
You can search for courses by plan (membership type), type of course, course category, and instructor – a great tool that allows you to refine your search and find exactly what you are looking for.
There are over 100 instructors on the KelbyOne team, all of whom are considered experts in their field and who will help you maximize your photography or editing skills.
With a KelbyOne PLUS membership, you have access to over 400 courses, an introduction to guided learning tracks that will help organize your KelbyOne education, and a digital copy of Photoshop User magazine.
However, if you're looking for a little extra, in addition to all the PLUS benefits, a KelbyOne PRO membership grants you extended access to a further 400 courses, weekly course updates, over 20 guided Learning Tracks, access to an interactive community forum, exclusive discounts, and downloadable editing content!
If you're wondering what else KelbyOne has to offer (because yes, there is more) then Learning Tracks might be a good place to start. They are essentially collections of courses that students can choose to follow if they prefer to focus on one skill, such as retouching or Lightroom.
Users with annual memberships can also use the Toolkit feature, which allows students to access downloadable content such as podcasts, quick tutorials, and ebooks, which will be theirs to keep forever!
My review of three classes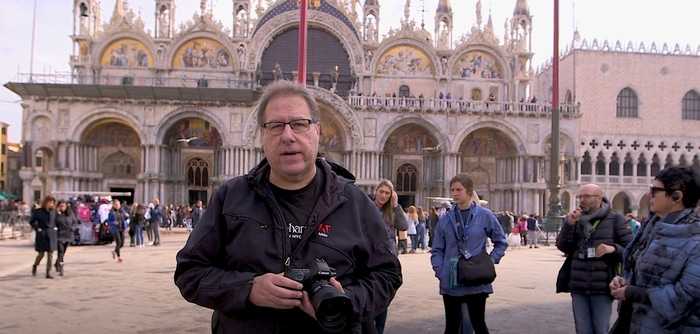 In order to give you a good overview of the range of courses on KelbyOne, I sampled three courses.
The first was a free course, 'Photoshop for Lightroom Classic Users: The Seven Main Techniques You Need to Know' with Scott Kelby, from which I completed over one hour of classes.
The second course was a KelbyOne PLUS course, 'Photoshop for Beginners' also with Scott Kelby, which I selected as I have taken introductory courses to Photoshop before, and wanted to compare. I completed an hour of this course, which covers the first seven classes.
Finally, I selected a KelbyOne PRO course that interested me personally, 'Lighting for Food Photography' with Aaron Van, as I enjoy food photography and wanted to get a feel for the difference between PLUS and PRO content. I completed the entire course which was just under two hours long.
So, let's have a look at the three courses:
Photoshop for Lightroom Classic Users: The Seven Main Techniques You Need to Know (Free KelbyOne Course)
You will learn:
How to transition between Lightroom and Photoshop
When to use one software over the other
To remove distractions in Photoshop
How to use the patch tool
How to understand layers in Photoshop
To understand basic retouching
How and when to use Photoshop special effects
Pros:
A good free course that will be helpful to many photographers who are familiar with Lightroom and want to branch out into Photoshop
Well-organized and well-planned course that transitions from class to class seamlessly
Cons:
Although this course is easier to follow than some of the more advanced ones, it does not provide memorizing techniques to help students
Length of Course: 2 hours and 39 minutes long and consists of 14 videos
Best for: Photographers and Lightroom users who want a simple and quick guide to Photoshop basics.
Overall: It's a great free tool but can only get students so far as it mainly covers the basics Might be a great 'taster' course for those who are interested in KelbyOne but have not yet subscribed.
Photoshop for Beginners (KelbyOne PLUS course)
You will learn:
12 essential techniques and tools, and how to use them
How to open photos on photoshop and change your default preferences
How to use the lasso tool and select elements in images
To remove unwanted or distracting elements
How to navigate through different layers of an image
To use different brushes and when to change
How to resize and crop images
Pros:
Well-organized and straight to the point
Comprehensive overview of the most used Photoshop tools
Short and accessible course length
Cons:
Not very dynamic or attention-grabbing
Lacks memorizing techniques
Length of Course: 2 hours and 28 minutes long and consists of 14 videos
Best for: Absolute Photoshop beginners who want to learn the elementary tools and actions, especially professionals or creatives who need a good overview of the program and how to make easy, quick fixes.
Overall: Overall the course is a good introduction to Photoshop, covering essential tools and techniques without going into too much depth. The course is not as dynamic as some other introductory courses but is short enough to keep users motivated to finish.
Lighting for Food Photography (KelbyOne PRO course)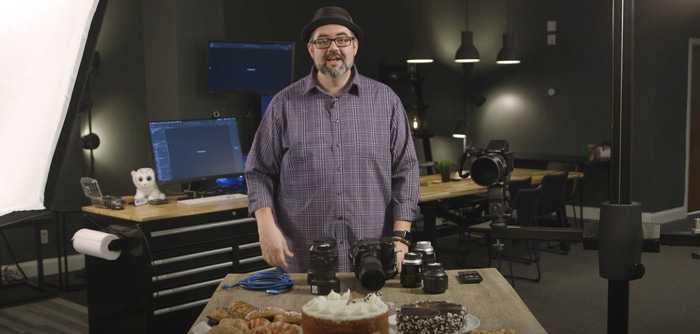 You will learn:
Which is the best gear to use for food photography
How to transition from regular photography to food or commercial projects
The best crop factor to use for food photography
Best cheap accessories to enrich the lighting
Which workflow and speed to use for food photography projects
How to get a top-down shot
How to use mirrors and white cards to pin-point the light
How to take the best elements of each shot to compose an image in post
Pros:
Aaron Van, the instructor, has been through the transition from working in another field to moving to food photography himself
The course covers so much more than just lighting
Provides great advice for students who want to get into this photography niche
Creates ' recipe-like' lists of moves to follow and techniques to use to get the perfect shot
Cons:
Some people might find the overuse of technical terms, ratios, and numbers quite confusing
Length of Course: 1 hour and 46 minutes long and consists of 16 videos
Best for: This course is designed for food photography beginners and is very modern as many social media personalities photograph food on a daily basis.
Overall: I found this course to be enjoyable and really useful for my own food photography as Aaron used techniques and unusual tools that I had never thought of. Despite this, I think the course could benefit from some more signposting to guide students.
What I liked about KelbyOne
Great variety of courses and extra content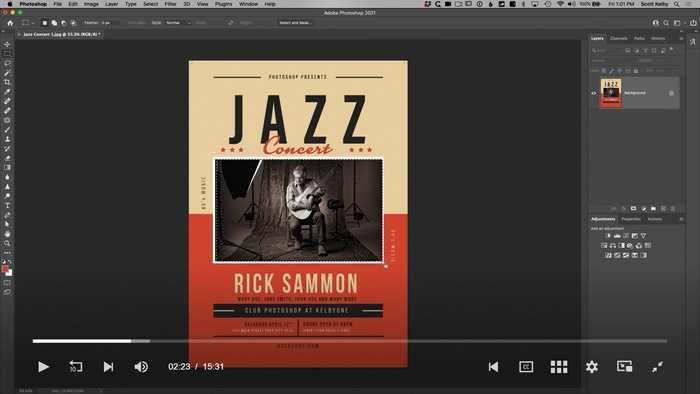 With online learning, it is common to see platforms that offer courses on a range of subjects, like SkillShare or MasterClass, or others that focus on one skill such as PHLEARN. However, KelbyOne seems to strike a good balance between photography courses that cater to all sorts of specialties, and image editing courses for both Lightroom and Photoshop.
Unique features and community interaction
One feature I personally love to see in online education is the opportunity to communicate with tutors and peers like you would in a face-to-face learning environment.
KelbyOne PRO members have access to a massive interactive forum with threads for almost every single course. This is a great way to learn from other users and even form bonds with fellow creatives.
In addition, for each course, there is also an 'Ask an Expert' feature with which students can send their questions directly to a tutor or member of the KelbyOne team. This way you might be able to get a solution or suggestion for a specific problem you have come across that wouldn't be covered in a regular class.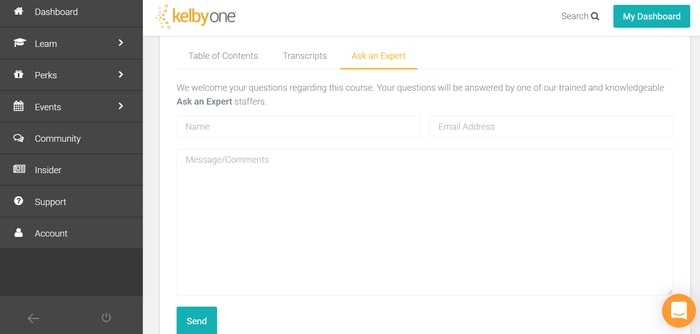 Accessible pricing
With over 900 courses it is natural that KelbyOne isn't going to be the best platform every time. However, the great and varied content, combined with the expert teaching and extra features makes KelbyOne a steal for just $9.99-$19.99 per month!
There are few platforms out there that can give you such a range of variety and value for money, so if you have the possibility to do so, it is a great investment!
What could be improved
Signposting and memorizing techniques
One of the few things I struggled with while sampling KelbyOne's courses were the lack of signposting and digital note-taking that other platforms seem to provide.
When working with complex and often overwhelming platforms such as Photoshop and Lightroom, it is very helpful to have an ongoing list of actions, commands, and keyboard shortcuts that can be used regularly.
Other platforms such as PHLEARN have features where the command is inserted into each tutorial at the right time so that over time users begin to memorize these shortcuts. However, KelbyOne doesn't have a visual reminder – only the words of the tutor.
While this is a minimal feature and won't be likely to impact your overall experience, it would be a good addition to consider in the future!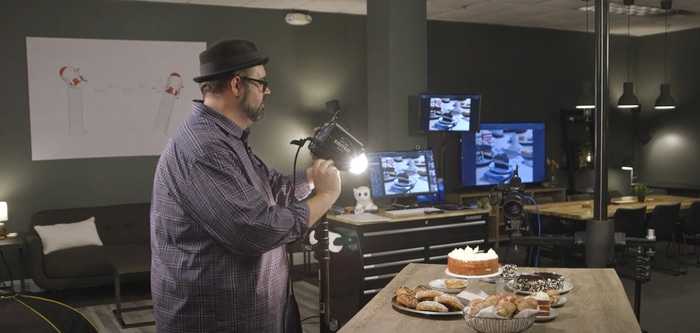 Mixed teaching styles
With a platform so large and diverse as KelbyOne with over 100 teachers, it is natural that the teaching style will vary from course to course. Naturally, this means that while you may love one course and instructor's teaching style you might not like another as much.
Different people react differently to various teaching styles and techniques, and that's normal, it's what makes us all human.
Personally, I prefer a course that keeps me engaged with a lot of visual stimuli, concrete examples, and mnemonic techniques that can help me memorize concepts and apply them to my work later. However, other students thrive on detailed lecture-style classes where there is less movement and slower-paced, information-packed lessons.
Unfortunately, I have not had the chance to sample every course on KelbyOne, so I cannot speak for every tutor and course on the platform. The courses I chose to sample were chosen based on difficulty, personal preference, and the type of KelbyOne membership as I wanted to experience the platform's range of subjects.
While the tutors were clearly experts in their subjects, the courses I watched were mainly studio-based and quite still. While they did meet all the teaching goals that I expected them to, I didn't feel as enthralled as I have with other courses.
Nonetheless, throughout my discovery of the platform of the whole, I did come across a myriad of fascinating courses that cover topics I love like wildlife and travel photography. These courses that are shot on location really caught my eye and I quickly consumed the information, absorbing a lot more than I did with the studio-based classes.
One course I enjoyed, in particular, was Scott Kelby's Travel Photography: Capturing the Essence of a City. This short course felt more like watching a movie than a series of classes and kept me hooked all the way through. Scott's experience and expertise really shone through in this one!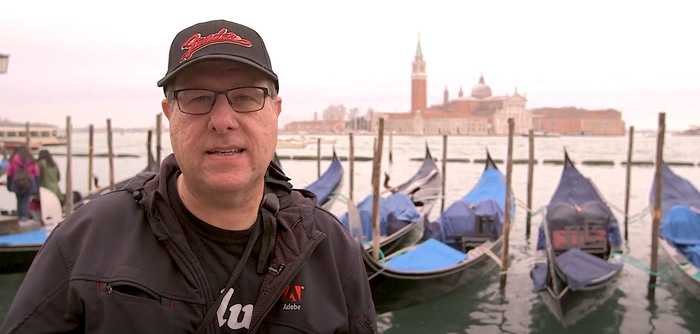 So, whether you are more of an active learner or a passive one, KelbyOne will likely have a course that meets both your topic and teaching preferences.
Who KelbyOne is for
Photographers who want to branch out into commercial photography or improve their overall skills
Individuals in advertising, marketing, or social media management
Creatives looking to start using Photoshop and/or Lightroom
Experienced photo editors who want to transition between editing platforms

KelbyOne describes itself as a group of 'photographers, designers, writers, dreamers, reviewers, builders, artists, tinkerers, teachers, and learners' – demonstrating how diverse the platform and its audience is. You're likely included somewhere in this description, so KelbyOne probably has something for you!
How much does KelbyOne cost?
KelbyOne is a subscription service that can be paid for monthly or annually, although there are two distinct memberships.
The first membership is KelbyOne PLUS, which costs $9.99 per month or $96 per year. If you purchase the annual subscription you will save just over $23!
The second membership is KelbyOne PRO, which will cost you $19.99 per month or $199, again saving you just over $40.
However, if you work for a company or organization that would benefit from KelbyOne you can contact them directly and try to obtain a group membership (available to groups of five or more users.)
There are over 900 courses available on KelbyOne which means that if you take one course every month, you would be paying between $9.99 and $19.99 for each, depending on the difficulty level! With so many courses to choose from paying under $20 a month is a bargain, especially when you consider the amount of extra content you get from the magazines and forums.
There are also over 20 free courses available with a free membership!
KelbyOne refund
KelbyOne does offer a 100% money-back guarantee if you are unhappy with the platform and service provided. In order to get a full refund you will have to contact the KelbyOne team within the first seven days of your monthly subscription or the first 30 days of your annual subscription!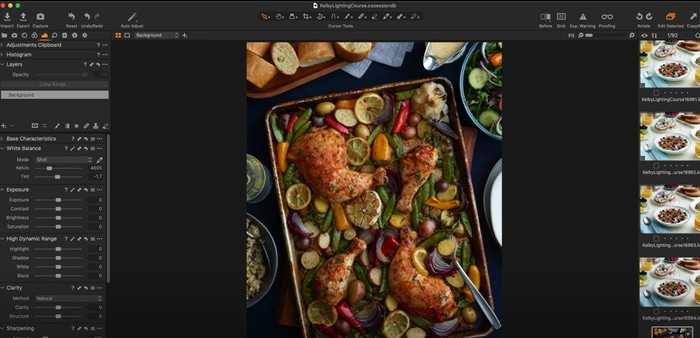 KelbyOne Alternatives
You can check out our Best Online Photography Courses Review to get an in depth comparison of what's out there.
But in brief here are some other alternatives:
PHLEARN is a great platform for learning how to master Photoshop and Lightroom. If that's your focus, then I believe their teaching style is more engaging and they have better techniques to help students memorize actions.
However, PHLEARN does pale in comparison to KelbyOne when it comes to price and variety. PHLEARN does not offer as many courses on photography as KelbyOne does, which limits their audience. In addition, PHLEARN is more expensive, costing $12.99 per month rather than KelbyOne's starting price of $9.99.
Skillshare is an incredible database of courses that cover every subject imaginable, and Photoshop is obviously one of them! Jellis Vaes has created a course that helps photographers master Photoshop, much like many of KelbyOne's courses do. This is a great option for photographers who want a free and short course that can be completed in only three hours! If you're not looking for a subscription commitment, then this is a great starting point.
Other possible alternatives include:
KelbyOne: what others have said
My aim is to bring you the very best KelbyOne review so it is essential to look at what other users have said about the platform.
I googled 'KelbyOne' to get a feel for what other's experiences had been like.
One user was worried that they were too experienced for KelbyOne, but another weighed in with their opinion, stating that:
'What's nice is their variety and consistency of production. There's something for every topic and done to a level that warrants a price tag. One of the things they do best is being on top of the latest updates. If there's a new feature in photoshop they'll get vid out quickly and you up to speed. There are also other perks like discounts on gear and software.' - Reddit
This confirms some of my favorite things about KelbyOne: the variety, quality, extra features, and value for money!
Other users prefer the monthly and cancellable subscription so that they can pick and choose when they need KelbyOne's services:
'I've never done the year, but will do a month here and there, since you can watch as much as you want in that time. Some of their series are really good too, especially to get inspired or learn a technique you don't know too well.' - Reddit 
Another user highlighted their appreciation for the platform, saying:
'I have learned so much from being a member of KelbyOne. All of the classes and instructors are top-notch. I highly recommend becoming a member.' - Facebook
Overall, users seem to recognize the quality and variety of the teaching available on KelbyOne. Whether or not it's the right fit for you is another issue, one which I hope to have helped you consider with this review.
But if you're still in doubt, read on for my take on the big question!
Is KelbyOne worth it?
Yes, I believe KelbyOne is absolutely worth it for two simple reasons.
The first is that KelbyOne is an inclusive, accessible, and extensive learning platform. The fact that it combines a range of photography-related skills from decorated teachers and experts, while at the same time creating a tight-knit community of followers is virtually unheard of.
The second is that at the starting price of $9.99 per month it is one of the cheapest platforms out there for photo editing and photography courses. Yet, despite being financially accessible, the quality of the teaching and extra content is still up there with more expensive competitors.
If you are a professional in a creative or marketing industry then KelbyOne can become a very fruitful tool for your workspace and productivity.
If, however, you like taking and editing photos as a hobby, and aren't prepared to invest in it, it might be beneficial to try some free photoshop and photography tutorials on YouTube before you invest in something like KelbyOne.
But remember that there is a full refund policy if you change your mind, and with so much content available it is unlikely you will ever run out of courses to watch or things to learn!
Frequently asked questions
How much does KelbyOne cost?
A KelbyOne PLUS subscription costs $9.99 per month or $96 per year. A KelbyOne PRO subscription costs $19.99 per month or $199 per year. 
Does KelbyOne have a refund policy?
Yes, KelbyOne offers a full refund for all subscriptions as long as they are requested in the designated time periods: seven days for KelbyOne PLUS subscriptions and thirty days for KelbyOne PRO subscriptions.
How many courses are there?
KelbyOne currently offers over 900 courses.
Does KelbyOne have a free trial?
KelbyOne does not offer a free trial but does have over twenty free courses available.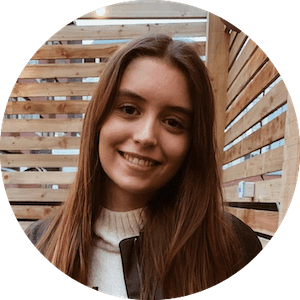 Lauryn is an English Literature and Creative Writing graduate and Journalism Master's student. She's passionate about the arts, writing, photography, storytelling, and editing – anything creative really!