Whether you're designing a poster for your business or looking to retouch your incredible photos, finding the best Photoshop class is key. Photoshop can be tricky to work with. But with the right teacher you'll get there in no time.
If you're looking for the best Photoshop course for you, stick with this article. We'll help you find your perfect match based on quality, value for money, skill level, duration, and extras.
We'll also compare the pros and cons and guide you through the decision-making process.
So, let's get started!
What is the best Photoshop class?
Here are our top Photoshop class recommendations:
Our top choice, Adobe Photoshop Fundamentals, is an excellent all-around course that will truly take you from an absolute beginner to a confident Photoshop whizz. Daniel Walter Scott is one of the best Photoshop tutors out there. And the CreativeLive platform allows you flexibility, with options to purchase this course individually or sign up to have access to a range of exciting courses to complement your learning.
But there are other excellent choices on our list, including the Ultimate Adobe Photoshop Training on Udemy, an engaging and extensive course at a great price point. You could also try The Beginner's Guide to Photoshop with YouTube's favorite Photoshop teacher, Aaron Nace on PHLEARN, a platform dedicated to photo editing education.
However, if you're looking for something more advanced that will help you explore new skills and tools, try out the Adobe Photoshop CC Advanced Training Course on Skillshare. Alternatively, if you're a photographer wanting to get the best out of your photos, Photoshop Course for Photographers on The School of Photography is the one for you.
Best free Photoshop class
These two courses aren't entirely free. However, the platforms they are on both offer one month free trials. Even if you don't finish the course in the one-month period, you can always explore all the other courses you will immediately have access to, such as other Adobe editing software like Lightroom or After Effects.
While the PHLEARN classes we've recommended in this article are paid 'Pro Tutorials', the platform also offers a great variety of free tutorials that can help you pick up small skills or remind you of steps you may have forgotten. 
Best Photoshop class reviews
1. Adobe Photoshop Fundamentals (CreativeLive)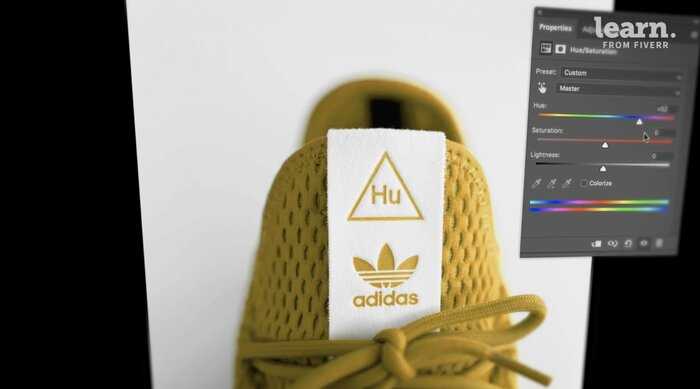 Platform: CreativeLive | Teacher: Daniel Walter Scott | Length: 95 video lessons
If you're looking for a way to learn Photoshop from scratch and become a pro, look no further. On this excellent course, taught by an acclaimed Adobe certified tutor Daniel Walter Scott, you will go through all the fundamentals that you need to become a good editor.
What you will learn:
How to understand, create, and work with layers effectively
Essential skills such as removing elements, backgrounds, and text
To master color editing, from vibrance to gradients
How to use tools techniques and tools such as lasso, brush, blending
To add, edit, warp, and customize text
Pros:
Multi-award winning and Adobe accredited tutor
Mix of video lessons and quizzes
Downloadable content including exercise sheets with corrections
Flexible platform that offers both individual course purchase and monthly membership with access to more classes
Cons:
This is an excellent course for beginners, but those with some basic knowledge of Photoshop might find parts of it too simple. If you're looking for something more advanced, Daniel Walter Scott offers other options
As the title suggests, this class is a perfect introduction to Photoshop for absolute beginners. You don't need any previous knowledge or experience of the platform as every step of the process will be explained. It's a great choice for you if you want to add Photoshop to your professional skill set or start editing your own photos like a pro.
This is our top recommendation as the tutor is well-regarded as one of the best, it's affordable and flexible in terms of payment options, and allows you to build on your skills progressively. If you decide to take this class and have interests in other creative skills, we strongly recommend considering the monthly subscription option which will unlock over 2,000 courses aside from this one (for a cheaper price too).
Read our CreativeLive Review for more information about other photography courses on this platform.
2. Ultimate Adobe Photoshop Training: From Beginner to Pro 2023 (Udemy)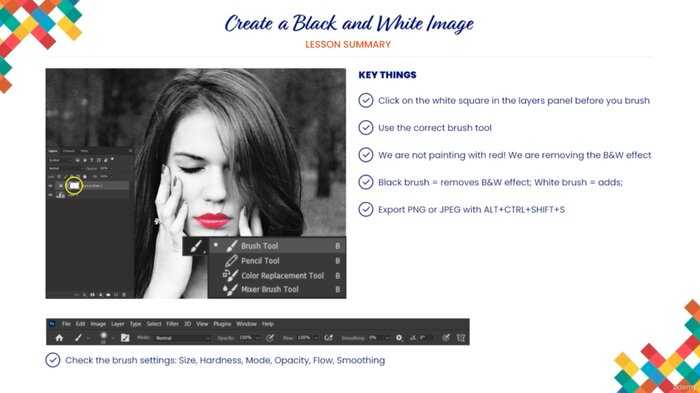 Platform: Udemy | Teacher: Cristian Doru Barin | Length: 194 video lessons totaling 15 hours and 20 minutes total length
Our second choice is this fantastic class for beginners on Udemy, taught by experienced tutor Cristian Doru Barin, who has over 10 years of experience teaching Photoshop. This course is comprehensive, dynamic, and includes some great extra content.
What you will learn:
How to download, install, and open Photoshop
To perfect face retouching
Fundamental skills and techniques, using a range of available tools
To master the use of different layers
How to select and remove elements from an image
To create carefully designed posters or banners with text
Pros:
An updated course that uses the most recent Adobe software
Over 200 pieces of downloadable content to complement your learning
This class offers a Certificate of Completion that you can attach to your CV
Lifetime access to all content (when the course is purchased individually)
Flexible platform that offers both single purchase and a monthly membership
Cons:
At times the course can be fast-paced and when you want to follow while watching this can be hard to do. However, remember that if you purchase this class individually you will get lifetime access so you can always refer back to the content easily
This course takes you from an absolute beginner: from installing Photoshop onto your computer to mastering a variety of skills and techniques.
If you're looking for a reliable and affordable class with plenty of extra material to help your practice, this is an excellent choice.
3. The Beginner's Guide to Photoshop (PHLEARN)
Platform: PHLEARN | Teacher: Aaron Nace | Length: 46 video lessons totalling 13 hours and 30 minutes total length
If you already know anything about Photoshop, it is likely that you've heard of Aaron Nace, a digital artist and tutor who is passionate about teaching Photoshop to users all around the world.
What you will learn:
How to adjust images including cropping, resizing, and correcting
The art of balancing and correcting color to make your images pop
Basic retouching including the removal of blemishes and stray hairs
How to master composting, layers, and mixing images together
Pros:
Includes over 50 sample images to edit in your own time
Users will be able to access exclusive Photoshop actions
Mix of technique and workflow skills
Flexible platform that offers two subscription options
Cons:
At times the classes may seem a little repetitive, but the repetition helps consolidate your learning and remind you of keyboard shortcuts and essential tools
This class is dedicated to Photoshop novices, so much so that Aaron will talk you through opening up the application for the first time and personalizing the interface to suit your needs.
Aaron has curated a really unique course that will help you learn the basics but also become a better editor by improving your workflow and organizing your digital environment.
-> Read our full PHLEARN Review for more information on other courses on this platform
4. Adobe Photoshop CC: A Beginner to Advanced Photoshop Course (Udemy)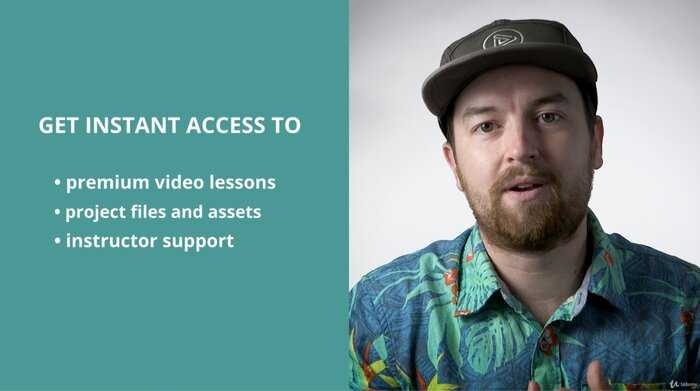 Platform: Udemy | Teacher: Phil Ebiner | Length: 178 video lessons totaling 15 hours and 42 minutes total length
Phil Ebiner has your back with this beginner to advanced class. Phil is an experienced filmmaker and editor who knows Adobe Creative Cloud inside-out, making him the best person to help you pick up some new techniques.
What you will learn:
To create, organize, and navigate through projects
The difference between editing raw files and compressed images
How to retouch faces with a focus on blemishes, red-eye, and teeth among other features
To navigate and effectively use layers through the layer panel
To master the selection tool and quickly add or remove elements to your images
How to create and manipulate text and shapes for graphic design
Pros:
Includes over 20 pieces of downloadable content for extra practice
Lifetime access when the class is purchased individually
Offers a Certificate of Completion
Two purchase options including single-buy or subscription
Cons:
A couple of sections on this course require updating
This course is designed for beginners, but it can also be a great reminder or point of reference for those with a little Photoshop experience.
It's comprehensive, dynamic, and aims to demonstrate all the fun and engaging skills that you can develop with Photoshop.
5. Adobe Photoshop CC – Advanced Training Course (Skillshare)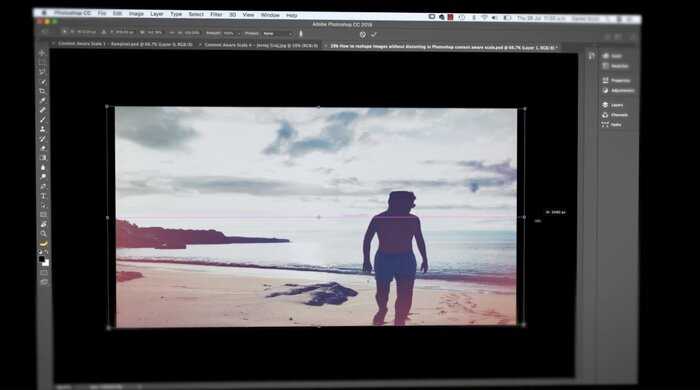 Platform: Skillshare | Teacher: Daniel Scott | Length: 111 video lessons totaling 15 hours and 4 minutes total length
Our fifth choice is another excellent course by Daniel Walter Scott, but this time it's on Skillshare. If you're looking to level-up your editing skills, this advanced class is the one for you.
What you will learn:
To focus on workflow and how to edit effectively
The best selection techniques for your projects
How to edit quickly (including skin, colors, and focus)
To master complex skills such as distortion, manipulation, and animation
How to use Photoshop to identify fonts
How to create and update artboards and social media posts
Advanced cloning and patching techniques
How to edit videos in Photoshop
Pros:
Includes hands-on class projects so that you can put your new skills to practice
An Adobe Photoshop certified tutor with a ton of experience
Offers downloadable content to practice on
Cons:
Some users don't find the class advanced enough, but no matter how much experience you have there are always new tips, tricks, and shortcuts to use
This class is labeled as intermediate, so you don't have to be an expert to take it, but some knowledge and experience with Photoshop is preferable.
This class is also an excellent choice if you're looking for an e-learning platform like Skillshare that offers access to thousands of different classes of all different disciplines. After enjoying your free trial, you can explore other related classes and get the most out of your investment.
6. Photoshop for Beginners (KelbyOne)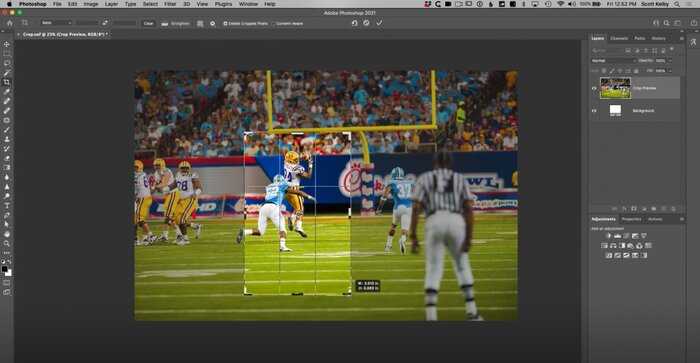 Platform: KelbyOne | Teacher: Scott Kelby | Length: 14 video lessons totaling 2 hours and 28 minutes total length
KelbyOne is a go-to platform for all things photography and editing. Scott Kelby, its founder, runs this course and gives you a quick overview of Photoshop and how to get started with your editing journey.
What you will learn:
12 essential Photoshop techniques to become a confident editor
How to open and navigate through images
The function and uses of each tool panel
How to make selections easily and effectively, removing and adding elements
To master brush tools and personalize them
How to use layers and blend images
How to use the 'Free Transform' feature and make your editing more dynamic
To use plug-ins such as 'Camera Raw'
How to resize images to the appropriate size
Pros:
Scott Kelby is a very experienced tutor with an engaging teaching style
KelbyOne offers access to tons of related courses as well as a monthly membership deal
The course is short and easily digestible
Cons:
As the course is short some might consider the pace to be too fast or to skip over some tools, however it is a great choice for those who are short on time
This course is for absolute beginners with no Photoshop experience whatsoever.
It's a great class to take if you need to learn some Photoshop fundamentals on short notice or if you don't have a lot of time and money to invest. Scott takes you through 12 essential skills that will lay the foundations for your future editing.
Read our full Kelby One Review for more information about other courses on this platform.
7. Photoshop 101-301 (PHLEARN)
Platform: PHLEARN | Teacher: Aaron Nace | Length: 23 video lessons totalling 20 hours and 30 minutes total length
We've had a look at Aaron Nace's class for beginners, but what if you want to become a Photoshop pro? This course aims to progressively build on your skills and teach some more advanced techniques.
What you will learn:
Everything you need to know from beginner's basics to a pro's productive workflow
To understand and edit in different color profiles
How to save time when working with layers and masks
To edit in a non-destructive way that saves time and avoids mistakes
How to create patterns and use them to make interesting images
To define keyboard shortcuts to aid in the editing process
How to use vector masks for layer visibility
Pros:
Includes three courses in 1: including Photoshop 101, 201, and 301
Provides access to over 20 sample images and 5 raw files to practice with
Exclusive access to downloadable Photoshop actions
Cons:
At times the classes may seem a little repetitive, but the repetition helps consolidate your learning and remind you of keyboard shortcuts and essential tools
This course is labeled with a 'Medium' difficulty, meaning that while it is intended to take you from a beginner to an advanced editor it is not designed specifically for beginners. If you're an absolute beginner 'The Beginner's Guide to Photoshop' is a better choice.
If you're looking for a truly comprehensive class that covers a range of tools, techniques, and tips then this is an excellent option.
8. Photoshop Course for Photographers (The School of Photography)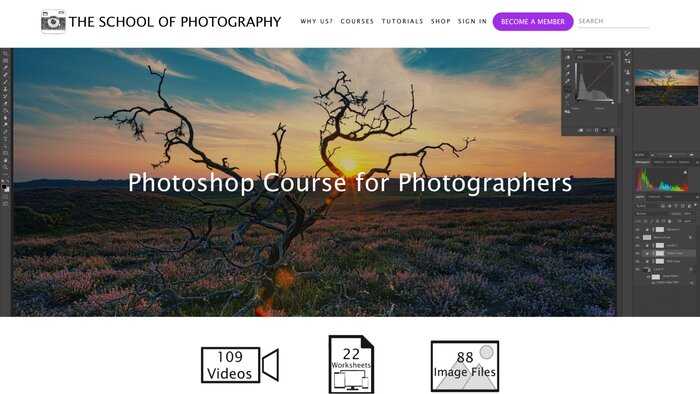 Platform: The School of Photography | Teacher: Marc Newton | Length: 109 video lessons
This course was designed specifically for photographers that want to take their photos to the next level with some incredible Photoshop edits. Marc Newton, the founder of The School of Photography, will take you through all the basics and help you get the most out of your photography.
What you will learn:
How to use and personalize your workspace on Photoshop
To save an edited image in the most appropriate format for your work
How to select, cut, remove and add elements
To create layers and masks
How and why to use Adobe Camera Raw
To adjust layers for landscape and portrait photography
How to use gradient maps
To create and blend multiple exposures
To add watermarks to your photography
Pros:
This is a course intended specifically for photographers and includes unique techniques and tricks
Access to over 80 downloadable raw images for practice
Flexible purchase options with single class purchase or membership available
Cons:
As a stand-alone, this is one of the priciest classes on our list, but if you're a photographer interested in perfecting your art, a membership with The School of Photography is worth it
This class is definitely suitable for beginners, but if you're looking into Photoshop for graphic design or social media purposes there are other courses out there to teach you the absolute basics. This is the ideal choice for those wanting to combine their photographic skills with photo editing.
Marc is an excellent tutor: very to the point and focused on getting the best out of his students. This class won't disappoint when it comes to picking up Photoshop fundamentals and special tricks for photography lovers.
Read our full School of Photography Review for more information about other courses on this platform
9. Online Photoshop Certification Course (Upskillist)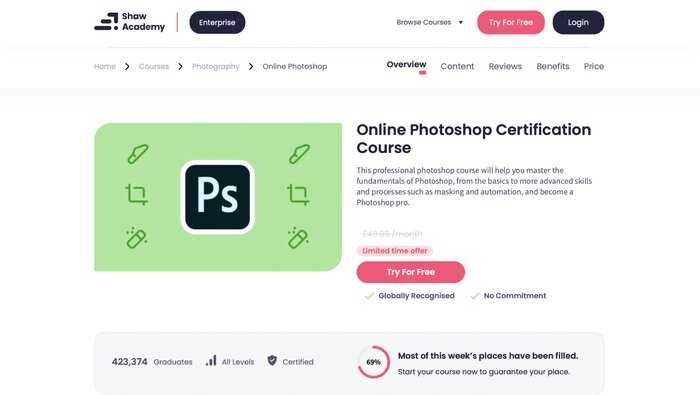 Platform: Upskillist | Length: 32 video lessons over the course of 16 weeks
Upskillist, previously known as Shaw Academy, offers a variety of online classes, including a Photoshop certification course to teach you the fundamentals of this multifaceted software.
What you will learn:
How to create unique images with complex compositions
To design logos, graphics, and text elements
To enhance your images with basic light edits
To develop your creative and technical skillset
Pros:
University approved course with a Certificate of Completion
One entirely free module that awards you a diploma upon completion
Includes toolkits to aid your editing process
Four weeks free unlimited access to all of Upskillist's classes
Cons:
The course takes 16 weeks to complete and not everyone can afford to invest that much time
This course is intended for beginners or Photoshop users with limited experience and focuses on the professional uses of Photoshop in the creative industries.
This four-module class offers exclusive toolkits, university accreditation, and an entirely free introductory module to take you from absolute novice to a proficient and certified Photoshop editor.
10. Introduction to Adobe Photoshop Tools – Volume 1 (Coursera)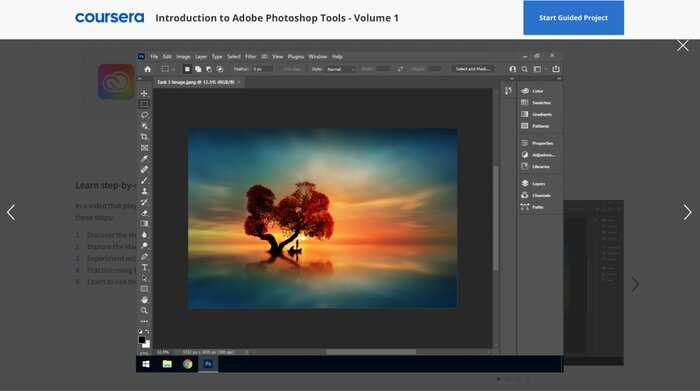 Platform: Coursera | Teacher: Daniel Marshall | Length: 1 hour and 30 minutes total length
Really short on time? Try this Coursera guided project with designer Daniel Marshall that will introduce you to the world of Photoshop editing.
What you will learn:
To use the move tool to
How to find and use the marquee tool
To select using the lasso tool
To select using the object selection tool
How to crop images to your desired size
Pros:
Split-screen view so that you can follow step-by-step
Simple and easy to follow
Short length for those short on time
Cons:
This course is scaled-down as it's designed as an introduction – some users might find it too short
If you're an absolute beginner and you're not sure whether to embark on a Photoshop learning journey, then this might be the perfect way to find out. Coursera's guided projects aren't a class or a course exactly, they're introductory, step-by-step tutorials that then set you up to practice and complete tasks in your own time.
What are the advantages of taking a Photoshop class
Employability: These days knowing how to edit well with Photoshop makes you a highly employable candidate for any creative or marketing position
Lifelong investment: It's a lifetime skill that you can apply to all areas of life, be it a personal hobby or a professional business
IT Competency: It requires resilience and patience as it's not always straightforward but it's worth it in the end.
Saves money: If you're skilled at Photoshop you can edit anything from a photo to a banner or a poster without relying on thousands of different apps or software
Buyers guide: what to look out for
When you're considering where to spend your money you should make sure you're finding a course that meets all your requirements. So, look out for the criteria below:
Value for money: Learning how to use Photoshop really doesn't need to be expensive. So, make sure if you're investing a lot of money you're getting lots of benefits out of it. For instance, the most expensive class we've recommended in this article is part of a specialized platform that will offer access to other skills for a cheaper price if you become a member – so always check for the best price point.
Duration and pace: Editing can be fiddly at times, with some back and forth between cheat sheets and making sure to remember certain keyboard shortcuts. If you already have a full-time job, perhaps a stand-alone lifetime access course is the best for you, so you can learn at your own pace and refer back to videos when you need them.
Teacher's credentials: As with any subject, you really want to learn from someone who knows what they're talking about. While we've recommended classes and platforms with great reputations, not everyone's teaching style is the same. Make sure whatever course you pick meets your learning preferences.
Platform benefits: While video tutorials are great, and probably everything you need, it's always nice to have extras. Be it quizzes, cheat sheets, or raw photos to practice editing on, different platforms offer different benefits, so check those out before purchasing.
Type of software: Finally, make sure that Photoshop is the software for you. It is by far Adobe's most popular and well-known, but there are others out there such as Lightroom and After Effects. Make sure you can learn the exact skills you want to with the software you've chosen.
How much does it cost?
Learning how to use Photoshop doesn't need to be an expensive affair, in fact, you can pick up many skills through free tutorials on YouTube. But when you really want to take it seriously and make the most out of your time and investment, taking a course with a trusted tutor is always the best bet.
Within the courses we've recommended you'll find classes as cheap as $9.99 per month or $20 for a stand-alone course. On the higher end, some subscriptions go up to $60 – although keep in mind that you will have access to a whole array of classes – or $109 for a stand-alone course.
It's all down to you and which course is the best fit. If you're only interested in Photoshop then one of the Udemy courses is ideal, as it's cheap, stand-alone, but incredibly comprehensive. On the other hand, if you're looking to expand your skills beyond Photoshop, consider platforms like Skillshare, CreativeLive, The School of Photography, KelbyOne or PHLEARN, which all offer different skills.
Finally, don't forget that, unfortunately, Photoshop isn't free to use, you must purchase it before you can start editing, so make sure to take that into consideration when selecting a class.
How long does it take to learn Photoshop?
Photoshop isn't really something you can pick up in a day, it requires time, and, most importantly, a lot of practice in your own time.
The classes we've recommended range between one hour and 20 hours – and some even recommend spending longer so that you can really learn at your own pace. Don't expect to sit down and binge through an entire course – the trick is to understand a skill and then try it yourself.
Conclusion
You've decided Photoshop is a skill you can't wait to learn, well great, we've got your back.
If you're looking for the absolute best, we recommend Daniel Walter Scott's course for beginners on CreativeLive, and while you're at it you might as well explore all the other great classes the platform has to offer.
For stand-alone courses that are engaging, interactive, and offer great value for money, go for a Udemy course, choosing either a beginner-friendly class or a slightly more advanced one.
Finally, if you're looking for a very quick introduction to Photoshop and you're short on time, check out Scott Kelby's 12 essential tools for beginners or Coursera's guided project.
We hope this article has helped you find the best Photoshop class for you. Happy editing!
Frequently asked questions
What is the best Photoshop class?
Our top choice is Adobe Photoshop Fundamentals on CreativeLive. It will teach you all the basics and prepare you to become a great editor. 
How much does a Photoshop class cost?
A Photoshop class can cost anything between $9.99 (when you subscribe to a platform) and $109 for a stand-alone course. It's about finding the best fit for your needs.
How long do Photoshop classes take?
While there are courses as short as an hour long, these will only teach you the basics. For a class that really teaches you everything you need to know, be prepared to invest around 20 hours at your own pace, plus practice time.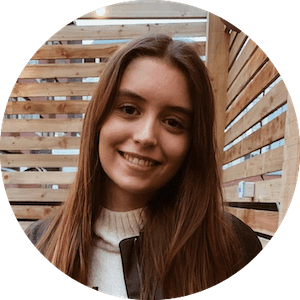 Lauryn is an English Literature and Creative Writing graduate and Journalism Master's student. She's passionate about the arts, writing, photography, storytelling, and editing – anything creative really!