If you're looking to learn the skills needed to make beautiful nail designs, this review of 2023's best online nail tech courses is for you.
Nail art is becoming an increasingly popular and specialized skill. And new trends keeping the industry fresh and ever-changing. Thanks to viral nail art, you can learn to become a pro nail tech from the comfort of your home and create works of art your clients will love.
But with so many nail tech classes out there, it's tough to know where to start looking.
Plus, at any level, a great course should help you not only develop nail tech skills, but help you gain a step up into the industry with practical tips and scoops on emerging trends.
So that's why we've pulled together this list of the best nail tech courses of 2023. Here, you'll find the best courses to help you hone in and develop your nail tech skills.
In this article, we've taken into account different skill levels, end-goals, price ranges, and programs to help you determine the best nail tech course for you.
So, let's get started.
What is the best online nail tech class?
When it comes to the best online nail tech courses, here are our top picks:
Our top three are all on the Skillshare platform (check our Skillshare review here). With number one being The Nail Trail: The Beginner's Guide to Nail Art. This is because it has a great mixture of bite size lessons and practical assignments that will get even complete beginners practicing expert nail art at home.
That said, other courses might be more suited to you depending on your skills and interests. If you're more of an advanced learner, our second pick, Nail Art: Colorful, Creative Designs to Paint and Share, might be a better fit. However, it lacks the close-up visuals featured in The Nail Trail so requires some pre-knowledge and confidence on your behalf!
Of course, there are other factors to consider, like whether the course has a professional certification (the pricier Nail Artistry Certification is best for this). Or maybe you're looking for a specific area of interest, like with Flower Symphony's nail design class on Udemy.
When looking for the best courses on these platforms, it's possible to filter by rating, reviews, skill level, and more. Our top recommendations based on these criteria are Skillshare's The Nail Trail and Nail Art: Colorful, Creative Designs to Paint and Share.
Best free online nail tech classes
While none of these classes are strictly free, Skillshare comes with a 7-day free trial. This gives you a chance to try out the below courses free of charge:
But, for full details, read on our mini reviews below!
1. Best online nail tech classesThe Nail Trail: The Beginner's Guide to Nail Art (Skillshare)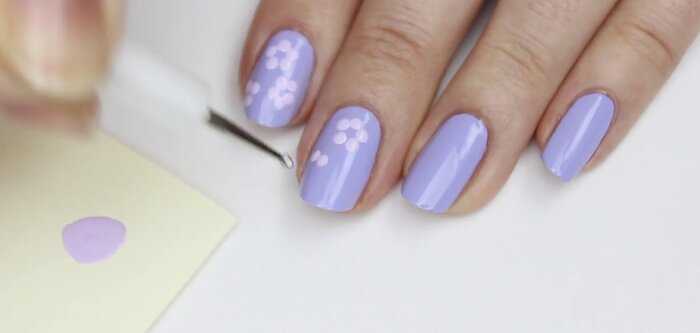 Platform: Skillshare | Teacher: Hannah Weir | Course length: 12 lessons totalling 13 minutes
Creating a range of online content for over a decade, Hannah Weir's nail tech class is one of Skillshare's top ranked. In this course, Weir teaches you the complete basics of nail art from prepping your (or your client's) nails to sealing off your finished art.
You'll learn to:
Recognize and understand basic nail art tools
Prep hands and nails for lasting treatments
Master 3 basic nail art techniques
Tidy up and seal your nail art
Follow Weir's steps to create a complete look
Pros
Suited to complete beginners
Short bite-size lessons
Simple step-by-step guides
Transcripts, subtitles, and class projects available
Discussion tab for teacher/student feedback
Cons
Shorter than most courses on this list
Very basic learning with no advanced skills
Teaching can sometimes feel rushed
Who it's for: This class is for complete newcomers to nail art and tech. Weir's course requires no prior knowledge of beauty tools and terms, so it's ideal for beginners who are interested in getting started in nail art.
Overall: A brief but clear introductory course into nail tech and nail art designs. Weir's teaching is straightforward and a great step-on-the-ladder to learning more intermediate and advanced techniques.
2. Nail Art: Colorful, Creative Designs to Paint and Share (Skillshare)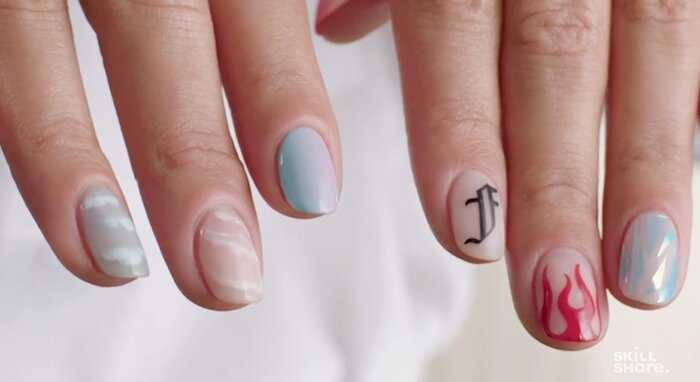 Platform: Skillshare | Teacher: Imarni Nails | Course length: 13 video lessons totalling 1 hour and 1 minute
Founder of her very own nail salon, Imarni has produced popular nail art designs as seen on ASAP Rocky, Karlie Kloss, and many more. In this class, she aims to dispel the myth that her art is too tricky and breaks down her methods for creating nail art with ease.
You'll learn to:
Work with gel nail polish to master 8 nail art designs
Build upon the basics of nail art techniques
Prepare nails for art and create a strong base
Make the most of available nail art tools
Pros
Learn from an internationally-acclaimed nail artist
Work your way from basic to advanced designs
Share and get feedback on your nail art projects
Creative content to help you express yourself
A gateway class to a new hobby or career
Cons
No professional certificate
Lacking in close-up visuals
Who it's for: This class is suited to anyone with little to no nail tech experience who are looking for a creative outlet or to learn new skills. Imarni teaches you how to master basic nail art designs and builds up to more advanced techniques. While this course does require some tools, you can easily practice at home.
Overall: A diverse course offering a range of styles and art designs to try out. Imarni's teaching style is clear and encouraging, and she even shows you how to easily correct nail art mistakes.
3. Nail Art Course – Mix Art with Modern Techniques (Skillshare)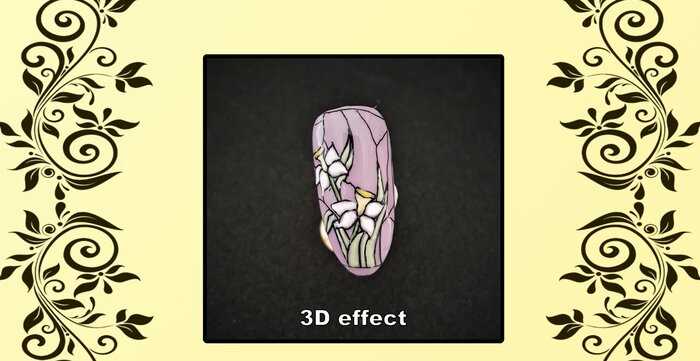 Platform: Skillshare | Teacher: Gabriela Cismas | Course length: 15 lessons totalling 2 hours and 34 minutes
Cismas is a professional nail art technician who has been teaching since 2008. With 15+ diplomas to her name, Cismas brings several nail tech series to Skillshare. In this class, which is suited to all levels, Cismas shows you a range of tools and techniques to help you expand your nail art skills.
You'll learn to:
Understand and keep up with trends in nail art news
Master the tools and steps to complete effective nail art designs
Mix art with modern techniques to improve your portfolio
Select and utilize the best equipment for certain looks
Double-seal nails to secure your design
Pros
Learn from a certified and experienced teacher
For students of all skills levels
Great range of designs and skills to learn
In-depth and comprehensive course
Cons
No project feature
Heavily focused on specialist tools
Who it's for: Anyone with a desire to learn nail art techniques from a qualified professional. In this class, Cismas details a wide range of techniques and styles to help you diversify your skillset. So, this course is helpful not only for beginners, but also more advanced learners who want to pick up new tools of the trade.
Overall: A step-by-step training guide to several different nail art techniques. This course is suited to a wide range of learners and anyone at any level is bound to come away with something new. Cismas focuses on up-and-coming tools that can upgrade any nail art design. In this class, you'll gain insight into how to produce beautiful and unique designs – for personal or professional use.
4. Flower Symphony – Learn to paint spectacular nail designs (Udemy)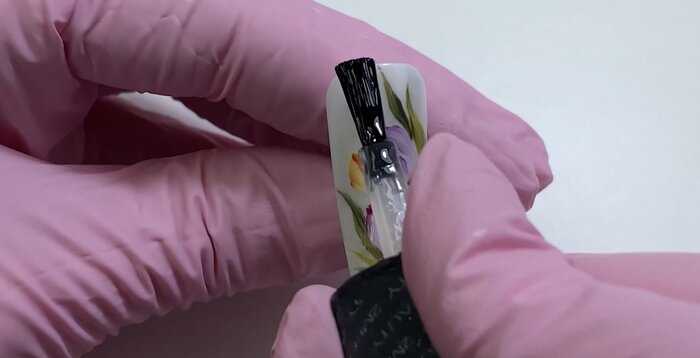 Platform: Udemy | Teacher: Tifrea Raluca | Course length: 11 lectures totalling 3 hours and 9 minutes
Tifrea Raluca is an international nail art trainer. She has been teaching since 2014 and also won several nail art competitions around the world. With a 5.0 Udemy instructor rating, Raluca now brings her nail tech skills to you for you to practice in the comfort of your home.
You'll learn to:
Paint spectacular nail designs with gel colors
Mix colors to achieve an infinite color palette
Sketch and create original nail art designs
Incorporate glazes into gel painting
Paint nails using the Alla Prima painting technique
Pros
Focused on intermediate-to-advanced painting
Thorough class covering prepwork to finished piece
Learn from a talented and highly qualified teacher
Ideal for current nail techs looking to advance
Cons
Less suited to beginners
Specifically focused on floral designs
Who it's for: Nail techs or hobbyist learners who already have some basic knowledge of nail art practice. As Raluca puts it, this class is perfect for intermediate-to-advanced learners wanting to paint elaborate nail designs like a pro. This is a great course to build upon existing knowledge and advance your skill set.
Overall: A technical and intermediate nail design course focusing on intricate flower designs using the Alla Prima painting technique. In this course, you'll learn how to paint 7 different flower types from start to finish.
5. Your Guide to Becoming the Best Nail Tech (Udemy)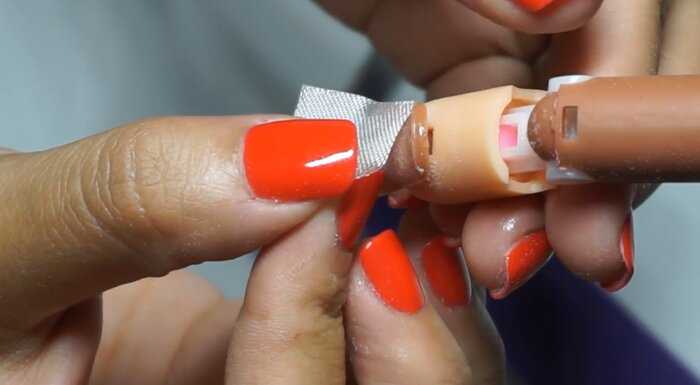 Platform: Udemy | Teacher: Gina Marie Quinones | Course length: 11 lectures totalling 51 minutes
Quinones is a makeup artist with over 10 years' experience in the nail tech industry. To date, she specializes in acrylic nails, Poly gel, and French manicures. In this class, she aims to help you to pass your nail tech exams and be successful in the business.
You'll learn to:
Land a job in the nail tech business, or even launch your own
Pass your nail technician State Board Exams
Understand the ins and outs of correct nail shaping
Put basic salon hygiene into practice
Apply silk, fiberglass, and odorless acrylics
Pros
Quick and helpful tutorials
Syllabus in line with NYS Nail Specialty Exams
In-depth guides to sanitization and blood exposure
Strong and varied examples of nail applications
Cons
Camera angles not always clear
Mostly helpful for exam prep
Who it's for: Generally, this course is for beauty students who are looking to become qualified cosmetologists. This is because the course features content in line with the NYS Nail Speciality Exams. So, if you're just looking for the design side, this course might not be as useful to you. But, if you're stepping into a nail tech career, this course is really invaluable.
Overall: A thorough and professional course geared toward cosmetology students looking to pass their exams and become successful nail techs. The class focuses on lesser-covered areas (when compared to the rest of this list) like sanitizing stations, blood exposure, and workstation prep.
6. Expert Nail Technician Course – Become a SuperStar Nail Tech (Udemy)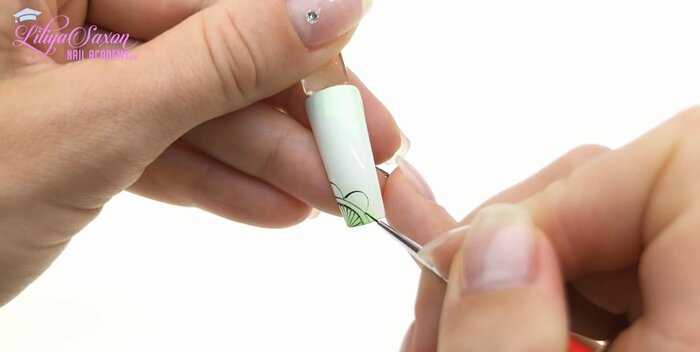 Platform: Udemy | Teachers: Liliya Saxon, Alex Saxon, Vitali Fedarchuk | Course length: 64 video lessons totalling 6 hours and 32 minutes
Liliya Saxon is an award-winning international nail artist who has taught over 400 nail technicians to date. In this course, she joins expert technical advisor, Alex Saxon, and marketing expert, Vitali Fedarchuk, to deliver a well-rounded nail tech course focusing on both technical skill and branding.
You'll learn to:
Prepare and execute stunning nail designs
Work well with clients and up your bookings
Disinfect surfaces, sanitize your station, and properly ventilate your salon
Gain advanced knowledge of color combinations, nail design longevity, and more
Market your business to get a loyal customer base and excellent ratings
Pros:
Easy-to-follow videos that distil complex content
Relevant to both new and experienced nail techs
More detailed than other courses on this list
End-of-course certificate completion
Cons:
Some course content could be condensed
Less attention to visual examples
Who it's for: Students from a range of backgrounds including both training and experienced nail technicians. Unlike some other classes on this list, Saxon's course focuses on business potential as well as technical skills.
Overall: An insightful nail tech course taught by an industry veteran. In this nail tech course, Saxon equips you with the knowledge you need to boost your career and build a successful nail tech business.
7. Nail Artistry Certification (New Skills Academy)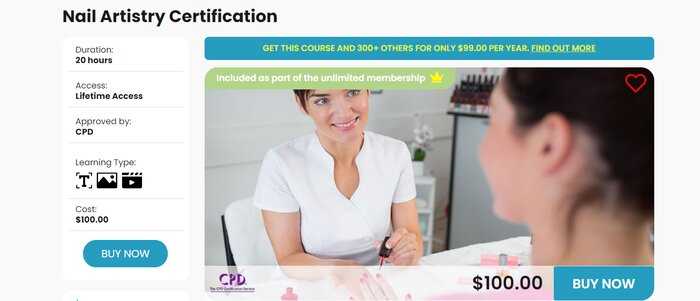 Platform: New Skills Academy | Teacher: Various | Course length: 25 modules totalling 20 hours
Hosted by New Skills Academy and CPD-approved, Nail Artistry Certification is an accessible course that offers lifetime access to all of its modules. It's also accompanied by a host of videos, graphics, and more to help bolster your nail tech career.
You'll learn to:
Understand skin-and-nail anatomy
Maintain treatment areas between clients
Consult with clients effectively and to their briefs
Make each manicure perfect every time
Pros:
End-of-course certificate
Attention to both nail design and salon marketing
Practical and transferable skills
Accessible on Macbook/tablet/PC
Cons:
More expensive than other courses
Mostly targeted to aspiring businesses
Who it's for: Anyone who is interested in nail art and would like to set up their own business/progress in the nail tech industry. This course is valuable for both newcomers and long-term nail techs who are looking to boost their potential.
Overall: A thorough and helpful course providing instructional videos, how-to guides, illustrations, and more to help you reach your full potential in the nail tech industry. In this class, you'll gain a better understanding of the nail tech industry and how to understand different types of manicures/pedicures.
8. The Complete Nail Art Tutorial – Step by Step Manicure Guide (Udemy)
Platform: Udemy | Teacher: Nail Art Academy | Course length: 18 lectures totalling 2 hours and 46 minutes
Taught by the Nail Art Academy's passionate team, this nail tech course focuses on laying down the groundwork of the basic manicure and teaching you how to experiment with nail designs. In this class, NAA aims to bring you easy tutorials and tips for creating an effective nail art look, while still making it look like it took twice as long.
You'll learn to:
Create amazing nail designs and gel manicures
Star your own nail tech business from home
Apply, work with, and remove UV gel
Combine colors and match complexions for flattering looks
Improve your speed and technique when creating manicures
Pros:
Highly informative course taught by professionals
Range of nail designs for you to recreate
Bite-size videos for flexible learning
Helpful for those looking for a career change
Does a good job of breaking down complex designs
Cons:
Music is sometimes loud and distracting
Repetitive content at times
Who it's for: This nail tech class is marketed toward anyone looking to become a nail technician (or just improve their nail design skills). So, the course is suited to both professionals and casual learners. If you're keen to learn new manicure techniques, brush up on your existing skills, or just dabble in something creative, this class is for you.
Overall: An easy-to-follow nail design course that shares some great tips about color theory and matching skin tones – as well as providing step-by-step tutorials for you to try for yourself. Focusing mostly on gel nails, this class is highly informative and you'll come away feeling a lot more confident about applying and working with gel colors.
9. Create Your Own Nail Salon from Home (Udemy)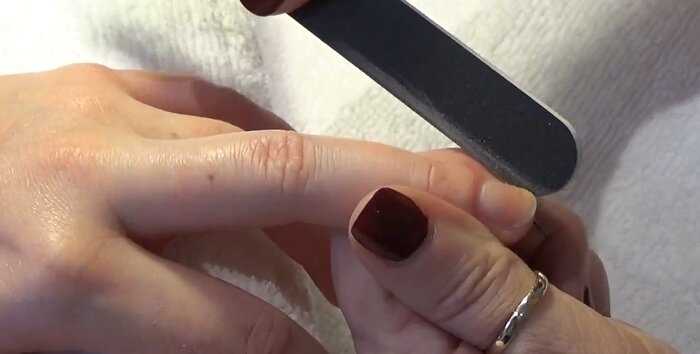 Platform: Udemy | Teacher: Michelle Donaldson | Course length: 18 lectures totalling 49 minutes
Michelle Donaldson is a beautician with over 30 years' experience in the industry. Qualified in a number of areas and specializing in nail tech, she has also managed to build up a successful business from home. So, in this nail tech class, Donaldson teaches you the skills and resources needed to set up your own salon from home.
You'll learn to:
Start and run your own nail salon from home
Increase your range of treatments and your income stream
Perfect the basic manicure and use these skills for business
Pros:
Provides tried-and-tested knowledge about business start-ups
Clear and informative content with step-by-step breakdowns
Extra articles and completion certificate available
Cons:
More "homemade" compared to other videos
Less comprehensive than other nail tech courses
Who it's for: This class is heavily geared toward those looking to start their own business from home. In this course, Donaldson shares her years of experience in nail tech to aspiring freelancers. She also provides thorough explanations regarding hygiene and business standards.
Overall: A short but informative class focusing on how to perfect the basic manicure and turn these skills into a business. You'll learn to perform hand-and-nail treatment to industry standard and gain confidence in using UV gel.
10. Nail Art Course with Acrylic paints (Skillshare)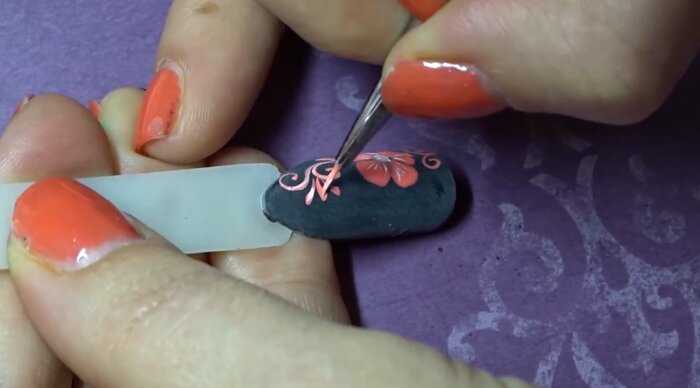 Platform: Skillshare | Teacher: Gabriela Cismas | Course length: 22 lessons totalling 4 hours and 57 minutes
Another Skillshare class led by nail technician Gabriela Cismas, this nail art course focuses on acrylic paints. Having been personally taught by world-class trainers, Cismas stands out as a multi-certified and multi-talented nail technician.
You'll learn to:
Decorate nails quickly and attractively using acrylics
Understand and select the right tools for the job
Paint simple and more complex acrylic nail designs
Complete a full manicure from prep to sealing
Pros:
Learn from a world-class nail technician
Class projects for active learning
Clear instructions and easy-to-follow steps
Comprehensive guide to acrylic nail art
Cons:
Focused solely on acrylics
No end-of-course certificate
Who it's for: While this class is designed for complete beginners to acrylic nail art, all levels can benefit from improving their skills and taking a refresher on the tools and techniques needed for a high-end acrylic manicure.
Overall: A focused and in-depth nail tech class focused on acrylic nail designs and how to use the medium to its best. You'll learn everything from basic prep, tool advantages, and refining your perfect acrylic manicure.
What are the advantages of taking a nail tech course?
In short, there are many advantages to taking a nail tech/design class. For example, you can:
Learn new nail tech skills and improve upon existing ones
Gain an advantage in the competitive beauty industry
Learn a specialty that sets you apart from other nail technicians
Engage in a new creative outlet for professional and hobbyist use
While there are different reasons why you might want to take a nail tech class – as study towards formal exams, career development, etc. – nail tech is a fun and creative skill that can open new doors for your professional life or just be a fun hobby.
Overall, an online nail tech class is perfect for students or professionals looking to further their skills, hobbyists that are keen to delve into something new, or even those who are looking to set up their own business.
Buyers' guide: what to look out for in a nail tech course
Because there are so many options out there, choosing the right online nail tech course can be a challenge. That being said, we recommend you consider the following before committing to a choice:
Teacher experience – if you're going to be spending your time and money on a nail tech class, you want to make sure you're learning from a qualified tutor. That being said, it's good to check an instructor's background and experience to make sure they're a good source of knowledge
Develop skills – While there's nothing wrong with learning the basics, a truly good nail design class will help to further your creative or professional skills. So, by the end of the class, you should come away with new skills that you can improve upon even more.
Saves time and money – One good reason for choosing an online nail tech class is that it saves you both time and money. So, when making your choice, you want to make sure you're getting time- and wallet-friendly learning without sacrificing high quality teaching.
Syllabus and skill level – Of course, you want to make sure what you're learning is suited to your skill level and areas of interest. Simply put, there's no use in taking an advanced class if you don't understand the basics! Similarly, you don't want to take a class that's too easy and will teach you little that's new!
Price – Of course, you want to choose something that fits your budget. But, you also want to consider the value you're getting out of it. So, if a course is double the price but the teacher is more experienced and you get more in-depth content, these factors are something to consider
Certificate – If you're taking a nail tech course for your work or resume, would you want one that has an end-of-course certificate for you to showcase?
How much does it cost?
It goes without saying that prices vary depending on the course content, length, teacher, etc. But, to break it down, the individual classes here start at as little as $17 and go up to $100 for lengthier/certified courses.
For platforms like Skillshare, which is a subscription-based service, prices can vary. With Skillshare, you're looking at $168 annually after your free trial (or $32 for a monthly plan).
So, compared to, say, New Skills Academy, Skillshare works out at a better value for money if you're interested in one or more classes.This is because, with Skillshare, you get unlimited access to all courses on the website. In short, the more classes you take, the better the value for money.
All in all, it's important to think about what you're looking to get out of an online nail tech course. A subscription saves you more money in the long run, but only if you're looking for a bigger commitment to online learning. So, if you want to take your learning to the next level, platforms like Skillshare are pretty unbeatable.
How long does it take to learn nail tech?
The courses in this review vary between 30 minutes and several weeks worth of content!
However, it's worth bearing in mind that all these courses are unique in their focuses, skills, and learning goals. So, there's not really a set time to learn nail tech online – it depends on what you're covering.
And, of course, you should factor in time for practice. A good rule of thumb is to take the number of course hours and multiply it by 5 (this accounts for your practice hours whether at home or at work). If you're willing to put in the time to practice your nail designs, this is a good benchmark to aim for.
Also, the benefit of (most) of these online videos is that you can rewatch them as many times as you'd like.
In some cases, there are also additional resources and set projects so you can take learning beyond the course time.
How do we rank our results?
Put simply, we rank our results based on which courses we believe to be the best.
Of course, this is subjective. But, we consider these factors:
Teachers' experience
Provides transferable skills
Has strong and varied content
Well-taught and explained
Student feedback
Production quality
Overall impressions
Where we can, we complete these courses in order to review them. But, where this isn't possible, we do extensive research on the course, its content, and student feedback.
Conclusion
If you're looking to learn nail tech online, you're not short of options.
Overall, Skillshare's nail tech classes standout because you have the chance to learn not just one class, but as many as you like.
If you're more interested in a particular focus or a certified course, New Skills Academy or Udemy are great alternatives. In particular, Udemy is a good starting place if you're looking for shorter courses that require less investment.
So, hopefully, this article has helped you to figure out which nail tech class is right for you!
Related article: Best skincare classes
Frequently asked questions
What is the best online nail tech class?
Our top recommendation for nail tech classes is Skillshare. This is because you can learn a range of specialties from industry experts and aren't tied down to one class.
How much does a nail tech class cost?
Online classes in this roundup are around the $17 mark, with the exception of Nail Art Academy and Udemy's Expert Nail Technician course, which is around $100. Also, Skillshare offers a free trial, so you can try out some courses for free.
How long do online nail tech courses take?
The classes here vary between 30 minutes and several weeks worth of content. You should also account for your own time spent trying out the tutorials.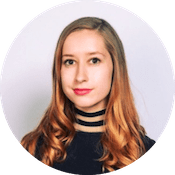 Rebecca graduated from King's College university with a first class honours in English Language, followed by a Masters' Degree in Eighteenth Century Studies.