Wondering what the best online photography course is?
I've personally taken over 25 of the most popular online photography classes and put what I've learned into practice.
In this article I'll be breaking down the best online photography courses out there. I'll be taking into account factors like experience level, goals, costs, and value for money.
Mastering photography is one of the highest return on investment activities you can make, as after all, the sooner you learn, the more amazing pictures you'll take and get to cherish forever!
So let's get started.
Which photography course is the best?
These are our top recommendations:
My top choice for an online photography course is hands down the 'Complete Guide to Photography' from The School of Photography. If you're looking for a well-rounded, affordable and comprehensive course this is your best bet. It has three distinct advantages: the content's great and will help you take amazing pictures; you learn fast as everything is well explained; and you'll master the fundamentals through clear breakdowns of all camera features.
This course is part of a membership service, so not only will you have access to this great introductory course, but also a number of other, more specialized classes.
If however, you're looking for something that will give you professional accreditation and more recognition as a professional photographer, try the Institute of Photography's acclaimed diploma course.
My third top choice is Jimmy Chin's MasterClass, particularly for those looking for inspiration, unique trade secrets, and tips for taking fantastic photographs. This class is also part of a subscription service – MasterClass.
If you're looking instead for an individual course, then our top recommendation would be the Fundamentals of Photography class with John Greengo on CreativeLive, a good alternative to The School of Photography's beginner course.
Find detailed reviews of the online photography classes below!
Best photography course reviews
Platform: The School of Photography | Teacher: Marc Newton | Length: 98 videos divided into 17 sections, totalling 6 hours and 20 minutes
The School of Photography was founded by Marc Newton, who teaches most of the classes, including this course. Aside from his many accreditations in photography and experience in the field, Marc prides himself on his teaching skills, aiming to bring the best introductory lessons to photography.
What you will learn:
How to see and understand photography as a science
To know your camera and its manual settings inside and out
How to fix common problems such as overexposure, underexposure, and blurring
To understand and master the rules of composition
When to use different ISOs
The basics of aperture, shutter speed, and resolution
How to make basic edits in post-production that will elevate your photographs
Pros:
Helps you take great photos through an understanding of photography as a science as well as an art
Includes quizzes that test knowledge and train memory
Uses mnemonic techniques to help you achieve your potential and feel comfortable with your camera right from the start
Short classes that are easy to follow and rewatch and will help you save time
Affordable and part of a membership service which will grant you access to other courses
Cons:
The course focuses on the science of photography and camera technical features which is a great starting point for beginners but may discourage more creative photographers
Best for: This course is definitely best suited to beginners as it covers all the basics and fundamentals needed to master the fundamentals of photography. However, it can also be a good choice for those who haven't taken photos in a long time or who are changing cameras.
Overall: This is a great course that goes into great depth and detail, covering the cameras themselves, the recommended settings to adopt, techniques and tricks to manipulate the light, and finally some basic post-production editing. After taking this course I not only felt more control over the camera, but also noticed an improvement in my photos and my relationship with photography.
You can read our full review of the School of Photography here.
Platform: Institute of Photography | Teacher: Tim McCann | Length: Over 180 modules, totalling 80 hours with 20 hours of video content
The Institute of Photography pride themselves on learning through constructive criticism, and that's what you'll find with tutor and photography journalist Tim McCann.
What you will learn:
To understand photography key terms
How to master camera settings
To shoot RAW and its advantages
How to control light through apertures
To grasp the use shutter speeds
Advanced composition
How to adapt to different styles of photography such as travel and landscape
To edit your photos in post-production
How to make money with your photography
Pros:
This is an extremely thorough course that will not only help you improve but will also help you turn photography into a profession
You will receive a CPD accredited Professional Diploma in Photography upon completion which can be used for your career
Students get continuous student feedback from their tutor
There are several assignments to practice and test your progress
Cons:
The level of professional accreditation and commitment associated with this course might discourage those who see photography as more of a hobby than a profession
The course is naturally more expensive than many other options, due to its level of teaching and length
The course is aimed at beginners to intermediate photographers who want to raise their skills to the next level and enter the professional world of photography.
In short, this is a great investment for lovers of photography who know they want to make this artform their life. If you choose to take this course you will get constructive accompaniment and an in-depth knowledge of photography and the industry surrounding it.
Platform: MasterClass | Teacher: Jimmy Chin | Length: 20 video lessons totalling 4 hours and 10 minutes
Jimmy Chin is a celebrity within the photography world with many accolades to prove his knowledge and experience behind the camera. This MasterClass covers all the steps Jimmy recommends taking in different scenarios.
What you will learn:
How to use light to your advantage and to bring out your subject
To adapt your style to commercial and editorial shots
How to interact with a team during a project
Practical tips for entering the photography industry
How to deal with failure
To properly research a shoot before you execute it
How to convey feelings through images
Which lenses and cameras to use for different photographs
Pros:
Expert advice from one of the most prominent figures in adventure photography
Great use of visuals to exemplify Chin's techniques
Good balance between photography itself and learning about the trade
Teaches transferable skills such as teamwork that can be applied to other hobbies and professions
Cons:
Some beginner students might feel overwhelmed by the amount of technical terms, although explanations can be found in the workbook
Jimmy Chin is a photographer sharing his advice rather than a photography teacher, so some students might have a hard time engaging with the teaching style
This course is for lovers of photography and, more specifically, adventure or landscape photography. It's intended for those who have some previous knowledge on the subject and are fans of Chin's personal style.
While absolute beginners in photography are unlikely to learn much from this course, Iincluded it in the top three because it's a great specialist course that will inspire as much as teach. It is also part of the MasterClass platform, which means that by subscribing to MasterClass, you will have access to other courses as well as this one.
You can read our full review of the Jimmy Chin MasterClass here.
4. Photography 101, PHLEARN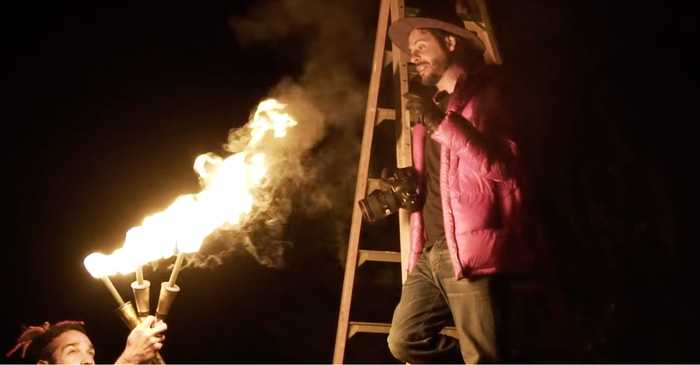 Platform: PHLEARN | Teacher: Aaron Nace | Length: 76 video lessons totalling 14 hours and 45 mins
Aaron Nace is the founder of PHLEARN and he teaches most of their classes. Known as one of the top instructors of Photoshop, Nace also knows a thing or two about photography from his experience in the field.
What you will learn:
What photography is and what differentiates a good photo from a bad one
How to develop a personal style
The difference between photography for passion and for business
To master exposure and correcting mistakes
How your camera works and which settings to adjust
To effectively use aperture and shutter speed to your advantage
Which lenses to use for different photos
The difference between manual focus and automatic focus
How to shoot with different types of cameras
Pros:
This is an introductory course to photography that covers the necessary basics in depth while keeping to short class lengths
Aaron Nace is one of the most charismatic and engaging teachers of photography and will likely help you memorise techniques and terms
Lessons are easy to rewatch
Cons:
Some users find that the organization is confusing and that there isn't a linear logic, but this is of course a personal learning preference
This course is aimed at beginners, and is labelled as 'easy' on the difficulty level scale. However, some users who have some experience in photography find it useful as it reminds them of specific terms or mechanisms and helps them get a better grasp on their camera.
PHLEARN's courses are very popular among photography enthusiasts and this one is no exception. While Aaron Nace's speciality might be image editing, his syllabus is detailed, engaging, and worth the investment – especially as you can supplement with a Photoshop or Lightroom course to then edit your final photographs.
You can read our full PHLEARN Review here.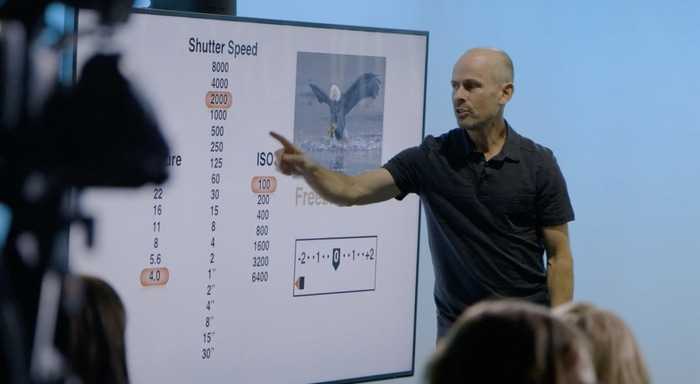 Platform: CreativeLive | Teacher: John Greengo | Length: 107 lessons totalling 24 hours and 30 minutes
John Greengo is an acclaimed photographer with over 30 years of experience. His students praise him for his easy-to-follow methodological teaching style.
See also Best CreativeLive courses.
What you will learn:
How to use the fundamental elements of photography in harmony
Which gear to use and why
How to work with lighting issues and make the most of natural light
The difference between the human eye and a camera's perspective
Pros:
The course is incredibly detailed and thorough
You get lifetime access to the course content
Great value for money when you take the length of the course into consideration
Cons:
While John's teaching is generally loved by his students, some might find the course too dense in technical information
The layout and content of this class make it clear that it's intended for beginners. However, it might be a good choice for intermediate photographers who want to have something handy to refresh their minds.
Although CreativeLive isn't one of the most well known platforms, students are clearly passionate about this course and how much it has taught them. It's definitely one worth looking at!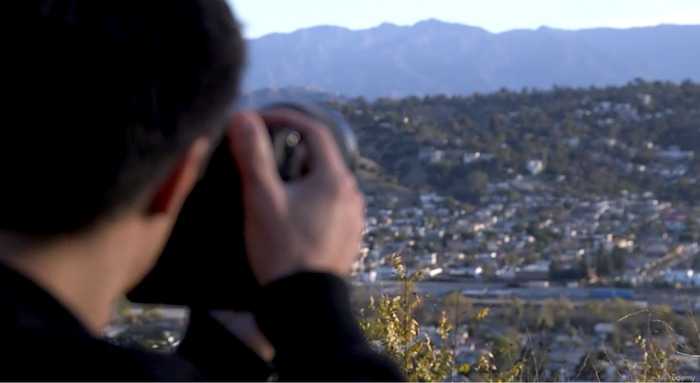 Platform: Udemy | Teacher: Phil Ebiner, William Carnahan, and Sam Shimizu-Jones | Length: 354 lectures divided into 28 sections, totalling 23 hours and 30 minutes
This course has recently been remastered by its creators, using student feedback to maximize its results. The three tutors are professional photographers and together they aim to help any student, from the least to most experienced, succeed at photography.
What you will learn:
How to adapt your technique to different types of shoots
Which lighting to use to effectively portray your subject
The best ways to turn photography into a profitable career
To understand your camera and its settings
How to edit your photos to make them look professional
How you can improve on your phone photography skills
Pros:
A comprehensive course that covers basics as well as some more detailed topics
The course is taught by three qualified tutors who can each offer some different advice
The teaching style aims to be encourage students to pursue photography professionally
The course offers a range of assignments and full lifetime access
There's a 30-day money back guarantee so the risk of losing money is minimal
Cons:
Some students have noticed technical issues but these have likely been fixed by the platform
Towards the end of the course the information is more theoretical and abstract which some learners might not find as engaging
This course is suitable for all levels of photography who are interested in taking the next step in their career. While advanced photographers might find some of the information about camera settings and lighting simplistic, they might benefit from the modules focused on the business of photography.
This is clearly a popular course among students that makes photography accessible, straightforward to learn, and fruitful. The price to length ratio is also very reasonable, and with a 30 day guaranteed refund, there's nothing to lose!
7. How to Wow, MZed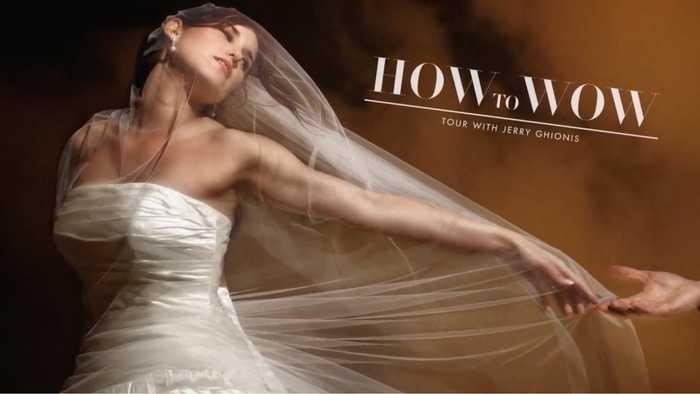 Platform: MZed | Teacher: Jerry Ghionis | Length: 7 modules totalling 5 hours and 56 minutes
Jerry Ghionis is an accredited and celebrated wedding and portrait photographer. This course was curated with the aim of teaching photographers to take captivating images, and making the subject shine.
What you will learn:
Jeremy's five steps to taking a powerful photo which focus on lighting the subject correctly
How to communicate with clients and get them to pose in the best way
To solve problems quickly and effectively with small adjustments to lighting and posing
How to make the most of your scenario to get dynamic results
How to convey emotion through your photos
Pros:
Jerry is very professional and clearly an expert in the field of portrait photography; his passion shines through his lessons and encourages the students
This course will give you invaluable tips and tricks that can help you succeed at wedding or event photography
The course can be purchased as part of a subscription, granting you access to a number of other courses
Cons:
This class is expensive and probably only worth the investment if you already have some experience with photography and want to focus on portraits or want to take additional MZed classes
I believe this course is best suited to intermediate photographers who have an interest or passion for portrait photography, even though MZed classifies it as a beginner course.
The classes aren't designed to teach you how to take photos from scratch, which is why it isn't further up the list. It is, however, a great specialism photography class which MZed students seem to adore. While the price might be excessive on its own, if you subscribe to MZed you will have access to dozens of other courses – although it is important to note that most of MZed's courses are filmmaking focused rather than photography.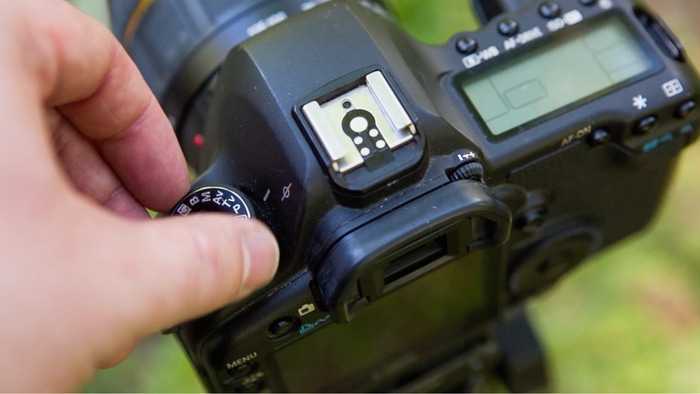 Platform: Digital Photography School | Teacher: Neil Creek | Length: 10 modules totalling 2 hours and 14 minutes
Neil Creek is a professional photographer with a passion for learning, which makes him an ideal candidate to teach the basics of photography. His e-Books have been read by thousands of aspiring photographers and now he's taken to video to spill his secrets.
What you will learn:
To understand the fundamentals of photography, including shutter speed, aperture, F-stops, ISO, metering, depth of field, lenses, focus, and magnification
How to confidently use manual settings
To apply techniques through the use of case studies and practice
Pros:
Neil Creek is well known for his educational style and talent at getting a message across
It's an extensive course that covers all the fundamentals, making it a good starting point for most beginners
There's a 60-day money back guarantee to ensure customer satisfaction
Cons:
The course is focused on the technical side of photography which is essential as a first step, but might not appeal to all learners
This course was made for beginners or photographers who don't feel very confident behind the camera. As it mainly focuses on technical fundamentals it is unlikely to meet the needs of more advanced photographers, unless they're changing from a film to a DSLR camera.
The Photo Nuts and Bolts is another solid, well-rounded introductory course to photography, with a tried and tested educational style. It's slightly more expensive than some of the other beginner courses, but it does have a good refund policy.
Platform: MasterClass | Teacher: Annie Leibovitz | Length: 15 modules totalling 3 hours and 4 minutes
Annie Leibovitz is one of the most prominent names in photography, with over fifty years of experience within the industry. She is known for her iconic photos of celebrities and she uses this MasterClass to share the process she has picked up along the way.
What you will learn:
To develop your creativity and perspective as a photographer
How to use both natural and artificial light to enhance your subject
More about Leibovitz's personal process and career
The difference between studio and location shoots
Pros:
Annie Leibovitz's experience is unmatched and inspiring, making her an exciting teacher to watch
Annie personally recommends certain assignments that you can work on
You might come to think about your photography and art in a different light, considering the artistry and the subject as much as the camera settings

Cons:
The course doesn't offer a lot of technical information on settings or photography fundamentals
Contains nudity which may be uncomfortable for some students
While the course is technically suitable for beginners and advanced photographers alike, due to its more abstract and creative approach, the course seems to be aimed at those who have some knowledge of a camera.
Overall, the course is inspiring and entertaining. It is definitely rare to get insight from such a celebrated artist, but the course won't suit every photographer's needs, especially those who are new to the field.
You can read our full Annie Leibovitz MasterClass Review here.
10. Secrets to Amazing Photos from the Masters, KelbyOne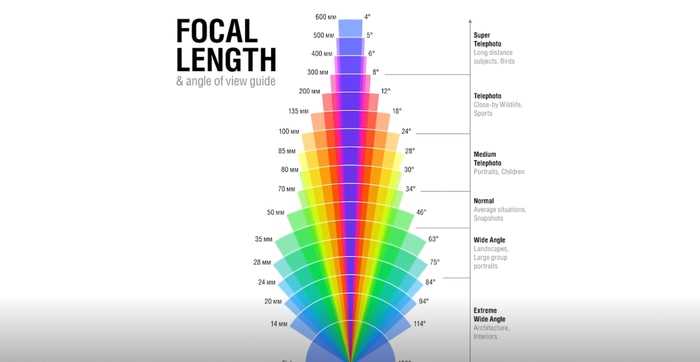 Platform: KelbyOne | Teacher: Marc Silber | Length: 32 classes
Marc Silber is well known for his book and show Advancing with Photography, which has allowed him to meet and interview some of the best photographers and to find out more about their individual processes. This course aims to spill some of those industry secrets.
What you will learn:
The basics of the art form/photography in order to take better photos
What the cycle of photography is and how you can apply it to your work
Which equipment to use for different circumstances
How to prepare a shoot
More about different styles of photography and which might suit you
How to organize and edit your photos online
Pros:
You get the knowledge and perspective of multiple teachers as opposed to just one
The course is part of KelbyOne and is priced very reasonably
You can make progress with this course no matter what level you start off at
Cons:
Some more advanced students might feel like the course's pace is too slow
While this course is definitely well suited to beginners, one of Marc's objectives was to ensure that anyone would be able to progress. In truth, the range of knowledge provided by Marc's experiences interviewing other photographers does mean that there is always something new to learn.
Overall this is an engaging course that not only covers the fundamentals but also encourages students to improve and be confident in their work. This is a great investment, especially when purchasing a KelbyOne subscription.
You can read our full Kelbyone Review here.
11. From Taking to Making: The Secrets to Great Photographs, KelbyOne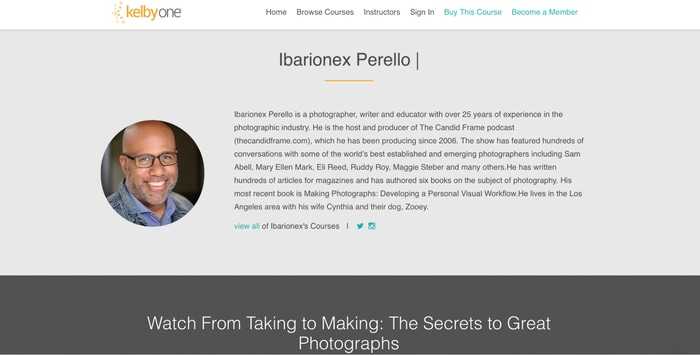 Platform: KelbyOne | Teacher: Ibarionex Perello | Length: 13 lessons
Ibarionex Perello is one of the many teachers at KelbyOne. His over 25 years in photography make him an experienced professional.
What you will learn:
How to excel at street photography
To understand how your mindset affects your photography
How to use graphic elements to create captivating images
To use and understand light and shadow
The best way to shoot a scene in a busy environment
How to shoot a portrait
Pros:
A casual course that will teach you practical techniques as well as more creative approaches to photography
The price is very accessible and there is also an option to subscribe to KelbyOne and watch more courses
Cons:
The course style might not suit all learners, especially those who want a more analytical and classroom style course
This is not a course designed for absolute beginners, although it might spike someone's interest for photography in the first place. Rather, it's aimed at students who have some prior knowledge but who need an inspiration boost and would like to learn some tips.
KelbyOne is known for it's engaging courses that cover a range of photography styles, and this course fits the description! It's good value for money, especially if you subscribe, but I haven't ranked it at the top just because it's not aimed at beginners. Still, there's something in it for everyone.

Platform: Coursera | Teacher: Peter Glendinning and Mark Valentine Sullivan | Length: A specialization composed of 5 courses
This course is offered by the University of Michigan, with professors Peter Glendinning and Mark Valentine Sullivan leading it. The aim is to cover the fundamentals of photography and to provide students with a foundation that they can build on.
What you will learn:
To understand and adjust camera settings to suit your needs
The difference between different types of cameras and phone cameras
How to effectively use exposure modes, light metering, ISO settings, lens options, and shutter speeds
How to compose a photo and draw attention to your subject
To apply the techniques you have learned in a practical project
Pros:
Students receive a Certificate of Specialization upon completion which can be used to further their photography careers
You can practice your skills through the online Capstone project
Enroll for free and select the courses you wish to take within the specialization
Cons:
The course is quite lengthy, taking approximately six months to complete
This specialization was created with beginners in mind, and its modules definitely reflect this with their focus on photography basics.
In short, this is another good option for aspiring photographers, especially those who would like the prestige of a University certified diploma to help them further their careers.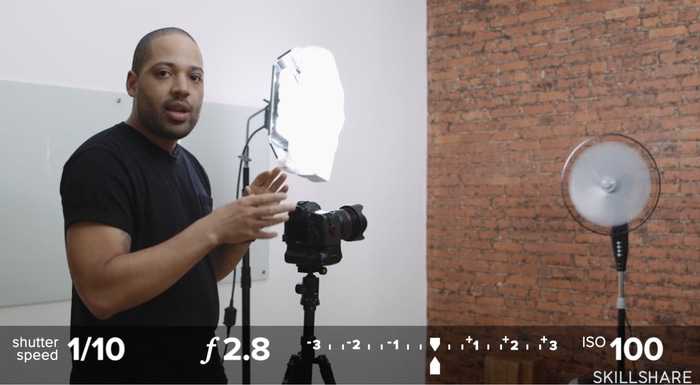 Platform: SkillShare | Teacher: Justin Bridges | Length: 12 lessons totalling 1 hour and 19 minutes
Justin Bridges has extensive experience working as a photographer in the fashion and arts industry. His passion for photography has led him to teach this course on the fundamentals of DSLR photography.
What you will learn:
To find the perfect balance using shutter speed, exposure, aperture, and ISO
How to adjust settings and quickly find the right ones for a shoot
To do photography on a budget
How to edit your photos professionally and effectively
Pros:
The course offers hands-on class projects that students can get involved in
It's a short course that can be completed quickly and complemented with others available on Skillshare
Cons:
While most students are satisfied with the course, the short length may make certain students feel rushed
Beginners will benefit the most from these classes as they are essentially a crash-course on photography.
This is a great option for someone looking for a quick introduction to photography. The teacher is professional and reliable, the platform offers more courses, and there are practical assignments to help develop skills further.
14. Speedlites: The Power in the Possibilities, MZed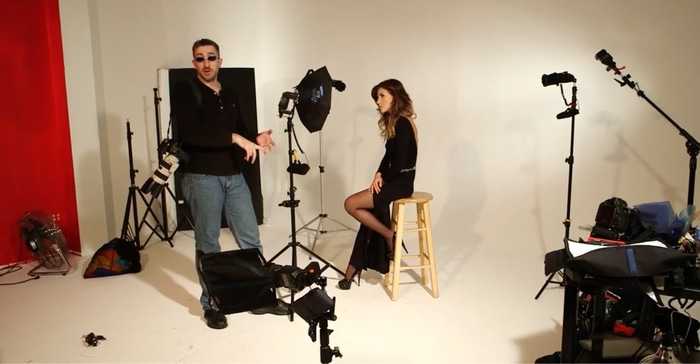 Platform: MZed | Teacher: Stephen Eastwood | Length: 6 modules totalling 6 hours and 12 minutes
Stephen Eastwood is a commercial fashion photographer who has mastered lighting. His aim is to help students on this course control and adjust lighting to bring out their subjects and make their photos spectacular.
What you will learn:
Which settings and portrait styles to use in an in-studio shoot
How to use Speedlites with models
How to take portraits indoors and outdoors
Pros:
The tutor is one of the best and most experienced in the business of portrait photography
The course is relatively short in length and easy to absorb
Cons:
The information is mainly focused on lighting and preparing for specific photoshoots, if your passion is, for example, landscape photography this probably isn't the course for you
This course is labelled perfectly by MZed as an 'intermediate' course. While you don't have to be a very advanced photographer, it is essential to have a good foundation and understanding of cameras and lighting to make the most out of this class.
So, this is a good course to add to your kit of skills, especially if you're interested in commercial, fashion or portrait photography, and if you get an MZed membership it is even more worthwhile.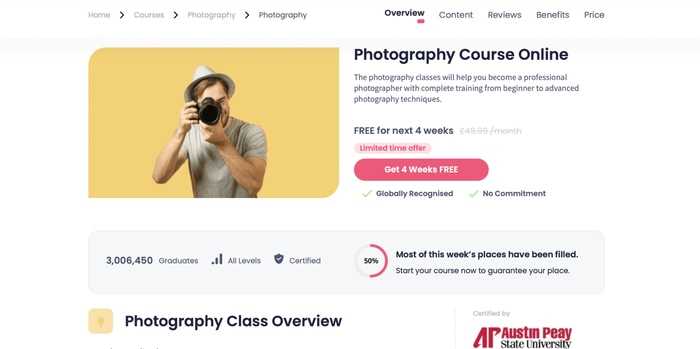 Platform: ShawAcademy | Teacher: ShawAcademy | Length: 4 modules totalling 32 classes
Shaw Academy offers a range of classes, from business to beauty, photography included! The goal is to provide professionals with the chance to better their skills, change careers, or get a new qualification.
What you will learn:
The different available lens types and which ones are best for you
How to use natural lighting to your advantage
To use aperture and shutter speed effectively
The rules of composition and how to apply them
To develop your personal style as a photographer
Pros:
The course is continuous and lasts 16 weeks with the first four weeks free
The course covers all the fundamentals, making it a good foundation block
The difficulty increases as the course goes on, making your learning experience more dynamic
Cons:
The platform isn't always easy to manage
After the first four free weeks the course is expensive
This course is designed for beginners but, as mentioned above, the difficulty level does rise as the classes go on. Therefore, it is best suited to those who are serious about photography and willing to invest in this skill. While this course may be last on our list, it is still a well-rounded course with its own set of interesting tasks and assignments.
What are the advantages of taking a photography course
Photography is an accessible skill to pick up online as it doesn't require in-person teaching
It's a creative art form and a way to release emotion and express yourself
Anyone can become a photographer as all you need is a camera, even your phone will do
In this day and age photography is becoming more and more important and profitable with the rise of social media
Photography is a transferable skill, as you can branch out into a number of careers such as advertising, graphic design, editing, and more
You can take great photographs anywhere you are, it's something you can do on the move, in your spare time, or in a professional studio
Buyers guide: What to look out for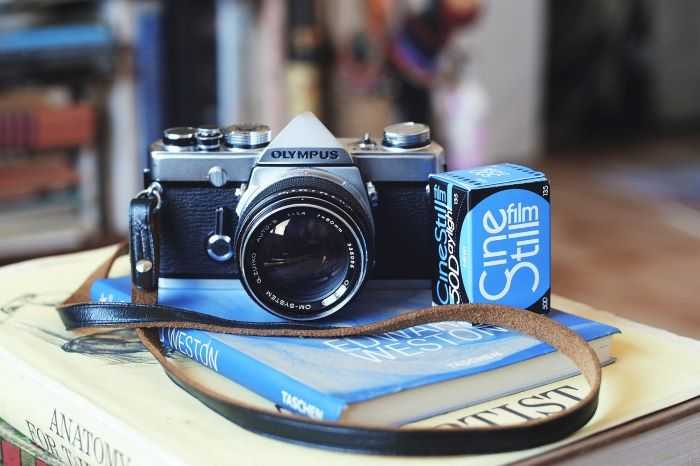 No one wants to waste their money when investing in a skill, so here's some criteria you should look out for when choosing the best photography course for you.
The level of the course is important as there are courses for beginners, intermediates, advanced, and some that are suitable for all students
Take a look at the reputation of the platform and/or instructor — try and watch a trailer or read user's comments to see if the general teaching style will suit you
Do you require accreditation? Not every course will offer a diploma, and even if they do it might be symbolic. Think of what you want and need to get out of the course before you buy
Length is an important factor to take into consideration — make sure you have the time to commit to the length of the course and don't forget to check if there are time restraints
Is the course part of a subscription or membership? If you're really passionate about Photography then you might want to consider a course that's part of a larger platform that will allow you to take more than one different class
Whether or not the course requires specific equipment is an important factor. Some courses will only need an iPhone or other smartphone with a good camera, while others require a DSLR with high specs. Most courses state the required equipment in the overview, and many general tips and tricks are transferable too, but make sure to check befor eyou invest
Which skills are you looking to improve on? Is it photography or photo editing, or filmmaking? There are many interrelated courses and platforms that offer a little of everything, so take a look at what else the course or platform offers
What is your photography goal or purpose? As with most art forms, there are so many different genres of photography, from landscape, to portrait, to weddings. You can tailor photography to your personal style, but some classes are definitely geared towards a genre — check if the course meets your artistic requirements before you sign up
Price can be tricky as photography courses can span a wide range of costs, however make sure that the cost is proportional to the length. You should also consider the reputation of the teacher, accreditation, whether or not the course is part of a subscription or membership, and even its overall organization
How much does it cost to learn photography online?
The courses we reviewed range from $24 to $400! There really is a wide variety when it comes to price, especially when you consider that most of these can be purchased as part of a membership or subscription.
This is the case for platforms like The School of Photography, MasterClass, KelbyOne, MZed, PHLEARN, and SkillShare. With any of these, if you truly are interested in photography it's worth investing in a subscription, as in most cases buying two individual courses will cost you more than a membership that grants access to dozens.
Another thing to consider is that an in-person photography lesson paid by the hour is likely to cost you over $50. For a reasonable fee, you can learn in the comfort of your own home, on the go, or even on vacation. Not to mention the costs you save on getting transport to and from a lesson, and the freedom you gain with learning at your own pace.
How long does it take to learn photography online?
It's hard to say exactly how long it will take you to get the basics of photography — it is a complex mix of science and art after all. Having said that, you can easily grasp fundamental information from short courses that will only take a couple of hours of your time.
Nonetheless, if you're thinking seriously about photography, then the real way to progress is through practice. You will likely spend more time practicing on your own or completing assignments than watching lessons. If you really are passionate about this art form, then consider one of the longer courses that take around 80 hours to complete.
Conclusion
So, we've had a look at courses of all types, prices, and lengths to find our top choices. I still believe The School of Photography's "Complete Guide to Photography" is one of the most well-rounded and complete choices. If you sit back and listen to what Marc Newton has to say, you'll definitely know your way around your camera.
If you're looking for professional accreditation, go for the Institute of Photography's "Diploma in Photography" for a more intensive and practice-based class.
Or maybe you're an intermediate photographer looking for inspiration. In that case, make sure to check Jimmy Chin's MasterClass in adventure photography, or Jerry Ghionis' "How to Wow."
However, if you're looking for individual courses that you can purchase once and focus on rather than a subscription, go for something like Fundamentals of Photography with John Greengo from CreativeLive. While you might not be familiar with the platform, past students are certainly satisfied with the teaching and learning outcomes.
I hope you will be able to find your ideal photography course based on these recommendations!
Related article: Best Canon photography courses
Frequently asked questions
How much does an online photography course cost?
Photography courses range between $24 and $400, with most circling around the $50. Remember to check if the platform is membership-based and, if so, look into other courses you would like to take to get the best value for money possible. 
How long do online photography courses take?
On average, the photography courses we recommend take about 15 hours to complete. However, there are all kinds of lengths, from as short as one hour to as long as 80 hours. Remember that outside of the course itself, you will probably spend approximately an extra five hours practicing photography.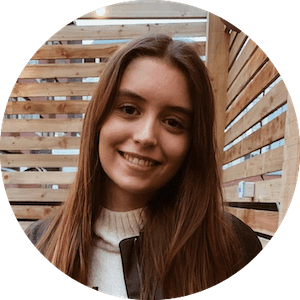 Lauryn is an English Literature and Creative Writing graduate and Journalism Master's student. She's passionate about the arts, writing, photography, storytelling, and editing – anything creative really!