Annie Leibovitz is one of the most recognized portrait photographers in the world. Her photography career spans 50 years and she has been declared a Living Legend by the US Library of Congress.
It's fair to say she knows a thing or two about photography.
I, however, don'. I know the basics of a camera — how to set shutter speed, aperture and exposure — but other than that, I'm a complete beginner.
So when I saw the Annie Leibovitz MasterClass, I was curious. Could I actually get tangible results? Would it really make me a better photographer? You may have heard some divisive things about this course — people seem to either love or hate it.
So, in this balanced Annie Leibovitz MasterClass review, I'll take you through my experience of the course so that you can decide if it's the right course for you.
I've also taken photos throughout so that you can decide if my photography improved at all!
If you're short of time, here's the lowdown:
.
Quick summary
In the Annie Leibovitz MasterClass, you will learn to:
"See" like a pro photographer
Come up with interesting photo concepts
Use practical exercises to develop your creativity
Blend natural light with artificial, to make your photos pop
Understand Leibovitz's core philosophies and influences
About the stories behind countless iconic images
Pros
My photos actually improved throughout the duration of the course
Leibovitz gives very practical assignments to learn very abstract ideas
Suitable for a range of levels, from novice to pro
Amazing unique opportunity to learn from an iconic photographer
Cons
Not a technical course on camera settings (could be considered a pro)
Contains some nudity and the warning is only explained in the last video
Length of course: 15 lessons totalling 3 hours and 4 minutes (average ~12 mins per lesson)
Best for: anyone who wants to open up their creative vision, take more interesting portrait photographs, and of course, Annie Leibovitz fans!
Overall: If you go into this class with the right expectations I think you'll love it. This isn't a technical course teaching you camera settings. Rather, this class is all about teaching you how to be creative with your photos like Annie Leibovitz. I learned a huge amount and for me it was well worth the investment!
Now, let's get into the nitty gritty detail. In this Annie Leibovitz MasterClass review, I'm going to be covering:
About Annie Leibovitz
About MasterClass
An inside look into Annie Leibovitz's MasterClass: lesson by lesson breakdown
What I liked about Annie Leibovitz's MasterClass
What I think could be improved
Who this course is for
Alternatives to the Annie Leibovitz MasterClass
How much the course costs
What others thought about the course
How long the course took to complete
Whether the Annie Leibovitz MasterClass is unique or not
What you will need to complete the class
And… last but not least: is the Annie Leibovitz MasterClass really worth the money?
About Annie Leibovitz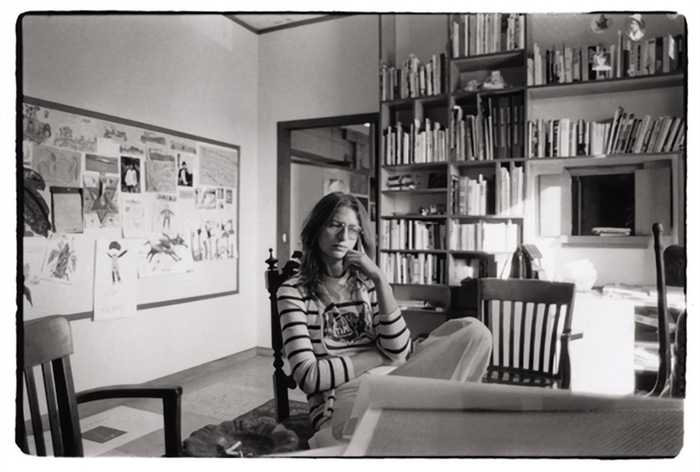 If you're reading this review, you probably already know who Annie Leibovitz is.
Her 50 year career started at Rolling Stone magazine and since then, she's carved a distinctive path of her own by telling stories through photos.
She's won countless photography awards but I always find her list of subjects to be the most impressive thing.
These include:
Queen Elizabeth II
Barack Obama
Serena Williams
Arnold Schwarzenegger
Caitlyn Jenner
Meryl Streep
And, of course, John Lennon and Yoko Ono — the final photograph to be taken of Lennon before he was murdered.
If you haven't seen her in the MasterClass trailer yet, it's well worth a watch:
About Masterclass
So what is MasterClass?
MasterClass is an online learning platform with one very simple mission:
To enable you to learn from the world's best.
On the platform, you'll find classes taught by the likes of Gordon Ramsay, Serena Williams, Samuel L. Jackson, and many more.
There are over 150 courses available on the platform and, with an all-access pass, you can take any or all of them.
For more information and mini reviews of popular classes, check out our MasterClass review and best MasterClass.
An inside look into Annie Leibovitz's MasterClass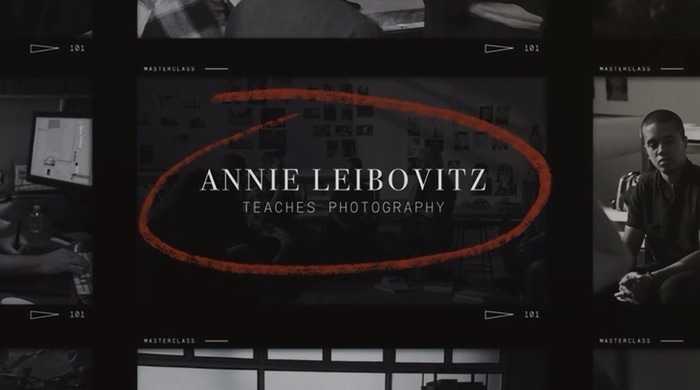 The Annie Leibovitz MasterClass includes:
15 videos totalling 3 hours and 4 minutes of content
44 page workbook which includes the assignments, extra information and reading, and a photo index with details of all the photos Leibovitz talks about throughout the MasterClass
Access to the online community where you can share your work with classmates
The lessons are predominantly talking head style, with Leibovitz talking about various photographs which appear on screen. Interspersed throughout are group lessons with students from the San Francisco Art Institute as well as case study lessons which take you behind the scenes on photoshoots. You'll also hear the stories behind some of Leibovitz most famous shots.
Lesson 1 is a brief introduction to Leibovitz and her MasterClass, so let's jump straight in at Lesson 2.
Lesson 2/15: Portrait Photography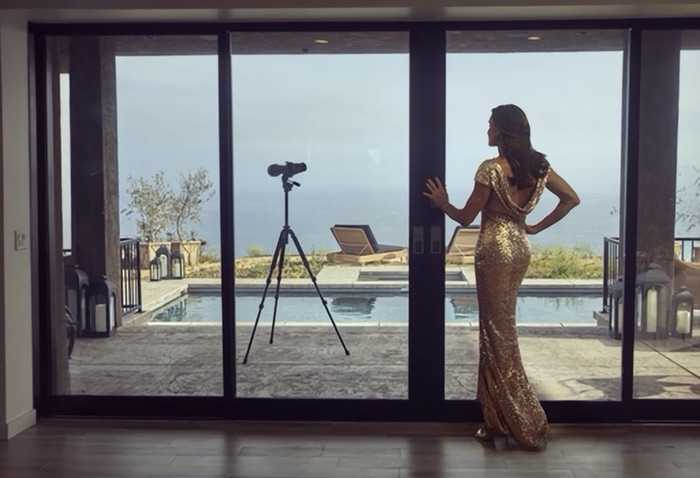 The first class tackles the big questions of photography:
Where do you draw the line between photo-documentation and adding your perspective?
Is it possible to "capture" a person in a photograph?
What makes a great photograph?
In some of this class, Leibovitz speaks with students from the San Francisco Art Institute to unpack these big questions.
This was one of the first online courses I've seen where the instructor interacts with students but it made the class feel more dynamic, with the students asking similar questions to those that I had.
In the rest of the class, Annie Leibovitz addresses the camera, documentary-style, taking you through some of her iconic work.
Here, you will:
See photos of legends like Arnold Schwarzenegger, Barack Obama and more
Hear Leibovitz reveal how she worked with Caitlyn Jenner to help find herself in her new chapter of life
Learn the defining moment that broke Leibovitz's preconceptions about great photography
Be inspired to refine your craft so that you can capture history in the making
Lesson 3/15: Creating Concepts
In this lesson, Leibovitz breaks down her process for developing imaginative and creative concepts for her photoshoots.
She talks through the inception of the posed cover shoot through to some of the craziest shots out there.
You will learn about:
The importance of doing thorough research on a subject to guide your photographs
The story behind the haunting shot of Robert Penn Warren
Which photoshoot was the cornerstone for Levibovitz's signature style of putting the subject in the middle of a concept
Unpack the concept of the Pirelli calendar shoot with Amy Schumer
How the unforgettable Keith Haring photos came to life
Lesson 4/15: Working With Light
"Photography really is the study of light. I use natural light as a teacher."
Every photographer knows that light can make a world of difference in a photograph.
In this class, Leibovitz discusses her philosophy around lighting equipment, working with natural light, and the value of keeping your kit small.
Here, you will learn:
The essential equipment Annie keeps in her kit
How to use natural light as your teacher
The combination of light and shutter speed to create a beautiful soft look
Which lighting is most ideal — and how you can adapt if you have to shoot in less than optimal conditions
Throughout the class, you get to see loads of examples and Leibovitz talks through the light on each. One of my favorites is this incredible shot of Jack Nicholson: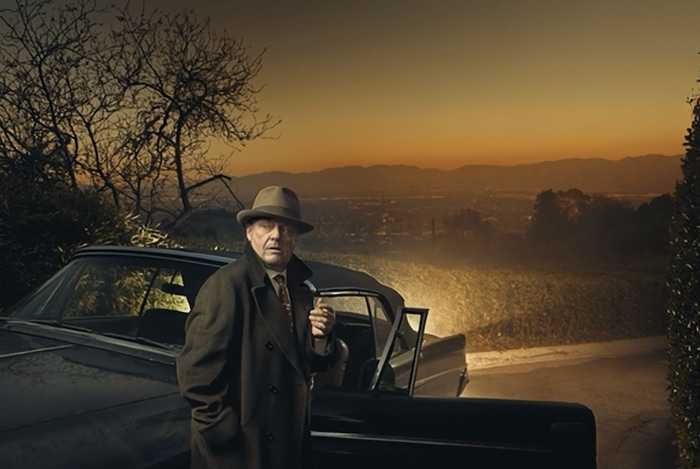 Lesson 5/15: Studio vs. Location
Next, Leibovitz explores her journey from the studio to location shoots, and discusses which she prefers. (If you know her work well, you might guess the answer!)
It's amazing to hear Leibovitz unpack the photos that feature in this class: from studio shots in her old New Year studio to location shoots with Gloria Steinem. They're such a stark contrast from each other and really help you to understand Annie's evolution as a photographer.
In this class, you will learn:
How you can use composition to create striking studio shots
The big benefits of working on location
The importance of letting the story unfold on a location shoot
Lesson 6/15: Working With Your Subject
In this class, Leibovitz shares her approach to working with a subject — from playing with them in the shot to working with camera shy people.
You'll get to hear about various subjects Annie photographed including Queen Elizabeth, Bruce Springsteen and Ben Stiller.
Here, she explores:
Photography etiquette in front of your subject
The power of getting to know a subject, and how to work if you don't have that luxury
How to bring humour into a photo
Lesson 7/15: Case Study: Angels in America Photoshoot for Vogue Magazine
Lesson 7 is your chance to be a fly on the wall in an Annie Leibovitz shoot. It was amazing!
You get to watch as Leibovitz sets up for her Angels in America photoshoot for Vogue, and follow along as she directs the models and her team to create the perfect image.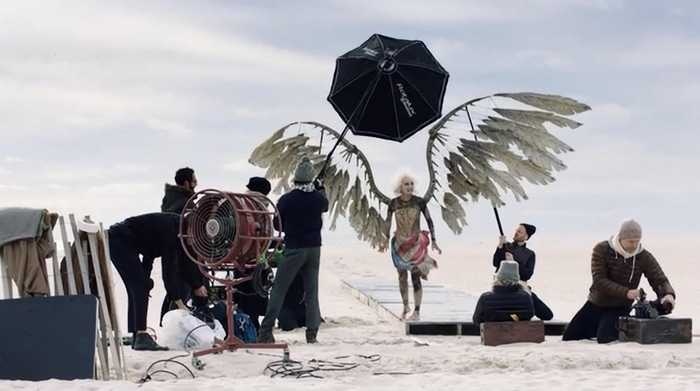 This class is more of a behind-the-scenes sneak peek rather than a lesson, but I still learned so much from just observing how Annie works.
You will get to see:
Leibovitz considering which locations will make the best backdrop
Talking over lens choices to achieve her look
Interacting and directing her team
Working alongside the models
I was so impressed that Leibovitz referred to everyone by name, even when working with a large team. And also, it was amazing to see just how incredibly attentive to detail she is.
Lesson 8/15: Photographing People Who You Are Close To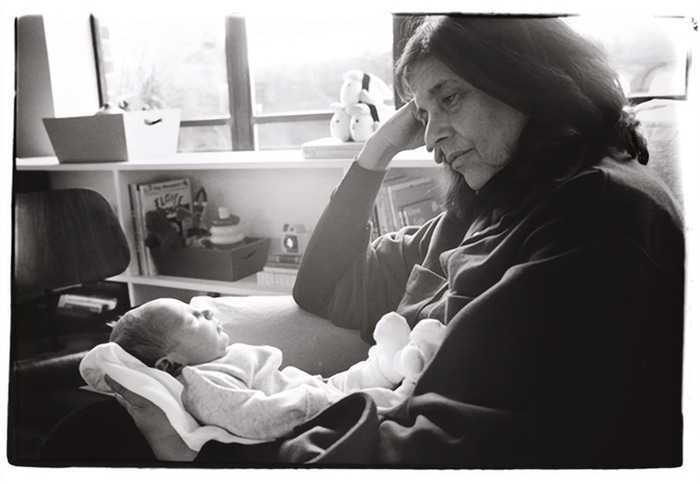 "Photography the people who will put up with you."
This class was a really intimate one focussing on personal photographs.
Leibovitz takes you on a journey from some of her earliest photographs featuring her parents and grandmother through to her later works that appeared in her collection: A Photographer's Life.
She explores the balance between the working life of a photographer and the personal life, and unpacks the ways in which these unfold.
Even though many think of Leibovitz as a celebrity photographer, for Annie, putting together A Photographer's Life after the death of her partner, Susan Sontag, was the most meaningful work she has ever offered up.
It feels incredibly special to see Annie's most personal photographs and hear her speak about them.
The final section of the class is back with the photography students at the Art Institute and exploring "mourning photography": taking photographs in the expectation of death and reflecting on them once your loved one has passed.
Lesson 9/15: Look Back At Your Work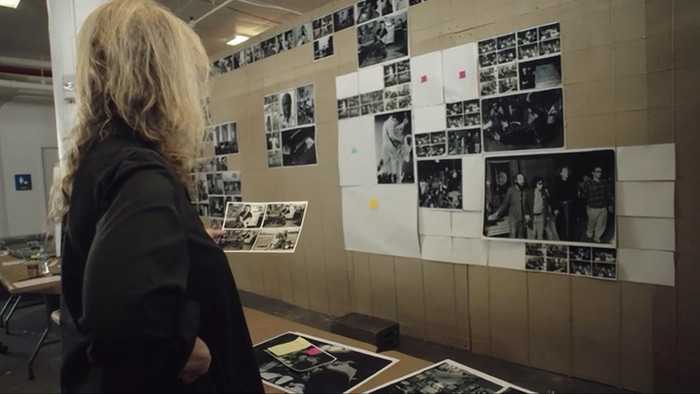 In Lesson 9, Leibovitz talks about the importance of editing, curating and reflecting on your work.
Throughout the class, you'll hear her talk through her editing experiences, as well as get to see her curating The Early Years: 1970-1983.
This collection of photographs are the ones that Leibovitz considers to be the most significant images taken in her formative years and it's really amazing to see her selection process.
You will learn:
Where Annie Leibovitz learned all she knows about editing and selecting
The magic of looking backwards and your previous work
How Leibovitz curated The Early Years collection
Lesson 10/15: The Technical Side of Photography
Lesson 10 is titled The Technical Side of Photography, but really should probably be titled something like Exploring Digital photography.
Leibovitz is a self-confessed un-technical photographer. In fact, in this class she says:
"I find one thing to focus on and then I pray!"
So if you're hoping for a lesson on aperture, depth of field and shutter speed, you won't find it here! She briefly mentions these things but in passing, with the assumption that you know what they mean.
That said, this is still a really interesting class. Taught in classroom style again, you will learn:
The importance of staying content-focused, no matter what
How you can utilize digital tools to become a conceptual artist
The secret behind Leibovitz's Kim Kardashian and Kayne West shoot
Why a blurry photo doesn't need to be automatically thrown out
If you've ever thought you got a great photo but it turned out blurry, this is a really reassuring class.
And it finishes on a really interesting assignment challenge that I would never have considered doing at all!
Lesson 11/15: Student Sessions
In Lesson 11, Leibovitz sits down with students from her alma mater, the San Francisco Art Institute, to critique their work and share her own approach to core principles of photography.
This lesson felt a little slower paced and abstract but was still a valuable addition to the course.
You'll get to see several of their students share their work and hear Annie's thoughts on what makes them good photographs.
In this class, she talks about composition, story-telling, directing, and more.
Really, the best part of this lesson for me was learning to refine my "seeing". There's a lot of space left open for you to draw your own conclusions, but through the duration of this lesson, my critiques went from:
"I like that" to "I like that because…"
It's a hard thing to teach, but Leibovitz stresses that the best way to learn is to discuss amongst others.
Lesson 12/15: Case Study Part 1: Photographing Alice Waters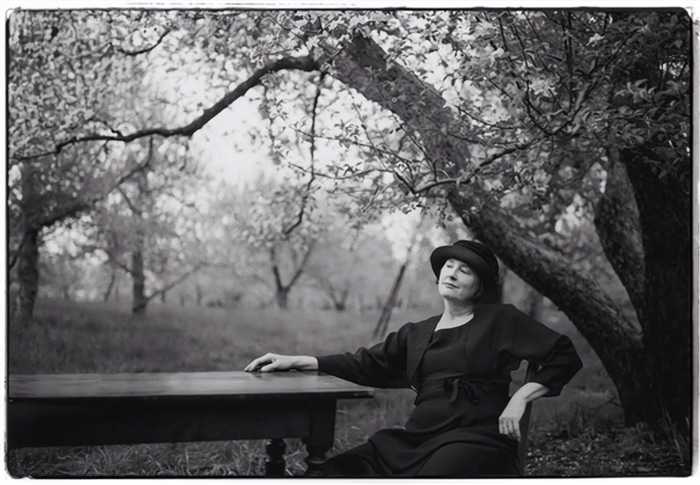 Lesson 12 is a case study on Alice Water's MasterClass photoshoot and it's really fascinating.
Leibovitz takes you through her experience with Alice, from previous photoshoots, through preparation, and working on the big day.
I really loved seeing Annie in action and hearing her talk through her choices and difficulties on that shoot. You also get to hear the music that they played at the shoot which is definitely a special moment.
You will learn about:
Building a concept for a photoshoot
Drawing inspiration from other photographers
The amount of work Leibovitz puts into pre-production
The role music can play in a photoshoot
How to work with the lighting nature gives you and then bring some elements back into your control
I've always thought the photos of Alice Water's MasterClass look amazing so it was really cool to get a sneak peek behind the scenes.
Lesson 13/15: Case Study Part 2: Digital Post-Production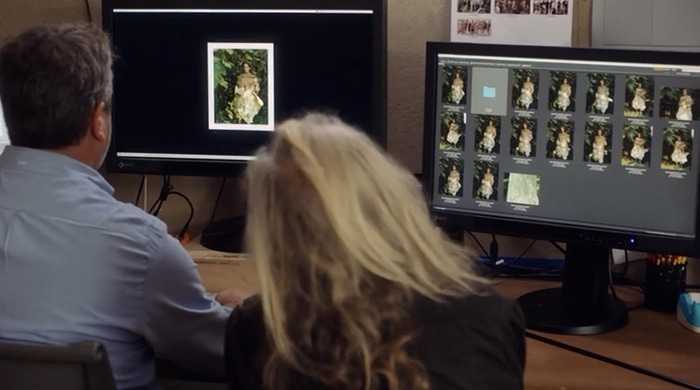 Lesson 13 is like watching magic. I have absolutely no post-production experience aside from tweaking white balance and color temp of the overall photo.
You get to watch over Leibovitz's shoulder as she works alongside her photo editor to hone her photographs of Alice Waters.
There are no "how-tos" in this video but I found it incredible to be able to hear Annie vocalize her thoughts and see just how much is possible within one photograph,
Here, she explores:
Which photos to choose
Factors that influence post-production choices
Just how malleable a photo really is
How your editing depends on your final medium: screen or print
Lesson 14/15: Photographic Influences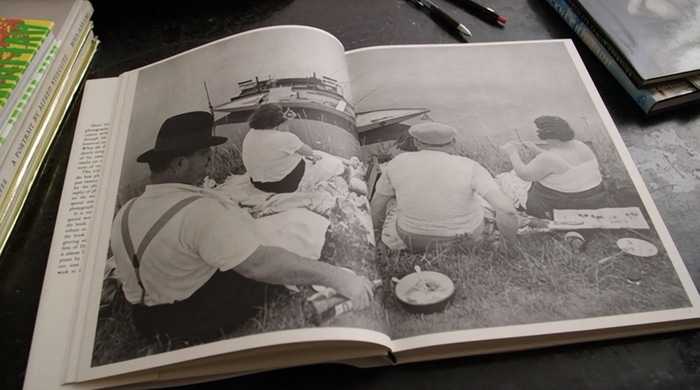 If you've ever wanted to study photographers but not known where to start, Lesson 14 is a perfect lesson for you.
Leibovitz talks through the 8 photographers who influenced her the most, unpacking her favorite works and what drew her to them.
Studying the work of others isn't something concrete that you can get in a neatly packaged class, but hearing Leibovitz talk about her favorite photographs is probably the next best thing.
The assignment for this class is great too — you'll get to hone your sense of perspective while drawing inspiration from artist, David Hockney.
Lesson 15/15: The Evolution of a Photographer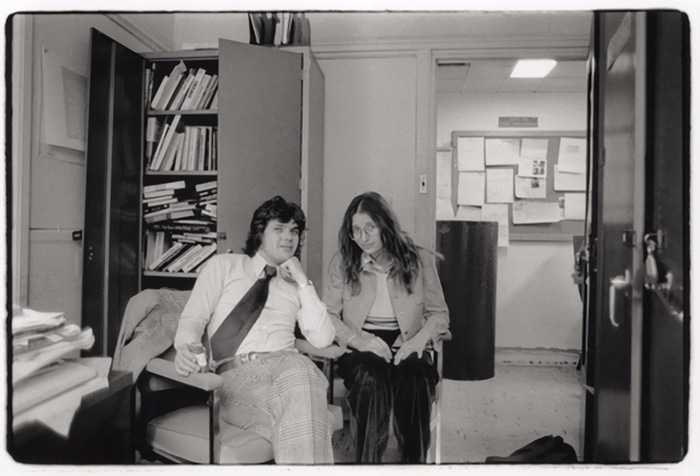 Lesson 15 rounds up the MasterClass with an examination of the evolution of a photographer.
Annie talks about what influenced her — from being a child in the Philippines at a military base, through to her time at the San Francisco Art Institute, and going out into the world as a photographer with Rolling Stone magazine.
It's always fascinating to hear about Leibovitz's life, but I really love how, as the class draws to a close, she distills her whole philosophy into a single thought and offers it to you as your last assignment.
What I liked about Annie Leibovitz's MasterClass
Actually improved my photography
The one thing everyone hopes for when they do an online course is that they'll actually improve. And I really did improve throughout this course.
I am a creative person — a musician by profession — but have always claimed that my creativity all went to sound and that my creative eye is terrible.
Over the years, I've taken photos but none have been particularly impactful or memorable, or to be honest, even that nice!
Just before starting the course, I cajolled our CEO here at Learnopoly into letting me take a base photograph of him to monitor my progress. To me, portrait photography was a subject against a plain background and here's what I came up with: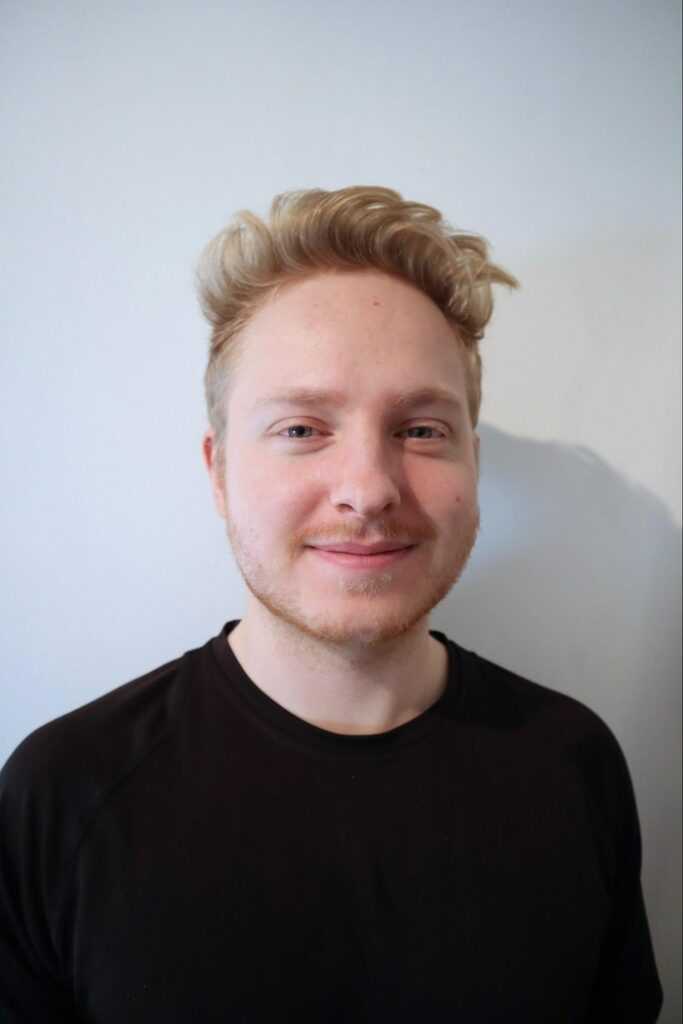 About half way through the course, I took some more photos of Finn. He was working and I noticed an interesting soft ,warm light casting down from above. I let that seep into my choices of shutter-speed and exposure, experimenting and allowing myself to have some creative freedom.
And I have two thoughts about it:
This photo may actually technically be worse than the first! Objectively, it's not as sharp, and parts of the subject's face are really dark
It's so much more interesting and emotive than the first photo — it captures the interesting light in the moment, along with that really thoughtful expression, and it tells a story.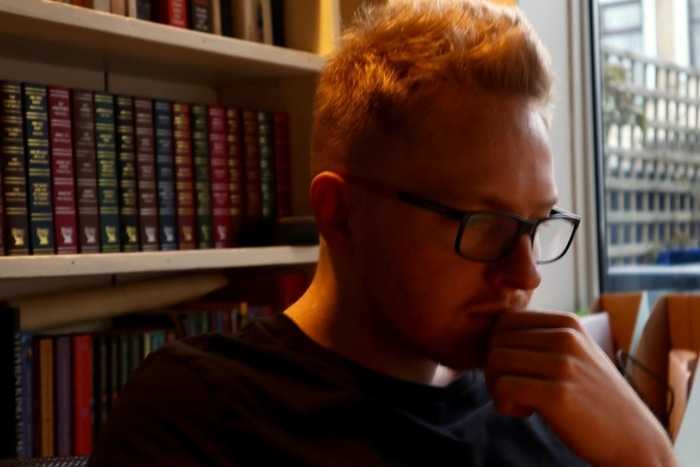 Suitable for a range of levels
I was fairly apprehensive about starting Annie Leibovitz's MasterClass. To be honest, I thought I would be completely out of my depth and it would be full of so much jargon that I didn't understand. 
Now, Leibovitz uses some technical language throughout (ISO, exposure, F6, shutter speed, etc.) so to fully understand everything she says, some camera knowledge is helpful.
That said, because of Annie's core photography philosophy, this class is remarkably accessible.
I found the assignments to be really unique and helpful. And unless you've been to art school, I would think they will be for you too.
Ultimately, you're honing your creative eye in this course, and that's something where the sky's the limit!
Insights into iconic photographs
So many of Leibovitz's photos are instantly recognizable. In fact, on the YouTube trailer, one commenter posted:
"SHE TOOK THAT PHOTO???"
Some of the photos that are showcased in the MasterClass were ones that I remembered making an impact but hadn't realized they were Leibovitz's work.
Hearing Annie speak on the history and concepts behind each photo made them even more powerful and really helped me to consider the story-telling aspect of photography much more.
Some actionable exercises to practice very abstract things
It is really, really hard to teach innovation and art.
That's because ultimately, art is a very subjective and personal thing and it should be up to an individual to carve their own path.And how on earth do you teach that?
Honestly? I think exactly as Leibovitz does in her MasterClass.
Most of the MasterClass is Leibovitz speaking on a subject and experience, but she ends every single class with a very practical assignment. "Do this". "Try this".
Virtually none of the exercises are techniques you would actually use for a finished photograph, but they all help you along a journey of artistic discovery and to me, that's far more valuable than a how-to manual.
What I think could be improved
Contains a lot of nudity which isn't well flagged
Throughout the MasterClass, some class descriptions ended with an asterisk like this: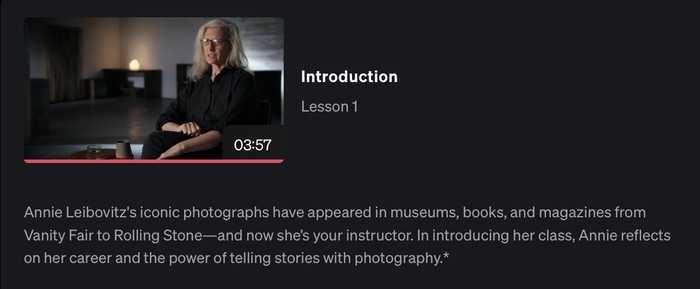 And I was so puzzled. What was it? Why was it there?!
Until I reached video 15, the final lesson of the class where finally I see this:
"*Lessons marked with an asterisk contain images with nudity."
Now, the nudity didn't bother me at all. All of the nude photos are really strikingly beautiful and personally, I was happy to see them.
That said, for those who would rather not see nude photographs, it's important to know that:
5 out of 15 lessons contain nude content, which is quite a high proportion
The asterisk is the nudity warning and that's really not clear until the end
It would perhaps be appropriate for MasterClass to add a disclaimer on the purchase page to avoid any disappointment.
Misleading title
This course is titled Annie Leibovitz Teaches Photography which sets a certain expectation.
You might expect lessons on camera techniques, settings, lighting and equipment.
And if that's your expectation, you'd likely be very disappointed.
Leibovitz's art form is photography, so of course, in some respects she is teaching it. That said, it's not a "how-to" course, but rather an exploration on how to develop your creative vision. Or as Annie puts it: "how to see".
I don't think the lack of technical information is a downside. In fact, for me, it was almost a pro because it made it more accessible.
Plus, you can learn a lot of technical photography skills anywhere. But learning Leibovitz's creative process is only something you can learn directly from her.
That said, I do think something like Annie Leibovitz Teaches Creative Vision could be a more apt title and help to set expectations.
This point also leads nicely onto my next point:
Who is this course for?
One of the most important factors to consider for any e-learning platform is who the course is for.
A class can be amazing for one person and terrible for another.
If you:
Are looking for technical tutorials on how to best use a camera
Want general photography tips including tips for landscape photography
Are most interested in taking photographs that are as close to reality as possible, but less interested in photography as art
Then this MasterClass is probably not great for you. In fact, my own brother started Leibovitz's MasterClass too and didn't get past Lesson 2. In his words:
"It was a bit too arty for me!"
But…
This could be an amazing MasterClass for you if you:
Are interested in conceptual photography and creating art through photography
Aspire to be a portrait photographer
Enjoy exploring the abstract and trying out crazy things to get there
Want to hear the stories behind iconic photographs
Love Annie Leibovitz's photography
Alternatives
If you've got this far but decided that Annie Leibvoitz's MasterClass isn't for you, I've got you covered. You can check out our best Online Photography Course Review in which Annie's class does get a rating!
But in brief, here are some good alternatives:
Other MasterClasses
There are a couple of other MasterClass that are good alternatives, or complementary to Annie Leibovitz's MasterClass.
Jeff Koons Teaches Art and Creativity
Photography courses
Photography courses are everywhere, so there's almost certainly something that matches what you're looking for.
Here are my suggestions:
And, don't forget, you can learn a tonne of stuff on YouTube — you might just have to spend a while sifting through videos to find what you're looking for and compile your curriculum
Photography books
Throughout the course, Leibovitz encourages you to self-study by poring over as many photography books that you can.
Some good places to start are:
A Photographer's Life by Annie Leibovitz
Diary of a Century by Jacques Henri Lartigue
Cameraworks by David Hockney
The Photographer's Eye: Composition and Design for Better Digital Photos by Michael Freeman
On Photography by Susan Sontag
The Visual Toolbox: 60 Lessons for Stronger Photographs by David duChemin
How much does Annie Leibowitz's MasterClass cost?
At the time of writing MasterClass had three subscription offers. The cost of these (per month) is:
Individual (1 user) $15
Duo (2 users) $20
Family (6 users) $23
All are billed annually, which at first glance may seem pricey.
However, you can considerably reduce your costs by joining with friends or family. And of course by taking as many courses as possible.
With over 150 courses on the platform you're likely to find quite a few to interest you. Even if you buy an individual membership and find only 10% of the courses of interest this still works out to only $12 a course:
$180 (annual individual membership fee) / 15 courses = $12.
And if you join with friends or family then the cost of each course is drastically reduced. Check out our MasterClass review or MasterClass cost articles to see how.
Bearing in mind that these classes are taught by global leaders in their fields the value is unbeatable. You can pay over $100 for an online course taught by someone you've never even heard of, never mind someone of Annie's calibre.
What's more, MasterClass also offers a 30 day refund if you're unhappy with your purchase.
You can also purchase MasterClass as a gift.
What others have said
Now, this wouldn't be a balanced review without taking into consideration what others have said.
I'd already received some feedback on the class from my brother but also did a deep dive on Reddit to find out what others really thought.
And to be completely honest, I found that a lot of people really didn't like it:
"I did the annie leibovitz masterclass and it's was complete waste of time. Sure, she is an interesting person with an interesting story, but as a "masterclass" i don't think you learn that much." -- comment from Reddit
Others didn't mind the class but had some things to say:
"It basically just talks about her photography philosophy but don't expect to learn anything on the technical side the spectrum." -- comment from Reddit
And some, like me, really liked it:
"All the classes are extremely well done. I did the Annie Leibovitz one and it was super fun… $90 for a bunch of in depth interviews and tips from a photography you really like definitely sounds worth it to me." -- comment from Reddit
At the end of the day I think it comes down to expectations.
If you go into this class expecting a technical breakdown of different camera settings you will be disappointed.
But for those who wanted to get unique Annie Leibovitz insights and improve their creativity, this was a really great class.
How long it took to complete the course
The course itself is not too long — just over 3 hours — but it took me a couple of weeks to complete.
And really, I'm still experimenting with the assignments and trying things out so I expect to continue putting the course into practice for a long time.
The great thing about MasterClass is that you can take it at your own pace.
Is the course content unique?
In all honesty, yes this course is unique.
And that's because it's highly personal and really about Leibovitz's thought processes and perspective.
Camera technique and instructional photography videos are dime a dozen (just type "photography for beginners" into YouTube). But there is only one Annie Leibovitz MasterClass and that's what makes it so powerful and unique.
What you will need
Annie Leibovitz describes herself as an "not-technical photographer" so you really don't need that much to benefit from the course. I would even say you could complete it just using the camera on your smartphone.
That said, I do think it would be helpful to have:
A camera (I used the Canon EOS M50)
Editing software
Is Annie Leibovitz's MasterClass worth it?
For me, the Annie Leibovitz MasterClass is absolutely worth it. I found it to be so unique and inspiring. And I felt like my portrait photography improved and will continue to improve as a result.
But:
I'm a creative by profession and a fairly abstract thinker. I prefer to be given a thought that I can mull over which will help me carve my own path to my own destination. I'll happily do some crazy task that feels silly to get myself to question what I'm doing and why.
And I realize that for some people, nothing sounds worse!
This course is not worth it if you're looking for a logical, technical, how-to photography manual. Really. Check out my "alternatives" section and spend your money elsewhere.
That said, if you want to hear from a world-renowned photographer and start your journey of unlocking your creativity and creating interesting photographs, this is worth every cent.
You really can learn technical photography tips absolutely anywhere, but the Leibovitz MasterClass is a wholly unique opportunity to see inside Annie's creative process and develop your own.
For me — this is actually one of the best online courses I have taken and if you go into it with the right expectations I think you will enjoy it.
MasterClass has a great refund policy so the chance of you losing out if you don't like it is really minimal.
And, don't forget, with an All-Access Pass, you can get unlimited access to not just Annie Leibovitz's MasterClass, but all the 100+ classes available on the platform. For me, it's totally worth it.
How about you try a sample lesson and see for yourself?
Frequently asked questions
How much does Annie Leibovitz's MasterClass cost?
A MasterClass all-access-pass costs $180 a year ($15 a month). This gives you access to the Annie Leibovitz MasterClass, alongside 150+ other courses.
How long is Annie Leibovitz's MasterClass?
The Annie Leibovitz MasterClass is 3 hours and 4 minutes long and consists of 15 videos.
Can you get the Annie Leibovitz MasterClass for free?
Unfortunately you cannot get the Annie Leibovitz MasterClass for free. But MasterClass allows you to sample it for free and has a range of purchasing options and offers refunds if you're not happy.
Can I get a refund if I don't like the Annie Leibovitz MasterClass?
Yes, MasterClass operates a 30 day refund policy if you purchase directly through them. If you purchase through other providers, their returns policy may apply.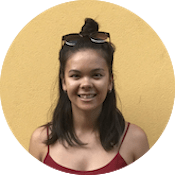 Glenda is an award winning full time professional harpist. Alongside harp she also plays the piano and violin. Besides music, her passions are cooking, writing and learning.