David Carson is an American graphic designer known for his experimental typography and magazine layouts. He's perhaps best known as the designer and art director of Ray Gun magazine.
In his work as a designer he's been credited as pioneering the "grunge typography" era of the 90s.
But just how good is David Carson's MasterClass? And can it really help you to make your mark in the design business?
These are the points I'll address in this David Carson MasterClass review.
.
Quick summary
You will learn:
Carson's journey to becoming a graphic designer
How to put "you" into your work
Ways to reinforce a message through design
Different approaches to using technology
Carson's "images in text" theory
What a logo needs to say and how to keep it interesting
How to work with typography and color
Ways you can make your collage standout
Why you should be open to "accidents"
How to find, approach and conduct yourself with clients
Alternative techniques for magazine design
Pros:
Learn from a well known Graphic Designer
Strong examples throughout
Passionate Instructor
Cons
Highly subjective material
Sometimes confusing advice
Less tech-focused
Length of course: 2 hours, 7 minutes, spread over 13 video lessons
Best for: Aspiring graphic designers looking to make their work stand out in their field
Overall: A very engaging and informal course, with a strong focus on how to bend and break the "rules" of graphic design. Overall, I really enjoyed this course. Carson is an engaging instructor and gives you some great tips and tricks.
Here's what I'll cover in this David Carson MasterClass review:
About David Carson and MasterClass
A sneak peek at what's inside
Pros and cons
Who it's for
How much it costs
Is there anything better?
What others thought of the course
How unique the content is
Final verdict: is it worth it?
So, let's get started:
About David Carson
If you're here, you likely have some idea of who David Carson is and what he's known for. So, I'll spare you the biography and sum up some key career points:
Carson started his own design studio in 1995
His clients include the likes of Pepsi, Nike and Microsoft
He's also directed commercials for Budwieser, American Airlines and Xerox
In the design world, he's known for his mixed typefaces and fractured imagery
If you haven't seen the trailer for David Carson's MasterClass, check it out here:
About Masterclass
MasterClass is an e-learning platform founded in 2015. Since its beginning, it's slowly risen to the top of the online learning scene with its high production values and in-depth courses. To date, it boasts 150+ classes.
Its unique selling point is its celebrity-level teaching — so you can be assured you're learning from the best.
Courses include Jon Kabat-Zinn teaching Meditation, N. K Jemisin teaching Science Fiction and Fantasy, and Niki Nakayama teaching Modern Japanese Cooking — to name a few.
That being said, and having taken many MasterClasses myself, I can say that it's not for everyone. So, in this review, I'll weigh up the pros and cons to help you decide whether David Carson's MasterClass is a fit for you.
If you want more details on MasterClass and some of its most popular classes, check out our Masterclass review and best MasterClass article.
An inside look into David Carson's MasterClass
David Carson's MasterClass is 2 hours, 7 minutes long and has 13 classes.
The course also includes a 44-page workbook with assignments, case studies and more.
In this course, you join Carson in his studio and home for a glimpse into his creative process, as well as insights into his long career in the field. Along with this, you also get to sit in on some workshops Carson hosts to expand your creativity.
So, with that in mind, let's begin:
Lessons 1 & 2: Meet Your Instructor and An Intuitive Approach to Design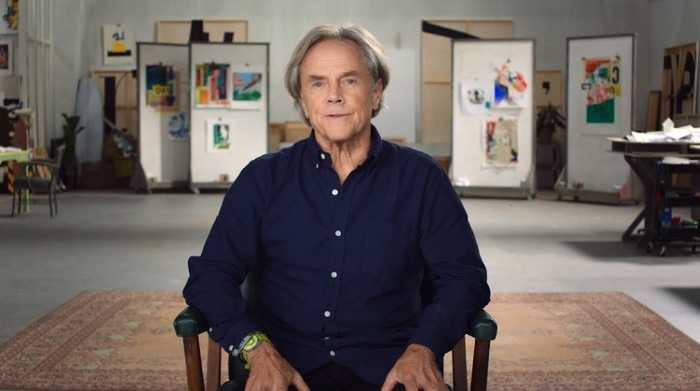 "If everyone loves your work, you're playing much too safe"
In his opening chapters, Carson talks you through what he hopes you'll take away from this course. You'll also find out how his journey into graphic design began and how he feels it's changed over the years.
So, in lessons 1 and 2 you'll learn:
Carson's creative techniques
How to notice things in your environment
Methods for finding inspiration
How and why Carson's work looks the way it does
Why you shouldn't be neutral
Carson shows you several examples of his work through the years as well as other graphic designs he likes/dislikes. In doing this, you get to understand Carson's perspectives when it comes to design and why he makes certain creative decisions.
He also gives some actionable tips on how to attract attention and help people notice your work. Finally, he ends these chapters encouraging you to put "you" at the center of your work as well as how to be open to "accidents."
From here, Carson takes you on to:
Lessons 3 & 4: Send a Message with Typography and Using Photography in Design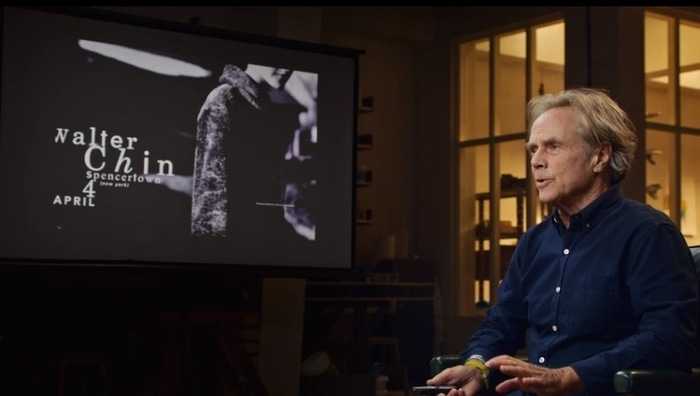 "I'm intrigued by the various ways typography can communicate"
If you're a fan of Carson's, these lessons are likely to be a highlight as he demonstrates his use of stylized typography and photography — two of the things he's best known for.
Here you'll learn:
Carson's "images in text" theory
How to avoid being forgettable
Ways you can create "atmosphere" using photos
Why you shouldn't make the obvious choice
Tips on using photos to reinforce meaning
Here, Carson introduces you to the "personalities" of different fonts and how you can use them effectively. He also gives you some concrete advice on how to combine fonts, using his Armani project as a case study.
You also hear Carson's philosophies on working with graphic design technology as well as what it takes to "make" a graphic designer.
Lessons 5 & 6: Put Yourself to Work: Assignment 1 and Developing a Logo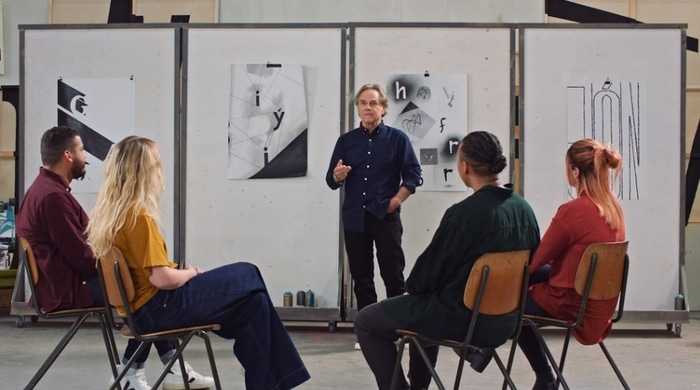 "A logo is an image, just like a word is an image"
In the first of 3 assignment lessons in the course, you join Carson and his students as they share and evaluate each other's work.
From here, you learn about Carson's strategies for creating logos and even get to join him as he works on a concept for a logo project.
So, with this in mind you'll learn:
Why you shouldn't be too "literal"
What a logo needs to say and how to keep it interesting
The difficulties and rewards of simplicity
Why you should avoid grids
How you can "humaize" people/businesses via a logo
In these lessons, you hear Carson verbalize his thought process on what an audience can tell through a piece of graphic design.
You'll also gain insight into how Carson uses his creative process to come up with some highly effective logos. He even shows you some examples of less successful projects so you know what to avoid in your own work.
It's worth pointing out that Carson admits to this all being subjective. As he says, only you as the graphic designer can "make the call" on whether something is working or not.
From here, you go on to:
Lessons 7 & 8: Life as a Working Designer & The Power of Color: Assignment 2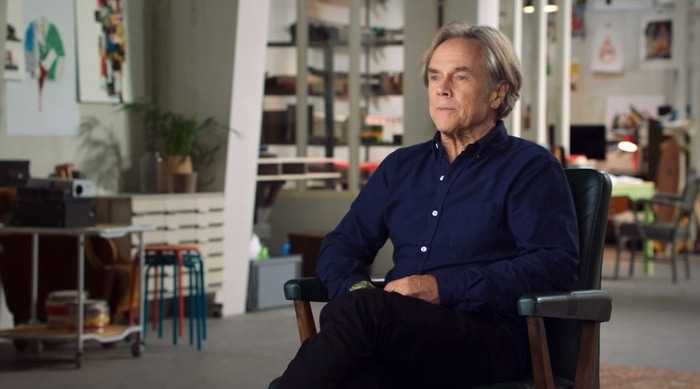 "What is most important to you? Is the work most important? Or is where you live most important?"
In these lessons, Carson talks you through what to expect from a life in graphic design as well as some tips and tricks on how to keep yourself motivated. Also, you'll get to see the workshop students take part in their next assignment.
So, you'll learn:
What kinds of work you can find and where
How to avoid distractions
Ways to promote yourself
The merits of color and texture
How to express yourself within set limitations
Carson talks in great detail here about what life is like as a graphic designer, as well as where you can find different types of work. You'll also gain insight into how you can promote yourself and approach potential clients.
The way Carson sees it, having an artistic space of your own to work is vital to the creative process, and he gives some actionable tips on how you can find one.
This leads you on to:
Lessons 9 & 10: Collage Art for Designers and Working with Clients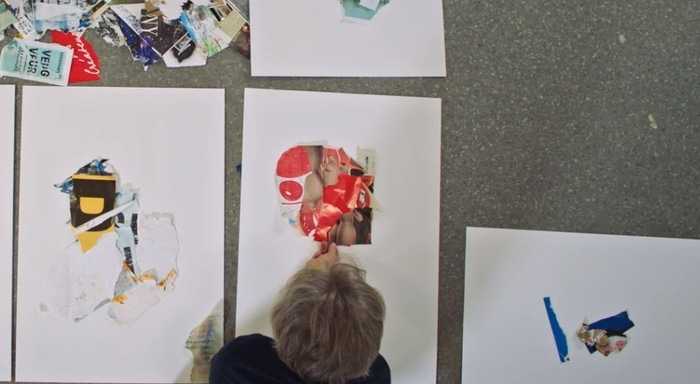 "As a designer, if you want to make a living in this field; you're going to want clients"
For me, one of the course highlights is how passionate Carson is as an instructor. This really shows through in the first of these lessons, where you join him making a collage.
So, with this in mind, these lessons will teach you:
How to work with typography and color
Ways you can make your collage standout
How to be "refreshed" by working in new ways
Carson's philosophy on approaching clients
Ways to integrate your own art into projects
In the collage lesson, you get a top-down view as Carson creates several collage pieces and talks you through his decisions in real time. Also, you get the bonus of Carson trying things that don't quite work and the changing course — which is really helpful to visualize the creative process!
In the second lesson, Carson gives you some helpful titbits on how to conduct yourself to attract clients. He even gives you some pointers as to where you can find those crucial contacts.
As he verbalizes, Carson sees his projects as a balance between his artistic style and the client's brief. So, he shows you how to manage this balancing act. He also takes you through some case studies of his work to show you how you can push yourself even when working within constraints.
Lessons 11-13: Designing Impactful Magazines, Designing Your Future: Assignment 3 and Make it Happen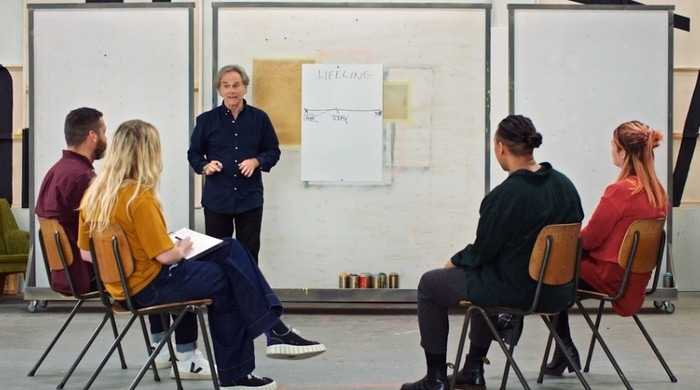 "Where do you want to be?"
In his closing chapters, Carson talks about how to approach magazine-design in ways that will attract and keep readers interested. On top of this, you get to see the students in their final assignment.
So, in these last lessons, you'll learn:
How to get the audience interested
Carson's approach to "readability"
Ways to pull the reader in through page design
Different ways to achieve your goals
What makes a good cover
In the first of these lessons, Carson talks you through his approach to magazine design. While admitting that stylistic choices are always subjective, he gives you some great pointers on how you can make your work standout and hook the reader.
You also get to see the final workshop in action — and you're encouraged to take part as well. Once again, the students all examine and critique one another's work. For me, it was helpful to see work from those at different stages of their careers.
Another great thing about this MasterClass is the community forum, where you can share your assignments with other students and get critique and feedback. If you're a practical learner, this will likely be a selling point!
What I liked about David Carson's MasterClass
Learn from a well known graphic designer
With decades in the business and dozens of famous brands on his client list, you know you're in good hands with David Carson as your graphic design instructor.
In this MasterClass, you get the chance to learn from Carson himself as he talks you through his personal philosophies.
Strong examples throughout
A huge upside to this MasterClass is that almost all of Carson's teachings are backed up by examples. In fact, he goes to great lengths to show you work from throughout his career and takes you through the decisions he made to get from concept to result.
On several occasions, he also shows examples of early drafts and how they grew to become the finished product. On top of this, you get to see how being "open to accidents" actually helps to shape some memorable work.
Passionate instructor
Carson has great passion for graphic design — and it shows! He also has a background in teaching and sociology, which really helps to make him an engaging instructor. He comes across as very personable and relatable, which makes the information easy to digest.
What I think could be improved
Highly subjective material
As is often the case with creative courses, a lot of the course contains subjective material. Carson even admits throughout the MasterClass that creative decisions are "subjective calls."
While this may not be too much of an issue for some, those looking for more concrete advice might find it difficult to relate to Carson's advice — such as when he says your choices "should feel right."
Confusing advice given at times
Following on from the last point, and possibly due to the subjective nature of graphic design; Carson sometimes gives some confusing/contradictory advice.
For example, Carson spends a reasonable amount of time giving you tips and tricks on how to avoid being obvious. Yet in one case study he states why going down the obvious route actually made the work stronger.
But, that being said, I think his examples show how different advice can apply to different contexts.
Less tech-focused
A downside to the course is its lack of technical focus. While graphic design apps and programs are mentioned during the MasterClass, they're usually only in passing.
Only in one lesson do you get to see Carson actually work on his laptop in real time. And, even then, the technical side is little explored.
While it would be unrealistic to expect a full tutorial on software, I do think a little more time spent talking through the tech would've been useful.
Who is this course for?
In my view, this course is best suited to anyone who's:
A fan of Carson's and his design style
Interested in becoming a graphic designer
An experienced designer looking for alternative techniques
Wanting to get involved in magazine design
Looking for ways to attract clients through design
While people new to graphic design will likely get the most out of this course, I do think Carson's advice is helpful for anyone looking to find alternative design techniques; no matter their level of experience.
So, if any of the above bullets sound like you, I think this MasterClass would be a great fit.
How much does the course cost?
At the time of writing MasterClass had three subscription offers. The cost of these (per month) is:
Individual (1 user) $15
Duo (2 users) $20
Family (6 users) $23
All are billed annually, which at first glance may seem pricey.
However, you can considerably reduce your costs by taking as many courses as possible.
With over 150 courses on the platform you're likely to find quite a few to interest you. Even if you buy an individual membership and find only 10% of the courses of interest this still works out to only $12 a course:
$180 (annual individual membership fee) / 15 courses = $12.
And if you join with friends or family then the cost of each course is drastically reduced. Check out our MasterClass review or MasterClass cost articles to see how.
Bearing in mind that these classes are taught by global leaders in their fields the value is unbeatable. You can pay over $100 for an online course taught by someone you've never even heard of, never mind the calibre of teachers on MasterClass.
What's more, MasterClass also offers a 30 day refund if you're unhappy with your purchase.
You can also purchase MasterClass as a gift.
Alternatives to David Carson's MasterClass
At the time of writing David Carson's is the only graphic design course on MasterClass.
(However there are lots of classes that might complement it, such as Kelly Weastler's Interior Design class and Issa Rae's MasterClass on Creating Outside the Lines).
Outside of MasterClass, the closest I could find to Caron's class was Udemy's Graphic Design Masterclass. But, while this is cheaper and longer than Carson's course, I feel like you aren't getting the expert-level instruction or high production values that MasterClass offers.
If you're looking for a more homespun, hands on approach to design you could try Craftsy.
The verdict?
If you're more interested in a tech-focused design course, a more general graphic design course might be a better fit.
But, if you're a fan of Carson's and/or are eager to break into graphic design, I think this MasterClass is invaluable. Also, you get marketing advice as well as cues on how to attract clients from a well-known graphic designer!
So, it's worth considering what you want to get out of this MasterClass before committing to it.
And, remember, with the all-access pass, you can take any or all of the MasterClass courses!
David Carson's MasterClass: what others have said
My aim here is to present the most fair and balanced review of David Carson's MasterClass. So, it's worth drawing attention to both good and bad reviews.
While researching the course on Reddit and similar forums, I found mostly positive reviews. However, there were some critics.
"Love David Carson but he's not the right teacher if you're new to design. Learn the rules first, then break them" -- Comment from YouTube
"David Carson teaches How to design like David Carson" -- Comment from YouTube
That being said, many were impressed to see David Carson on MasterClass and found the course eye-opening:
"Finally a graphic design master class. I searched through masterclass and found nothing but now I've found it!!! -- Comment form YouTube
"I saw this MasterClass and couldn't believe it!! He was/is a great teacher and I am excited to be back in his class almost 40 years later!" -- Comment from MasterClass
"This class gave me permission to do something different. I [...] find myself doing design work for clients on many occasions. This class came at just the right time and for that I will be forever grateful!" -- Comment from MasterClass
Is the course content unique?
In short, this course isn't 100% unique. As an established designer, Carson has shared many of his philosophies in the past.
That being said, this was the first time I'd seen him teach a video-based course. It definitely felt more insightful than say, interviews in magazines or on YouTube.
There's also a huge benefit to seeing Carson guide you through his approach to creating strong designs (backed up by his own examples). In addition, the assignments throughout the course allow you to put these techniques to the test.
And, with MasterClass, you have the bonus of all content being in one easy-to-access place, including the Workbook.
What you'll need
While you don't need any equipment to complete this course, it's worth having some sort of sketch pad and art materials to engage with the exercises Carson sets.
Is David Carson's MasterClass worth it?
If you know a little bit about Carson and are a fan of his work then you'll likely enjoy this course.
I would say this course is suited to anyone looking to improve their creative and design techniques, as well as anyone looking for how to get clients.
While the course is aimed toward beginners, it definitely has use to anyone in the field who wants to make their work stand out. So, if you liked what you saw in the trailer and lesson plan, you should come away feeling inspired!
And, to get the most out of MasterClass, it's worth taking as many courses as possible that interest you. With 150+ classes to choose from, this should be easy.
For example, you can learn Creativity and Leadership from Anna Wintour, Acting from Helen Mirren, and Adventure Photography from Jimmy Chin.
Also, MasterClass has a 30-day refund policy if you're not happy with your purchase. This reduces your risk of losing money if a class isn't for you.
Related article: Best online graphic design classes
Frequently asked questions
How much does David Carson's MasterClass cost?
A MasterClass all-access-pass costs $180 a year ($15 a month). This gives you access to David Carson's MasterClass, alongside 150+ other courses.
How long is David Carson's MasterClass?
David Carson's MasterClass is 2 hours and 7 minutes long and consists of 13 videos.
Can you get David Carson's MasterClass for free?
Unfortunately you cannot get the David Carson MasterClass for free. But MasterClass has a range of purchasing options and offers refunds if you're not happy.
Can I get a refund if I don't like the David Carson MasterClass?
Yes, MasterClass operates a 30 day refund policy if you purchase directly through them. If you purchase through other providers, their returns policy may apply.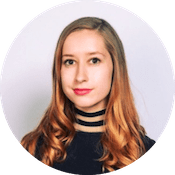 Rebecca graduated from King's College university with a first class honours in English Language, followed by a Masters' Degree in Eighteenth Century Studies.