Ever been impressed by visually amazing marketing materials and wanted to get creative yourself? Well, with the help of these graphic design courses, you can make your vision reality.
With so many options, choosing between courses can be difficult. With typography and color theory, shape manipulations and Photoshop, graphic design truly has a lot to offer.
But don't worry – I've spent the last 2 weeks finding, researching, and evaluating the 10 best graphic design courses to be found.
So get ready to dive into the world of visual design and find a good match for your needs.
What is the best Graphic Design course?
Here are my top 10 recommendations for the best graphic design courses available online:
My top choice is the Adobe CC Basic Online course taught by Daniel Scott on Skillshare. Learn the fundamentals of graphic design through one of the most widely used tools with the help of a leading industry expert. This course thoroughly covers the subject and goes in-depth on all the key aspects that will help you in your further projects.
Plus, it's a part of the Skillshare educational platform. With the Skillshare subscription you'll gain access not only to this course but to 40,000+ other courses across a range of skills including graphic design.
My second pick is the Graphic Design Specialization from the California Institute of Art on Coursera. It's an amazing basic course that explains the different types of graphic design and history behind. It will teach you visual design as a whole, covering the entire subject.
And, in case you are looking for a shorter course, I suggest you take a look at the Udemy courses provided by Derrick Mitchell, Chad Neuman, and Khalil Ibrahim.
You can find our short reviews below for more information on the courses in the list.
Best free Graphic Design courses
Though none of our courses are, strictly speaking, free, the Skillshare platform offers a 30 day free trial using our links. That should be more than enough time to try out one or more of the following courses:
Best Graphic Design course reviews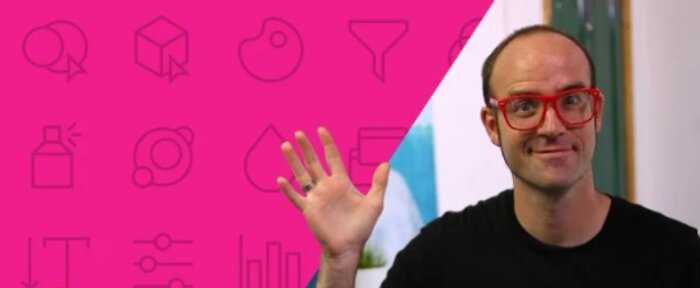 Platform: Skillshare | Teacher: Daniel Scott | Length: 90 lessons totaling 9 hours and 57 minutes
Scott is a digital designer and a teacher at BYOL international, a company specializing in training qualified teachers and offering courses about Adobe applications.
Daniel is passionate about teaching and is determined to share his 14+ years of experience with the eager students who might sign up for this course. With knowledge and skill in business and graphic design, Daniel makes this course the best possible introduction into the world of graphic design and Adobe Photoshop, which is essential for the design industry.
You'll learn:
The skills to mask anything on a picture
The secrets behind clearcutting images and using makeup skills in Adobe
Manipulation of images – size, volume, shape, color
To work with typography and make types interactive and fun
To enjoy your own creativity
Different visual styles and the right tricks used to recreate them
To create your own graphics from scratch!
Pros:
Qualified and well-informed instructor
Provides exercises and assignments for you to perfect your skill
Easy and simple style of teaching, encouraging students to continue learning
Provides access to the beneficial Skillshare subcription
78% of reviews say that the course 'exceeded their expectations'
Cons:
Made for complete beginners (though this could be a pro if that's you)
A tight and intense course that covers a lot of material so it might be troubling for some to keep up with the teacher. Though you can review the course as often as you like
Who it is for: Beginners looking to advance their knowledge of Adobe Photoshop. Covers the basics of the app and provides a great base for someone who is looking to start their graphic design journey. Great fit for those who don't have a lot of time to spend on a course but still would want to cover the subject in-depth.
Overall: This amazing in-depth course taught in a friendly and encouraging manner will make the lessons go by quickly. You will find yourself fascinated with the countless useful skills you will gain throughout this course. It is perfect for anyone who is either interested directly in working with Photoshop or whose line of work might require involvement with the program. Has excellent reviews and is part of the Skillshare subscription.

Platform: Coursera | Teachers: Michael Worthington, Gail Swanlund, Anther Kiley, Louise Sandhaus, Lorraine Wild | Length: 5 lesson blocks totaling approximately 78 hours
California Institute of Arts is a renowned prestigious university and a game-changer in the education of professional artists. All the instructors are professors from the graphic design program in the university, who will provide you priceless experience and knowledge about the subject.
This course is an intense, demanding and rewarding journey that will take you in as a beginner and let you out as a proud advanced graphic designer.
What you'll learn:
The fundamentals of graphic design – learn the very basics needed by anyone who wants to get into graphic design
An understanding of Typography – work with fonts and experiment to get the perfect one
Imagemaking and the mystery behind altering images in Photoshop and other programs
How to incorporate elements from the history of graphic design into your own creations
Tips for combining gained skills and knowledge into a single project at the end of the course
Pros:
Excellent quality of teaching provided by the leading experts in graphic and visual design
Shareable and accredited certificate at the end of the course
A hands on project at the end of the course will allow you to put all your new skills into practice
Very in-depth and comprehensive – from distortion of images to historical background of different typography fonts
Encourages students to be brave and experiment, letting them find their own unique vision
Assessment and deadlines – set your own goals and achieve them at your preferred speed
Cons:
Could be time consuming – the recommended pace is 3 hours per week which totals to 6 months though if you work faster you can reduce this time
Who it is for: Beginner friendly, but can also be found useful by more seasoned professionals. This course will be a great opportunity for someone who is looking to expand their skills beyond their direct area of expertise.
Overall: A very thorough and exciting course that is also extremely applicable to real life. The CalArts Institute is a renowned University whose credibility will look great on your CV. This course is intense and saturated with information every step of the way. If you decide to take it, be prepared to dedicate time and effort for the best result. And don't forget to cancel your monthly payment as soon as you are finished.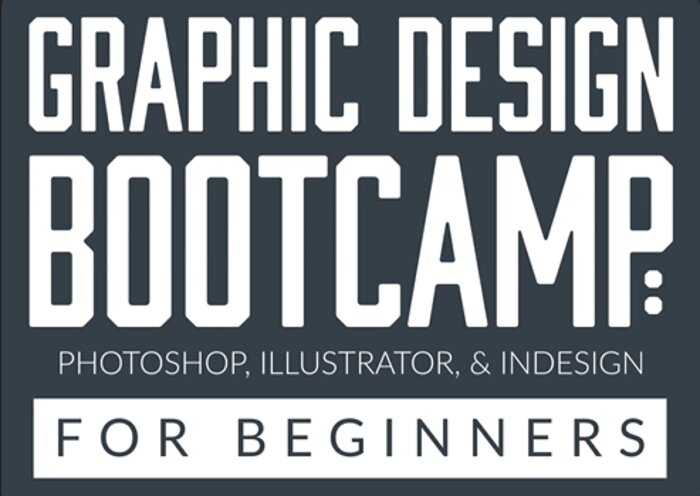 Platform: Udemy | Teacher: Derrick Mitchell | Length: On-demand video lessons totalking 16 hours
Derrick has spent his entire career trying to make boring things beautiful – and now he is ready to teach you how to do it, too! Mitchell has worked with brands such as Netflix, MTV, and Nintendo, as well as doing independent work as an artist and creator.
Derrick's goal is to deliver information to you in the most interesting and engaging way possible so you can also fall in love with the art of graphic design. This course has also been selected for their employees by such companies as Volkswagen and Nasdaq.
You'll learn to:
Develop your skills and confidence to create your own projects
Make composite images on Photoshop
Work as an illustrator – manipulate text, image, and color
Set up your personal logo mood board and progressing as an artist
Work efficiently during the artistic process
Pros:
13 downloadable resources
Easy access on mobile and TV
Trusted by verified companies
Provides assignments to keep the feeling of a healthy challenge
Teacher support provided
Lectures available for re-watching and reviewing after the session
Gives a great basic understanding of working with Adobe
Cons:
Has a requirement for access to the Adobe Creative Suite
The instructions are shown on Mac, but should also be applicable to the Windows users
Who it is for: Students with some computer proficiency that are looking to learn a new skill. This course would not be the perfect fit for a complete beginner – the teacher describes it as a creative and artistic guide rather than a direct instruction on how to use the Adobe Creative Suite programs.
Overall: A great course on the basic aspects of Photoshop and graphic design tools in general. The graphic design Bootcamp lessons will allow you to understand the process behind your favorite graphic design and give you the ability to recreate your artistic vision in real life. With gentle and effective guidance provided by the qualified instructor, this course will help you understand whether or not graphic design is something you should pursue, and increase your level of skills.

Platform: Skillshare | Teacher: Maggie Stara | Length: 38 lessons totalling 4 hours and 53 minutes
This course is taught by Maggie Stara, a digital marketer and creative instructor based in Australia. Maggie started her way like you as an inspired beginner, who was tired of low-quality lessons. She decided to create an engaging, challenging, and exciting course that will take you on a journey through the world of social media, content creation, and marketing.
Maggie is described as a 'knowledgeable' and 'enthusiastic' teacher by her previous students, making this the perfect beginner course for those who want to apply their graphic design skills to their social media content.
You'll learn to:
Work with Canva (paid and free versions)
Create the perfect Youtube thumbnail or channel art
Incorporate graphic design into your social media pages
Use marketing and graphic design together for the best results
Make simple basic websites
Design and perfect your own unique business material – business cards, ebooks, etc
Use Facebook graphics and designs for your facebook business page
Pros:
Subject specific – marketing and social media focused
Exciting, valuable lessons from a professional and qualified teacher
Set your own pace for your learning
Custom, downloadable, mobile-friendly templates for Canva
Direct communication with the teacher through a discussion section
Part of the Skillshare subscription
Cons:
Isn't solely focused on graphic design – includes a lot of information about marketing as well
Doesn't explore any other programs except for Canva (no Adobe, for example)
Who is it for: Anyone with interest in graphic design in relation to social media and marketing. If you are looking to promote your account or channel via beautiful graphics and intricate designs then this course is a great fit for you. However, if you are interested in a more fine art approach to graphic design we would recommend you looking at other courses in this list.
Overall: A quick and impressive course, covering a specific topic but quite in depth. Maggie's teaching style is friendly and approachable, making this a pleasant experience for the students. The ratings for this course agree with our judgement – 83% have claimed that the course has exceeded their expectations. With helpful examples and outstanding clarity of instructions this course will be a great way for you to start your social media career or simply learn more about how to apply graphic design online and offline.
Platform: Masterclass | Teacher: David Carson | Length: 13 video lessons totalling 2 hours and 17 minutes
David Carson is an American graphic designer who revolutionized visual communication in the 90s with his unconventional and unique style. He got the nickname 'the Godfather of Grunge' by Ray Gun magazine, for which Carson worked as an art director. His well-known style includes innovative typography, experimental takes on backgrounds, and noticeable rough layouts.
His course is made for you to feel inspired to pursue your own wave of rebellion in art. With these lessons, you will get an opportunity to discover the thought process behind challenging the conventional norm of design.
What you'll learn:
An authentic and unique approach to the role of intuition in design
The secret behind messaging with typography
How to develop a logo
To reflect your emotions, feelings and thoughts into your work
An understanding of the importance of authenticity when making art
How to communicate your personality in your work
Pros:
Part of a Masterclass subscription giving access to 150+ globally revered practitioners in their respective fields
Taught by a highly credible and professional teacher
Get inspired by one of the most influential graphic designers of our time
Dive into the world of magazine covers, fonts, colors, shapes, logos, and much more
Discover the what it's actually like to work in the graphic design industry from a seasoned pro
Amazing production values
Cons:
Beginner oriented mostly – does not focus on a specific part of graphic design, bur rather cover it more widely, touching on all the topics but not going in-depth on any of them. Though, if you are a beginner, this should be no trouble for you.
Who it is for: Beginner level students who are interested in getting some valuable insight into the industry. This course can be called a perfect tasting bite into the complex and large concept of graphic design. It doesn't consume a lot of time and has a comfortable pace, not overwhelming the students with informations.
Overall: A light, short, and interesting course presented by an amazing teacher who is eager to share his invaluable experience with you. This course is great for someone who is unsure about pursuing graphic design seriously, because it also provides you access to the entire Masterclass platform. If you decide to try out David's course, you always have the option to move onto the next topic of interest after discovering this one – maybe you will find out that photography or fashion design is closer to your heart.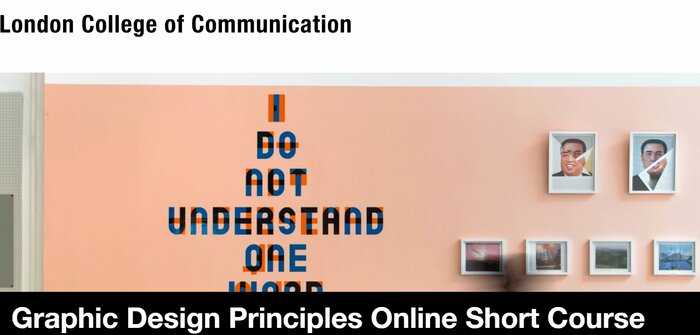 Platform: UAL | Teacher: Dominic Dyson | Length: 2 days
Dominic Dyson is a Media and graphic design course teacher at the University of Arts of London, which includes some of the most renowned art schools in the world. Dominic is also a UAL graduate, who has returned to his alma-mater to pursue teaching, focusing specifically on graphic design.
This online course will provide you with an introduction to the key concepts of any project and an understanding of what graphic design is as an art discipline.
What you'll learn:
Deconstructing and analyzing visual design concepts and examples
An understanding of the parts that make up a design piece
How to make your own design choices and creating a unique style
How to use basic functions of Adobe Photoshop and InDesign
The fundamental principles of graphic design
Ways to manipulate space and shape to convey meaning through your work
Pros:
Life online sessions
Use lesson recordings to go over content shown in the course
Access to a support forum for the course
A prestigious certificate at the end of the course
High-quality education from an experienced teacher
Cons:
Some level of experience in working with Adobe Photoshop and InDesign required to get the most out of the course
One of the more expensive options
Who is it for: Students of any level are welcome if they want to improve their design judgement and make more effective use of graphic design. However, it does mostly focus on the foundations and basic principles so we would recommend it for beginners with some experience.
Overall: An intense, tightly packed with information, and extremely helpful course that will be a perfect first step into the world of design. If you choose this course, you should be prepared for a challenge, but also for the reward at the end of it. Provided by a credible and well-known institution, this course would be a great way to extend your knowledge and broaden your horizon.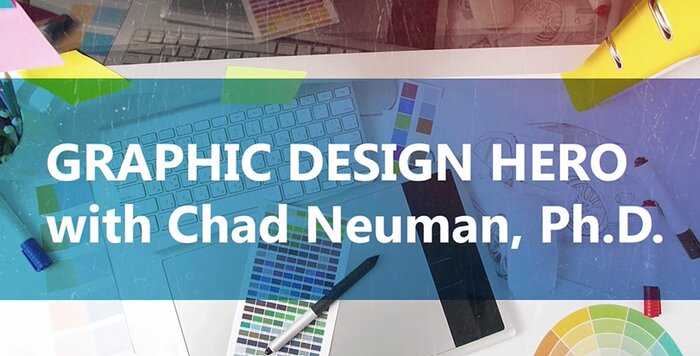 Platform: Udemy | Teacher: Chad Neuman | Length: 4 hours
Chad Neuman has a Ph.D. in digital marketing and creative approaches with a focus on communications and marketing. He also has extensive experience teaching in the classroom and online, which makes him a great candidate to become your teacher in graphic design.
This course's main goal is to allow you to enjoy yourself in a creative space in a beneficial and profitable way. Chad focuses on inspiring his students to find love for visual design, which then motivates them to become full-time, award-winning professionals of their skill. And, who knows, maybe you will be the next one!
What you'll learn:
Graphic design principles and their application to produce effective works
To work with Photoshop, Illustrator, and InDesign
How to apply color theory and practice to perfect the outcome
To create different visual design projects: an online ad, an infographic, a gig poster
Ways to master typography and apply its principles to your personal projects
How to find your own personal style
Pros:
Quick and effective course with a qualified, licensed specialist as the instructor
Downloadable resources and articles
On-demand video lessons
Face your challenges and acquire the certificate of completion at the end of the course
Could be bought either separately or as a part of the Udemy subscription, providing access to many more different courses
Cons:
Not subject-specific, has a more broad coverage of topics
Is not suitable for anyone on the advanced level at graphic design and above
Who is it for: For beginners, this might be the perfect base course to start their path.
Overall: Chad's course is the perfect way for you to embark on your journey into visual design, but you should be prepared that this course will give you only the basic minimal understanding without going in-depth on a subject.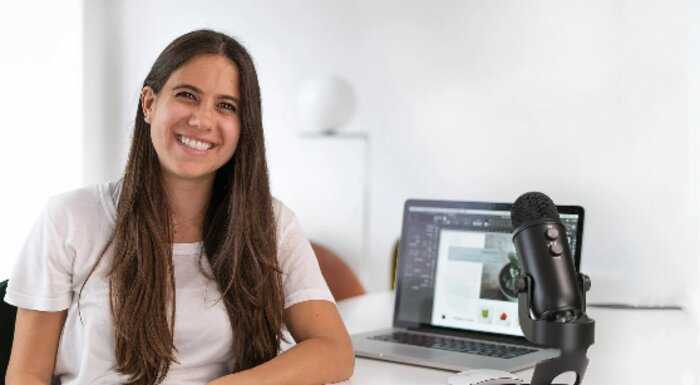 Platform: Skillshare | Teacher: Kate Silver | Length: 40 lessons totalling 3 hours and 5 minutes
If you are looking to start learning graphic design, one name will follow you – Adobe InDesign. You may, or may not, have heard about this creative program that allows desktop publishing and layout application to create books, magazines, etc. Adobe InDesign will become your best friend if you choose to continue your design path.
To learn more about your new 'friend', I suggest you consider this class done by Kate Silver, an Adobe licensed instructor and a specialist in graphic design. She has worked for companies like Jimmy Choo and Sophia Webster, which makes her experience very valuable and applicable to real life situations when working in the industry.
What you'll learn:
How to navigate around Adobe InDesign on your laptop
To customize and fit your Adobe InDesign workspace to reach maximum comfort when creating
Ways to work with text and color, combining and changing them to achieve the desired effect
How to make your very own visual design project – Kate takes you step-by-step through creation of different types of projects
To create shortcuts in the program to make your work even more convenient
Pros:
An opportunity to create your own unique 4 projects! A magazine ad, a flyer, an article, and a brochure. Each of these are explained in great detail
Friendly and kind teaching style keeps students motivated and engaged
Overwhelmingly positive feedback about the course – 74% of past students said that this course has 'exceeded their expectations'
Perfect introductory course to start understanding graphics and visual design
Contains applicable and useful information even if you are not looking to pursue graphics further
Part of the Skillshare subscription
Cons:
Completely beginner-oriented (but if that's you, that can be a pro!)
Subject specific, focuses only on Adobe InDesign
Who it is for: Beginners with little to no knowledge of the program. Kate's teaching style makes it an easy-to-follow class and the sections of the video lessons can be repeated and played back.
Overall: A great class for those who want to specifically tackle the Adobe InDesign program. Targeted at understanding the basics of the porgram, this course does an amazing job of preparing you to set off on our own journey in graphics. It also is part of the Skillshare subscription, providing acces to any other course on the platform.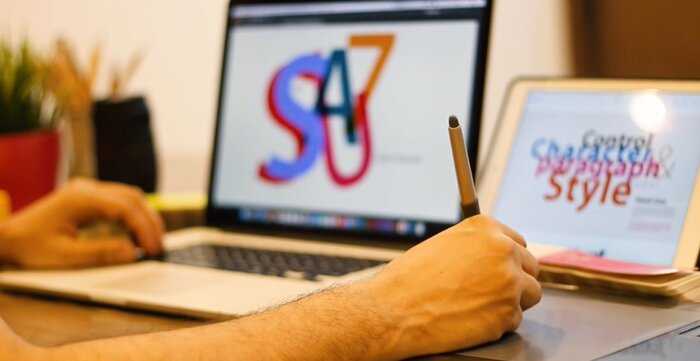 Platform: Udemy | Teacher: Khalil Ibrahim | Length: 34 hours
If the previous course in the list was quick and focused on InDesign only, then this one is its opposite.
This course is a full package on how to use the Adobe Creative Suite – Photoshop, Illustrator, and InDesign. It is taught by Khalil Ibrahim, who has years of experience working as the Chief design officer in such international advertising agencies like DDB Worlwide, TBWA Worlwide, and Sahara Petroleum Services & Co. Khalil's course will help you get a further and deep understanding of the Adobe world.
What you'll learn:
Basic principles and visual design ground rules
The science behind achieving stunning visuals with impressive effect
The mystery behind creation of brands, labels, and logos
How to work with Adobe programs as a support mechanism and not a challenge
Ways to develop creative and analytical thinking
How to apply design concepts to advertisement
Pros:
A course tightly packed with useful material
A qualified and interesting teacher who cares about his students
Get a chance to create your own portfolio – throughout the course you will be given opportunities to make your unique works that you can use later in you career path
You will get a truly in-depth understanding of the Adobe programs which are necessary in any visual design or graphics industry
An opportunity to gain skills that are highly demanded in our nowadays business community – content creation, marketing, advertisement
Cons:
All students must have purchased the Adobe Creative Suite package (includes in itself Photoshop, InDesign, and Illustrator)
Who is it for: This course can be found useful by anyone – starting from complete beginners and finishing with seasoned pros refreshing their memory. It can also be useful for those who don't have access to materials and tools but would like to express their artistic talent – this course will teach you how to create beautiful works using just your computer.
Overall: This course is a great in-depth introduction to Adobe Creative Suit knowing which is necessary for any work related to graphics and visual design. Tightly packed with important material and valuable information, these lessons can be your chance to master the Adobe programs. We recommend this course to anyone who is specifically searching for instructions and guides to these programs.

Platform: London Art College | Teachers: Heather Rooney | Length: 1 year
The London Art College presents this graphic design course as one of their diploma courses. The institution focuses on providing high-quality distance learning.
This course is taught by Heather Rooney, the college's tutor on visual designs and graphics. Heather is an illustrator and a graphic designer, with a BA (Hons) in graphic design from the University of Creative Arts. Her experience and professionalism make this course a perfect fit for those seriously interested in pursuing graphic design.
What you'll learn:
Basic drawing techniques and fundamentals
To face challenges based on realistic design briefs
How to generate a broad variety of visual design ideas for your projects
How to use traditional drawing materials but also experiment with a range of media
The History of graphic design
Cartooning and Illustration
To apply graphic design in real life situations
Pros:
A very in-depth course that will develop your use of traditional media in relation to design and illustration
Only requires very basic traditional tools
A communicative and approachable tutor with a lot of care for the students
You'll receive a diploma at completion
An amazing learning opportunity available from anywhere in the world
Regular exercises and assignments with possible tutor reviews
By the end of the course you'll make a great personal portfolio of your works
Cons:
Lasts one year but if you have the time this might be the perfect fit for you
Expensive, but a good investment
Focuses on usage of traditional media and materials and doesn't include information on programs such as the Adobe Creative Suite
Who it is for: Those who are seriously interested in pursuing graphic design as a career with previous experience in drawing or painting. This is a skills improvement course that does not carry any academic credits, so it will be useful for those with previous academic certifications.
Overall: This course is different from the other courses in our list because of the length and price, but this is the closest you can find to full coverage of the subject. It has amazing levels of structure, production, and is taught by an educated and credible tutor. We recommend it if you are already a part of the art world, and you are looking to branch out from your specialty.
What are the advantages of taking an online Graphic Design course?
Lifelong skills. Forget about boring presentations, dull PowerPoints, and never-ending Word resumes. Learning graphic design will bring color not only in your art projects but also in your everyday and professional lives.
Find your own voice in visual design – develop your unique style, take risks, and, maybe, your works will soon be world-famous!
Save your time while learning exactly what you want. With the wide range of available classes you can set your preferences to a specific topic – typography, graphic design programs, traditional illustration, etc. You are in full control over your learning process. Learn what you want, wherever you want, whenever you want.
Learn how to develop your own independent projects. Set free your inner artist and gain important experience while also training your skills.
Buyers guide: what to look out for
Below you can find a couple things you should be considering when picking the perfect online graphic design course.
Length of the course: you have to determine how much time you can dedicate to your studies. Potentially, look for courses with flexible deadlines and options to set your own time of studying. There are options for everyone, but be careful when choosing the right one for you.
Consider the necessary requirements for the course – do you have the right software? A lot of these corses focus around Adobe Photoshop and the Adobe Creative suit that you might need to purchase before starting. Other courses look at Canva, or graphic design through more traditional methods and don't require any new programs to be installed.
Price – the courses range from free to expensive, so it all depends on which one fits you better and how personalized you want your course to be.
How narrow is the subject of the course? Are you looking for a more broad introduction or an in-depth dive in? Do you have any previous knowledge on the subject and just looking to learn more about the Adobe Programs? Or traditional media? It is very important to think how specific you want your course to be.
Teacher qualifications – always check who is your tutor before beginning the course. Having the right teacher for you is crucial to a smooth and positive journey through the course.
What is your goal for the course – are you planning to pursue graphic design as your career or are you just looking to learn how to edit your resume better? Think about how committed you are to the subject when considering your options.
How much do Graphic Design courses cost?
In our list you can find courses with prices ranging from arond $50 to many hundreds of dollars. There are also courses available on platforms that provide free trials. While it does affect the level of how personal the process is going to be, price doesn't necessarily equal quality.
More expensive options provide personalized projects and assignments that will be graded or reviewed by your tutor. That makes the learning process more effective and you get to reflect on, and progress your work. However, personalized assessments also mean a lot of dedication, time, and effort, which might not be available for everyone.
Cheaper courses might not include personalized feedback but they are accessible and usually require way less time to complete, which might be the deal breaker for some students. Moreover, the quality of the materials on these courses make them excellent value for money.
Some of the courses are parts of bigger platforms like Skillshare and MasterClass.
A SkillShare membership is $14 a month, billed annually. This gives you access to over 40k classes across a vast range of creative skills.
MasterClass subscriptions are $15 per month, billed annually, and will give you unrestricted access to 150+ classes all delivered by world class, renowned professionals such as Marc Jacobs, Kelly Wearstler, James Cameron and Gordon Ramsay.
It's worth saying that with a subscription, the value for money increases with the more courses you take. And, in the long run, a subscription service can save you serious money. Not to mention, more subscription-based courses are being taught by industry leaders, so there's a lot to gain from dedicating yourself to a platform
How long does it take to learn Graphic Design?
From a couple hours to days to weeks to months to even a whole year – graphic design courses vary in time so much that it can even get confusing. Here is how to determine which ones are the best options for you.
Think about how much previous experience you have and how specific you want your course to be. If you're already an experienced designer and want to develop a specific skill of yours, then maybe a quick but concentrated one subject course will be perfect for you. Longer courses tend to include more broader overview of the subject, and, while they don't focus on one thing, they touch on more topics than shorter courses.
Online courses are generally adjustable to your timetable and you are the one setting deadlines and pace. However, it would be useful to also think about how much time the out-of-class assignments take and add that to the overall length of the course.
Conclusion
If you find yourself searching for a graphic design course, there are a lot of options for you to choose from.
I have selected Daniel Scott's course from Skillshare as a top choice – his lessons will not only give you a solid fundamental introduction into graphic design but also teach you how to manage the most demanded software in the industry. Learn how to visualize your ideas and thoughts through Photoshop and explore endless opportunities for further skill development with the free 1 month trial on the Skillshare platform.
Maybe for your preferences Coursera might be a more suitable platform. The CalArts specialization is offered by a world-renowned arts university. It has a fully accredited certificate and is an amazing way to set a solid base in the field of visual design.
If you are interested in subject-specific, shorter courses then Udemy might be the right platform for you. It provides individual courses that focus on a particular aspect of a larger topic. For example, Khalil Ibrahim's full and complete introduction to the Adobe Creative suite or learning graphic design through hands-on projects with Chad Neuman.
Different art universities also provide their online courses, but because of their length and price we would recommend them for those who already have basic experience in the field and want to improve their qualifications.
Hopefully, this article helped you find the perfect online graphic design course!
Related articles: Best Adobe Illustrator Courses, Best Online Fashion Design Courses, Best Drawing Classes, Frank Carson MasterClass review, Best online event planning course, Creative Fabrica review, best digital art course, best Blender course
Online Graphic Design courses: Frequently asked questions
What is the best online graphic design course?
Our top choice is the Skillshare Adobe Photoshop CC Basic Course, taught by Daniel Scott. It's an excellent course that will be useful for both beginners and intermediates. It's also part of the Skillshare subscription which provides access to thousands of clases. 
How much does the best online graphic design course cost?
Courses presented in this list vary in price from free to hundreds of dollars. Skillshare and MasterClass subscriptions are $14 and $15 a month respectively (payable annually). 
How long do online graphic design courses take?
Depending on your desired end goal the length of your chosen course will differ. If you are interested in graphic design as a hobby we would recommend taking one of the shorter courses, but for those seriously interested in pursuing it, the longer courses will be a better fit. 

Maria is a second year English BA student at King's College London with a real passion for creative writing, reading, and anything connected to text in general.