From weddings to corporate away days, events are everywhere. Whatever your profession, it pays to have the organizational skills to pull off an impressive event to wow your attendees and even make a profit.
Whether it's a birthday party, webinar or conference, you want to make your event memorable for all the right reasons. But where to start? We've compiled the very best online event planning courses out there to give you a helping hand.
If you're interested in launching an exciting new career in event planning, or have been tasked with organizing an important party, this best online event planning course review is on hand to guide you through the process of event planning – whatever your needs.
What is the best online event planning course?
Here are my top online event planning course recommendations:
There are many great event planning courses out there. I chose Event Planning Foundations on LinkedIn Learning as #1. It covers everything you need to know in short, sharp lessons and is a great starting point on your events planning journey.
LinkedIn Learning also offers accreditation, and if you purchase a membership then you can access hundreds of other great courses.
Udemy's 'Ultimate Guide to Professional Event Planning' gets second place. It's a fantastic value course covering all elements of becoming a professional event planner. There are other courses on this list which have a focus on event planning as a career, but for the low price, and the volume and range of content, this is a great deal.
All the other courses on this list are chosen to represent the diversity of learning options when it comes to event planning.
From Jeff Su's Event Management 101, the intensive professional courses from QC Event School and New York Institute of Art and Design or the branding-focused course from Tom Muller on Skillshare. There's something for you no matter what stage of your event planning journey you're on.
Best free online event planning course?
Though not strictly speaking free, both LinkedIn Learning and Skillshare offer a one month free trial period that will enable you to access these courses:
Best online event planning course reviews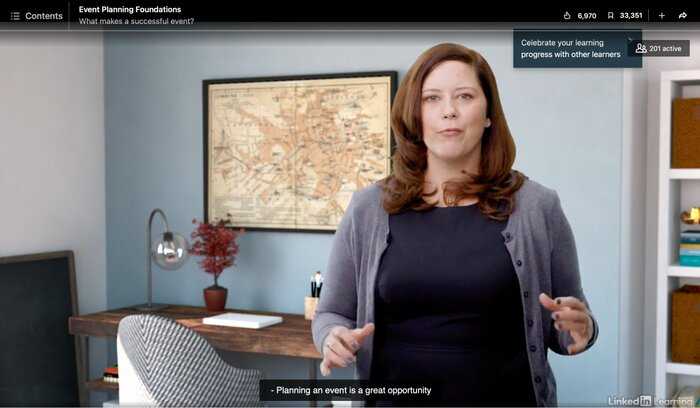 Platform: LinkedIn Learning | Teacher: Valerie Berry | Length: 20 video lessons totalling 50 minutes
From highly-regarded LinkedIn Learning, this Event Planning Foundations Course is a short, tightly-packed course which will give you an overview of the entire event planning process.
From understanding your audience and planning your timetable to avoiding technical meltdowns to the very best after-event gifts. Designed to those wishing to pursue a career in the events management sector, this course is focused on producing professional, corporate events.
You will learn:
How to understand your audience
The art of creating, negotiating and managing a budget
Everything you need to know about selecting a venue
How to plan a great menu that accommodates all your guests
The ins and outs of technology, including power and internet, lighting and sound, onsite support and how to avoid a technical meltdown
How to add extra flair to your events with personalized gifts
Managing transportation for your guests
How to make timelines, focusing on the two-week countdown before your event
Effective event management on the day of the event
Ways to follow up after an event
Pros
LinkedIn Learning is a well-regarded platform for creatives
Shareable certificate of completion
Quizzes at the end of each section provide an active learning experience
Extremely comprehensive course with great details on common challenges
Cons
Not aimed at the casual event planner and assumes you'll be working with clients and vendors. So if you're planning a personal event, this isn't the course for you
Whilst the course's brevity is a positive, there are areas where the instructor could have gone into more detail, such as how to build budgets.
Who it's for: With a focus on client and vendor relationships, this is the perfect class for someone interested in pursuing an events management career who isn't ready to shell out on a more expensive, in-depth course. Aspects of this course would also be extremely helpful for anyone who has any involvement in event planning and management, whatever their current position.
Overall: A comprehensive, bite-sized course covering the ins and outs of professional events management, from a respected platform which also provides certification.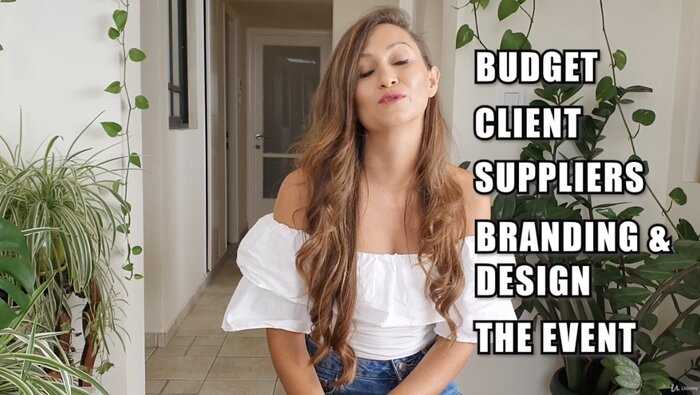 Platform: Udemy | Teacher: Karin Patya | Length: 36 video lessons, totalling 4 hours and 3 minutes
This course is aimed squarely at those interested in a new career in event planning.
Teacher Karin goes beyond the bare bones of budgets and supplies to offer incredible tips on how to market yourself as an event planner, including how to look professional and general organizational tips.
What you will learn:
How to build skills and habits which will help your event planning process
Best practices for working with a client
How to work with suppliers, including building good professional habits, and what to look for during a site inspection to make sure you're getting the very best value
A very detailed breakdown of how to manage your budget
The difference between branding and design, including event concept, decoration, and how to develop these ideas with your client
How to use Canva as a free design tool
How to use Wix and Google Forms to efficiently register attendees
Navigating the event itself, from reviewing the event from A-Z to conducting yourself professionally during an event
How to navigate events post-Covid
Pros
Specialized sections on different event types such as conferences and weddings, giving you a broad range of expertise
Karin has over ten years of event management experience
Builds skills and habits that are highly applicable in other areas of your life too
Cons
A great course if you want to launch a new career, but if you're just putting on a one-off event then you don't really need the level of detail in this course
The teaching style is pretty informal, so if you thrive off structure and tasks then I would recommend checking out a different course for a better learning experience
Who it's for: Both beginners and event planners who want to improve their skills are welcome. There is a strong focus on how to professionally conduct yourself as an event planner and build lasting event planning habits, so if you aren't interested in building a career then this might not be the course for you.
Overall: A fantastically detailed course from a seasoned professional that's packed with advice and encouragement.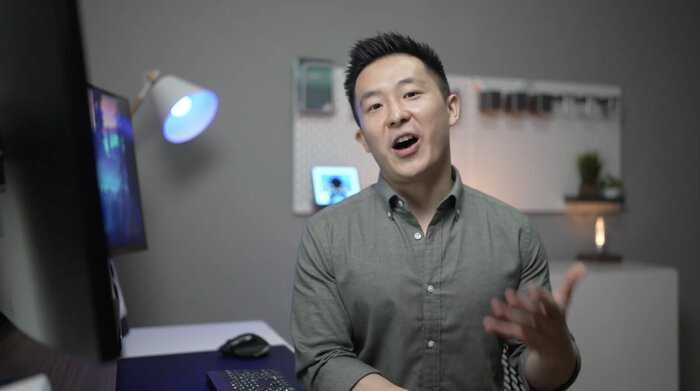 Platform: Skillshare | Teacher(s): Jeff Su | Length: 11 video lessons, totalling 34 minutes
Using his signature Google Sheets template, in this course Jeff Su talks you through how to use it to plan any event, from a small-scale meeting to a large formal event. In his opinion, all event planning follows the same basic steps – it's just a matter of scale.
What you will learn:
An overview of Jeff's spreadsheet and how to manage it
To use overview, raw data and key information tabs to get a handle on all your event details
How to use the spreadsheet pre-, during and post-event to keep organized and run a smooth and professional event
Advanced project management tips to apply to your event – or any other project!
Pros
Jeff's spreadsheet is a great organizer for anyone planning an event, and is easily customisable for any project you take on
Breaking down the lessons into clear section, this is a very detailed guide, so even if you're not familiar with Google Sheets you'll leave this course with a clear understanding
If you're just interested in putting on one event, this course is a great option as it doesn't include sections on how to pivot your career or build a business
Cons
On the flipside, if you ARE looking to begin an event planning career, this course only focuses on how to use the spreadsheet and doesn't touch on the other necessary skills for becoming an event manager.
If you don't like spreadsheets, then you likely won't enjoy this course. However, it may also present a great learning opportunity…
Who it's for: Anyone interested in learning an effective event planning strategy that they can employ again and again. This would also be a great course for anyone who wants to learn more about how to use Google Sheets.
Overall: A focussed course looking at Google Sheets as an event planning tool, which would be great to novices or seasoned event planners looking to learn new techniques.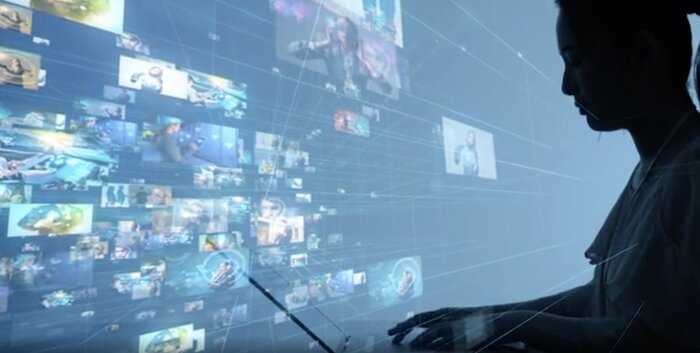 Platform: LinkedIn Learning | Teacher: Taylor Estes | Length: 16 video lessons, totalling 50 minutes
Post-pandemic, virtual events have taken off, and it looks like they're here to stay. This course will guide you through the transition from in-person event planning to online events. Rather than treating online events as second best, instructor Taylor Estes will teach you how to craft transformative online events that are inclusive and environmentally conscious.
What you will learn:
What user generated content is, and how to incorporate it into your event
The importance of production in virtual events, and what tools and tactics you can use in yours
How to assess the pros and cons of live versus on demand virtual events
The business case for virtual events, including sustainability and inclusiveness
Pros
Virtual events are the future, and this course will equip you to face the changing events landscape with confidence
As with other LinkedIn Learning courses, this class comes with a certificate of completion
This is a really tight, focussed course that deals with virtual events and doesn't get bogged down in the details of event planning more generally
Cons
This course isn't going to give you a comprehensive overview of the entire event planning process, so if you're a total beginner then I recommend checking out other courses mentioned in this list
This is a professionally-oriented event – there isn't much content about transferring personal and family events into the virtual world,
Who it's for: A great fit for someone with experience in in-person events who is struggling to work out how to transfer their skills into the virtual event sphere.
Overall: A timely course that is sure to be relevant to many event planners and professionals.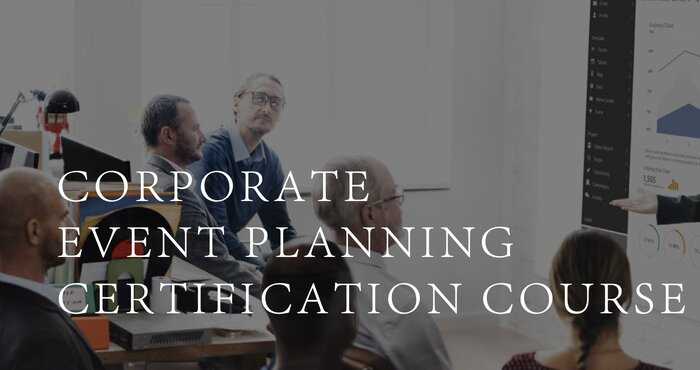 Platform: QC Event School | Teacher: Alyssa Perna | Length: no data
This intensive course is designed to equip you with all the skills you need to become a professional event planner. With one-on-one feedback from industry expert tutors, hands-on assignments and a final certification, this course is a great option if you're willing to invest a significant amount of time and money to learn a new career.
You will learn to:
Understand the whole process of corporate event planning
Research and select a venue, including common venue policies and negotiation practices
Navigate seating arrangements, room layouts and catering considerations
Get to grips with technical equipment, the role of audience engagement technology, incorporating livestreaming, webinars and other tech-related elements
Incorporate event decor, corporate event designs and visual branding
Use multi-channel marketing strategies and web design, SEO and content marketing for event promotion
Deal with risk management and contingency plans and insurance
How to manage a range of event types
Evaluate the success of your event
Master the skills to pursue a career in event management and promote your event planning services.
Pros
One of the most intensive, extensive courses out there
The section of marketing yourself as an event manager is pretty unique, and certainly very important when it comes to starting your own business
QC Event School is a faculty of QC Career School, which has been educating creative professionals through distance education for 35 years
A highly regarded, accredited platform and this course comes with certification upon completion
Cons
All this learning comes with a price tag
Would benefit from more upfront information about how the course is taught so you can assess whether it matches your learning style.
Who it's for: This is a great course for anyone who is completely confident that they wish to pursue a career in events planning, and is in a financial position to commit to the course fees.
Overall: An amazingly in-depth course from a well-respected platform that contains valuable advice on all aspects of launching an event planning career.
Platform: Udemy | Teacher: Alex Genadinik | Length: 79 video lessons, totalling 5 hours and 43 minutes
This course focuses on putting on an event series, using a specialized set of skills and techniques particular to multiple events. As well as planning events, Alex will also teach you how to monetize and promote them to grow your audience and revenue. From small interest groups to large corporate events, this course has you covered!
What you will learn:
The elements of a successful event and how to market them
Everything you need to know about setting up your event listings on Eventbrite and Facebook, and how to tailor advice to different events
How to employ pre-event marketing to generate a buzz and grow your audience
How to market your event during and after
Methods for attracting publicity
The process of actually managing your event, including finding staff, pitching event sponsors, securing a venue, etc.
How to deal with event vendors, contracts, event insurance and an business registration
All about event merchandise to take your branding strategy to the next level
How to get extra reach with Facebook and use FB Business Manager for ads
The basics of creating your own website
Pros
Packed full of content – with 5 hours of video covering everything from negotiating with vendors to running ad campaigns and merchandise
Focus on marketing is unique to this course
Great insights into marketing tools like Facebook
The scope of this course means that you can tailor your approach depending on your needs, but it still contains so much amazing and relevant content
Cons
Not suited to someone looking for some quick advice about a one-off event
The focus on marketing might not be relevant to those who are putting on events with a guaranteed attendance, e.g. internal team events.
Who it's for: Designed for professional event planners and those who have to put on a series of events as part of a wider business alike. This is a brilliant option for someone who is interested in running a series of events, building an audience and creating revenue.
Overall: Whether you're a professional event planner or total novice, this in-depth, wide-ranging course is sure to have something for you.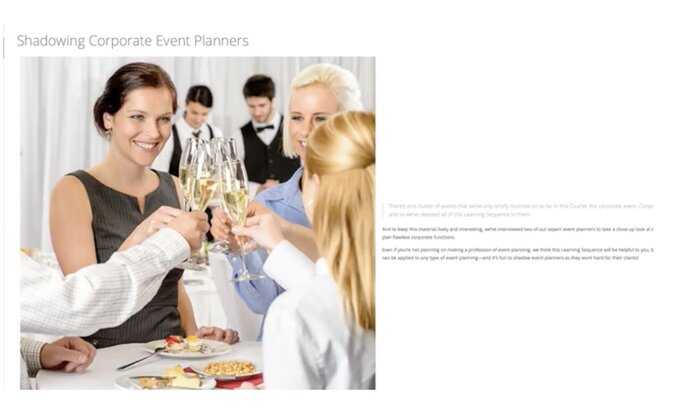 Platform: New York Institute of Art and Design | Teachers: Jocelyn Didier Clisti and Regina Cialone | Length: no data
This course from the well-regarded New York Institute of Art and Design is designed to give you the skills you need to become a professional event planner.
It's on the pricey side, but is jam-packed with great content from respected event planners and comes with one-to-one feedback from a professional event planner as your mentor, and access to a team of advisors to answer any questions you might have.
What you will learn:
Key information relating to all aspects of a potential career in the event planning industry
How to choose a venue and create a guest list
The best way to interview and hire vendors, as well as the types of vendors you'll find yourself collaborating with
The ins and outs of fundraising and corporate events
How to tailor your events to all ages and stages
The art and requirements of planning events in a distant location
How to beat event stress, establish realistic expectations with your client and handle all emotional eventualities
The wisdom shared by New York City wedding planner Katie Berger, who walks us through the planning a high-profile fundraising event
Crucial information about starting your own business, as well as marketing, networking and growing your business
Pros
Highly practical with projects to put your skills to the test
Access to mentors for expert feedback on your progress
Taught bu a well-respected body with a good reputation and high standards
Access to a student forum to share your experiences with other people taking the course – this is also a great networking opportunity
Cons
Like the QC Event School course, this is an expensive program, so only take take the leap if you're committed to building a career in this sector
It's not not clear on the website how much content there is, or how long it will take take to complete (though you will have access to the content for 18 months)
Who it's for: This course is ideal for someone who is ready to launch a new career in event planning, and wants to get a comprehensive and rigorous education.
Overall: A well-respected, intensive course with a price tag to match, this programme covers everything you need to know about event planning and building a business.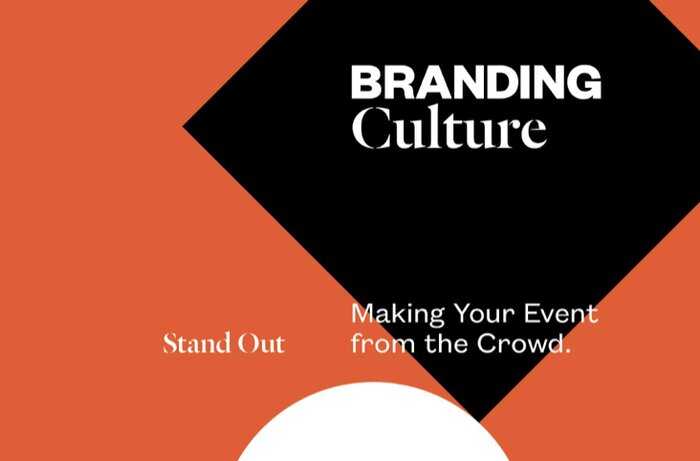 Platform: Skillshare | Teacher: Tom Muller | Length: 4 video lessons, totalling 51 minutes
Award winning designer and creative director Tom Muller leads this focussed program on how to brand your event to stand out from the crowd. With insider tips and tricks, this course delves into techniques to attract your audience and communicate your event, from logos and visuals to tickets, posters, and supporting material.
This course is aimed at designers who are interested in creating a brand system and message for a client, bringing your ideas to life in an event.
What you will learn:
A comprehensive introduction to event branding and how to set up your project for success
How to approach designing a 'Identity' and the event's key visuals
Methods for creating a consistent look and feel throughout your event and its corresponding advertising, branding and ticketing
Tips on publishing your work
Pros
Whilst this is a pretty niche course covering only the branding element of event planning, visuals and design are a key element of any event
Tom Muller is hugely successful and has worked with some major brands, so you can be sure you're learning from the very best
This course is simple and short, meaning that it is easily digestible and you can start applying its principles to your own events in no time
Cons
If you're new to the world of events, this course isn't going to give you a rundown of the basics. That said, there is still a lot to learn from this program, so consider pairing it with an event planning introductory course
Aimed at producing external events so may not be relevant to you if you want to create internal team events or small family functions
Who it's for: Anyone looking to elevate the design aspects of their event branding for a slick and cohesive campaign
Overall: This niche course is a goldmine for anyone passionate about design, and will help anyone interested in planning an event to take their branding to the next level.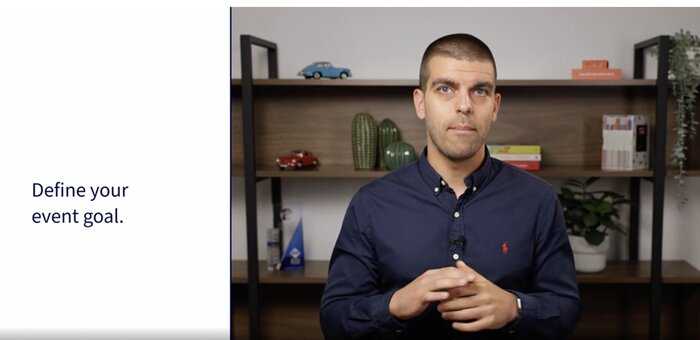 Platform: LinkedIn Learning | Teacher: Boris Hristov | Length: 21 video lessons, totalling 1 hours and 1 minute
Virtual events are here to stay, and in this course Boris (a virtual event and presentation skills expert) will guide you through the ins and outs of virtual event planning. From defining your event goal and target audience to securing sponsorship and using data insights post-event.
With exercises to keep you engaged and a certificate of completion, this is a rewarding course which will be useful whether you're a seasoned event planner looking to branch out into virtual events or a total novice.
What you will learn:
How to define your virtual event goal and target audience, and how to create a virtual event brand
Everything you need to know about budgets and logistics, including how to outline team roles, select your date and platform
How to navigate event marketing and sponsorships
How to define your marketing strategy, compile a sponsor list, create sales and sponsorship presentations and compose event sponsorship proposals
Effective ways to collaborate with event speakers, and prepare your event day
How to create tech and moderator scripts.
Methods for assessing and communicating event insights, including how to organize an event retrospective and analyze your virtual event data
Pros
Highly relevant to today's post-pandemic world – the virtual events sector isn't showing any signs of slowing down any time soon
The certification included in this course is a great way to demonstrate to current and future employers that you know your stuff when it comes to virtual events
The sections on post event data insights and supporting speakers are pretty unique features that can be applied to many other events, both in person and virtual
Cons
Of course, this program doesn't cover in person events, so if you're looking to get into event management more broadly then it is a bit limited
Who it's for: This is a great course for anyone who wants to brush up on their virtual events skills, even if they have no experience in this field.
Overall: A very useful course that will be highly relevant in today's professional landscape.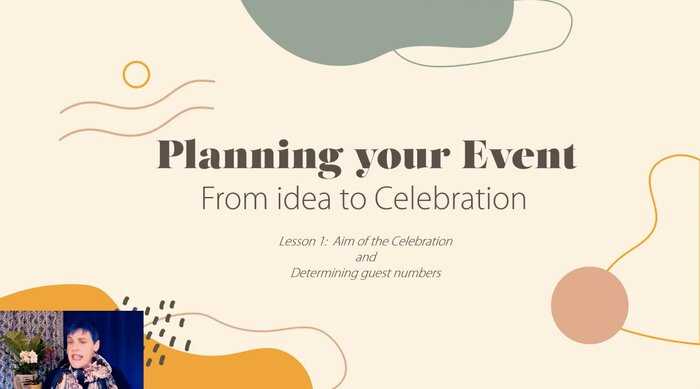 Platform: Skillshare | Teacher: Liezel Short | Length: 11 video lessons totalling 1 hour and 17 minutes
What if you want to plan your own celebratory event, but you don't want to get bogged down in corporate details about sponsorships and branding? This course is full of ideas and advice on how to pull off your own small celebration, such as a birthday party or graduation, with no need for a professional event planner.
What you will learn:
How to focus the event by determining the aim of the celebration and working out guest numbers
How to crunch the numbers and create a budget
Tips for choosing the perfect venue and inviting your guests
The best way to determine your decor and create a mood board
All things food and drink with menu and bar planning
How to choose entertainment to keep your guests happy
Everything you need to know about your event timeline and setting up on the day
Pros
Close focus on the absolute necessities of small event planning
The examples of the tutor's own work are beautiful and will inspire you to think outside the box and create a unique celebration
Life is full of milestones! You can use everything you've learned in this course for birthdays, Christmases, achievements and more
Cons
If you want to become a professional event planner this course isn't right for you
As this course is focused on small events, there isn't much about working with vendors and third parties, which may be important to you depending on your event.
Who it's for: This course would benefit anyone who wants to get creative and put on an intimate event to remember.
Overall: A rewarding course that will equip you with event planning skills and inspiration to create magical and memorable events for friends and family.
What are the advantages of taking an online event planning course?
Events are everywhere! In your professional life, it can really pay to have event planning skills (especially if you've got a certificate to prove it) to make you stand out from other candidates at the interview stage.
Event planning can be a lucrative career path, and taking one of these courses will equip you with the skills you need to launch your own business and start taking on clients
On a personal level, who doesn't love a good party? Whether it's a wedding, a birthday or a holiday celebration, taking an online event planning course will help you throw an amazing celebration to fit any occasion.
Learning online means that you can follow along at your own pace and fit learning around your schedule. It's also often far cheaper than in-person courses.
Buyers guide: what to look out for
What do you want to learn? There are so many learning options out there that it's good to get an idea of what your aims are before embarking on a course. For example, do you wish to pursue event planning as a career, or are you looking for some direction for a one off event?
What kind of events are you interested in running? Virtual events are more popular than ever, and there are plenty of courses focusing exclusively on online events. Conversely, there are courses that focus on corporate events, and others that pay attention to small-scale, intimate events.
What's your budget? You can spend hundreds of pounds on an intensive, accredited course, or you can access some courses for free via a trial of LinkedIn Learning or Skillshare.
How much does it cost?
The price for the courses included on this review range from around $60/$70 to just under $2000. Some can be taken for a free as part of a trial of subscription platforms like Skillshare or LinkedIn Learning.
A couple of the courses in my list are expensive. But these typically come with live teaching, full accreditation and one-on-one support from professionals.
If you're investing in a whole new career, then I'd say those courses are worth it. Especially when compared with the costs of attending an in-person class. And, of course, they have the added bonus that you can learn at your own pace.
How long does it take to learn event planning??
The length of courses in this review range from just under an hour to courses designed to be completed over several weeks.
Event planning is a lengthy process, so if you're putting on your own event then the process takes several weeks (if not longer!)
Many of these courses are self-paced, so you can revisit them whenever you need to.
Conclusion
As you can see, there is a vast and varied array of options when it comes to learning event planning.
LinkedIn Learning provides great event planning courses designed to get you planning and running your own events in no time, and the subscription service means that you can access multiple event planning courses at no extra cost.
Skillshare offer some great, specialized courses to hone your branding and marketing skills, whilst QC Event School and the New York Institute of Art and Design provide intensive courses designed for those serious about a career pivot into the sector.
Hopefully this article will have outlined the range of options available, and helped you to understand the best event planning course for you!
Related articles: Best project management courses, Best online hospitality courses, Best social media marketing courses, Best public speaking courses, Best graphic design courses, Best excel courses, Best online sales courses
Event Planning Courses-Frequently asked questions
How much does an online event planning course cost?
The courses in my list range from free as part of a trial to over £1000, with most falling in the $60-$70 range. Often this is cheaper than attending in-person classes, and you can learn at your own pace.
How long do online event planning courses take?
These courses range from just under an hour to programs designed to be completed over several weeks.

Hannah is currently studying a Masters in Modern Literature and Culture at King's College London.  In her spare time she enjoys hiking, writing and cooking.