3D content design is no longer only for a select few technical experts. With Blender, a completely free-to-use software, anyone anywhere can become their own 3D artist, you included.
Whether you're a budding animator, video game designer, or visual effects maker, Blender's capabilities cover all areas of 3D graphics design. But even with such a user-friendly platform, the learning process can be made a whole lot easier, and take you a whole lot further, with the help of an online course, so you can make the most of all the tools Blender has to offer.
With so many things available to learn, it's important to pick the right course for your needs.
That's why I've picked out only the best Blender courses out there, comparing their offerings, so that by the end of this article, you'll be able to go right ahead on your journey towards becoming a Blender pro.
What is the best Blender course?
Let's get right to my picks for the top ten online Blender courses:
For me, Udemy's Complete Blender Creator is the best Blender course out there. It gets the balance just right, offering way more content than the average beginner course while still being careful to take you step by step with a series of short approachable videos you can watch at your own pace, yet enough of them that you get to delve deep into Blender's many features. 
And this course doesn't just fill you with info, it provides example projects so that you can put your knowledge into practice, and learn the skills to do things your own way too.
My second choice would be edX and their Basic 3D Animation Using Blender course for its diverse teaching method that uses assignments, quizzes, and real-person feedback as well as video content, keeping you engaged.
It's important to say though that Blender's capabilities are so wide that no one course fits all – this list should provide the course that suits your needs.
Best free Blender course
Your First Day in Blender 3D: this perfect introduction to Blender is on the Skillshare learning platform. A one month free trial gives you access to this course along with thousands of others on Skillshare
Basic 3D Animation Using Blender: this edX course is accessible free for 30 days, but unlike the paid version, does not come with graded assignments or an official certification
Best Blender course reviews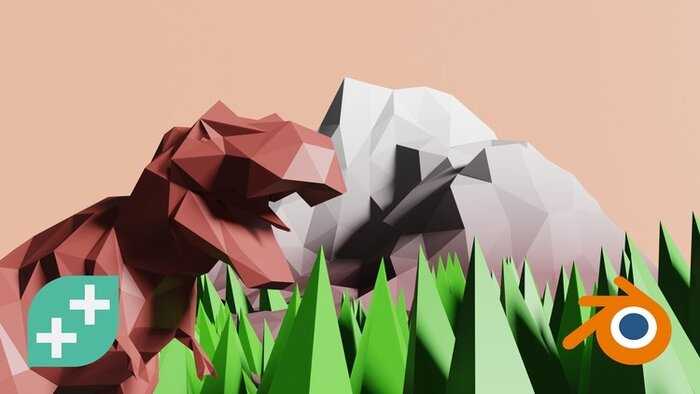 Platform: Udemy | Teachers: Rick Davidson, Grant Abbitt | Length: 101 video lessons totaling 13 hours
Eager to get into 3D computer design but unsure of what terms like 'rigging' or 'motion tracking' even mean? This course gets you cracking on the basics from the moment you download the software. 
But a beginner's course doesn't mean you don't deserve an expert teacher – Rick Davidson has decades of experience in the industry, even running his very own game studio.
You'll learn to:
Navigate the platform with confidence
Make 3D models from scratch for all kinds of purposes, from video games to digital sculptures
Turn models into basic animations
Pros:
Takes you step by step, right from your first time opening the platform
Provides model projects downloadable to Blender right away, so you can learn by doing from the get go
Provides content for different versions of the software, so whatever one you use, you're covered
Additional resources to spice up the way you learn
Cons:
If you already have some experience with Blender, you may find a lot of the course to be well-trodden ground
If you don't subscribe to Udemy, you'll have to pay significantly more to access the course
Who it's for: Those with a desire to get stuck in with 3D modeling, but in need of the basic skills to jumpstart their journey. With the knowledge this course provides, you'll quickly banish any beginner's nerves, and be well on your way toward 3D graphics wizardry.
Overall: The course's bestselling status is well-deserved, and with a free trial to Udemy you can get started commitment free. And with such easy-to-follow videos, and so many projects to learn through, you might find yourself no longer a beginner in no time at all.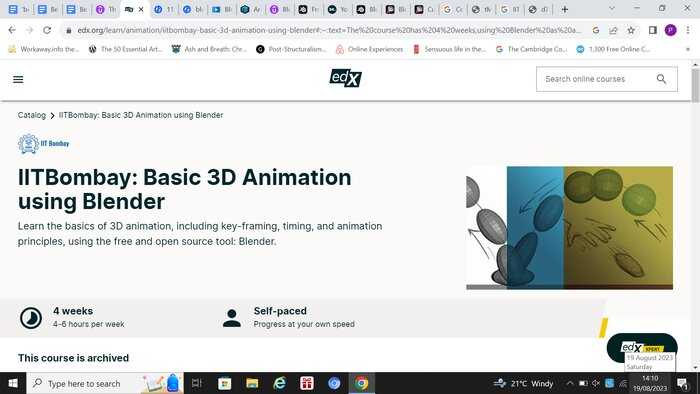 Platform: edX | Teacher: IITBombay | Length: 4 week course with 4-6 hours of content a week
Learning animation can sound like a costly and tricky task. This course proves that doesn't need to be the case. With free access for a whole month, you can get your basic animation skills nailed without spending a cent. 
But skimping on price doesn't mean skimping on value – these classes are packed full of interactive learning content, including quizzes and hands-on assignments. 
You'll learn:
The basic principles of animating objects
To make animations that move in real time
To get confident with the ins and outs of the Blender software
Pros:
Variety of interactive content to suit all types of learners
All course materials are available completely free for 30 days, offering plenty of time to get cracking
Taught by experts at IITBombay University, so you'll learn from the very best
For a one-off payment, you can get your assignments graded by a real teacher
Cons:
Doesn't cover the animation of characters, but only simple objects, as it is only an introductory course
Course is now archived, so won't be getting any new content
Assumes you already have a basic understanding of making models in Blender
Who it's for: Those with a little knowledge of the Blender platform, but lacking in the skills to bring their models to life. If you have a passion for animation but aren't sure where to start, you may have just found what you're looking for.
Overall: Blender covers many aspects of 3D design. Taking a beginner course can cover lots of different ground. If it's animation you want to learn, why not learn to use Blender through animation from the start? And this is one of the few no-commitment ways to do it, so you've nothing to lose.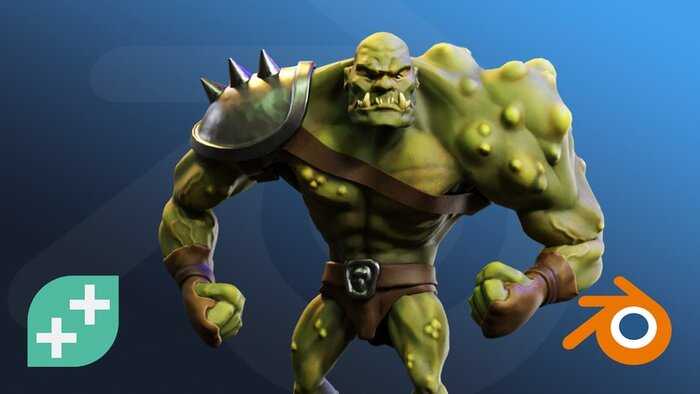 Platform: Udemy | Teachers: Rick Davidson, Grant Abbitt | Length: 120 video lectures totaling more than 17 hours
Taught by the same team behind the Complete Blender Creator course on Udemy, these lessons offer the same approachable form of teaching especially on making 3D characters.
Despite being a specialized course, the GameDev team retain the same method of learning everything from beginning to end, so even a complete Blender novice can start animating their own characters in no time.
You'll learn:
To make the basic modeling shape of your video game character
To sculpt and texture that character to a professional level of detail
Character 'rigging' , adding all the joints and bones to get them animated and moving
To transfer your character model onto the game-design platform Unity, taking you one step closer to making your video game a reality
Pros:
With a Udemy subscription you can gain access to the other courses taught by the GameDev team
No prior experience needed
Provides project files that get you working on real characters as part of the learning process
Cons:
As it assumes no prior knowledge those with more experience might find parts of the course repetitive
Doesn't use the latest update of Blender, so some features might be outdated
Who it's for: What makes this course special is that it teaches an in-depth course tailored to video game designers, yet still remains approachable for complete beginners. So if you want to start designing characters for your next big video game idea, or your very first video game idea, this course is for all.
Overall: The GameDev team have made another Udemy bestseller with this course, allowing both those with experience and without the opportunity to jump from general info straight into the practicalities of making detailed, impressive video game characters.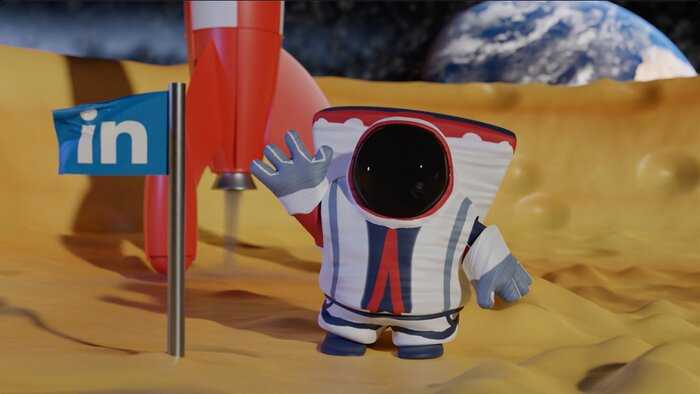 Platform: LinkedIn Learning | Teacher: David Andrade | Length: video content totaling 5 hours
Beginner courses in Blender often offer little time to explore the many possibilities the software offers.
If you don't just want to pick up basic navigation skills, but want to get a taste of what 3D design can be used for, from sculpting characters for video games to making animated visual effects for film, this course might just quench your curiosity.
You'll learn:
The updates and features the new 3.3 version of Blender has to offer
To make objects and characters with artistic flair, using shading and texture
Object 'rigging', so you can turn your models into animations
Pros:
Video tutorials come with progress check quizzes
Deals with the intricacies of the latest updates to Blender
Covers the basics PLUS specialized info like environment lighting, so that even those with some experience with Blender can learn something new
Cons:
All taught content comes in short videos, easy to watch but lacking in variety
Not for those looking for depth as it covers such a lot in a short time
Who it's for: Those with a creative curiosity but with little or no familiarity with Blender. This course covers the basics without being dull, letting you explore what you are capable of doing with the software so you can find out where your passion lies.
Overall: LinkedIn Learning is a great platform for learning career skills. With a free trial you can access this course along with thousands of others to see whether it's for you.
This course offers short and simple videos that cover so many different areas that it is sure to satisfy your creative curiosity, and provides those with an interest in Blender unsure of what aspect of the software they want to delve into the perfect introduction.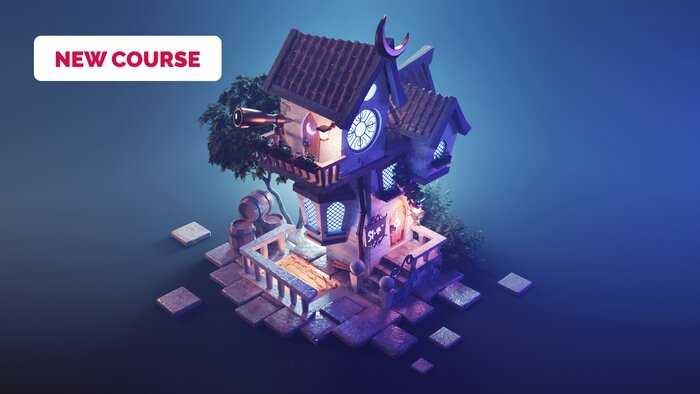 Platform: Polygon Runway | Teacher: Roman Klčo | Length: video content totaling more than 9 hours
Already know how to make your way around Blender? Ready to bring your project into 3D reality? 
This course is specialized for those looking to make professional 3D environments. Whether you want to design your dream house, or make a post-apocalypse landscape for the next hit video game. 
You'll learn:
Not just technical skills, but how to research and plan your project to take your ideas from imagination to reality
To make complex models, from houses to trees, with advanced texture and lighting tips
Post-production tips, so you can get your models up to a professional standard
Pros:
Provides project specifications, so you can make actual models as part of the learning process
Though not a beginner course, the teachers over at Polygon Runway explain things step by step, so no one is left behind.
Community chat group, so you can get help and support with whatever you may be struggling on
Cons:
More expensive than a lot of the courses listed here, but the one-off price provides specialized, in-depth knowledge
Focuses on making houses and trees, so that other aspects of environment building aren't covered in as much depth
Who it's for: Those looking to get their first 3D environment built on Blender, whether they're already experienced in another software, or completely new to environment building. The course covers all you need to get going. Polygon Runway is made for and taught by illustrators, so if you need to make a setting of professional quality for your project, this is the place to do it.
Overall: What separates this course from the others is the extent of its visual design focus. This course isn't technical for the sake of being technical, but instead teaches you techniques that'll get your 3D projects looking just how you imagined them in your head.

Platform: Blender Studio | Teacher: Jonathan Williamson | Length: video content totaling more than 4 hours
What better place to learn how to use Blender than through a course taught by the Blender team itself? This course is unique in being a beginner course made for experienced 3D artists. With short how-to videos and downloadable project files to work on, this course provides everything you need to know to use Blender with ease for anyone only used to using other 3D content platforms.
You'll learn:
What makes the Blender interface different from other software, so you can adapt with ease
The best add-ons Blender offers to improve your models and animations
How to import your 3D content from other platforms onto Blender, so you don't have to start from scratch
Pros:
You don't have to waste time with a beginner course that goes over the knowledge you already have
The course provides a variety of project files from characters to sport cars so you can start applying your skills to premade models
The first two sections of the course are completely free
Cons:
The subscription service for Blender Studio doesn't offer a free trial
Despite being for 3D artists moving to Blender for the first time, the course doesn't cover individual differences between platforms
Who it's for: Experienced 3D artists ready to make the move to Blender and the unique features it offers. Making the transition as smooth as possible, the extensive nature of the course offers completely new content too.
Overall: The subscription fee provides access to every course on the Blender Studio learning platform, as well as hundreds of movies made using Blender itself. With all proceeds going towards keeping Blender free and open to all, taking this course is an investment into what makes Blender so different.
Once the course has got you using Blender as if you never used anything else, you can continue your learning journey by taking any of the other courses Blender Studio offers.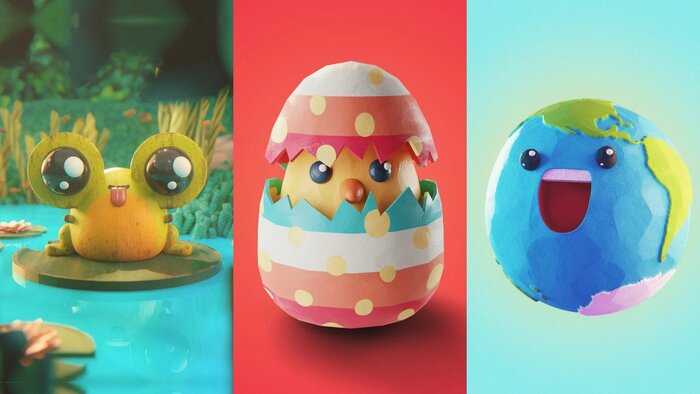 Platform: Skillshare | Teacher: SouthernShotty3D | Length: video tutorials totaling 34 minutes
Beginner courses often overload you with so much info that it can be intimidating. This course does what it says on the tin – a few videos just minutes long get you comfortable moving around the Blender platform in less than a day.
You'll be surprised how much this course packs into a matter of minutes. By the end of it you'll be confident enough with the platform to take the next steps without any beginner nerves.
You'll learn:
What each feature and button of the software does, so you can see for yourself Blender's full potential
To apply what you have been taught to creating your first ever 3D object
Pros:
This really is as approachable as Blender courses get, giving you that much needed confidence boost
With a free trial to Skillshare, you can access and complete the course for free, as well as accessing the thousands of other courses Skillshare has to offer
Gets you to apply the knowledge it teaches to building your first model
Cons:
The course won't get you making your own complex models, but then again, that's the whole point of its introductory nature
All learning takes place through video tutorials, so if that's not the best way you learn this course isn't ideal
Who it's for: Those curious about Blender and what it offers who want to test the waters to see if it's for them. This course was designed so that by the end you'll know what are the right next steps for you, saving you the time and money of a longer course that doesn't suit you.
Overall: Taught by a motion design professional, this course has gained tens of thousands of students through being a quick and easy way to get familiar with Blender. It provides a real no-strings-attached introduction so many other beginner courses lack. 

Platform: Blender Studio | Teacher: Midge Sinnaeve | Length: video tutorials totaling 4 hours
If you're looking to make stunning visuals that come to life – whether for a movie or advertisement, a personal or professional project, then this is for you. All you need is some basic knowledge of Blender, and you're ready to roll. A unique teaching method that actually shows you the full graphics making process through a professional level example. This course is anything but dull.
You'll learn:
The essentials of camera movement and cinematography
To make eye-catching visuals through lighting, shading and color composition
To make professional quality title and credit sequences
Pros:
Teaches through a breakdown of a motion graphics project, so you can learn by example
Provides the source files of the example for download, so you can experiment with it
By subscribing to Blender Studio, you get access to all the other learning courses as part of the same monthly payment
Cons:
The course assumes some prior knowledge of Blender, so isn't for complete beginners
There isn't a free trial, so you need to pay upfront to access the learning materials
Who it's for: This course is geared perfectly toward those looking for professional quality graphics for specific film projects but with only a limited knowledge of how to realize that project on Blender. The classes are as thorough as it gets, so you'll leave with the confidence you need to bring your project to full-motion life.
Overall: Takes you through a real motion graphics production process, pulling apart different shots that show you various techniques and effects that you can then apply straight away. This course manages that difficult balance between covering lots of areas, while offering the space for you to get creative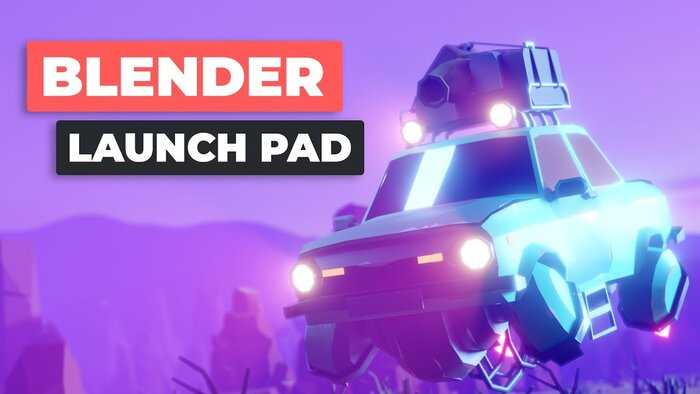 Platform: CG Boost | Teacher: Zach Reinhardt | Length: video tutorials totaling over 22 hours
Perhaps the most extensive beginner course on this list. Zach Reinhardt founded Blender learning platform CG Boost back in 2019 as a remedy to the bits-and-pieces learning approach of YouTube tutorials.
With a no-fuss one-off payment you get access to a course that doesn't just cover the basics, but gets even the totally uninitiated using Blender like a pro.
You'll learn:
To navigate your way around the Blender interface with confidence
How to make your first 3D model by doing it yourself with step by step guidance
The fundamentals of animating an object using a car as an example
Pros:
Packs a great amount of content in for the price, giving you more value than most beginner courses
Provides project files for you to download and learn by example from
Gives certification on finishing the course, a great addition to your CV
No subscription fee, no impossible to cancel free trial – for a one-off fee you get access to the course forever, including any new updates
Cons:
Teaching is entirely through short video tutorials, so the course is lacking in more interactive content
The in-depth approach can sometimes feel like information overload
Who it's for: This is for the beginner who means business. For those serious about learning to use Blender who want to jump right in, this course's no-nonsense approach gets you immersed in the program from the word go, meaning that even those with no experience with Blender cannot help but quickly get up to speed.
Overall: This course is taught by a team devoted to the Blender software, and it shows in their expertise. You won't just be given the basics and left to figure out the rest for yourself – you'll be taken through each button, each feature, with enough detail that you'll acquire all the knowledge you need to start making your own stuff on Blender – something that can't be said for a lot Blender courses.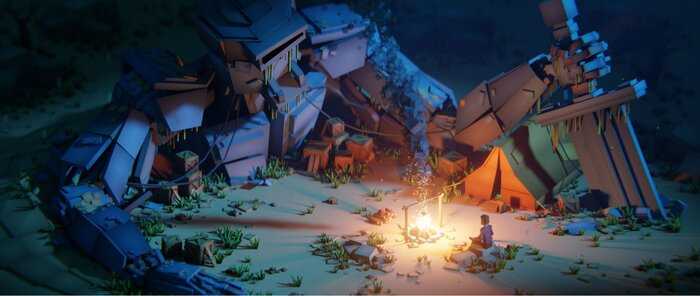 Platform: CG Boost | Teacher: Zach Reinhardt | Length: video tutorials totaling over 22 hours
What makes this course different from all the others on this list is its creative focus. For those with a little Blender know-how already who care more about the software's creative potential than becoming computer geniuses, this is for you.
This course teaches you to make simple animations with a Lego-cube like approach, so that you spend more time learning how to make a great animated story, rather than focusing on too much technical detail. These classes are for the storyteller in you.
You'll learn:
The ins-and-outs of your first animated scene constructed using simple cubes
To edit scene compositions to enhance the final look of your project
How to edit different scenes, adding text and a soundtrack taught by a professional sound designer
To build and rig different objects and characters, including humans, animals, robotics and vehicles
The basics of animating a human character
Pros:
Has a unique focus on scene making and editing to build up a story, not a usual focus of Blender courses
By using simple cubic animations, all you need's the most basic knowledge of Blender to start making your own story-focused animations
If you don't yet have the necessary Blender skills, this course was made to be the perfect follow on to CG Boost's Launch Pad beginner course
Cons:
A one-off payment is needed to access the course, so requires a level of commitment
With so much content all in short video formats, things can get a little repetitive
Who it's for: Those with a basic understanding of Blender, who are looking to create their own animated story projects, and don't want to waste too much time on unnecessary technical skills. This course is about getting creative right away by offering an approachable and simple way to make animations.
Overall: Unique in valuing story-making over mastering techniques, this course is perfect for those who want to use Blender to bring their ideas to life without wading through unnecessary info. It's designed to get you making projects as soon as possible, not just turning you into an encyclopaedia on all things Blender. 
What are the advantages of taking a Blender course?
A unique way to express yourself. We all know art is a great way to unleash your creative side, and learning to make 3D art is a new and exciting way to do it
Set yourself out from the crowd. There's no better way to strike up a conversation with someone than with a little-known hobby. Next time someone asks about what you do with your freetime, you'll have something that really gets the conversation rolling
Skills that go beyond just Blender. Learning to use Blender isn't just about the software itself. Along the way you'll learn essential design skills and terminology, increase your computer literacy, and refine your creative impulse and ideas. All skills that'll take you far in both your professional and personal life
Buyers guide: what to look out for
Blender can be used for many different purposes, so here's a list of things to look out for before settling on the course that's right for you:
What level the course is at: in general all beginner courses are simply called beginner courses. Any course that teaches something specialized like character animation or motion design is likely to require previous Blender knowledge
Course content: Blender is a tool that can do a lot of things, and even beginner courses vary in what they offer, some offer basic animation info, some stick to 3D modeling. Make sure you look at the content specifics
What examples does the teacher use? Specific courses tend to teach using a specific example – a 3D environment course might focus on houses and trees, or an animation course might only talk about human characters. It's always a good idea to make sure the examples used fit what you're looking for
Do you have the right tech for the job? Blender runs on all major operating systems. But still, the more powerful your PC, the smoother the program will run. It's worth a little Google of Blender's requirements
How much does it cost?
Most courses on this list can be accessed with a free trial subscription to the learning platform. Udemy, along with more specialist, courses tend to be purchased for a one-off fee. The most expensive on this list being the $149 Arcane House course. 
The paid courses tend to be on platforms dedicated to teaching Blender, so come with great expertise – CG Boost courses each have a one-of-fee of $59, which in the long run might work out more affordable than initially free platforms like Skillshare or Udemy (if you opt for their subscription). Though, of course, a subscription does give you the benefit of unlimited access to thousands of courses that cover almost anything you can imagine. 
Working out the most affordable option for you is really about knowing what you want to get out of the process, and finding the right course for it.
How long does it take to learn Blender?
There's always something new to learn with Blender, no matter your experience. It all really depends on what you want to learn and to what level.
Skillshare's Your First Day in Blender 3D is the shortest course on this list, with less than an hour's worth of content, all you need if you just want a brief introduction. Perhaps the longest course on this list is CG Boost's Blender Launch Pad, with over 22 hours of content, and even then that might just be the start of your learning journey.
What's great is that you can decide how long you want that journey to be, and every single course on this list is split up into bitesize segments, so that you can learn as little or as much as you want at a time.
Conclusion
The upsurge of new courses covering all areas of Blender means it has never been easier to find the perfect course for you.
To sum up, I think Udemy's Complete Blender Creator gets the award for the course that packs the most value into one place – going from the absolute basics into so much detail that even a Blender expert will find something new to learn. 
EdX is a close runner-up for its specialist guide to animation, and its inventive interactive learning approach.
But I hope you can see that all the courses on this list have been cherry-picked to suit as many needs as possible. All that's left is for you to pick the one that works best for you. So go ahead, and start bringing your ideas into 3D life.
Blender courses frequently asked questions
What is the best Blender course?
I'd highly recommend Udemy's Complete Blender Creator for the sheer amount of content that leaves nothing out.
How much does a Blender course cost?
A lot of the courses listed here are completely free to access with a trial subscription, while the courses on this list with a single upfront cost range from $59 to $149.
How long do Blender courses take?
Course length can vary from 30 minutes worth of content to courses aimed to be completed in 4-6 weeks – it's important to factor in the time it takes to practice what you learn on Blender itself.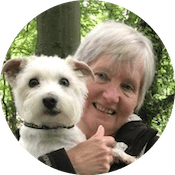 Liz Hurley has 30+ years of high school teaching experience and is one of our senior writers here at Learnopoly.