Dreaming of "Dr." in front of your name? If that's the case, you're very aware of the biggest measurement of med-school success: The Medical College Admission Test or MCAT.
The MCAT carries the most weight when it comes to your med school admission. It's a beast of an exam: 4 sections, 6 hours and 15 minutes. Designed by the Association of American Medical Colleges (AAMC), the MCAT has been carefully crafted to assess a student's problem-solving, critical thinking, and knowledge of the sciences prerequisite to the study of medicine.
The good news? The MCAT is no mystery. Its content is well-known and its structure is consistent. If you're up to the challenge, you can earn a dream score. You just need the dedication and the right materials–that's where Magoosh comes in.
Magoosh stands out among competitors because they've designed an MCAT prep course with busy college students in mind. MCAT experts have curated coursework and practice questions that mirror the real deal for a much more affordable price than other courses. Their mission is to make sure that every student with big dreams has access to the materials they need to make them come true.
If you're a college student with their sights set on med school, you need a prep course that works with your busy schedule but keeps you disciplined and on track to success. Magoosh has everything you need and more.
.
Quick summary
Features
Curated study schedules with automated to-do lists
Comprehensive instruction from MCAT experts and students
An abundance of practice questions and exams that mirror the real thing
24/7 support
Tech tools that enhance studying
Pros
A less expensive product without any loss of quality
Tons of personalization for the most efficient and effective studying
Friendly and fast support
Hundreds of authentic resources
Cons
Voiceover video lessons, but with effective tools
Requires lots of dedicated time, but totally worth the effort
Best for:
busy college students who are ready to achieve their med school dreams with dedicated studying of high-quality materials.
Cost: For the latest costs and promotions, visit Magoosh
Overall: Magoosh's MCAT prep course guarantees a 10-point improvement, and they've designed comprehensive, high-quality materials that will make it happen for students ready to dive in. For busy college students, Magoosh is an ideal choice to achieve it all.
Here's what I'll cover in the Magoosh MCAT prep course review:
About Magoosh MCAT prep
How does Magoosh MCAT prep coursework
How I reviewed Magoosh MCAT prep
Pros, cons, and who it's for
Cost and refund policy
Key features
Other MCAT prep course options
Conclusion
FAQs
Ready to smash the MCAT? Let's do it!
About Magoosh MCAT prep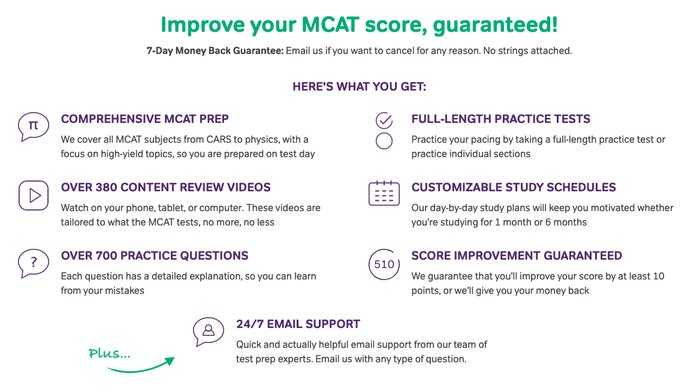 Magoosh came to be when, in 2008, one of the founders came up short when trying to find high-quality, affordable test prep materials for their own big goals. So, in 2009, the new Magoosh team began to create some of the best coursework out there for a price more students could afford. Since then, they've helped over 6 million students in 185 countries achieve their education dreams with their data-driven materials. 11 million hours of videos have been watched, 400 million practice questions have been answered–and it's just the beginning. Now, it's your turn!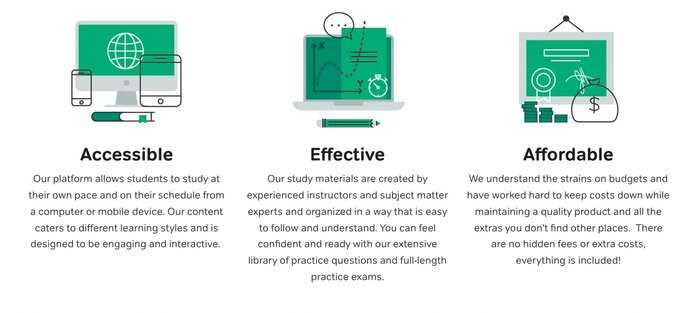 To prepare for the MCAT, Magoosh offers affordable options:
1 Month Premium (short-term studying)
12 Month Premium (most popular)
Both options feature the same engaging, effective instruction, access to MCAT experts, full-length practice tests, and personalized coursework, it's just a matter of how much time you have.
How does Magoosh MCAT prep work?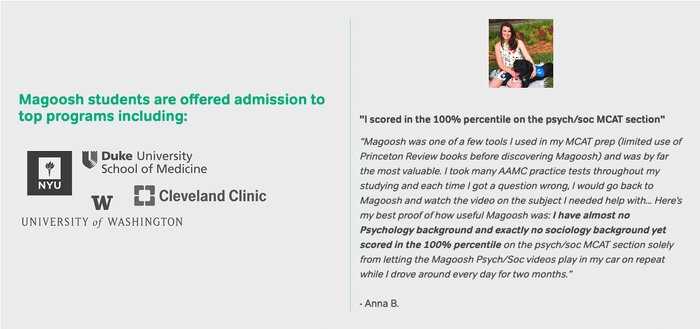 After enrollment, Magoosh welcomes students with an onboarding video. In it, you'll get a comprehensive overview of the long list of Magoosh resources you now have access to. For example, you'll quickly learn how customizable the coursework is. Magoosh recommends choosing a study schedule based on the date of your MCAT, and this selection will update your dashboard accordingly. Now, when you sign on each day, you'll have a daily checklist with links to each task for efficient studying. And if you decide to deviate from the plan, you always have the freedom to access any and all of the provided materials.
What I love about Magoosh is their organization. From your main dashboard featuring your curated study plan, you can access a separate dashboard for each section of the exam to focus your studies. From there, coursework narrows down from sessions to lessons to videos and, finally, to quizzes. While this organization creates a comprehensive study plan, you can also access the video library and practice exams at any time.
Key Features:
12-month access
380+ video lessons covering the most important topics
700+ practice questions with detailed explanations
Up to 3 full-length practice exams
24/7 email access to MCAT experts for personalized help
Custom practice sessions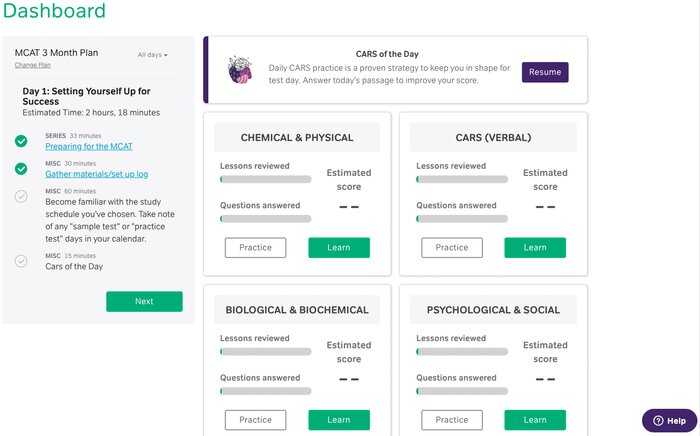 How I reviewed Magoosh MCAT Prep
First, I wanted to get a thorough understanding of the MCAT's content and structure. This exam is massive and requires nearly 7 hours of attention and high-quality execution. The AAMC is asking a lot of busy college students, so I wanted to make sure the study materials were not only high-quality but also efficient. College students are still in college, so the MCAT isn't the only exam they're prepping for. I wanted to make sure that Magoosh truly understands their user and appeals to their needs in every possible way.
I spent a few hours onboarding, watching instructional videos, exploring practice tests, and analyzing their resources and student support.
The verdict? I was pleasantly surprised to learn that Magoosh has hit all the marks for an affordable price. Students will have access to hundreds of hours of authentic, engaging practice, and the practice can actually deliver next-level results.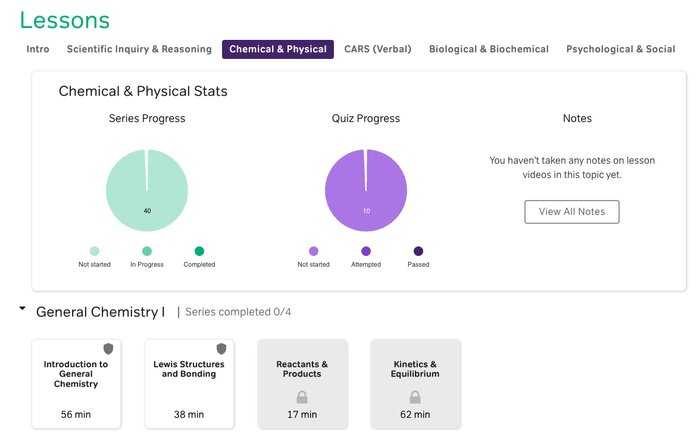 Pros of Magoosh MCAT prep courses
A less expensive product without any loss of quality
When looking online for MCAT prep options, I was seeing price tags from $1,000 to over $3,000. That average simply isn't feasible for thousands of med-school hopefuls. Like I said before, these are college students we're talking about. Most likely, you're already tens of thousands in debt in your pursuit of higher education, unable to work a full-time job due to coursework, and still figuring out how to pay your bills. $1,000+ is asking a lot of hardworking students. Let Magoosh save the day! Their authentic, comprehensive prep course is available for $379 or $399, and a 4-month payment plan is available. Magoosh has given so many students access to comprehensive study materials and a 10-point improvement for hundreds–even thousands–less than competitors.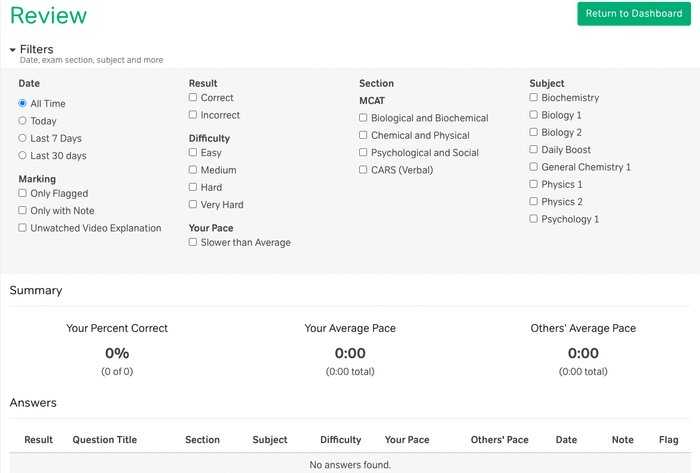 Tons of personalization for the most efficient and effective studying
If you're able to enroll in the 12-month program, you're given access to a fully customizable prep course. When onboarding, you get to decide on an expert-created study schedule of 6, 3, or 2 months. Once this has been set, your dashboard is automatically updated to fit that plan. Now, every day you sign on, you're given a simple checklist for maximum efficiency. Each day consists of a certain collection of focused lessons to tackle, including expert-led videos and short quizzes to check understanding. They also provide a "CARS" of the Day (Critical Analysis and Reasoning Skills). This short passage gives you consistent practice with the reading passages and multiple choice questions without having to sacrifice too much time with the high-yield content.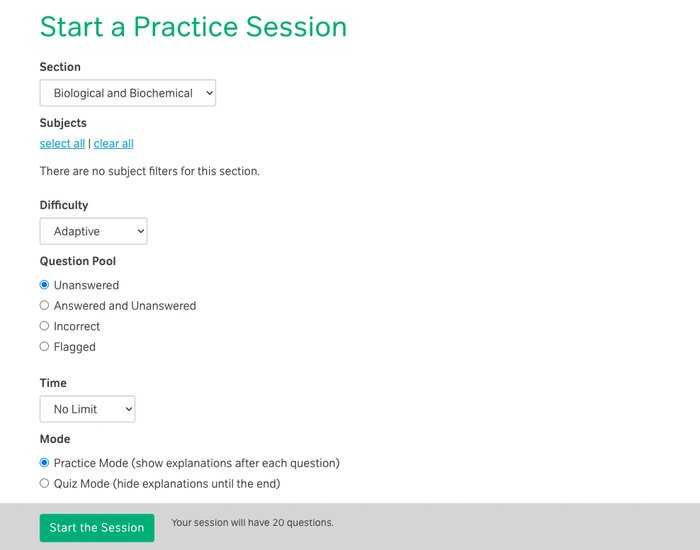 In addition to the 3 full-length exams, I personally love the personalized practice sessions Magoosh provides. This tool allows you to build one-of-a-kind quizzes based on your study goals. When designing a session, you choose the subject, difficulty level, whether to include answered or unanswered questions, the number of questions and time limit, and whether you'd like to see the explanations during or after the quiz. For even more personalized support, you're given an overview of your performance in comparison with other Magoosh users.
Friendly and fast support
College students, especially pre-med, are familiar with the self-discipline and independence required for effective studying. But just because you can work that way, doesn't mean you can't ask for help. Magoosh offers email access to MCAT experts 24/7. Now, if you get stuck on a question or concept, simply click the always-available 'help' button and ask for support. An MCAT expert will respond within 1-2 days.
Another aspect of Magoosh's support I appreciate is their transparency and sincere dedication to student success. For example, while they stand by their materials, they acknowledge that a student should still spend 40% of their time studying personal college texts and notes. In addition, they recommend referencing official AAMC resources whenever possible. They're not afraid to highlight other supports their users may need, which further emphasizes their sincere dedication to their users.
Hundreds of authentic resources
Magoosh recommends 250+ hours of studying to achieve success on the MCAT. If this is what's required, the materials better be on point. Thankfully, Magoosh is praised by students and instructors for their high-quality questions that mirror the real thing. Kat Thompson, PhD, is one of the lead instructors of the course. She has been teaching pre-med students for over 12 years and has taken 20 (Yes, 20!) practice MCAT tests since 2015. She, like her colleagues who craft the materials, knows what the MCAT looks like and is determined to deliver the best test prep coursework they can. In addition to experts like Thompson, Magoosh has asked students who scored in the 96% percentile or higher on the MCAT in the last two years to create videos, too. Truly authentic instruction.
Cons of Magoosh MCAT prep courses
Voiceover video lessons, but with effective tools
Videos are a common component of online learning, and I noticed that Magoosh's instructional videos are slides with voiceover explanations versus being able to see an instructor's face. The latter is usually more engaging, but I think Magoosh's style is still effective due to the tools they provide. For example, you can change the speed of the video, turn on captions, follow along using the transcript, and take notes with the note-taking tool. The videos are also pretty short and still feature live annotations on the slides as the instructor breaks down the problems and their strategies. All of these features combined create effective learning materials.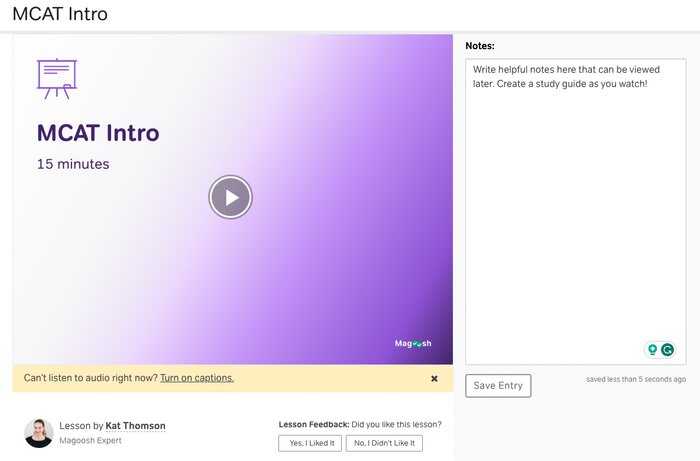 Requires lots of dedicated time, but totally worth the effort
No matter who you study with, the MCAT is so big and so important that it requires hundreds of hours of studying. So, yes, Magoosh's coursework will require self-discipline and lots of focused effort, but users say it pays off. And, with all of the personalization available, you can make the materials work for your needs and availability.
Who Magoosh MCAT prep is for
My review of Magoosh's comprehensive materials has determined that Magoosh is for a student who:
Has big med-school dreams and needs a strong MCAT score to achieve them
Needs a curated study plan with personalization so their time is valued
Needs affordable study prep materials without losing quality
Can learn independently but would like access to one-on-one support
Wants to improve their overall score by 10 points or more
If you have the drive to work towards your MCAT goals with high-quality, engaging materials, then I suggest Magoosh. They know how busy you are, so they prioritize efficiency and engagement.
How much does Magoosh MCAT prep cost?
Magoosh offers the same package with two length-of-access options: 1 month or 12 months. Depending on your test date and availability, it's nice to have such choices. If you're still on the fence, give the free trial a shot for 7 days. You'll get limited access, but enough to determine if Magoosh is the right prep for you.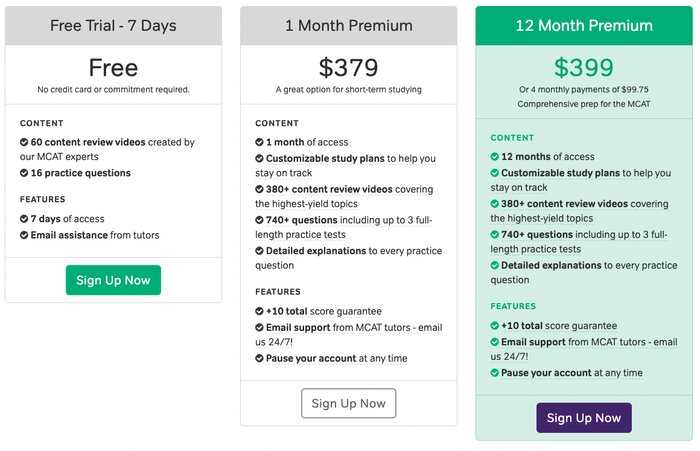 Magoosh Refund
Magoosh guarantees a 10-point increase or your money back. To qualify, you must have taken the exam before studying with Magoosh, and the score must be from the "new" MCAT, which was first administered in 2015.
Features of Magoosh MCAT Prep
Magoosh MCAT Prep offers some pretty incredible features, including:
Curated study schedules with automated to-do lists
Comprehensive instruction from MCAT experts and students
An abundance of practice questions and exams that mirror the real thing
24/7 support
Tech tools that enhance studying
Curated study plans with automated to-do lists
When faced with the amount of study materials Magoosh has to offer, it's easy to become overwhelmed. However, their expert-designed study plans are the key to success. When you first sign in to your dashboard, you'll select a plan based on the number of months you have until the MCAT. Once selected, Magoosh will automatically update your dashboard to feature a manageable, effective study schedule. In fact, each day you'll be given a concise checklist to keep you on track and organized. And, don't worry, if you ever want to change your study schedule or veer off course, you can access all materials at all times.
Comprehensive instruction from MCAT experts and students
The MCAT features 4 sections. On average, you'll answer 59 questions in 95 minutes per section. That's a lot of material to master, huh? So, while Magoosh covers all concepts on the MCAT, they focus on those with the highest impact on your overall score. That still leads to over 400 lessons, but you can dedicate precious time to studying knowing you're using it well. Each lesson features a voice-over video with instruction and modeling by an MCAT expert. Your knowledge will be tested with short quizzes, and you can always review your answers and their explanations for deeper study. Many of the lessons include downloadable study guides, too.
I also want to highlight that while the majority of the coursework focuses on test content, Magoosh hasn't forgotten about test anxiety. The MCAT is considered one of the hardest standardized tests out there, and with nearly 7 hours of testing required, it's important that students also learn test-taking and mindfulness strategies. Magoosh offers an entire session on topics like anxiety management, mindfulness, breathing, and mastering distractions.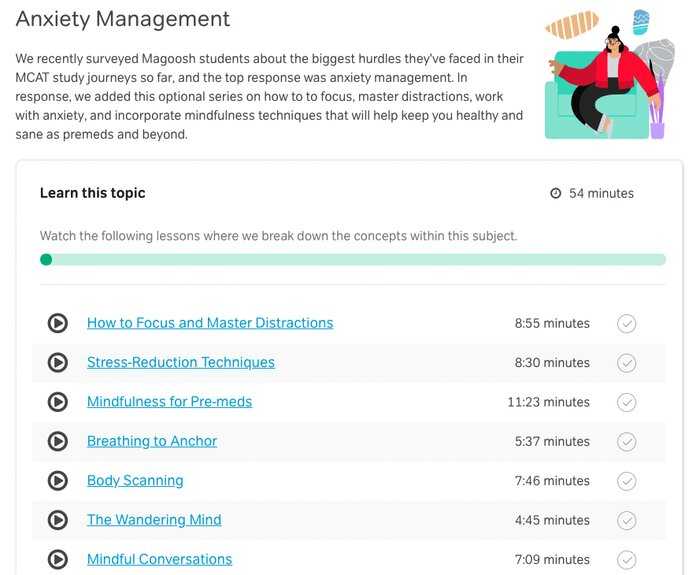 An abundance of practice questions and exams that mirror the real thing
Again, if you're spending over 200 hours studying, you better be studying the right thing! Magoosh's expert instructors have decades of experience and have taught thousands of pre-med students. These are the folks that design all MCAT materials and practice questions. They've taken hours of practice tests and understand what's on the exam. Study with Magoosh and avoid any surprises on exam day.
24/7 support for students
Magoosh is a tool best suited for self-disciplined students who can progress independently through video lessons and online learning. However, everyone needs help, especially with content this vast and challenging. Magoosh offers easy access to their experts through the always-present "help" button. Simply click the button and submit your question. You should hear back from a friendly expert in 1-2 days.

Tech tools that enhance studying
What puts Magoosh over the top is their toolbox of tech tools. And, users can access many of these resources on their desktop or mobile device. For example, they provide a note-taking box with all lessons and practice sessions so that you can track every helpful strategy. These notes are then compiled into one dashboard for easy access. Without all the extra effort, suddenly you've made an MCAT study guide! I also love their flashcard app. Such a great way to keep your head in the game wherever you are.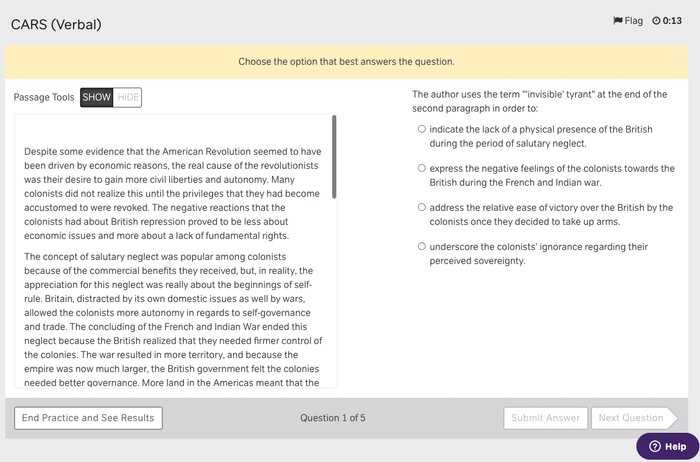 Magoosh Alternatives
While I can't say enough about Magoosh's MCAT prep materials, it's important to explore your options before committing to a course. Here are a few alternatives:
AAMC
Blueprint Prep
Varsity Tutors
Khan Academy
Learn about Magoosh's other prep programs: MCAT, GRE, SAT, ACT, LSAT, GMAT, IELTS
Conclusion: Is Magoosh MCAT prep worth it?
The MCAT is your biggest hurdle for getting into medical school. Considering its crazy length and difficulty, I think prep is a must for any determined student. Magoosh will provide you with high-quality, personalized coursework for a price you can't beat. With their 10-point guarantee, what do you have to lose?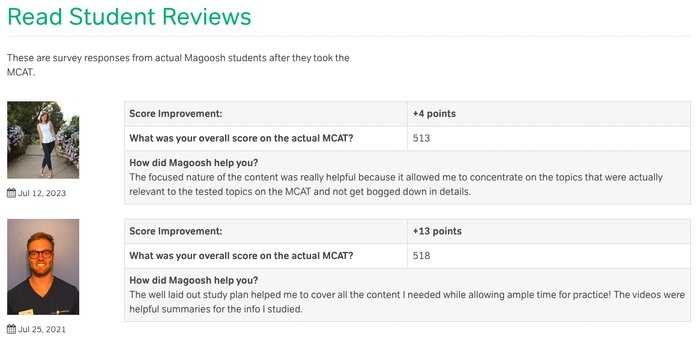 Magoosh MCAT Prep – FAQs
How much does Magoosh MCAT cost?
The 1-month course is $379 or you can spend $20 more for 12 months of access. They have monthly financing options available and sometimes offer discounts.
Will Magoosh improve my MCAT score?
If you engage with the instructional videos, take advantage of all their practice questions, ask for help, and stick to your study plan, then yes! If it still doesn't work, you can seek a refund.
Can I get a refund?
Yes, you can get a refund or partial refund depending on the course you take.

Hannah recently left high school teaching to become a writer. When she's not spending time with her husband and toddler, she's traveling, trying a new restaurant, or tackling a crossword puzzle.