One of the biggest hurdles to getting into your dream school is the SAT (Scholastic Assessment Test). Whether you're shooting for the top 25% or even the top 5%, it takes a lot of work to get there. High-quality study materials should be accessible to every student with big dreams, and Magoosh has made it a reality. In this Magoosh SAT prep course review, I'm going to investigate how.
Since 2009, Magoosh has been working hard to provide the best materials for a much cheaper price than their competitors. Their company mission is to support every learner as they work towards their dreams. They do this with affordable, realistic SAT prep materials that I can't wait to show you.
If you're a high school student, you've probably got a full class schedule, extracurriculars, a part-time job, and loved ones to make time for–your plate is full! According to Magoosh, you can "beat" the SAT with just 20 minutes of studying per day. And, if you don't improve by at least 100 points, you get your money back!
The SAT is hard. Period. Let Magoosh lend a helping hand, and your dreams are definitely within reach.
.
Quick summary
Features
Curated study plans and personalized practice
Short and engaging instructional videos
Friendly, fast support for students
Smart progress tracking and gamification
Tech tools that enhance studying
Pros
A much cheaper product without losing its value
Loads of personalization for the most efficient study time
Friendly and fast support
Authentic resources
Cons
Voiceover video lessons, but with effective tools
Requires time, but worth the effort
Best for: every student who has big SAT dreams and wants affordable access to the best materials.
Cost: check latest prices here.
Overall: Magoosh's SAT prep course guarantees a 100-point improvement, and their passionate team's mission is to make it happen for as many students as possible. As a former high school teacher, I'm excited and relieved to see such high-quality materials at prices students can afford.
Here's what I'll cover in the Magoosh SAT prep course review:
About Magoosh SAT prep
How does Magoosh SAT prep coursework
How I reviewed Magoosh SAT prep
Pros, cons, and who it's for
Cost and refund policy
Key features
Other SAT prep course options
Conclusion
FAQs
Ready to beat the SAT? Let's go!
About Magoosh SAT prep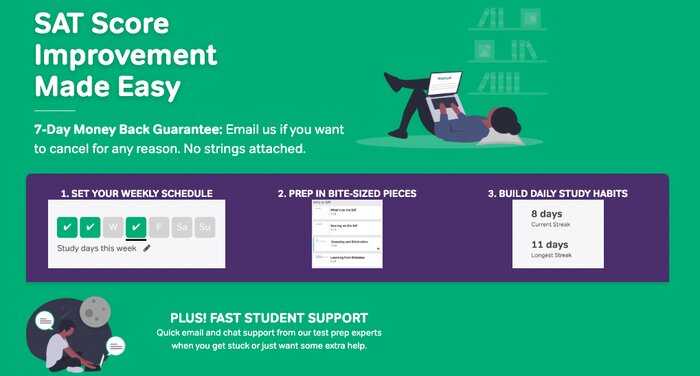 In 2008, when one of the founders was studying for their own standardized test, they realized there wasn't enough support out there for students–especially affordable support. So, in 2009, Magoosh was established to support big goals and big dreams for all. Since then, they've given over 6 million students in 185 countries access to their data-driven study materials. 11 million hours of videos have been watched, 400 million practice questions have been answered–and they're just getting started. It's your turn to join the dream-making club!
To prepare for the SAT, Magoosh offers affordable options:
Self-Paced (Most popular!)
Premium + Live Classes (Includes 16 hours of live instruction)
Both options feature engaging, effective instruction, access to SAT experts, full-length practice tests, and personalized coursework.
How does Magoosh SAT prep work?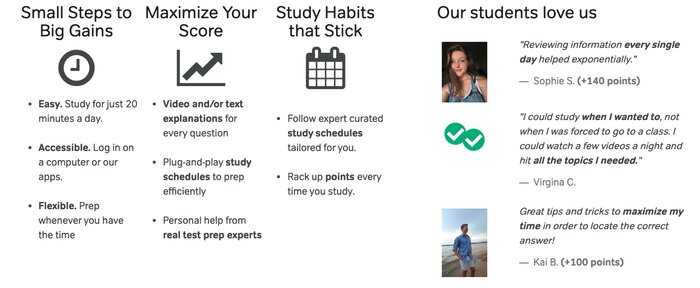 Magoosh gets you started with an overview of their resources and some additional tips in their welcome video. They feature some pretty cool tools, like question flags and note-taking, and ask you to set your study schedule based on your needs. When you've completed these quick and easy steps, you are given the option to take the diagnostic.
What I most appreciate about Magoosh's onboarding is the way they ease you in. The welcome video is concise, but motivating. And the diagnostic isn't even a full-length exam (which is 2 hours and 55 minutes)! They give you 46 questions total, so the test should take between 60-75 minutes, plus you don't have to finish it in one sitting. The questions on the diagnostic are the most common you'll see on the real exam, so it provides Magoosh and yourself with an accurate starting point.

Another big win is Magoosh's well-organized dashboard. Your home page will feature your study schedule, study streaks, links to resources, and lessons on test taking and stress relief. Then, you can click further to see a dashboard for each section of the ACT: Reading, Writing, Math w/ Calculator, and Math w/out Calculator. This will keep you focused on each section and prevent you from feeling overwhelmed. I mean, there are 1,750+ practice questions and 200+ videos to choose from, right?
Key Features:
12-month access
200+ video lessons
1,750+ practice questions
Up to 3 practice exams
16 hours of live instruction available with upgrade
Email access to SAT experts for personalized help
Custom practice sessions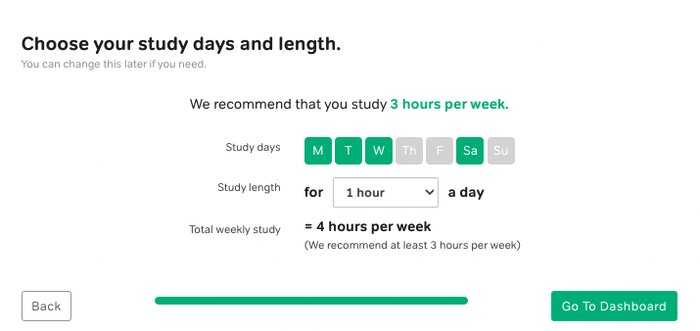 How I reviewed Magoosh SAT Prep
I was a high school teacher for almost 7 years. I taught hundreds of 11th-graders every year, so I consider myself well-versed in college-readiness exams and standardized testing practices. They're not fun, I get it, but they're important and require extra studying if you have big goals.
When reviewing materials, I look for authenticity first. If students are spending hours studying outdated materials or working on questions that are either too easy or too hard, what's the point? It's such a waste of valuable time. I also pay attention to the company's mission: Do they understand high school students and their busy schedules? Are they aware that a teenager's mind is always moving, so study materials better keep them engaged?
I spent a few hours onboarding, watching instructional videos, taking practice tests, and exploring their resources and student support.
The verdict? I was pleasantly surprised to learn that Magoosh has hit all the marks for an affordable price. Students will have access to hundreds of hours of authentic, engaging practice, and the practice can actually deliver results.
Pros of Magoosh SAT prep courses
A much cheaper product without losing its value
When researching online test prep, I often see price tags over $1,000. I'm sorry, but that's a ridiculous average! These prices make it impossible for thousands of students to get the support they need. Suddenly, only the wealthy have access to their dream colleges. Magoosh saw this and wanted to make a big change. They've designed courses filled with high-quality materials that guarantee a 100-point improvement with just 20 minutes of work each day. So, if you've been worried that you won't be able to afford decent SAT prep materials, Magoosh has saved the day.
Loads of personalization for the most efficient study time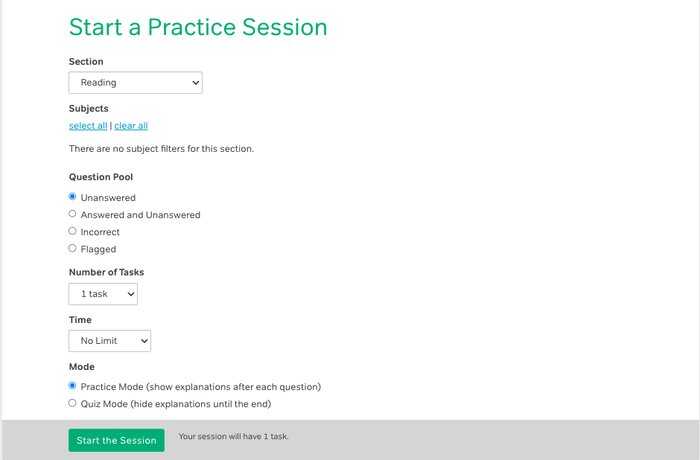 After the onboarding process, you'll get your first look at your personalized dashboards. You'll be able to view your study schedule, your study streaks so you can compete against yourself, and hundreds of videos and questions to learn from. Overwhelmed? Don't worry. Magoosh has expert-curated study plans for you to choose from and personalized lesson suggestions based on your progress. You can even compare your results with other students.
My favorite tool is the personalized practice sessions. While Magoosh provides you with full-length practice tests, this tool allows you to build one-of-a-kind quizzes based on your needs. You choose the subject, difficulty level, whether to include answered or unanswered questions, the number of questions and time limit, and whether you want the explanations during or after the quiz. Even cooler, when you take the full-length tests every 2-4 weeks, Magoosh removes questions you've already answered in these sessions. Win-win!
Friendly and fast support
Magoosh offers learners a lot of independence with their video lessons and self-paced practice sessions, but, as a teacher, I know students need one-on-one help too. Magoosh offers email access to SAT experts anytime. If you get stuck on a question or concept, simply click the 'help' button and shoot them a message; they'll get back to you quickly with a helpful and friendly answer.
If you enroll in the Premium + Live Sessions course, you'll get this as-needed assistance plus 16 hours of live instruction with an engaging, 99th-percentile instructor. Each week, you'll attend 2 2-hour sessions with a small group of students. You'll be able to ask questions throughout the lesson and learn from your peers as they tackle the same problems.
Authentic resources
When I was an 11th-grade teacher, I struggled to find practice tests that mirrored the real thing. If I did find them, they were hundreds of dollars–not OK! When they were free, they were often outdated or too easy. With Magoosh, you'll have access to 1,750+ practice questions, 200 hours of videos, and up to 3 full-length exams. Hours and hours of high-quality studying for an affordable price. And their resources are authentic! In fact, their in-house SAT experts regularly review the official SAT to make sure their questions match its style and difficulty. Because their study materials are all digital, they can continuously and instantly keep things updated. They also use student performance and feedback to make improvements. With Magoosh, you can trust that your time is well spent.
Cons of Magoosh SAT prep courses
Voiceover video lessons, but with effective tools
Videos are a common component of online learning, and I noticed that Magoosh's instructional videos are slides with voiceover explanations versus being able to see an instructor's face. The latter is usually more engaging, but I think Magoosh's style is still effective due to the tools they provide. For example, you can change the speed of the video, turn on captions, follow along using the transcript, and take notes with the note-taking tool. The videos are also pretty short and still feature live annotations on the slides as the instructor breaks down the problems and their strategies. All of these features combined create effective learning materials.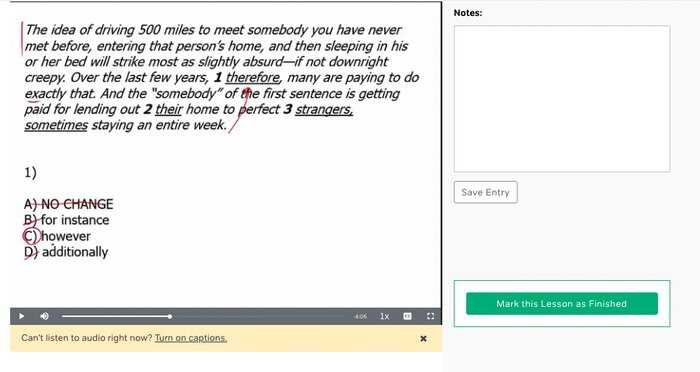 Requires time, but worth the effort
For less than $150, Magoosh provides hundreds of hours of lessons and practice. Even at an affordable price, one can feel overwhelmed by the staggering amount of work. That's why Magoosh provides so much personalization, like their curated study plans and progress-based dashboards.
It's also crucial to follow Magoosh's suggestion to regularly take practice sessions and tests. Magoosh uses this data to automatically update your progress and study suggestions. You also get a breakdown of time used, question pacing, and question difficulty after each test, and Magoosh compares your efforts to other users. Since your learning is constantly being reviewed, your study sessions will become more and more effective.
Who Magoosh SAT prep is for
My teaching experience tells me this course is for a student who:
Has big college dreams and needs a strong SAT score to get there
Needs a curated study plan with personalization so their time is valued
Needs affordable study prep materials without losing quality
Can learn independently but would like access to one-on-one support
Wants to improve their overall score by 100 points or more
If you have the drive to work towards your SAT goals with high-quality, engaging materials, then I suggest Magoosh. They know how busy you are, so they prioritize efficiency and engagement.
How much does Magoosh SAT prep cost?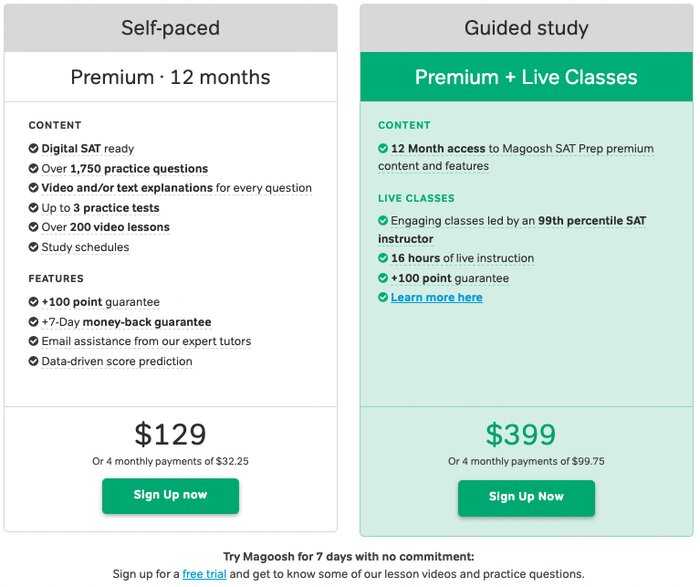 Course
Price
Features
Self-Paced
$129Or 4 monthly payments of $32.35
Digital SAT readyOver 1,750 practice sessionsVideo and/or text explanations for every questionUp to 3 practice testsOver 200 video lessonsCurated study schedules+100-point score improvement guarantee+7-day money-back guaranteeEmail assistance from expert SAT teachersData-driven score predictionSmart progress tracking
Premium + Live Classes
$399
Or 4 monthly payments of $99.75
Everything in the Self-Paced courseEngaging classes led by a 99th-percentile SAT instructor16 hours of live instruction
Magoosh Refund
Magoosh guarantees a 100-point increase if you initially scored a 1350 or below.
To qualify, you must have taken the exam before studying with Magoosh, and the score must be less than 5 years old. This is checked via email during signup. If you sign up for Premium and don't earn 100 more points, you can choose between a refund for the Self-Paced software ($129) or free enrollment in even more live courses.
Features of Magoosh SAT Prep
Magoosh SAT Prep offers some pretty incredible features, including:
Curated study plans and personalized practice
Short and engaging instructional videos
Friendly, fast support for students
Smart progress tracking and gamification
Tech tools that enhance studying
Curated study plans and personalized sessions
Magoosh's onboarding process is essential because the data is used to create a manageable study plan for each student. If you were to skip the short diagnostic, you'd see over 200 video lessons and 1,750+ questions to choose from in no particular order–hello, panic! By letting Magoosh assess your strengths and weaknesses, they'll create order out of chaos and give you a manageable study plan with personalized suggestions. You can also choose from one of their expert-curated study schedules if you want to get even more organized. With Magoosh, every minute of your valuable time will be effectively used.
Short and engaging instructional videos
Even if you don't have access to the live sessions Magoosh offers in their Premium+ plan, you will have over 200 instructional videos to choose from. These video lessons are narrated by expert SAT tutors. Each video focuses on an essential skill allowing you to stay focused and tackle one concept at a time. The tutors annotate authentic test questions and model the strategies and critical thinking needed to achieve success. I also want to highlight that while many of the videos focus on test topics, Magoosh hasn't forgotten about test-taking strategies and mental health. Often, students get in their own way due to test anxiety or lack of focus–this is normal! Magoosh provides videos on stress reduction and test-taking tips to make sure your preparation is well-rounded.
Friendly, fast support for students
Magoosh is designed for students who can learn independently through videos and online quizzes, but every learner needs a bit of one-on-one help now and then. Magoosh offers quick and easy email support for when you get stuck on a tricky problem or concept. Instead of torturing yourself for hours, simply click the 'help' button and reach out to an expert for advice. If you want even more access to the experts, sign up for the Premium+ plan and enjoy 16 hours of live instruction. In class, you can ask questions throughout the lesson and learn from other disciplined and determined peers.
Smart progress tracking and gamification
Magoosh suggests you take a full-length practice test every 2-4 weeks and a few practice sessions in between. The reason for this is the data you create. Magoosh takes your performance on each quiz and breaks it down so you can see your progress in each section. They also provide you with a breakdown of your pacing and compare it with other students so you can see if you need to adjust. In addition, this data along with your study streaks creates a gamified study plan that can motivate students, particularly competitive ones.
Tech tools that enhance studying
Magoosh provides a toolbox of tech with their study materials. For example, users can access their high-quality resources on either desktop or mobile. In addition, they provide a note-taking box with every lesson and practice session so that you can track every helpful strategy. These notes are then compiled into one dashboard for easy access. Without all the extra effort, suddenly you've made an SAT study guide! I also love their flashcard app. Such a great way to keep your head in the game wherever you are.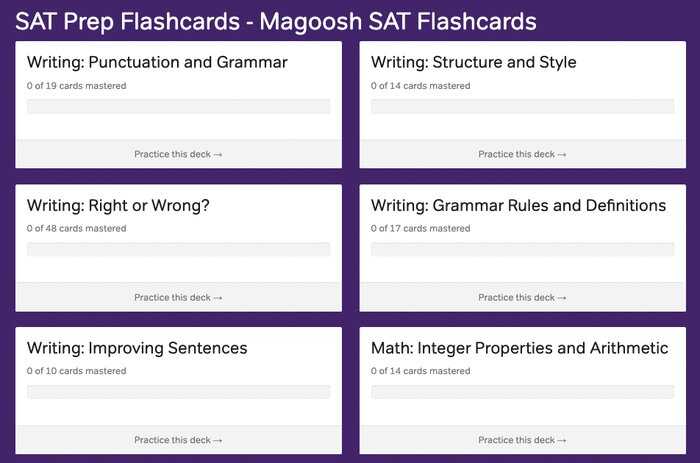 Magoosh Alternatives
While I can't say enough about Magoosh's SAT prep materials, it's important to explore your options before committing to a course. Here are a few alternatives:
Varsity Tutors
Prep Scholar
Learn about Magoosh's other prep programs: MCAT, GRE, SAT, ACT, LSAT, GMAT, IELTS
Conclusion: Is Magoosh SAT prep worth it?
As a former 11th-grade teacher, I know the ins and outs of standardized testing and the amount of work it takes to earn that high score. Whether the content or the high-stakes testing feels like a barrier, Magoosh has the tools you need to break through. Their resources are high-quality and affordable, giving so many students access to their college dreams. With their 100-point guarantee, what do you have to lose?
Magoosh SAT FAQs
How much does Princeton Review SAT cost?
The Self-Paced course is $129 or you can add live lessons for a total of $399. They have monthly financing options available and sometimes offer discounts.
Will Magoosh improve my SAT score?
If you engage with the instructional videos, take advantage of all their practice questions, ask for help, and stick to your study plan, then yes! If it still doesn't work, you can seek a refund.
Can I get a refund?
Yes, you can get a refund or partial refund depending on the course you take.

Hannah recently left high school teaching to become a writer. When she's not spending time with her husband and toddler, she's traveling, trying a new restaurant, or tackling a crossword puzzle.