Dreaming of a top tier school? What about thousands of dollars in scholarships? Then it's time to study for the SAT!
But wait, aren't colleges doing away with standardized testing? Sure, post Covid, some universities are making the SAT optional, but studies show that it remains a strong determiner of college success and should be on a high schooler's todo list.
Colleges and Universities have been using College Board's standardized SAT (Scholastic Assessment Test) for nearly 100 years to determine who's truly ready for a college education. To make sure those intense 3 hours and 154 multiple-choice questions pay off, you need to find top-tier study resources. Princeton Review will take you all the way.
As a former high school teacher, I spent countless hours prepping my students for their various college entrance exams, and I watched them try to memorize every equation and grammar rule out there. Guess what? This isn't possible or even effective! And Princeton Review knows that. They believe that mastering the SAT means just that: mastering the SAT. Learning how to tackle this test with research-based strategies means maximum results in minimum time. So stop memorizing and keep reading this review.
Princeton Review offers a comprehensive and engaging SAT review that promises to improve your composite score by 150 points or more–or your money back. You'll have access to over 100 courses, 36 hours of live instruction, 24/7 tutoring, and 30 practice tests (that's an insane number) that feel like the real thing.
You're busy–I get it. You have school, loads of homework, extracurriculars, and maybe even a part-time job. And, hey, I'm sure you want to see your friends now and then too. Asking you to study for the SAT on top of all that may seem like too much, but I promise that Princeton Review will value your time and make it all worth it. A little work now means big dreams later.
.
Quick summary
Features
Personalized study plan
Live class sessions
Engaging instructional videos and drills
22 full-length & 8 single-section practice exams
24/7 on-demand tutoring
Paper copies of materials and tests
Pros
40 years of teaching have created the most effective research-based resources
Maximum results in minimum time thanks to a focus on strategy over memorization
Personalized and efficient study plan that's automatically updated to reflect your progress
One-on-one support that fits your busy schedule
So many true-to-life resources
Cons
Pricey, but what a payoff
A time commitment, but well worth it
Best for: students who understand a high SAT score means top schools and generous scholarships and are excited to dive into excellent materials and one-on-one support
Cost: check latest prices here.
Overall: Princeton Review's SAT prep course will get you the SAT score you need for your top school and life-altering scholarships. After 40 years of teaching, its educators have designed immersive, authentic materials that provide an authentic and influential study experience. My high school teaching experience has given me insider knowledge on standardized testing, and I can confidently say that Princeton Review knows the secrets to a high score.
Here's what I'll cover in the Princeton Review SAT prep course review:
About Princeton Review SAT Prep
How does Princeton Review SAT prep course work?
How I reviewed Princeton Review SAT prep
Pros, cons, and who it's for
Cost and refund policy
Key features
Other SAT prep course options
Conclusion
FAQs
Ready for a high score and even higher scholarships? Let's get to it.
About Princeton Review SAT prep

Princeton Review has been educating students for over 40 years; they know what you need to succeed and have uncovered the most effective and engaging ways to provide it. They're in the business of student success, and they support this mission through top-quality teaching, one-on-one tutoring, and effective test prep. They're ranked #1 for getting students into top colleges, and their data shows that 96% of their students improve their grades and 4 out of 5 get into their top-choice school. Ready to be next?
To prepare for the SAT, Princeton Review offers a variety of course options to meet your needs and budget:
SAT 1400+ (Most popular)
Essentials (Condensed, focused materials)
Self-Paced (Independent study)
Summer Camp (Improvement in 2 weeks)
Private Tutoring (Add-on)
SAT 1500+ Tutoring (Rigorous, all-in package)
So, how do you pick what's right for you? Princeton Review suggests evaluating the student you are and the student you dream of becoming. What's your schedule like? What can you commit to? What are the average SAT scores of students admitted to your top school? Answer these questions, set some goals, and pick the program that fits your needs. They're all effective since each features engaging instruction, access to tutors, full-length practice tests, and effective coursework. It's just a matter of how deep you desire to go.
Since 1400+ is Princeton Review's most popular SAT prep course, I'm going to focus the rest of my review on its features.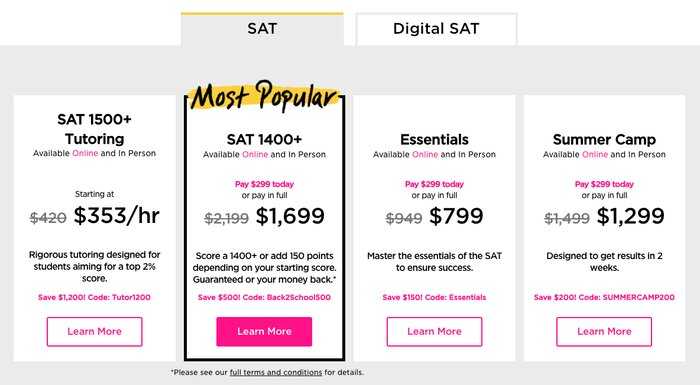 How does Princeton Review SAT prep work?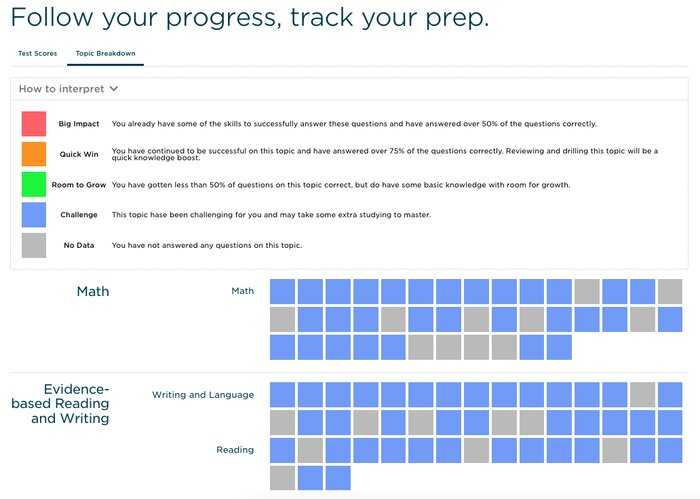 After enrollment, Princeton Review walks each of their students through a comprehensive onboarding process. You'll be asked for target schools and provided with the average admitted SAT and GPA of each. Next, you'll see two scales, one for each section of the SAT, and have the opportunity to play with possible scores until the sum achieves your goal total out of 1600. Then, you'll be asked to craft a study schedule based on your needs. You'll let them know when your proctored exam is scheduled and then set aside a few hours each week to stay on track. Finally, you take a practice exam so they can create a game plan.
Taking a test on day one may feel like a big effort, but it's such a smart tactic. See, Princeton Review uses all of this data to completely personalize your coursework. The data from your first exam and every exam thereafter is used to prioritize your courses and homework.
See, when you open your coursework tab, you're going to see over 100 options–a little overwhelming, to say the least. However, their data-driven onboarding means these courses will be sorted by priority and need with labels like "Secret Sauce," "Quick Win," "Room to Grow," and "Challenge."
In education, one size does not fit all–and Princeton Review knows this. They want to get to know you and craft an efficient and inviting study plan tailored to your every need.
Key Features:
36 hours of live instruction
22 full-length practice tests and 8 one-section tests
24/7 on-demand tutoring
Paper materials and tests shipped to you
Personalized courses and homework featuring engaging videos and quick drills
How I reviewed Princeton Review SAT Prep
As a former 11th-grade English teacher, I spent tons of classroom time prepping my students for college readiness exams. I was constantly seeking out study materials, practice exams, and testing strategies to better prepare my students and ease their worries. Therefore, I went into this review with plenty of background and high expectations. I wanted to ensure that Princeton Review's resources were engaging and flexible for students who never seem to have time to spare. And, I wanted to make sure whatever time they committed to this program would be respected and worthwhile thanks to materials that mirror the official SAT.
In addition, I have worked for The College Board (SAT, Advanced Placement Program, BigFuture) and am well-versed in the rigor of their materials. I'm confident they put a lot of energy into making sure the SAT truly tests students–not just on content, but on test taking. They're going to try to trick you, simple as that. So Princeton Review needs to provide their students with effective strategies to outwit The College Board.
I spent a few hours onboarding, watching instructional videos, taking practice tests, and exploring their resources and student support.
The verdict? I was floored. I wish I would've used Princeton Review when I was in high school and, particularly, when I was prepping my own high school students. Here's why.
Pros of Princeton Review SAT prep courses
Focus on testing strategies vs. memorization
Princeton Review has learned that one of the main reasons all students drop deserving points on the SAT is because they waste time memorizing. High schoolers go into these tests thinking every math equation and grammar rule must be known to do well, and that's simply not true (Phew!). Princeton Review believes you need to master the SAT first, then the content. Their foundational instructional videos will provide you with tried and true testing strategies, like process of elimination and personalized pacing, that could quickly boost your average score. Princeton Review prioritizes the basics, like making sure you know the most efficient methods to determine what each question is asking and how to solve it. They stress quality over quantity, meaning completion isn't even the goal. I wish I would've had realistic resources like these to save me some stress in high school. Lucky you!
Personalized and engaging study plan
As effective as their testing tricks may be, you still have to know the content. Remember that the SAT will assess your mastery of math and evidence-based reading and writing. Each of these sections is broken down into even more topics, and Princeton Review covers them all. That's a lot of content to master, but Princeton Review doesn't expect you to. See, after each practice test you take, your coursework is re-prioritized to fit your needs. This means your time will be used in the most practical way.
And the courses are entertaining because the instructors care. Not only have they been trained for over 37 hours, but they're relatable, amusing, and seem to really "get" high school students. They realize you're tackling these courses after a full day of school, sports, clubs, and maybe even a part-time job. At just 4-10 minutes long, instructional videos are focused and easy to digest.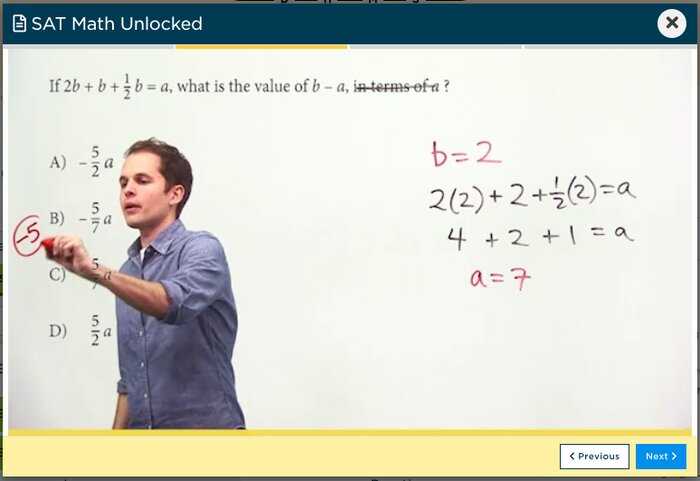 One-on-one support for students
Education is never one-size-fits-all. The foundation of your SAT prep is a personalized study plan, but the 1400+ course also includes live instruction and 24/7 on-demand tutoring. In class, you'll have access to trained instructors who are there to help you succeed, plus you can interact with other dedicated students like yourself. In addition to class time, you can work with a tutor anytime you need. If you're stuck on a homework problem and ready to give up, just reach out for some one-on-one help and overcome it in no time.
Resources match the real thing
It can be really hard to find quality study materials for standardized tests like the SAT. I was always on the hunt for my students and came up short, more often than not. Passages felt outdated, questions were poorly written, and nothing felt authentic. If you want to guarantee that you're practicing for the real thing, then you need to see Princeton Review's coursework and exams. Their experts know this test inside and out and have crafted materials that will prevent any surprises on the big day.
During the short instructional videos, teachers annotate strong test questions using a digital whiteboard so you can see their critical thinking and strategies in action. Each course comes with a short drill that gives you immediate practice with test content. And, most importantly, you'll have access to 22 practice exams–that's an outrageous amount. Plus, if you need more practice with a certain section, their SAT 1400+ program comes with 8 one-section tests for a more focused review.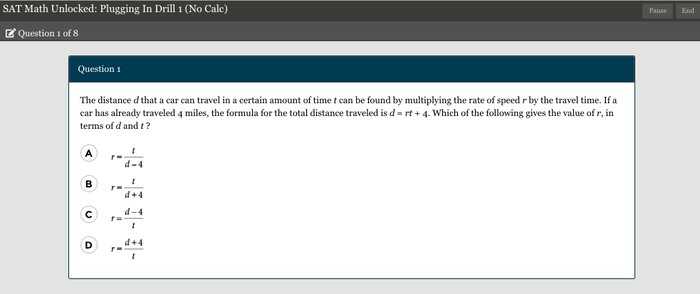 Cons of Princeton Review SAT prep courses
Pricey, but what a payoff
SAT 1400+ will set a student back $1,699, which is, no argument, a lot of cash. But it's important to see this course as an investment versus a splurge. Spending less than $2,000 now could mean thousands in savings later if you earn that 1400+ and the scholarships that so often come with it. That goal score could also mean a top-tier school, admirable education, and, thus, a jumpstart at a lucrative career. Plus, you get access to their resources for a year. Finally, if you don't meet your goal after putting in the work, they guarantee your money back.
If you're still suffering from sticker shock, Princeton Review offers a selection of more affordable SAT prep courses, including their Essentials course for $799 and their Self-Paced curriculum for $499. While these courses will provide the basics, SAT 1400+ guarantees success and includes more one-on-one support like tutoring and live classroom instruction. Plus, Princeton Review offers promotions on a regular basis, so keep an eye out!
A time commitment, but well worth it
With 36 hours of instruction, over 100 courses to choose from, and 22 (I still can't get over that number) full-length practice tests, you have hours of coursework at your fingertips. But, breathe, it's all tailored to you for maximum efficiency. Let Princeton Review get to know your data and guide the way. From your prioritized coursework, choose the lessons you're ready for and the practice exams you have time for. Just remember that more work means more payoff–more return on your investment.
Who Princeton Review SAT prep is for
My teaching tenure tells me this course is for a student who:
Is determined to be accepted into their dream college or university
Is looking for a more personalized study plan so their time isn't wasted
Can learn independently but thrives with one-on-one support
Wants a return on their investments–time and money–thanks to engaging and accurate materials
Wants a 1400 or higher on their SAT–bring on the scholarships!
If you're ready to put your trust into Princeton Review (and I think you should) you can start the work that guarantees an improvement of 150 points minimum. Get into the top 5% of scorers and, therefore, top schools with a program that's backed by years of work and research.
How much does Princeton Review SAT prep cost?
| | | |
| --- | --- | --- |
| Course | Price | Features |
| SAT 1400+ | $1,699 | Everything discussed in this review. |
| SAT 1500 + Tutoring | $353/hr | Everything discussed in this review + rigorous one-on-one tutors designed for students aiming for the top 2% of scorers. |
| Essentials | $799 | -18 hours of classroom time-Unlimited access to SAT Advantage LiveOnline sessions-135+ video lessons-3 scheduled practice tests-23 full-length & 8 section-length tests |
| Summer Camp | $1,099 | -Designed to get results in 2 weeks-18 hours of classroom instruction-Unlimited access to SAT Advantage LiveOnline sessions-30 hours of videos plus 1-on-1 interaction with instructors |
| Private Tutoring | $175/hr | Add this on to Essentials or Summer Camp for more one-on-one support. |
| SAT Self-Paced | $499 | No classroom time, but access to all study materials. |
Princeton Review Refund
Princeton Review will offer a refund for SAT 1400+ if your score does not improve by at least 150 points if you start under 1250, or if you do not earn a minimum score of 1400 if you start over 1250.
To qualify, your starting score must be recorded before taking the first course with Princeton Review. In addition, you are required to attend all live class sessions, complete 4 required practice tests, and submit all required homework via the Student Dashboard according to your syllabus schedule. If all of the above is true, you can submit a refund request within 60 days of your official test date. The amount of money returned depends on the course you took, so see specific conditions here.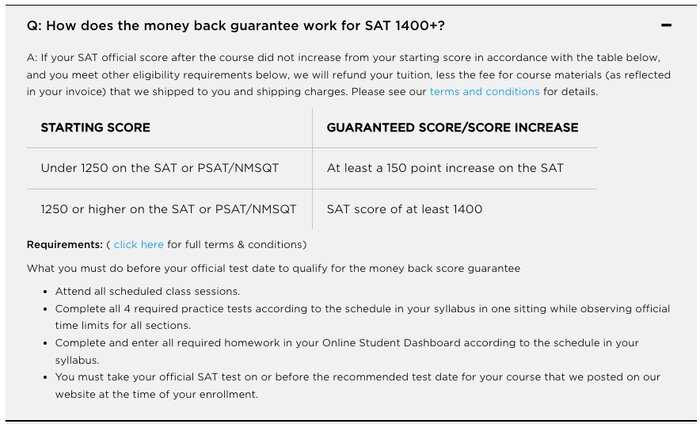 Features of Princeton Review SAT Prep
Princeton Review SAT Prep offers some pretty incredible features, including:
Personalized study plan
Live class sessions
Engaging instructional videos and drills
22 full-length & 8 single-section practice exams
24/7 on-demand tutoring
Paper copies of materials and tests mailed to you
Personalized study plan
Maximum results in minimum time is Princeton Review's model. The main way they achieve this is through their personalized study plans determined by your onboarding and practice exams. Rather than sifting through hundreds of hours of coursework, you're given a prioritized list of courses you can tackle one by one.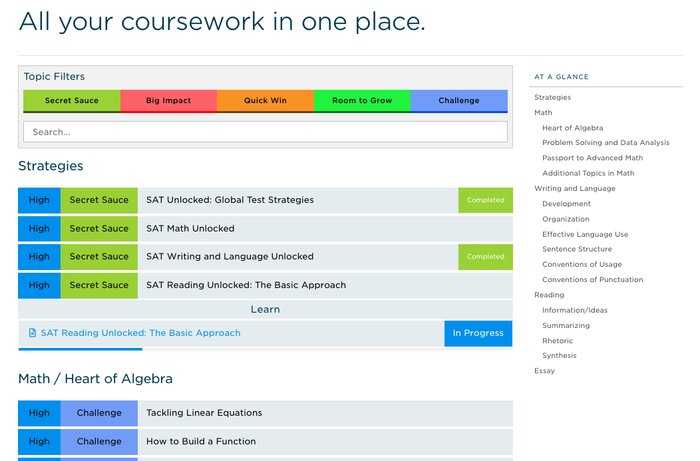 Live class sessions
After enrollment, you determine the study schedule that fits into your life. This flexibility proves that Princeton Review understands high school students and their crazy-busy lives. Once your schedule is plugged in, you have access to engaging and effective live instruction–36 hours of it. You'll work with educators and other committed students through challenging concepts and learn all the SAT secrets out there. And the reviews are in: students love the teachers and praise them for their relatability, empathy, and expertise.
Engaging instructional videos and drills
Live instruction builds the foundation, and coursework and homework makes sure it sinks it. The short instructional videos make a big impact on students, and each ends with post-lesson drills that are engaging and quick to assess your progress. You even get to self-assess your own understanding to continue to update that personalized plan.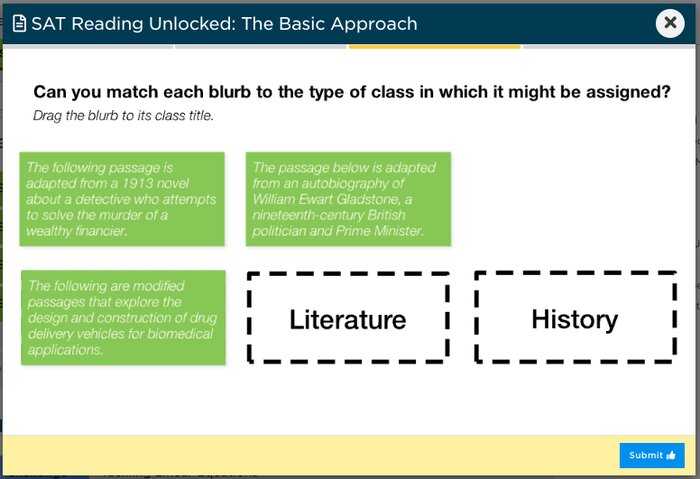 So many practice tests
For many, studying is a breeze but test-taking breaks them down. Test anxiety is real for so many students, so putting yourself in that position again and again is important prior to the big day. SAT 1400+ requires 4 proctored exams of their students. In addition, you'll have access to 22 full-length tests you can take whenever, and 8 single-section tests that can help you focus on the sections that need more work.
On-demand tutoring
Private tutors are out of reach for so many students–they're expensive! That's why I think Princeton Review's 24/7 on-demand tutoring is an insane cherry on top of an already fantastic cake. Now, when you come across a problem you just can't solve or a concept your brain can't seem to master, you reach out for one-on-one help and move forward faster.
Digital transition
The College Board has announced that the SAT will fully transition to digital format by 2024 for all students. Not only will the tech change, but so will the test.
Key changes:
Test length will shorten to 2 hours due to a new section-adaptive test format which can only be taken in official testing centers.
Each section of the test (Reading and Writing, Math) will be divided into two parts or "modules." The difficulty of the second module will be determined by your performance on the first.
Reading and Writing and Language will be combined into one Reading and Writing section. This section will feature many shorter passages vs. a few long ones, and students will be asked one question per passage.
With all of these changes comes the need for new testing and content strategies, and Princeton Review is already on it. Currently, you can take SAT 1400+, 1500+ Tutoring, Essentials, and Private Tutoring for the digital exam.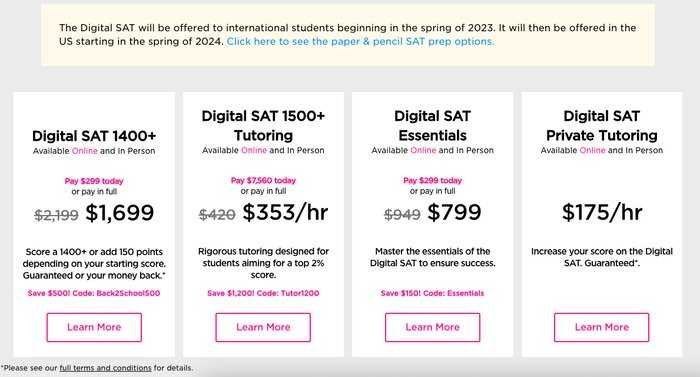 Princeton Review Alternatives
While I can't say enough about Princeton Review's SAT prep materials, it's important to explore your options before committing to a course. Here are a few alternatives:
Explore Princeton Review's other prep programs: MCAT, GRE, SAT, ACT, LSAT, GMAT
Conclusion: Is Princeton Review SAT prep worth it?
As a former 11th-grade teacher, I spent countless hours prepping hundreds of students for their college readiness exams. I know what they need and how valuable their time is. After just a few hours of exploring Princeton Review's SAT prep, it's clear they do too! This program has swiftly earned my seal of approval for any student who has a dream school in mind. Princeton Review is ready to be your ally in standardized testing. They're ready to give you the one-on-one support and authentic materials needed to get a 1400+.
And, if you don't reach your goals, there's an option to get your money back. However, if you follow their lead I think your goals are well within reach.
Princeton Review FAQs
How much does Princeton Review SAT cost?
For focused SAT courses, prices start at $499 and can reach $353/hr with private tutoring.
Will Princeton Review improve my SAT score?
If you attend the classroom lessons, watch the instructional videos, and take advantage of all their practice exams, then yes! If it still doesn't work, you can seek a refund.
Can I get a refund?
Yes, you can get a refund or partial refund if you meet all of the conditions for that particular SAT course.

Hannah recently left high school teaching to become a writer. When she's not spending time with her husband and toddler, she's traveling, trying a new restaurant, or tackling a crossword puzzle.