What if you could boost your ability to learn and remember information using the power of AI? Well, Quizlet offers you the ability to do just that, with scientific learning techniques designed to optimize the way you retain information.
Quizlet lets you easily build your own resources, tests, flashcards and more with AI-enhanced learning tailored to your needs. Used by two thirds of American high schoolers with 60 million monthly users, this unique platform promises to turn your notes into the best notes in class — but is it worth the money?
Whether you're a student looking for more effective study tools or an educator who wants to capture their class's attention, this in-depth Quizlet review has got you covered. We'll dive into the platform's features, what makes it unique, and how it compares to rival platforms. Read on to find out all the information you need to know about Quizlet's offerings and whether it's the right learning platform for you.
.
Quick summary
Features
The ability to turn your class notes into personalized learning resources with the help of powerful AI tools
A huge library of resources that have been made by other students and education professionals
A variety of different ways to learn, including interactive puzzles, quizzes, assignments and textbook solutions
Access to an enormous learning community where you can ask questions and share resources, as well as access to a mobile app
Pros
Fully customisable resources to fit your learning goals
Data-driven learning techniques based on scientific studies about the best ways to absorb and retain information
Incredible AI that speedily generates tests, summarizes concepts and defines terms.
A Huge selection of resources, from elementary school level all the way up to college and postgraduate levels
Cons
Not very easy to browse, as in order to find a topic on Quizlet, you have to type what you're looking for into the search bar rather than choosing from a menu
Quizlet is designed for users who are already studying, so it's a place to consolidate knowledge, rather than learn new skills
Best for: Quizlet is best for students who want to test their knowledge, revise for exams and get into great learning routines.
Cost: Check the latest prices here.
Overall: Quizlet helps you to retain crucial information and with dynamic flashcards, interactive quizzes and collaborative learning. Helping you unlock your academic potential by making learning fun and engaging, Quizlet is an invaluable resource for students at any level. I wish I'd come across it sooner!
We'll be covering everything you need to know in this detailed review, including:
What is Quizlet?
Who are the instructors?
How does Quizlet work?
How much does Quizlet cost?
Quizlet free trial
What a lesson is like
Best Quizlet resources
Quizlet for business
How I reviewed Quizlet
What I liked
What could be improved
Who Quizlet is for
Can I buy Quizlet as a gift?
Tips for finding great courses on Quizlet
Is Quizlet legit?
Quizlet refund
Quizlet alternatives
What others have said
Evaluating Quizlet
Is Quizlet worth it
FAQ
Let's get started!
What is Quizlet?
Quizlet helps you turn boring revision into an engaging, immersive experience, transforming your class notes into personalized interactive quizzes, flashcards, games and tests using AI-powered tools.
With Quizlet, you can create study sets of key information, your very own study plans and find solutions to common textbook questions all in one place. The platform was designed with students in mind, and at the time of writing is used by two thirds of American high schoolers, with 60 million monthly users. However, Quizlet has something for everyone – lifelong learners, professionals and educators would all benefit the study aids and memorisation techniques it supplies.
Who are the instructors?
As a collaborative study platform, Quizlet is powered by its users. Whilst some content is created by teachers and education professionals, Quizlet is all about turning your own notes and learning materials into easy-to-digest content, quizzes and tests. There are also plenty of resources that have been created by other learners, so there's a high probability that if you're studying a common topic, someone else will already have made notes and exercises on it.
How does Quizlet work?
Quizlet is all about making learning fun, with interactive quizzes and flashcards, multimedia integration, engaging games, and collaborative study. Quizlet offers a subscription-based payment model, providing users with access to a wide range of courses and learning resources.
Your Quizlet subscription will give you access to huge range resources such as the ability to create your own personalized learning resources, as well as membership of a vibrant learning community where you can ask questions, share insights and collaborate on projects. A unique feature is Quizlet's 'Magic Notes', which will transform your class notes and revision documents with Artificial Intelligence – outlining main points, creating flashcards, sample essay questions and even practice tests.
Another incredible feature is Quizlet Learn, which creates an adaptive study plan using your study sets and information about your deadlines, powered by data gathered from millions of learners to figure out what really works. Additionally, there is a 'solutions' section featuring correct answers to test questions in a variety of textbooks.
Quizlet covers a massive selection of learning topics, including:
Technology and programming
Language learning
Creative arts
Personal development
Academic subjects such as science, history and literature
Quizlet is powered by learners. Whilst there may be teachers and education professionals creating resources on the site, many study sets are created by the students themselves. That way, you get a truly personal learning experience to reinforce what you need to know to ace tests and perform highly.
How much does Quizlet cost?
Much of Quizlet's content can be accessed for free, however subscription is must in order to have an add-free experience and access to special features such as solutions to textbook questions written and doubled-checked by experts. You will also get customisable learning sets, the ability to scan handwritten notes and incorporate them into online learning and adaptive study paths.
Quizlet offers several different pricing options – either you can pay for a whole year upfront (at the time of writing this is around $36, working out to just under $3 a month) or pay around $7 on a monthly basis. Make sure to check the Quizlet website for the most up-to-date pricing information.
Quizlet free trial
Still not sure if Quizlet is right for you? The great news is that Quizlet offers a 7-day free trial so you can test out all the special Quizlet plus features and figure out if it's worth it. Many of Quizlet's features are available for free, but there is a limit on how many times you can use resources, and there are a lot of ads, which can be super distracting.
What a lesson is like
Quizlet don't offer lessons so much as resources. You can either convert your own class notes into testable flashcards with 'Magic Notes', or you can explore the huge range of resources that have already been put together by teachers and students.
For example, say you want to consolidate your knowledge of 20th century Russian history for an upcoming test. Simply search the topic you need to revise:

You can then browse pre-made study sets, which comprise of key terms, dates, and questions.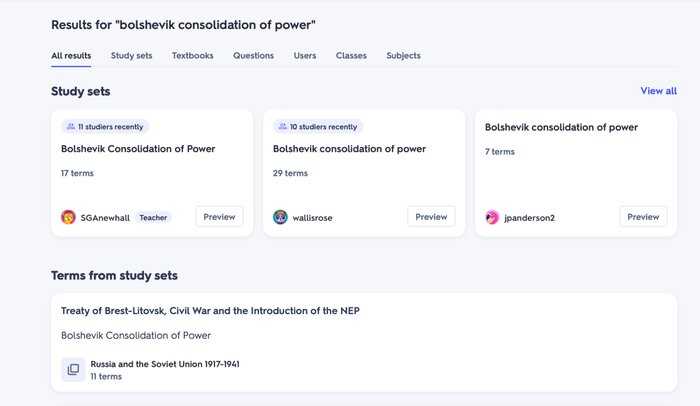 By selecting pre-made study sets, you can get in insight as to whether they will be suitable for you: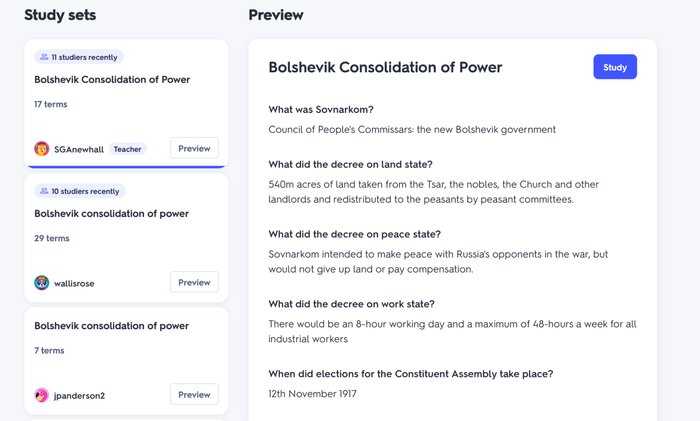 You then have a great range of options for how you want to study, through flashcards: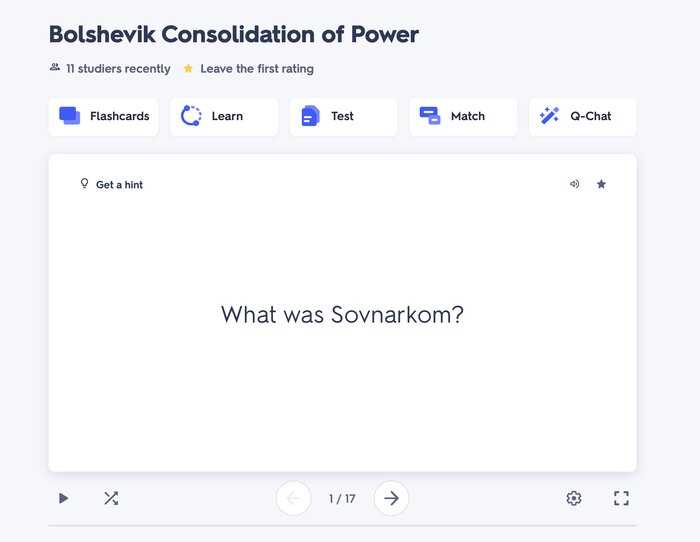 Tests: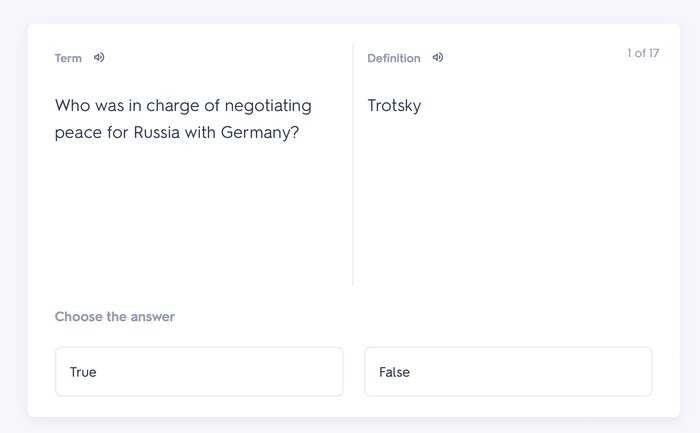 Matching exercises: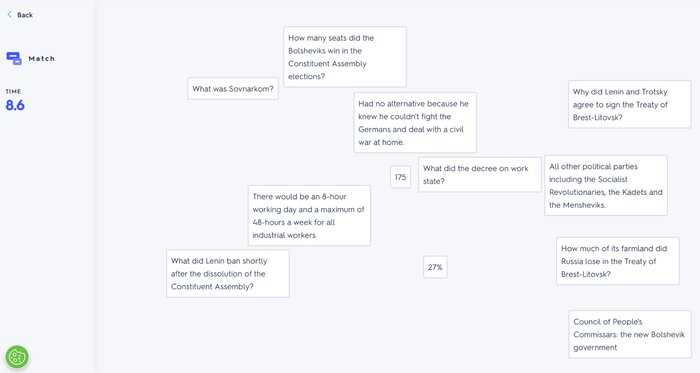 Or multiple choice questions: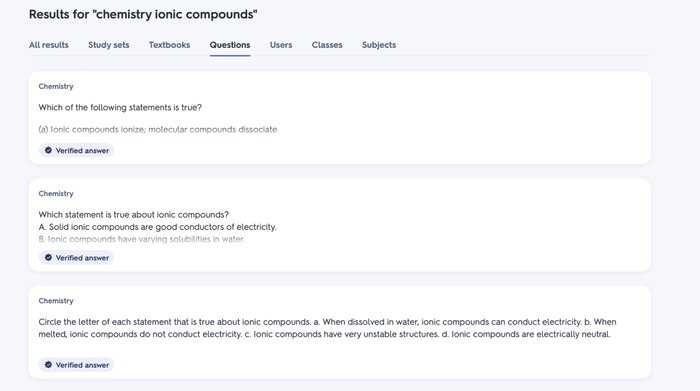 You can really tailor the learning experience to best fit your style, needs and timeframe.
Best Quizlet Resources:
Quizlet has plenty of great resources to help you reach your academic potential. Here are three AI-driven tools the site offers that use technology to
Magic Notes
Got a bunch of complicated study notes that you're struggling to decipher? Simply upload them to Magic Notes and let AI take the wheel!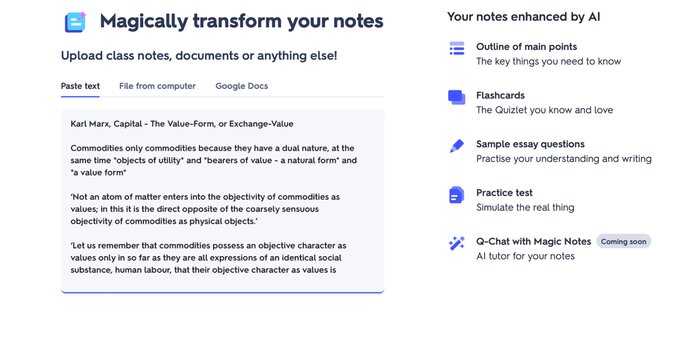 Quizlet will transform these notes into flashcards, sample essay questions, practice tests and more, picking out key terms and information. I wish that I had had this resource in college!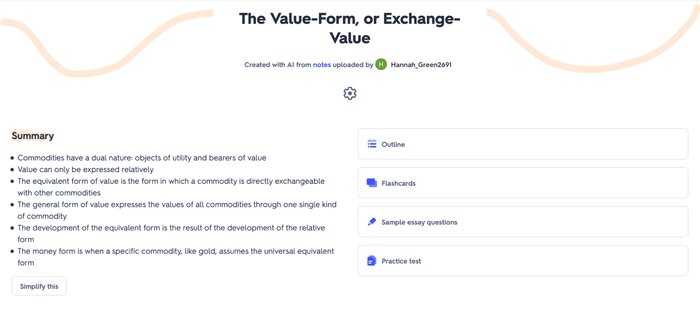 Expert Solutions
If you are learning from a specific textbook and want to practice with set questions, then Quizlet has a huge library of the most popular textbooks in the country with solutions verified and double-checked by experts.
Let's say you're studying chemistry – you can find your textbook via the search bar, and access questions, solutions, and even AI-generation explanations of complex topics.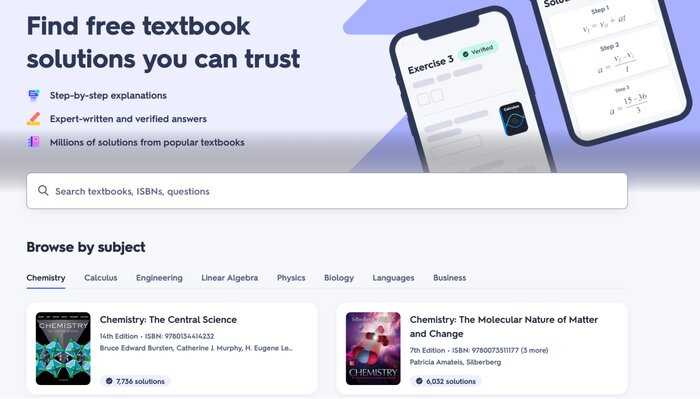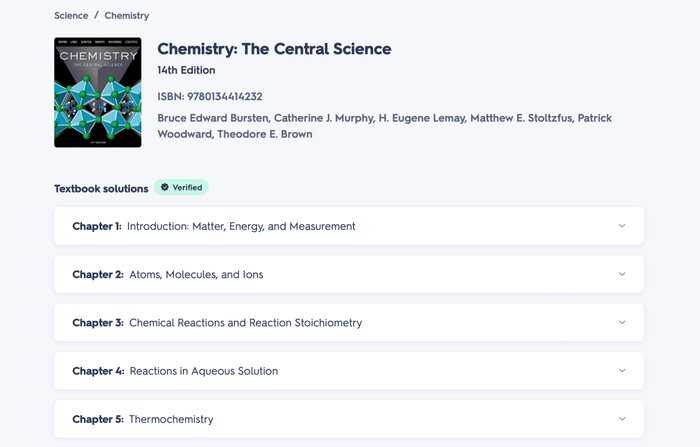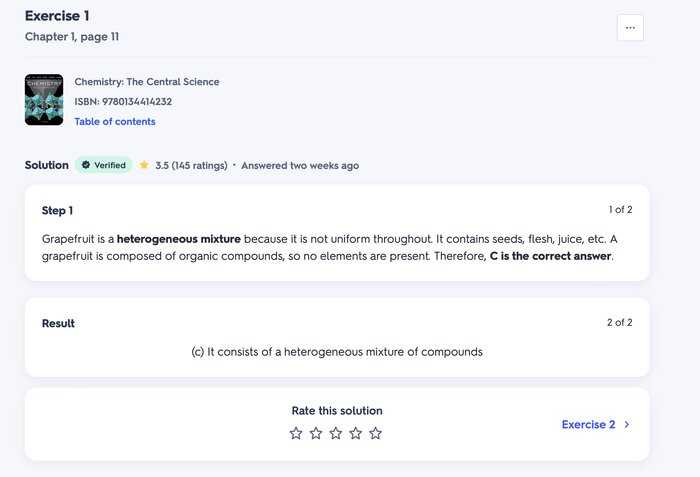 Quizlet Learn
Available on the Quizlet mobile app, 'Learn' is an exciting new feature that creates a personalized study plan using AI and information about what you need to learn, and how much time you have to learn it. Analyzing your performance to figure out where you might need more support, sending study reminders and employing tried and testing memorization methods, this is a must for keeping on top of tests and assignments.
Quizlet for business
Quizlet isn't just for students! Teachers can capitalize on the platform's incredible resources to capture students' attention and increase classroom engagement.
'Quizlet Live' transforms study sets into collaborative learning games. Students scan a QR code and play along on their devices, with options for team and individual games.
'Checkpoint' offers teachers a way to offer formative assessments for their students- musically-driven timed questions and animations, you can capture students' attention and measure their progress, whilst boosting engagement. You gain immediate insight into what your class is mastering, and what topics need more attention.
With a Teacher account, you can also gain access to a range of great learning resources, and information about navigating education and technology. For more information about setting up a Teacher account, including pricing information, get in touch with Quizlet.
How I reviewed Quizlet
To make sure I could write the most informed Quizlet review possible, I signed up to the Quizlet Plus' seven day free trial, to test out all the exclusive features on offer for teachers and students. I explored their range of resources, and even created some of my own, using old college notes to explore their 'Magic Notes' feature. I downloaded their mobile app to try out their Quizlet Learn feature, and made sure to explore a range of topics, from Chemistry to Russian History.
What I liked about Quizlet
Data-driven learning techniques proven to help you succeed
Quizlet uses fully-researched learning and memorization methods to take the guesswork out of learning. Their 'Learn' feature is a great example of this, as it draws on anonymous data from thousands of learners to figure out what works and what doesn't. These really are the quickest and more efficient ways to get up to speed with your learning goals.
Fully Customisable
The ability to create your own resources means that you don't have to waste your time searching for specific questions, topics and tests – simply input your pre-existing class notes in the 'Magic Notes' function, and everything you need to start consolidating your learning will be right there.
Incredible AI Capacity
In addition to AI-driven 'Magic Notes' and 'Learn' features, AI is everywhere on Quizlet, speedily generating tests, summarizing concepts and defining terms. It's like having a study buddy / teacher / supporter on hand at all times! Quizlet has really dug into the amazing potentials of AI, and it'll be exciting to see how this develops.
Huge Resource Library
There are so many resources on Quizlet – from Ancient History to languages, self-improvement and chemical engineering, if someone's learning a topic then it's almost guaranteed to be on Quizlet, from school all the way up to college and postgraduate levels.
What could be improved
Not very easy to browse
In order to find a topic on Quizlet, you have to type what you're looking for into the search bar. Whilst it has a great search engine which consistently delivers great results, you're not able to browse topics from a drop-down menu. This means that you have to be pretty specific and focused rather than being able to casually browse.
Not a place to learn new things
Quizlet is designed for users who are already studying – it's a place to consolidate knowledge, rather than learn new skills. If you're eager to revise for tests and exams, remember key concepts and build a good study routine, then Quizlet is great. If you want to learn new things, then a different platform might be a better option.
Who Quizlet is for
College and school students who are studying for specific tests and want scientifically-backed methods to memorize key facts, test themselves and stay on top of their study schedule
Teachers and educators who want to engage their classrooms with fun, interactive learning, encouraging group work and checking in on how students are performing in key areas
Independent learners who are looking for a way to organize their notes, hold themselves accountable and build great habits for lifelong learning.
Can I buy Quizlet as a gift?
Quizlet is not currently available to purchase as a gift.
Tips to finding great courses on Quizlet
Quizlet contains a lot of very specific resources, so it helps to know exactly what you're looking for. If you have a chemistry test coming up, it's probably not enough just to search for 'Chemistry' – it's better to search for key terms, grade level, or even the textbook that you're working from. Say you need to revise ionic compounds – the results will show you available study sets and resources: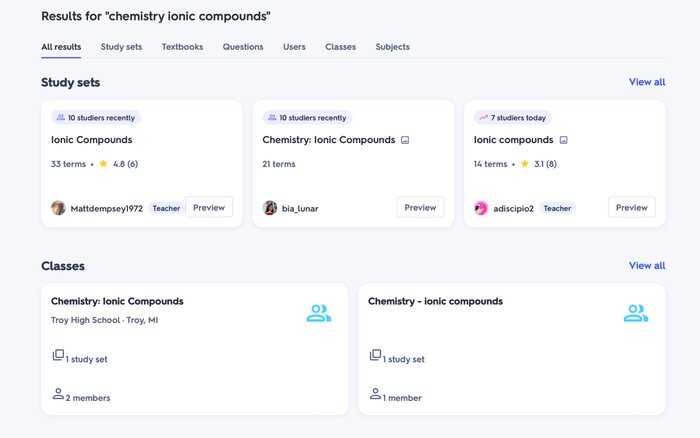 You can see how many other users have benefitted from the resource, and how helpful they've found it by the star rating.
You can also browse questions related to your subject.
This way, you can test your knowledge, and figure out where you might need to improve.
Is Quizlet legit?
Quizlet is such an amazing resource, it almost seems too good to be true. However, Quizlet is 100% legit. Not only have I tested it out for myself, the site actually has 60 million monthly users, with 2 out of three US highschoolers using Quizlet!
Quizlet refund
Quizlet does offer a refunds in certain circumstances. You need to get in touch with them directly, and explain why you would like a refund.
Quizlet alternatives
Whilst Quizlet offers a fantastic service, there are plenty of other online learning platforms available. Quizlet is designed to help students consolidate learning, so if you want to start from scratch, then Udemy might be a good option, as they also offer a huge range of courses, including high-school and college-level content. With Udemy, you pay per course, so if you only need the service for a short amount of time, this may be a better option for you.
If you're looking to learn a broader range of skills beyond academic studies, then Skillshare is a great choice – from graphic design to event planning, there's a Skillshare course for pretty much anything!
Quizlet offers some great language study sets, but if you want to move beyond vocab, then apps like Memrise or Duolingo would be a good way to go. They offer plenty of free content, and employ the same scientific learning techniques employed by Quizelt, but with language-learning specifically in mind.
Quizlet reviews: What others have said
I want to write the best Quizlet review possible, so I had a look around review sites and forums to see what other users thought of it.
It looks like there's been a big change recently, with many features that used to be free now behind a paywall. One TrustPilot reviewer wrote that 'Things that used to be free are locked behind paywalls, and the website feels like a shell of itself because of it.'
Another user, this time on Reddit, suggested that the app could be improved if there were more color options, as 'this would be especially beneficial for those with dyslexia who find certain fonts easier to read.' Despite this, they said that they have 'been a fan of Quizlet for eight years and often suggest it to others.'
Many reviewers weren't bothered by the paywall, with Alex S. writing on TrustPilot that 'Quizlet is by far the best platform for flashcards and revision overall, and their new Q-Chat feature is quite probably the best revision too I have seen/used in my entire life.' He added that, whilst a little pricey, Quizlet is 'an invaluable tool for revision, and I'm more than happy to pay for it.'
Overall, it seems that most people love using Quizlet, and find their tools extremely helpful for studying and revising.
Evaluating Quizlet
Features: Quizlet's tools are very impressive – their AI-powered study sets make it easy to transform notes into actionable study resources, whilst their 'Learn' feature creates time-specific learning to help you prepare for upcoming tests in the most effective way possible.
Content quality: The content quality really depends on you – if you have a good base layer of notes, you can create interactive learning tools with the click of a button. The solutions to common textbook questions are all written and verified by experts, so they are all of a high quality.
Content breadth: There's a Quizlet study set for everything, from self-development to languages to biology. The amazing thing about this platform is you can create resources on any topic you like.
Teachers: As a collaborative learning platform, Quizlet's resources are primarily made by fellow learners, so naturally quality can vary. Your best bet is to create your very own resources.
Supporting materials: Quizlet's supporting materials are just amazing – 'Magic Notes' uses AI to transform your class notes into quizzes, flashcards and tests, while 'Learn' will assemble a study plan based on what you need to know and when you need to know it by.
Payments & refunds: – Either you can pay for a whole year upfront (at the time of writing this is around $35, working out to just under $3 a month) or pay around $7 on a monthly basis.
Support: Quizlet has a great help center with plenty of great FAQs, and other reviews indicate that their email support lines are very responsive.
How to open a Quizlet account
It's very easy to open a Quizlet account. Simply head to the Quizlet website, and select the 'Sign Up' button in the top right corner:
You will then be prompted to fill in your personal information, and you can decide whether you want to opt for the standard service, or pay for Quizlet Plus.
Is Quizlet worth it?
In my personal opinion, if you're a high school or college student, then Quizlet is worth it. The service works best when you input your own notes to create personalized resources, so it really helps to be in a supported study environment, where you can be sure your content is coming from a trusted source.
Quizlet is most worth it if you're studying for a specific test, but it's also a great way to keep consolidating your knowledge, and keeping track of what you need to work on.
If you want to learn a completely new skill, then Quizlet probably isn't the best option for you – an alternative platform like Skillshare or Udemy would better suit your needs.
I would be sure to make use of that 7 day free trial to make sure the platform is the best fit before you dive into the subscription.
Related articles: Best online high school courses for credit, best instructional design course, Best Outschool review
Frequently asked questions
How much does Quizlet cost?
A yearly membership costs around $36, while a monthly membership is about $7 – make sure to check the website for the most up to date pricing. 
Does Quizlet  have a refund policy?
Quizlet does offer refunds, but you have to get in touch with them directly.
Does Quizlet have a free trial?
Yes – Quizlet has a 7 day free trial. 
What languages is Quizlet available in?
Quizlet is available in over a dozen languages, including English, Spanish, French, Turkish and Korean.
Does Quizlet give certificates?
No, but it does provide an invaluable resource for students who are working towards their final exams.

Hannah is currently studying a Masters in Modern Literature and Culture at King's College London.  In her spare time she enjoys hiking, writing and cooking.