Outschool was founded in 2015 with the drive to offer on-hand homeschooling as well as 'extra learning' for pre-K through to high school.
With 10,000+ teachers and live video content, kids get a variety of teaching from educators all over the world. Plus, its 1 million+ users to date are testimony to its increasing popularity.
But is Outschool worth the hype? What are the best Outschool courses? Can kids learn for free? And what other features does it have?
In this Outschool review, I'll answer these questions and more to give you a well-rounded view of the platform. To do this, I've taken the time to explore the site, as well as gathering other people's opinions.
First, here are some basics:
.
Quick summary
Features
140,000+ live online classes from pre-K to high school
10,000+ vetted and passionate teachers in all subjects
Specialist catering to neurodiverse learners, test prep, and Spanish language
Range of class types from one-time courses, semester, chat groups, and full curriculum
Clubs and enrichment for all ages through live weekly videos
Pros
Learn from dedicated and recommended teachers around the world
Financial aid available through Outschool.org
Wider range of topics available than traditional schooling, including World Languages, Health & Wellbeing, and even Games & Hobbies
Private tutoring available for individualized ongoing learning
Cons
All courses charge at a different rate, which can get confusing
Lacks the social and physical elements of in-person learning
Best for: Outschool is best for parents who are wanting to supplement their children's learning through interactive online classes. If you want to explore more specialist interests and extracurricular courses, Outschool offers these for as little as $2 per class.
Cost: Check Outschool for latest prices
Overall: Outschool offers a viable solution for parents who are on-the-move or unable to access full-time in-person schooling. With Outschool, you make your own schedule and book classes around your lifestyle. With the scope of classes in offer, it's also a great way to introduce children to new topics.
So, in this Outschool review, I'll cover:
What is Outschool and who are its instructors?
How does Outschool work and how much does it cost?
Outschool free trial
What an Outschool lesson is like
Best Outschool courses
What I liked and thought could be improved
Who Outschool is for and whether you can buy it as a gift
How to find the best courses on Outschool
Is Outschool worth it?
FAQs
With that being said, let's get started.
What is Outschool?

Outschool gives you the chance to customize your child's learning plans through full-time homeschooling, or, to supplement their learning with individual courses.
For those further into their studies, there's even a Career Prep section, offering college-ready courses for further learning. So, with specialized course options for those aged 3-18, there really is something for everyone.
Coming highly recommended by Forbes, Wall Street Journal, and CBS (to name a few), Outschool puts you and your child at the forefront of learning.
Plus, Outschool's aim to empower children and teens to take charge of their own learning is one of the site's most appealing values. It certainly sets it apart from standard school curricula with this feature, as well as its array of course options.
How does Outschool work?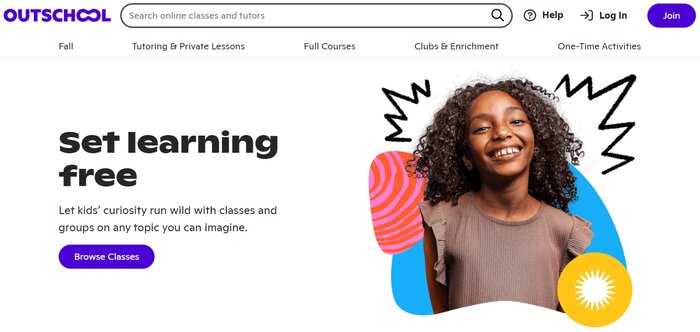 There are several ways you can take courses on Outschool. Namely, you can:
Register for a free account and enroll to any of the 10,000+ courses
Take a 'First Free' class at no charge to trial a lesson/teacher
Subscribe to ongoing classes with a weekly subscription
The first thing to do on Outschool is to sign up, which is easy and free to do. First, click the 'Join' button in the top right corner of the landing page. From here, you can sign up by email or continue with Google, Apple, or Facebook to autofill your details. Then, you're all set!
After this, you can set up your learner(s) and explore what the platform has to offer. You can even switch between learners so your child can access an age-appropriate explore page on their own.
Because Outschool allows you to customize your child's learning, the course options seem almost endless. As great as this is, it can get a little confusing to tell each class type apart. So, I've summarized the course options below.
| | | | | |
| --- | --- | --- | --- | --- |
| Option | Goal | Length | Billing | Includes |
| One-time class | Explore subjects through engaging short-term learning | c.30 mins | Charged upfront (pay per session) | Live video meeting, 1-1/group class |
| Ongoing class | Study specific topics in-depth at least once per week | c.40 mins pw for 20 weeks | Weekly subscription | Live video chat classes, full access to classroom content |
| Semester course | Boost subject mastery through in-depth, semester-long classes | c.50 mins pw for 15 weeks | Weekly subscription | Supportive global classroom, homework, full access to materials |
| Short course | Individually tailored through specialized 1-1 tutoring | c.30 mins pw customizable | Charged weekly | Private classes, tailored learning plan |
| Camp | Online summer camp experience focused on one subject | c.1 hr for 4 weeks | Charged upfront | 1-1 and group learning, skills-building, and social interaction |
| Group chat | Make friends and engage in community-style projects | Various | Charged monthly | Chat and engage with students under supervision |
Outschool's subjects include:
English
Math
Coding & Tech
World Languages
Science & Nature
Life Skills
Social Studies
Arts
Music
Games & Hobbies
Health & Wellness
Each Outschool class gives you a course overview, as well as a more detailed week-by-week breakdown (if applicable). Outschool also offers a 'First Class Free' deal to its new users as well as regular trial courses.

You can also see parents' ratings and reviews, so get a good idea of the learning style and outcomes before you commit.
How much does Outschool cost?
There are various pricing options for Outschool depending on what course(s) you go for.
For some classes, there is a 'First Free' option, meaning you can sample the first lesson free to test the waters.
But, for most courses, you're either charged weekly/monthly (subscription) or upfront (often for one-time courses).
I've broken down the different course types and their pricing structures below:
One-time class
Ongoing class
Semester course
Short course
Camp
Group chat
One-time class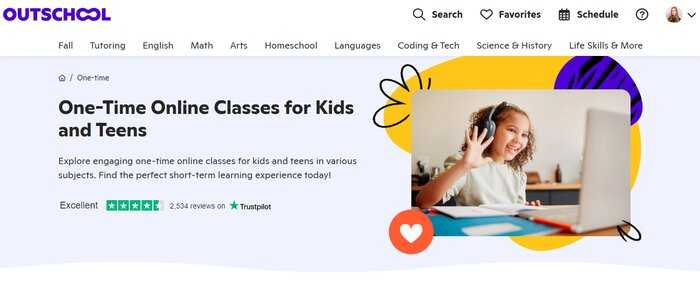 As the name suggests, one-time classes are one-off courses rather than a week-long or semester-long commitment. Because you only meet once, there's no 'First Free' option like you get with some courses.
Instead, these classes are charged upfront as a one-time payment. For a 25-55 minute course, you're looking at around $10-$20. As these are pay-as-you-go, there's no limit to how many you can take – providing you can work them into your timetable.
Ongoing class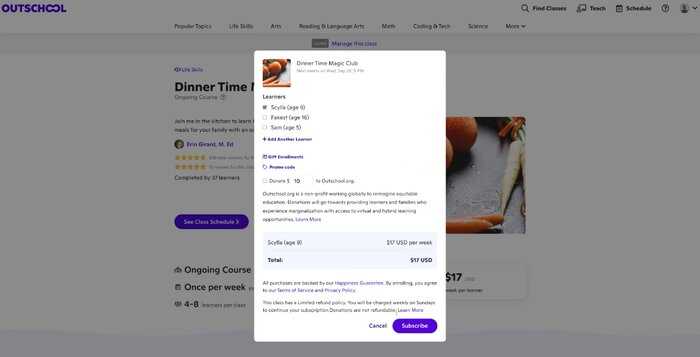 Outschool's ongoing classes meet on a weekly basis, and at least once per week. This is great for continuous learning and to learn without a set end date.
With some of these, depending on course length, you can sample the first lesson free of charge. From then on, these classes are charged as a weekly subscription. If you're unavailable for some of this time, you can also pause and resume your subscription on your Learner Schedule.
Semester course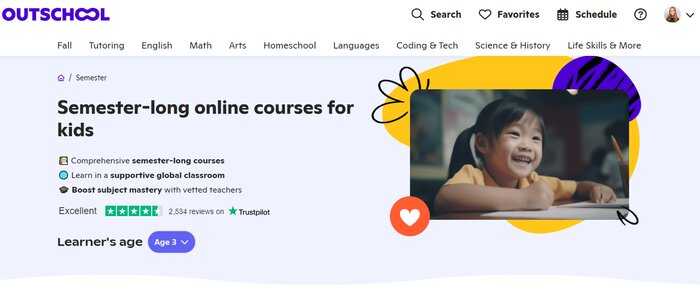 Outschool's semester courses are longer ongoing classes that tend to run for 8-16 weeks. This means you get comprehensive, in-depth learning for the length of a standard school semester.
Because of its length, the semester class usually operates on a weekly subscription, though some teachers charge upfront. Prices range from $10-$70 per semester, depending on teacher experience, course length, and the topic(s) covered.
Short course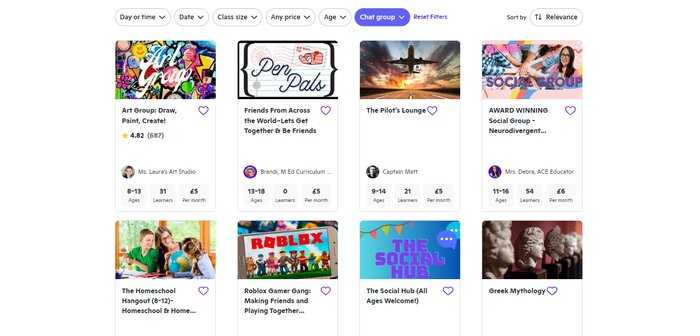 Outschool's short courses vary in length but tend to be for a minimum of one week and a maximum of around 13. These have the scope for more in-depth learning than a one-off course but also doesn't require the same commitment as an ongoing or semester course.
These classes tend to charge as a weekly subscription – though teachers can choose to charge upfront. Again, prices vary according to teacher experience and subject matter (teachers can set their own rates) but you're looking at around $90 for a 13-week course.
Camp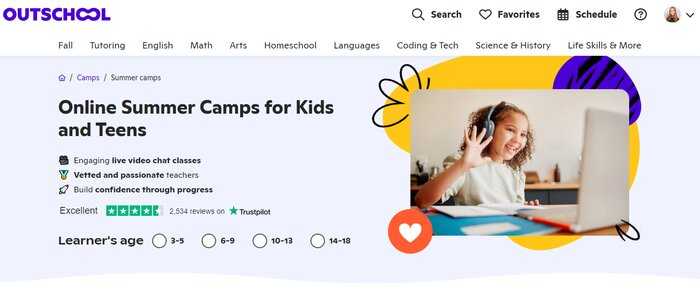 Outschool's camps are designed to be taken as a four-week course over the summer break. These classes tend to be charged upfront and work similarly to offline summer camp programs.
Again, prices vary depending on the exact course length, how often they meet, and the teacher's experience. In general, you're looking at between $20-$80 for a four-week program.
Group chat
Outschool's chat groups supplement learning and offer a social aspect to the schooling experience. These classes are charged on a monthly basis (renewing on the first of the month). You're also looking at around $6 per class
Outschool free trial
Unlike some other learning platforms, Outschool does not allow you to trial the whole site free of charge. This is mainly because the courses are so varied and because you build your own learning plan from a range of class options.
For many of Outschool's ongoing courses, though, you can try the first class out for free. This will help you or your learner to get a feel for the class, the teacher, and the learning style before committing.
What an Outschool lesson is like
Because of the different courses Outschool has to offer, it can be hard to generalize what a course is like.
That being said, the structure follows either a group "classroom" or 1-1 format. Most classes are online and live video. They also tend to involve prep work for before the class and homework to do after.
Here's what you can expect from a typical outschool class:
Student/teacher greetings and introductions
Outline of the lesson's aims (and recaps)
Feedback on any prior prep work
Presentations on a particular subject
Forum-style discussions
Games and activities to reinforce learning
Lesson summary and homework
Best Outschool classes
Some of the most popular and highly rated classes on Outschool (across age groups) are:
One-time class: Let Me Help! Reading, Writing or Math 1-1 Private Tutor | Amber Rutherford
Ongoing class: Video Game Talk – Special Education | Daniel Fontana
Semester course: Pre-Algebra Course | Full Year Semester 1 | Tiffany Willis
Short course: Elementary Writing | Stone Bridges Academy
Camp: I Am Ready For 6th Grade! | Wild and Unstructured Learning
Group chat: Art Group: Draw, Paint, Create! | Ms. Laura's Art Studio
Of course, the best courses for you or your learner will depend on age/grade, as well as learning style, schedule, needs, and more.
But, to give you a clearer idea of what Outschool has to offer, see my mini reviews of the top courses in each category below.
Top one-time classes

Let Me Help! Reading, Writing and Math | Amber Rutherford | 5.0 Rating
Instructor: Amber Rutherford is a certified and licensed elementary teacher with 17+ years' experience. Focusing on the core classes (English, Math, Science), Rutherford comes across as a passionate teacher who wants to help her students succeed.
Learn: Proficiency in Reading, Writing, and/or Math. This is a 1-1 private class that focuses on your learner's needs. Before the class, contact Rutherford to give a clear outline of where your learner is struggling. Rutherford will then put together a learning plan to hone in on these areas.
Includes: 25 minutes of 1-1 tutoring personalized for your learner. Rutherford teaches over live video cam and uses visual aids as well as graphic organizers to cement learning.
Best for: Learners in grades 1-6 who are struggling in an area of math or reading/writing. Rutherford promises to strengthen these areas through patient, enthusiastic tutoring – whether it be division, multiplication, or reading comprehension.
1 Hour of Private Acting Coaching | Janet B Milstein | 5.0 Rating

Instructor: Janet B Milstein is an award-winning acting coach, filmmaker, and actor. She holds an MFA in Acting from State University New York, and a BA in Theatre from the University of Delaware.
Learn: Acting skills customizable to your learner's goals, such as preparing monologues, auditions, putting together a resume, and more. Milstein also offers practical guidance on how the industry works – but parental attendance is required for these.
Includes: One hour of personalized acting coaching for your learner's goals. As Milstein states, no prior acting experience is needed, and she will work on developing any areas of the acting skill set.
Best for: Learners aged between 9 and 18 who are keen to get into acting for theater, TV, or film. It's helpful for those with a particular goal in mind, such as nailing an audition or getting an agent.
Top ongoing classes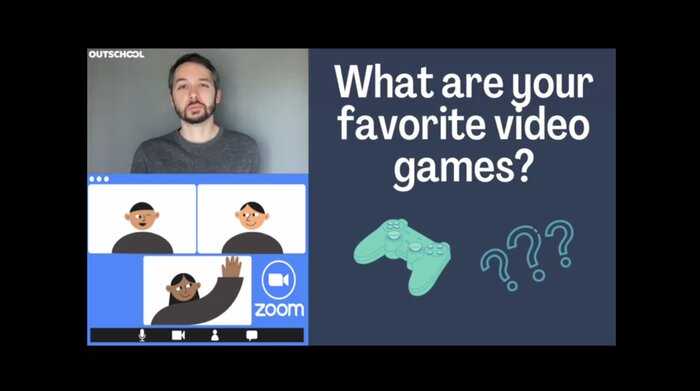 Video Game Talk – Special Education | Daniel Fontana | 5.0 Rating
Instructor: Daniel Fontana is a certified teacher and special educator with a drive to make learning fun. He holds an MA in Elementary Teaching and Special Education, as well as a BA in Psychology.
Learn: Critical thinking, speech, and social skills. Fontana's ongoing video game class is designed for neurodiverse learners such as those with ADHD, autism, or anxiety. Through discussing popular games, learners will make new friends and build social skills.
Includes: Weekly meetings at 25 minutes per class, a small group of 1-4 learners, open class discussion, the chance to make meaningful connections and develop communication skills.
Best for: Neurodiverse learners who feel less comfortable in larger group classes. Fontana's weekly meeting is designed to provide a comfortable space for game-loving kids to develop their social skills and critical thinking, as well as to make friends.
Writing Simple Sentences | Meg Billings | 5.0 Rating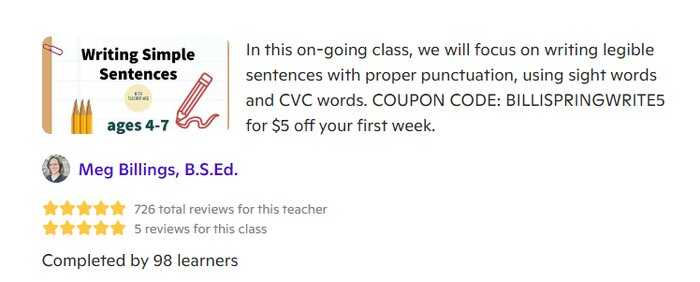 Instructor: Meg Billings is a licensed teacher with a BA in Science and certifications to teach Pre-K to Middle School, and Special Education. She also has seven years' experience teaching in a public school setting and is TESOL-certified.
Learn: Legible handwriting for 4-8 year olds, with an emphasis on using correct pronunciation, decoding sight and CVC words, and building familiarity with writing sentences.
Includes: Discounted rate for your first week, 25-minute live video classes weekly, specially-provided handwriting paper, set homework and practice sentences.
Best for: Children who can decode CVC words like "dog" and "cat" and are ready to work toward writing and forming simple sentences. The class also follows the same format each week so helps your child to learn familiarity.
Top semester courses
Pre-Algebra Course | Full Semester 1 | Tiffany Willis | 5.0 Rating
Instructor: Tiffany Willis is a certified math teacher and private tutor, with her focus centering on algebra and pre-algebra. She has over four years' experience teaching math to grades 3-12 and believes in the importance of teaching the building blocks that will help kids succeed..
Learn: Math confidence and comprehension through close attention to reinforcement areas. This is a semester-long course helping your learner to master the foundations of pre-algebra.
Includes: Twice-weekly meetings for 50 minutes, over 10 weeks, with optional homework, and notes to take with you to future studies.
Best for: Learners aged between 11-14 years old (grades 6-8 level) who could do with building confidence and proficiency in pre-algebra fundamentals.
Python Coding – Create Your Own Video Game! | Einsteins Square | 5.0 Rating

Instructor: Einsteins Square is recognized as one of the top organizations on Outschool, winning the Best in Class 2022 Awards in six categories. They specialize in gaming, coding, chess, and core math subjects.
Learn: Basic proficiency with the most popular programming language – Python. Through project-based learning, students create their own video game as a final project using the Python module Turtle.
Includes: Weekly meetings of 50 minutes over 16 weeks, project-based learning, and a final project that can be showcased as part of a future portfolio.
Best for: Learners aged 10-15 that are interested in computer science/math and likely invested in video game culture. This is a 16-week course that serves as a fun introduction to programming languages.
Top short courses

Elementary Writing | Stone Bridges Academy | 5.0 Rating
Instructor: Stone Bridges Academy hosts multiple Elementary Writing classes on Outschool, from simple sentence writing, paragraph building, and reading fluency. With a team of educators working on various short courses, Stone Bridges hopes to redefine learning outside of the classroom.
Learn: Creative writing, paragraph-building, forming simple sentences, and improving reading fluency. These classes are often fast-paced and revolve around learners trying out their own creative writing through prompts.
Includes: Weekly meetings of 25 minutes, step-by-step guidance and creative prompts, practice sentences and paragraphs, and an emphasis on creative writing.
Best for: Students beginning to write simple sentences and even going forward into building longer descriptive paragraphs. The target learner is 7-10 years old and is comfortable in a faster-paced group learning environment.
Intro to Stop-Motion Movie Studio | Raymond Mullikin | 5.0 Rating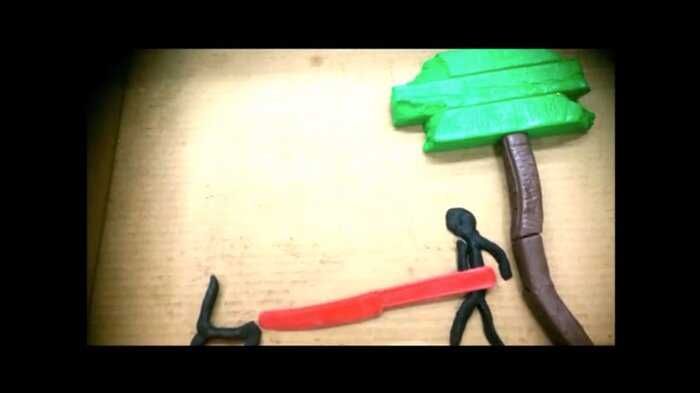 Instructor: Raymond Mullikin of Raytoons Comics is a professional cartoonist, publisher, and certified teacher. Teaching classes in cartooning, publishing, stop motion, and video game coding, he is also the creative director for Raytoons.
Learn: The hands-on process of stop motion – setting up characters and sets, and working with clay and other materials. You'll even put together your own short film using a tablet or smartphone.
Includes: 50-minute weekly meetings over four weeks, hands-on learning with a final project to showcase, short course/camp-style available, sample videos, homework, and mixture of group and independent learning.
Best for: Learners aged 6-11 who are interested in art, animation, or gaming, and are keen to try their hand at making their own short film. This is a creative course that encourages independent learning as well as group discussion.
Top camps

I Am Ready for 6th Grade! | Wild and Unstructured Learning | 5.0 Rating
Instructor: Wild and Unstructured learning offers a hands-on approach that values an inclusive environment and a flexible approach to education. First and foremost, they want learners to be able to take control of their learning and break free from traditional schooling techniques.
Learn: A full 5th grade review to prepare you for grade 6. This course offers a full curriculum review ensuring learners feel confident in 5th grade topics. Because Outschool allows learners to pick and choose courses themselves, camps like this are a great way to ensure all-round confidence in core subjects.
Includes: A full 5th grade curriculum review meeting thrice weekly over four weeks (60 minutes per class). Each meeting covers a different concept and all come with homework. This out-of-class work can be held on to and regularly reviewed prior to (and during) 6th grade.
Best for: Learners who have reached the end of 5th grade and are preparing to head into grade 6. This camp is a one-stop-shop for a full 5th grade curriculum review, and is a useful summer refresher for anyone headed toward 6th grade learning.
Mental Math – Powerful Tricks and Shortcuts for Quick Calculations | Einsteins Square | 5.0 Rating
Instructor: This is another course led by Einsteins Square – this time focusing on mental math and learning clever shortcuts to halve your calculation time. As with other Einsteins Square courses, this camp-style class is designed to make learning fun and transferable across grades.
Learn: How to solve math equations within seconds rather than minutes through helpful tips and tricks. The lessons here are particularly useful for solving equations under time pressure (such as in exams) and without calculator aid.
Includes: Thrice-weekly meetings over two weeks with 1-5 learners per class. Each lesson includes a new trick to help you cut your equation-solving time. So, with six tricks in total, your learner will leave the camp equipped with transferable skills for future math courses.
Best for: Students who have basic knowledge of multiplication and addition. The camp is designed to create shortcuts for learners aged 10-15 who already have some confidence with equation-solving and want to build speed and efficiency in solving problems.
Top group chats
Art Group: Draw, Paint, Create! | Ms. Laura's Art Studio | 4.8 Rating

Instructor: Ms. Laura is a certified K-12 teacher specializing in visual arts. She holds a BA in Fine Art as well as a minor in History. Her teaching experience also spans over 20 years.
Learn: To explore different types of art, creating your own weekly art projects to showcase and discuss. Learners will discover different drawing types, find their own artistic voice, and share their ideas with other students.
Includes: Unlimited access to chat groups, over 45 pre-recorded art tutorials, weekly art projects, challenges, and chances to share and discuss your art.
Best for: Art-loving students aged between 8 and 13 years old. This group chat works best as a supplement to other learning and is an opportunity to get creative and connect with like-minded peers.
The Art of Argument | Teacher Jessie | 5.0 Rating

Instructor: Teacher Jessie describes herself as an edu-tainer extraordinaire. With hundreds of five-star reviews, learners and guardians seem to agree with her belief that the best education is fun. Teacher Jessie has been teaching since 2013 and prides herself on her interactive and digitally-enhanced classes to help students get the most out of learning.
Learn: How to master the art of debate in an interactive group – focusing on public speaking and connecting with peers. Throughout these group chat sessions, your learner should grow in confidence with both public speaking and debating.
Includes: Unlimited access to group chat, set challenges and feedback on projects, practice speaking sessions, fun activities, and new topics given for discussion.
Best for: Students aged 10-15 who are looking to explore and improve their public speaking skills. Throughout the chats, learners will gain confidence in mastering the art of argument and debate, as well as presenting ideas in a clear and concise manner.
Who are Outschool's instructors?
Outschool vets all of its teachers to ensure the best quality instructors for your learners. Most teachers who work on Outschool set their own rates and lesson plans, and often come from a public school background themselves.
Teachers include:
Graduates with certifications in specialist subjects and teaching
Pre-K to high school teachers who have found new work in the virtual classroom
Organizations who want to help children outside of the traditional schooling system
Stay-at-home parents who have found success in homeschooling and are keen to help others
How I reviewed Outschool
In order to write this review, I did my best to get a well-rounded experience of the site. This included trying the platform out for myself and listening to other guardians' experience of the site for both them and their learners.
I explored a range of subjects targeted to different age groups, and also checked out the different class types available. Bearing in mind that some parents use this platform as an alternative to traditional schooling, I wanted to see how much it offered for these learners, as well as for those who use it as a supplement to other schooling.
What I liked about Outschool
Learn from dedicated and recommended teachers
With Outschool, you can learn from dedicated teachers from around the world. Unlike with traditional schooling, there are thousands of instructors available in a range of subjects – a wider scope than you'd get at a single school.
Because of this, your learner has access to an array of subjects and specialist teachers. Plus, because you make your own schedule, you can mix and match all kinds of topics to make a well-rounded learning experience.
Financial aid available
Through Outschool.org, you can get financial aid to help with your learner's studies. Outschool believes that every child deserves access to education, and its non-profit arm helps you to get just that.
Wider range of topics than with traditional schooling
As mentioned above, the scope of teachers means that with Outschool, there's more available to learners beyond traditional teaching. In fact, many teachers and organizations set out to teach lesser-taught subjects to students, such as coding and philosophy.
Plus, because you make your learner's timetable yourself, you're not limited to set options like you'd be with in-person schools. Instead, you can choose from thousands of course types and topics.
Private tutoring available
If your learner has areas of weakness in a certain topic, or you're looking to prepare for tests, private 1-1 tutoring is available to hone in on these areas. There's even an entire course type dedicated to this tutoring.
So, further to group learning, your learner can benefit from 1-1 tutoring in any areas you suggest. Based on this, tutors put together a customized lesson plan to get your learner to where they need to be.
What could be improved
Different rates can get confusing
Because teachers set their own rates, there's no "across the board" pricing. So, while you can filter by your price range, it can be complicated to find the right courses within your budget.
As well as this, class types are charged differently depending on whether they're ongoing, one-off, or semester-long courses. Teachers can also choose to charge upfront, so you need to be able to budget for each class and plan out your learner's curriculum.
Lacks the social and physical elements of in-person learning
Inevitably, there's some gaps that virtual learning can't fill. Things like physical activity, recess, and group projects are much different online and they do lack the social and physical aspects you get with in-person learning.
So, ultimately, online schooling (whether on Outschool or an alternative) isn't for everyone. Sometimes it's best taken as a supplement to in-person learning, specifically for extra-curricular activities or tutoring.
But, at the same time, Outschool is an amazing option for families whose lifestyles don't fit into the traditional schooling schedule. And, in circumstances where children can't get to school, it's invaluable to have a virtual option.
Who Outschool is for
Outschool is completely customizable around your and your learner's schedules. Because of this, it's designed to appeal to a range of learners, such as:
Students whose families travel or move frequently
Those who wish to take a wider range of subjects than traditional schooling offers
Learners who can't make/afford summer camps in-person
Anyone who needs supplementary learning/tutoring along with their own schooling
Children aged 3-18 who want to connect with like-minded peers
Can I buy Outschool as a gift?
Yes! Outschool lets you give the gift of learning in the form of a gift card. You can also choose your gift card amount ($50 will buy you about three classes) and easily redeem this via email.
Tips on finding the best Outschool classes
Outschool is made to be easily accessible for parents and children alike. When you sign up for the platform, you can make multiple profiles – one for yourself and one for each learner using the site.
Here are some ways you can find the best courses:
Browse by class type (e.g. chat group, camp, ongoing/one-time class)
Search by age group (automatically applied on your learner's profile)
Sort classes by relevance, newest, or starting soon
Filter by price, class size, date, or time
Search by course subject (e.g. Math, English, languages, etc.)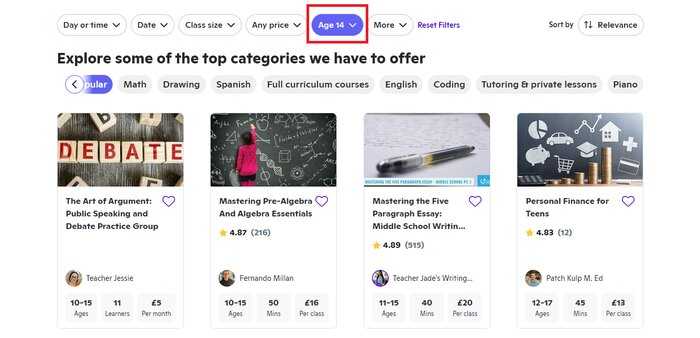 Is Outschool legit?
Having explored the platform myself, and heard from parents and students who use the site, I can safely say that Outschool is a legit platform for one-time and ongoing learning.
Since 2015, Outschool has increased in popularity with online learners who have turned to the virtual classroom for multiple reasons. It became a vital source for families during difficult times, and even reached the non-homeschooling learner through its supplementary and interest-based classes.
To date, the platform boasts over 1,000,000 learners in 195 countries worldwide. With 14 million class hours to date, the site shows no signs of slowing down and is instead expanding with widespread demand. Fast School even recognized Outschool as its most innovative company in education in 2021.
Outschool refund
Outschool's refund policy is based on a Happiness Guarantee and is available to view in full here. In short, full refunds are available within 24 hours of purchase. But, beyond this, class-specific refund policies apply.
Outschool alternatives
With the growth in e-learning platforms for adults and children alike, it's no surprise that learners are turning to the virtual world for supplementary or even full-time learning.
One of many alternatives to Outschool is Varsity Tutors. As a tutoring site, Varsity succeeds in giving 100% personalized support for individual learners. It's also specifically designed for test and exam prep.
As you'd expect, though, teaching is largely 1-1 and it's mostly designed for exam season than, say, full-time, ongoing learning. Plus, Outschool offers private tutoring as well as its full-time education, so it's definitely handy to have all of these resources in one place.
Further to Varsity Tutors, Khan Academy is another platform similar to Outschool. One perk of Khan Academy is that it offers (some) free classes and is a risk-free option for anyone looking to test the waters.
However, many of these free classes are pre-recorded and lack the sense of community that comes with Outschool's live group classes. Outschool also offers a wider variety of course types, as well as extra-curricular learning and group chats.
See also our articles: Benefits of home schooling, Top 100 home schooling statistics, Latest eLearning statistics and Home schooling during the pandemic
Outschool reviews: what others have said
My aim here is to present a fair and honest review of Outschool. So, I've scoured the platform, as well as other opinion sites like Reddit, to get some overall views of the site and its effectiveness.
All in all, Outschool rates positively with families looking for a non-traditional setting to give their learners a wide range of knowledge. Some also praise it for its ability to offer comprehensive full-time learning for on-the-move families.
Bearing in mind that there are many different learners using Outschool (for electives, tutoring, to supplement, or even replace traditional schooling), there's inevitably a mixed bag of opinions.
One of the downfalls of Outschool is the difficulty in making social connections or nurturing a classroom-like environment over webcam. As one user noted:
"I really want to like Outschool but I don't think it's a good fit for my kids. I always found they were muted and there wasn't any interaction between the kids – I personally dislike it for a lot of reasons I dislike actual school though so I probably shouldn't be surprised" – Comment from Reddit
The lack of a social aspect is definitely a worry for some parents/guardians when it comes to 100% homeschool learning. It can be very hard to imitate classroom learning in a virtual environment – whether or not the webcams are on.
At the same time, teachers try their best to encourage peer interaction and discussion. Sometimes, this is more the case in group chats or summer camps, but it really depends on the teacher's style and how they want to run their classes.
In fact, because there are so many different instructors available, you can't always tell if a teaching style will be right for your learner until you give a class a try. That being said, though, this is why many ongoing classes let you have your first class free and why parent reviews are always on show.
"If you stick to the ones with many positive reviews then you are more likely to have a better experience. On the other hand, those with fewer to no reviews often are cheaper to entice families into giving them a chance. Doesn't mean the experience will be bad though but there is a little more risk" – Comment from Reddit
However, most parents and guardians had positive experiences with the site. Whether this is to supplement learning or to aid in a particular topic, Outschool is an excellent online resource for many families.
"We've had great experiences with Outschool [...]. I highlight recommend the art classes by Ms. Niki. She's highly engaging and all the kids love interacting together every week" – Comment from Reddit
"We did some Outschool last year to complement our cobbled together homeschool curriculum and it was fantastic. It can vary a lot based on how engaging the teacher is and how good they are at keeping attention, managing Zoom manners, etc." – Comment from Reddit
"We did a math class a couple years ago when my son was struggling. It helped him get confidence. I may sign my kids up for an essay or poetry writing class this year" – Comment from Reddit
See also our articles: Benefits of home schooling, Top 100 home schooling statistics, Latest eLearning statistics and Home schooling during the pandemic
Evaluating Outschool
Features: 10,000+ teachers and 1 million users across 195 countries worldwide. Prices vary and can suit all budgets, with the first lesson in ongoing classes usually offered free of charge. You can also apply for private tutoring and construct your own full curriculum from pre-K through high school.
Content quality: Most classes are hosted live over Zoom with "share screen" options and additional graphics/digital interaction. Video/audio quality can vary from course to course so it's always good to read the reviews.
Content breadth: Content far exceeds traditional schooling by hosting an array of electives, extra-curricular learning, and out-of-class projects. You can also learn from thousands of teachers with a range of backgrounds and mix and match classes.
Teachers: Fully certified and vetted teachers, often from public school teaching backgrounds. All of Outschool's teachers are qualified experts in multiple subjects and even have their own businesses outside of Outschool.
Supporting materials: Many classes offer additional digital/print-out resources for children, as well as extra reading and homework materials.
Payments and refunds: Pricing varies depending on course type and individual classes can start from as little as $2-$5. Full refunds are available to those who have signed up within a 24-hour window, and, for other circumstances, individual class policies apply.
Support: Outschool is accessible for all-round support.
How to open an Outschool account
Opening an Outschool account is easy and free to do. Firstly, click the "Join" button in the top right corner. From here, you can either sign up with email or continue with Google/Apple/Facebook for a faster sign-up.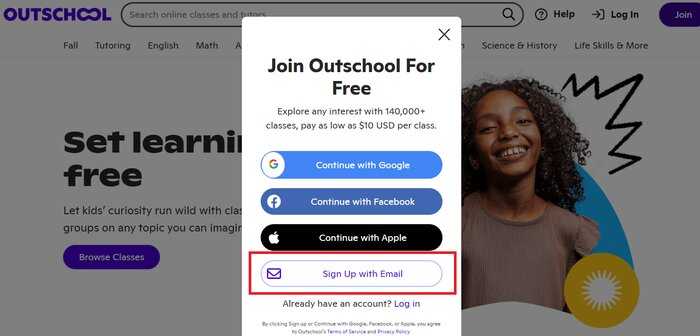 From here, you can set up an account for yourself and add profiles for your learners. As you set their age ranges, your learners can only see topics and areas of the website suitable for them. And, of course, you're the main account supervisor with all-round access.
Is Outschool worth it?
To answer that question, you really need to think about what you want to get out of Outschool.
For many, it's a viable option for learning on-the-go or outside of traditional classroom hours/curricula. It's also helpful as an aid to traditional learning or even for summer recaps/camps.
But, for some, online schooling can't replace in-person education. This might be for your own values or for your child's socializing preferences. It's very hard, for example, to teach gym class in a virtual setting, and even 1-1 tutoring can be easier to grasp face-to-face.
So, it's definitely a mixed bag and there's no one way of learning that will work for everyone. At the same time, Outschool does its best to break down these barriers by providing all-round support, multiple course types, and specialist learning for kids with different needs.
Overall, I think Outschool is an excellent resource for families who can't make in-person school for whatever reason, or as a supplement for further learning. It's also a great way to learn something outside of the typical school setting and to connect with other like-minded students around the world.
Outschool frequently asked questions
How much does Outschool cost?
Prices vary depending on course type and teacher experience. Individual courses can start from as little as $2 per class, and semester-long courses (13-16 weeks) can be closer to $100.
Does Outschool have a refund policy?
Yes. Outschool has a 24-hour window for a full refund and class-specific policies for anything outside of this.
How many courses are there on Outschool?
At the time of writing, Outschool offers over 140,000 live classes.
Does Outschool have a free trial?
Outschool doesn't have a free trial per se. But, for many ongoing classes you can try the first class free.
What languages is Outschool available in?
Outschool is mostly English-based, but you can search for classes taught in Spanish.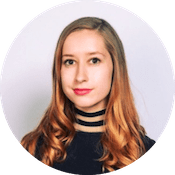 Rebecca graduated from King's College university with a first class honours in English Language, followed by a Masters' Degree in Eighteenth Century Studies.