Do you want to learn in-demand tech skills in half the time?
Educative offers just that, with up-to-date courses, in-browser coding and personalized Skills Paths. Whether you want to learn a new programming language or a technology, learn to code as a beginner or prepare for an interview, Educative offers expert-led courses from the best in the business, including engineers from Meta and Microsoft. 
You can choose from topics such as Software Development, Mobile App Development, System Analysis and Design, Data Structures and Algorithms. With in-depth learning paths and short, sharp courses that focus on specific skills.
So can you really learn career-boosting tech skills in half the time?
In this comprehensive Educative review I'll be covering everything you need to know about Educative. Including the quality of their content, the best courses and what other learners thought. Read on to find out if Educative is the right platform to fit your learning needs.
.
Quick summary
Features
Dozens of courses covering in-demand software development skills, from Python and Java to Quantum Computing
Specialist courses on interview prep to help you land your dream job
Hands-on In-browser coding so you can practice your new skills
The ability to earn certificates to impress future employers
The option to take shorter courses with projects designed to hone specific skills
Pros
Constantly updated to keep you on top of developments in each field
Strong emphasis on interview skills, prep and common questions to help you land your dream job
Authors who are experts in their field, including engineers from Facebook and Microsoft
Trusted by 1.9 million developers working at companies such as Netflix, Meta, Google, Amazon and Apple
Detailed personalisation to find out how best to hone your skills, and save you time
Cons
No star rating system for courses, making it harder to know if other users have benefited
Text based learning that's intended to speed up the learning process, but might not be the best method for everyone
Best for: Software developers who want to upskill, explore their options and ace interviews
Cost: Check latest prices for Educative.
Overall: Master in-demand skills efficiently while learning how to ace tech interviews and land your dream job in a highly competitive, highly paid field. Educative is a brilliant place to learn new skills to help you propel your career forwards, with plenty of opportunities to develop your coding and put your new knowledge to the test. A strong focus on interview skills and technique will give you the edge over your competition and help you stand out from the crowd.  
This detailed review will cover everything you need to know about Educative, including:
What is Educative and who are the instructors?
How does Educative work?
How much does Educative cost and is there a free trial?
What a lesson is like and best Educative classes
Educative for business
How I reviewed Educative
What I liked and thought could be improved
Who Educative is for
Can I buy Educative as a gift?
Tips for finding great courses on Educative
Is Educative legit?
Educative refund and alternatives
What others have said
Evaluating Educative
Is Educative worth it?
FAQ
Let's dive in!
What is Educative?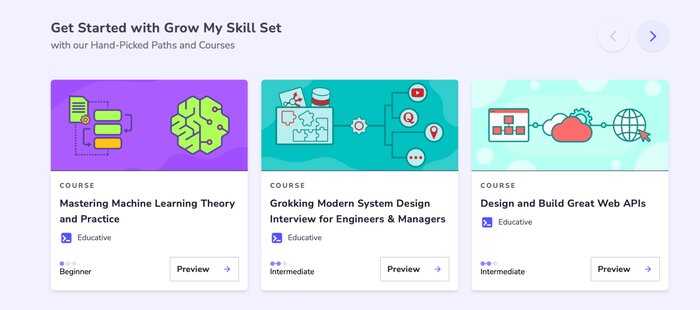 Educative is an online learning platform for software developers of all levels, whether you're an advanced executive or just starting out.
Its courses are specifically designed to teach you the most in-demand skills that employers are looking for. You can also take interview-focused assessments, and practice with in-browser coding. With new courses added every week, this is a fantastic resource offering tutorials in coding languages, Software Development, Mobile App Development, System Analysis and Design
API and more. Educative is trusted by 1.9 million developers working at companies such as Netflix, Meta, Google, Amazon and Apple.
Who are the instructors?
Educative's authors are all experts in their field. For example, Fahim ul Haq, who teaches The System Design Interview Prep Handbook course, is an Ex-Facebook and Microsoft Software Engineer, with over 15 years of experience as a developer and engineering leader. Modern Web Design Using Bootstrap 5 is taught by Fidal Matthew, who is an experienced Front End Development and Technical Content Writer who interned at SimpliClariFy and Codedamn, and worked at Aviyel.
How does Educative work?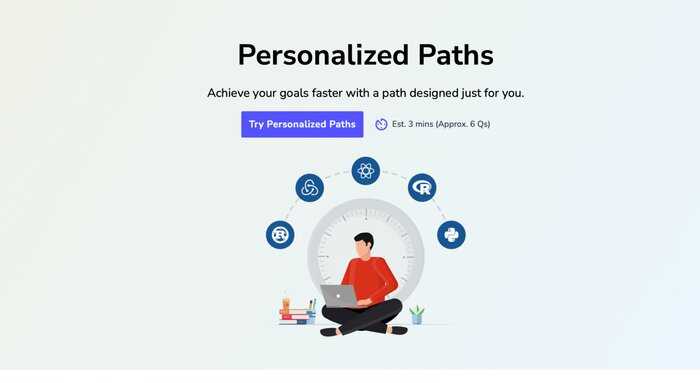 Educative teaches you the most in-demand software skills, with an emphasis on interview skills and practice opportunities. You can take individual courses, or a series as part of a 'Learning Path', such as 'Become a Front End Developer' or 'Zero to Hero in Python for Machine Learning'.
Expect hands-on coding environments, text-based courses and built-in assessments to track your progress.
Some course content can be accessed for free, but you'll need a membership to access the bulk of Educative's offerings. In addition to courses on a wide range of software tools, topics and skills, Educative hosts CloudLabs, and short projects where you can learn focused skills such as 'Build an Image Sharing App with MERN Stack' or 'Fake News Detection Using Scikit-learn'.
Users can pay for a weekly, monthly, or yearly subscription, unlocking premium content including over 140 courses, projects and personalized Learning Paths and certificates of completion, as well as early access to new courses.
Educative focuses on all things software development, with courses covering:
Interview Prep
C
GraphQL
Javascript
Python
Data Science
Web Development
Learn to Code
NoSQL
These are the most in-demand skills in the software development world, updated every week by leading experts.
How much does Educative cost?
There are a few different purchase options when it comes to Educative subscriptions. A standard subscription is $16.66 per month, a premium subscription is $24.99 per month, whilst a flexible monthly subscription is $59.
Standard
Standard works out at $16.66, (which is billed annually at $199), which gives you all Educative courses, the ability to earn certificates, and early access to new courses.
Premium
Premium is a great option for those who want a more tailored learning experience – for $24.99 a month (billed annually at $299), which, in addition to all the Standard membership perks, offers 110 hand-on projects and personalized learning paths.
Monthly
A monthly membership is $59, and offers the Standard benefits for a month, which is a great option if there's a specific course you want to try.
Whatever option you choose, this Educative offers a great deal for access to in-demand skills, with over 680 courses put together by experts.
Educative free trial
Still not sure if Educative is for you? The great news is that you can try out all their content for seven days with a free trial, which includes access to all courses and certificates.
What a lesson is like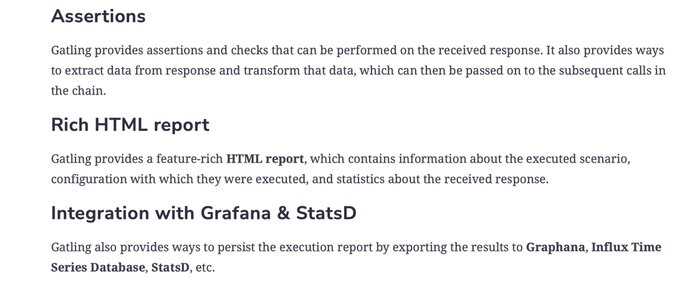 Educative offers classes that are primarily text-based, with a variety of interactive coding simulations that allow you to practice as you go. You don't need any specialist programs or equipment – all these simulations can be run from your browser! There are plenty of diagrams, illustrations and examples to break up the text. With customizable fonts and a dark mode feature, Educative allows you to personalize your learning experience. It might seem like a lot of text to get through, but Educative's reasoning is that whilst video tutorials are usually around 150 words per minute, most people can read 250 words a minute, speeding up the learning experience.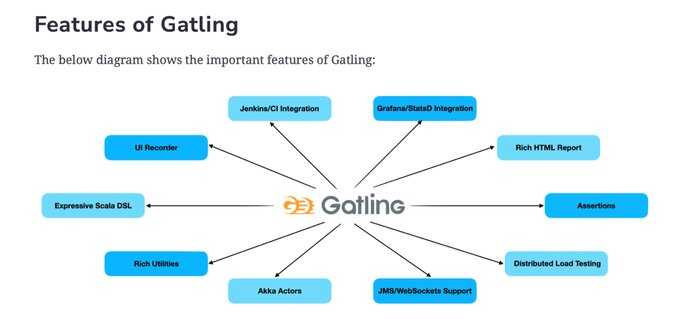 Best Educative classes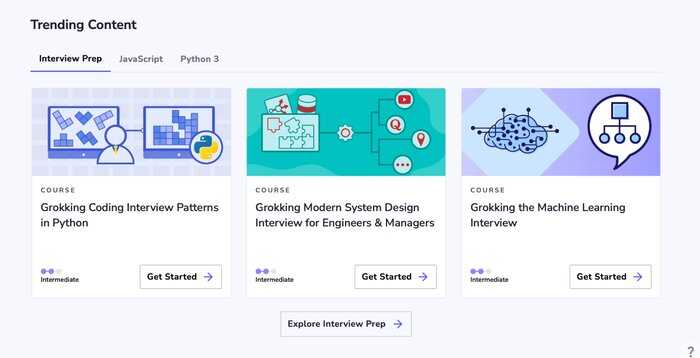 Educative doesn't have a star-rating system, so it's hard to say what the top courses are. However, here is a selection of great courses and Skills Paths available on the sire, so you can get a feel for all Educative has to offer.
Interview Prep
Grokking Modern System Design Interview for Engineers & Managers This course offers a modular approach to System Design Interviews to help you succeed in any technical interview, giving you the skills and knowledge to dive deep into project requirements and constraints for any large-scale complex system, understand a highly adaptive framework to solve modern design interview problems. With practice questions and expert insights, this course is designed to boost your interview confidence and core skills.
Grokking the API Design Interview
With a hands-on learning approach, you will be designing APIs of well-known systems such as YouTube, Stripe and Zoom, gaining an understanding of the necessary skills, with a focus on reducing client-visible latency. You will complete this course with an understanding of the foundational knowledge of API design, the importance of good APIs and familiarity with the principles of advanced-level API designing. This course contains 165 quizzes to keep you on your feet.
C
Learn C from Scratch This beginner-friendly course will take you through basic programming concepts, outlining data types, control flow, functions, input/output, memory, compilation, debugging and more. C is a great place to start, as it forms the basis for many other languages. This course covers both basic and advanced programming concepts, and is a great place to start your programming journey!
Operating Systems: Virtualization, Concurrency and Persistence Covering the three all-important concepts when it comes to operating systems, this comprehensive course breaks all three down in detail. You will get to grips with virtualization and memory concepts like CPU scheduling, process virtualization and API virtualization, before covering concurrency concepts like locks, semaphores and how to bridge concurrency bugs like deadlocks, as well as persistence via I/O devices and file systems. There are plenty of opportunities to practice, with 116 playgrounds and 39 quizzes.
Graph QL
Building Full Stack Applications with GraphQL This hands-on course will get you up to speed with the benefits of GraphQL and when to use it. You'll learn how to create a React application that uses GraphQL as a back end, as well as learning patterns such as caching, and DataLoader, how to work with data in GraphQL and how to define GraphQL schema, as well as how to build authentication and authorization for a GraphQL application.
Getting Started with GraphQL using Node.js Ideal for complete beginners with GraphQL, this course will equip you with a deep understanding of GraphQL's architecture and methodology. You'll gain a working knowledge of HTTP and REST APIs and how they compare to Graph QL, as well as an understanding of mutations and queries, and experience creating Graph QL applications using Node.js.
JavaScript
Zero to Hero in Front-end Web Development This immersive course offers over 50 hours of lessons, with 46 challenges and 552 code snippets. Starting from scratch, this path will equip you with a string handle of HTML and CSS to write and style the front ends of websites, gaining hands-on experience using JavaScript to make interactive websites. You'll get to grips with building real-world projects, including a tooltip and an infinite scrolling list.
Modern Web Design Using Bootstrap 5 with Hands-On Projects Mastering Bootstrap 5, an open-source CSS framework, can give you an edge in a competitive job market. This course will equip you with an understanding of the fundamentals of Bootstrap 5, a working knowledge of its utility classes and custom CSS to customize web designs. You'll gain hands-on experience creating and publishing real-world projects, the ability to build responsive layouts and proficiency in using Bootstrap 5's component library to create interactive and user-friendly web interfaces.
Python
Python for Absolute Beginners Specially designed for learners with no coding experience, this course stars with simple math, real-world problem-solving, and writing solutions as steps in a simple language, progressing to more complex tasks involving variables, conditional statements, loops, strings, lists, and built-in functions. You'll work with practice-problems through editable and executable solutions, earning a certificate of completion.
Mastering Algorithms for Problem Solving in Python Beginning with a foundation in what algorithms are, this course will give you a comprehensive understanding of its applications in problem solving. You'll master the concepts of memorization and dynamic programming, with hands-on experience solving algorithmic challenges in Python, proficiency in implementing recursion and backtracking for complex tasks, as well as the ability to apply memorization and dynamic programming for efficient computation in Python.
Data Science
Mastering Serverless Computing for Data Science Eliminating the complexities of managing servers, this course teaches you how to utilize serverless cloud services such as AWS Lambda Functions. You'll cover the basics of serverless computing, learning how to dockerize a machine learning model, master the use of a AWS Lambda Functions and Step Functions in the context of data science, as well as the Serverless Framework in conjunction with the AWS cloud. You'll get hands-on experience building an end-to-end machine learning pipeline in AWS.
Deep Dive Int Data Science Interview Providing an introduction to the topics that will prepare you for data science interviews, you'll gain a working knowledge of 80 data science interview questions, as well as an introduction to 4 mantras for guaranteed success. You'll learn the do's and don'ts of preparation, gain the ability to utilize techniques for an efficient job search, and the ability to highlight data science achievements. You'll need to be learning to program or working in a job where programming is used.
Web Development
Developing Web Applications with PHP This course is designed for people who have already learned the basics of PHP, and are looking to take their skills further. You'll gain a crucial understanding of communication between client and PHP web applications using HTTP and REST APIs with JSON. You'll delve in to PHP architecture, routing, MVC SOLID principles and dependency injection containers. This comprehensive course also covers relational and NoSQL databases, SQL, database transitions, object-relational mappers and more.
Become a Rust Web Developer Rust is a multi-paradigm programming language made for performance and concurrent safety, and has the potential to become a lucrative career path. This Skill Path will cover everything you need to start web development in Rust, covering the essentials of Rust, laying out 24 puzzles to evaluate your knowledge, before moving on to backend, frontend and databases. You'll be able to create your own fully functional full stack web application.
Educative for business
Educative offers a service called DevPath, which aims to accelerate async collaboration. It offers a fully integrated doc tool, the ability to capture technical reports and sheets and a way to centralize information and eliminate sprawl.
With a daily task assistant and the ability to match tasks and docs against milestones to unblock and access project health. In addition to these tools, there is team-specific learning that allows you to build your internal knowledge base, deploying custom training modules. Identifying skills gaps, and easily onboarding team members, this is a fully integrated service.
You can access various levels of membership: free to use for docs, projects, and free learning resources, DevPath's Startup rate of $10/month per user allows you to optimize disjointed docs, learning and workflows to fast-track projects, while the Team rate of $25/month per user grants access to all the above, in addition to Educative's 600+ courses, hands-on projects and SAML SSO. Finally, the Enterprise membership with $33/month per user offers all this in addition to onboarding paths, private skill paths, confluence integration and team learning analytics.
What I liked about Educative
How I reviewed Educative
I reviewed Educative by signing up for a free trial, exploring their various options for stand alone courses and learning paths. I took a good look at their free resources, as well as the premium content, reading reviews by previous users, and testing out course content for myself.
Up to Date Courses
These courses offer the most relevant and up-to-date skill sets. Unlike more general courses that remain on sites years after they've been created, Educative makes sure to continually hone and update their content to reflect trends and developments in each field.
Emphasis on Interview Skills
Learning how to code is half the battle – actually going through the job application, hiring and interview process is a whole separate struggle. Educative is pretty unique in its focus on courses that actually cover interview questions and practice exercises, getting you as prepared as you possibly can to secure the next step on your career ladder.
Detailed Personalisation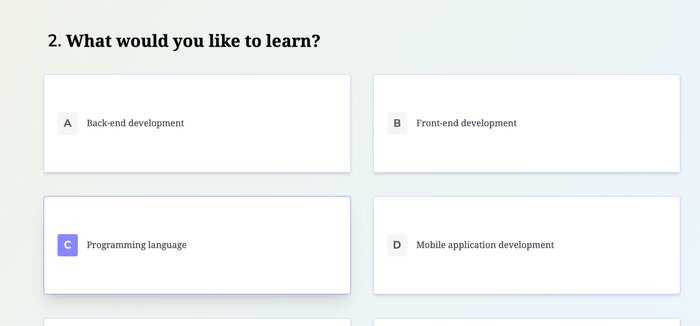 Rather than just offering you a bunch of random courses, Educative takes the time to get to know you by offering a detailed questionnaire when you first sign up, to best gauge what courses would be right for you. This takes a lot of guesswork out of the course selection process, and will speed up your learning journey!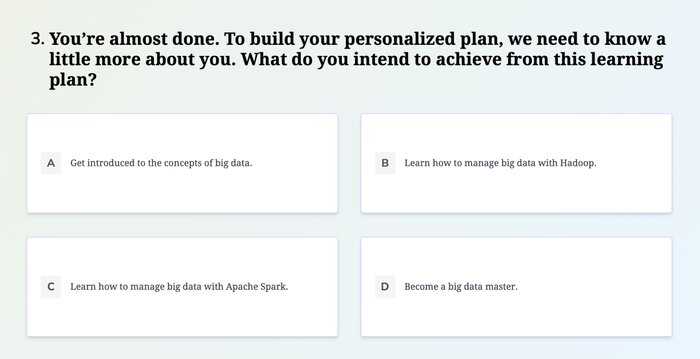 What could be improved
Text-Based Learning
By offering primarily text-based content, Educative aims to speed up learning, as typically we read words faster than they can be spoken in video content. However, a big draw to video content is holding the attention, so this might not be a good learning style for everyone.
No Clear Rating System
While you can view positive reviews from other users, there is no star rating system for courses, meaning that you have to trust Educative on the quality of the content and overall user satisfaction. However the courses are rated from beginner to expert, and the detailed initial quiz will help steer you in the right direction!l
Who Educative is for
Software engineers of any level who want to learn new skills with targeted, specific courses
Anyone who wants a more comprehensive overview of skill sets such as data analysis or Java Script, who could take advantage of one of Educative's Skills Paths
Someone actively looking for a job, and who wants learn how to ace interviews, with targeted interview advice and guidance based on your skills and level of expertise
Can I buy Educative as a gift?
Educative is not currently available to purchase as a gift.
Finding great courses on Educative
When you first sign up to Educative, you will be able to complete a detailed questionnaire that will help match you to the most appropriate course for you. However, there are plenty of other ways to browse courses on the site.
If your learning priorities change, you can take a Personalized Paths quiz at any time – it's available in the side bar on the left:

You can browse courses using the 'Explore' function too:
With an even more detailed selection below: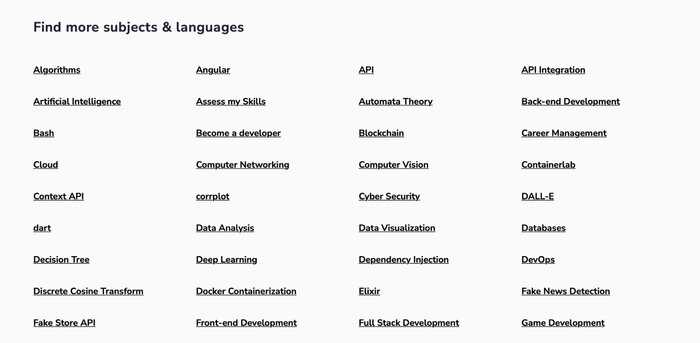 You can read a detailed account of each course, as well as if there are any additional requirements, on the course landing page: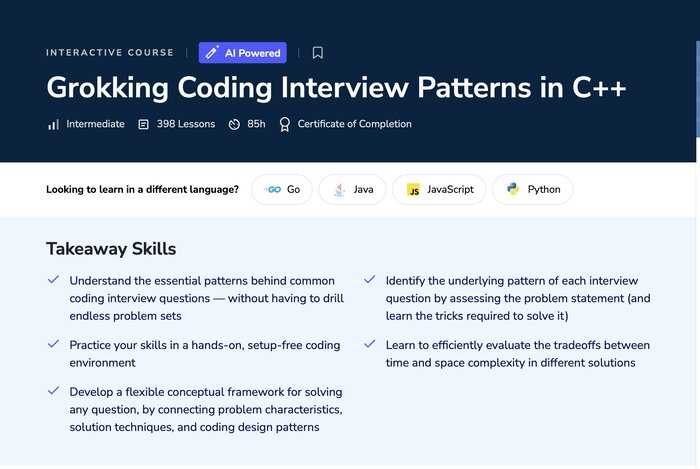 Is Educative legit?
A site promising to supercharge your career and accelerate your learning might seem too good to be true, but I can promise you that Educative is completely legit! Its instructors are bonafide experts, and users have managed to land impressive jobs at companies. I've also tried and tested the platform myself to make sure it's 100% real!
Educative refund
Yes – Educative offers a 7 day free trial, which allows you to explore the site and try out some of the content to decide if it's a good fit for you.
Educative alternatives
Whilst Educative is a fantastic site, there are plenty of other online learning platforms available.
Coursera is a great option if you want to learn from professionals from top academic institutions, with long and short courses which will earn you a certificate with a prestigious name attached.
Another premium platform is Springboard, which places a similar emphasis on advancing your career, which access to a career coach and mentor to help you polish your job applications and stand out from your peers.
Educative reviews: What others have said
I wanted to find out what other users thought about Educative, so I took to Reddit to see what they had to say. Some users found that the site has spelling and grammatical errors, and a few bugs. This Reddit user said that there were:
"lots of grammar issues/spelling mistakes in the content, the code editor was really buggy, and the material didn't seem very thorough."
However, others had a more positive experience, with this users saying:
'It's the best investment I have ever made.... courses are super detailed and easy to consume, very very effective for interview preparation.'
'I have [a] yearly subscription of Educative. I can say it's great. It's definitely faster than video based learning.'
So, whilst some users found some problems with the site, many others had a great experience with Educative.
Evaluating Educative
Features: Unlimited access to all courses, as well as forums to help support your learning, Cloud Labs to practice coding and a certificate of completion from selected courses. What stands out is the focus on interview prep, with specialist courses designed to test your knowledge and equip you with the answers to dozens of potential questions.
Content quality: Content is primarily text based, which Educative claims to speed up the learning process, with plenty of diagrams. There is a strong emphasis on practical learning too, with lots of exercises throughout each course to test your progress and help you apply your new skills to a real-world setting.
Content breadth: Educative is aimed at software developers, and they have a huge range of content, covering all the major coding languages (including C, JavaScript, Python and more), as well as data science, artificial intelligence and quantum computing. There is also a real focus on interview skills.
Teachers: Courses are put together by experienced professionals who have to go through a rigorous selection process.
Supporting materials: Courses come with great interactive opportunities to practice in-browser coding, as well as forums to ask questions, and quizzes to test your knowledge.
Payments & refunds: There are a range of different membership options, but Educative's standard monthly membership is currently $59. They offer a seven day refund policy.
Support: Educative has an extensive FAQ section, as well as a customer support email.
How to open a Educative account
It's very easy to open an Educative account.
Head to their website
Select 'sign up' in the top right hand corner of the page
Answer some questions about your learning goals and personal details
You're all done! You can choose what kind of subscription you want, or browse the site for free
Is Educative worth it?
In my opinion, Educative is worth it if you are actively seeking a job or looking to upskill and change your career in the world of software development. The most unique part of Educative's service is the interview prep and support, so this would be a really valuable resource for anyone interested in changing jobs.
They have a really wide range of courses which are constantly being updated, so you can get really specific with what you want to learn, from coding language to problem solving, honing your skill set.
If you're just curious about software development, then other platforms which offer a taster (like LinkedIn Learning) might be a better option for you.
Educative is a subscription platform, which means that you can try as many courses as you want to get the best value. Additionally, Educative offers a seven day refund policy, so if you find that the platform isn't for you, you won't lose out.
Educative – Frequently asked questions
How much does Educative cost?
A standard subscription is $16.66 per month, a premium subscription is $24.99 per month, whilst a flexible monthly subscription is $59.
Does Educative have a refund policy?
Yes, Educative as a seven day refund policy.
How many courses are there on Educative?
Educative has dozens of courses, with new options added regularly.
Does Educative have a free trial?
Yes, Educative offers a seven day free trial.
Does Educative give certificates?
Yes, Educative does offer certificates.
What languages is Educative available in?
Educative is currently available in English.

Hannah is currently studying a Masters in Modern Literature and Culture at King's College London.  In her spare time she enjoys hiking, writing and cooking.