Designed with jobseekers in mind, Springboard claims to 'take the guesswork out of getting ahead'. With a focus on building skills employers are desperate for, Springboard's online courses not only offer real one-to-one human support, but many come with an incredible job guarantee.
Targeting competitive and fast-growing fields like Tech Sales, Cyber Security and Software Engineering, Springboard is all about honing in on applicable skills and creating a killer portfolio to impress employers.
In this review, I'll be covering everything you need to know about Springboard, from the quality of their content to the very best courses available, so you can figure out if Springboard is right for you.
.
Quick summary
Features
A focus on hands-on project work to put your skills into practice
One captain project, live learning assessment or externship per course to demonstrate your worth to future employers
One on one support from a mentor
A portfolio review from in-house hiring managers
Courses based on highly desirable skills such as AI and Data, Design, Software Engineering, Cyberscurtiy and Tech Sales
Access to EBooks and guides
Pros
Real-life human support – arguably Springboard's most valuable feature, providing direct access to 1-1 mentoring with industry professionals.
Learn through doing – meaning you develop your own projects in a portfolio that you can present to prospective employers.
Strong focus on career-ready skills with courses updated regularly to reflect changes in industry best practice and new developments.
Cons
Content is from elsewhere on the web – Springboard doesn't actually produce a lot of its own content, rather they work with industry professionals to draw together the best resources from around the web
Not many courses – Springboard produces around 1-6 courses per topic, so there aren't a lot of options. However, these courses are pretty rigorous, and include plenty of information on a variety of topics
Best for: Those who are actively looking for a job in fields such as tech sales, cybersecurity and AI, to make the most of the platform's incredible mentoring opportunities.
Cost: Check latest prices for Springboard
Overall: This premium platform offers highly detailed courses in the latest skills covering competitive fields such as tech sales and cyber security. What really makes Springboard stand out is its fantastic mentoring system, which pairs students up with career coaches and mentors to help them land jobs.
This detailed Springboard review will cover everything you need to know, including
What is Springboard and who are its instructors?
How does Springboard work?
How much does Springboard cost?
Springboard free trial
What a lesson is like
Best Springboard resources
Springboard for business
How I reviewed Springboard
What I liked and thought could be improved
Who Springboard is for
Can I buy Springboard as a gift?
Tips for finding great courses on Springboard
Is Springboard legit?
Springboard refund
Springboard alternatives
What others have said
Evaluating Springboard
Is Springboard worth it
FAQ
Let's get into it!
What is Springboard?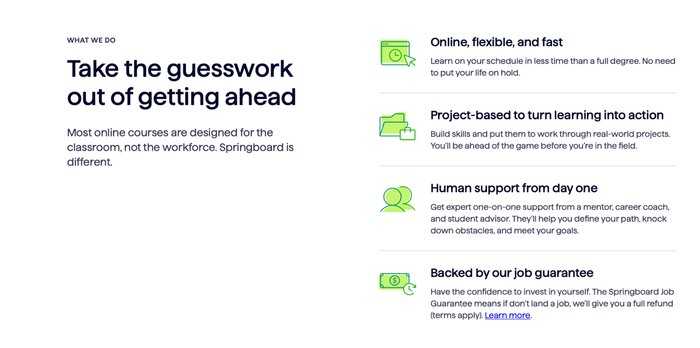 Springboard is an online learning platform whose mission is to take the guesswork out of getting ahead. It offers a combination of fully flexible online courses in fast-growing fields like Tech Sales, AI and Software Engineering, as well as real human support from a mentor, career coach and student advisor. They even offer a job guarantee on select courses — so if you don't land a job, you get your money back!
The average salary increase of Career Track graduates from Springboard's programs is over $25,000, with 91.5% getting a new job within 12 months of graduating from Springboard.
Those are some pretty impressive numbers! Plus, Springboard graduates have been hired by companies such as Dell, GoPro and Meta.
Who are the instructors?
Springboard's career mentors are some of the best in the business. All of them have at least two years of experience coaching, recruiting and advising professionals in tech and corporate careers.
For example, Chris Hui, a mentor on Springboard's Data Analytics Bootcamp, is Head of Product, Strategy and Operations at Tracked, while Venkatraman Prabhu is a Senior Product Manager at Amazon.
How does Springboard work?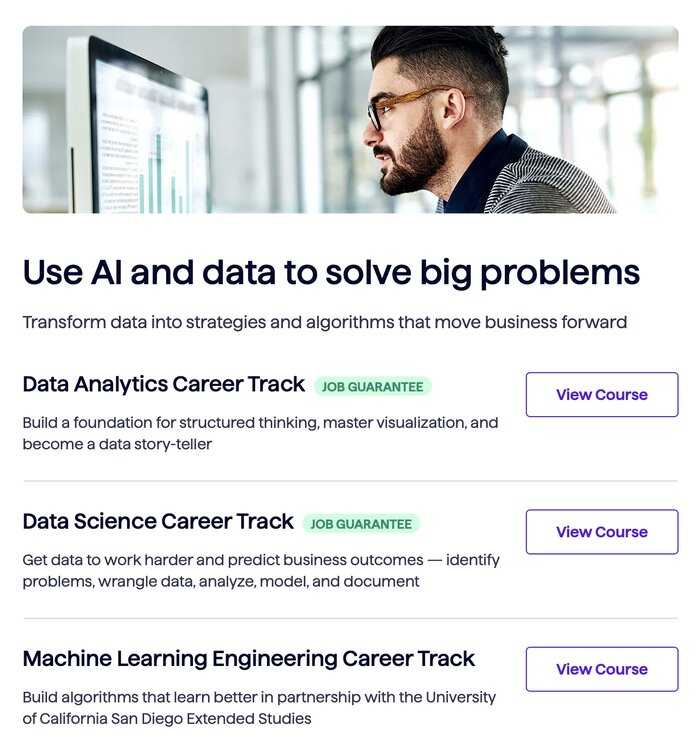 All of Springboard's courses are 100% online and self paced, with paid courses designed to be completed in 6-9 months. They're regularly updated with the latest skills and developments in their respective fields.
After completing an application form for your chosen course, you receive a phone call from an admissions team member who'll discuss your background and career goals. Then you fill in a skills survey to find out your existing level of knowledge in order to tailor your learning experience.
Courses are project-based. This means that in addition to working through online resources, you complete real-world projects to put your learning into action. Throughout this process, you will have access to expert one-on-one support from a mentor, career coach and student advisor to guide you through the course and the job application process.
There are also free courses available, which are shorter and do not have any of the advantages of one-to-one mentoring and career support. However, they do contain resources such as videos and spaces to practice building codes in-browser for software courses. You can think of these as a taster for the longer, more intensive paid courses.
Springboard's courses are optimized for career growth and cover:
AI and Data
Design
Software Engineering
Cyber Security
Tech Sales
How much does Springboard cost?
There are a few different payment plans, and costs vary from course to course. 6-9 month courses range from $5,000 to $8,000, with shorter month-long courses at around $99. You can either pay upfront, make monthly payments, or defer tuition fees until after you find a job (although you will pay interest).
These are premium courses with tailored career support, and the pricing reflects this. Springboard has some fantastic success stories with 91% of graduates accepting a new job within 12 months of completing a course.
Also, given that each candidate must apply to their chosen course and have a telephone interview with an advisor before being accepted, it's highly unlikely that you will end up paying for something that isn't suitable for you.
Springboard free trial
Springboard does not currently offer a free trial, but you can browse courses and request a syllabus for free, as well as accessing a range of shorter courses.
What a lesson is like
Paid courses contain a huge amount of detailed, self-paced content covering key principles, industry tools and best practices in your chosen field. You apply your knowledge to larger portfolio projects and smaller practice exercises, before completing an industry project that will allow you to apply your skills in a real-world setting. Along the way, you will have access to one-on-one mentor support, as well as career advice.
Free courses are generally shorter (for example 'Front End Development' will take 43 hours), but have a good amount of video and text resources, as well as opportunities to practice design tools in your browser.
Working with subject matter experts, Springboard collects the highest-quality resources from around the web — articles, videos. Next, course designers will curate this content, creating assignments and exercises to create a logical curriculum. You're not just learning from one individual, as Springboard believes that highlighting multiple perspectives is the best way to learn about complex, ever evolving concepts, as they regularly replace resources with the most up to date materials.
Springboard encourages self learning, and students are expected to take responsibility for note making, summaries and extra research to understand topics. You will have access to regular mentoring sessions, as well as a Slack channel with other learners to discuss the course.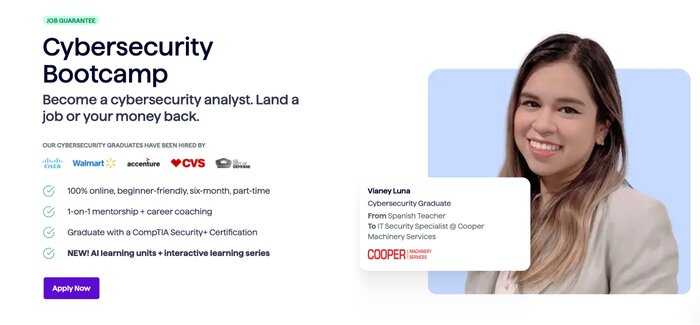 Best Springboard classes
Of course, the best Springboard class for you depends on your interests and experience levels. There's no rating system on Springboard, so it's impossible to tell which courses are the most 'popular', but all seem to be of the same very high quality – so it's really about what you're looking to learn. Here are the best Springboard courses by category:
AI and Data
Data Analytics Career Track This bootcamp is designed to get you up to speed with all the essential skills to pivot to a career in analytics. You'll get hands-on experience in transforming real-world datasets into actionable recommendations, master technical and strategic thinking skills and frameworks, as well as developing an advanced ability to use visualization tools and other data skill sets. This course is delivered in partnership with Microsoft, so you can be sure you're learning from the very best!
Machine Learning Boot Camp Developed in partnership with the University of California San Diego Extended Studies, this course will teach you to develop algorithms and build a job-ready portfolio in 6 months. You will develop skills in linear and logistic regression, anomaly detection, cleaning and transforming data, as well as designing a machine/deep learning system, building a prototype and deploying a running application that can be accessed via API or web service. This is a really unique opportunity to create an incredible portfolio.
Design
Introduction to UI/UX Design Course This shorter course runs for four weeks, and is a great option for beginners, offering the same one-on-one support as Springboard's more intensive courses. Covering everything from the fundamentals of design to research, ideation and sketching, working with design tools, and Low-Fidelity and High-Fidelity Design tools, this is a fantastic introduction to the field, with the option to pursue a more intensive Springboard course afterwards.
Ux Career Track This bootcamp is all about equipping you with the skills to create better digital experiences – conducting user research and identifying design problems, sketching solutions, wireframing, building high-fidelity mockups and creating prototypes. You will also perform usability tests, iterate on prototypes and master the User-Centered design process. This is a great follow-on course from Springboard's 'Introduction to UI/UX Design' course.
Software Engineering
Software Engineering Career Track Prep Course This beginner-friendly course runs for 4-6 weeks, and is designed to teach you foundational web development skills in HTML, CSS and JavaScript to prepare you for a career in coding. In addition to these skills, you will develop a software engineering mindset and foundation through small, hands-on exercises, determining whether progression in this field is right for you with the help of Springboard's unique mentoring system.
Software Engineering Bootcamp Created in partnership with coding legend Colt Steele, this longer course will build your coding skills and launch your software engineering career. Recently updated with an AI for Engineers learning unit and an AI interactive learning series, you will learn how to code in the most widely used programming languages in the world, in addition to understanding software development theory and tools. You will test your knowledge through projects that will prepare you for a job and boost your work readiness.
Cyber Security
Cybersecurity Bootcamp Offering a CompTIA Security+ certification, this course will take you through the core cybersecurity analyst skills and practices, learning through analyzing a cyber incident and identifying the technical requirements to solve it, assessing operation systems in the presence of risks and threats, as well as conducting vulnerability assessments into on-premise and cloud security risks. You will learn how to use leading cybersecurity tools, such as Kali, Metasploit, Wireshark, and more.
Tech Sales
Tech Sales Bootcamp With online content, weekly live classes and Springboard's signature one-on-one mentoring, this course covers researching prospective and pipeline maintenance, as well as effective engagement, storytelling and relationship management. You'll learn how to adapt selling techniques to cloud delivery services and subscription-based models, working with tools like Salesforce, Zoom and LinkedIn Sales Navigator, all in just 12 weeks.
Springboard for business
Springboard is available for businesses as well as employees. Offering to level up workforces, close skills gaps and reduce attrition by offering career paths and skills ladders that might not be available through existing company structure, Springboard offers a personalized service designed to fit your team. You will need to get in touch with Springboard directly to find out more about pricing.
How I reviewed Springboard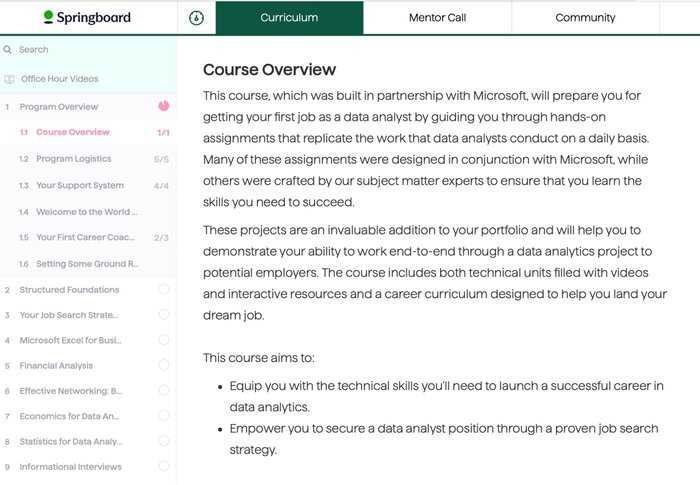 I wanted to write the most balanced review of Springboard possible, which meant thoroughly exploring their site, investigating their free courses as well as giving one of their exciting full-length bootcamps a go. I had a good look at their 'Data Analytics Career Track' to investigate the quality of their resources and the structure of their teaching.
What I liked about Springboard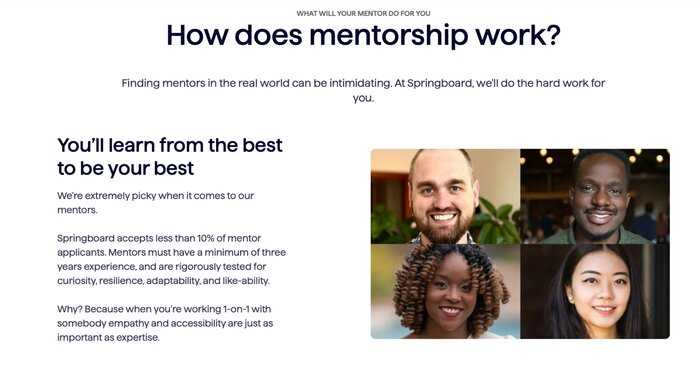 Human Support
Springboard users benefit from personalised guidance from industry experts, regular sessions with mentors to keep you accountable and provide an insider's perspective on your chosen industry. Career coach with at least two years of experience coaching, recruiting and advising professionals in tech and corporate careers.
Build a Portfolio As You Learn
With an emphasis on creating projects as you go, not only will you have a completed course under your belt, you will also have a valuable portfolio to show future employers.
Career-Focused
With Springboard's longer courses, you get a truly integrated learning and job searching experience. You are expected to take charge of your job search, with regular mentoring check-ins and independently creating your own Job Search Strategy to create a great mindset and career goals.
Highly-Focused Courses
These courses are designed with the aim of landing you a job in your chosen field in mind, and as such they are comprehensive and regularly updated. You don't need to worry about whether these skills are relevant or if you're wasting your time – after all, Springboard's motto is 'take the guesswork out of getting ahead'.
What could be improved
Recycled Content
Whilst Springboard works with leading experts in each field, the actual content of each course is pulled from around the web. This makes the large price tag confusing – after all, couldn't you just find this stuff yourself? But what you're actually paying for with Springboard is the careful curation of resources from people in the know, as well as the highly-tailored career advice from mentors.
Not Many Courses
There are between one and two courses per topic, which means that there isn't a great deal to choose from. However, Springboard isn't about teaching the odd skill here and there – these courses are fully integrated learning experiences designed for those ready to commit to finding a job in these fields. Plus, there are plenty of free short courses and introductory resources if you're looking for something a little less intense.
Who Springboard is for
Anyone who wants to pivot to a career in tech sales, cyber security, data science, data analytics or UX/UI design, and wants to benefit from carefully curated resources and the help of a dedicated mentor
Self-starters who are comfortable with solo learning and taking accountability for their studies, as the quality of your learning experiences depends on how much you engage with the course content
Both beginners and more advanced learners, with a great range of shorter, introductory courses and longer ones that take between 6 and 9 months
Can I buy Springboard as a gift?
Springboard is not currently available to purchase as a gift.
Tips to finding great courses on Springboard
You can browse courses on Springboard according to what field you're interested in: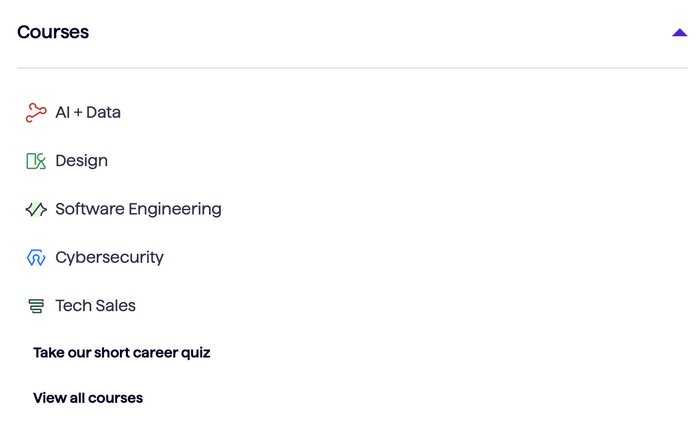 When you select a field, you will then be able to see what courses are available, and if they come with a job guarantee: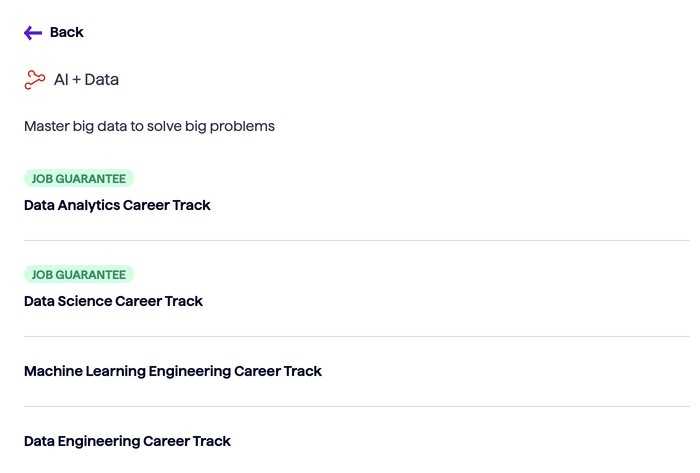 If you're still figuring out your learning goals, you can take a short quiz to match you with the best course, asking you a series of questions to determine what is the right course for you.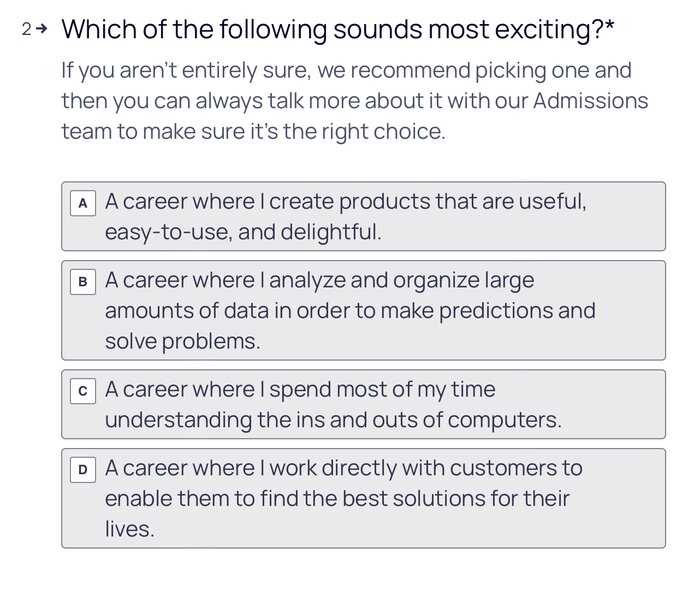 When browsing courses, you will be able to see what kind of content they offer, with overviews, and more in-depth breakdowns of what each topic covers: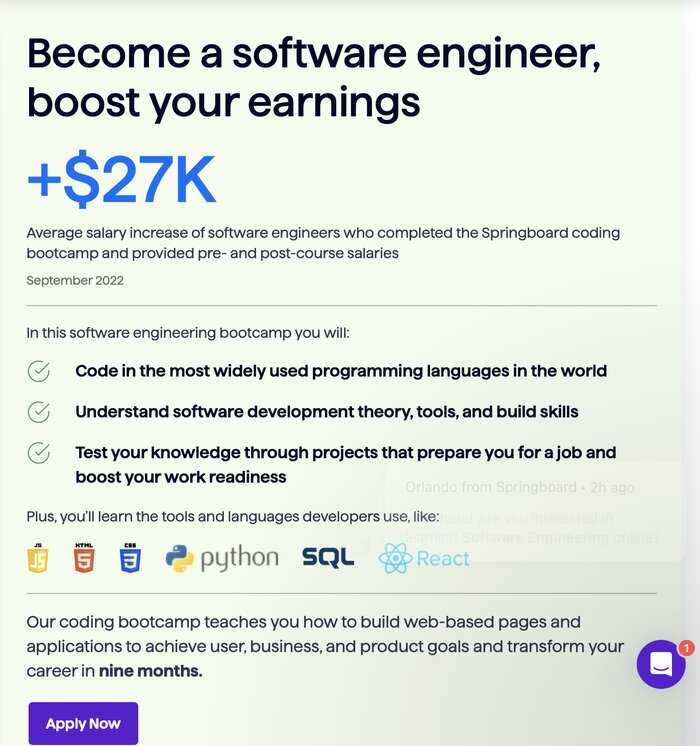 Is Springboard legit?
An online course with a job guarantee sounds too good to be true, but I can assure you that Springboard is totally legit! They have thousands of users and many engaging success stories, with course graduates securing jobs with amazing companies such as Amazon and Zoom.
Springboard refund
Springboard offers a full refund for any course within seven days if you're not satiated with your experience. Their job refund offer for select courses is a little more complicated. First you have to apply for this deal, as not everyone is eligible, and there are a few hoops to jump through. Check Springboard's website for the latest terms and conditions.
Springboard alternatives
Springboard offers amazing services, but there are plenty of other online learning platforms out there.
Another premium platform is Coursera, which offers degree-level courses on topics including UX and data analytics. Whilst they have the names of some big institutions behind them, they don't offer the same in-person human support when it comes to job hunting.
Similar to Springboard is educative which places a similar emphasis on advancing your career and helping you to polish your interview techniques and stand out from your peers.
If you just want to dip your toe in tech waters then Udemy is a great option for learning more about specific fields such as Tech Sales or UX/UI, minus the large price tag. You can buy courses singly from as little as $20 (during sales) or subscribe for unlimited access to over 9,000 courses.
Springboard – What others have said
After trying the platform for myself, I wanted to hear about other users' experiences. So I took to Reddit to find out.
One Reddit user recommended being realistic about your job hunt:
'Employers are looking for someone with experience, but at the end of the course you'll have at least two projects in your portfolio.' In their experience, Career coaches will just tell you to network and cold call people on LinkedIn, so they don't really add value.'
Another user had a positive experience, and even got a job after completing the program. They said that:
'I went through their program and would recommend it. Every program is, essentially, what you make of it, and you will always have to work hard to get in the door. Breaking into a new industry takes a lot of effort. It took me around six months.. But I really enjoy my job now.'
Someone else said that they chose Springboard for the mentorship, and that the platform was very accommodating about allowing them to switch:
'The reason I picked Springboard was to try the mentorship, but it's a really mixed bag. I had to ask for a mentor switch and my current mentor is so much better and supportive.'
In conclusion, it sounds like despite their big promises, Springboard isn't a magic ticket to getting a job. Learners will still have to put in a lot of hard work. However, mentoring can be a really useful aid to have, and many people have found success.
Evaluating Springboard
Features Courses offer access to a carefully curated selection of resources with assessments and hands-on projects along the way. The most unique feature is access to career coaches and mentors for one-on-one job hunting support.
Content quality Most of the course content is actually pulled from around the web, although they are compiled by leaders in the field of study. This method of teaching means that courses can remain agile, and easy to update with new developments or more relevant content. You will also be regularly tested, and creating capstone projects is a huge bonus as you can build your portfolio for future employers.
Content breadth Springboard offers courses in AI + Data, Design, Software Engineering, Cyber Security and Tech Sales. There are relatively few course (one to three in each category, but they are very comprehensive courses, many of which take between six and nine months.
Teachers The courses are self-taught, however they are put together with the help of high level professionals, and the career coaches are professionals with at least three years experience, and are tested for curiosity, resilience, adaptability and likability.
Supporting materials In addition to mentors and career coaches, students also have access to a Slack channel where they can meet other students.
Payments & refunds Depending on the length of the course, costs vary from $99 to over $8,000. A seven day refund is available if you're not satisfied with the course, and some programs even offer a job guarantee. These come with pretty strict guidelines that applicants have to meet, and they only apply to some cities.
Support Springboard has a very detailed FAQ section, as well as responsive chat bots – and of course your mentors!!
How to open a Springboard account
It's very easy to set up a Springboard account
Go to the Springboard website
Select 'Sign up'
Enter your personal information
You're ready to go!
Is Springboard worth it?
In my opinion, Springboard is worth it if you're very certain that you want to actively pursue a career in any of the fields that this platform specializes in. This is because the real draw of the platform is its careers advisors and mentors who will help you find a job in your chosen field.
It's also worth browsing their free content or shorter courses if you're still on the fence about either taking a more intensive course or moving into a new career, as they have plenty of great resources.
Plus, with the seven day refund policy and the job guarantee, the risk of losing out is minimal.
Related articles: LearningTree and FutureLearn reviews
Springboard – Frequently asked questions
How much does Springboard cost?
Springboard has plenty of free content, as well as short courses starting around $99, all the way up to nine month courses over $8,000.
Does Springboard have a refund policy?
Yes, Springboard has a seven day money back guarantee if you're unsatisfied with your purchase. Some courses also come with 'Job Guarantees', although these come with a lot of smallprint about eligibility, and not everyone can qualify. 
How many courses are there on Springboard?
At the time of writing, there are over a dozen courses available on Springboard.
Does Springboard have a free trial?
Springboard does not have a free trial, but there is plenty of free content to give you a flavour of what their courses are like
Does Springboard give certificates?
Yes, some courses give certificates, such as the Cyber Security Bootcamp with offers a  CompTIA Security+ certification.
What languages is Springboard available in?
Springboard is currently only available in English.

Hannah is currently studying a Masters in Modern Literature and Culture at King's College London.  In her spare time she enjoys hiking, writing and cooking.