Want to supercharge your UX/UI design career with support from industry professionals, on a specialized design platform? Well, Designlab might be just what you're looking for.
Offering one-on-one mentorship, hands-on projects and community support, Designlab believes in learning through iteration: responding to constructive feedback to design and redesign the best UX/UI products possible. With courses on UX Research and Strategy, UI Design and Interactive Design, Designlab's graduates have landed roles at top firms such as Samsung, Microsoft and Deloittes.
But as a premium learning platform with significant course fees, is Designlab worth the money?
In this Designlab review I'll be covering everything you need to know to decide whether this platform is right for you. From an insider look into Designlab's flagship UX Academy, what you can expect from each course and what other users thought, I'll guide you through the pros and cons of the platform to help you make an informed decision.
.
Quick summary
Features
High-quality courses covering UX and UI design
One-on-one mentorship from industry professionals to support your learning and develop your skills
Practical exercises which will help you build an impressive portfolio to wow employers
Learning cohorts to provide support and community
Excellent free resources including Ebooks, templates, email courses and more
Pros
Fantastic mentors who really make a difference – Designlab's mentors come from brilliant companies such as Meta and Adobe, and provide constructive feedback on your assignments and weekly meetings
Practical curriculums – the focus here is learning by doing, with plenty of assessments and assignments to flex your design muscles and build a portfolio
Community cohorts to keep you on track – learn from other students, share experiences and network with other professionals
Cons
Time constraints – while the course is fully online, you do have to complete it in a designated time frame, which might not fit with everyone's schedule
Limited course options – there are currently under 10 course options on Designlab, so if you want to hone really specific skills, another platform might be a better option
Best for: Learners who are new to UX/UI design and want to pursue a career in this field with the help of one-on-one mentorship and practical tasks.
Cost: Check latest price for Designlab
Overall: A great place to begin your UX/UI journey, Designlab's intensive UX Academy is a brilliant option for a detailed introduction to the field, with mentorship, networking opportunities and assignments that will build a portfolio. Designlab's shorter courses offer the same valuable mentoring and networking benefits in shorter, more specialized courses to boost your skills and supercharge your career.
This detailed review will cover everything you need to know about Designlab, including:
What is Designlab?
Who are the instructors?
How does Designlab work?
How much does Designlab cost?
Designlab free trial
What a lesson is like
Best Designlab resources
Designlab for business
How I reviewed Designlab
What I liked
What could be improved
Who Designlab is for
Can I buy Designlab as a gift?
Tips for finding great courses on Designlab
Is Designlab legit?
Designlab refund
Designlab alternatives
What others have said
Evaluating Designlab
Is Designlab worth it
FAQ
Let's get started!
What is Designlab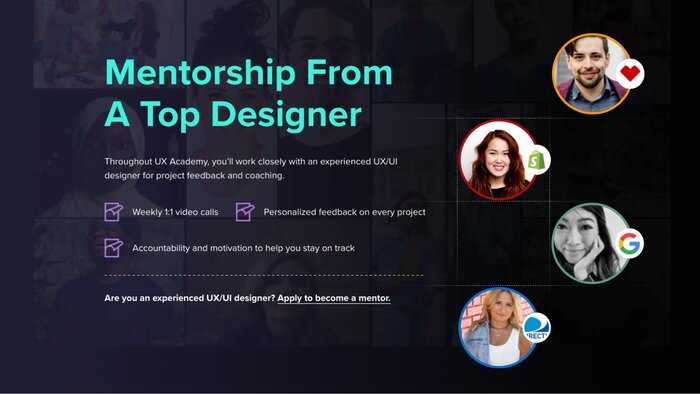 Specializing in UI and UX online courses, Designlab offers a range of courses to suit your learning needs, from their intensive UX Academy and UX Foundations ( a 4-8 week beginner course covering key concepts and practical skills), to advanced, in-depth courses on digital product design. You can also take short courses in Design 101, UXResearch and Strategy and more. Designlab believes that education should be both rigorous and affordable, and offers flexible payment plans to make the courses as accessible as possible.
This is mentor-led online design education – every Designlab student is paired with an expert designer as their mentor, providing a continuous cycle of feedback and iteration to grow their skills. Designlab develops students' creativity and innovation to give them the edge in a competitive digital marketplace, with hands-on assignments, peer-review sessions and portfolio-building Design Challenges.
Designlab has had over 19,000 students and delivered over 240,000 one-on-one mentor sessions, and is the winner of Course Report' Best UX/UI Bootcamp and Best Online Bootcamp 2022, as well as Switchup's Best Web Design Bootcamp 2017-2021. 
Who are the instructors?
Designlab's mentors are industry professionals from tech's most exciting companies, including Logan Debiase from DocuSign and Belinda Hui from Tripadvisor.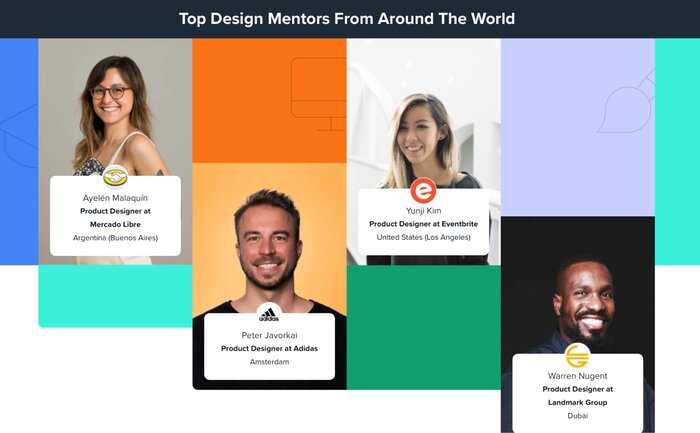 How does Designlab work?
Designlab offers a choice of courses in UX and UI to suit your level and needs. If you have some experience in UX, you can apply for Designlab's UX Academy. If not, you can take their shorter courses, including:
Design 101
Data-Driven Design
UI Design
UX Research and Strategy
UX: Interactive Design
The real star of the show is Designlab UX Academy. This comprehensive course works in three phases: Phase 1 is UX/UI Design Essentials, which covers key UX/UI design through lessons, tutorials, hands-on projects, peer review sessions and weekly one-on-one mentor calls. Mentors leave constructive, actionable feedback as written comments within 24 hours of an assignment being submitted, allowing you to iterate on your work and continuously improve. You will meet your mentor once a week to discuss your work in depth, ask questions and get technical help. 
Phase 2 is all about your portfolio and professional career prep. You'll create a high-quality and unique portfolio with three capstone UX design projects based on real-world scenarios. Phase 3 comes after you graduate with up to 26 weeks of career support and 26 coaching sessions with your personal career coach. The median time between graduation and getting hired in 14 weeks. Students have been hired by top companies like Spotify, Pinterest and Meta.
In order to get into the Designlab UX Academy, you will need to apply, submitting our portfolio or taking a Design Challenge. Designlab will review your application and let you know within 4 business days whether you've succeeded.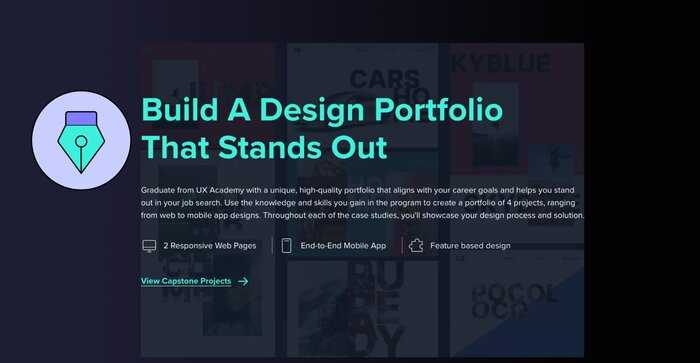 If you're totally new to the field, you can enroll in the UX Academy Foundations course to get you up to speed, working on your application to the Designlab UX Academy course.
There are several short courses that cover specific skill sets, such as UI Design, UX Research and Strategy and UX Interaction design. These courses have all the great mentoring benefits of the UX Academy, and range from beginner and intermediate to advanced.
Users pay per course, and for the pricier UX Academy, users have a range of different payment options. You will be enrolled with a cohort of other learners, providing support and community throughout your learning journey. There are also plenty of incredible free resources, such as 7-day courses delivered via email, ebooks, color charts and more.
Designlab is all about creative collaboration, and their commitment to mentorship really makes this platform stand out. 
How much does Designlab cost?
Short courses cost between $399 and $999. The UX Academy Foundation costs $7,749 – $10,383.
There are several different pricing structures for the Designlab UX Academy. An upfront payment is $7,749, 6 monthly payments will come out to $8,149, whilst Flexible Long Term Financing costs can range from $8,682-$10,383.
Upfront Payment
With a course deposit of $399, and a one-time payment of $6,850, overall costs come to $7,749.
6 Monthly Payments
With the same $399 course deposit, and six monthly payments of $1,291 per month, the total cost comes to $8,149.
Flexible Long Term Financing
Again, with a course deposit of $399, monthly payments can range from $234 to $271 per month, bringing to the total costs to anywhere between $8,682 and $10,383 depending on your financial situation.
Compared to college tuition fees, the prices for this premium course is relatively low, and you'll be benefitting from long term one-on-one tuition from industry professionals, as well as hands-on learning and the ability to build an impressive portfolio.
Shorter courses are $499 per course, whilst the Designlab UX Academy Foundations comes to $599. Taking this course offers an amazing $500 discount of the Designlab Academy Course.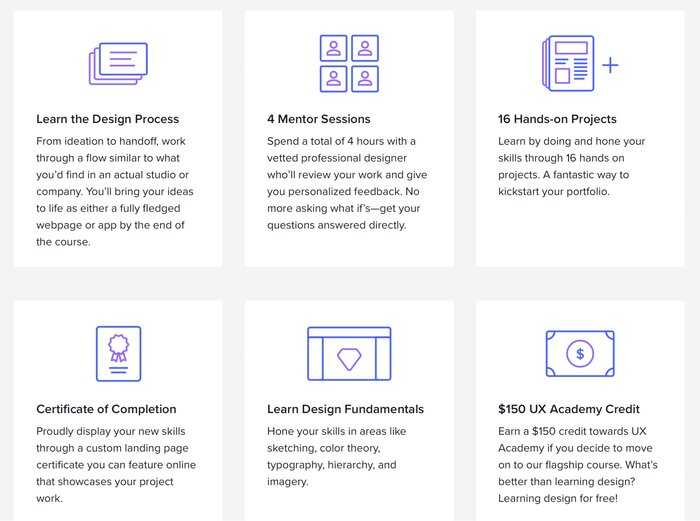 Designlab free trial
Designlab doesn't offer a free trial, however you can take a look around the website for free, as well as downloading an in-depth syllabus to learn more about their services and specific course content.
What a lesson is like
Lessons are a mixture of theory, instructional text and videos and practical assignments. The content is written and reviewed by experts, and weekly mentoring sessions allow students to clarify content and take their learning further. Students complete subject-based projects using their new skills, which are reviewed by peers and mentors, simulating the real-life UX/UI design process.
Best Designlab classes
The best Designlab course for you will depend on your own specific interests, career goals and experience levels. Designlab has a relatively small selection of courses, which means we can give you an insight into each one to help you work out which might be the right fit for you.
UX Academy
UX Academy Foundations If you're a total beginner looking to get into UX, this is the place to start. This course lasts 4-8 weeks with 80 hours of coursework. Teaching you how to acquire visual UI design skills from typography to colors and layouts, as well as how to use industry standard tools, and preparing for the UX Academy with a final design challenge. As with all Designlab courses, you'll work 1:1 with an experienced mentor, as well as building your UI skills with 35 hands-on projects.
UX Academy With options to complete part time (20 hours a week for 30 weeks) and full time (40 hours a week for 15 weeks), this is a comprehensive UX/UI course that will give you a unique, high-quality portfolio aligned with your career goals. Phase 1 of this program includes modules on User Research, Information Architecture and User Interface Design, whilst Phase 2 is all about portfolio and professional career prep, creating a standout portfolio with three captain UX design projects that are based on real-world scenarios. After graduating, you'll retain access to career services and support, with up to 26 weeks of coaching with your personal career coach. Throughout the course, your work will receive personalized feedback, and you'll get a weekly one on one call with your mentor.
Short Courses
Data-Driven Design Designed for experienced UX and product designers, this course will help you gain confidence in your ability to collect and use data to design more effectively, so you can win buy-in from stakeholders and speak the language of business metrics. Over 6 weeks, you'll learn in a hybrid format, completing lessons on your own time, and meeting with your peer group in love weekly sessions, as well as personalized critiques and insights from your mentor. Learning through hands-on projects, you'll cover the business value of data-driven design, using data in new product development, iterating products with data and more.
Design 101 This crash course covers everything you'll need to know about design as a complete beginner. Starting out with ideating and sketching, you'll learn color theory, typography and imagery before moving on to layout and composition. Covering common UI patterns, you will assemble your final project through wireframing, creating a final version with assets, color and type, and learning how to present your work and hand it off to a team of developers. This course includes 4 mentor sessions as well as 16 hands-on projects.
UI Design Designed for intermediate learners, in this 4 week course you'll improve your visual design skills with lessons on interactive patterns, brand and identity and visual hierarchy. Covering crucial and up to date content like responsive web design and iconography, you'll create a high fidelity prototype and learn about rapid iteration. With a focus on modern UI trends to keep you up to date, you'll get 4 mentor sessions to help you grow with constructive feedback.
UX Research and Strategy This course is all about mastering the art of understanding your user. From the basics of UX design and customer empathy to defining your users with patterns in customer data, empathy maps and storyboards, you'll learn how to ideate to frame a particular design problem. With lessons on prototyping and testing your assumptions with research tests, you'll gain experience in conducting quantitative and qualitative testing, usability tests, and practice testing and landing homepage. Again, you'll have access to four sessions with an expert mentor as well as a certificate of completion.
UX: Interactive Design Focusing on functionality, this four week course dives into perfecting your product's usability, and is intended for beginners, or designers who want to make the leap into product. You'll learn the principles and usability and build a product portfolio, with content covering usability and heuristics, sketching, information architecture and user flows, before finishing off with wireframes and design patterns. As ever, you'll get four sessions with a professional mentor who will review your work and offer helpful advice.
Designlab for business
Designlab is available for teams and companies, and courses can be optimized to teach several students at once, with the possibility for additional discounts depending on the amount of students. You'll have to get in touch with Designlab via their Help Center Contact form for more information. 
How I reviewed Designlab
I reviewed Designlab by taking a good look around their website, exploring the courses on offer, downloading course syllabuses, researching the mentors and investigating their free resources. I delved into Designlab's curriculum, and browsed review sites to learn what others thought of their experience with the platform.
What I liked about Designlab
1-1 Mentorship
Not only does Designlab offer one on one mentorship in its flagship UX Academy course, but mentoring with personalized feedback is available on ALL their courses. This is because Designlab believes that the best way to learn is through feedback and iteration. This isn't a passive learning experience — you'll be expected to take an active part in the process by designing projects and engaging with meaningful insights from industry professionals.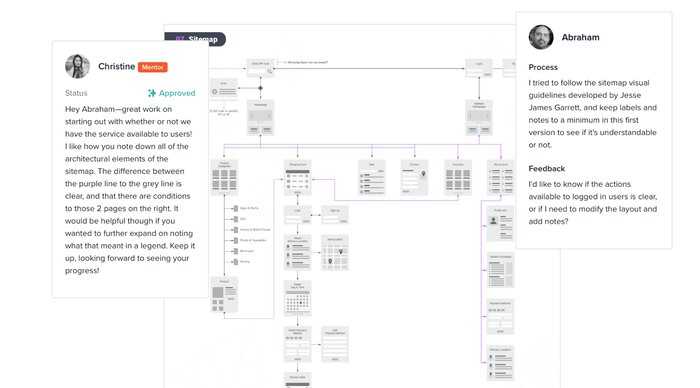 Varied Curriculums
Designlab offers extremely high-quality learning content that is assessed by a range of tasks and projects to offer a varied and engaging learning experience. Learn by doing focused, subject-based coursework that will go towards building portfolio projects – written and reviewed by experts, these courses reflect the latest developments and industry best practice.
Community Cohorts
Rather than completing courses in your own time, you'll join a cohort for a specific length of time. This means that you'll have peers to learn from and build a community with throughout the duration of your course, keeping you accountable and on track. This also offers a great opportunity to get ahead with networking!
What could be improved
Limited Course Options
Unlike comparable online learning platforms, Designlab has relatively few courses at 2 longer courses and 5 shorter ones. However, Designlab's focus is on UX/UI, so it makes sense for them to have fewer, quality courses that are focused rather than a bunch of irrelevant ones. Plus, they offer you the opportunity to vote for their next course, which is a really cool feature.
Time-bound Courses
Whilst working on a cohort will keep you motivated, the time-bound nature of these courses might not be for everyone. Taking the UX Academy course requires 40 hours a week, so you'd have to have a lot of free time on your hands to be able to keep up. However, the courses are designed this way for a reason, and having weekly access to a mentor as well as other learners will help keep you on track.
Who Designlab is for
Total beginners who want to know more about design and UX in a supportive environment with on-on-one mentoring, before embarking on a career in this field
Intermediate learners who wants to brush up on their design, research or data skills with quizzes and assignments
Professionals who are interested in a career pivot from product to design by learning new skills and building an impressive portfolio
Anyone who wants to build a portfolio and connect with UX design industry professionals
Active learners who benefit from one-on-one mentorship and being set practical assignments 
Can I buy Designlab as a gift?
Designlab is not currently available to buy as a gift.
Tips to finding great courses on Designlab
Designlab's star course is their intensive UX Academy, which has its own section on the website. If you're not quite ready to dive in at the deep end, then you can check out their 'courses' section.

On their 'courses' page, you can browse shorter courses: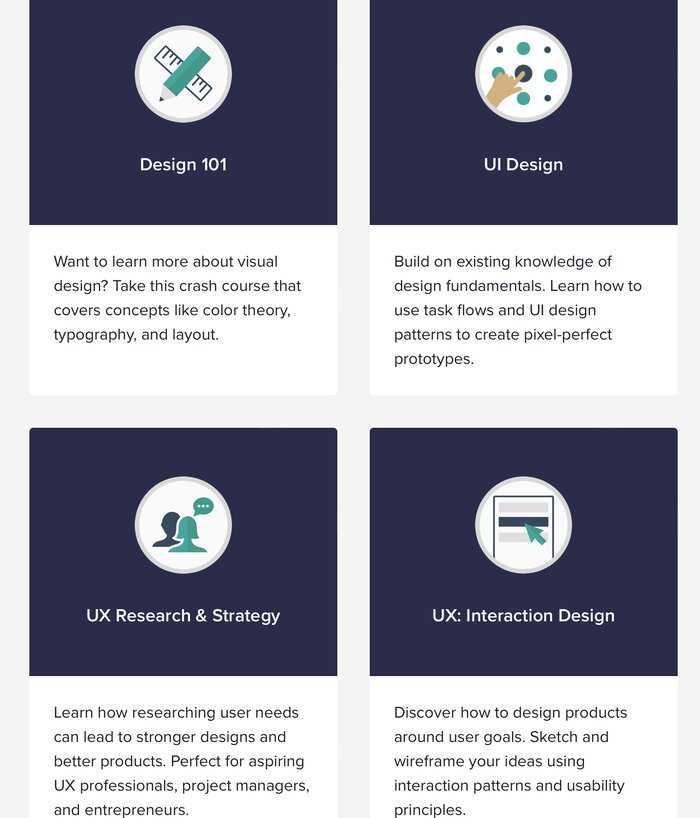 When you select a course, you can learn more about the course content, units, outcomes and more before you commit.

You will also get a detailed week by week breakdown, so you know exactly what you'll be learning, and make an informed decision about whether each course will add to your skill set and help you meet your goals.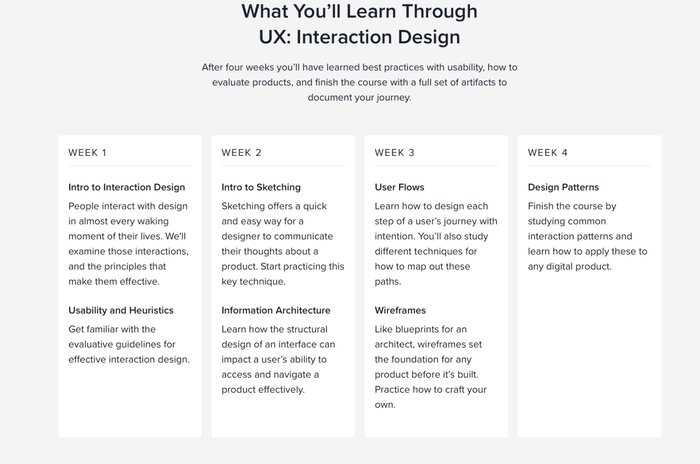 Is Designlab legit?
In-demand courses supported by one-on-one mentors? It might sound too good to be true, but I can confirm that Designlab is 100% legit. I have tested Designlab myself, and the site has been used by 19,000 students and provided over 240,000 one-on-one mentor sessions. Designlab is also the winner of Course Report' Best UX Bootcamp and Best Online Bootcamp 2022, as well as Switchup's Best Web Design Bootcamp 2017-2021.
Designlab refund
For shorter courses on Designlab, you can drop out of the course at any time and receive a full refund, no questions asked.
On the longer UX Academy course, the refund policy is a little more complicated. See the Designlab website for full details, but essentially if you decide the course isn't for you within the first two weeks, then you're eligible for a full refund. After two weeks, your refund becomes non-refundable.
Designlab alternatives
If you're after a platform that offers the same on-on-one mentor experience, then check out Springboard. This site offers courses in fields such as Tech Sales, Design, AI and Data, and offers ongoing support from industry professionals in the form of mentors and careers advisors. 
If you are interested in the more technical side, with courses in JavaScript, Redux and more, Educative offers courses in job interview prep, which is super-valuable for job seekers and career pivots. 
Old favorite LinkedIn Learning is always a great place to start for introductory courses on any of these topics. With a monthly membership, you can explore a variety of courses rather than commit to just one, which will help you learn more about technical skills and possible career paths.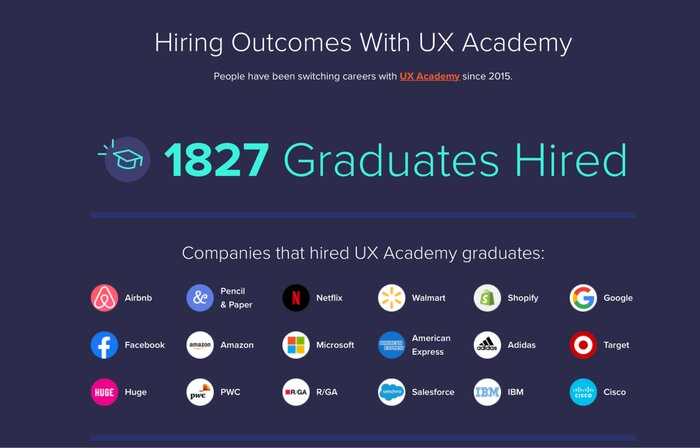 Designlab reviews: What others have said
I wanted to learn as much as I could about Designlab, so I had a look online to see what other users thought.
The reviews and feedback that I found were overwhelmingly positive. One user recommended the UX Foundations courses as a 'great starting point if you're new to UX design'. They found that 'the program lays out core principles in a structured and organized way' and that each module covered is 'filled with readings, assignments, and resources'.
The only cons were that 'a lot of the material can be found online and for free', although they appreciated how it was accessible and 'right there in front of you without you having to do any work', and that they personally didn't enjoy online learning.
Another user felt that it was a 'great choice' for them, as they come away with 'a great portfolio with 4 solid case studies, and it also didn't break the bank.'
Finally, this person found that the course was 'incredibly challenging', but 'worth it in the end'. They had an 'incredibly helpful' mentor, but didn't enjoy the community aspect as rewarding, but concede that 'you get out what you put in.'
Evaluating Designlab
Features: High-quality courses on UX/UI design, from flagship UX Academy to shorter courses covering specific skills as well as free resources such as email courses. All paid courses offer access to one-on-one mentorship with industry professionals and a community of learners for support and advice.
Content quality: Lessons are very high quality, with plenty of hands-on experience to get you practicing new skills and building a portfolio at the same time.
Content breadth: DesignLab is focused exclusively on UI/UX Design, with a longer UX Academy course, as well as shorter courses on Data Driven Design, Design 101, UI Design, UX Research and Strategy and Interactie Design.
Teachers: Designlab mentors all have to go through a rigorous vetting process. All are design professionals who work at top companies such as Meta, Adobe and American Express.
Supporting materials: Designlab offers plenty of extra materials and resources, with great free email courses on topics such as Photoshop, Adobe and Figma, as well as Ebooks, Webinars and a selection of templates for UX deliverables.
Payments & refunds: Course costs vary from $7,749 for the UX Academy, to $400 for short courses. Refund policy depends on the course.
Support: Designlab has a very detailed FAQ section, and you can also get in touch with the Help Centre directly for answers to specific questions and additional support.
How to open a Designlab account
It's really easy to open a Designlab account, but you can't do it until you sign up for a course. When you do, an account is automatically set up. 
Is Designlab worth it?
In my personal opinion Designlab is worth it. This is especially true if you are a total beginner in the design field, as the in-depth Academy, ability to build a portfolio for future employers and access to an industry professional to mentor you is invaluable.
If you already have a little bit of experience, there is plenty to learn from Designlab's shorter courses too, with targeted skills and the same personalized learning experience.
Designlab's refund policy means that there is a minimal risk of losing out, as you can get a full refund at any time for a short course, and within two weeks for the UX Academy. 
Frequently asked questions
How much does Designlab cost?
Designlab's courses range from $400 to over $7,000
Does Designlab have a refund policy?
Yes, you can get a refund at any time for a short course, and within two weeks for the UX Academy.
How many courses are there?
Currently Designlab offers over 5 courses.
Does Designlab have a free trial?
Designlab does not offer a free trial.
Does Designlab give certificates?
Yes, Designlab offers certificates, which are a great way of demonstrating your skills to your future employer.
What languages is Designlab available in?
Designlab is currently available in English.

Hannah is currently studying a Masters in Modern Literature and Culture at King's College London.  In her spare time she enjoys hiking, writing and cooking.