If you've decided to study Portuguese and aren't sure whether to choose Rocket Portuguese, you've come to the right place. 
In this Rocket Portuguese review, I'll be using my experience as a language teacher to review the course and help you to figure out if it's the right course for you.
My Portuguese roots and childhood holidays visiting family in Madeira meant I grew up surrounded by the language. But as the years went by I stopped visiting and fell out of practice. 
So you can imagine how excited I was to revisit my cultural roots and brush up on my Portuguese using Rocket Languages.
Portuguese one of the five major romance languages. It's also the official language in 10 countries and territories spanning five continents. The projected economic growth for those countries, especially Brazil, has led to increasing curiosity about Portuguese, making it one of the fastest growing languages today and a great choice for studying.
Let's explore whether Rocket Portuguese is the best way for you to become part of that growing crowd. 
**NB: Rocket Portuguese teaches the Brazilian variety of the language. That said, it's fairly easy for speakers of all Portuguese dialects to understand each other. Rocket Portuguese highlights the differences in pronunciation throughout to help.
.
Quick summary
Features
Well-rounded course develops listening, speaking, writing and reading skills
Engaging gamified activities like quizzes, writing and pronunciation practice
Roleplay conversations with voice recognition
Gain cultural insight with Culture Lessons
Lifetime access to course for one-time purchase
Syncs smoothly across all devices
Leaderboards and daily score ranking
Save any words and phrases for later review
Benchmark test for personalized progress reports
CEFR standard testing and qualification
Survival Kit lessons for further practical language
Community forum for discussing course with classmates
Rocket Recommends for extra resource recommendations
Pros
Immersive Audio Lessons with voice-recognition practice conversations quickly get you speaking like a local
Language and Culture Lessons teach grammatical knowledge while gaining interesting cultural insight
Diverse range of activities in lessons keep you entertained and drill content
Learn on the go and listen to audio lessons with the mobile app
Rate your own confidence to progress at your own pace
Cons
Lack of content for intermediate to advanced learners
Could use more visual stimuli to aid learners
Discussion forums are quiet
Best for: People with different learning styles from beginner to intermediate levels who want to develop all of their Portuguese skills. Great for anyone who wants to see quick improvement and get talking from the off. Also suitable for working professionals who want to study on the go and prefer standardized CEFR assessment and certification. 
Cost: $149.95 for life-long access to the whole course (payable in 6 monthly instalments).
Overall: A well structured, comprehensive beginner-intermediate course for those wishing to speak Brazilian Portuguese like a local. Using immersive easy-to-follow audio lessons, interactive and immersive conversation practice and Survival Kit lessons, Rocket Portuguese teaches you the core components of Portuguese. Its detailed culture lessons share the ins and outs of the Portuguese language. The CEFR standard benchmark testing tracks progress, making the course feel consistently useful and entertaining. 
What is Rocket Portuguese?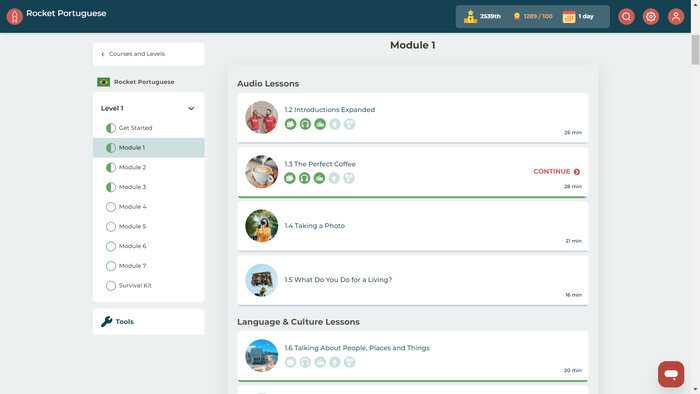 Rocket Portuguese is an online course offered by experienced language learning provider Rocket Languages. They have 19 years of education under their belt, in 13 languages, to over 2,000,000 members.
Rocket Languages promises to get you talking like a local, by practicing conversations, studying culture and learning how to use essential phrases and vocabulary.
Their courses use a mixture of in-depth audio lessons and conversational exercises to train you in the art of speaking a language – fast. They also allow you to dive deeper into lesson content and develop your listening, reading, and writing skills to become an all-rounder. All of this while using algorithms and leaderboards to track your progression and improvement. 
Content is specially tailored to each language's culture. So when you take on the Rocket Portuguese course you know that what you're , getting is relevant.
All of this is packaged in an easy to use app on desktop, Android or iPhone. Progress is tracked across all devices meaning you can seamlessly switch between studying as you're out and about or while sitting with your computer.
What languages can you learn with Rocket Portuguese?
Just Portuguese! However, the massive Rocket Languages platform teaches 13 languages in total. They are:
Spanish
French
Italian
German
Japanese
Chinese
Korean
Russian
Arabic
Hindi
Portuguese
Sign Language
English
How does Rocket Portuguese work?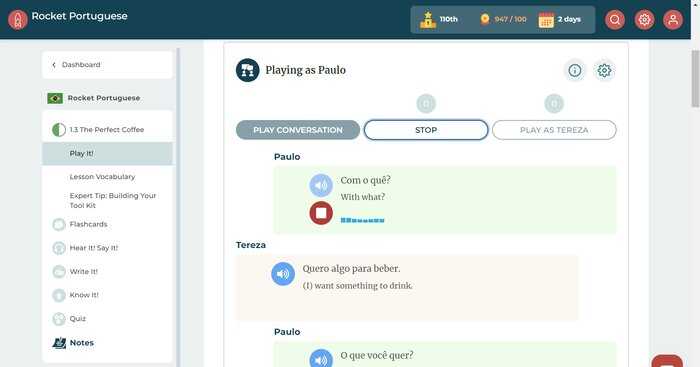 Enrolling in Rocket Portuguese gives you lifetime access to the entire Portuguese curriculum.
The platform primarily uses a combination of audio lessons and language and culture lessons to introduce new phrases and vocabulary. It then uses practice conversations, pronunciation practice, writing exercises and quizzes to drill the content and test you on your confidence and knowledge. 
Rocket Portuguese provides you with 138 hours of lesson time, made up of:
31 audio lessons: with the option of interactive subtitles that guide you through the new language. They train your ears as you listen to native speakers and get you familiar with the vocab for that lesson.
31 practice conversations and 3,148 voice-recognition phrases: The intelligent voice-recognition software detects and rates your pronunciation as you practice 
33 Language lessons: that teach you the fundamentals of how the language works, through a mixture of audio and writing activities, flashcards, and quizzes.
33 Culture lessons: for insight into cultural knowledge relevant to the language. Including regional differences, dialects, social norms, customs, people or even history.
Survival Kits: for additional language and phrases that have immediate practical use.
Extra tools: like leaderboards, certification, saved notes and vocabulary, a discussion forum, and benchmark tests. All to further your learning and tailor the course to meet your needs. 
Rocket Languages uses the CEFR (Common European Framework of Reference for Languages), the international standard for measuring language ability. So any accreditation you get from their courses will be officially recognized and understood globally. 
It will take you from beginner to intermediate level (A1-B1). Some of the other languages they teach offer content up to the advanced level. For this reason, Rocket Portuguese comes at a much cheaper price (see details of prices further down). 
What a lesson is like on Rocket Portuguese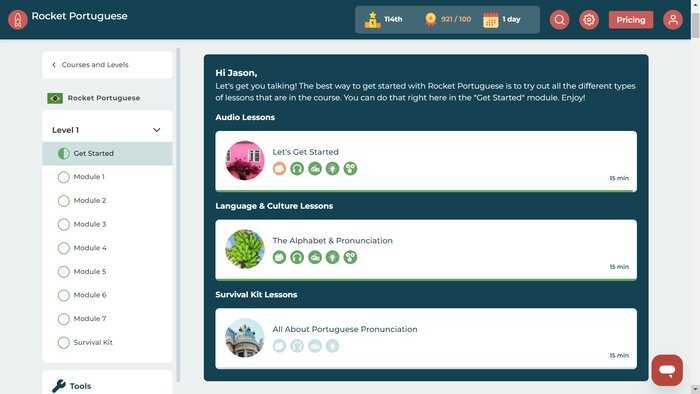 When you first log on to your Rocket Portuguese course, you'll be greeted by a simple yet intuitive dashboard. Course modules are displayed in a logical manner and there's no tutorial needed. So within seconds you'll be able to jump right into an Audio Lesson or Language and Culture Lesson.
Audio Lessons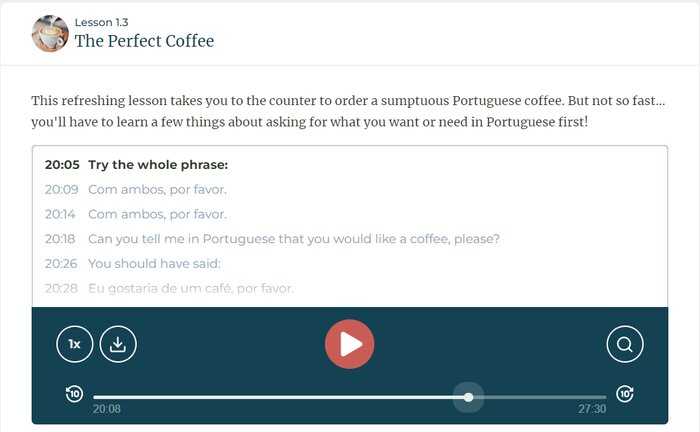 Rocket Portuguese's Audio Lessons start by listening to a subtitled audio-track that's about 20 minutes long. It's made up of easy to understand chunks of Portuguese conversations, which you're encouraged to repeat. There are also explanations by the English speaking teacher.
The next part's where the fun really begins and is my favorite feature. You practice the phrases and words you've just learned by role-playing as Tereza or Paulo, the two people in the conversation from the audio track. Using voice-recognition software, you read out the phrases of a speaker, and the other person in the conversation responds to you. So if I'm reading out Paulo's dialogue asking "Como está?" the app hears me, and Tereza's voice answers back "muito bem!".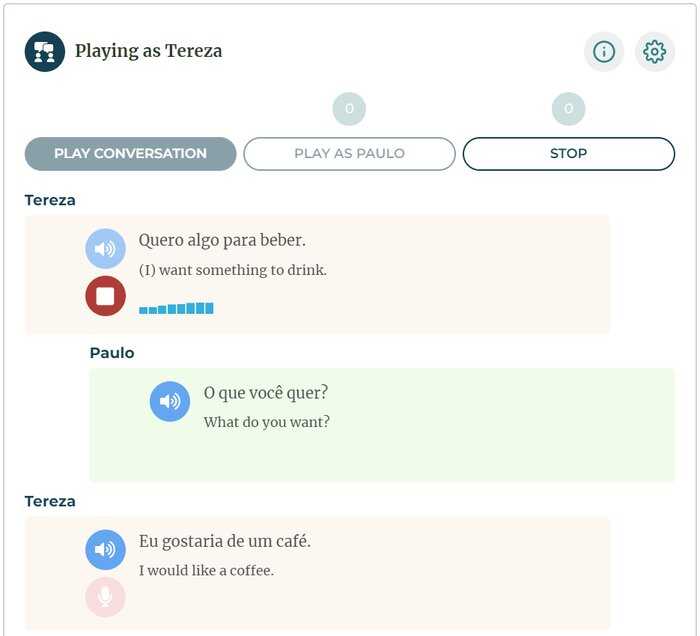 This makes it feel like you're actually practicing a conversation with a native speaker. Something not offered by many learning platforms.
Following that, the phrases and vocabulary will be drilled using flashcards, voice activated repetition, writing activities and finally a quiz. Follow up activities really drill the language in well. And the algorithm records the parts you struggle with so that you can review them later.
Language and Culture Lessons
These lessons work a little differently. You'll read a short introduction to the target language, such as an explanation of a grammar rule, and then drill it through audio phrases and voice recognition practice.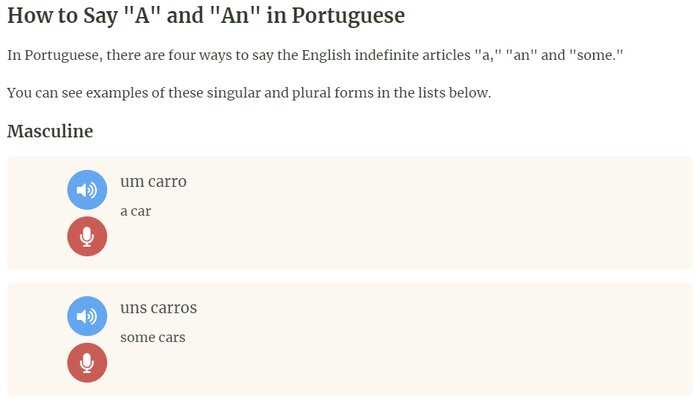 After practicing repeating the phrases, you'll readinformation about the culture that's relevant to what you learned. For example, in one Language and Culture Lesson I learned about the pronunciation of letters in the Portuguese alphabet and then read about the different dialects in Portuguese speaking parts of the world. This added a layer of cultural immersion into what had initially felt like a simple phonetics lesson.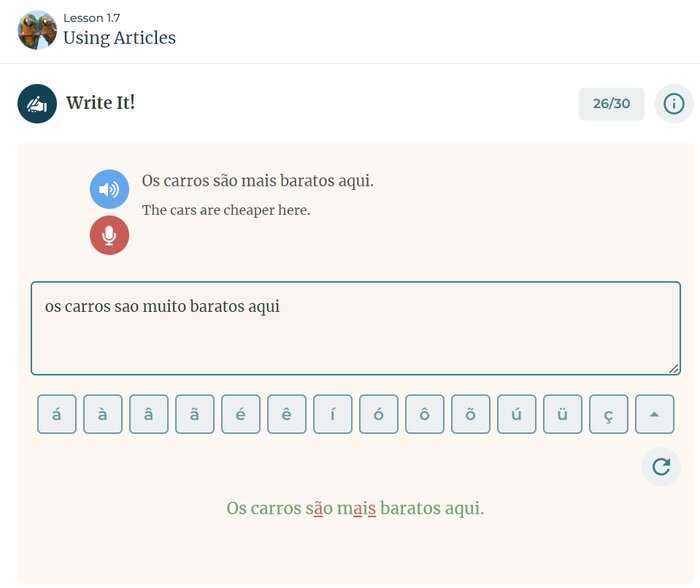 Then, much like with the Audio lessons, you'll practice the new grammar and vocabulary you learned through flashcards, writing, and quizzes. Interestingly, I didn't even realize I'd been learning new words until I got to the test! The lesson structure drilled in the vocabulary words through pronunciation practice and the words had stuck by the time I arrived at the quiz.
Follow-up activities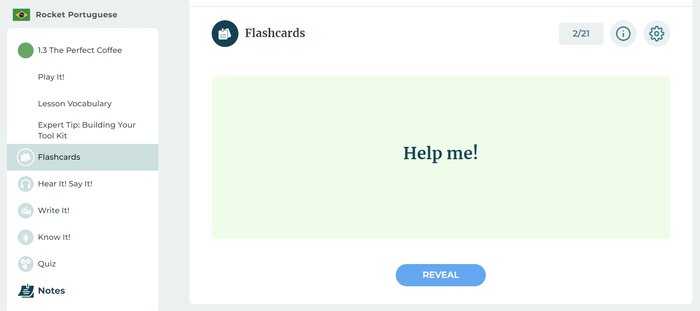 New language is practiced and drilled in with follow up activities:
Flashcards – you're prompted with written English words and phrases, then click to reveal the translation.
Hear it! Say it! – Listen to the Portuguese audio and try to repeat what they say. The voice-recognition software will detect if you said the correct word.
Write it! – You hear a Portuguese word or phrase and then attempt to type it out while your spelling gets checked and graded.
Know it! – you're presented with an English word or phrase, and must translate it into Portuguese using voice recognition.
Quiz – To finish off the lesson, you prove your abilities with a short quiz.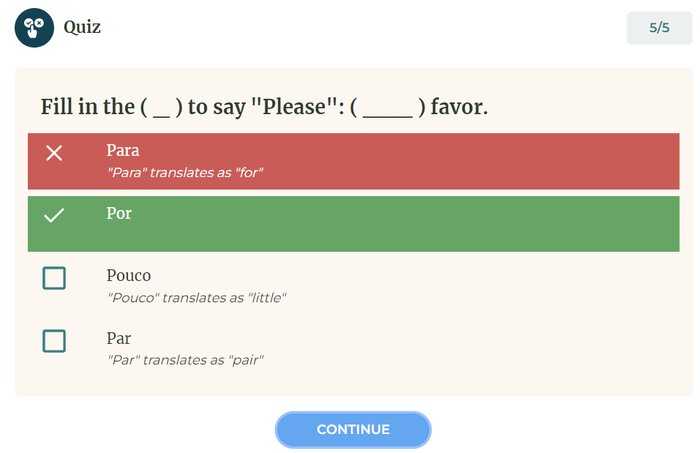 What is the method behind Rocket Portuguese?
Thanks to my five years spent teaching languages in a classroom setting, I know what makes for successful language learning. Rocket Portuguese uses the PPP method – Presentation, Practice, Production.
They first present you with the target language through audio exercises to get you acquainted with what the lesson content is. You then practice the new phrases and words through flashcards, repetition, and voice-recording. You then produce language by writing the new vocabulary or grammar, and translating from English via voice.
Their conversation practice method is effective in getting you to speak the language during lessons. There aren't many platforms that allow you to simulate a conversation. And that's despite most language learners knowing that the quickest way to pick up a language is by speaking to people.
Rocket Portuguese also tracks your progress by asking you how easy or difficult individual words and phrases are after each one is tested, so you can review them later on. The leaderboard compares your progress to other students studying the same language. So if you've got a competitive streak in you, you'll get that extra push to becoming top of the class!
I can confidently say that the Rocket Portuguese method is effective in eliciting immediate and noticeable results. When I'd teach my English classes, I'd set out the target language and have students using it by the end of a class. Rocket Portuguese does this too. By the end of a 20 minute lesson you'll be able to read, understand, write and say a handful of new words and phrases. 
How I reviewed Rocket Portuguese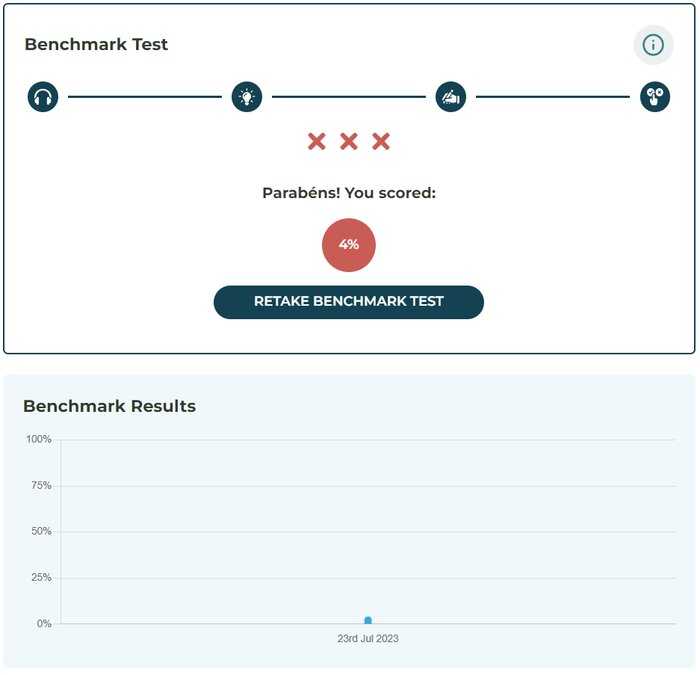 As someone who learned a basic level of Portuguese as a child, I thought it best to start off with a benchmark test. This assesses your level and gives you an idea of what you need to work on. After taking the test, which involved writing, speaking, listening and general knowledge questions, I realized my Portuguese was even worse than I'd originally thought.
So I signed up for the 6 day free trial and got to studying. I spent 3 hours taking all of the lessons available in the 'Get Started' Module and Module 1. I learned how to:
Have basic conversations, talk about myself and ask about other people
Order food and drinks in a cafe or restaurant
Talk about my work and life
Speak about photography
Pronounce Portuguese letters and accents
Use gendered grammar, plurals and articles
Use a tonne of useful vocabulary
Due to my prior experience, some of the language felt familiar so I was able to get through content faster than a complete novice might. However, the way the lessons were delivered kept me engaged and I learnt a lot of new things too. Rocket Portuguese teaches Brazilian Portuguese (the most common in the world). So it often felt fresh as someone who had previously spoken the European dialect. 
I assessed the content based on how efficient it was at making language stick, how easy it was to follow, how much fun I had, and how useful I felt the content was. Rocket Portuguese scored high in all of these criteria. 
Rocket Portuguese Pros
What are the best features of Rocket Portuguese? What sets it above other more popular language platforms?
Immersive Audio Lessons
The audio lessons, with their rolling, clickable subtitles are entertaining, comprehensive and easy to follow. They resemble a real in-class lesson where a teacher is speaking directly to you and explaining the ins and outs of the language, but with the added bonus of being able to pause, speed up, slow down and replay anything you might miss. This, combined with the interactive conversations that follow, mean you'll feel like you're really immersed in the language, speaking to a local.
Engaging Language Lessons
Rocket Portuguese teaches you the structural and grammatical aspects of the language in a way that keeps you interested. Instead of too much technical jargon or long explanations, they get you practicing new syntax right off the bat, so that it's drilled in quickly. 
Diverse Activities
The variety of activities in each lesson mean that you get a balanced amount of experience in speaking, listening, reading and writing. It's difficult to get bored as you might be speaking one minute, typing the next and being quizzed soon after. 
Cultural Understanding
From the get go, Rocket Portuguese educates you on cultural knowledge that's interesting and relevant to the lesson topic. One of the best parts of learning with an in-person teacher is what you learn about their culture and country, and Rocket Portuguese has this covered. The Culture Lessons and conversation practice make you feel like you'd be ready to meet up with and speak to native Portuguese speakers.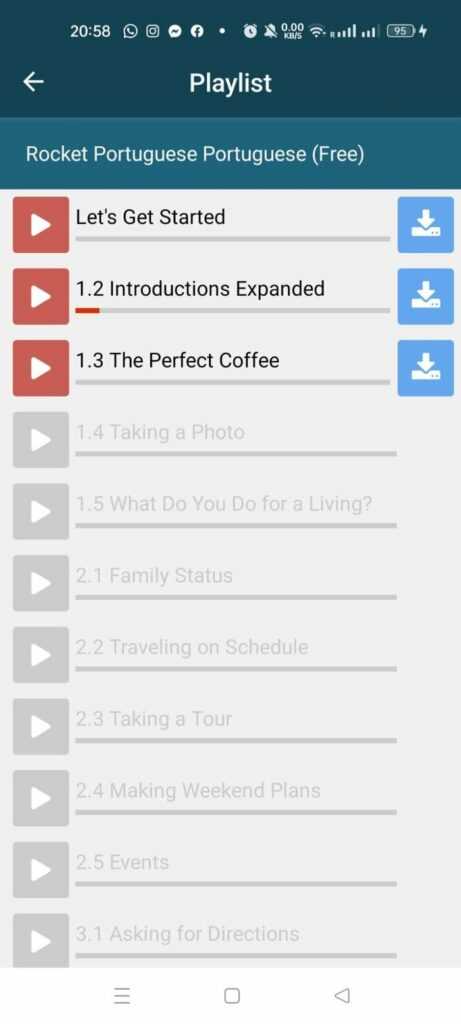 Learn on the Go
The mobile app is just as easy to use as the desktop version, and syncs your progress across platforms so that you can continue studying when you're on the move. You can listen to the audio lessons with your phone screen locked, like you would a podcast. As a podcast lover, this is a huge plus for me.
Rate Your Own Confidence
As you're completing activities, Rocket Portuguese will regularly check if you found content easy, medium, or hard. Content that you don't rate as 'easy' will be noted by the platform. It will then ask you if you want to review it at the end of the lesson. You can save the harder stuff to review later, so that you're constantly improving at a pace you feel comfortable with.
Rocket Portuguese Cons
I'd be lying if I said that Rocket Portuguese was perfect. There are some areas for improvement, as with any language learning platform. But they don't hinder the experience  too much, and are things that will likely be resolved with time.
Lack of Higher Level Content
Many of Rocket Languages' other language courses offer levels 1-3, meaning you could go from beginner to advanced if you want. Rocket Portuguese currently offers Level One only, allowing you to go from absolute beginner to intermediate level. There may be plans to expand this in the future, but for now, this is one of the shorter courses available. The plus side of this is that it costs significantly less than their level one to three courses.
Visually Simple
The interface is modern and easy to navigate but the content lacks some of the visual appeal that other language platforms have. Much is made up of text and a few pictures, which might deter learners that prefer more visual stimuli. This could be improved with a few basic design upgrades or implementation of more images to spruce up their activities. 
Quiet Forums
Rocket Languages courses feature a forum for users to discuss course content, language difficulties, or any other suitable topic for Portuguese learners. The only issue with the Rocket Portuguese forum is that it feels pretty quiet. When browsing through the forums, most of the conversation topics are months or years old, with not many recent comments. As the user base continues to grow though, this could change in the future.
Addictive

This might not be a con for some. But as a competitive gamer I found the leaderboard that's constantly displayed at the top to be extremely addictive! When I'd finish one lesson, I'd look up to see that I was in Nth position for that day, my need to be top of the class would kick in and I'd have to do another lesson. While this is a great motivational tool, it was difficult to pull myself away from the course at times. 
Who is Rocket Portuguese for?
Tourists: I've spent the past eight years traveling. So I know that basic conversational phrases are the first thing you need when visiting a country. Rocket Portuguese's logically structured curriculum starts off with the basics of talking to people, and then quickly moves onto practical use material like how to order coffee or or vegetarian food. This makes it great for those who may be visiting a Portuguese country and want to speak the local language as soon as they land.
Beginner/Intermediate Learners: Rocket Portuguese only offers a beginner to intermediate course at the moment, so the course is most beneficial to learners who are fairly new to the language. It starts with the basics so a complete novice can dive in with no trouble.
Non-Brazilian Portuguese Speakers: The differences between Brazilian Portuguese and other dialects are like those between Scottish English and Australian English – that is, you'd need a trained ear to be able to understand both. If you've studied Portuguese from Portugal, this course will teach you the differences in pronunciation and grammar.
Busy learners: If you're a busy professional or simply someone who is out and about often, the Rocket Portuguese app lets you study any time, any place.
Working professionals: Rocket Languages uses CEFR standards, so when you complete a course you know that you meet a global standard in that language. You'll also get a certificate which makes a nice addition to your résumé.
Travelers: Did you know that there are 260 million Portuguese speakers in the world, of which 93.2% are Brazilian? If you travel, or live abroad and meet people from all over the world, Rocket Portuguese gives you the opportunity to speak to hundreds of millions more people.
How much does Rocket Portuguese cost?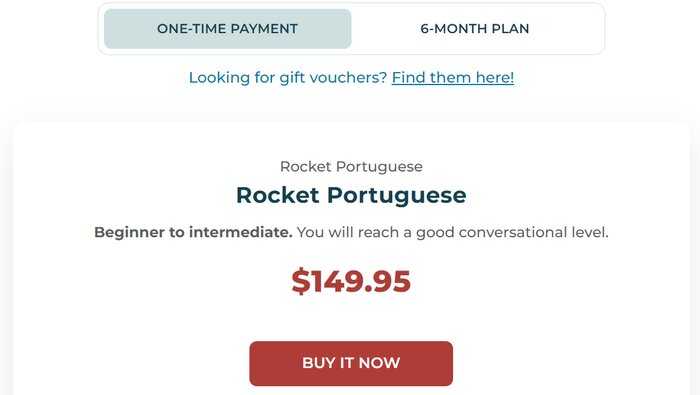 Rocket Portuguese has a simple pricing plan compared with some of the other courses on Rocket Languages. For a one-off purchase price of $149.95 you are given life-long access to all modules in the Level One course, plus their Survival Kit (which is valued at $49.95) for free. If you'd rather pay off that one-time fee in monthly installments, you can opt to pay $27.00 a month for six months, though this ends up being $162.00 in total.
When I first went to purchase Rocket Portuguese, I was offered a limited time coupon ROCKETDEAL which had to be redeemed within 2 hours. This would put the one-off price at $99.95, or $19.00 per month for the six month plan, totalling $114.00. I actually checked the next day to see if they'd re-offer the deal, but the voucher code was no longer added to the check out price. The next day when I checked again, it had been re-added.
Is Rocket Portuguese free?
If you want to get a small taste of what Rocket Portuguese has to offer, they have a 6-day trial available, which gives you more than enough content to feel things out. The trial gives you access to the 'Get Started' module, half of the lessons from module one (out of nine), and one Survival Kit lesson.
While the trial does give you a good insight into what the course is like, you won't get to access some of the most interesting content that comes into play later on in the program. You'll also be unable to access Rocket Recommends, which shares extra resources with you, or Rocket Certification.
Rocket Portuguese Refund
After buying lifetime access to Rocket Portuguese's full course package, you're given a very generous 60 day grace period if you decide you'd like a refund. And the best thing about this? You can ask for the refund with no questions asked. This is a testament to how confident Rocket Languages are in their service.
To get a refund, simply email support@rocketlanguages.com with your request along with your receipt number. They'll process your refund in two working days, though it may take up to five days to show up in your account.
It should be noted that if you opt for the monthly payment plan, you can't get a refund on previous payments. You may only cancel future payments, and will no longer own the course.
Features of Rocket Portuguese
Rocket Portuguese has a diverse array of features that ensure you'll get an all-round learning experience, and help you get comfortable with the language at a pace that befits you. Those features are:
Audio Lessons with Practice Conversations
Language and Culture Lessons
Survival Kit Lessons
Progress Tracking
Healthy Competition via Leaderboards
Gamification of Activities and Points System
An easy to use Desktop App
Mobile App
Benchmark Tests
Saved Notes and Vocabulary
Rocket Certifications
Discussion Forum
Language and Culture Lessons
Rocket Portuguese's Language and Culture Lessons teach you the grammatical structures, pronunciation, and language rules without getting bogged down in too much of the technical aspects. It's nicely sandwiched in with interesting and insightful information about Portuguese/Brazilian culture to add to the immersion of language learning.
Survival Kit Lessons
These bonus modules provide additional vocabulary that'll further users' path to fluency. Rocket Portuguese's Survival Kits build on what you learn in the core modules by adding key terminology that they describe as key terminology that'll allow users to "survive and thrive".
Progress Tracking
The platform tracks your progress using both your own input about how easy you find each word, phrase and topic, then uses algorithms to decide what to revisit later on in your studies.
Gamification of Activities and Points System
Pronunciation, writing, and listening are gamified to ensure diversity in the types of activities. At the end of each lesson you're given a quiz to test your knowledge and make sure the knowledge has taken root.
Healthy Competition via Leaderboards
Whenever you practice saying a phrase, complete a quiz, listen to a lesson, or any other activity on Rocket Portuguese – it allocates points to your daily total which is then compared to other users, giving you a leaderboard position. Your points and rank are always displayed at the top of the screen, which adds a healthy dose of competitiveness to your daily learning, although it can get quite addictive!
Easy to Use Desktop App
The desktop app can be used without the need to download, meaning you can jump straight into lessons after signing up. The UI is easy to use and has a simple yet sleek design.
Mobile App
A mobile app for Android and iPhone that seamlessly syncs with your desktop app, so you can continue your learning while on the move. You can easily switch between the mobile and desktop apps.
Benchmark Tests
This personalized assessment tool allows you to check your proficiency before you start taking lessons and also evaluate your progress at any stage during the course. The 100 question test is made up of listening, speaking, reading and writing so you can get a sense of what areas you're doing (or not) well in.
Saved Notes and Vocabulary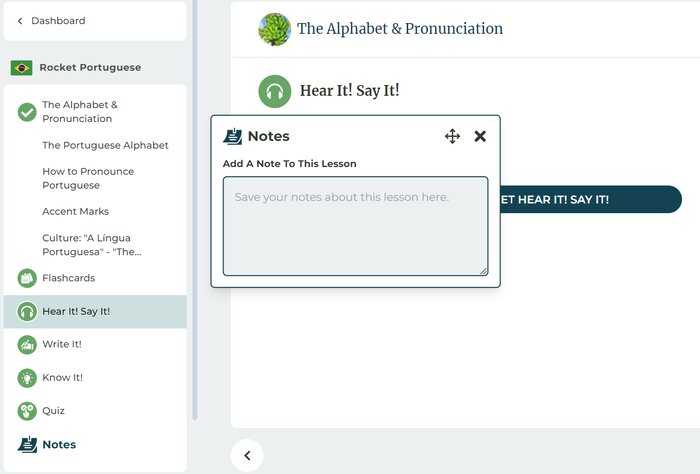 This feature allows you to make notes at any point in a lesson and then conveniently find them in the 'saved notes' section of the extra tools. Additionally, you can highlight any vocabulary word or phrase and save it to the 'saved notes' section.
Rocket Certifications
After finishing your course, you'll get the opportunity to receive a certificate after completing the certification test. Not only does this give you a great sense of achievement, but it's something cool to show off to friends, family and employers.
Discussion Forum
A big part of being a student is the socializing you get to engage in with other students – Rocket Portuguese's discussion forum ticks off that box. You can start your own topic or explore one of the already existing conversations and see what your classmates are saying.
Alternatives to Rocket Portuguese
If you've been shopping around for the best possible Portuguese course, you're no doubt aware that there are dozens of options out there. To give you a sense of what Rocket Portuguese does differently to other platforms, I've compared it to three of the most popular or well known language learning providers.
Rocket Portuguese vs Rosetta Stone
There are a few similarities between Rosetta Stone Portuguese and Rocket Portuguese. They both cater more towards beginners, promise immersion, and lean heavily on audio-based lessons. We can look at these similarities to see which platform's approach works best.
Rocket Portuguese guides learners through the course vocabulary with constant translations, explanations and extra knowledge, while Rosetta Stone focuses more on visual aids such as picture flashcards. This approach may work for visual learners but it can feel too basic for.
Rosetta Stone immerses users in the language by teaching the whole course in Portuguese – this means the teacher speaks in the target language and level one translations aren't used, forcing learner's to learn the language naturally as they progress through the course. Although this is a useful approach that is practiced by most language instructors in classroom settings, it can make online content difficult to follow. Rocket Portuguese on the other hand, always has English translations available.
Rocket Portuguese's audio lessons are taught in a mixture of English and Portuguese. Portuguese phrases are translated and explained clearly. Rosetta Stone doesn't do this in their audio lessons, so it may be more difficult to follow along.
Furthermore, Rosetta Stone costs roughly $448 for lifetime access, while a Rocket Portuguese purchase gets you the same for $99.95.
Rocket Portuguese vs Babbel
Babbel's tried and tested yet simple approach to language learning has made it one of the most popular platforms out there, but how does Babel Portuguese compare to Rocket Portuguese?
Babbel's Portuguese course uses some of the same tools as Rocket Portuguese, such as flashcards, quizzes and speech recognition. Its lessons are bite-sized and fast-paced so you can get through one in a short space of time. Unfortunately this is at the expense of the in-depth learning that you get with Rocket Portuguese.
While Babbel does feature conversations to follow through listening and clicking, it doesn't have the immersive conversational practice that I loved on Rocket Portuguese.
Babbel may be a better option for those who like their studying to be quick and heavily gamified, but Rocket Portuguese is a better contender for those looking to get a more serious and enriching experience.
Babbel Portuguese costs 14 dollars a month at their shortest price plan, so for seven months of Babbel you'd pay the same as you would for lifetime access to Rocket Portuguese.
Rocket Portuguese vs Duolingo
Comparing any language learning platform to Duolingo is always tough, after all – it's free. But as someone who studied Spanish for a year, I know that Duolingo can only be used as something to supplement your studies.
If you know Duolingo, you may also know about the hilariously unusual phrases you learn from it that seem to have no practical use, such as "the dog doesn't eat meat", or "No, I am not a banana". Rocket Portuguese teaches you phrases that you'll actually use, while getting you comfortable with the structure of the language.
Some of Rocket Portuguese's features reminded me of Duolingo – the easy to use interface, the leaderboards, the daily score tracking, the voice recognition, and the variety of activities. But as great as Duolingo is for a free platform, it lacks much of the depth that Rocket Portuguese has. You don't get to practice conversations, learn about the culture, or receive the diligent testing that Rocket Portuguese provides.
What others have said
I couldn't find any online discussions amongst Rocket Portuguese users outside of the platform's own discussion forums, so I used comments about the general Rocket Languages platform to find out what people are saying.
I have been using the app casually in my free time this year, and I'm really enjoying it. I will say it is pricey, but I do think it's worth it if you are serious. It's about the price of a textbook, so it's like having a class in your pocket with audio. (Reddit user)
I agree that to a casual learner, the price may seem steep. But as they point out, it's roughly the same price as a textbook. Much like with a textbook, you get to keep Rocket Portuguese for life, instead of losing access when you cancel your subscription. As the comment says, it's worth it if you're serious about learning the language.
This Reddit user really likes the course but suggests supplementing with other resources.
I really like the course and feel like I've made progress in my skills. I'm up to Level 1/Module 3. There is a person who they use very limited only in the quiz portion that has a PRONOUNCED British accented Japanese speaking. All other audio is natural Japanese speakers. They teach through conversation and break down structure, words and grammar.
If you have it, it wouldn't hurt to just try it. You may want to supplement with some other resources as well though.
I actually agree with this recommendation. Although Rocket Portuguese does offer comprehensive content, it's always a positive thing to complement your studying with extracurricular activities. The Rocket Recommends feature offers recommendations for other resources, and it's easy to find other free tools to further your learning.
On a Reddit sub for Chinese learners this user said that the speech recognition tool can be unreliable due to its strictness. 
The only complaint I had is that its speech recognition (for checking the user's pronunciation) was a little unreliable, because your pronunciation had to match exactly with the site's recorded version of what you were supposed to say. I even checked it in German, which is my native language, and it said I mis-pronounced German.
On the one hand, this could be considered a positive thing. When you're practicing pronunciation, you want the tool that you're using to be accurate. When I practiced pronunciation with Rocket Portuguese I found that I could mispronounce some vowels and still get given a pass. I felt that if anything, it should've been stricter. I also tried saying different words to the ones presented, and didn't pass the voice recognition task. 
Conclusion: Is Rocket Portuguese worth it?
In a nutshell – yes.
It's comprehensive with a combination of listening, speaking, reading and writing activities. So you develop all of the necessary skills needed to become a Portuguese whizz. 
Lesson content is logically structured and easy to follow. The topics are well organized and practical so they can be put to immediate use. I strongly appreciated the writing tasks because they helped me to memorize the new words more quickly and perfect my spelling. 
If you've never visited or lived in another country and practiced the local language with a native speaker, then I can't stress enough how much faster you learn by having conversations. This is a great feature of Rocket Portuguese and the closest thing I've found to simulating a real conversation. There are other platforms that allow you to speak to a human, but they are very expensive. 
And speaking of costs – what you get for the price is very competitive. It is unusual to be given the chance to own an online course. Most language platforms use a subscription model and you lose access when you quit. If for whatever reason you need to take a long break from Rocket Portuguese, the course still belongs to you. 
Also, you can request a refund for up to 60 days after your initial purchase. That's plenty of time to put the platform through its paces and check it's right for you. So there's really nothing to lose.
Rocket French FAQs
How much does Rocket Portuguese cost?
Rocket Portuguese can be bought for a one-time price of $149.95 or $27.00 when paying off in 6 monthly instalments. Either payment method gets you lifetime access.
How does Rocket Portuguese work?
Rocket Portuguese uses a combination of audio-based lessons with conversational practice, and grammar-based culture lessons to get you speaking fluently up to a beginner-intermediate level. They use gamified writing, speaking, and translating activities to reinforce knowledge and regular testing to track your progress.
What languages does Rocket Portuguese teach?
Rocket Portuguese unsurprisingly just teaches Portuguese, focusing on the Brazilian dialect. The Rocket Languages platform offers 13 languages in total. 
Can I get a refund from Rocket Portuguese?
Yes. Rocket Portuguese offers a 60-day refund grace period to customers – no questions asked. If you opt for the monthly payment plan, you can only cancel future payments, not get a refund on previously paid months. 

Wayne holds a Master's in Conflict Studies from the London School of Economics and Political Science. An American working in the world of international affairs, he has picked up French, Italian, and Spanish throughout his life as a perpetual expat. He likes to do crosswords while enjoying a pint of craft brew.