German. If you've tried before I'm sure you're aware it's not the easiest language to learn. And if you're wanting to communicate to a decent standard in the language you'll likely need some help along the way.
Could Rocket German be that helping hand to see you achieve your German dreams? Well read on, because I've been taking full advantage of their free trial period to examine everything the course has to offer and assess if it's any bang for its buck.
So, slip into your comfiest lederhosen, maybe grab a stein of weissbier, and together let's examine what you stand to gain from learning German with Rocket German.
.
Quick summary
Features
Well-balanced lessons that will simultaneously develop your reading, writing, speaking, and listening skills
Survival Kit phrases for essential vocabulary
Simple and easy-to-navigate dashboard interface
Option to save difficult words and phrases for further review
Leadership board rankings and personal learning statistics
Community forum where you can engage with other learners
Benchmark test to assess personal standard and highlight areas for improvement
CEFR adherence and study tool
Find additional resources with Rocket Recommends
Mobile app that syncs seamlessly with the web browser
Free 6-day trial and a generous refund policy
Pros
State-of-the-art speech recognition technology that will help to perfect your pronunciation
Interactive Audio Lessons that will have you engaging in native-level conversations before you know it
Strikes the perfect balance between building grammatical knowledge and improving conversation skills
The option to personally indicate the difficulty of words or phrases helps identify your strengths and weaknesses
Diverse range of activities offered in every lesson reinforces learning and ensures it remains enjoyable
Downloadable lessons on the mobile app mean you can take your studies with you wherever you go, regardless of the availability of internet
Cons
Lack of visual content such as images and videos, which may hinder visual learners
No content for very advanced learners (C1/C2 CEFR)
Best for: Beginner to intermediate level learners looking for a holistic course that will develop their language level in every area. The self-paced structure and option to download lessons on the app mean it's also great for those with busy lives who wish to fit their learning around their other priorities. Plus, for those seeking accreditation, the course adheres to CEFR standards and provides you with a Rocket certificate of proficiency to demonstrate your CEFR level.
Cost: This can vary: a lifetime subscription costs between $100 and $250 depending on how many levels you buy. If you want to pay with a 6-month plan it's $47 per month for access to all 3 levels. Rocket German also offers a 6-day trial for free.
Overall: Rocket German is a step above the rest. A well-rounded course that combines enjoyable and interactive audio lessons with informative cultural classes, all built on a rock-solid grammatical foundation. With a ton of additional features such as a community forum, CEFR study tool, and survival vocabulary, the course leaves very few stones unturned in their efforts to support you on your language journey. Plus with a free trial period and a 60-day guaranteed refund window there's really no excuse not to give it a try.
What is Rocket German?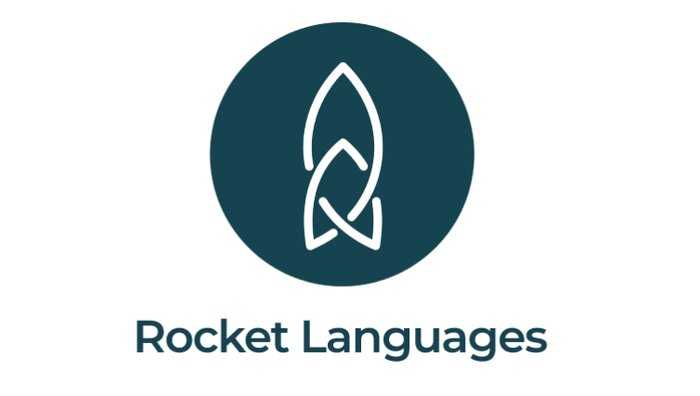 Rocket German is an original online language-learning course developed by the well-known provider Rocket Languages. The course's popularity and high success rate has helped establish Rocket Languages as one of the worldwide leaders of online language training.
Designed with user convenience in mind, the platform caters to German learners of all abilities, from beginner to advanced. You are provided with a holistic course curriculum that includes grammar, conversation practice, cultural knowledge and vocabulary. As such you can expect to achieve a high level of German language proficiency by studying with Rocket German.
Thousands of students have achieved fluency with Rocket German since its conception, which is a testament to the fantastic course material and innovative methods used by the platform.
You can access Rocket German both on your web browser and through the Rocket Languages mobile app, which is available for both iPhone and Android phones. The app automatically syncs with the webpage meaning you can effortlessly transition between learning on your computer and on-the-go.
How does Rocket German work?
There are three different categories of lessons that Rocket German uses to teach you German, they are:
Audio lessons: Each lesson is focused on a conversation in German that is either about a specific situation, or uses certain vocabulary depending on the lessons objectives. These lessons give you plenty of opportunity to practice speaking out loud and train your ear to understand native-level conversations.
Language and Culture lessons: These lessons take you by the hand and explain step-by-step exactly how the German language works using both written and audio materials. You will also gain a deep understanding of German culture, with lessons based around topics such as German food, customs, and national holidays.
Survival Kit lessons: Here you are taught all the essential vocabulary needed to survive in everyday situations. As with the majority of lessons on the platform you will listen to the word or phrase and then have the opportunity to record yourself repeating it to test your pronunciation.
In addition to the lessons, there is a wide selection of additional tools available to aid you on your language-learning journey, including community forums, progress tests, and saved notes and vocabulary.
Rocket German is categorized by the following three proficiency levels:
| | | | |
| --- | --- | --- | --- |
| Level | CEFR Level* | Lessons & Assessments | Length of Content |
| Level 1 | A1 – A2 | 9 Modules with 73 Lesson Blocks | 136 hrs |
| Level 2 | A2 – B1 | 8 Modules with 66 Lesson Blocks | 130 hrs |
| Level 3 | B1 – B2 | 8 Modules with 63 Lesson Blocks | 123 hrs |
| Play the Part series | N/A | 3 modules with 30 Lessons | 30 hrs |
*Common European Framework of Reference for Languages (CEFR)
The Play the Part series follows native German speaker Simon as he navigates everyday life in Germany. It prioritizes speaking practice over grammar and is designed to prepare learners for the day-to-day situations they may encounter whilst visiting or living in Germany. It is available at additional cost to the core Rocket German course.
Rocket German is available both on the website and the Rocket Languages app, and purchasing a subscription grants you lifetime access to the course.
What a lesson is like on Rocket German
When you log into the Rocket German course you are welcomed by a simple and easy-to-navigate dashboard. Here you can find all your lessons neatly organized in list order so you won't struggle to locate what lesson you left off at or where you need to continue learning.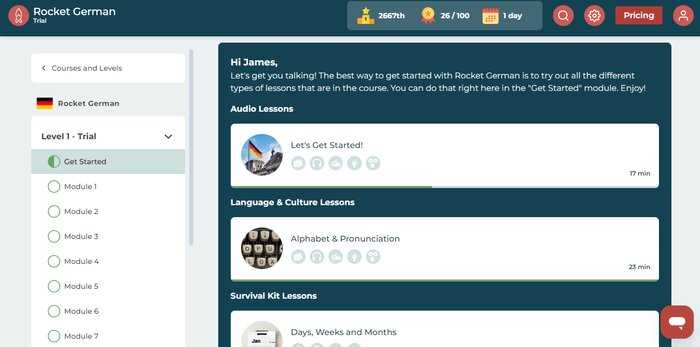 The Rocket German web browser dashboard
Rocket German lessons last on average around 25 minutes and include audio dialogues, quizzes, and interactive games. There are two main types of lessons the course uses: Audio lessons and Language and Culture lessons. Both of them utilize a variety of fun and engaging activities that are designed to make the lessons entertaining and reinforce everything you learn.
Audio lessons: These lessons allow you to perfect your listening skills in the German language by listening to a subtitled conversation broken into chunks. You are encouraged to repeat phrases to perfect your pronunciation, and any required explanations are made in English by the teacher. After listening to it you will roleplay as one of the characters in the conversation to practice what you have learnt in as realistic a situation as possible.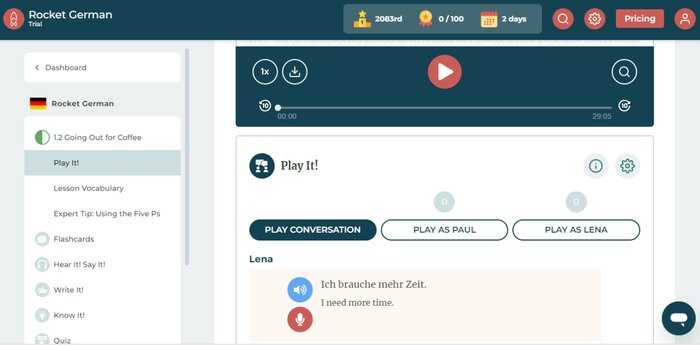 A screen-grab from the 'Play It!' section of an Audio Lesson
Language and Cultural lessons: These lessons provide you with the grammatical building blocks of the German language. You will be introduced to an element of grammar and then have the opportunity to practice it through more listening and speaking activities. Each lesson ends with a discussion of cultural and social background for vocabulary related to real-life situations, providing a well-rounded learning experience.
Upon completion of a lesson you can earn badges and points to help track your progress and provide you with an incentive to maintain a regular learning routine.
What is the method behind Rocket German?
Rocket German uses a simple yet effective method to teach you the German language. Combining audio lessons with grammar, reading and writing exercises, this holistic approach uses both active and passive teaching methods to ensure you will receive an excellent all-round language education.
I was especially impressed with the voice-recognition software that allows you to practice speaking in German and perfect your pronunciation. I often find speaking activities to be lacking in online courses but with Rocket German this is definitely not the case.
Rocket German also provides you with a variety of ways to track your progress including the Benchmark test, word reviews, and a competitive leaderboard where you can compare progress and interact with other students.
Being a language teacher myself, I can say with confidence that the method Rocket German uses to teach you is well-proven. They also make great efforts to keep the material fun, which is imperative if you're looking for as comfortable and enjoyable language learning experience as possible.
How I reviewed Rocket German
Having studied German in school many moons ago, I was eager to see how much knowledge of the language I had retained, so I signed up for the free trial and spent a week taking advantage of everything the platform could offer me.
I began with the Benchmark test, which is designed to assess your current ability and identify areas for improvement. The test consists of 100 questions that gradually increase in difficulty, and after getting 3 answers wrong, it finished and gave me an overall score out of 100.
To ensure I could write the most comprehensive review of Rocket German on the internet, I explored a number of lessons from all 3 ability levels, ensuring that I tried all 3 lesson types: Audio Lessons, Language and Culture Lessons, and Survival Kit Phrases. This gave me a solid understanding of all the course material and how the course works.
I also downloaded the app onto my phone so I could take lessons when I had a spare moment, and didn't neglect to go through all the study resources attached to each Audio Lessons, or the additional tools available to learners.
At the end of the trial period I felt confident that I could talk about myself and engage in very simple conversations in German, pronounce letters and accents correctly, and understand grammatical topics such as sentence structure and gendered nouns.
The platform's dashboard was simple to use and the majority of lessons were both effective and enjoyable.
Pros of Rocket German
So what is it that makes Rocket German such a great investment? Here are some of the platform's best features:
Interactive Audio Lessons
These lessons have you engaging in German conversations right from the get-go. Whilst the emphasis is on listening to and understanding the conversation, you are kept actively involved by repeating words and phrases and then participating in the conversation during the 'Play It!' section of the lesson. The lesson materials also give you the opportunity to practice your writing skills with the 'Write It!' activities, and reinforce what you have learnt with end-of-lesson activities and quizzes.
Speaking activities
Having reviewed and used a number of online language courses, one aspect of them that I feel is often lacking is the availability of quality speaking activities. Rocket German does not have this problem. The 'Play It!' activities are the closest you can get to having a real-time conversation when you are self-learning without any assistance.
Furthermore, the speech-recognition software that Rocket German utilizes is a fantastic tool for developing your pronunciation skills. Rather than relying on your own judgment to assess whether you are pronouncing a word correctly, you can rely on the platform to do it for you, and then record and play back what you have said to compare it for yourself.
Rate your confidence
For each word or phrase you are taught, Rocket German gives you the option to rate it as either easy, medium, or hard. If you don't rate a word as easy, you will be given the opportunity to go back and review it at a later date. This streamlines your language learning process, ensuring you don't waste time reviewing that which you already know, but instead focus on the words and phrases you struggle with.
The Community Forum
Teaching yourself a language can be a lonely experience at times, it's easy to forget how much more enjoyable a class can be when shared with others. Rocket German does its best to alleviate this with their community forum, where you can ask and answer questions, exchange experiences, and connect with other students. This in turn serves to make your language-learning experience more interactive, and yourself feel more supported.
Learn on-the-go with the app
The Rocket Languages app syncs your progress with your web browser, allowing you to seamlessly transition from one to the other. With the mobile app you can download lessons onto your phone to listen to wherever you are, regardless of whether you have an internet connection or not. This makes Rocket German the ideal platform for busy learners who need to fit their study around their lives as best they can.
Cons of Rocket German
There is no such thing as the perfect online language course (yet), and after spending considerable time using Rocket German on both the desktop and mobile versions, here are the areas I believe could be improved:
No content for advanced learners beyond B2
Rocket German provides course content for learners up to B2 level, meaning that it doesn't include content at the C1 or C2 level. While this is technically a limitation, it's important to remember that an online learning course catering to level C1/C2 students can be challenging to create, and in particular to assess. The technical definition of B2 is communicating easily and spontaneously with a native speaker, which is arguably the main goal of any German learner.
Lack of visual content
The most obvious deficiency of the Rocket German course is its lack of stimulating visual resources. The majority of content is made up of audio recordings, text, and a few pictures. If you're a visual learner who would benefit from video lessons and resources, this may be an issue for you. Whilst the content provided is both comprehensive and effective, adding more visuals could definitely enhance the overall learning experience.
The Benchmark test could be improved
The Benchmark test definitely has relevance to learners of Rocket German and is a worthwhile tool, but I felt that it could be used to greater effect if it were more comprehensive. At present it consists of 100 questions that seem to be taken from the quizzes of each audio lesson, but I think a better idea would be to use an assessment adhering to the CEFR standards that tests all 4 areas of language learning: reading, writing, speaking, and listening. This would give you a perfect understanding of your current ability and inform you which level and class of the Rocket German syllabus would be most appropriate to start with.
Who Rocket German is for
Rocket German is suitable for a variety of different learners, such as:
Beginners: For complete beginners, Rocket German starts you off with the very basics, and the holistic course material ensures you will avoid bad habits that may have affected you further in your language journey.
Intermediate learners: If you already have some knowledge of the German language, there is a wealth of advanced content you can jump to to help you refine your grammatical knowledge and improve your pronunciation skills. The benchmark tests can help you identify your current level.
Tourists: Rocket German is a fantastic platform to quickly learn some survival phrases for any upcoming holidays you may have planned. Plus, the Play the Part series is specifically designed to aid those who are planning on going to Germany and want to be ready for everyday situations.
Those seeking CEFR accreditation: Rocket German adheres to the CEFR framework, and allows you to take a CEFR standard test in order to assess what level you are at should you wish to gain professional accreditation in the future.
Self learners: If you prefer studying on the go and at your own pace, then Rocket German will likely be appealing to you. The structure of the course is designed to be completed in your own time, and the Rocket Languages app means you can access lesson material at any time and any place.
How much does Rocket German cost?
Rocket German offers a range of pricing plans to suit different budgets and needs. There is the option to purchase one or more of the modules individually or as a bundle, as well as the 'Play the Part' series.
This table breaks down the different payment options for you:
| | | |
| --- | --- | --- |
| | Lifetime Access | 6-Month Payment Plan* |
| Any Single Level of Rocket German | $99.95 | N/A |
| Rocket German 1 & 2 | $249.90 | N/A |
| Rocket German 1, 2 & 3 | $259.90 | $47 / month |
| Play the Part series | $99.95 | N/A |
Prices accurate at the time of writing
At the time of writing Rocket German automatically applies the discount code 'ROCKET DEAL', which offers anywhere between 17% and 42% off the platform's packages. The discount code was applied every time I checked the prices over a period of two weeks and the above table reflects the discounted prices, with the actual prices being much higher.
If you sign up for a free trial you will be offered a code for an even lower discount, and a quick web search may provide you with further codes to help you save on your purchase.
Is Rocket German free?
Rocket German offers a six-day free trial which allows you to explore the platform and help you decide if it is worth investing your time and money in. During the trial you can explore a number of lessons available on each of the three levels and in doing so gain a taste of what learning on Rocket German is like.
Whilst it offers a great insight to the course, the trial does only grant you access to a limited portion of its content, with all additional tools and resources, and the Rocket German certification, only being available with a paid subscription.
Refund
If you buy one of the Rocket German lifetime access packages, you are guaranteed a refund within 60 days of purchase — no questions asked!
Just email support@rocketlanguages.com that you want a refund, making sure to include your receipt number. They promise to process your refund within two working days, though it can take up to five days to see the refund on your statement.
If you choose the six-month subscription plan, you will not be able to get a refund. Instead, Rocket German allows you to cancel your next monthly payment in this case.
Features of Rocket German
Rocket German boasts an insane number of features for learners, many of which set the platform ahead of its peers in the world of online language learning. These features include:
Interactive Audio Lessons
Language and Cultural Lessons
Survival Kit phrases
Wealth of additional study aids
Available on both web browser and a mobile app
Gamifies learning with leaderboard rankings and learning statistics
CEFR study tool and Rocket certification
Benchmark test to track progress
Online community forum
Saved notes and vocabulary
Interactive Audio Lessons
Designed to get you engaging in native-level conversations from the get-go. Your ear will become finely tuned to understanding the German language, and you will have plenty of opportunity to practice speaking in German and perfect your pronunciation.
Language and Cultural Lessons
These teach you the grammatical structures, pronunciation, and language rules of German. To ensure they're not too grammar-heavy, Rocket German adds a healthy dose of cultural insights to each class so you will also learn about German food, traditions, and history. The perfect blend.
Survival Kit phrases
These lessons provide you with crucial vocabulary to navigate and survive in German. You'll learn key terminology to use confidently in conversations.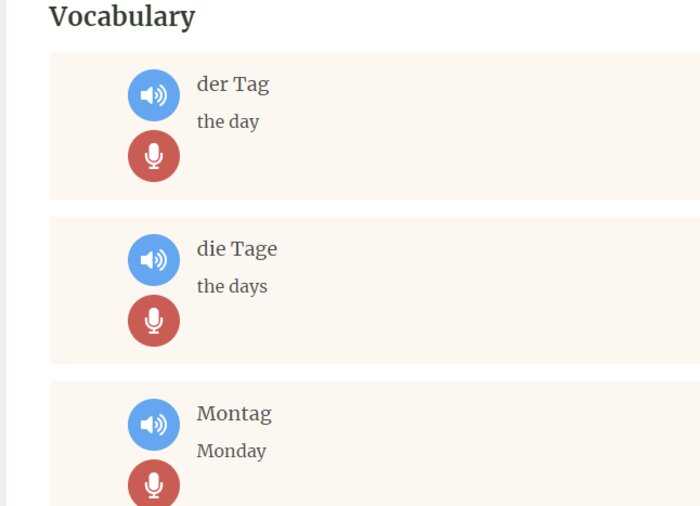 Some Survival Kit phrases. Every item of vocabulary is recorded and, with access to a microphone, allows you to hone your pronunciation.
Additional study aids
In addition to the core lessons, Rocket German provides you with a host of additional study aids such as quizzes, further resources from Rocket Recommends, flashcards, and extra exercises such as 'Write It!' and 'Know It!'. All designed to keep learning enjoyable and help reinforce what you have learnt.
Mobile app
The mobile app allows you to download lessons so you can learn anywhere regardless of whether you have an internet connection or not. Furthermore any lessons you complete sync smoothly with the desktop version of the course, so you can seamlessly transition between the two.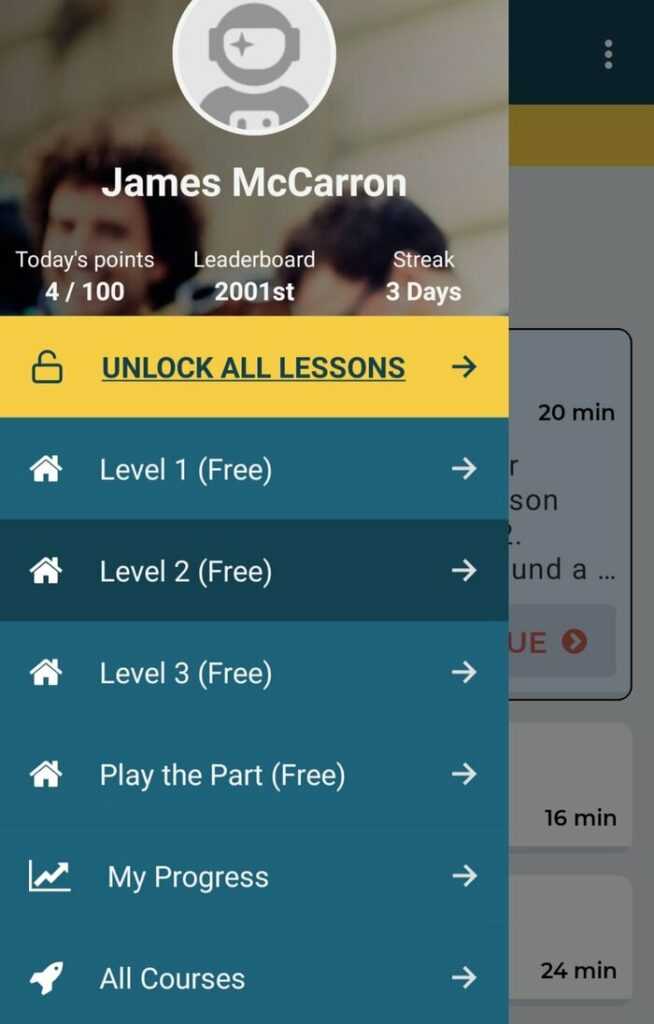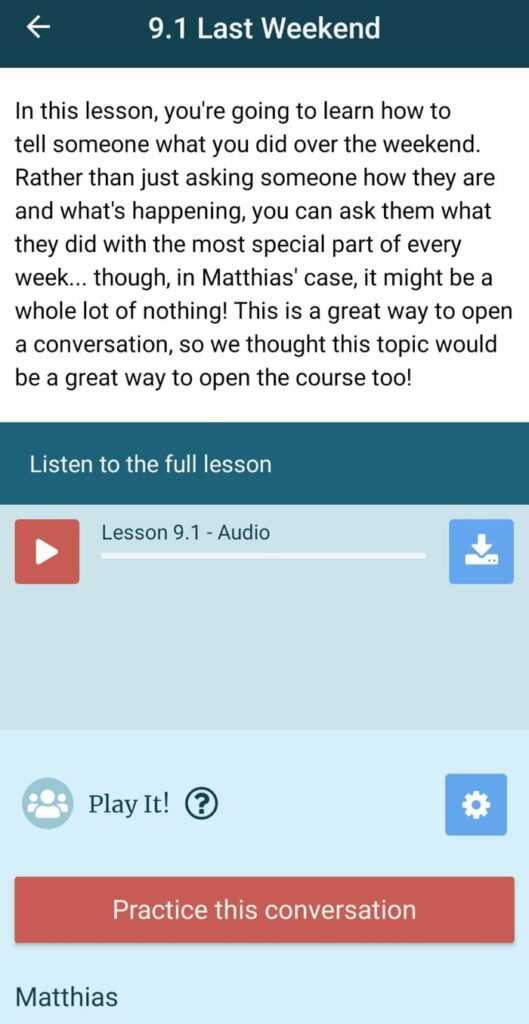 The mobile app dashboard (left) and a downloaded audio lesson also on the app (right).
Leadership boards and learning statistics
The worldwide leaderboard rankings are updated every 24 hours and, along with your learning streak, provide a healthy dose of competition to your daily learning. This, and your own personal learning statistics can serve to keep you motivated for those times when the last thing you want to do is study.
CEFR study tool
Rocket Languages courses adhere to CEFR standard criteria and have a CEFR study tool that allows you to assess yourself and help you prepare for future professional accreditation. You will also gain a Rocket certificate as evidence of your study.
Benchmark test
This consists of 100 questions that you can take before starting the Rocket German course to assess your level and highlight any areas of weakness. You can repeat the Benchmark test whenever you want to note your improvement as time goes on.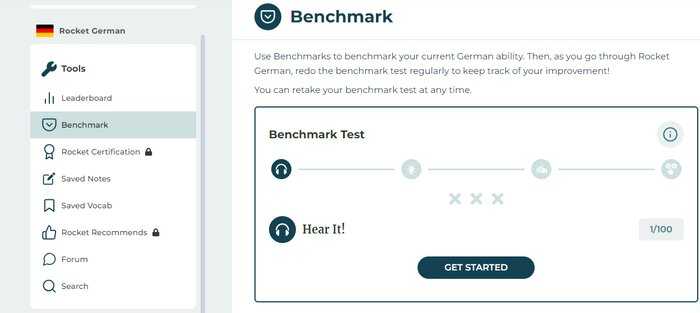 Rocket German's Benchmark test
Online community forum
This is a fantastic tool that allows you to communicate with other learners, sharing ideas and asking questions. It fosters a supportive and nurturing learning environment, important for those self-learning because it can be an individual and lonely experience at times.
Saved notes and vocabulary
The platform allows you to save any items of vocabulary for further review should you feel the need to do so, and also allows you to add notes to each lesson should you need to record something. This is an excellent method of helping you reinforce what you have learnt.
What languages can you learn with Rocket German?
As the name suggests German is the only language you can learn on Rocket German. However, if you're a fan of the platform and want to learn another language, Rocket Languages offers 10 other foreign language courses, 2 English courses, and an American sign language course.
Just be aware that the pricing of each course may vary.
Alternatives to Rocket German
There's a fantastic array of online German courses available these days, and sometimes it can feel a little overwhelming trying to decide which one is the most suitable for you. So here I've compared Rocket German to some of the other popular online courses out there to see how they measure up.
Rosetta Stone vs Rocket German
Both platforms are well-suited to beginners and provide an effective and well-proven method of language learning. But whilst Rocket German is more structured and places more of an emphasis on translation and explanations, Rosetta Stone is an immersive course that instead uses imagery and context.
The platform you use will depend on your personal learning style and preferences. However, in my experience there are times when learners require an explicit explanation to help them grasp a particular concept or theme, And Rocket German provides this when Rosetta Stone does not.
If you prefer an immersive learning experience without explicit grammar explanations,
Rosetta Stone might be a better fit. However, if you're looking for a more structured and comprehensive approach, Rocket German is an excellent choice.
Babbel vs Rocket German
Rocket German and Babbel both have a nicely structured approach to teaching German, and they both offer a similar variety of tools to help you including flash cards, quizzes, and a speech-recording tool.
Both platforms will develop your vocabulary base and grammatical knowledge, but when it comes to conversation practice Rocket German has the edge. The platform allows you to take the part of a character in a conversation and engage in role plays, a feature not present on Babbel.
Furthermore, the lessons on Babbel are designed to be bite-sized for learning on the go, and are thus much shorter than those on Rocket German. If you believe that short, gamified lessons are how you learn best, Babbel might be for you. But if you want longer, more in-depth classes, then Rocket German is a better option.
Duolingo vs Rocket German
The world-renowned Duolingo is a free and popular language app that gamifies the learning process to make learning fun and competitive. Whilst it's great for building up vocabulary and grammar, it lacks the depth of a comprehensive course such as Rocket German.
Rocket German not only gives you a strong foundation of vocabulary and grammar, but by including Interactive Audio Lessons, Language and Cultural Lessons, and Survival Kit phrases, ensures that your learning experience is perfectly rounded and doesn't neglect anything.
From personal experience I can say that Duolingo is a great tool to help you on your language-learning journey, but should be used as an accompaniment to other methods of learning. I therefore recommend that you use Duolingo and Rocket German in conjunction with each other for the most effective approach to learning German.
What others have said
To ensure that I wrote the best possible review for Rocket German, I thought it imperative to include the opinions of past students and see what they had to say. By trawling through Reddit forums and the Rocket German comments page, there were a few prominent themes that stood out from the rest:
"I used to think Rocket was a scam but it's actually not a bad product – their audio content is some of the best I've seen online. A little pricey though but still worth it IMO" – Reddit user
I've said it before and I'll say it again, Rocket German's Audio lessons are where it earns its weight in gold. There is no other platform out there that will simultaneously train your ear to understand native conversations and simultaneously allow you to engage in said conversations with the 'Play It!' feature.
Don't forget that you also have the option to slow the speed of the audio lessons if you're struggling to understand them, a feature that I have found to be a rarity in the world of online language courses.
"I love Rocket Languages because it takes you step by step in learning any language even though you don't speak it at all. The teachers explain everything so clearly that I didn't need any support in the forums (which is a very helpful resource). I recommend Rocket Languages without any doubt." – Comment from the Rocket German comments page
A lot of the comments I encountered praised the structure of the course, it's easy to understand and builds up your knowledge step by step, making sure you are confident with a lesson before moving onto the next. The forum is also a valuable tool, connecting learners with each other and providing answers to any questions they may have.
It's worth noting that some reviews claim that Rocket Languages forums are generally unused and that you are unlikely to receive a response on them. However I can hand-on-heart say that this is not the case for Rocket German, where I witnessed conversations on those forums continually ongoing.
The overall opinion from former students was a positive one, with the audio lessons receiving particular praise. Notable issues were the lack of visual materials and also the price. However, Rocket German currently has some pretty generous offers and discount codes available which should serve to remedy the latter issue.
Conclusion: Is Rocket German worth it?
I don't even have to think about it – yes it is. With bells on.
Rocket German is one of the most well-balanced courses I have encountered both as a language learner and teacher, let me tell you why: some courses emphasize conversation practice at the expense of grammatical knowledge, whilst others will build vocabulary and grammar yet neglect to develop speaking and listening skills.
Not Rocket German.
Rocket German provides you with bucketfuls of speaking and listening practice in the Audio lessons, ensuring that your pronunciation is perfected throughout through the use of the course's cutting-edge voice recording tool. But they make sure that this practice is built on a rock-solid foundation of grammatical knowledge and a large vocabulary base.
And it's not just the course content that is so well-balanced, the lessons are too. Take the Language and Cultural Lessons: they perfectly combine teaching grammatical theory (which, let's face it, is not always that interesting) with lessons on German culture. This provides a stimulating context to keep you interested when you're trying to get your head around gendered nouns, or whether a pronoun is formal or informal.
Plus, let's not forget the goldmine of additional resources the course offers aside from the core lessons. Upon purchasing your lifetime subscription, you gain access to flashcards, survival vocabulary, personalized assessments, and a supportive community forum to help nurture you on your learning journey.
If you're still not convinced, don't forget that Rocket German has a six-day free trial period in which you can test the water, and they offer a guaranteed refund within 60 days if you decide your purchase was a bad decision (an unlikely scenario in my eyes).
So, Worauf warten Sie noch?! Or should I say, what are you waiting for?!
Check out Rocket Language's other language options: Spanish, French, Korean, Italian, Portuguese, German
Rocket German FAQs
How much does Rocket German cost?
Lifetime access to one of the 3 available Rocket German packages will set you back anywhere between $100 and $250 depending on how many levels you purchase. If you opt for a 6-month subscription plan you're looking at $47 per month for all 3 levels.
How does Rocket German work?
Rocket Languages' German course helps you achieve conversational fluency in German by teaching you grammar and vocab while developing your listening comprehension with interactive audio lessons. There are tons of study resources, including Google-enhanced voice recognition software and flashcards, that help you round out your knowledge of German.
Can I get a refund?
Yes. If you buy the lifetime access one-time cost packages, you can request a refund within 60 days of purchase. If you buy the monthly subscription, you can only cancel your next payment.

Wayne holds a Master's in Conflict Studies from the London School of Economics and Political Science. An American working in the world of international affairs, he has picked up French, Italian, and Spanish throughout his life as a perpetual expat. He likes to do crosswords while enjoying a pint of craft brew.