If you're ready to tackle the ACT with the support of a top-notch online prep course, this article will help you decide which is best for you.
There are quite a few courses to pick from, and prices range from hundreds to thousands of dollars. It's understandable that you want to be confident in your choice before you purchase.
I spent 7 years as a high school educator preparing students for the ACT and college, and I've done hours and hours of research for my students and Learnopoly to determine which courses are authentic, comprehensive, and effective.
By the end of this article, I'm confident that you'll be able to narrow down your options and select a course that fits your learning style and budget.
Let's take a step towards your dream ACT score!
What is the best ACT prep course?
Here are the top ACT prep courses:
After a lot of research, reflection on my teaching experience, and careful consideration, I've decided that Princeton Review, specifically their ACT 31+ Course, is the number one ACT online course out there. First, Princeton Review provides the largest library of study materials, including 11 full-length and 8 single-section practice exams, online and paper study materials, and more than 36 hours of live instruction. There are plenty of opportunities for self-study, but students still have 24/7 access to ACT tutors if they get stuck on a concept or problem. Overall, I believe Princeton Review, while pricier (check latest price), offers the most comprehensive and supportive ACT prep course. Plus, they have a wide variety of courses available for ACT prep and beyond and 40 years of experience behind them.
While Princeton Review exceeds my high expectations, Magoosh impressed me as well–especially considering its cost. This platform offers high-quality resources for a fraction of Princeton Review's cost. 250+ video lessons, 1300+ practice questions, 4 practice exams, and the option to upgrade to 16 hours of live instruction. Overall, Magoosh offers fewer study materials than Princeton Review, but certainly enough to improve your ACT score and get into the college of your dreams. Magoosh is on a mission to break down barriers to test prep resources and higher education, and they offer a wide variety of test prep courses for your future endeavors.
While it's hard to top my top 2, a few platforms from my top 10 stood out to me. While intensive, I thought Prep Expert's (a Shark Tank winner) 6-Week Flagship Course offers an effective and efficient deep dive into ACT prep. In terms of live instruction, I found Clearpath Advantage's small class sizes and strategic grouping to be a winning strategy. Finally, Achievable's use of AI means an unlimited number of ACT math practice questions.
Each ACT practice course offers something unique to its students, so let me break down the details to help you choose your favorite.
Best free ACT prep course
The following ACT courses have free trials to help you decide if they're the right fit:
Best ACT prep course reviews
1. Princeton Review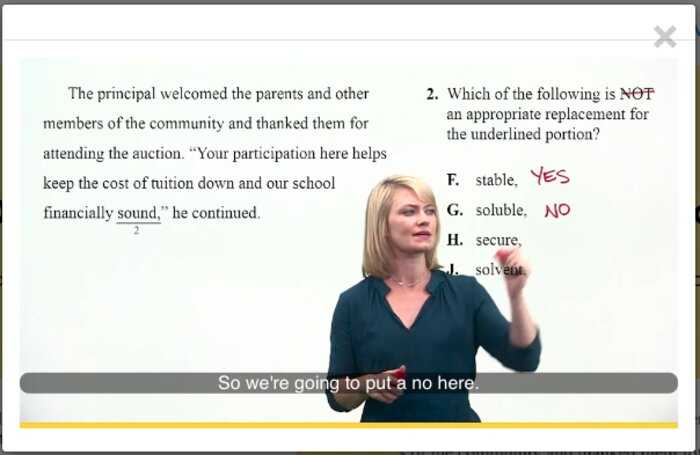 Platform: Princeton Review | Teacher: ACT experts with 37 hours of training | Course length: 36 hours of live instruction plus hundreds of hours of self-study
For over 40 years, Princeton Review has been preparing millions of students for the education system's most challenging tests. This experience has led to a comprehensive platform of authentic study materials featuring rewatchable video lessons, customizable quizzes, and engaging live instruction from leading ACT experts. Best of all, Princeton Review guarantees a 31+ or 5-point increase, or your money back.
You will have access to:
A personalized study plan
Live class sessions
Engaging instructional videos and drills
24/7 on-demand tutoring OR you can add 1-1 tutoring
11 full-length and 8 single-section practice exams
Paper copies of materials and tests
Pros:
40 years of experience have led to the most effective data-backed materials
Focus on testing strategies vs. memorization–efficient and productive
Personalized and engaging study plan that's regularly updated to reflect your progress
One-on-one support that fits your busy schedule
So many realistic resources

Cons:
Pricey (but you get a lot of bang for your buck)
A time commitment, but worth the work
Who it's for: Students who are dreaming of a high ACT score and ready to dive into some incredible materials and one-on-one support.
Overall: Princeton Review's ACT prep course will get you the ACT score you need for your dream school and life-changing scholarships. After 40 years of teaching, its teachers have crafted engaging, accurate materials that will provide an authentic and effective study experience. As a former high school teacher, it definitely gets my seal of approval–I've already shared it with my old colleagues!
Read our Princeton Review ACT review
2. Magoosh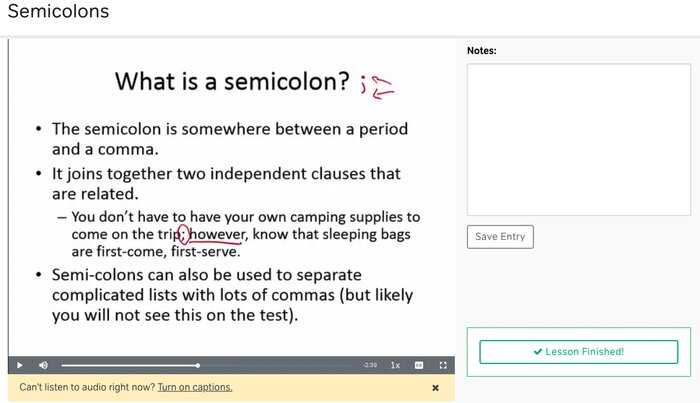 Platform: Magoosh | Teacher: 99th percentile ACT instructors | Course length: 16 hours of live instruction plus hundreds of hours of self-study
What makes Magoosh stand out is their mission. They're determined to break down financial barriers to test prep and higher education. College dreams should be accessible to all, and your ACT score is one of the most important steps to achieving them. With Magoosh, you'll have hours and hours of high-quality self-study at your fingertips with detailed video lessons and authentic practice questions. Plus, you can upgrade and enjoy 16 hours of live instruction for more one-on-one support. Their mobile app also allows for study sessions on the go, and their flashcards are an awesome add-on. With their 4-point guarantee, you really can't go wrong.
You'll have access to:
Affordable, high-quality resources
Curated study schedules tailored to your needs
Personalized support from ACT experts
250+ engaging video lessons
1300+ practice questions
Regularly updated materials based on user data
Intuitive personalized tracking and score prediction
Pros:
High-quality materials at an affordable price
Curated study plans and personalized practice sessions
One-on-one support for students
Realistic resources
Cons:
Voiceover video lessons, but still effective
Requires time, but worth the commitment
Who it's for: Every student who has big ACT goals and wants equitable access to high-quality materials.
Overall: Magoosh's ACT prep course guarantees a 4-point improvement, and their team is dedicated to making it happen. As a former high school teacher, I'm impressed by the quality of the materials considering their accessible pricing. Finally, an education company for all!
Read our Magoosh ACT prep review
3. Prep Scholar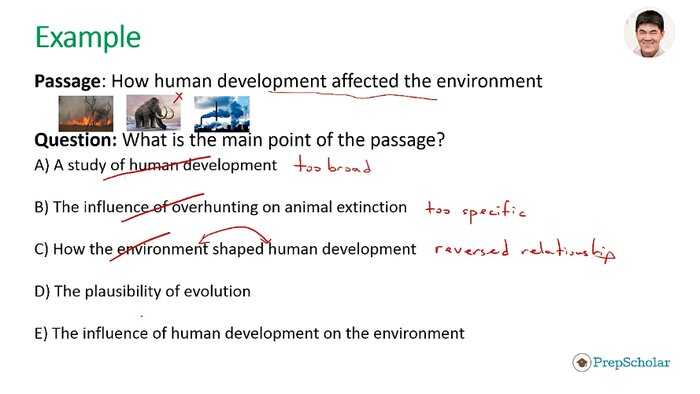 Platform: Prep Scholar | Teacher: 99th percentile ACT instructors | Course length: 60+ hours of online content plus 1:1 tutoring option
Prep Scholar is a great option for busy students who want a strong asynchronous ACT course. There are upgrades available to include virtual lessons and 1:1 tutoring, but the basic package features a week-by-week study plan customized to each student's needs and timeline. Prep Scholar has broken the ACT down into 52 fine-grain skills that they'll help you tackle step-by-step with lessons, review questions, and practice exams. They also offer a 4-point guarantee!
You'll have access to:
60+ hours of realistic, high-quality study materials
70 lessons, 6 practice exams, and 4300 questions
A customized weekly study plan that updates as you progress
Progress report emails and SMS study reminders
Customizable quizzes to study the topics you want to focus on
Pros:
Practice questions include detailed explanations for review
They've broken down the ACT into 52 skills for efficient, comprehensive practice
Your study plan will be continuously updated to keep you on track
Upgrades available for more one-on-one support
Cons:
1:1 help is only available with a more expensive upgrade, but the support is expert-level
Content seems less in quantity, but it's organized and focused
Who it's for: Students who are self-motivated and able to study on their own with strong, organized materials that continuously adjust to fit their needs.
Overall: Prep Scholar's ACT prep course guarantees a 4-point improvement, and their team has curated a personalized, organized approach to make it happen. As a former high school teacher, I appreciate their fair pricing and the option to upgrade based on a student's needs.
4. Kaplan

Platform: Kaplan | Teacher: Top ACT teachers | Course length: Many hours of online self-study or upgrade for 16 hours of live instruction and 1:1 tutoring
Kaplan's online, self-guided ACT prep course is flexible, empowering you to conquer the exam on your own time and terms–perfect for busy, social high school students. Testing your knowledge along the way, Kaplan will teach you what you need to know via focused instructional videos, help you reinforce what you've learned with thousands of practice questions, and then test you using authentic exam questions. They offer affordable options, which is important for so many students and families. Plus, live classes are available for students needing more 1:1 support.
Features:
30 on-demand, teacher-led lessons
5 official ACT practice tests
2,000+ practice questions
Customizable quizzes for focused practice
Pros:
Super flexible for busy high school students
Strong focus on test-taking strategies and reinforcement of skills
Diverse, authentic learning materials
Comprehensive explainer videos
Cons:
Pricier, but good value
6 months of access, but the content is organized to keep you on track
No score guarantee
Who it's for: Independent learners who succeed best with flexibility and customization.
Overall: Kaplan's ACT prep courses optimize for effectiveness and flexibility. Its curriculum will teach you the ins and outs of the test, allowing you to master the ACT at your own pace. 
Read our Kaplan ACT prep review
5. Varsity Tutors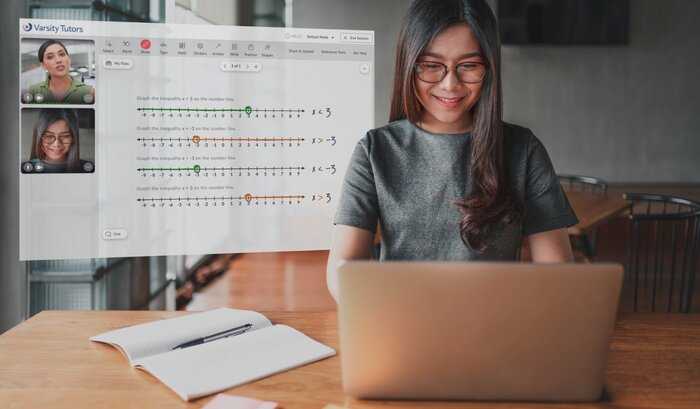 Platform: Varsity Tutors | Teacher: Highly-vetted ACT instructors | Course length: 16 hours of live instruction over 2, 4, or 8 weeks plus 1:1 tutoring option
Varsity Tutors specializes in 1:1 tutoring, and their mission is to make sure every learner gets the right tutor for their situation. They combine highly credentialed instructors with advanced technology for a one-of-a-kind learning experience. If you're looking for focused 1:1 support, sign up for their tutoring program which starts at $59/hour with personalized lessons. Or you can try their live classes where you'll learn with 6-9 other motivated students. In addition to the instruction, Varsity Tutors will give you access to hundreds of ACT questions, practice tests, and other self-study materials.
Features:
1:1 tutoring option with customized lessons
Option for 16 hours of live instruction with a small group
Hundreds of ACT questions for extra practice
Mobile app for studying on the go
eBooks and practice tests for comprehensive studying
Pros:
The leading platform for 1:1 tutoring
Access to college admissions seminar for further application support
Lots of free materials to start studying today
A variety of learning options to fit your needs
Cons:
Class package features less materials compared to others, but small class sizes
Can get pricey depending on time commitment, but 1:1 support is expert-level
Who it's for: Learners who are seeking one-on-one support from ACT experts that fit their learning style, schedule, and other needs.
Overall: Varsity Tutors is an expert in tutoring–no surprise there. For students who are seeking personalized support and lessons, this ACT prep course is the path for them. With options for live class sessions to also learn from other students, there's a package for everyone.
6. Prep Expert
Platform: Prep Expert | Teacher: Top 1% instructors | Course length: 6-Week Flagship Course (most popular) is 72 hours of instruction. Self-paced is 30 hours.
Prep Expert is a Mark Cuban company because, yep, its founder is a Shark Tank winner! Dr. Shaan Patel has created one of the fastest-growing educational companies since his Shark Tank pitch. He's a success story himself, raising his SAT score 640 points to earn a perfect 2400. Now, he's sharing his test prep tips via Prep Expert, where you can self-study with video lessons taught by Patel himself, or sign up for 6-8 weeks of live instruction where you'll meet 3 days per week to study and take a practice exam.
Features:
99th-percentile instructors
More than 90 ACT strategies taught for a well-rounded experience
4-point increase guarantee or your money back
On-demand or live instruction options are available
Pros:
A variety of price points to fit students' budgets
Self-study course is taught by the founder himself, a success story
Available on desktop or mobile
Recordings available if a student is absent from class
Cons:
Class package features fewer materials compared to others, but lots of test practice
Big commitment, but efficient instruction
Who it's for: Students who want to make a big improvement in an efficient amount of time and are ready to learn from an expert who has actually used his own methods.
Overall: Prep Expert is an exciting new educational company that students may want to give a shot at. Dr. Shaan Patel has taken his own success story and turned it into a thriving test prep experience. The reviews speak for themselves!
7. Testive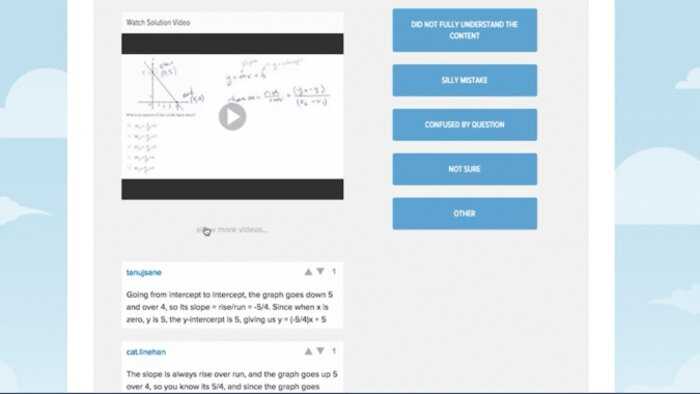 Platform: Testive | Teacher: Highly trained tutors | Course length: You choose the number of months from 2 to 6.
Testive is trying a new approach to test prep. Rather than signing up for live classes or gaining access to a library of video lessons for solo study, Testive switches things up with weekly one-on-one coaching sessions to review your self-study and guide your progress. The learning platform features smart software that adapts to your progress and adjusts the difficulty based on performance, and your expert coach monitors your work and reviews it in detail over a 30-minute phone call. Each call consists of review and goal-setting, so you always know what to focus on next. And Testive offers monthly payments vs. hefty packages so you can control the timeline.
Features:
One-on-one private tutoring, in-home or online
Adaptive learning platform for customized studying
Instant feedback on practice questions
Optional add-ons like textbook access, admission advisors, and essay editing
Pros:
Subscription-based model with monthly payments to control cost for students
1:1 tutoring that is focused and personalized
Over 3,000 ACT questions that are customized to each student based on performance
Potential for faster improvement due to one-on-one coaching and efficient instruction
Cons:
No video instruction; replaced with coaching calls
Some key add-ons like answer explanations only come with more expensive packages
Who it's for: Students who are capable of self-study but also benefit from one-on-one tutoring and goal-setting.
Overall: Testive offers a unique approach to test prep and tutoring. They've created an adaptive software that not only customizes the learning experience but keeps your tutor informed so they can guide you week-by-week with 1:1 check-ins. 
8. Achievable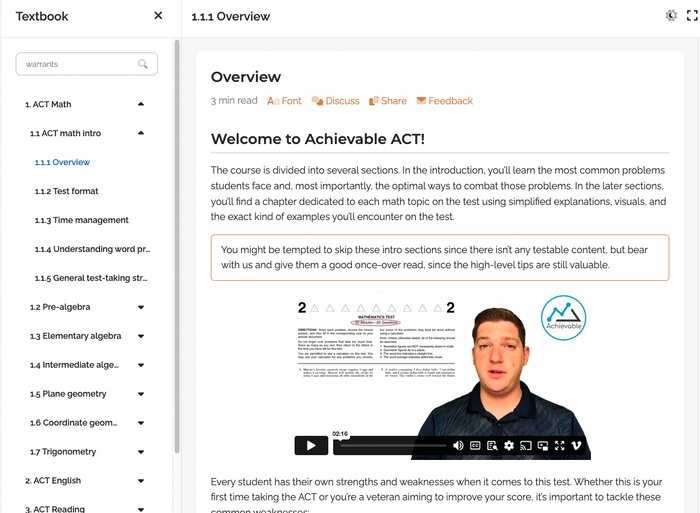 Platform: Achievable| Teacher: Marc Gray and the Odyssey College Prep team | Course length: 12-month access to an online textbook and thousands of quizzes
Achievable has kept test prep simple with an easy-to-follow online textbook and practice quizzes. This more affordable option ($129) provides you with 12 months of access to their simple suite of study materials. Their learning platform charts your progress, highlights your strengths, and even uses AI to craft an infinite amount of math questions so you never come across the same one twice. Tutoring is available for add-on, as well.
Features:
Endless math questions thanks to AI technology
Easy-to-use textbook available on mobile or desktop
3 practice exams and thousands of chapter quizzes
Shift podcast available for college admissions and extra ACT help
Pros:
No package tiers so your payment is straightforward
Advanced technology monitors your progress and customizes questions
Tiered point guarantee based on your original ACT score
One-on-one tutoring available
Cons:
No video instruction; replaced with an easy-to-read textbook
No 1:1 tutoring, but it's available for an hourly add-on
Who it's for: Self-disciplined students who are looking for a straightforward approach to ACT prep.
Overall: Achievable is a back-to-basics ACT prep course that some students may appreciate. Follow the textbook, take practice quizzes, and enjoy some customization thanks to AI.
9. Clearpath Advantage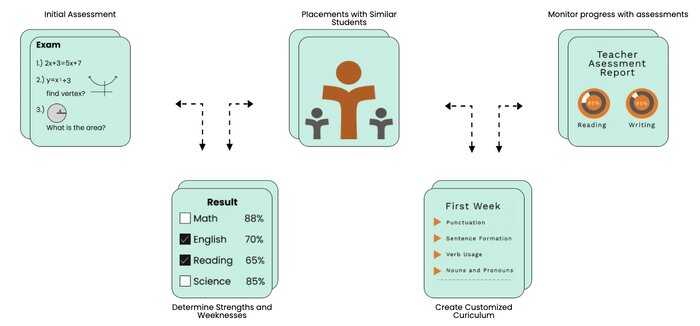 Platform: Clearpath Advantage | Teacher: Results-oriented, 99th percentile teachers | Course length: 1.5-hour classes twice a week over 6 weeks
Clearpath Advantage focuses on live instruction for their ACT prep course. What makes them unique is their strategic grouping of students. After taking their diagnostic, they'll group you with 2-3 other students with similar strengths and weaknesses to create the most safe and productive learning environment. Over 18 hours of live instruction, you'll be able to work with said peers and ask your teacher as many questions as needed. Plus, you can access teachers outside of the classroom too.

Features:
18 hours of personalized instruction and class grouping
10-15 practice exams
Unlimited access to teachers outside of the classroom
Integrated whiteboard both teachers and students can use during class
One-on-one teaching available
Pros:
Small group classes and strategic grouping create a personalized learning environment
Teachers serve as mentors thanks to unlimited access
Curriculum and instruction are flexible to student needs
Cons:
No self-study option due to focus on small-group instruction
Lack of study materials outside of lessons
Who it's for: Students who work well in small groups and would benefit from learning from their peers and an easily accessible teacher.
Overall: Clearpath Advantage focuses on small-group or one-on-one instruction making their ACT course very personalized and effective. Students will enjoy custom, flexible instruction and tons of practice.
10. uWorld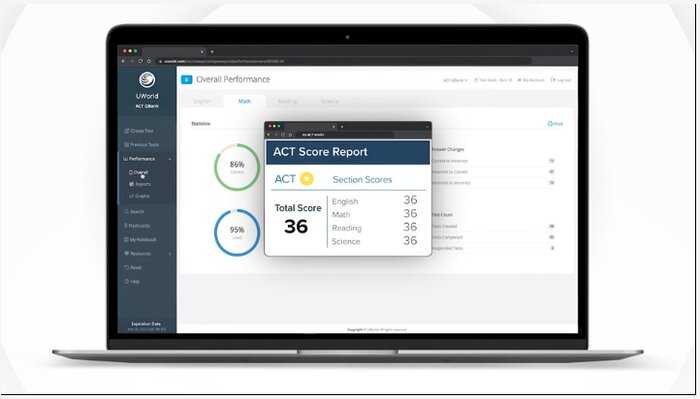 ---
Platform: uWorld| Teacher: N/A | Course length: Choose between 180- or 360-day access to practice questions
uWorld believes that practice makes perfect, so their ACT prep course is just practice questions and answer explanations. This straightforward approach is great for students who are looking to get as much exposure to exam-like questions as possible before the big day. They offer up to 2100 exam-like questions with visual answer explanations. In addition, uWorld uses score predictors to estimate your progress and identify areas you need to improve.

Features:
2100 authentic practice questions
Score predictors to accurately assess your progress
Customized reports to help you focus on specific weaknesses
Illustrated and visual answer explanations
Pros:
Straightforward self-study with plenty of practice questions
2 clear packages to simplify your purchase
Illustrated answer explanations are ideal for visual learners
Cons:
No live instruction or access to instructors
No video lessons or textbook
Who it's for: Students who simply want to dive into authentic exam questions that are tailored to their strengths and weaknesses.
Overall: uWorld is a great option for students who are well-versed in the content of the exam but want lots of extra practice with realistic questions. They've focused on crafting high-quality practice exams and in-depth explanations.
What are the advantages of taking an ACT prep course?
There are plenty for students with big college dreams:
Get a comprehensive understanding of what will be on the ACT
Learn testing strategies that will benefit you on the ACT and beyond
Learn from peers and ACT experts for more personalized instruction
Get an understanding of your strengths and weaknesses for more efficient studying
Practice means less test-day anxiety and the potential for a stronger performance
Most prep courses have a point-increase guarantee, so there's nothing to lose
Get into your dream college with a dream ACT score!
Buyers guide: what to look out for
Choosing an ACT prep course that's right for your schedule and learning style can be challenging, so I recommend you consider the following features when selecting your platform:
Is self-study or live instruction right for you? Many ACT prep platforms offer both options but for an extra cost. You need to reflect on your learning style and decide if you want to tackle ACT prep on your own time with answer explanations or with the support of a tutor or instructor in a class setting.
How many study materials do they offer? Some platforms offer textbooks, thousands of practice questions, lots of full practice exams, and more. Some focus on practice questions only. What do you need to successfully prepare for the ACT?
How much time do you have? If the exam is still months away, it may be beneficial to sign up for a self-paced ACT prep course that you can consistently visit when it works for you. If the exam is weeks away, it may be time to dive into a more intensive course that will prepare you for every subject in the most efficient way.
Price. Every student is working with a unique budget, so the cost of the ACT prep course is essential to consider when making a decision. Analyze how many hours of self-study and 1:1 support you're getting for the price, and don't forget that this is an investment!
How much does it cost?
The ACT prep courses in this list range from $129 to nearly $3,000 for a package or up to $250/hour for 1:1 tutoring.
These prices are based on the number of study materials provided, your access to expert support, the addition of live instruction or 1:1 tutoring, and the length of the course or access to course materials.
Generally, it's much cheaper to sign up for a self-guided ACT prep course since you're paying for materials alone and maybe access to a chat for the occasional question. Prices quickly rise if you add any ACT expert support.
When deciding on a course, consider your learning style, timeline, and budget to pick the one that'll ultimately be the greatest investment.
How long does it take to prepare for the ACT?
The number of hours you should dedicate to studying for the ACT depends on the score improvement you're hoping for. Prep Scholar suggests the following:

However, so much depends on your learning style and pace. The earlier you start, the better, because then you can work around a busy high school schedule and avoid the stress of a time crunch. It's also important to consider if you learn faster on your own or with the support of live instruction. The pro of most self-study options is you have, on average, 6-12 months of access so you can study as often as you need.
Conclusion
We just went on an ACT journey! There are so many prep courses out there with a variety of unique features and add-ons, but even after all my research, I still believe that Princeton Review is the most comprehensive, experience-backed course available. With their vast library of authentic study materials, a plethora of practice tests, and access to hours of live instruction, it's just hard to beat. I think any student who dedicates their time to this program will meet their ACT goals.
Since Princeton Review is a pricier option, I also have to highlight Magoosh as my second choice. I think they've done an impressive job crafting high-quality materials and access to 1:1 support for a reasonable cost. For students who want a well-rounded prep experience for less cash, Magoosh is the go-to.
Whatever you go with, I hope this article has helped you narrow down your choices to the best fit for your learning needs and ACT goals!
Best ACT prep courses frequently asked questions
What is the best ACT prep course?
Princeton Review's ACT 31+ stands out as the top contender due to their library of study materials, one-on-one support, and access to effective live instruction.
How much does an ACT prep course cost?
The ACT prep courses in this list range from $129 to nearly $3,000 for a package or up to $250/hour for 1:1 tutoring. Self-study is often the more affordable approach.
How long do ACT prep courses take?
Courses can range from 18 hours of live instruction to hundreds of hours of self-guided study. Your time commitment should depend on your learning style and the number of points you need to improve by in order to reach your dream ACT score.

Hannah recently left high school teaching to become a writer. When she's not spending time with her husband and toddler, she's traveling, trying a new restaurant, or tackling a crossword puzzle.