Are you gearing up to prepare for the ACT (American College Test) but not sure where to start? Look no further! This comprehensive review of Kaplan's online, self-paced ACT prep course will give you a roadmap.
I'm a college prep tutor with years of experience helping students prepare for standardized tests, including the ACT. On all things test prep, Kaplan's reputation precedes it. So I decided to give its self-paced, online ACT prep course a try to see if it'd live up to the hype.
While historically overshadowed by its more prominent counterpart, the SAT, the ACT's popularity has exploded over the last decade with college aspirants and admissions panels alike. Last year, more than 1.3 million students took the test. And acing it can mean the difference between a college admission and a rejection or deferral.
The exam is challenging and time intensive. Students often invest countless hours studying in preparation. But with the right ACT prep course, you can study effectively and on your own time as well as position yourself as an unrejectable college applicant.
There are tons of ACT test prep courses out there. Kaplan's stands out for its track record of success. This article focuses on Kaplan's online, self-guided ACT course. But if you're looking for something more hands-on, Kaplan offers other ACT prep programs, including live online instruction courses and private tutoring. I'll touch on all of those throughout the article.
.
Quick summary
Features
30 on-demand, teacher-led lessons
Five official ACT practice tests
2,000+ practice questions
Six months of access
Flexible study schedule
Pros
Super flexible
Balance between content and strategy
Diverse learning materials
Focus on test taking strategy
Comprehensive explainer videos
Best for: independent learners who succeed best with flexibility.
Cost: starting at $119, but check latest prices here.
Overall: Kaplan's ACT prep courses optimize for effectiveness and flexibility. Its curriculum will teach you the ins and outs of the test, allowing you to master the ACT at your own pace.
Here's what's in this Kaplan ACT prep course review:
About Kaplan
How does Kaplan's ACT prep course work?
How I reviewed Kaplan's ACT prep course
Pros, cons, and who it's for
Cost and refund policy
Key features
Other ACT prep course options
Conclusion
FAQs
Let's get started!
About Kaplan ACT prep

Kaplan's online, self-paced ACT prep course offers more than 30 instruction videos, 2,000+ practice questions, and five, official full-length practice tests. With Kaplan, you'll have everything you need to ace the ACT and put your best foot forward when applying to your dream school.
How does Kaplan ACT prep work?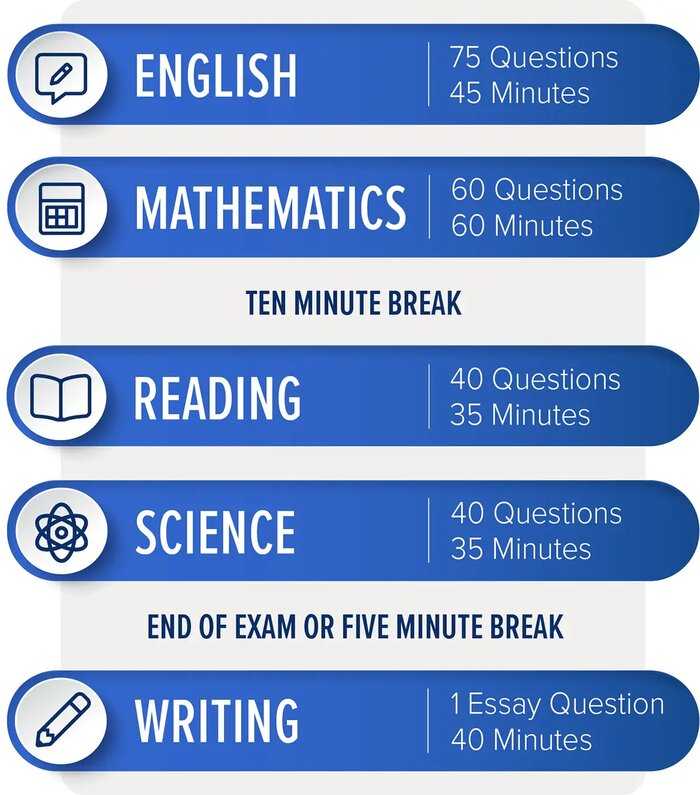 Kaplan's online, self-guided ACT prep course is flexible, empowering you to conquer the exam on your own time and terms. The program covers the four main sections that you'll face on the ACT–English, reading, math, and science– as well as the optional writing portion. Testing your knowledge along the way, Kaplan will teach you what you need to know, help you reinforce what you've learned, then test you using official exam questions.
Key features:
5 practice tests
30+ instructional videos
2,000+ practice questions
Customizable quizzes
Flexible course syllabus
Self paced, live online, and private tutoring options
How I reviewed Kaplan's online, self-paced ACT prep course
I've spent years in the world of standardized test prep, both as a student and a tutor, and have focused on the ACT in particular. That experience has sharpened my eye for what test prep courses are worth their price tags and which aren't. Before writing this review, I spent hours exploring Kaplan's online, self-paced ACT prep program, watching instructional videos, customizing and answering reinforcement questions, and taking practice tests.
Something that always excites me about Kaplan's online programs is their user-friendly interface. Simply put, it's easy to find information. If that sounds trivial, wait until you come across a practice question on something that you know you've studied but can't quite remember. Being able to refresh your memory quickly, without wasting time thumbing (or clicking) through a book, is a highly underrated perk.
Another aspect of Kaplan's self-paced ACT course that I appreciate is their emphasis on strategy. Some prep programs overfocus on cramming information. But Kaplan recognizes that test taking is a skill in and of itself. Their self-guided videos, comprehensive practice questions, and thorough explainers will guide you through the art of test taking and get you ready to master the ACT.
So, if you're looking for an ACT prep program that's both holistic and flexible, with balanced doses of content and strategy, give Kaplan a look. They have no shortage of test prep success stories.
Pros of Kaplan ACT prep courses
Super flexible
Unlike other ACT prep programs that cram lots of studying into a short period of time, Kaplan's On Demand ACT program lets you spread your studying out. When signing up, you'll get six months of access, meaning you can prepare at your own pace, studying a little bit every day. If you're a high schooler who's already busy with school, homework, and extracurricular activities, that flexibility is likely a huge plus.
Balance between content and strategy
One of the first things I noticed about Kaplan's On Demand ACT prep course is its focus on test-taking strategy. The curriculum walks you through how to approach each of the ACT's four sections tactically. This is incredibly important. The ACT, much like the SA, is a challenging test, and mastering it requires a real understanding of its underlying logic. Kaplan will equip you with the tools and knowledge you need to recognize the ACT's quirks, feel comfortable with its content, and approach the test methodically and confidently.
Diverse learning materials
Kaplan's study resources are as holistic as they are adaptable. The self-guided ACT prep course offers a variety of study materials, including an online book, on-demand explainer videos, practice questions, and official practice tests. No matter how you learn, they've got you covered. And beyond initial learning, Kaplan's 2,000+ practice questions put a premium on reinforcement, meaning you'll go into the test with the concepts you need committed to memory.

Emphasis on tactics
Kaplan does a great job of teaching you how to outthink the ACT. Mastering the test requires poise, confidence, and know-how when it comes to answering intentionally misleading questions. Course materials that explicitly teach you how to methodically approach problems will give you the confidence needed to stay calm and collected on test day.
Engaging, on-demand explainer videos
Feeling done with reading? Kaplan's got you covered. Much of this ACT course's curriculum is taught via on-demand videos. The videos' conversational, laid-back teaching style makes challenging concepts more accessible. And the video shorts and animations make your learning experience more engaging.
Cons of Kaplan ACT prep courses
Cost (but good value)
With a price tag of $119, the self-guided course is Kaplan's cheapest ACT prep program.That price is comparable to that of similar services, like Magoosh's. And while $119 may seem like a lot of money, it's a small price to pay for the chance to significantly increase your chances of getting into your dream school.
No live learning
Though Kaplan's self-guided ACT prep course offers a comprehensive, holistic curriculum and diverse learning resources, it doesn't offer live, teacher-led learning. If you're an independent learner and prefer to study at your own pace, this might actually be a plus. But if you benefit from a more interactive learning experience, consider Kaplan's Live Online ACT course or Online Tutoring programs.
No score guarantee
This, for me, is the biggest con of Kaplan's self-guided ACT course. Doubly so when you consider that Kaplan offers score guarantees for its SAT prep program, and its competitors, such as Princeton Review and Magoosh, offer score guarantees for their ACT prep courses. Regardless, this Kaplan program is a strong one, and if you are dedicated to completing it, your score will most likely increase.
Who Kaplan's ACT prep is for
Kaplan's ACT prep course is for you if you're:
An independent learner
A self-motivated studier
Determined to get a 36
Looking to improve your test-taking abilities
If you've got the resources and the desire to stand out even more in the college admissions process, then consider Kaplan. It's a particularly great option if you want a study experience that's flexible, robust, and lets you learn on your own time.
How much does Kaplan's ACT prep cost?
Kaplan offers a number of ACT prep courses that cater to different budgets and learning styles.
| | | |
| --- | --- | --- |
| Course | Price | Features |
| Self-paced | $119 | What I reviewed in this article |
| Live Online | $549 | 16 hours of live instruction, five official practice tests, ACT prep book |
| Online Tutoring | From $749 | 5, 10, 20, 30, or 40 hours of private, 1-on-1 tutoring, five official practice test, personalized study plan assigned by your tutor, 7+ hours on-demand video lessons |
Kaplan Refund
Kaplan offers you a full refund within three days of enrolling and a 75% refund after a week of use, allowing you to familiarize yourself with the course and decide if it's for you.
Learn about Kaplan's other courses: MCAT, GRE, SAT, ACT, LSAT
Features of Kaplan self-paced ACT prep
Kaplan's ACT prep courses offer tons of great features. Some of my favorites are:
Focus on test-taking strategy
Learning reinforcement
Practice tests
Comprehensive explainer videos
Flexibility
Focus on test-taking strategy
I appreciate that this course focuses on ACT test-taking strategies. You learn how to approach each section strategically before even reviewing the content. Kaplan's practice quizzes show you how to answer questions methodically, such as by eliminating wrong answers to arrive at the correct one. A progress tracker helps you
monitor what subjects to focus on, making your study plan even more strategic.
Learning reinforcement
Kaplan's teaching strategies center largely on having students drill and prove what they've learned. In doing so, Kaplan routinely challenges you to apply the concepts you learned to practice questions and tests. That's critical. It'll help you gauge your understanding of key concepts, cement your knowledge, and practice your learned skills. Most importantly, it'll empower you to go confidently into your test.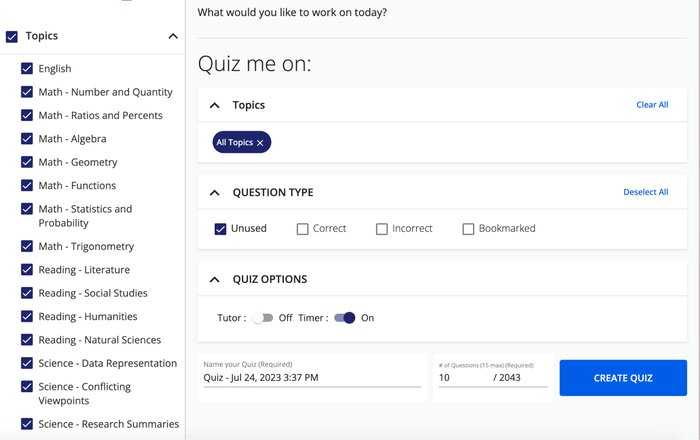 Practice tests
I've mentioned, potentially ad nauseam, how much I appreciate Kaplan's concentration on both content and strategy. The five official ACT practice tests that Kaplan offers serve as a key pillar of that strategy focus. These tests will help you gauge what you know and what you need to review ahead of test day. They will also prepare you for the experience of sitting for a three-hour test, so you will go confidently into the real thing knowing exactly what to expect.
Comprehensive explainer videos
If you're a visual learner, Kaplan's self-guided ACT prep is a great option. Their conversational and laid-back teaching style makes ACT concepts and strategies easy to learn. Video shorts and animations make learning more enjoyable and are sure to give you a more vibrant and engaging study experience.
Flexibility
The flexibility offered by Kaplan's self-guided ACT program is virtually unparalleled. With six months of access upon signing up, you can tackle the course's syllabus at your own pace. You'll have the freedom to spend more time reviewing tricky concepts or pass over ones you've already mastered without the constraints of a more rigidly timed course plan, letting you tailor your study plan to your needs.
Kaplan Alternatives
While Kaplan is one of the best ACT prep services out there, some others include:
Princeton review
Varsity Tutors
Prep Scholar
Magoosh is most similar to Kaplan in content and price, and they promise to raise your score by 4 points or you get your money back. Princeton Review and Prep Scholar's higher price tags ($549 and $397, respectively) come with higher score guarantees and more rigorous courses. And Varsity Tutors offers individual tutoring, which will cost far more (at least $60 per hour) than what you'd pay for Kaplan.
Conclusion: Is Kaplan ACT prep worth it?
If you're serious about getting a 36 and into your dream school, consider prepping for the ACT with Kaplan. Long the gold standard of test prep, Kaplan's comprehensive curriculum, focus on strategy, and engaging materials have helped thousands of students prepare for the ACT.
Their on-demand videos, holistic study plan, and focus on learning reinforcement will help you study as efficiently and enjoyably as possible. So why not give them a shot?
Kaplan FAQs
How much does Kaplan ACT prep cost?
Kaplan's ACT prep courses start at $119 and go up to $749. Check latest prices here.
Will Kaplan improve my ACT score?
If you take it seriously, it should. Remember, online courses only work if you do.
Can I get a refund?
Yes. Kaplan offers a full refund after a three-day trial and a 75% refund after a week.

Max is a graduate of Tufts University, where he studied international relations. He currently works as an online tutor.