A great ACT score can save you thousands–seriously! Colleges and universities use the standardized ACT (American College Testing) to asses your college readiness, and a high score can land you a dream admission and even dreamier scholarships. So, how do you earn that high score? I truly believe that Princeton Review is the ticket.
As a former high school English teacher, I spent a lot of class time prepping my students for the ACT–I even proctored it for 6 years. I know this test inside and out, and after taking Princeton Review's ACT Prep course, I'm disappointed that I didn't explore their resources sooner.
Princeton Review offers a comprehensive and engaging ACT review that promises to improve your composite score by 5 points or more–or your money back. You'll have access to over 100 courses, 36 hours of live instruction, 24/7 tutoring, and practice tests that feel like the real thing.
Taking the ACT is a lot of work and pressure–I get it. Studying for hours on top of that? It might be tempting to avoid the extra work, but Princeton Review makes it feel doable. You'll love the teachers and see the difference in your score.
.
Quick summary
Features
Personalized study plan
Live class sessions
Engaging instructional videos and drills
11 full-length & 8 single-section practice exams
24/7 on-demand tutoring
Paper copies of materials and tests
Pros
40 years of experience have led to the most effective data-backed materials
Focus on testing strategies vs. memorization–efficient and productive
Personalized and engaging study plan that's regularly updated to reflect your progress
One-on-one support that fits your busy schedule
So many realistic resources
Cons
Pricey (but you get a lot of bang for your buck)
A time commitment, but worth the work
Best for: students who are dreaming of a high ACT score and ready to dive into some incredible materials and one-on-one support.
Cost: check latest prices here.
Overall: Princeton Review's ACT prep course will get you the ACT score you need for your dream school and life-changing scholarships. After 40 years of teaching, its teachers have crafted engaging, accurate materials that will provide an authentic and effective study experience. As a former high school teacher, it definitely gets my seal of approval–I've already shared it with my old colleagues!
Here's what I'll cover in the Princeton Review ACT prep course review:
About Princeton Review ACT Prep
How does Princeton Review ACT prep course work?
How I reviewed Princeton Review ACT prep
Pros, cons, and who it's for
Cost and refund policy
Key features
Other ACT prep course options
Conclusion
FAQs
Ready to meet your college goals? Let's do it.
About Princeton Review ACT prep

Princeton Review has been teaching students for over 40 years; they know what you need and have discovered the most efficient and strategic ways to provide it. Student success is their focus, and they provide homework help, tutoring, and test prep to make it happen. They're ranked #1 for getting students into top colleges, and you could be next. Their data shows that 96% of their students improve their grades and 4 out of 5 get into their top-choice school.
To prepare for the ACT, Princeton Review offers a variety of course options to meet your needs and budget:
ACT 31+ (Most popular!)
The Essentials (Condensed, focused materials)
Self-Paced (Independent study)
Summer Camp (Improvement in 2 weeks)
Private Tutoring (Add-on)
ACT 34 + Tutoring (The works)
Each option features engaging instruction, access to tutors, full-length practice tests, and effective coursework.
Since ACT 31+ is the most popular and all-inclusive course, I decided to put my focus there.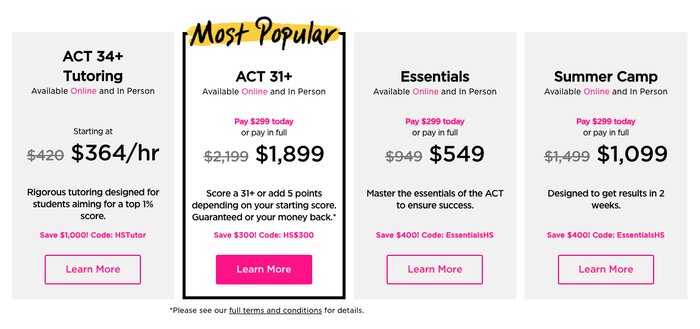 How does Princeton Review ACT prep work?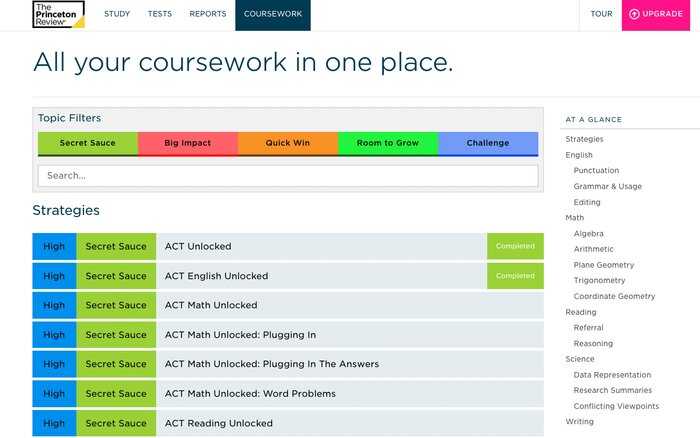 Right after enrollment, Princeton Review onboards each student by assessing their goals and abilities. First, they ask for your target schools, providing the average ACT scores for admittance. Next, you play around with score goals for each section to see what combo gets the composite score you need. Then, you create a study schedule based on your lifestyle. Finally, you take a practice test.
Personally, I think this onboarding process is genius because Princeton Review uses this data to personalize your instruction. Your practice test is broken down into usable data that reveals which courses you should prioritize and why.
See, when you open your coursework tab, you're going to see over 100 options–a little overwhelming, to say the least. However, their data-driven onboarding means these courses will be sorted by priority and need with labels like "Secret Sauce," "Quick Win," "Room to Grow," and "Challenge." Now you have a plan and can begin to use their comprehensive materials.
Key Features:
36 hours of live instruction
11 full-length practice tests and 8 one-section tests
24/7 on-demand tutoring
Paper materials and tests shipped to you
Personalized coursework featuring engaging videos and quick drills
How I reviewed Princeton Review ACT Prep
As an ACT proctor and self-described expert, I went into this review with high expectations. I wanted to make sure that the instruction was engaging and flexible for busy students and that the materials actually mirrored the real exam.
I spent a few hours onboarding, watching instructional videos, taking practice tests, and exploring their resources and student support.
Honestly? I was blown away. I wish I would've used Princeton Review when I was in high school and, particularly, when I was prepping my own high school students. Let's break down my "why."
Pros of Princeton Review ACT prep courses
Focus on testing strategies vs. memorization
Because the ACT tests students in English, Math, Reading, Science, and Writing, they often think they have to remember absolutely everything to do well. Take a breath because that's simply not true. Standardized testing requires strategy, and Princeton Review has honed in on that fact. Their instructional videos provide the learner with easy-to-learn testing strategies that build confidence and make ACT success feel attainable. Studying the test rather than the content is one of their biggest tips, and they help their students implement personalized pacing and process of elimination to master the ACT. In one video, instructors even suggested focusing on 50/60 questions and guessing on the rest because accuracy is far more important than completion. I don't know about you, but I love a tip that will save me energy and time. These are the sort of secrets you'll have access to with this platform.
Personalized and engaging study plan
Now, testing strategies are effective, but you still need to study the content. Princeton Review makes sure your coursework is as personalized as possible. After each practice test you take, your study plan is updated to meet your level of mastery. With nearly 100 courses to choose from on every possible ACT section and topic, this personalization means your valuable time will be well-used and rewarding.
And the courses are engaging because the instructors are actually good! Not only have they been trained for over 37 hours, but they're down-to-earth, funny, and seem to really "get" high school students. They know you're taking these courses after a full day of classes, extracurriculars, and maybe even a part-time job. So the instruction is lighthearted, focused, and quick to digest–videos are just 4-10 minutes long.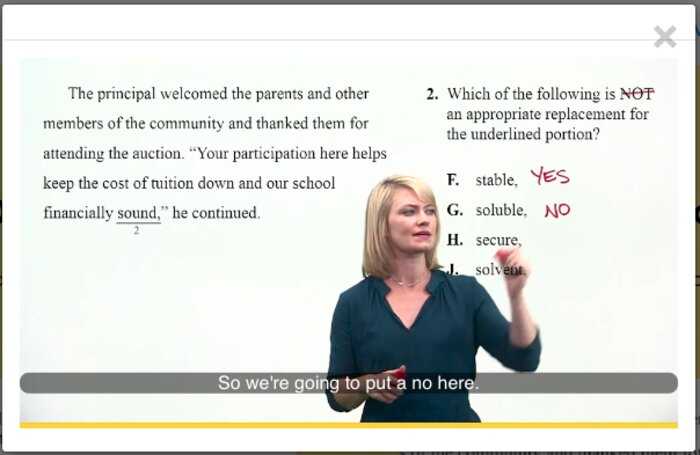 One-on-one support for students
Every learner is different. Princeton Review begins with personalized study plans and takes it a step further with live instruction and one-on-one tutoring. Their teachers break down walls with students to make live classes more fun and effective. In addition, students have access to a one-on-one tutor 24/7–that's insane! Instead of struggling through a concept or problem for an hour, you can ask for a bit of help and become a master that much faster. And they're working on your schedule, so if Sunday night is your only moment to study this week, you'll still get the help you need.
Realistic resources
When I was a high school teacher, I was always hunting down practice tests and writing prompts that mirrored the ACT. I often found that questions felt outdated, too easy, or even too challenging. If you want accurate practice to assess your progress, Princeton Review ACT prep materials are on point. Their in-house experts make sure of it.
During instructional videos, teachers break down realistic test questions using a digital whiteboard so you can see their critical thinking and testing strategies in action. Each course comes with a short drill that gives you immediate practice with test content. And, most importantly, you'll have access to 11 practice exams–that's a bonkers number. Plus, if you need more practice with a certain section, their ACT 31+ program comes with 8 one-section tests for a more focused review.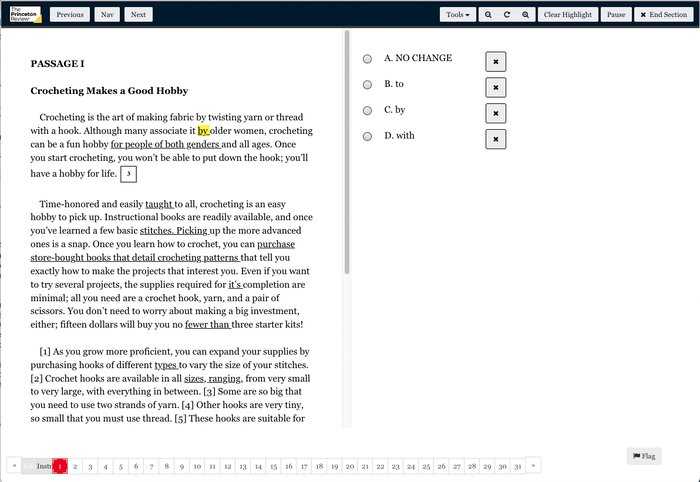 Cons of Princeton Review ACT prep courses
Pricey (but you get a lot of bang for your buck)
ACT 31+ will set a student back $1,899, which might make you pause before purchasing. I get it! That's a lot of money for test prep. But let's break it down: Getting a high score on your ACT could mean a big return on investment through scholarships or admission to a great school that will prepare you for an even greater career. And this course includes so many incredible resources you'll have access to for a year. Plus, if you don't meet your goal after all the work, they guarantee your money back.
If you're still concerned about the price, Princeton Review offers a few more affordable ACT prep courses, including their Essentials course for $549 and their Self-Paced curriculum for $499. While these courses will build a foundation, ACT 31+ guarantees success and comes with more one-on-one support like tutoring and live classroom instruction. Plus, Princeton Review offers promotions on a regular basis, so keep an eye out!
A time commitment, but worth the work
With 36 hours of instruction, nearly 100 courses to choose from, and 11 full-length practice tests, you have hours of curriculum ahead of you. But, remember, it's personalized. You choose what courses to focus on and which practice exams to try. But the more work you put in now, the more progress and reward you'll see later. You're here to reach your college goals, and searching for a great test prep proves you're dedicated. You can commit to Princeton Review because it works.
Who Princeton Review ACT prep is for
My ACT experience tells me this course is for a student who:
Is determined to be accepted into their dream college or university
Is looking for a more personalized study plan so their time isn't wasted
Can learn independently but thrives with one-on-one support
Wants a return on their investments–time and money–thanks to engaging and accurate materials
Wants a 31 or higher on their ACT–bring on the scholarships!
If you're ready to put in the time and effort to improve your ACT score by at least 5 points or even land in the top 5% of test-takers, Princeton Review is a go-to. They'll respect your time, meet your needs, and keep you engaged along the way.
How much does Princeton Review ACT prep cost?
| | | |
| --- | --- | --- |
| Course | Price | Features |
| ACT 31+ | $1,899 | Everything discussed in this review. |
| ACT 34+ Tutoring | $364/hr | Everything discussed in this review + one-on-one tutors help you make a plan and work with you along the way. |
| Essentials | $549 | -18 hours of classroom time-100+ video lessons-3 scheduled practice tests-8 full-length & 8 section-length tests |
| Summer Camp | $1,099 | -Designed to get results in 2 weeks-18 hours of classroom instruction-30 hours of videos |
| Private Tutoring | $175/hr | Add this on to Essentials or Summer Camp for more one-on-one support. |
| ACT Self-Paced | $499 | No classroom time, but access to all study materials. |
Princeton Review Refund
Princeton Review will offer a refund for ACT 31+ if your score does not improve by at least 5 points.
To qualify, your starting score must be recorded before taking the first course with Princeton Review. In addition, you are required to attend all class sessions, complete 4 required practice tests, and submit all required homework via the Student Dashboard. If all of the above is true, you can submit a refund request within 60 days of your official test date. The amount of money returned depends on the course you took, so see specific conditions here.
Features of Princeton Review ACT Prep
Princeton Review ACT Prep offers some pretty incredible features, including:
Personalized study plan
Live class sessions
Engaging instructional videos and drills
11 full-length & 8 single-section practice exams
24/7 on-demand tutoring
Paper copies of materials and tests
Personalized study plan
The onboarding process allows Princeton Review to better understand where you are now and where you hope to be by the end of their coursework. While they have hundreds of hours of instruction available, they help you craft a personalized study plan that guarantees a productive and efficient learning experience.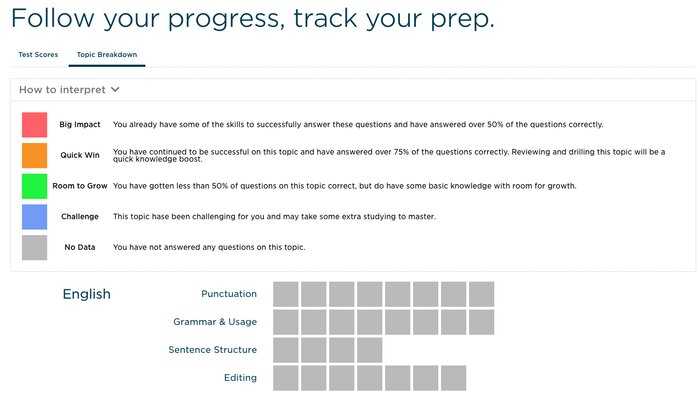 Live class sessions
When you enroll, you get to determine your schedule. This flexibility is so important for high school students who are busy, busy, busy. Once you pick a schedule that's right for you, you'll be granted access to 36 hours of live instruction where you'll review content and test-taking strategies with other dedicated peers. Student reviews rave about the engaging, helpful instructors who break down barriers and work one-on-one with students during class or office hours. This is the secret sauce to a high ACT score.
Engaging instructional videos and drills
Live classes are such an important aid, but being able to review lessons on-demand is ideal for a high schooler's schedule. The short and engaging instructional videos will get you through your study plan efficiently, and the quick and effective post-lesson drills will make sure it all sinks in.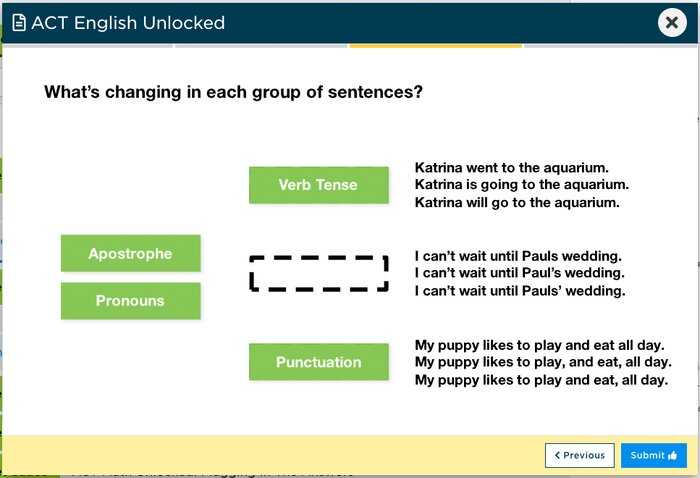 So many practice tests
Studying the content and strategies is one thing, but you need to practice too. ACT 31+ includes 4 required tests that your live instructor will proctor (so great), 7 additional practice tests you can take on your own time, and 8 single-section tests that will help you go even deeper on those sections that need some extra work. The tests are as close to the real deal as they come, so take full advantage.
On-demand tutoring
Committing to a full-time tutor is a luxury many students can't have, so, incredibly, Princeton Review offers 24/7 on-demand tutoring with their ACT 31+ course. This means when you get stumped, you don't have to struggle for hours. You can reach out to a tutor for a breakdown and move forward faster.
Paper materials
For the foreseeable future, the ACT will be proctored in person with pencil and paper. It's important to step away from your computer and experience what bubbling in all those letters actually feels like. Paper materials mean more experience with annotation, using the margins for problem-solving, and getting used to what the big day will feel like.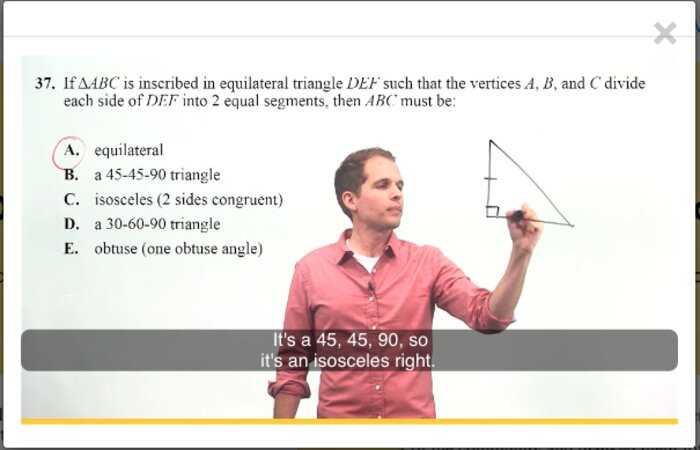 Princeton Review Alternatives
While I can't say enough about Princeton Review's ACT prep materials, it's important to explore your options before committing to a course. Here are a few alternatives:
Explore Princeton Review's other prep programs: MCAT, GRE, SAT, ACT, LSAT, GMAT
Conclusion: Is Princeton Review ACT prep worth it?
I've become very familiar with the ACT over the last 7 years and have prepped hundreds of students for the English, Reading, and Writing sections. Even after a few hours of learning with Princeton Review, I can confidently say it's a great resource for students whose hearts are set on a high ACT score. The amount of personalized support it offers students along with its realistic and comprehensive instruction makes it a top contender for ACT prep.
And, if you don't improve, there's an option to get your money back. Although, I don't see that happening for many if they trust Princeton Review and dive in.
Princeton Review FAQs
How much does Princeton Review ACT cost?
For focused ACT courses, prices start at $499 and can get higher than $1,899 if you add private tutoring. Check prices here.
Will Princeton Review improve my ACT score?
If you attend the classroom lessons, watch the instructional videos, and take advantage of all their practice exams, then yes! If it still doesn't work, you can seek a refund.
Can I get a refund?
Yes, you can get a refund or partial refund if you meet all of the conditions for that particular ACT course.

Hannah recently left high school teaching to become a writer. When she's not spending time with her husband and toddler, she's traveling, trying a new restaurant, or tackling a crossword puzzle.