Everyone deserves the chance to get into their dream school–you included. A solid ACT (American College Testing) score is one of the biggest stepping stones, and it takes a lot of work to earn it. All students should have access to authentic study materials, but that doesn't seem to be the norm.
As a former high school English teacher, I did my best to find free ACT prep materials for my students, but it was often slim pickings. I'd find one free exam that they'd already seen or practice questions that didn't reflect the real thing. So I'd look into ACT prep courses, see the price tags, and, literally, gasp. It became clear that only certain students would have the chance to go to their dream schools–I didn't like it!
That's where Magoosh comes in. Their mission is to help every student achieve their big dreams with equitable access to high-quality test prep resources. They're determined to level the playing field, and they've been working hard at it since 2009.
With just 20 minutes per day, they believe students can reach their ACT goals using their curated study plans, engaging video lessons, and personalized practice sessions. Magoosh believes test prep should be accessible, effective, and enjoyable.
The ACT is no joke, and Magoosh has designed a program that demonstrates empathy for hardworking students and respect for their time. I highly suggest you check it out with me.
.
Quick summary
Features
Affordable, high-quality resources
Curated study schedules tailored to your needs
Personalized support from ACT experts
250+ engaging video lessons
1300+ practice questions
Regularly updated materials based on user data
Intuitive personalized tracking and score prediction
Pros
High-quality materials at an affordable price
Curated study plans and personalized practice sessions
One-on-one support for students
Realistic resources
Cons
Voiceover video lessons, but still effective
Requires time, but worth the commitment
Best for: every student who has big ACT goals and wants low cost access to high-quality materials.
Cost: Check latest prices here.
Overall: Magoosh's ACT prep course guarantees a 4-point improvement, and their team is dedicated to making it happen. As a former high school teacher, I'm impressed by the quality of the materials considering their accessible pricing. Finally, an education company for all!
Here's what I'll cover in the Magoosh ACT prep course review:
About Magoosh ACT prep
How does Magoosh ACT prep course work?
How I reviewed Magoosh ACT prep
Pros, cons, and who it's for
Cost and refund policy
Key features
Other ACT prep course options
Conclusion
FAQs
Ready to tackle the ACT with confidence? Let's do it.
About Magoosh ACT prep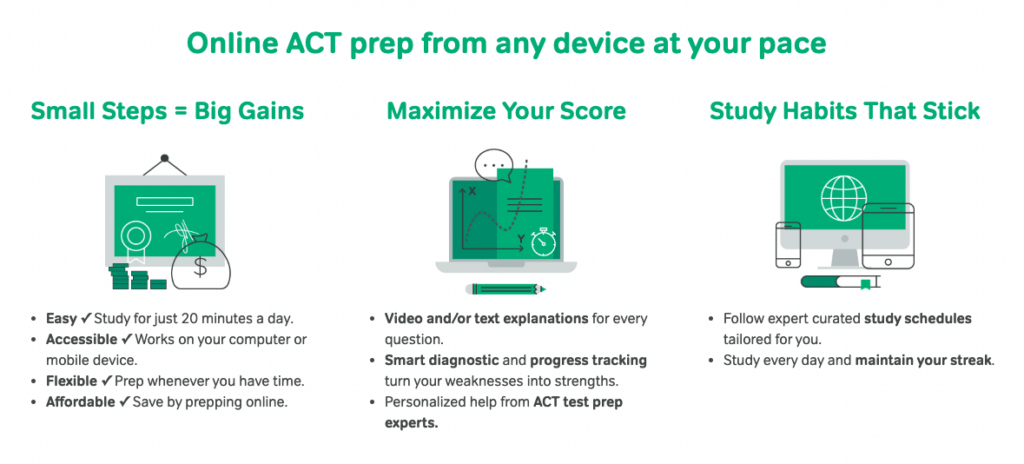 Since 2009, Magoosh's team of education experts has been supporting big goals and big dreams for all. They noticed that good test prep was only available for the wealthy, and they wanted to break that cycle. Since then they've provided access to incredible test prep materials for over 6 million students in 185 different countries. 11 million hours of videos have been watched, and 400 million practice questions have been answered. The results? Millions of satisfied students who are one step closer to their college dreams.
To prepare for the ACT, Magoosh offers affordable options:
Self-Paced (Most popular!)
Premium + Live Classes (Includes 16 hours of live instruction)
Both options feature engaging, effective instruction, access to ACT experts, full-length practice tests, and personalized coursework.
How does Magoosh ACT prep work?
After you enroll, Magoosh starts introductions with a welcome video. The team goes over your personalized dashboard and the most productive ways to interact with their materials. They note helpful features to take advantage of, like question flagging and note-taking, and give you the opportunity to set your own study schedule based on your lifestyle. Finally, you take a practice test.
What I love about Magoosh's onboarding is its simplicity. They don't overwhelm you with goal-setting or high expectations because they know every student is starting from a different place. In a goal-setting video, they encourage starting small and working your way up. While a lot of students want to improve their score by 7-10 points, Magoosh explains why even a 3-point bump can make a huge difference.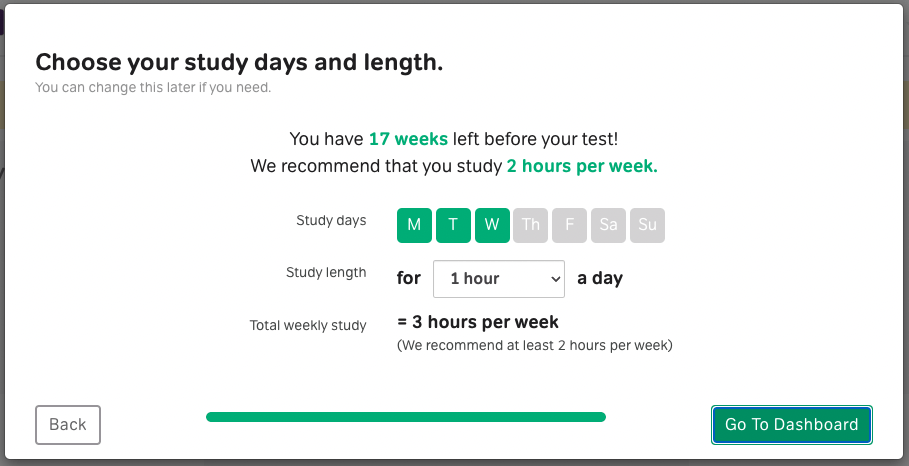 In addition, rather than sweating through a diagnostic for 2 hours and 55 minutes, Magoosh recognizes your valuable time and assesses your progress with an efficient 60-question practice test. You don't even have to take it in one sitting!
Another highlight of Magoosh's platform is its clear organization. They've built a different dashboard for each section of the ACT (English, Math, Reading, Science, and Writing) so as not to overwhelm students and keep them focused on one goal at a time. Select one of the expert-curated study schedules and start working towards your goals.
Key Features:
12-month access
250+ video lessons
1300+ practice questions
Up to 4 practice exams
16 hours of live instruction available with upgrade
Access to ACT experts for personalized help
Custom practice sessions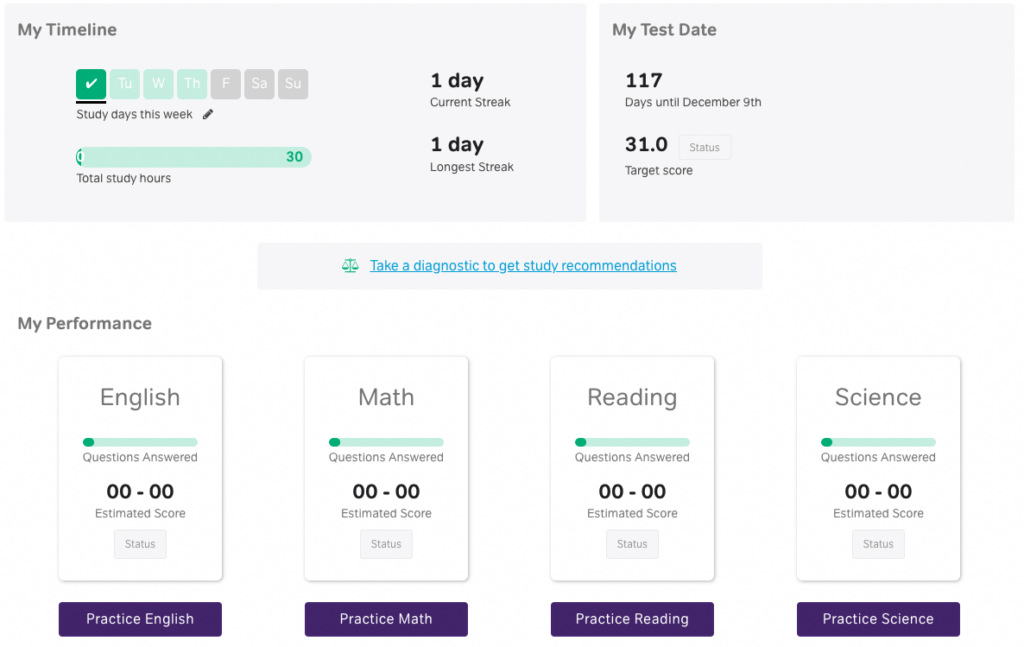 How I reviewed Magoosh ACT Prep
After 6 years as an 11th-grade teacher, I consider myself well-versed in the ACT–I even proctored it over 10 times. I always review test prep materials with high standards because that's what students need to reach their goals. If they're not working with resources that mirror the real thing, then what's the point?
I also assess if the company is actually in tune with high schoolers and their incredibly busy schedules; the program has to be flexible and engaging in order to meet a teenager's needs. No 16-year-old is going to sit down every night for 2 hours and watch boring slideshows and take agonizing practice exams. So I pay attention to how the platform engages students.
I spent a few hours onboarding, watching instructional videos, taking practice tests, and exploring their resources and student support.
Honestly, considering the prices are so reasonable, I was pleasantly surprised by the quality of Magoosh's program. Students have access to hundreds of hours of practice, one-on-one assistance, and it's all as engaging as it can be. I would definitely recommend Magoosh to my teaching peers and high school students.
Pros of Magoosh ACT prep courses
High-quality materials at an affordable price
Many test prep courses can set a student back 500 to over 1,000 dollars. These price tags are inequitable. They lead to lower-income students desperately searching for sub-par free materials, hoping they do the trick. Magoosh noticed that test prep was only available for the wealthy, so they flipped the script. They designed high-quality materials in large quantities that guarantee a 4-point improvement with just 20 minutes of studying a day. They also offer resources for web and mobile so students can study on the go when life gets crazy–which it always does.
Curated study plans and personalized practice sessions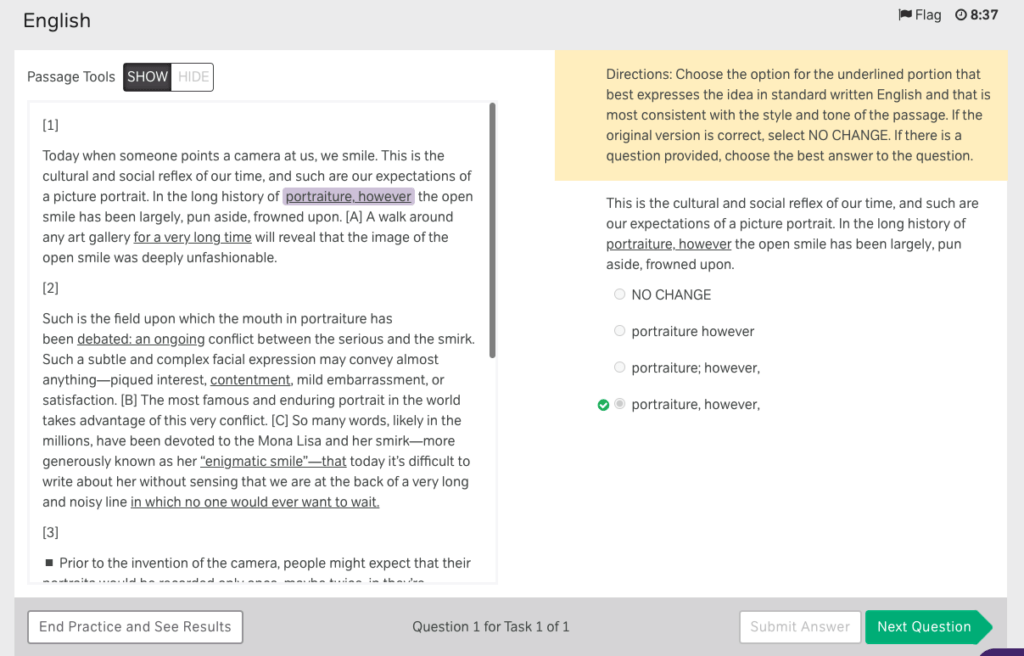 After you onboard, Magoosh recommends that you take a look at their expert-curated study plans to pick the one that works best for your schedule and goals. With over 250 hours of videos and 1,300+ practice questions, it's important that you focus your studying so as not to become overwhelmed. The ACT is stressful enough, right?
One of my favorite features is the ability to create one-of-a-kind personalized practice sessions. You build each session by selecting the section subjects you'd like to focus on, the difficulty level, whether to include answered or unanswered questions, the number of questions and time limit, and even whether or not you want the answer explanations during or after the session.
One-on-one support for students
Since every learner is different, Magoosh continues to personalize instruction with access to 40 ACT experts anytime and even during live sessions. If you get stuck on a concept or problem, don't torture yourself–ask for help! Use the 'Help' button to send your query to an expert who will personally walk you through it within a few hours.
If you enroll in the Premium + Live Sessions course, you'll have access to over 16 hours of live instruction which is a new Magoosh feature. These engaging classes are led by a 99th-percentile ACT instructor. They provide 2 2-hour sessions each week where you can interact with the instructor and other students and receive instant support and feedback. Class sizes are limited for the most effective instruction, and teachers even give homework to keep those brains operating.
Realistic resources
When I was a high school teacher, I struggled to find high-quality practice tests and ACT writing prompts without having to spend top dollar. If I did find free materials, they were usually overused or not used for a very good reason. Magoosh has designed over 1,300 authentic test questions and 4 practice exams with the help of their ACT experts and student data. In fact, resources are always the most relevant and up-to-date because user data is automatically analyzed to make improvements. Realistic test questions are featured in the 250+ instructional videos where educators break down the question with interactive annotations so you can see their modeling and implement their processes.
Cons of Magoosh ACT prep courses
Voiceover video lessons, but still effective
When comparing this ACT course to others I've seen, I noticed that the instructional videos were slides with voiceover explanations versus being able to see the teacher work with a whiteboard or something similar. This could mean that the videos are less engaging, but I still think they're effective. The average length of their instructional videos is 6-7 minutes, and teachers are still annotating the screen and breaking down problems in detail.
Requires time, but worth the commitment
Magoosh has managed to provide hundreds of hours of practice for less than $150. Even at that price tag, the sheer amount of work can feel like an impossible challenge. That's why it's important to use Magoosh's personalization whenever possible. For instance, choose one of the curated study plans to focus your efforts, or stay within one of the section dashboards each session for fewer distractions.
In addition, Magoosh uses a Smart Review System to review your performance on each personalized practice session. You'll get to see a breakdown of time used, question pacing, and question difficulty, and it's compared to the average Magoosh user. This data is incredible and will help you set smaller goals to get you to the big one. Your learning is constantly being reviewed, and your data is being used to make Magoosh's resources even stronger.
Who Magoosh ACT prep is for
My ACT experience tells me this course is for a student who:
Has big college dreams and needs a strong ACT score to get there
Needs a curated study plan with personalization so their time is valued
Needs affordable study prep materials without losing quality
Can learn independently but would like access to one-on-one support
Wants to improve their overall score by 4 points or more
If you're ready to dive into engaging, effective materials at your own pace to meet your ACT goals, then Magoosh is waiting for you. They know that standardized tests are not fun, so see how they've made ACT prep enjoyable.
How much does Magoosh ACT prep cost?
Course
Price
Features
Self-Paced
$129Or 4 monthly payments of $32.35
Over 1,300 practice sessionsVideo and/or text explanations for every questionUp to 4 practice testsOver 250 video lessonsCurated study schedules+4-point score improvement guarantee+7-day money-back guaranteeOnline help from expert ACT teachersData-driven score predictionSmart progress tracking
Premium + Live Classes
$399
Or 4 monthly payments of $99.75
Everything in the Self-Paced courseEngaging classes led by a 99th-percentile ACT instructor16 hours of live instruction
Magoosh Refund
Magoosh guarantees a 4-point increase if you originally scored a 30 or below.
To qualify, you must have taken the exam before studying with Magoosh, and the score must be less than 5 years old. This is checked via email during signup. If you sign up for Premium and don't earn 4 more points, you can choose between a refund for the Self-Paced software ($129) or free enrollment in even more live courses.
Features of Magoosh ACT Prep
Magoosh ACT Prep offers some pretty awesome features, including:
Curated study plans and personalized sessions
Engaging instructional videos
One-on-one support for students
Smart progress tracking and comparison
Extra tools that enhance studying
Curated study plans and personalized sessions
Magoosh's onboarding process includes a shorter diagnostic to assess your strengths and weaknesses. You can use this broken-down data to decide which of the curated study plans would be best for your time and growth. Suddenly, it's less overwhelming to see 250+ videos and countless practice questions. Additionally, you can create your own practice sessions and specify the topics, time limits, and extra support you want. Every minute of your time will be well-used.
Engaging instructional videos
If you don't have access to the live classes Magoosh offers, they still have over 205 instructional videos led by their expert teachers. They break down each concept step by step with testing strategies, practice questions, and visible annotation. They're also quite short, so you can tackle a few every session. I watched quite a few and appreciated that teachers addressed common concerns like stress and distractions. They don't just expect students to master the material, they support them as they master taking the test. Teachers even taught breathing techniques, focus strategies, and provided a worksheet that supports it all.
One-on-one support for students
Even the most self-disciplined students are going to struggle with certain concepts and questions. When you get stuck, it's important that you have the ability to ask for help. Magoosh provides you with access to ACT experts who will walk you through whatever you're struggling with. In addition, Premium comes with 16 hours of live instruction where you enjoy authentic, live teaching with fellow college-bound teenagers.
Smart progress tracking and comparison
Every time you finish a personalized practice session or exam, your profile is updated. You get to see how much time you spent on each question, if your pacing is too slow or too fast, and how well you're tackling the most difficult questions. I also love that Magoosh provides you with the average pacing of other students so you have a better idea of how you're progressing.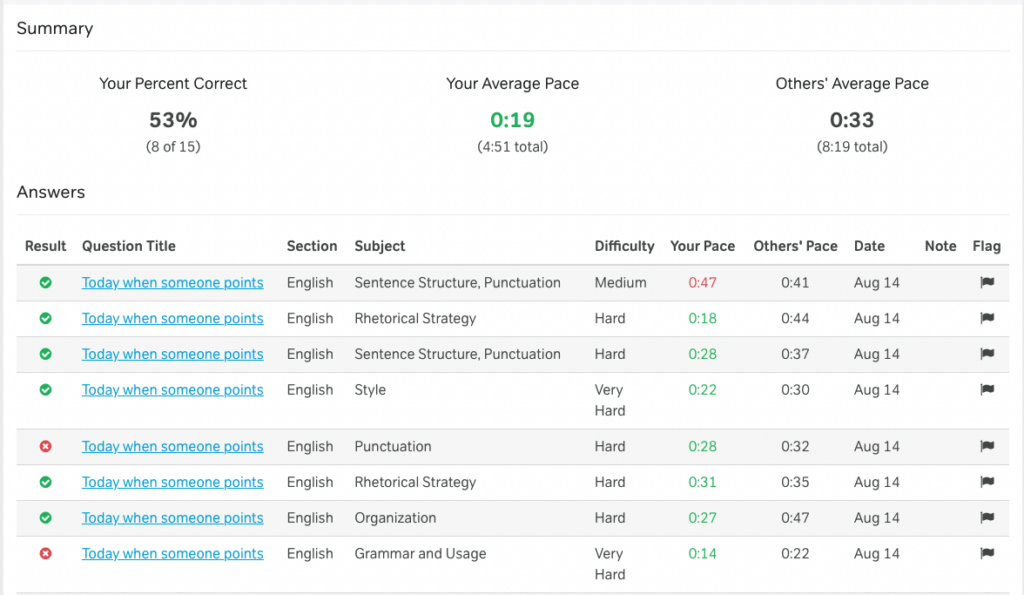 Extra tools that enhance studying
One feature that sets Magoosh apart is their collection of helpful tools. For example, the program is available on mobile or desktop so that you can study wherever. In addition, the lessons contain a note-taking tool that continues to compile until you have a personalized comprehensive study guide. I also love that they have a flashcard app! This is a great way to keep your brain flexing without a big time commitment.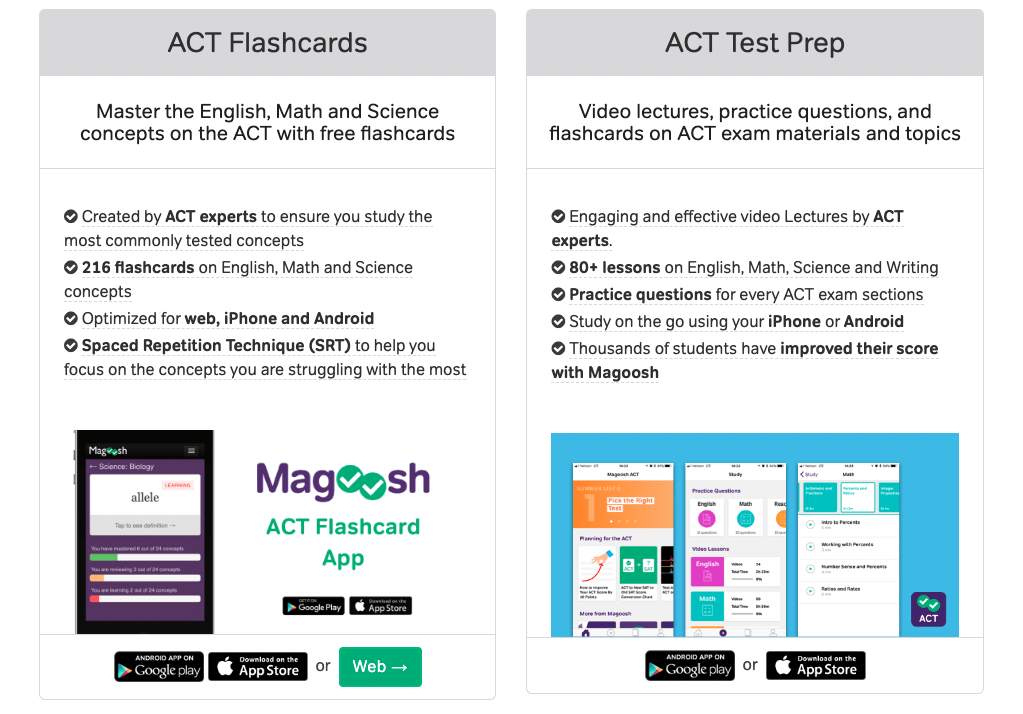 Magoosh Alternatives
While I can't say enough about Magoosh's ACT prep materials, it's important to explore your options before committing to a course. Here are a few alternatives:
Varsity Tutors
Manhattan Prep
Prep Scholar
Official ACT website
Learn about Magoosh's other prep programs: MCAT, GRE, SAT, ACT, LSAT, GMAT, IELTS
Conclusion: Is Magoosh ACT prep worth it?
Over the last 7 years, I've become very familiar with the ACT in terms of its structure and nuanced questions. It's a beast of an exam, and test prep should be accessible for any student hoping to do well. That's why I definitely approve of Magoosh. They've figured out how to deliver high-quality, accurate test materials to millions of students for an affordable price. With their 4-point guarantee, you don't have much to lose!
Magoosh ACT FAQs
How much does Princeton Review ACT cost?
The Self-Paced course is $129 or you can add live lessons for a total of $399. They have monthly financing options available and sometimes offer discounts.
Will Magoosh improve my ACT score?
If you engage with the instructional videos, take advantage of all their practice questions, ask for help, and stick to your study plan, then yes! If it still doesn't work, you can seek a refund.
Can I get a refund?
Yes, you can get a refund or partial refund depending on the course you take.

Hannah recently left high school teaching to become a writer. When she's not spending time with her husband and toddler, she's traveling, trying a new restaurant, or tackling a crossword puzzle.