You may have stumbled across Kaplan's MCAT prep course and wondered whether or not it's worth it. Well, each year, more than 85,000 students sit for the MCAT (Medical College Admission Test), all of them working to set themselves apart as they embark on the next step to becoming doctors. The med school you attend can decide your career trajectory, and in many cases, a good MCAT score can be the key to your dream program.
The exam is challenging, and students often study for hundreds of hours in preparation for it. But studying a lot doesn't necessarily mean you're studying effectively. With the right MCAT test prep course, you can improve the quality of your studying, increase your chances of getting a high score, and put your best foot forward when applying to med school. There are tons of MCAT test prep courses out there, and Kaplan's is one of the most popular. I'll be reviewing it in this article.
.
Quick summary
Features
Score improvement or your money back
3,000+ practice questions
17 full-length practice tests
Mobile app for studying on-the-go
Full-access explainer videos made by expert MCAT instructors
Structured study plan
Progress tracker
Pros
Helps you form and execute a study plan
Focus on test-taking strategy
Diverse set of resources
Flexible, works around your schedule
Cons
Cost, but comparable to similar programs and worth the price
Time investment, but that's to be expected
Best for: those who are determined to set themselves apart in the med school admissions process.
Cost: check latest price here.
Overall: Kaplan's MCAT prep course offers tons of resources to ensure that you study both effectively and efficiently ahead of the exam. Its expert-created content focuses on both the MCAT curriculum as well as the strategies behind mastering the test. And if it can't help you, you may get a refund.
Here's what's in this Kaplan MCAT prep course review:
About Kaplan
How does Kaplan's MCAT prep course work?
How I reviewed Kaplan's MCAT prep course
Pros, cons, and who it's for
Cost and refund policy
Key features
Other MCAT prep course options
Conclusion
FAQs
Let's get started so you can get studying.
About Kaplan's MCAT prep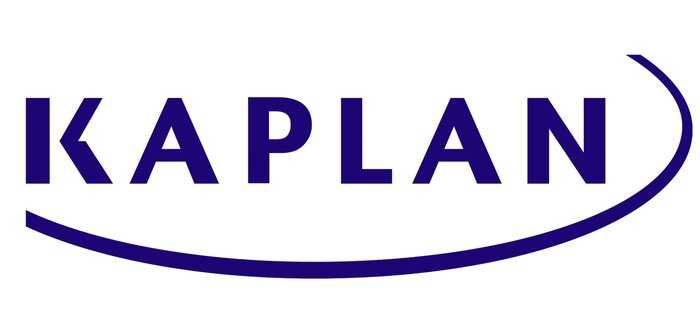 Kaplan is one of the most trusted names in tutoring, and its MCAT prep course is among the most popular and effective programs out there. Its comprehensive curriculum covers all of the material that's tested on the MCAT and is made accessible by expert instructors.
Throughout the course, you'll have access to a variety of test prep resources, including practice tests, video lessons, and flashcards to ensure that you've mastered the material. And if you don't improve your score by at least four points, Kaplan guarantees you your money back.
So what's to lose?
How does Kaplan's MCAT prep work?
Kaplan's On Demand MCAT test prep service is a flexible, online course that allows you to learn at your own pace and on your own time. The program covers all of the material that you'll find on the MCAT, including biology, chemistry, physics, and critical analysis and reasoning skills (CARS), testing your knowledge and offering feedback along the way.
Key features:
Study planner to help you stay on top of your prep
3,000+ practice questions
17 full-length practice tests
Prerecorded, expert-taught lessons available 24/7
700+ hours of teaching and practice
Community forum to source help from instructors and other students
How I reviewed Kaplan's MCAT prep course
Though I'm not a med student, I've tutored standardized testing for years and have an eye for what prep programs are worth their price tags.
I spent hours going through Kaplan's On Demand MCAT prep course, watching instructional videos, making a study plan, answering (or, more accurately, guessing at) practice questions, and taking portions of mock tests to get a feel for the course.
Something that stood out to me initially was the quality of Kaplan's user interface. It's easy to find the content, practice questions, or explanations that you're looking for without wasting time digging. I was also impressed by the lengths Kaplan goes to to help you not only make a study plan, but keep track of your progress.
Pros of Kaplan's MCAT prep course
Does the hard stuff for you
I've found that setting reasonable daily goals, sticking to a study schedule, and gauging the amount of studying you're actually doing can be some of the hardest parts of standardized test prep.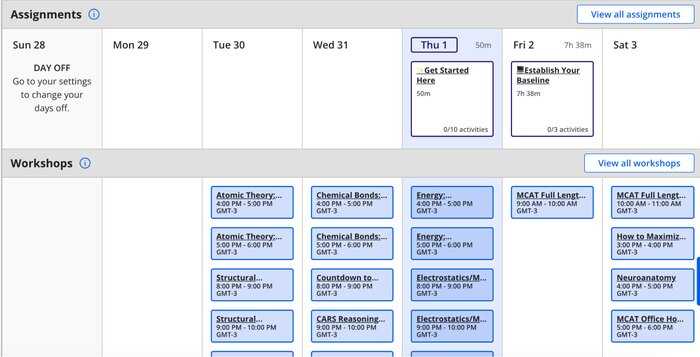 Luckily, Kaplan does all of that for you. It sets up a study calendar that works around your schedule before you even look at the material. It also displays a daily progress meter, so you always know exactly how much work you've done and how much more you've got to do. When you're studying for hours almost every day, which you might need to do for the MCAT, having a clear picture of both what you've accomplished and what's still expected of you is key to not losing motivation.
Tons of resources
Something that struck me right off the bat was the quantity and variety of study resources that Kaplan offers.
First is the seven-book subject review set, which when enrolling in the On Demand program, you get for a fraction of its price on Amazon. And that's not to mention the online materials. On the web portal (or the mobile app, if you need to study on the go), you'll have access to a comprehensive curriculum that covers the four major subjects included tested by the MCAT. 24/7 access to teacher-led review classes will help you bridge any knowledge gaps that you might have. And you'll reinforce your learning with 3,000+ practice questions, each of which has step-by-step explanations to ensure you understand anything you might've missed. Additionally, the 17 practice exams, which simulate realistic MCAT questions and conditions, will prepare you to go confidently into the test.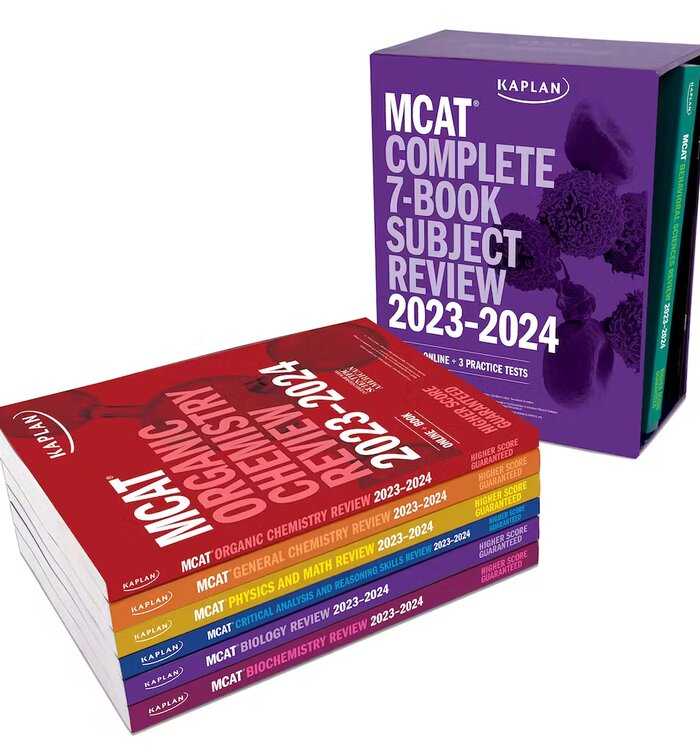 Focus on strategy
Not only will you learn the material that you'll encounter on the MCAT, you'll also learn the strategy behind beating the test.
Kaplan's focus on test-taking techniques is particularly helpful if sitting for standardized tests stresses you out or if it's been a while since you've taken a standardized test. Kaplan instructors have recorded explainer videos for more than 100 practice test questions, helping you maximize your score by mastering the most difficult, high-yield questions.
Accommodates different learning styles
One of my favorite things about Kaplan is how flexible and versatile their offerings are. The On Demand MCAT test prep course offers materials, such as books, explainer videos, and flash cards, that are catered to different learning styles. If you prefer live or in-person learning, Kaplan's Live Online MCAT Course or its Private MCAT Tutoring programs might be for you.
Cons of Kaplan's MCAT prep course
Pricey (but is good value)
Kaplan's On Demand MCAT prep course is its cheapest offering, and it'll run you more than $2,000. But that's a small investment when you consider the financial yield of becoming a doctor. It's also in-line with similar services, like Princeton Review, which costs roughly the same. And with Kaplan's money back guarantee, what's to lose?
Requires time investment
Kaplan recommends studying at least 220 hours ahead of the MCAT, and its course requires a minimum time investment of 145 hours to be considered completed. But the reality is that, assuming you're serious about getting a good score on the MCAT, you'll be studying that much, if not more, regardless of the course you go with.
Who Kaplan's MCAT prep course is for
Kaplan's MCAT prep course is for you if you're:
Dedicated to getting a good score on the exam
Wanting to get into a top med school
Looking to improve your knowledge of the test's material
Keen to sharpen your test-taking abilities
If you have the resources and are determined to set yourself apart from the tens of thousands of people who take the MCAT each year, then consider going with Kaplan. It's particularly useful if you prefer a flexible study regime that allows you to prepare on your own time.
How much does Kaplan MCAT prep cost?
Kaplan offers four MCAT prep courses that cater to different budgets and learning styles.
| | | |
| --- | --- | --- |
| Course | Price | Features |
| On Demand | $2,099 | What I reviewed in this article |
| Live Online MCAT Course | $2,699 | Same offerings as On Demand plus 14 three-hour, live-streamed, interactive sessions |
| Private MCAT Tutoring + Live Online MCAT Course | $3,399 | Live Online Course plus 10, 20, 30, or 40 hours of private, 1-on-1 tutoring, extra curated content, and a money back guarantee if you don't score at least a 515 or improve your score by 15 points |
| MCAT Bootcamp Online | $7,299 | Five-week program offers structured daily schedules, private tutoring sessions, and small study groups. Same 515 (or +15-point) money-back guarantee. |
Kaplan Refund
Kaplan's refund policy depends on the course that you go with. For all of their offerings, you get a full refund within three days of enrolling and a 75% refund after a week of use, allowing you to familiarize yourself with the course and decide if it's for you. The On Demand and Live Online MCAT courses offer you your money back if you don't improve your test score by four points, while the Private MCAT Tutoring and the Bootcamp guarantee you a refund if you don't score at least a 515 or raise your score by 15 points.
Learn about Kaplan's other courses: MCAT, GRE, SAT, ACT, LSAT
Features of Kaplan's MCAT Prep Course
Kaplan's MCAT Prep courses offer tons of great features. Some of my favorites are:
Study planner + progress tracker
Practice questions
Practice tests with explainers
Video lessons
Score guarantee
Comprehensive curriculum
Study planner + progress tracker
Before you can even begin studying, Kaplan makes you take stock of how much time you have before the exam and how much time you'll need to study per day to meet your review goals. It then helps you tailor a study schedule to fit your needs and availability. Once you begin studying, a daily progress meter shows you how much you've completed and what you've still got to get done. I love that feature because having perspective when studying is key to maintaining motivation, particularly if you're studying for long stretches of time.
Practice questions
Kaplan's Qbank provides you with more than 3,000 practice questions to test your knowledge as you study. Covering all of the material that's on the test, these practice questions will help you reinforce your learning. Each question comes with a series of explainers. One focuses on the content itself, while the other teaches you how to answer strategically, starting by recognizing the root of the question, identifying the knowns and unknowns, and then making a prediction. That feature is fantastic because it trains you to think clearly and methodically, which you'll need to do to when taking the MCAT
Practice tests
As I've mentioned before, one of the reasons I love Kaplan is because they focus both on content and test-taking practice. With 17 mock exams, you'll have more than enough preparation for what it will feel like to actually sit and take the MCAT. And the tests come with PTEs (Practice Test Explainers), in which expert MCAT instructors walk you through the nuances of answering the MCATs most challenging questions.
Video lessons
Complementing Kaplan's study modules, practice tests and questions, flash cards, and textbooks are its video lessons. Hours of pre-recorded video lessons, taught by MCAT instructors, will help you firm up any lingering questions about content, and they're available 24/7.
Score guarantee
No matter which Kaplan program you end up going with, you're guaranteed a score improvement or your money back. The two cheapest options promise a four-point increase, while the more expensive courses guarantee a fifteen-point jump (or a 515) or your money back. With a promise like that, what's to lose?
Comprehensive curriculum
Kaplan's holistic syllabus thoroughly covers everything that you'll encounter on the MCAT. In Kaplan's prep courses, you'll review all of the material that you'll come across on the MCAT, including biology, physics, chemistry, and critical analysis and reasoning skills (CARS).
Kaplan MCAT Prep Alternatives
While Kaplan is one of the best MCAT prep services out there, some others include:
Varsity Tutors
Manhattan Prep
Kaplan, Princeton Review, and Manhattan Prep all have similar offerings at comparable prices. Magoosh is a bit cheaper, $399 for 12 months of access, but offers fewer practice tests and less interactive learning. Varsity Tutors has the potential to be the most expensive as it offers one-on-one tutoring.
Conclusion: Is Kaplan's MCAT prep worth it?
Kaplan's MCAT prep course offers a variety of study materials that suit different learning styles. Its comprehensive curriculum, focus on holistic learning, robust offering of materials, and track record of success make it a great option for anyone looking to prepare for the MCAT.
I was particularly impressed by their array of study questions, diverse materials–including flashcards, video explainers, and textbooks–and commitment to teaching test strategy.
And if Kaplan can't get you the score you were promised, you get your money back, so why not give them a try?
If you're serious about getting a competitive score on the MCAT and distinguishing yourself to med school admissions boards, Kaplan is worth the money.
Kaplan MCAT prep FAQs
How much does Kaplan MCAT prep cost?
Kaplan's MCAT prep courses start at $2,099 and go up to $7,299
Will Kaplan improve my MCAT score?
Assuming you follow their study guide and put in the work, yes. And if it doesn't, you get your money back.
Can I get a refund?
Yes. Kaplan offers a full refund after a three-day trial and a 75% refund after a week. And if you don't get the score you were promised, you're guaranteed your money back

Max is a graduate of Tufts University, where he studied international relations. He currently works as an online tutor.