Imagine you could learn guitar in a way that lets you play anything you want in 30 days or less. Well, GuitarZoom helps with you the ability to do just that.
With over 64 courses, 150 VIP lessons, 15 masterclasses, and a ton of additional resources, GuitarZoom is making a name for itself as one of the best platforms to learn guitar. But does it live up to its promises? 
I play multiple instruments and have reviewed many top online guitar courses. So I know what to look for from a site like GuitarZoom
This GuitarZoom review will cover what GuitarZoom is, how it works, the cost, the courses, its pros and cons and much more. 
Before we begin, here is a quick overview of what to expect.
.
Quick summary
Features
64+ courses covering a wide range of guitar concepts, skills and techniques
13 Paths; groups of courses dedicated to a specific aspect of guitar such as genres (blues, rock), skills (riffs, soloing), technique and theory
15 masterclasses containing more in-depth lessons on particular concepts which the instructor specializes in
Over 150 VIP Lessons; shorter lessons devoted to more specific aspects of the instrument
A Toolbox of shorter lessons that cover the fundamental aspects of guitar such as tuning or strumming
Live Streams
The opportunity for a one-on-one consultation with the instructor
A Facebook Community of GuitarZoom users with the opportunity to join local jams
Pros
Primarily led by one incredible instructor with extensive experience in both musical performance and music education
​​Consistent teaching style throughout, which makes it easy to progress
Great range and depth of topics
The rare opportunity for masterclasses which take a deep dive into the instructor's specific skills (e.g. soloing)
A slick website with high production quality in each video lesson
Develops your whole musicianship which a lot of similar platforms and guitar teachers miss
Additional resources, such as live streams and community forums
A YouTube channel which allows you free insight into the lessons
Cons
More costly compared to competitors (but does have more features)
Some aspects of the website aren't very intuitive
Best for: Students who prefer to learn from one teacher and are specifically interested in developing technique and soloing ability
Cost: Check latest price for GuitarZoom 
Overall: GuitarZoom offers hours and hours of in-depth lessons from a very experienced instructor. It is quite a bit more expensive compared to some competitors. But if you're like me, and you find the consistency of one teacher appealing, then GuitarZoom might be the right place for you. 
What is GuitarZoom?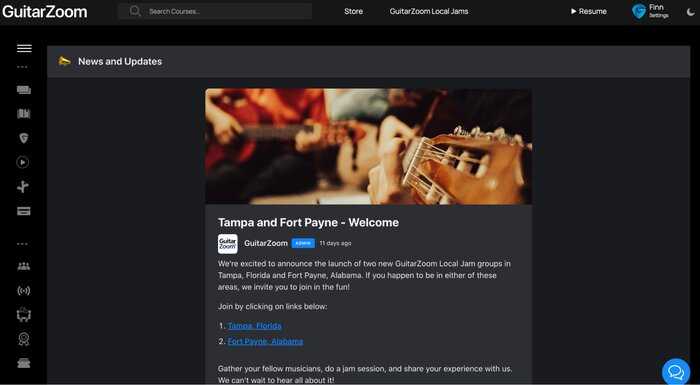 GuitarZoom is a website with a mission to teach guitarists of all abilities. Founded back in 2005 by Dan Denley, it has gone on to develop a huge range of lessons for all types of guitarists. 
GuitarZoom is currently based in San Diego, California. However, you can take GuitarZoom courses from anywhere in the world and fit them around your own schedule. 
The site offers hundreds of lessons in genres ranging from funk to rock. There are also courses on how to nail some fundamental aspects of the guitar, including licks and soloing.
GuitarZoom is unique in that it offers dedicated lessons to theory and technique, which, let's be honest, many guitarists often avoid mastering. GuitarZoom will help you develop your general musicianship as well as your guitar playing. 
Who are the instructors?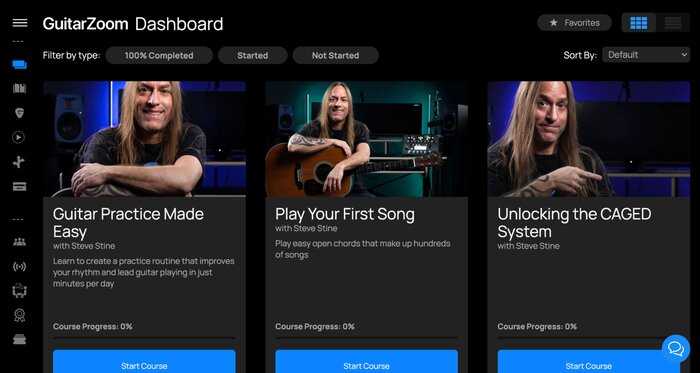 Whereas GuitarZoom's competitors focus on having a wide range of instructors, with each teacher focusing on a different genre, style or skill, this website is unique in that many of its courses are led by one instructor. 
Steve Stine joined GuitarZoom in 2014, and since then led courses on virtually everything to do with guitar, from tone to technique. With his long hair and tattoos, Steve certainly looks the part, but he backs it up with decades of teaching and performance experience. 
Steve has toured across the world with a variety of different bands and worked with the likes of Brian May and Rick Springfield. However, he also holds a Bachelor's degree in music education and has held teaching posts at North Dakota State University.
Steve's professional background in education certainly sets him apart from other online guitar teachers. He believes that through being the primary teacher on GuitarZoom students get consistent lessons that resemble in-person teaching. 
However, Steve isn't the only teacher on GuitarZoom. Other professionals like Rob Ashe and John Rudolph are there to help with a focus on styles they are experts in.
How does GuitarZoom work?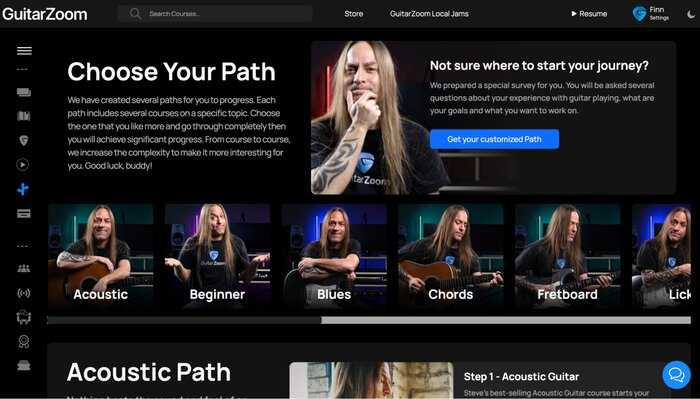 GuitarZoom is a subscription service. This may mean that you pay a monthly or yearly fee in order to access all of their courses. 
Once you have created an account and set up your payment (yearly or monthly), you are free to start exploring the site.
You are welcome to choose any course you like to get started, however, GuitarZoom does have a Start Here feature which you can find in the menu on the left-hand side of the home page. 
This will take you through a survey that will ask about your playing ability, experience and what you want to learn. Based on this, you will be recommended a learning Path to begin with.
GuitarZoom's Paths are collections of several courses that focus on a specific topic. Each course is listed as a step designed to gradually increase in difficulty as you progress through the path. Topics include:
Acoustic
Beginner
Blues
Chords
Fretboards
Licks
Metal
Rhythm
Rock
Soloing
Songs
Technique
Theory
You are welcome to follow any path of your choosing. However, you can also choose any course from the Courses page that appeals to you and get stuck into that. Each course in the Paths can also be found on the courses page.
Each course will contain a series of lessons, all primarily led by Steve Stine. As you go through the lessons, your progress will be recorded so you can pick up exactly where you left off.
There are also VIP Lessons; over 150 short lessons devoted to specific aspects of the guitar, as well as over 15 Masterclasses, with topics including:
Music Theory
Fretboard
Techniques
Guitar Soloing
Modes
Riffs
Blues
1980's Soloing
1970's Soloing
Blues Soloing
Recording
Additional features on GuitarZoom include Toolbox; individual lessons focused on basic concepts, the chance to join GuitarZoom's Community on Facebook, which promotes GuitarZoom's Local Jams, and streamed Live Lessons. 
How much does GuitarZoom cost?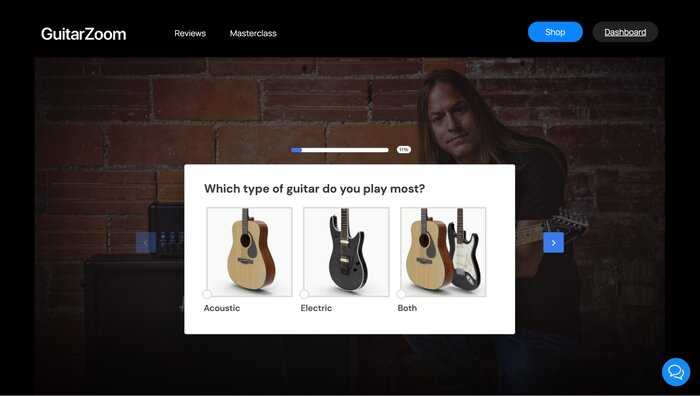 A yearly subscription to GuitarZoom costs $399.00. 
GuitarZoom sometimes offers deals and promotions, so make sure you check the website for any updates on deals that are on offer. 
GuitarZoom free trial 
GuitarZoom does not offer a regular free trial. However, they occasionally will offer one as part of deals and promotions. Check the website for the most recent update. 
There is a GuitarZoom YouTube channel with over 402,000 subscribers, over 2,000 videos and over 4,000,000 views. 
This channel contains shorter video lessons led by Stine, that focus on a specific concept or idea that will improve your guitar playing.
It's a great way to get a sense of whether Steve Stine's teaching style is the right fit for you.
GuitarZoom refund
GuitarZoom offers a 30-day money-back guarantee. 
This means that if you subscribe to GuitarZoom and you're unhappy with your purchase, you can get your payment refunded within 30 days of that purchase. 
What a course is like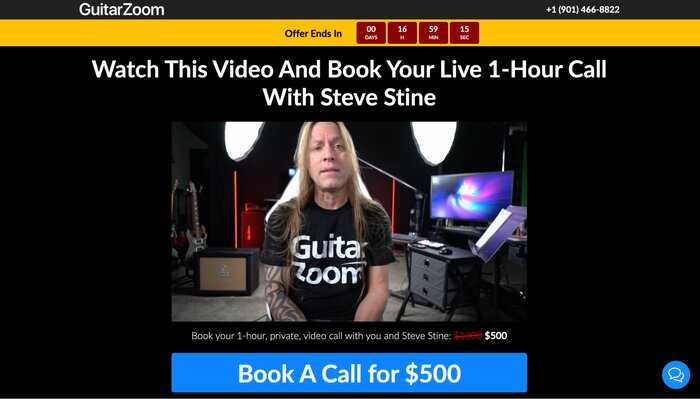 Unlike some other guitar sites, GuitarZoom's courses are quite consistent. This is because they are primarily led by one instructor. 
Courses will sometimes begin with an opening example of Steve playing something on the guitar that's relevant to the course content, followed by an introduction to the course topic.
The course will then be divided into several video lessons with each lesson focusing on a different aspect of the concept, typically increasing in difficulty.
What I have found unique about Steve Stine's teaching style is that, whereas other guitar instructors explain a concept and then demonstrate it, he often combines the two. This allows Steve to fill in a lot more detail and explain every aspect of what he is demonstrating.
Best GuitarZoom classes
GuitarZoom has a massive range of courses, but which ones are the very best?
Below are my picks for the top GuitarZoom courses:
Guitar Practice Made Easy
Play Your First Song
Unlocking The CAGED System
Music Theory Made Easy 2.0
Essential Guitar Scale
For me, the above courses are ideal starting places for beginners, teaching you the essential elements of the guitar whilst also introducing theory and technique which are important to get a good handle on early.
But GuitarZoom has a massive array of classes. So, to give you an idea, I've selected some of the top courses from each category. 
Paths
Beginner Path
This beginner path is the ideal starting place with GuitarZoom if you've never touched a guitar before. Containing three courses and with almost 24 hours of content, following the beginner path will introduce you to how to play your first song, mastering chords, chord progressions and strumming and get you started with soloing, music theory and playing harder songs. 
Soloing Path
Many aspiring guitarists dream of being able to thrash out a killer solo. But soloing can be one of the hardest elements of guitar to get started with. Luckily, this path has a whopping 34 hours of content designed to help you master the art of soloing. The ten courses include initial lessons on skills like string bending and hammer-ons, before moving on to different types of soloing like blues and melodic soloing, as well as masterclasses on how to solo creatively.
Masterclasses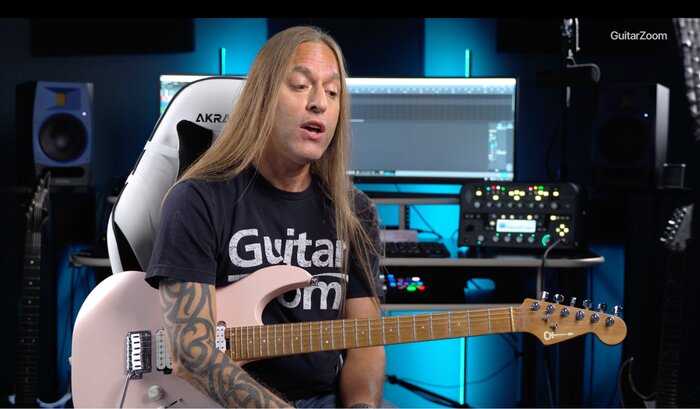 Techniques
Masterclasses are GuitarZoom courses laser-focused on one specific topic. I recommend taking the class on techniques because some of the information here will transform your guitar playing, and, given his university credentials, Stine is the ideal teacher. You will learn techniques like strumming, slides and vibrato, bends, arpeggio and more. 
Theory
I've played with many guitarists who don't have a clue about music theory. But understanding theory can be the key to unlocking your playing potential. Here, Steve Stine will introduce you to basic theory, such as scales and key signatures, and then show you how they apply to the guitar. You'll also learn the CAGED concept, different types of chords, modes and more.
VIP Lessons
Best way to change strings on the guitar
Whereas courses and masterclasses contain multiple lessons building to a bigger topic, VIP lessons are singular lessons devoted to just one concept. Changing guitar strings is a pain for any guitarist. Here, Steve Stine and Paul Ton give you the best practices for doing it properly.
G Chord
If you're a beginner who is short on time or is overwhelmed by the idea of digging into a learning path, this is a good alternative starting place. In this 2-minute video lesson, Steve Stine will teach how to play the G chord, which is fundamental in so many songs that feature guitar.
How I reviewed GuitarZoom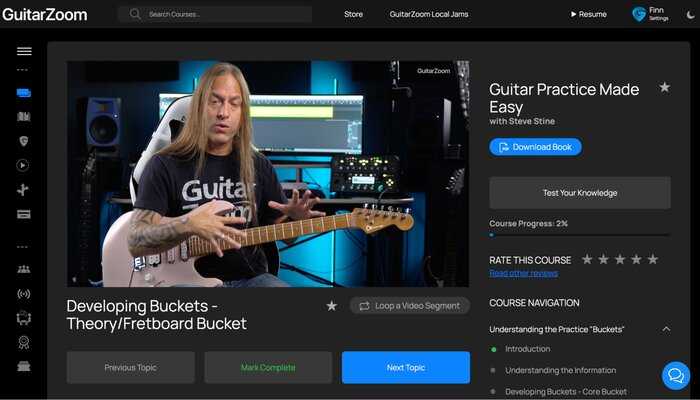 To review GuitarZoom, I've spent some time checking out all the site had to offer. This included looking at courses that covered a variety of topics and featured different Paths, as well as Masterclasses and VIP lessons. 
I also looked at GuitarZoom's additional features, including the Community, Live Lessons and their YouTube channel. Finally, I looked at my other reviews, revisited rival guitar sites, and scanned guitar forums to see how GuitarZoom shapes up to its rivals. 
This means that this review should be enough to tell you whether or not GuitarZoom fits with your learning aspirations. 
What I liked about GuitarZoom 
Great Teaching
Steve Stine is what sets Guitar Zoom apart from other sites. As a result, his teaching ability is the main reason for any budding guitarist to consider GuitarZoom. 
GuitarZoom has made a point of distinguishing itself by having Steve as the primary instructor. 
They argue that this allows students to receive a consistent high-quality teaching style that they can get comfortable with, rather than having to constantly get used to new instructors as they have to on other sites.
None of this would matter if Steve wasn't a great teacher, but his teaching style is indeed top-quality.
This makes sense because not only does Steve have a clear command of his instrument, developed after years of touring and playing. But he also has professional experience as a university teacher and a degree in music education.
These are some of the strongest credentials I've seen and it shows. Steve's lessons contain constant information. Rather than following a formulaic script, he's able to talk about every aspect of the instrument and has clearly put a lot of thought into how to communicate with students.
As a result, Guitar Zoom comes closer to fostering an 'in-person' student-teacher relationship than other sites. Guitarists will often claim that 'in-person' teaching is the way to go, and, whether you agree or not, Guitar Zoom certainly stands out in replicating that.
Comprehensive, with a focus on musicianship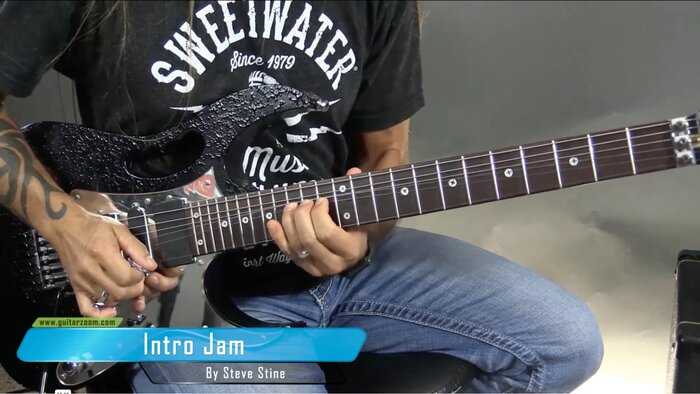 Steve's teaching style means that each lesson is very comprehensive.
He can constantly talk in detail about whatever concept he is trying to teach. Through this, students will pick up on a lot of concepts that will assist their general musicianship beyond the guitar.
For example, Steve's ideas about 'active and reactive playing' and 'practice on the day you eat' can be applied to any instrument.
Through being so comprehensive, Guitar Zoom ensures its students become better musicians as well as guitarists.
Not only are the lessons themselves comprehensive, but the courses also contain a lot of detail. Guitar Zoom courses can contain hours and hours of video lessons, ensuring that no stone is left unturned.
This is important because it provides students with the opportunity to keep learning, even if they've mastered a particular concept.
Steve Stine also ensures that there is a lot of focus on technique and theory, and these are promoted on the site along with personal practice.
As a drummer primarily, I've met a lot of guitarists and other musicians who treat theory and technique as secondary to playing. Guitar Zoom does well by focusing on both in equal measure.
Multifaceted, but plays to its strengths
Another pro of Guitar Zoom is that it has a lot of opportunities for students to choose how they learn.
You can choose to take individual courses, follow a Path that focuses on a specific genre or technique, or watch the shorter VIP and Toolbox lessons.
You can also watch Steve Stine's live streams, join the Facebook community and occasionally there's even an opportunity for a one-on-one consultation with Steve Stine.
Quite a few guitar sites have choices like this, but where Guitar Zoom sets itself apart again is the fact that it plays to its strength.
Given Steve Stine's professional background, he clearly knows a lot about music theory and playing technique, and so these play a big part in the site, with entire paths devoted to them.
But perhaps the most unique feature is the masterclasses. These 15 courses were created by Steve Stine to teach the aspects of the guitar he has mastered.
There are masterclasses on soloing in a 70's/80's style, playing the blues, mastering broader aspects of the guitar like riffs and the fretboard, as well as wider concepts in music like theory and recording.
If any of the above interests you, this might just be the place to learn them.
High production quality
This might seem like a lesser point compared to the teaching and the content.
However, production quality can make a huge difference to a student's ability to understand a lesson, as well as their enjoyment.
As a minor point, it is worth mentioning that every lesson I saw had a very high production quality, with clear video and audio.
This enhances both the understanding and the enjoyment of the lessons.
What could be improved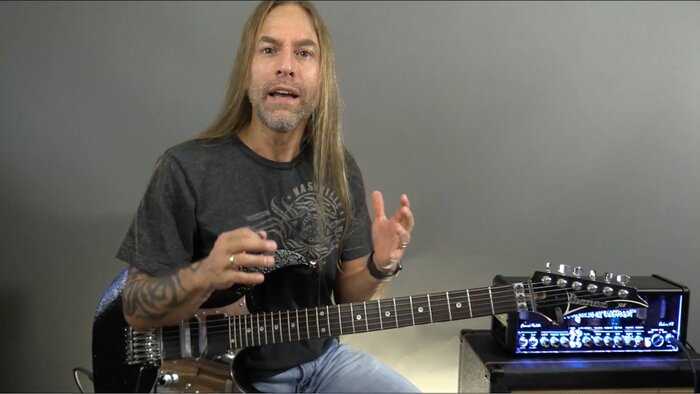 Expensive
One of the most notable aspects of Guitar Zoom is that it is quite expensive, at least compared to competitors.
The annual cost for a subscription is quite a bit more than some of the competitors. However, I wouldn't say that you get much more content in return.
Many sites also have the opportunity to learn from a specific pathway, pick and choose courses, and join a forum with other guitar players.
To properly judge the price, it's therefore important to focus on what sets Guitar Zoom apart.
As I've mentioned, it is rare to have one instructor feature so prominently on a website like this. If getting your online lessons as close as possible to in-person lessons is important to you, then this is worth considering.
This is especially the case when it comes to lessons that focus on theory and technique, as well as the masterclasses, as Steve's professional teaching experience really comes into its own here.
This is important, as theory and technique are the reason many guitarists turn to lessons, as they are more complex aspects of the instrument.
I would recommend checking out the Guitar Zoom YouTube channel to get a feel for Steve Stine's teaching style to get a sense of whether it is worth the price for you.
Website not massively intuitive
This is a much more minor point, but one worth mentioning. I found that some aspects of Guitar Zoom were not very clear.
For example, when I first signed in, the homepage directed me to News and Updates, rather than courses, and I had to find the Start Here page in the menu myself.
This, of course, wasn't difficult, but I do feel that new users could benefit from a clearer interface, especially if they are apprehensive about learning the guitar.
Additionally, the exact cost of Guitar Zoom wasn't that easy to find. This was an experience that I later found out was echoed by other users.
Again, these are very minor points.
Who Guitar Zoom is for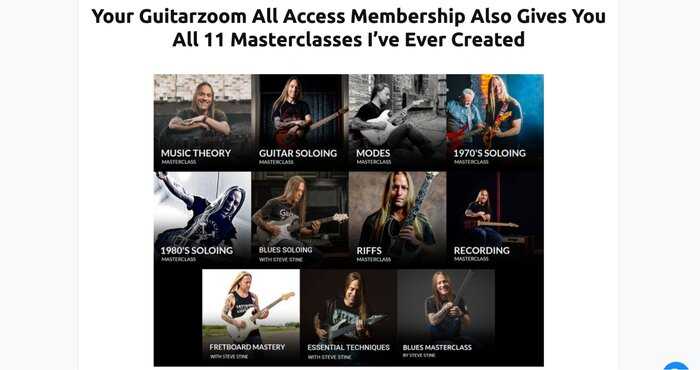 Guitar Zoom makes a point of appealing to a variety of different guitarists. However, there are some groups that I think Guitar Zoom suites more than others:
Anybody who likes the consistency of learning from just one teacher
Aspiring guitarists who are specifically interested in rock
Guitarists who lack knowledge about theory and technique
Dedicated students looking for a deep dive into concepts which will require lots of practice
Intermediate guitarist looking for masterclasses on more complex aspects of guitar, like soloing, recording and mastering the fretboard
Tips to finding great Guitar Zoom courses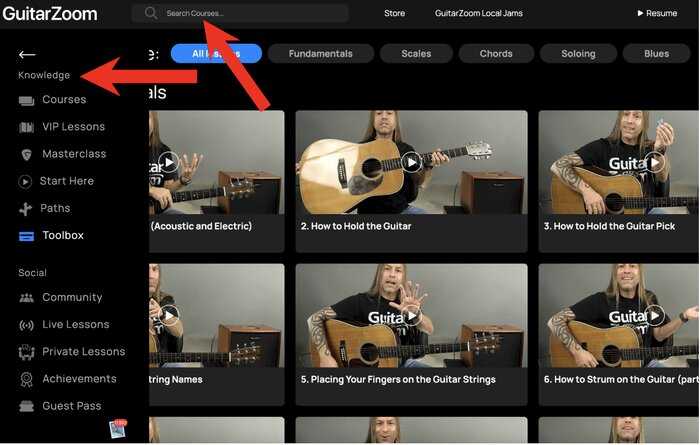 Guitar Zoom makes it easy to find the right course for you to start with by having a Start Here page.
Through completing the survey, you will be recommended one of a series of pathways which Guitar Zoom feel is a nice fit for your ability and learning goals.
However, there are other ways of finding great courses on Guitar Zoom. You can use the left-hand menu of the homepage, under the Knowledge section, and click on any of the tabs listed below to get started:
Courses
Masterclasses
VIP Lessons
Toolbox
Paths
Start Here
The Courses page contains all 64+ courses in one place. All the courses from the Paths appear here and more. You can use search filters to organize these courses from A-Z or Completion Rate.
Alternatively, you can ignore Start Here, and go to the Paths page to select one of the 13 Paths. Or check out Steve Stine's Masterclasses page which includes 15 more in-depth courses on topics he's an expert in.
Alternatively, if you want to start with a single video lesson, rather than commit to a whole course (which contains many video lessons), check out the Toolbox if you're a beginner or the VIP Lessons page if you're a bit more advanced.
The final way to find great courses on Guitar Zoom is by literally looking for them yourself using the Search tab at the top of the homepage. Typing in a keyword relating to either your ability or what you want to learn will yield the most relevant results.
Is Guitar Zoom legit?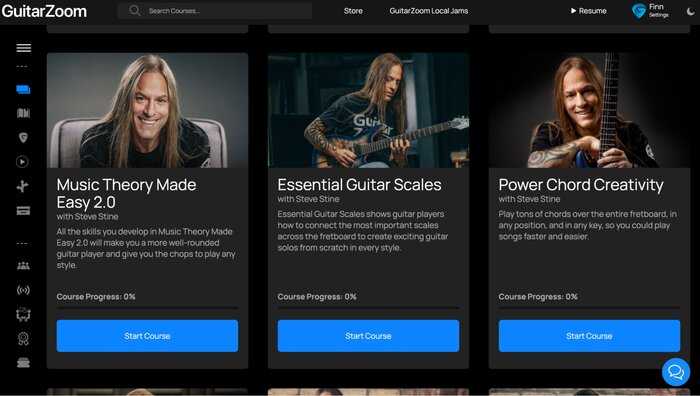 Often things seem too good to be true, and this includes Guitar Zoom's offer to provide lessons to guitarists of all abilities.
However, Guitar Zoom is definitely legitimate.
The site is very well established, founded decades ago and with a very popular YouTube channel to boot.
Steve Stine is also well established in his own right, having toured and written with leading musicians and held a teaching position at a university.
Guitar Zoom alternatives
Guitar Zoom is a very popular site for learning the guitar, but it definitely isn't the only one out there. I've alluded to other guitar sites already in this review.
They all have their own strengths, drawbacks and things that make them unique. Ultimately, the 'best' guitar site is the one that fits your learning goals with the instrument.
Here are some alternatives to Guitar Zoom:
This site is probably the most different to Guitar Zoom.
Founded in 2015, unlike Guitar Zoom, Pickup Music has hundreds of different instructors and prides itself on teaching genres that often get overlooked by other guitar sites, such as neo-soul.
Members of the site total over 20,000, which is impressive considering how recently it was founded compared to some other guitar sites. Pickup Music also has a very strong social media presence with over a million followers across various platforms.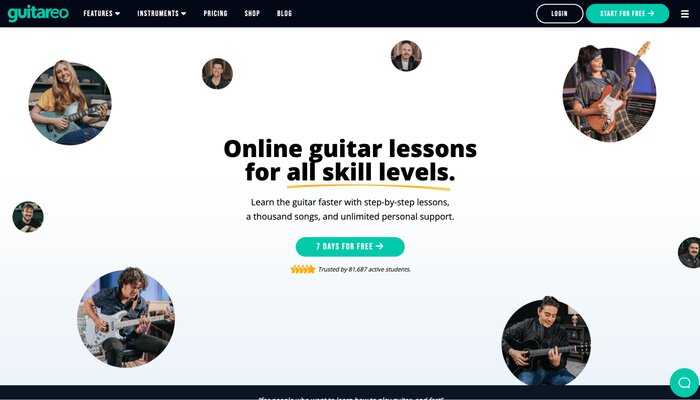 What makes Guitareo stand out is the fact that it is part of a wider family of musical sites including Drumeo, Singeo and Pianote.
Like Guitar Zoom, Guitareo has a combination of both designated pathways where students can take a deep dive into a particular genre or technique on the guitar. However, there are also opportunities to take shorter classes, as well as a range of additional resources.
Guitareo courses like 500 Songs in 500 Days have become some of the most recognisable across the internet.
The final guitar site I want to mention is TrueFire. This website has been around for the longest out of the options mentioned here, founded all the way back in 1991.
TrueFire has since grown to include over 600 courses which are watched by over 2 million users.
Unlike Guitar Zoom and Guitareo, TrueFire tends not to offer pathways but rather lets students pick from their massive range of courses. So it might be more well suited to those who already have an idea about what they want to learn.
Guitar Zoom: What others have said
In order to make this the most balanced review of Guitar Zoom possible, I have spent some time scouring the internet for comments about the site from other users.
To do this, I visited various web pages and forums dedicated to guitar and guitar teaching. I also took a look at the comments on Guitar Zoom's own lessons.
The first place I looked was Guitar Zoom itself. You can find comments from users on individual lessons, as well as video and written testimonials in their reviews section.
All of the comments I found were overwhelmingly positive, and I should mention that, in all my years reviewing sites like Guitar Zoom, I have never seen so many positive testimonials in one place:
"Love this for just starting out! I wouldn't know where to begin without this course." - Guitar Zoom user 
However, to be balanced it made sense to take a look at places other than the Guitar Zoom elsewhere. Looking at other guitar teaching forums, I found that the response to Guitar Zoom was a little less positive, with some being confused about the pricing.
"I did search first, and while I found other complaints about their pricing and marketing I couldn't find a specific answer about what sort of tiers they may have." - Reddit commenter 
Others suggested that the pricing was very expensive, however, there were also a lot of positive comments about Steve Stine's teaching style.
"I haven't used Guitar Zoom, but I can tell you that the free stuff that Steve Stine posts on YouTube is the best I've found, and it's what really made things make sense for me." - Reddit user  
This aligns with my perspective on Guitar Zoom. It is a more expensive option, but if you'd prefer learning from one teacher, particularly if you're interested in his specialties, Guitar Zoom is worth considering.
And you can check out the YouTube channel to see if you enjoy the vibe of the lessons.
Evaluating Guitar Zoom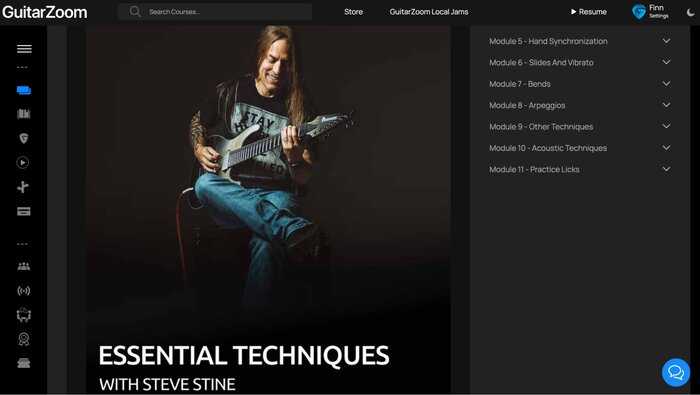 Features: Access to over 65 courses, over 150 masterclasses, over 15 VIP lessons, a toolbox of fundamental lessons, and more.
Content quality: Lessons focus on fostering a relationship with the student through video lessons with high production value. Courses are extensive with hours and hours of video lessons.
Content breadth: Learning pathways and Masterclasses dedicated to a range of genres (blues, rock and more), skills (soloing, riffs) technique, theory and more.
Teachers: A professional instructor with extensive playing background and the unique experience of holding a university position.
Supporting materials: The opportunity to view live streams, join the Facebook Community, attend Local Jams and receive one-on-one consultation.
Payments & refunds: $399.00 per year with a 30-day money-back guarantee.
Support: https://guitarzoom.com/contact-us
Is Guitar Zoom worth it?

So, is GuitarZoom worth it?
The answer will always depend on what you're looking for as a guitar student. This is especially the case as GuitarZoom is a bit more expensive than other competitors. 
There are quite a few websites that offer guitar lessons for beginners at a lower price, and these sites also boast GuitarZoom's other features, such as lessons that cover a variety of genres and techniques, top instructors and more. 
GuitarZoom is worth considering if you're interested in the features that set it apart. This mainly relates to the fact that the site has one predominant instructor, who is professionally trained and experienced in music education. 
This might be of interest to you if you would prefer to have all of your lessons led by one teacher, so you can get comfortable with their style.
It is also worth considering if you're interested in technique, theory and other topics covered by Steve Stine's masterclasses, such as 80's soloing, as these are the courses on GuitarZoom that really stand out. 
My advice is to spend some time on GuitarZoom's YouTube channel. This should give you a proper sense of Steve Stine as an instructor and help you decide whether or not GuitarZoom is right for you. 
GuitarZoom – Frequently asked questions
How much does GuitarZoom cost?
GuitarZoom costs $399.00 per year.
Does GuitarZoom have a refund policy?
Yes, there is a 30-day money-back guarantee.
How many courses are there?
GuitarZoom has over 64 courses, many of which can be found in their over 13 learning Paths. There are also 15 masterclasses and over 150 VIP lessons. 
Does GuitarZoom have a free trial?
GuitarZoom occasionally offers free trials as part of a promotional deal. Check the website for the latest details. They also have a YouTube channel with over 400,000 subscribers.
Does GuitarZoom give certificates?
No, GuitarZoom does not offer certificates.
What languages is GuitarZoom available in?
GuitarZoom is available in English.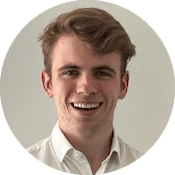 Charlie is a student reading politics at King's College London. He is also a passionate musician with over 14 years of experience. In his free time, he also enjoys cinema, long-distance running and learning new things.