If you want to up your instructional design game, there's certainly no shortage of courses. But, the number of options can make it difficult to find the best fit for you.
So I've spent 2 weeks evaluating what's out there to put together this best instructional design review to help.
Whether you're looking to advance as a teacher, or just improve your communication skills, I've got you covered. From polished presentations, to students' needs analysis, to course design. The classes in this selection have it all.
I've also kept in mind the price, length, and expertise of the instructor.
So let's to it.
Top 10 best online instructional design courses
My top choice overall is the Complete Instructional Designer course on Udemy. Taught by John Hinchlife, the name says it all. This class is an amazing opportunity to get a comprehensive overview of what it takes to be an instructional designer. After completing it you'll have the necessary skills to produce effective e-learning materials. And you'll master all tips and tricks for successful instructional design.
My second pick is the Instructional Design for Classroom Training course also on Udemy. It's led by Irina Ketkin, who'll teach you the A to Z of instructional design for classrooms. You'll understand how to recognize different methods and types of learning and teaching, and will master analytical skills to determine where training is necessary. It's a very useful course that'll leave you highly competent in instructional design in a learning environment.
To further up your teaching game and perfect your ability to deliver information I'd suggest you look at the Teach Anybody Anything. If you're looking specifically for presentation design then I recommend you the Principles of Presentation Design course. To get insight into analytics, check out the amazing class on the Learning Needs Analysis.
Best free instructional design courses
Below you can find the list of best free instructional design courses:
Coursera allows you to take courses for free as long as you don't require a certificate. If you do, you can upgrade for a fee of $49. Other courses are a part of the Skillshare platform subscription which provides a month-long free trial. This gives you plenty of time to complete your course and test out the platform for potential future subscription.
Best online instructional design course reviews
Platform: Udemy | Teacher: John Hitchcliffe | Length: 5 hours and 43 minutes
John is a professional in the eLearning industry with 15+ years of experience. His insightful teaching methods have earned him a place in the top-30 best thought leaders (eLearningindustry). With this course you'll gain useful information about instructional design and become an outstanding teacher and communicator yourself.
What you'll learn:
The principles and best practices of instructional design, including analyzing needs, setting objectives, and designing effective learning experiences
How to create engaging and interactive multimedia content for e-learning courses
Strategies for conducting thorough research and gathering relevant information to inform instructional design decisions
Techniques for designing effective assessments and evaluations to measure learning outcomes
Instructional design models and frameworks, such as ADDIE (Analysis, Design, Development, Implementation, Evaluation)
Pros:
A thorough and comprehensive exploration of instructional design principles
Emphasizes practical application, allowing learners to gain hands-on experience in creating engaging and effective instructional materials
Led by an extremely knowledgeable and experienced instructor
Utilizes interactive elements, such as quizzes, assignments, and discussions to solidify the material
Provides over 10 downloadable resources and a certificate upon completion
Access to a community of fellow students for support and feedback
Cons:
Video quality subpar in places
Because it covers a lot, is a little superficial in places
Who it is for: Ideal for those seeking to develop their skills in instructional design and create engaging learning experiences, regardless of their prior experience or background
Overall: An amazing opportunity to discover yourself as a creator of learning materials. It doesn't only provide useful information for your teaching journey but encourages and motivates you to apply the learnt strategies in the most effective ways possible. With John's thoughtful guidance this is a great opportunity to really understand what instructional design is.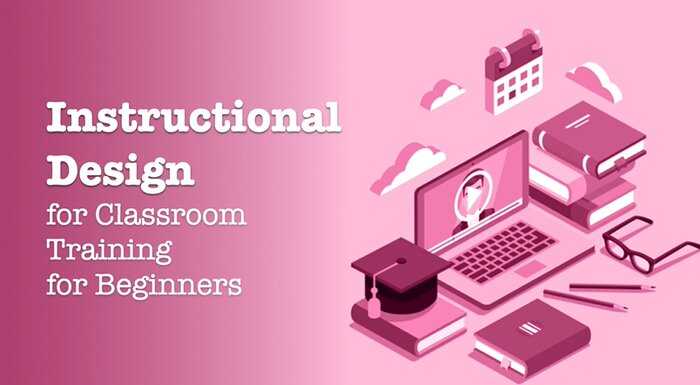 Platform: Udemy | Teacher: Irina Ketkin | Length: 2 hours and 15 minutes
This bite-sized course is provided by Irina Ketkin, a learning and development consultant with 10+ years of experience in the field. Her approach and methods are collaborative, engaging, and interactive, which helps her reach any kind of an audience. Irina holds a Bachelor degree in Business administration and is the founder of Learning Adventures – a company that provides learning and development consultancy.
What you'll learn:
Strategies for conducting a comprehensive needs analysis
Techniques for designing effective lesson plans and structuring engaging content
Methods for creating interactive and participatory activities to enhance learner performance
Approaches for incorporating multimedia elements
Tips for managing classroom dynamics, including techniques for handling challenging learners
Evaluation methods and tools for assessing learner progress, measuring training effectiveness, and making improvements
Pros:
Opportunity to learn instructional design fundamentals from an experienced educator
Practical focus, providing learners with actionable strategies
Includes interactive learning materials, such as quizzes, activities, and case studies
Real-world examples and scenarios, allowing them to see how instructional design principles can be applied in classroom
Constitently rated 4.6/5 stars by hundreds of previous students
Quick and time-efficient course
Cons:
Specifically focuses on instructional design for classroom training – might not be suitable for e-learning or other modalities
Who it is for: Perfect for anyone looking to up their game effectively in the classroom and take their teaching skills to a new level
Overall: Will give you a secure foundation for effective teaching in a classroom environment. After completing it, you'll feel a boost of confidence in your teaching skills and become familiar with all the necessary basics of learning needs analysis and lesson planning for the most effective results.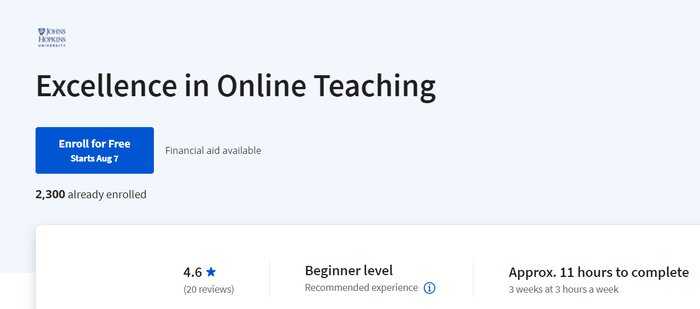 Platform: Coursera | Teacher: Johns Hopkins University | Length: Approximately 11 hours
The Johns Hopkins University is one of the top universities in the United States and is considered to be part of the 'Ivy Plus' universities, alongside Stanford and MIT. These lessons are taught by their leading professors and doctors of Learning Design, Innovation, and Sociology.
You'll learn how to:
Effectively design and organize online classes to optimize student engagement
Create collaborative and interactive learning experiences to maintain interest
Utilize technology tools and resources to enhance your teaching
Assess student learning and provide impactful feedback
Establish a strong presence as an instructor in the online space
Facilitate meaningful dialogue, manage online discussions, and promote critical thinking
Pros:
A chance to learn from instructors who represent such a renowned university as Johns Hopkins
Composed out of 5 modules, this class offers a comprehensive step-by-step learning experience with a quiz at the end of every module
A possibility of obtaining a shareable certificate upon completion
Provides practical information applicable in real life situations in online learning
Promotes peer interaction and collaboration through discussion forums and peer review activities
Cons:
Limited feedback due to large amounts of students
Who it is for: This class is designed for educators and instructors who are interested in enhancing their online teaching skills
Overall: Offers a comprehensive and practical learning experience for educators looking to excel in the online teaching realm. With expert instructors and interactive materials, learners gain valuable insights and strategies to design engaging online courses, foster active participation, and utilize technology effectively.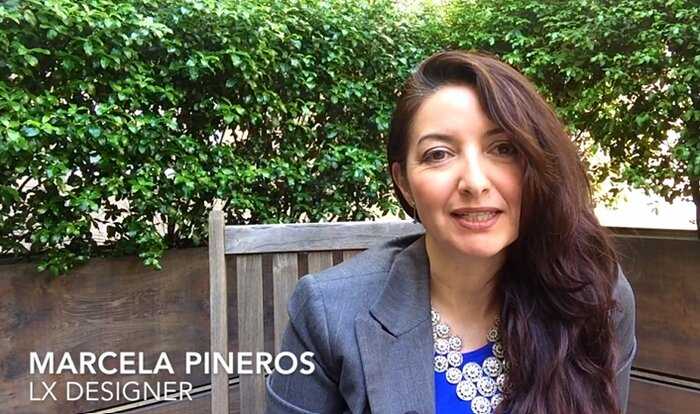 Platform: Udemy | Teacher: Marcela Pineros | Length: 31 minute
Marcela Pineros is an award-winning enablement leader, currently leading the sales enablement team at Stripe. She has 20+ years of experience in the education space and has designed countless innovative solutions for large corporations, like NASA, Microsoft, Steve Madden, and more. Her strategies have proven effective and useful, which makes this course is an amazing opportunity for you to learn course design.
What you'll learn:
How to identify the learning needs and objectives in the workplace to design targeted and effective courses
Strategies for organizing course content and creating engaging learning materials that cater to diverse learning styles
Techniques for incorporating interactive activities, such as discussions, case studies, and simulations
How to assess learner progress and evaluate the effectiveness of workplace courses
Practical tips and best practices for effectively delivering workplace courses
Approaches for designing blended learning experiences that combine online and in-person elements
Pros:
Offers a comprehensive understanding of course design principles, equipping learners with a strong foundation
Practical emphasis enables you to directly apply your newfound knowledge
Useful tips and tricks for developing your projects
Efficient techniques you can apply to your future lessons
Short and informative course with in depth coverage of material
Consistent 4.6/5 rating
Cons:
You need to have a specific idea of a lesson plan before starting the course
Mostly targeted towards business professionals with prior experience
Who it is for: Is ideal for professionals or trainers in the workplace who want to develop their skills in designing and delivering effective courses to enhance employee training and development
Overall: I'd recommend you look at this option if you're a professional looking to create a positive impact in your workspace and improve your training abilities. It's a course that teaches you how to create effective workplace training. With a knowledgeable instructor and interactive materials, you'll learn practical skills and strategies for designing engaging courses.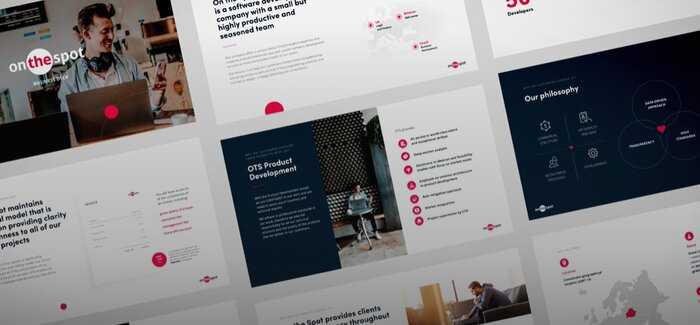 Platform: Domestika | Teacher: Katya Kovalenko | Length: 2 hours and 12 minutes
Katya Kovalenko is an advertiser with 10+ years of experience who has switched her focus from advertisement to communications. She is the funder of the Quiet Studio, a company focused on communicating in a more subtle and personal way with the clients. In this course she shares with you her principles of designing successful presentation that will impact your audience.
What you'll learn:
The fundamental principles and theories of effective presentation design, including layout, color, typography, and composition
Techniques for creating visually appealing slides that enhance the overall message and engage the audience
Strategies for organizing and structuring content to effectively communicate ideas and concepts in a clear and compelling manner
Best practices for incorporating visuals, images, and multimedia elements to support and enhance the presentation
Skills for using presentation software tools, such as PowerPoint or Keynote, to create professional and impactful presentations
Insights into effective storytelling techniques and narrative structures to captivate and resonate with the audience
Pros:
Mastering presentations will help you deliver information in a more clear way, making your instructional design journey more successful
Discover different ways of teaching through visual instruments like PowerPoints
Plenty of hands-on exercises to apply the learnt material
Create a final project at the end of the course
98% of positive reviews from past students
22 additional resources available for download
Cons:
Only focuses on presentations, doesn't cover other aspects of instructional design
Who it is for: Perfect for anyone who wants to level up their presentation design skills and create visually captivating and engaging slides
Overall: An absolute game-changer for anyone looking to take their presentations to the next level. With an expert instructor, practical exercises, and a deep dive into design principles, this course equips learners with the skills and knowledge to create visually stunning and impactful presentations. Whether you're a professional, student, or someone who simply wants to enhance their presentation skills, you'll find Katya's class useful.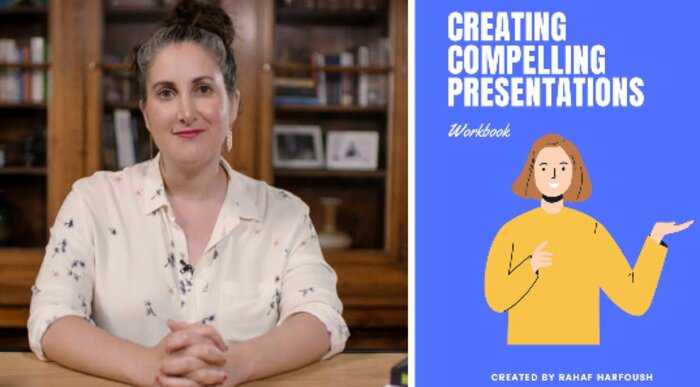 Platform: Skillshare | Teacher: Rahaf Harfoush | Length: 25 minutes
Rahaf Harfoush is a digital anthropologist and a New York Times bestselling author, with her focus being human productivity and the connection between technology and how we as humans work with it. Rahaf teaches Innovation and Disruptive business models at SciencesPo, one of the leading universities in France.
What you'll learn:
Techniques for effectively preparing and structuring presentations to deliver compelling and engaging messages
Strategies for overcoming nerves and building confidence in public speaking, enabling you to deliver presentations with ease
Skills for creating visually appealing and impactful presentation slides that enhance your message
Methods for effectively using body language, voice modulation, and storytelling techniques
Tips for handling questions and addressing potential challenges during presentations
Insights into effective communication and active listening
Pros:
Developing your presentational skills can help you become more confident in your speaking which will definitely help during your lessons
Engaging and dynamic style of teaching with clear and comprehensive instructions
Very quick and effective course that won't take much of your time
Taught by a renowned professor with focus in Anthropology
Part of the Skillshare platform – available on the free month trial
Cons:
Focuses only on presentations, doesn't cover all aspects of instructional design
Who it is for: Anyone looking to up their presenting game and perfect their public speaking skills to gain confidence in their teaching
Overall: I suggest you look at this course if you want to develop your speaking skills further and therefore enhance the effectiveness of your lessons. It's an absolute gem for anyone seeking to become a more effective communicator. It's quick, efficient, and helpful, so I'm sure you won't regret completing it.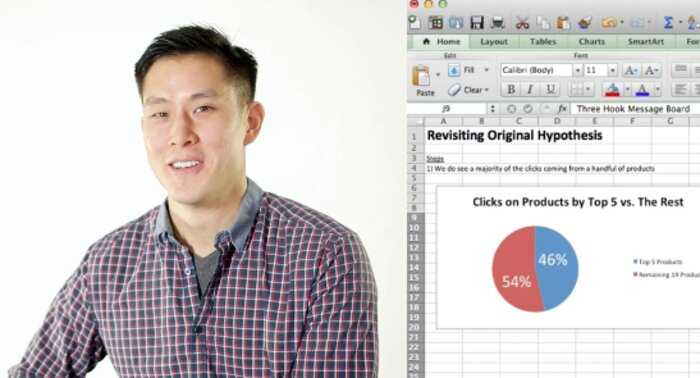 Platform: Skillshare | Teacher: Al Chen | Length: 1 hour and 24 minutes
Al Chen has been an Excel power user for 10+ years, which started with his career as a financial analyst at Google. Since then, he has taught Excel usage to 50,000+ students and founded his own company, KeyCuts, which focuses on Excel training. On Skillshare Al teaches you the basics of transferring data from Excel to your presentations, making your instructional design journey more efficient.
What you'll learn:
Techniques for extracting and organizing data from Excel to create dynamic presentations
Strategies for creating charts, graphs, and visualizations in Excel that effectively communicate data insights
Skills for linking Excel data to PowerPoint slides, ensuring that your presentation remains up-to-date
Methods for creating interactive dashboards and reports in Excel, allowing your audience to explore and interact with the data
Tips for designing professional and cohesive slide layouts in PowerPoint that align with the data-driven content from Excel
Insights into delivering data-driven presentations effectively, including storytelling techniques and presenting complex data clearly
Pros:
Complete a hands-on class project at the end of the course and get peer feedback
Get valuable insight into data usage and data communication
Offers an in-depth coverage of Excel usage in relation to presentations
Taught by an instructor with 10+ years of experience in the industry and thousands of happy students behind his back
Access to an online community of fellow learners
Part of the Skillshare subscription – available on the free month trial
Cons:
Only focuses on Excel and data-driven presentations, doesn't cover other aspects of instructional design
Who it is for: Will be perfect for you if you're a professional looking to incorporate data into your presentation and learn how to communicate data in an interactive way
Overall: I suggest you check this one out if you're interested in adding depth to your presentations via Excel. This short and effective course will help you produce high quality learning experiences through vibrant and informative presentations. You'll not only learn how to create compelling presentations, but you'll also improve your communication skills and learn how to present data in comprehensive formats.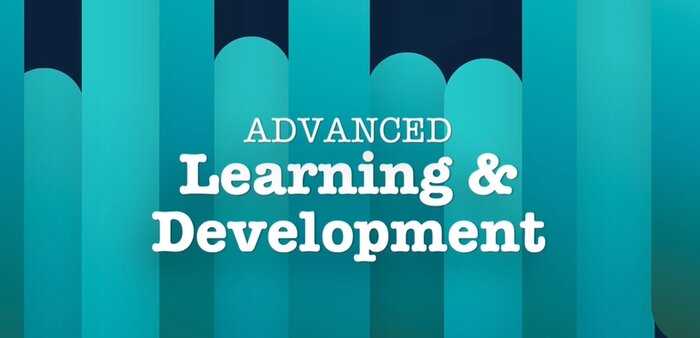 Platform: Udemy | Teacher: Irina Ketkin | Length: 4 hours and 5 minutes
This is a second course taught by Irina Ketkin that you'll find in this list. Irina's 10+ years of experience in the learning and development industry make her an amazing teacher for this learning needs analysis course. Throughout this class you'll learn how to conduct a professional evaluation of your students' learning needs with Irina's thoughtful guidance.
What you'll learn:
What exactly is a learning needs analysis and why is it important
How to select appropriate learning interventions based on learning needs analysis
Analyzing data and turning it into meaningful information effectively
The most popular techniques and methods for conducting LNA (learning needs analysis)
The difference between learning and training needs
How to present results of your LNA to stakeholders
Pros:
Provides in-depth coverage of the entire learning needs analysis process
Gain practical skills and techniques for conducting effective learning needs analyses in real-world scenarios
Clear and concise step-by-step guidance on each phase of the analysis process
Contains useful templates, checklists, and tools to aid in conducting a thorough analysis
Certificate available upon completing the course
Cons:
Best suitable for those with some prior knowledge of learning and development
Only focuses on LNA, does not cover other topics of instructional design
Who it is for: Ideal for instructional designers, training professionals, and educators who want to enhance their skills in conducting effective learning needs analysis
Overall: I'd recommend you choose this course if you're looking to get insight into LNA in order to better understand what content you should be delivering and in what way. It will be most suitable if you already have some experience in the industry, however, Beginners could also benefit from it. It short and effective, with valuable information taught by a highly credible instructor.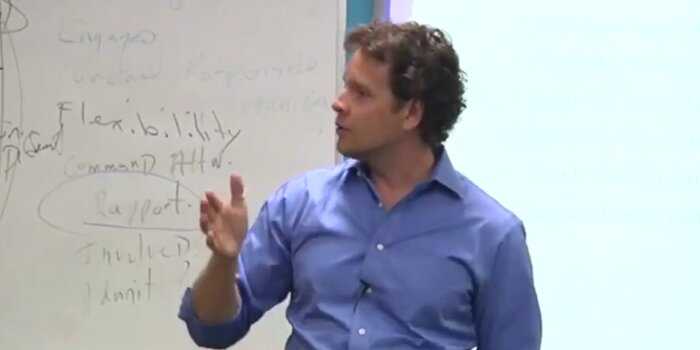 Platform: Udemy | Teacher: Jason Teteak | Length: 1 hour and 48 minutes
Jason Teteak is a best selling author, TEDx speaker, financial and executive coach, who has taught over 1 million of students from all over the world. Jason's original methods and his ability to break down complex information into comprehensible real life examples has won him praise from all of his students. With his extensive experience Jason is the perfect teacher for instructional design. In these lessons he shares his wisdom with you about reaching your target audience.
What you'll learn:
The crucial components of each adult learning style and why they are so important
How to establish a connection with your learners through successfully 'breaking the ice'
Proven methods of aking your class feel individual to each trainee while also targeting all of them
An easy, effective method called "Application Questions" and what it's used for in the industry
The 12 teaching tools and how to apply all of them in your teaching experience
The correct approach to adult teaching which will change completely how you view training
Pros:
Understand effective adult in under 2 hours
Highly qualified and experienced instructor with engaging style of teaching
Provides a 37 page workbook alongside the video lessons of the course
Practical guides and tools to apply the material learnt
Become aware of your trainees' and learners' needs and improve as a coach and instructor
Consistently rated 4.6/5 by thousands of past students
Cons:
Because of the course's relatively short length, some mind find it not in depth enough
Who it is for: Perfect for anyone who is currently training, coaching or teaching adults and would like to improve their communication skills to become a better instructor. It's suitable for people across different industries and work fields. It'll be ideal for you if you already have some experience in learning and development.
Overall: I recommend you pick this class if you're looking for a short, saturated, and intense program that'll boost your confidence as a speaker and a thought leader. This will be an amazing opportunity to truly understand the particularities of adult teaching and to really get what's necessary to make the teaching experience successful. It's an effective and encouraging program filled with useful tips and tricks from an experienced educator.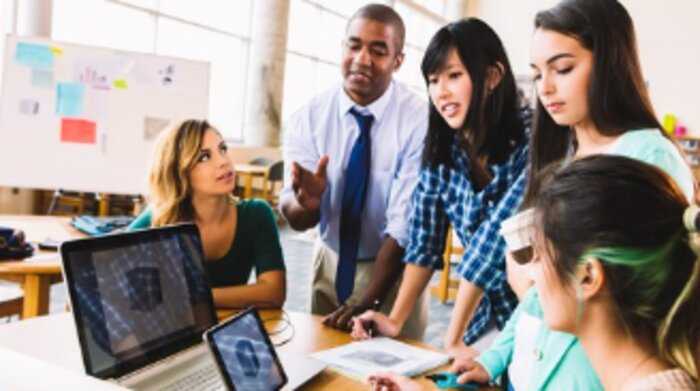 Platform: Udemy | Teacher: Shanath Kumar | Length: 3 hours and 43 minutes
Shanath Kumar is the principal consultant at the Learn to Learn Academy, with 20+ years of experience in the learning and development industry, including e-learning. He has pioneered and established e-learning for Manipal Global Education over the course of 8 years, which makes him an outstanding expert in the learning industry.
You'll learn how to:
Truly understand the main principles of adult learning
Apply working instructional design models in your teaching
Develop learning objectives and reach them successfully
Design engaging learning materials that will keep yout trainees encouraged to continue learning
Create effective assignments that'll help your trainees solidify the material taught
Facilitate adult learning and find the correct approach to your students
Evaluate training effectiveness and reflect on your own learning methods
Pros:
Taught by a highly qualified instructor with years of experience
Clear and concise style of teaching
Takes you from understanding basic principles of adult learning to knowing how to apply them
Comfortably paced classes that allow you to take information in fully
Additional downloadable resources provided
A certificate upon completion is available
Cons:
Lack of visual support (like PowerPoints) which can be challenging for some students
Who it is for: Beginner trainers who want to get an understanding of instructional design fundamentals and seasoned instructors who want to get a deeper look into adult learning
Overall: I think you should look at this course if you're interested in the fundamentals of adult learning and would like to get insight into the industry from a more scientific point of view. This class is very well-structured and puts great emphasis on creating useful learning materials for your trainees. It will leave you equipped with the necessary skills and knowledge to design effective learning programs for adult learners.
What are the advantages of taking an online instructional design course?
Taking an online instructional design course will help you develop your teaching and communication skills. This will be helpful not only in your professional career, but also in your day-to-day life, enabling you to express yourself in a clear and concise way.
Improve your adult training skills – recognize the difference between adult and child learning and become a truly helpful instructor for your students. Taking a course on instructional design can also improve your attitude in your workspace.
Level up your qualifications from the comfort of your home. Taking an online course is an amazing opportunity to learn and expand your skill set, while sticking to the most comfortable pace that works for you.
Buyer's guide: what to look out for
Here are a few things you should consider before picking your perfect online instructional design course:
Consider your end goals for the course – do you want to improve your communication skills or get insight into structuring lessons or maybe the right choice for you will be a course that focuses on the power of compelling presentations. Depending on what you want to get from the course you can pick the most perfect one for you.
Think about your level of qualifications. Are you an already seasoned coach and instructor or are you just getting into adult training? And if you have teaching experience was it teaching adults or children? Based on your level of experience and what that experience was you can select the course that will cater to your existing knowledge.
Another important factor to keep in mind is the main focus of the course. It can be learning needs analysis or the way to improve your presentations or everything all at once, so be sure to check that before choosing the course.
How much does it cost to learn Instructional Design?
Prices in this list vary from $9.90 to $99.99 with the Domestika course being the cheapest and the Udemy course on Learning Needs Analysis the most expensive.
Most of the single purchase courses on Udemy cost around $60. However, Udemy often has flash sales. During these, prices drop down to $10-$20, so I'd recommend checking the platform to see if the prices have changed for your preferred courses. Most prices on Udemy depend either on the length of the course or the difficulty of the material taught. For example, the Learning Needs Analysis course is quite in depth and the material explained is more difficult, which is why it's priced higher.
Just like Udemy, Domestika also has sale periods so, again, check the platform to see if the price has changed.
Other courses in this selection are either from Coursera or Skillshare. On Coursera it's possible to enroll in the course for free, however, to get a completion certificate you'll have to pay, usually prices are around $40.
Skillshare works on a subscription basis, but they also provide a month-long free trial. This gives you an opportunity to dip your toes into instructional design without committing fully and maybe even test out courses in other disciplines. After the trial period you can choose whether or not to purchase the actual subscription, which is currently $14 a month (billed annually at $168).
How long does it take to learn instructional design?
Courses in this list vary from less than an hour to classes that are meant to be taken over the course of several weeks.
You should also always take into account the time it takes to practice exercises and the material taught in the course. A useful trick I'd recommend is to take the time fo the pure course material and multiply it by 5, which usually will tell you how long a class will take including practice time.
All of the courses as well provide resources and materials you can revisit at any time. They can help you practice what you've learnt at your preferred pace.
Conclusion
If you're looking to pick up instructional design online, fortunately, there are plenty of options to consider.
John Hitchcliffe's Complete Instructional Designer Course is my top pick. You can find it on the Udemy platform. Udemy also has plenty of other individual courses so you'll definitely find something you like.
Alternatively, you could take a look at the Excellence in Online Teaching program on Coursera. It's a great course with a highly credible certificate available at the end.
As for other options, consider Domestika or Skillshare, both providing single purchase courses with credible certificates available at the end of the course. Maybe Principles of Presentation Design or Presenting and Communicating will be the right course for you.
Hopefully you've found this article helpful. Good luck with your learning!
Related article: Best teaching course, best time management course, Quizlet review, best communication courses, best online high school courses for credit
Best Instructional Design Course – FAQs
What is the best online instructional design course?
Our top recommendation is the Complete Instructional Designer course, taught by John Hitchcliffe, available on the Udemy platform. 
How much does the best online instructional design course cost?
The Complete Instructional Designer course is $89.99, but the Udemy platform often holds sales, so look out for those. 
How long does the best instructional design course take?
Courses in this selection range from less than an hour to programs lasting for several weeks. Don't forget to take into account the practice time.

Maria is a second year English BA student at King's College London with a real passion for creative writing, reading, and anything connected to text in general.